[wpsm_box type="green" float="none" text_align="left"]
If you like horror films and everything connected with them, then this section is for you. We have collected the games of one of the most popular themes – zombies on Android!
The basis of all games about zombies fascinates elements of horror, but at the same time, heats up excitement and interest in these creatures. are awaited for a fascinating action-packed world filled with dangers, where their main character has a terrible way to go in a world of chaos and apocalypse; he has to survive among other zombies who continually want you to taste and join your team.
[/wpsm_box]
SAS: Zombie Assault 3
If you have a gadget powerful enough to launch the games which earlier were available for Android only, then you should definitely check this game out. And even more, this game will be nice not for only Zombie game fans, but all shooter-action games fans. Terrific atmosphere, action-packed battles, detailed characters, and scary zombies – this all can be found in SAS.
This game is acknowledged to be the best zombie shooter around. The main story here is that the soldiers of the elite troops are executing the secret military mission in different parts of the world. There are only 4 soldiers and they are basically the living prey for zombies. That's why you need to destroy zombies like crazy – until they get you!
A remarkable feature of SAS is that it has a multiplayer mode which means you and your friends can play this game together. The game is fully adopted for Android devices so the gameplay should feel comfortable and easy. Choose among 44 kids of weapons, explore 8 complex maps, and play in 3 harsh game modes.
Choose the location where you want to go, go alone or create a group (max 4 people) and go crashing zombies! The more progress you do in the game, the more upgrade levels you can unlock. There are around 50 various upgrades for your shooter which you can unlock during the game.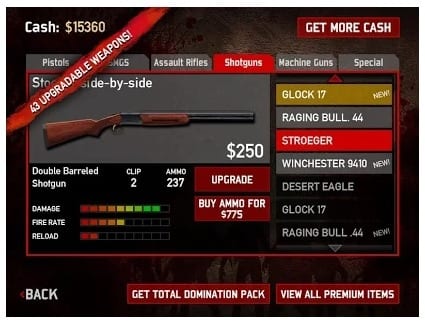 You may also like: 11 Free Zombie Tower Defense Games for Android & iOS
Zombie Catchers
Zombie Catchers – a fun adventure game for Android, made in the genre of platformer. The single-player game assigns us the role of a small alien who must free the planet from the invasion of zombies.
According to the developers, people appeared for a reason, they were brought to the planet by developed aliens, whose representative is our antagonist.
In order to resist the terrible virus that has turned every human into a carnivorous monster, our brave alien, under the strict guidance of the player, must pass several dozen locations.
Zombies were surprised by the alien power and rushed into the loose. You will have to run after the walking dead and with the help of a hook, as well as other clever traps, catch them. Caught individuals move to the ship for further movement outside the solar system.
The success of the application is associated with the use of a simple control system by the developers, detailed elaboration of textures, as well as pleasant sound.
Levels are differentiated depending on the level of difficulty: in the final stages, you will have to destroy and catch zombies for a while. This is an excellent reason to purchase game currency for cash. The user gets plutonium, local currency, as well as unique weapons designs that make it easier to catch creatures.
Zombie Catchers makes you feel not a victim, but a zombie hunter, a pleasant feeling!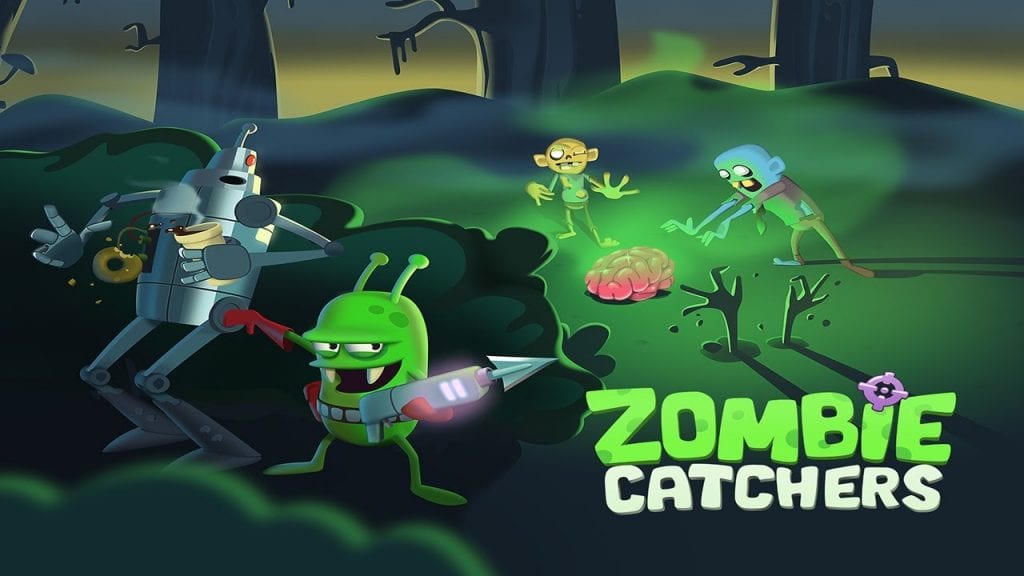 Plants vs Zombies 2
Plants vs. Zombies 2 – the continuation of high-quality action-strategy in which we are waiting for a war of zombies and plants.
As always, the player acts on the side of good, which means we have to protect a small house with a garden from a variety of zombies and other monsters. The main weapon is the plants, but not simple; they can repel any enemy and will not allow them to get to the house of the gardener.
Unlike the first part, this time we have to go to study new locations. For example, you can be on the shores of the beautiful sea, stray through the wild forest, or at all be in ancient Egypt among the pyramids. At each location where we are lucky enough to be waiting for a variety of zombies with new and interesting abilities.
It is worth remembering that the further you go through the game, the more difficult the levels will become, but this will make the pastime even more exciting.
Game mechanics and the general idea of the game remained the same. All of you also have to place the plants in special cells on the playing field, which will protect the house. Some are able to shoot at enemies, others, completely devour zombies, others act as a temporary barrier, and do not allow opponents to approach you.
The game is completely free, but the donation can't go anywhere. Unfortunately, some of the levels are so difficult that you can successfully complete them only by acquiring bonuses or rare plant types.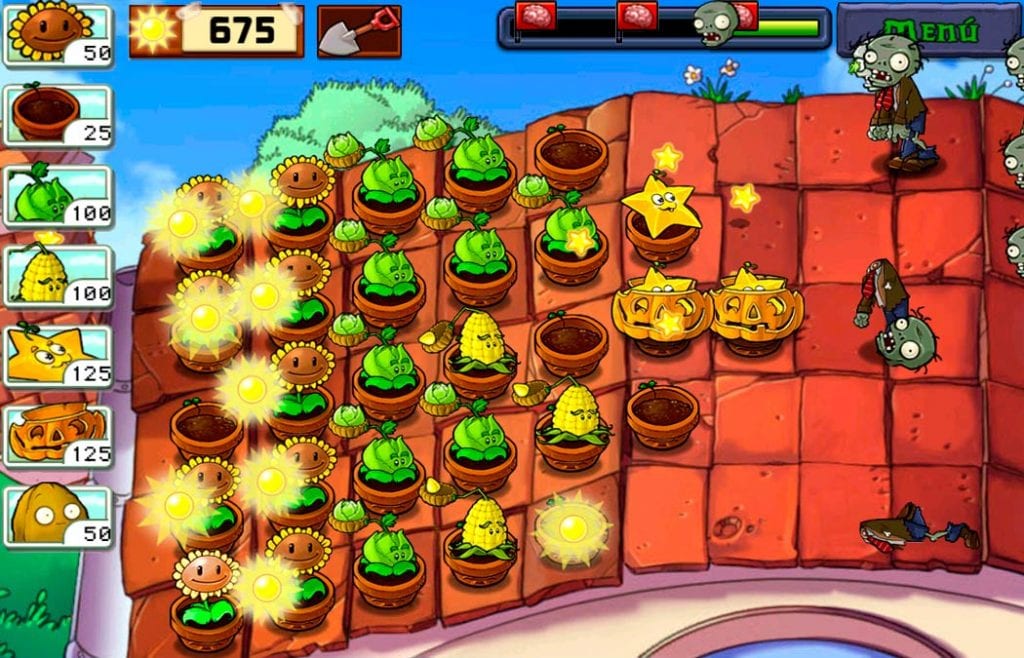 Last Empire – War Z
After conducting unsuccessful experiences, the world has undergone an apocalypse. And now attempts are being made to seize the world by a surviving caste — zombies. A real threat comes to all developed civilizations of mankind from these monsters.
Game process
First, you have to choose your own strategy.
Defend yourself from bloodthirsty zombies and enemies.
Attack the enemies.
Unite with neighboring civilizations and assist in defense and attack.
Fight for leadership.
The events take place in a post-apocalyptic world, which was captured by zombies.  In such conditions, the key task of a living being is to survive under any conditions and not become food for a zombie. They are completely devoid of reason and are guided only by a sense of hunger, which can be quenched only by living flesh. In such circumstances, the key task of a living being – to survive under any conditions and not to become food for zombies.
In general, your task is to rebuild and protect the base-city that arose on the ruins of the past of the world. At the same time outside the city, you need to extract oil and grow bread. Inside the city, all the buildings are functioning. A set of buildings is traditional: a university, barracks, a warehouse for resources, as well as notification of events, troop restrictions, loading of various items on the wall, and more. And everything has its branches and access for constant improvements.
Features:
Ability to view current battles that take place in different regions.
The colorful graphics.
Various types of zombies.
The choice of style of play.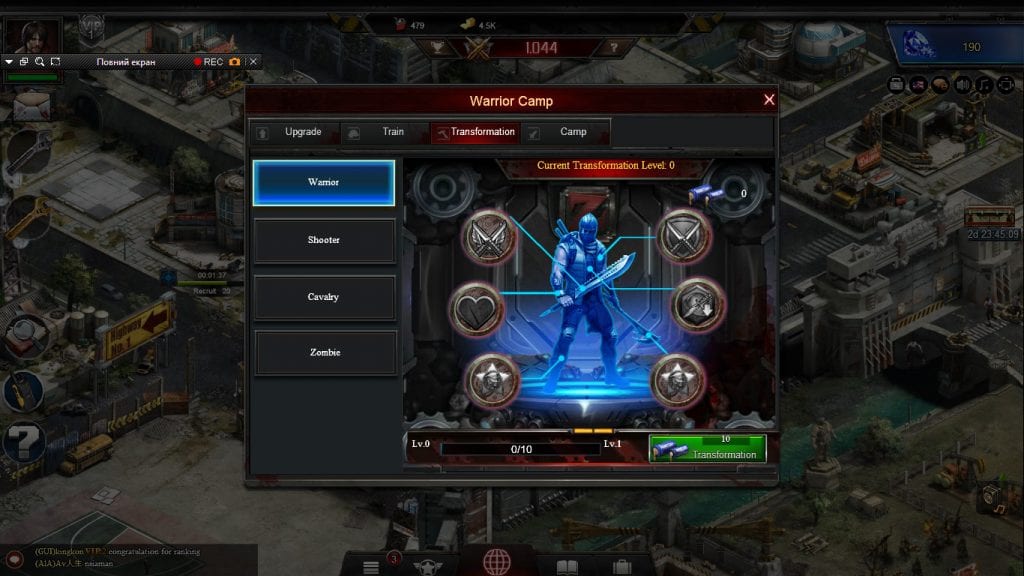 The running dead
The Running Dead is a completely endless runner on the Android system, where you will take under the personal guidance of the future zombies. In this project, you will lead the zombie who wants to get away from all obstacles and the apocalypse.
Move, skip, and go around all the obstacles on your own road with it do not miss the gold, which will help you pick up your plus skills.
Coins are scattered throughout the level to be collected. Having accumulated a sufficient amount, you can purchase a new main character (another zombie). And, you can also improve bonuses that often come to us. You will find super-acceleration, which allows you to rush, forget about the obstacles, and a magnet that attracts coins to us, etc.
Strive to get to the finish line and demonstrate worthy results in order to challenge your own comrades and other users from different parts of the world. The project has a considerable list of versatile levels and locations of the terrible post-apocalyptic world and a couple of characters at your discretion.
Cute countryside, invented by developers, pleases the eye: gardens, mills, tractors – unusual and stylish. A good sound design raises no questions. The Running Dead is an interesting runner with original locations and fun gameplay.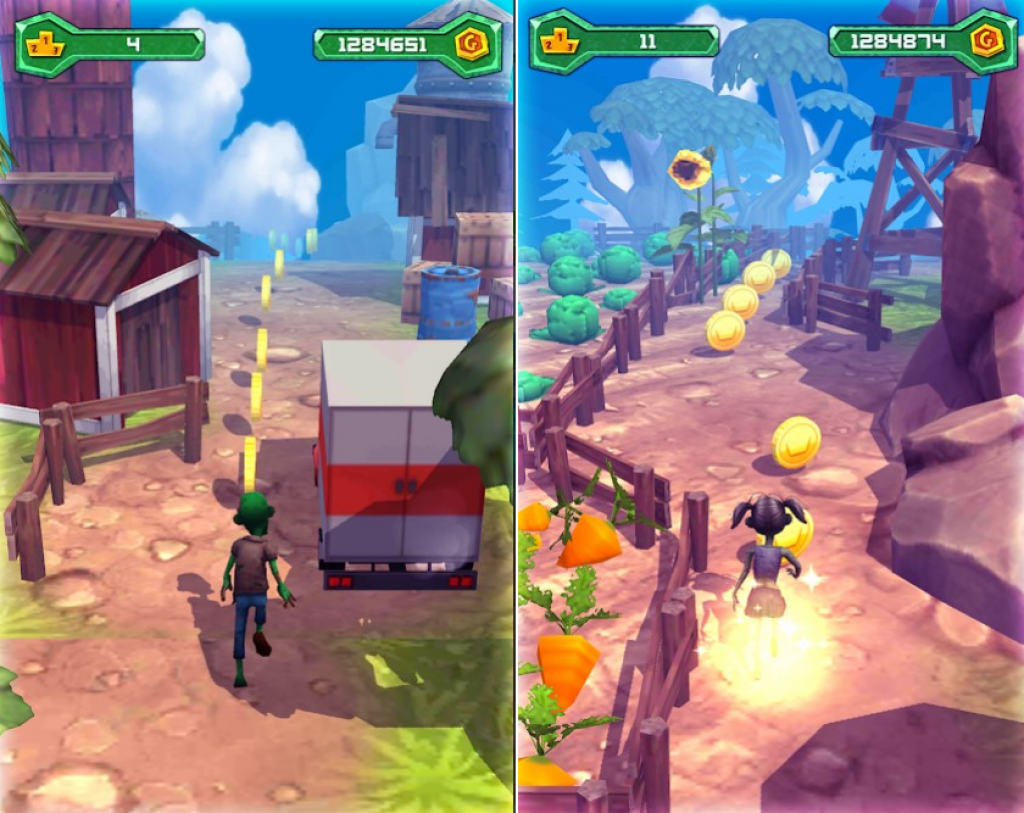 You may also like: 21 Best Zombie game apps for Android & iOS
Goat vs Zombies Simulator
At first glance, this game may seem like an ordinary RPG in the zombie apocalypse genre, but this is far from the case. If you look at it a little wider, you can see interesting features from developers, for example, the main character in the face of a goat. Where else are you going to see that?
This game is famous for such features as:
dynamic game gameplay with minimal technical requirements for the device
a decent level of computer graphics and especially the animation of explosion of any object
interesting Easter eggs, as well as secret in-game achievements, which are not so easy to get
unique goat superpowers that make it much easier to play the game
numerous of positive emotions received both from passing and from the game as a whole
The essence of the game comes down to defeating as many zombies as possible at a time. The user has many options for achieving this goal, such as cutting the goat's tongue. In addition, you can explore 2 large maps and find various secrets.
So, download this app and get incomparable pleasure from such an exciting game.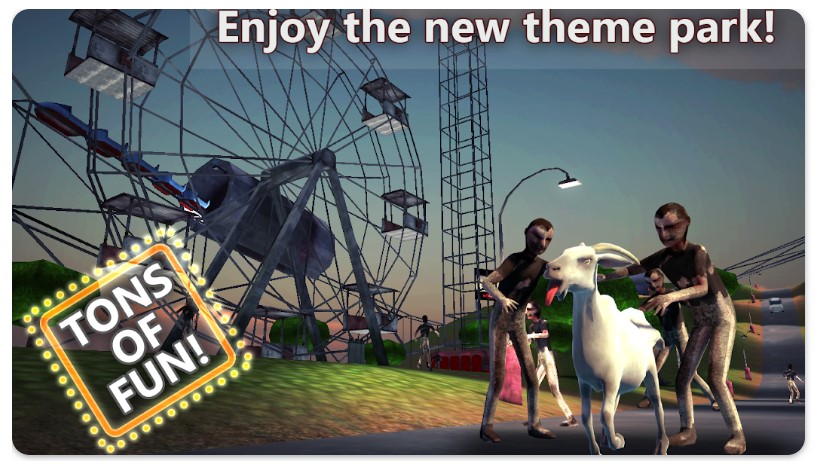 Zombie Age 2
Zombie Age 2 – an interesting application that was created by DIVMOB. This creature managed to gain popularity thanks to exciting gameplay. Under your control will get a fierce man. This may be a famous superhero or a representative of the cinema franchise.
Try to arm him so that he can effectively resist the walking dead, who allow themselves to walk the city streets. You can use melee weapons for close combat or firearms, but remember that bullets might end up.
The developers have prepared for users grenade launchers, rocket launchers, shotguns, machine guns, and other weapons that will help on the battlefield. As for the graphics, it was done in the traditional drawing style. Fortunately, here gamers will not watch violent and bloody scenes.
This means that this creation can be safely downloaded to representatives of different age categories. Fight on 7 locations, use 30 types of weapons. You can invite your friends to try to survive together in a virtual world inhabited by zombie creatures.
Download the exciting zombie game Zombie Age 2 and enjoy a unique cartoon style, a huge variety of missions. Pay attention to the presence of a global ranking of players that will help monitor their progress. Management has been adapted for touch displays of mobile devices.
Here, fascinating and dynamic gameplay compensates for everything. You can download it for free. Be sure to call your friends and play with them!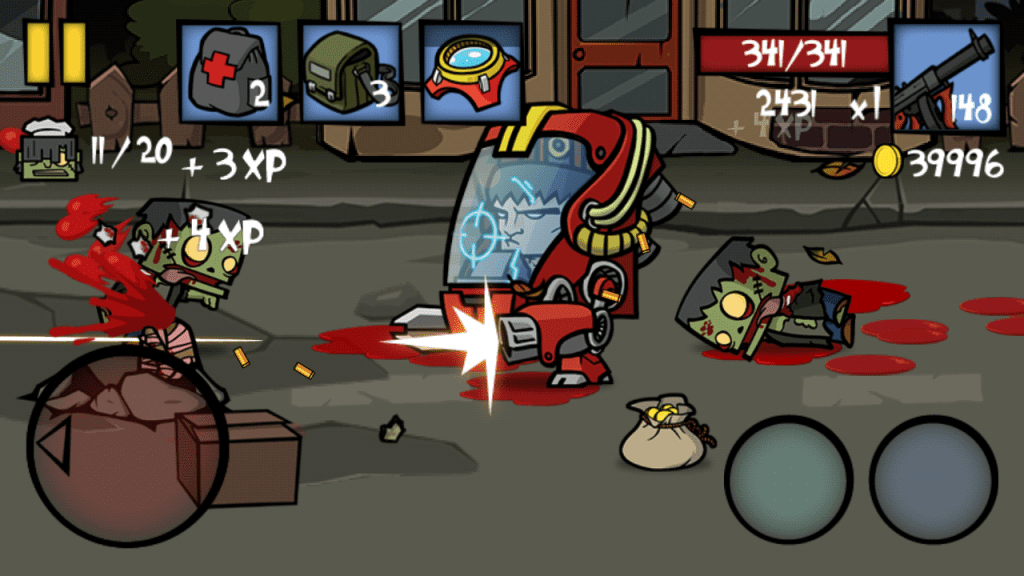 Zombie Road Trip
The zombie army continues to hunt for its most beloved delicacy – human brains. Save yourself, otherwise, you will fall into the hands of the walking dead.
You can challenge this ruthless evil right on the screen of your smartphone or tablet running Android. Just download the game Zombie Road Trip on your mobile device, and give the hordes of zombies a fitting rebuff.
An endless race for survival begins in a vast wasteland. At your disposal, there is a truck and a powerful arsenal of weapons with which to destroy evil. The more effectively you cope with your mission, the more you get specious coins that you can spend on your upgrade.
The high definition of HD graphics, the intensely fascinating atmosphere, and five different unique landscapes make the walkthrough process even more exciting.
Zombie Road Trip on Android game successfully combines dynamic chases and dizzying stunts. An interesting feature is a mechanism for the destruction of the enemy – each zombie is waiting for a unique and spectacular death, which looks all the time in a new way.
Your task is to crush them on your super-truck or destroy them from five types of weapons. Fight for your life and move forward only to Road Trip.
Features:
5 unique landscapes.
Randomly selected terrain.
Dynamic Zombie Destruction.
10 exciting types of weapons to destroy enemies.
34 unique cars.
Great graphics.
Two types of control.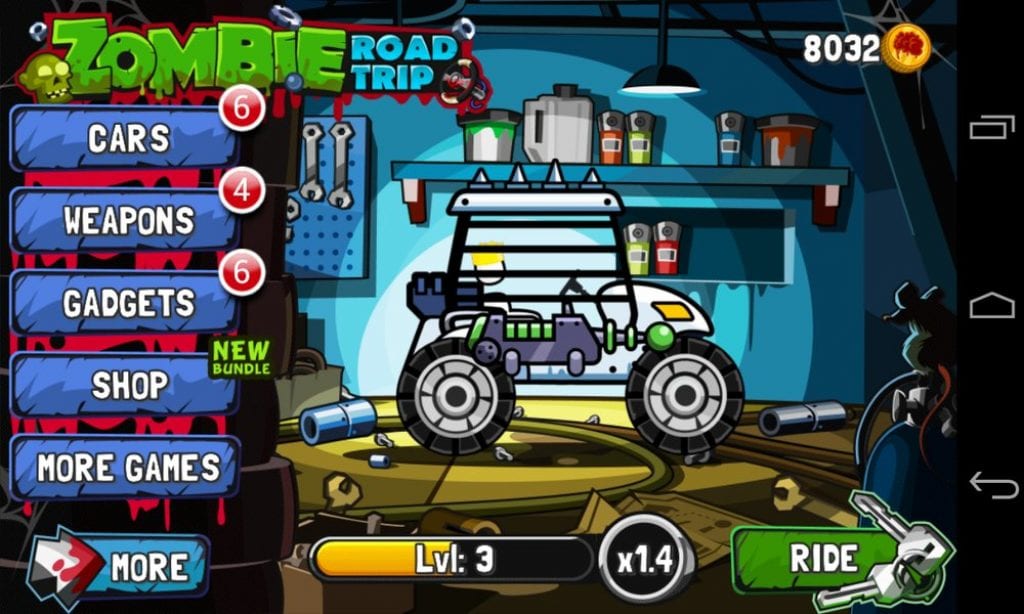 Zombie Defense
Zombie Defense is quite interesting so that it can be seen as a tactical strategy and Tower Defense. The game will have to become the head of the squad of survivors. The gameplay is that it will be necessary to repel the attacks of a huge number of zombies.
In Zombie Defense, many levels are made, and on each of them, points are noted. It is necessary to put a soldier on it. Each unit has a personal weapon. If it turned out that the zombies attacked the soldier from different sides, it can be immediately rearranged to the point, which at this moment is free.
To be able to conduct a competent defense, you need to quickly use tactical training. You must be careful to instantly determine what are the weaknesses of the attacking zombies.
Each unit has a personal weapon and personal characteristics – all this needs to be upgraded during the whole game process. This can be done for the funds that are issued after the completion of certain missions, and there are a lot of them in the game.
There are several types of different equipment in this game: there is both a bulldozer and six-barrel turrets. To improve this technique will have absolutely everything, for example, grenades, weapons, and armor.
As for the zombies themselves, there are also several types of them: here you can meet flying creatures, crawling dead, and ordinary zombies. The developers have tried their best and made this game huge zombie bosses, and only the most courageous and fearless gamer can defeat them.
As for the graphics, despite the fact that it looks not quite modern, the portrayal is done quite well. All models of the dead (zombies) and fighters are created at a high level. A relatively blood spatter, then they look in the game really realistic.
The soundtrack installed in this game application makes the atmosphere in it very oppressive. Zombie Defense is a wonderful genre hybrid, and it will undoubtedly appeal to those users who love games with such themes as the zombie apocalypse, TD, and of course, tactical strategy.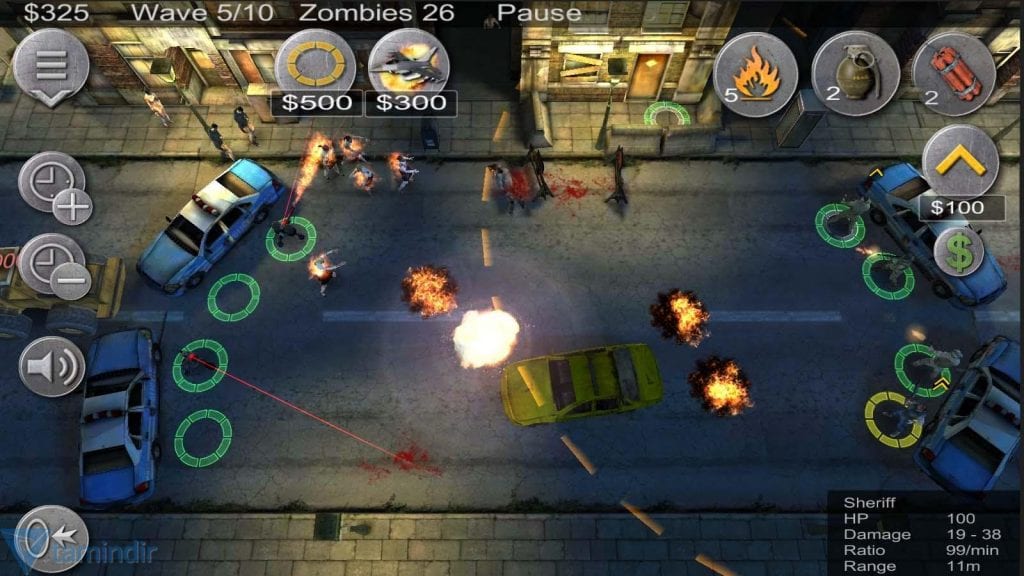 DEAD TARGET: Zombie
DEAD TARGET Zombie is an exciting action game. Here, users enter a new era, where chaos is happening. After the war, many prisoners did not survive, as the government turned them into killers. They ceased to be humans and became zombies. This version will allow you to enjoy exciting bouts and become the real savior.
The game for you will look like several missions, in each of which, you will have to deal with many dead opponents. All levels are located within a single city, where a virus has broken free, turning people into zombies.
You will have to fight with numerous opponents, both indoors and outdoors, all battles will be bright and interesting, here you can be sure that no one will be disappointed. There are several types of enemies in the game, so monotonous zombies are not boring.
The process of the game is quite simple, you stand still, and shoot opponents, who are approaching you. In the process, you need to monitor the ammunition, and in time change weapons. You will buy weapons for the money you receive for completing missions.
A set of weapons, here is the most diverse, starting with shotguns, and ending with grenades, which can destroy several opponents at once. You also need to buy uniforms, which will increase your protection and, consequently, your survival in this world.
Another significant advantage of the game is that there is no advertising on it. So nothing will distract you from the gameplay.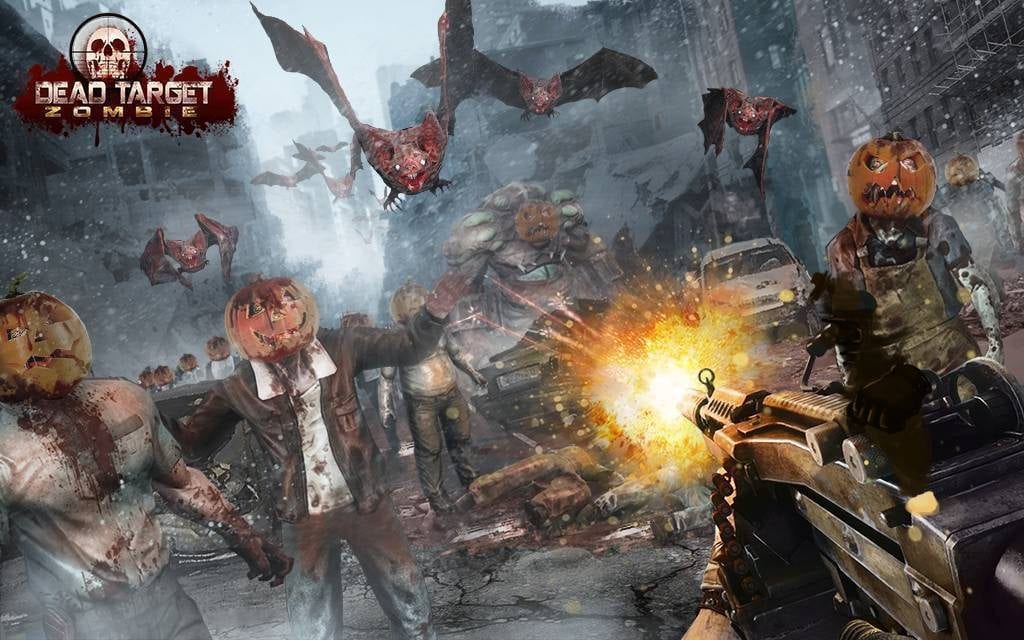 You may also like: 11 Best War Defense Games for Android & iOS
War Z 2
War Z 2 – strategy in an interesting style of zombie action, where each player can move into the abyss of a zombie apocalypse and try to survive there. If you are a fan of zombies, and also love strategies, then you will definitely like this game.
The app has a great storyline that tells us that there was a nuclear war on the planet, because of which billions of people died. There are very few people left and the survivors simply have to try to rebuild the planet again. You will become the ruler of your own state, you will constantly have to fight with a large number of zombies, of which there are a lot of applications.
The strategy has one distinctive feature – there is an opportunity to kill the zombies with the help of your hands, and the picture at the time of the murder will definitely please you. You will be able to create groups of survivors. These units need to be sent to intelligence, where they need to find various resources, collect food, protect their state from zombies and other states.
In the War Z 2 game, you need to constantly pump over their skills and abilities. This will allow you to install more advanced traps, complete construction faster, and more.
The strategy also implemented the possibility of searching various houses, caves, and other territories, this will allow finding useful resources. The world of the application is huge and it will take time to master it. The graphics are made a little rustic and could be improved.
Here are some features of the app:
a lot of game interactions, so playing is much more interesting and exciting;
simple graphics, and therefore the game is quietly installed on weak mobile devices;
each player can create his huge power without even investing real money.