Today the music market offers us more then we can even imagine. Any kind of music for every taste so even the deaf would like to listen to watching large-scaled campaigns of some artist.
You guess, of course, that the aim of such campaigns is not only popularity but also the money that comes with it. Nowadays musicians are highly concerned about any profit they can get from music so it became almost impossible to just enjoy the song you like for free.
However, this is how streaming services appeared. Why would you need to pay huge sums of money for songs that you are going to listen to, maybe, twice? Why block your memory with those tracks since a good quality sound weights a considerable number of kbts.
You may also like: 11 Best Apps Like Pandora for Android & iOS
Using streaming services you can find all the music online and listen to it with no limits paying nothing or little sums of money which is totally worth the comfort. Here are the best services which will be your providers to the music world.
TIDAL
Tidal is the world's first music service with High Fidelity sound quality, High Definition music videos, and Curated Editorial by music journalists, artists, and experts, making for a simply superior experience. Here you can literally find everything you're looking for.
All the tracks are posted in the best quality and here we are talking not only about the most popular artists. The app includes more than 40 million tracks which you can listen to. Now you don't have to switch on to YouTube because Tidal also has music videos and you can both listen and watch anytime you want.
After you have compiled your list of favorite tracks you will get automatic notifications about the tracks that you might like by experienced music journalists.
You can also read music articles, magazines, and the latest news from the show business world. You can download albums, playlists, and tracks, and bring your music with you anywhere using our offline mode for up to three devices.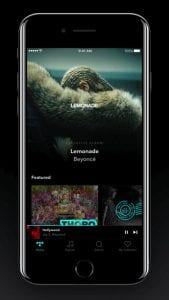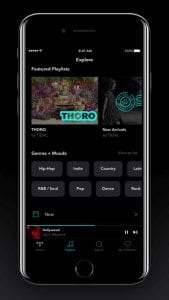 You may also like: 15 Free music streaming apps for Android & iOS
iHeartRadio
Not only this Radio station is one of the most popular in the United States and Europe, but it also can be found as an app that allows you to listen to your favorite music 24/7. Stream unlimited music, thousands of radio stations, and podcasts all in one app.
With this, you can discover thousands of interesting local radio stations and from cities around the world. Not speaking about the fact that this way you will always be aware of which tracks are the hottest at the moment.
You can stream the most popular podcasts from famous personalities like Ryan Seacrest, Colin Cowherd, Sean Hannity, Elvis Duran, and Bobby Bones.
What is more, you can create your own music stations based on your tastes and preferences. Also, there is a function called "My Favorite Radio" where you can gather all you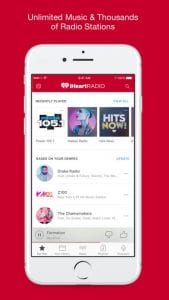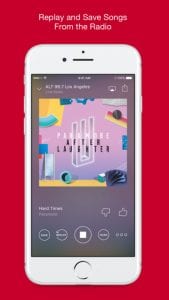 Last.fm
You've probably heard of this app since it's been on a market for a while. Millions of users have already appreciated it and now they enjoy their favorite tracks playing in different services every day.
There are also event recommendations posted by other people so you can always see if there's something interesting for you. The way these app works is it scans all the most popular music services such as Spotify, Deezer, Google play, and others in order to suggest the music from there.
You can monitor charts and give "likes" to your favorite tracks. What is more, the app includes videos to the singles. In case if you have an artist that you adore you can follow them in last.FM and follow up all the latest news and tracks from them.
See what's been popular last week, month, year – and discover the new music around!r favorite songs of all time. You can find them all in a multi-million library of the app. Save the tracks you like the most so you could enjoy them in offline mode.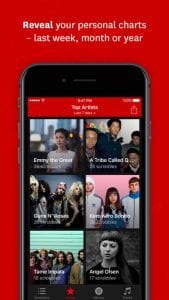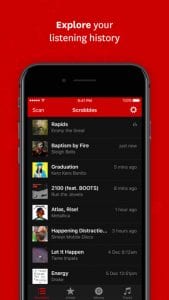 Pandora
Pandora is a new trending app for music streaming that already gained huge popularity. Pandora is considered to be one of the main competitors of Spotify, and it provides basically the same features and maybe even a bigger database of tracks and podcasts.
The main difference between Spotify and Pandora is that the interface of the latter is probably a little easier. The icons are bigger, and as soon as you open the app you can see the latest hits and the most popular charts.
What is more, you can choose one of the following moods in order to diversify your listening experience with Pandora: for example, you can choose the Crows Faves to see which songs are the most popular at the moment or Discovery – listen to the artists that you've never heard before.
Another prominent feature of Pandora is that it includes the impressive database of podcasts. Depending on the podcasts you're listening to, the app will create personalized recommendations, so you won't be seeing something completely irrevalent to your interests.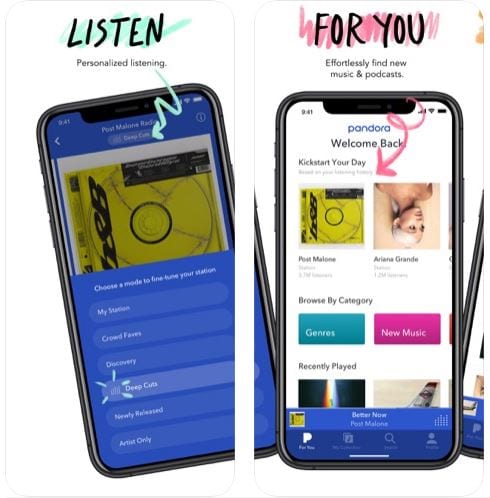 You may also like: 13 Best FM Transmitter Apps for Android and iOS
Deezer Music
Here is the app which allows you to listen to music for free. You can find your own song among 40 million tracks. As long as all your favorite music will be gathered in one place you will feel like home.
What is more, you can listen to even more music and find new songs, because the app recommends you the similar tracks basing on your preferences. You can create your own music collection according to your taste. The free profile of Deezer allows you to enjoy a personal soundtrack including your favorite tracks and novels.
You can also listen to the mixes based on a song, artist, playlist, or an album. Find different channels with different music. Moreover, you can create an endless number of playlists and watch the lyrics of your favorite songs. You can switch on to the favorite track at any moment with no ads, upload your own music, and listen to everything in the best quality.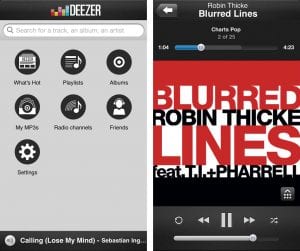 SoundCloud
SoundCloud is also a very famous app not only among iOS users but the whole world. Though its type differs a little bit from classic streaming services like Spotify, still you can find plenty of interesting music here, including the cover by non-professional musicians, demo-versions of songs, and so on.
What you need to do is to create your own account and you can start listening. You can search for tracks, published by other people, upload your own music, give "likes" and comment on different posts. Here it is also possible to e-mail others and they can text you.
The drawback of this app is that the player itself is not really convenient and you can't switch on to the full list of songs that you like and you can't save them to yourself. Still, it is a curious platform for beginners, since here they can promote their music.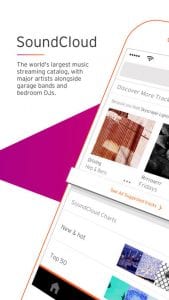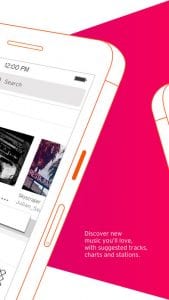 You may also like: 11 Best Apps to Add Music to Video (Android & iOS)
Slacker Studio
And this one app might be not as famous as the other ones on our list, but it is definitely worth your attention. This is not a music streaming app – it works like a radio app, however, you and only you choose what is going to play on this radio. You can even write comments between songs.
The database of the songs here is not that huge as in Spotify, however, after you will acquire the premium subscription, you will be able to add to your playlists all your favorite songs. What is more, the price for the monthly subscription is more than affordable – another advantage of Slacker Studio in front of Spotify.
You will be able to listen to your favorite tracks offline, without any ads, and with unlimited skips music – something that other music apps haven't managed to implement yet.