Wanna find out how to remove overlaid objects from your pics? This article has you covered!
Luckily for you, we've gathered together the apps that help to remove overlays from photos on Android & iOS. Although these apps are not automatic — it's the fastest and the clearest way for you to get rid of all the unwanted overlays on your images. More to say, these apps can cope with hearing any objects you don't want on your pics, so you'll def get good use of them.
Here's the list of the best apps in that category you may try. Have a look!
You may also like: 12 Best red eye remover apps for Android & iOS
Adobe Photoshop
Let's start with the classics — Adobe Photoshop is the most-used app when it comes to any kind of editing.
It needs to be said, removing an overlay from an edit is quite a challenge — mostly because there's no way to cope with it automatically. It's still possible tho, just takes some time and concentration. In case you've already decided to skip this app because Photoshop is too complicated, and it's only for pros — don't rush yourself.
Frankly speaking, this app is quite intuitive, and it covers step-by-step guidance if needed. So how do you get rid of overlays? Several ways depend on the type of OVR you wanna erase. If you're dealing with stuff overlayed in the bg, the app covers an automatic eraser and even a swapping tool that lets you shift the bg in secs.
You can also find a pic to replace a bg with and add it as an extra layer on top of the original one. Then, highlight the objects you want to erase an OVR from and play with layering to get the clearest result. In case you don't like the look of a particular object you may rather use a retouching brush to remove it or take more time with the previous method.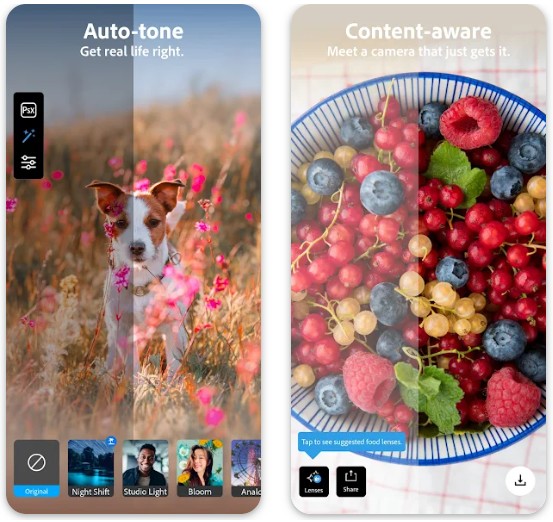 You may also like: 11 Best Apps to Remove Glare from Photos (Android & iOS)
Overlay Cut Out
Next, we have an app that is fully dedicated to overlays.
In the first pale, the main goal of this app is not to remove OVRs but let you add those to your picks. But it won't stop us from using it however we need, right? According to the machines, you need to load two images — the one for the background and the one for the foreground and that's exactly what you'll get to do.
The trick is, you're going to load an edited pic you wanna remove an overlay from and whatever you're going to replace an overlay with. Then, you'll need to erase all the unneeded objects using the brush. Herewith, you get to regulate the size of the brush and its sharpness. Make sure to get extra concentrated and careful with small items and the edges.
Once you're done with this part, you'll get to play with blending instrs and set the layering as needed. For now, the app covers over 100 blending modes, so you'll be able to get quite the effect you needed.
The only thing you left to do is to save the outcome or pot it right on your SM. The app does have a paid sub pack, but you don't need to get rid of an OVR.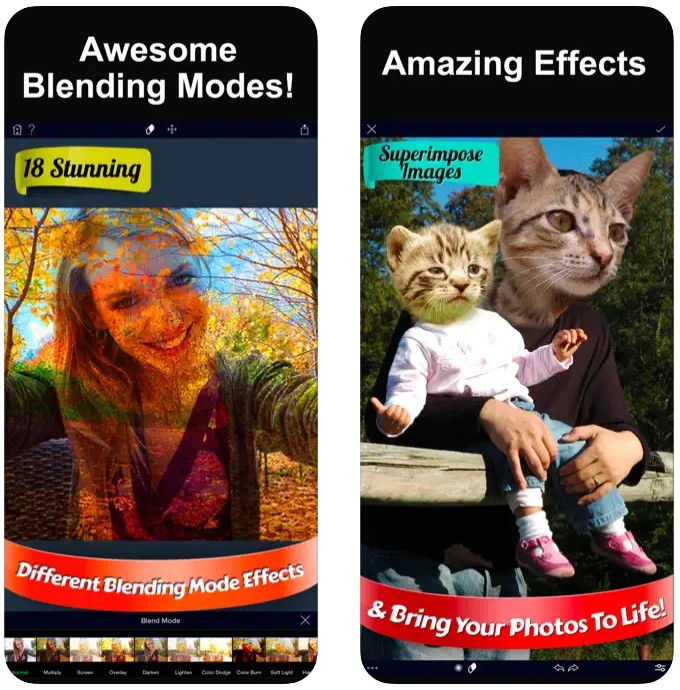 Background Eraser
The name of this app fully reflects its concept. It's a big eraser that works just fine with deleting unneeded overlays.
As you may guess, the functionality of this app doesn't let you remove all kids of OVRs — only the ones placed in the bg. Although this is quite a limit, it gets the job done without any bugs. Plus, the majority of overlays are usually placed on the bag, so the chances are high this app will cover all your needs anyway.
What is more, the app lets you get rid of the bg manually, so you can erase any areas you need. The mechanics of this app is quite simple — there's an auto mode that detects the bg and makes it transparent in secs. In case there are any smudges or things that require a touch up you can cope with them with a repairing brush.
As for the manual tool, it is basically a brush you can use to erase whatever you don't wanna see on your pics anymore. You get to adjust the size and intercity of the brush to get clear results. Additionally, you get to zoom the pic in and out to not delete smth by accident. You also get to decide if the bg will go transparent or white after being erased.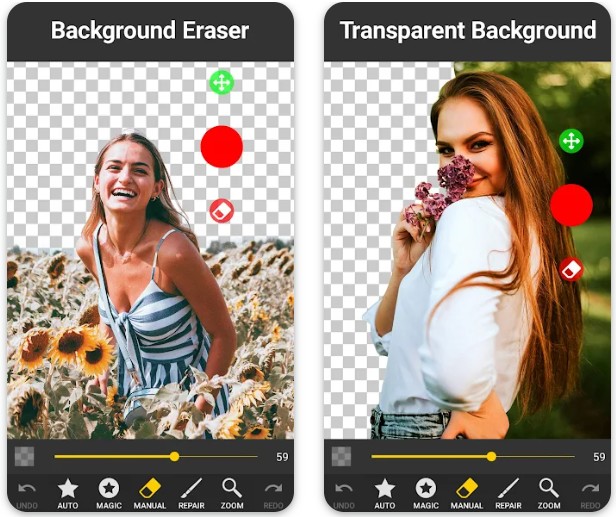 Apowersoft
This is another ng remover that you can use to rub out the unneeded OVRs.
Apart from the previous app, this one covers two instrs you may need to remove overlays — a bg eraser and a stamping. The stamping tool lets you remove individual objects while leaving the pic look unedited.
That's because this tool erases the objects by covering them with details from another area of the pic. Thus, you get a clear pic with no smudges and no one can tell there was another object there.
In case the overlaying is placed on the bg of your pic you can use a bg remover to get rid of it in a couple of taps. This tool automatically detects the background and separates it from the foreground of your pic. This feature works great in most cases but if the bg of your shot is too complex you may need to do some touch-ups.
To cope with that, you can use a repair brush with regulating size. Once you've highlighted the ng you may rather make it transplant or white — it's up to you. Additionally, you can use a replacement tool to switch your bg to smth completely new. Once you're done you can post the outcome right on your SM.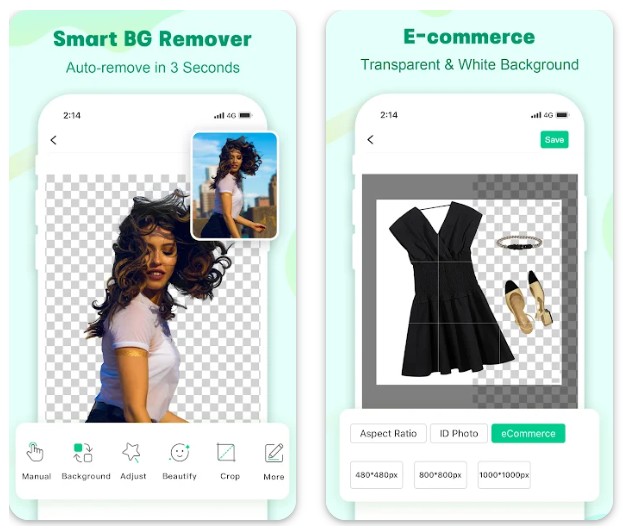 You may also check: 9 Free Apps to Remove Braces from Your Photos (Android & iOS)
Remove Unwanted Object
And lastly, we have a remover app that is suitable for erasing unneeded overlays.
The mechanics of this app is quite simple — you use an eraser brush to rub out any objects from your images. Herewith, there are no limits for what you may erase, so you can get rid of anything — from people to text. The tool works by replacing unneeded parts of the pic with the ones for another area.
It needs to be said, the tool works clean and smooth, so there won't be any smudges or smth. However, if you wanna remove a small object from a complex background, make sure to zoom your pic to avoid mistakes.
Plus, if you're dealing with a massive overlay that covers the majority of space on the pic — this app won't help you out, you'll need a bg eraser for that. The app lets you have the result or share it straight on SM. It also doesn't affect the quality of your shots at all so no worries about that.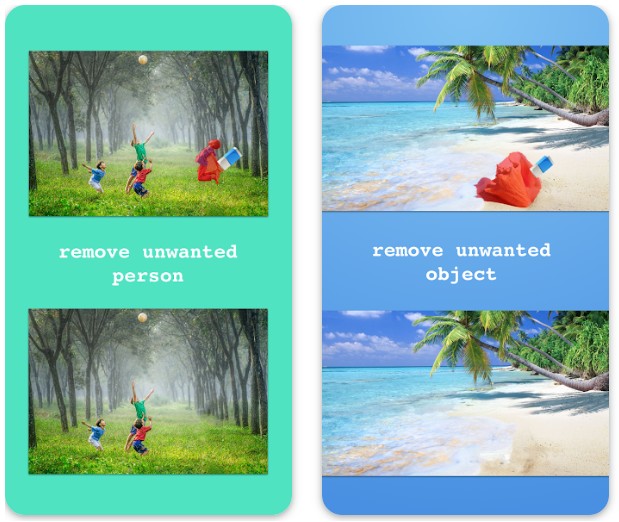 SnapEdit
SnapEdit is a photo editing app that specializes in removing unwanted objects from your photos. With a user-friendly interface, removing unsightly background elements has never been easier!
The app offers a range of tools that allow you to erase objects, people, or even entire backgrounds from your photos with just a few taps.
Plus, it offers an intuitive "undo" feature that allows you to quickly undo any mistakes you might make along the way.
But despite its impressive functionality, SnapEdit has a few drawbacks. One of the most significant disadvantages is that it does not always work properly, which leads to dissatisfied users leaving critical reviews
Despite its shortcomings, SnapEdit is an app that can help you create amazing edited images in no time. If you want to easily remove unwanted elements from your photos, you might want to try this app.
Application pros:
Allows you to remove the background or unwanted object from your photo in a few clicks
Application cons:
Sometimes it does not work accurately and distorts the photo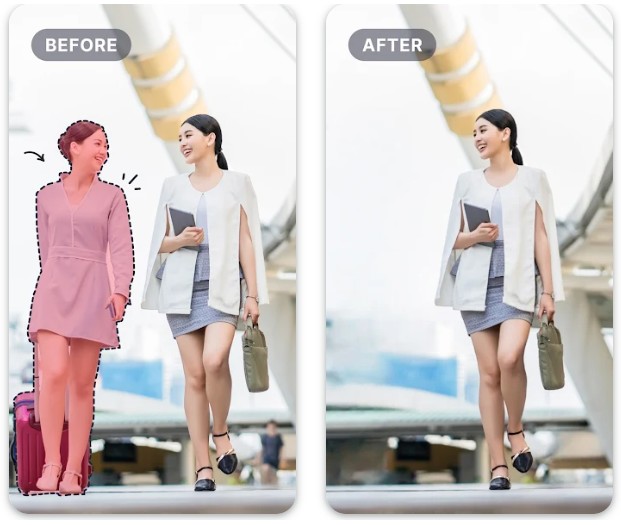 PhotoRoom
PhotoRoom is a photo editing app that allows you to easily remove the background from your photos and create amazing designs.
One of the prominent features of PhotoRoom is the background remover tool, which uses artificial intelligence technology to automatically highlight the subject of your photo and remove the background.
This makes it easy to create transparent PNG files that can be used in applications ranging from social media graphics to grocery lists.
In addition to background removal, PhotoRoom also includes a range of editing tools that allow you to adjust colors, add text, and apply filters to your photos. The app also includes a library of ready-made templates that you can customize to suit your needs.
Although PhotoRoom is a powerful graphics creation tool, it has some limitations. There can be issues with the background removal tool, especially when trying to isolate complex objects.
Moreover, some users have complained about the app's pricing model, which requires a subscription to access some of its more advanced features.
Whether you're a social media manager, a small business owner, or just someone who wants to beautify photos, PhotoRoom has a lot to offer.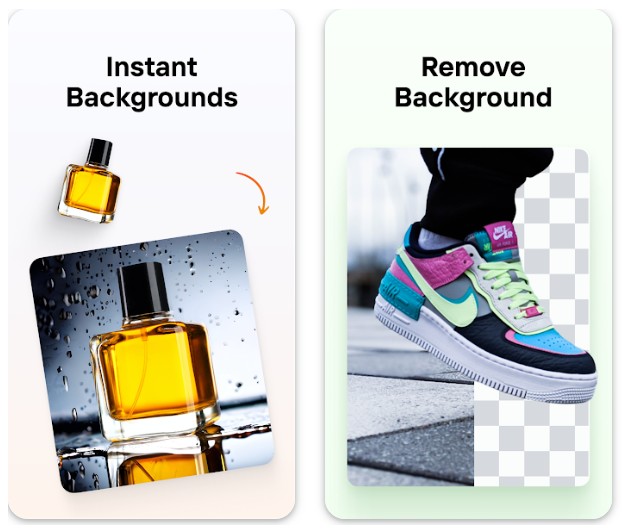 Overlay Video & Image Layers
Overlay Video & Image Layers is a mobile app that allows you to add multiple layers of images and videos on top of each other to create amazing compositions, as well as remove the background from photos and turn them into stickers.
With this app, you can mix and match your favorite photos and videos to create personalized collages, slideshows, and even video projects.
The app's features include the ability to adjust the opacity and blend modes of each layer, add text and stickers, apply filters and effects, and export the final composition to various video and image formats.
One of the significant advantages of this application is its user-friendly interface, which makes it easy to create your own designs without any prior design experience. It's perfect for content creators, social media managers, and anyone who wants to add flair to their visual content.
However, keep in mind that the app can crash on some devices. Plus, the app doesn't let you add music to the pics.
All in all, Overlay Video & Image Layers is a great app for creating amazing visual compositions on the go. Its user-friendly interface and feature set make it a must-have for anyone looking to enhance their visual content.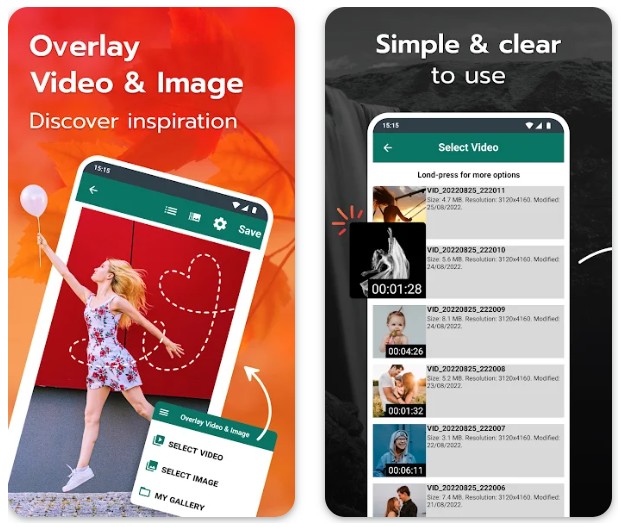 Check also: 11 Best Background Remover Apps for Android & iOS
BG Remover
BG Remover is a handy application for you to give you the ability to remove the background from your photos. With just a few taps, you can turn an ordinary image into a stunning masterpiece and make it look like it was taken in a professional studio.
The app comes with a range of features including automatic background removal, manual erasing tools, and an intuitive interface that makes the whole process easy.
You can use the app to create transparent backgrounds for your product photos, isolate your subject from the background in portrait shots, or even remove unwanted elements from your images.
Some users have reported that the app can be a bit finicky at times and that the automatic removal tool doesn't always work perfectly.
Some have also complained about the app's limited editing capabilities and that it requires a subscription to unlock certain features.
So, if you are looking for an easy-to-use application that can help you remove the background from your photos, you might want to try this one.