Do you want to quit drinking alcohol? Don't know the ways? Now you can do it with the help of your smartphone! For those who want to cope with alcohol dependence, there are more and more mobile applications. We have found the best of them!
You may also like: 11 Best Drink Water Reminder Apps for Android & iOS
I Am Sober
I Am Sober is a motivational app that allows monitoring sobriety. With its help, you will track the time (in minutes, seconds or hours) that you were sober. You will see the total number of days you spent without alcohol.
The main features of the I Am Sober application:
Notification system. You will get alerts when you reach milestones in your sobriety.
Build-in calculator. It will help to keep track how much money you have saved. You just need to enter the sum you spent daily on alcohol and the calc will do its work
Sharing your experience. You can share your story with other users and inspire them
Support groups. With the help of the app, it is possible to find support groups and rehabilitation clinics near you.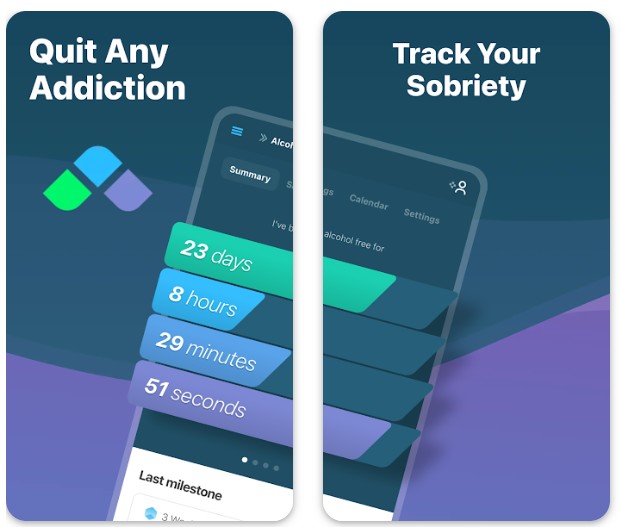 You may also like: 15 Best diabetes managing apps for Android & iOS
Coach.me
This is a universal motivating tool designed to achieve your goals. With Coach.me, you specify the goal, and after it is achieved, get praise from the application. In our case, the goal may be "Do not drink today."
Downloading the application on Android or iPhone is completely free.
You can choose one of the levels offered: self-coaching (here you will track your progress), community coaching (for asking questions), private coaching (you can hire a coach for additional paying).
Coach.me allows you to set goals and helps you achieve them, constantly motivating. The application tracks your progress and provides rewards. There is always someone available from the community to answer your questions and support you.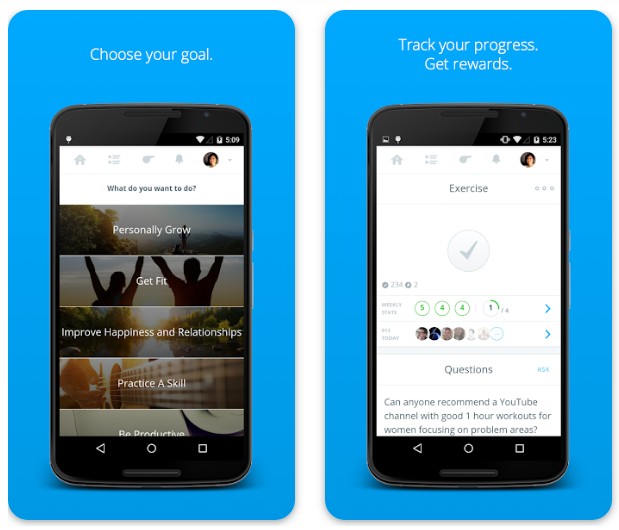 Sober Time
Sober Time is a helpful tool for tracking the time that you were sober. It really helps to give up such bad habits as smoking, drugs, or alcohol addiction. The app has a beautiful design and a powerful interface. It is so simple to be motivated!
The main features of the Sober Time application:
Add as many bad habits as you want
Get motivational messages and quotes every day
The ability to track the money saved
Choosing the background from the offered or you can upload your own one
Home screen widget for more convenience
Setting goals
You will get a notification when you reach your goal
Track your statistics
Sharing your progress with other users, family, and friends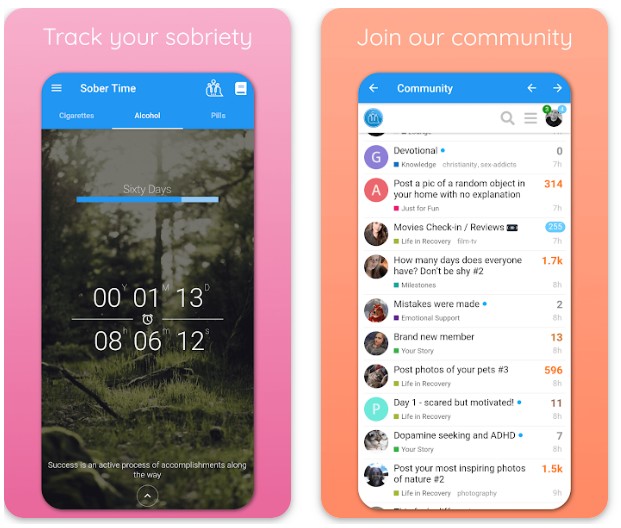 Nomo
Nomo is another helpful instrument in a struggle with alcoholism. It can be used by both Android and iPhone users. Nomo will help you to track money and time saved. Also, you will be able to share your success with others via social networks.
The main features of the Nomo application:
Creating sobriety clocks
Get a full analysis of your progress
Tracking how much money was saved
Sharing your results on social networks
Daily encouragements from the community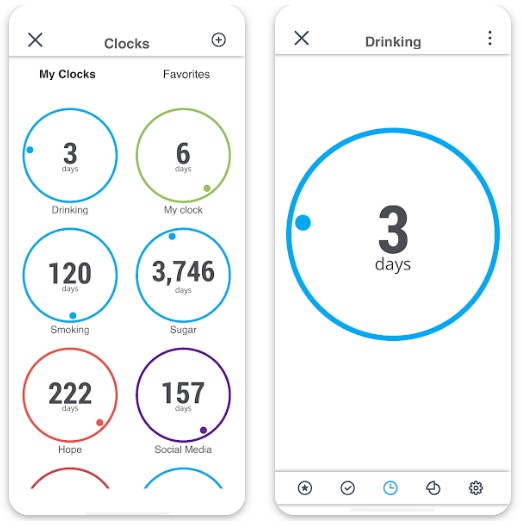 BACtrack
This is the app that is, first of all, allows to measure the level of alcohol in your blood by your breath. The only thing, in order to make it work you need to have a BAC device. You will be able to connect it to the app via Bluetooth and thus measure the level of the alcohol at any time.
This app is something for those who decided to take control on their alcohol consumption seriously. Well, this actually a useful app to help when you feel like you had a little drink, for example, at your friends' house and you need to drive back home but you're not really sure if you're sober enough to do that.
You can use BAC testing for your friends as well. In order to avoid the mess, there is a possibility to create separate accounts for each new person. Moreover, there is such functions where you can program the app to measure ad inform you when the level of the alcohol in your blood goes down to zero.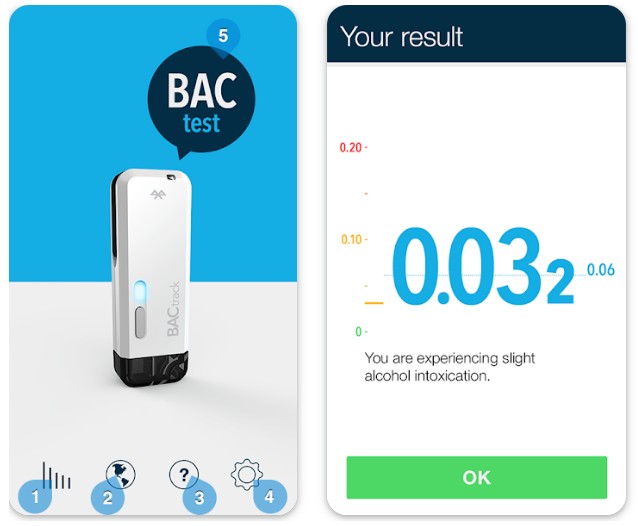 You may also like: 11 Best Weight & Food calculator apps for Android & iOS
Sober Sidekick
Sober Sidekick is a mobile app designed to help people struggling with alcohol addiction
One of the key functions of Sober Sidekick is the ability to track and monitor alcohol consumption. Users can log the number of drinks they have had, as well as any cravings or triggers they have experienced throughout the day.
This information is then used to generate reports and insights, which can help users identify patterns and triggers, and make more informed decisions about their drinking habits.
Another important feature of the app is the ability to connect with a community of like-minded individuals. Users can join support groups, participate in forums, and chat with others who are also on a journey towards sobriety.
This sense of community and support can be invaluable for those who are struggling with addiction and may feel isolated or alone.
Advantages:
Helps track alcohol consumption and identify patterns and triggers.
Provides a supportive community of like-minded individuals.
Offers educational resources and tools for addiction recovery.
Drawbacks:
None mentioned in the app description.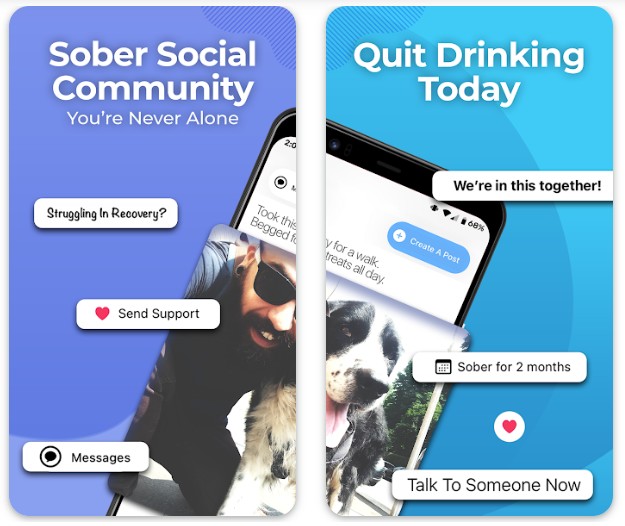 SoberTool
SoberTool is an instrument called the sobriety counter as it can calculate the saved money and sober days. Downloading the app, you will understand how helpful it is.
The main features of the SoberTool application:
You will get rewards for sobriety
Alerts and motivational messages every day
Build-in search system (you can enter the word describing your feeling now and you will see the info about how to cope with this state)
Sharing your messages, comments in a community forum. You can do it anonymously and get support
Do you try to be clean and sober but still feel stress? Or do you need some help as you can not cope with addiction yourself? Then, install SoberTool and it will certainly help you.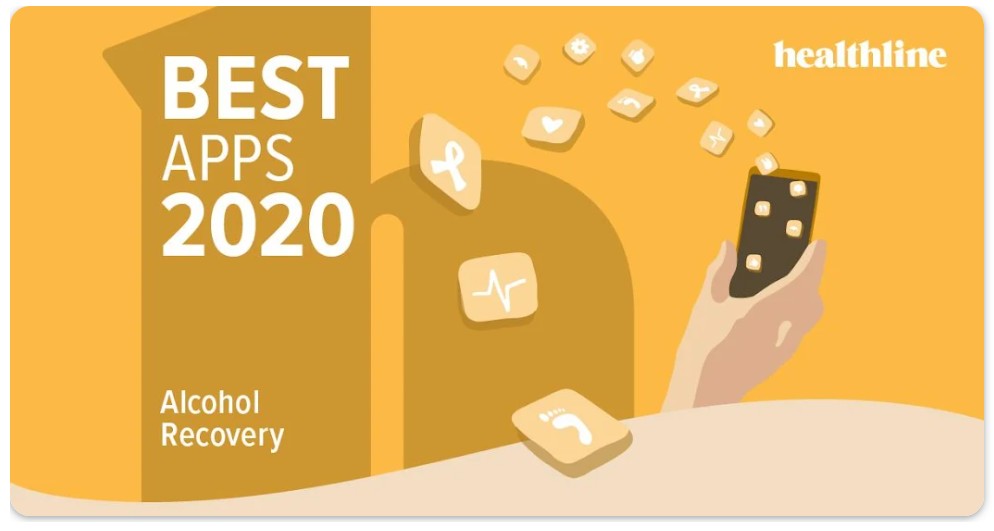 Sobriety Counter – Bad Habits
Sobriety Counter is an amazingly helpful service that helps to quit an addiction. The app is simple in use. You just need to enter a bad habit you have and the day when you give it up.
And the Sobriety Counter app will serve in your struggle.
The main features of the Sobriety Counter application:
It helps to give up drinking alcohol as well as other bad habits
Simple and user-friendly interface
Tracking expenses for alcohol drinks
Getting rewards and trophies when you achieve a certain goal
Motivational quote notifications
Detailed statistics
Choosing a theme
You can enter your reasons for giving up drinking and they will serve you as additional motivation. Also, read "Quote of the Day". It also has a positive effect when you try to get rid of a bad habit.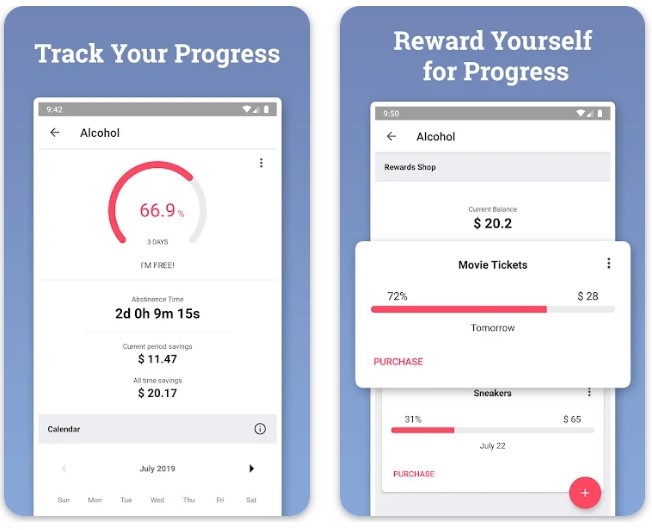 Sobriety Counter-Stop Drinking
Sobriety Counter – Stop Drinking is a fun app helping to stop drinking alcohol. The app has a colorful and bright design. So, it will be extremely exciting to stop your "drinking" journey.
A bright panel shows how much money you saved without spending money on alcohol. You can also set the reward as a goal with a personal image, and the app will show you the duration of the goal's achievement.
Scientific statistics show aspects of your recovery: such as blood circulation, cell regeneration, mental health, as well as the risk of developing cardiovascular diseases and reducing the likelihood of cancer.
If you have a desire to drink, you can play the game in an application called Memory. This helps to pass a scientifically proven 3-minute mark to kill the desire to drink and stay sober. You can earn 57 badges from the sobriety counter as a reward and share the icon with your friends in one click.
The main features of the Sobriety Counter application:
Track your money savings
Ability to play an interesting game called Memory
There is a Slow Mode. It helps to get rid of drinking without stress and pain
Getting budges as rewards (up to 57)
Choosing a theme to personalize your dairy
Viewing statistics
Sharing option
Amazing design and easy to use interface
Availability of home screen widgets
100% privacy.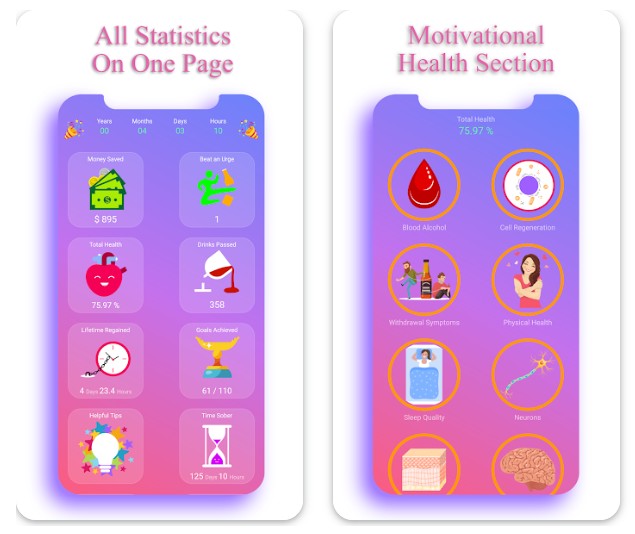 You may also like: 33 Best Health Apps for Android & iOS 2017
AlcoDroid Alcohol Tracker
AlcoDroid is a specialized program for devices based on Android, aimed at controlling the amount of alcohol drunk. The program can calculate the amount of alcohol in your blood in a matter of seconds. AlcoDroid will help you calculate the amount of alcohol correctly and prevent undesirable consequences for the body.
Based on the alcoholic beverages entered, AlcoDroid allows you to evaluate the amount of alcohol in the blood and display it in a visual graph. The level will change and indicate when you will sober up.
The widgets are available. They will display the level of current intoxication on your home screen. AlcoDroid allows you to make various corrections and editing- daily, weekly or monthly statistics of alcohol you drank.
The app will become a great helper before going to a party, as it is possible to set a drink restriction. The level of your drunkenness appears on the screen for a few seconds.
Everything is as fast and convenient as possible. You can share the charts and test results with your friends and friends via Facebook and other popular social networks.
The AlcoDroid application will be your reliable assistant and the guarantor of the safety of your passengers if you want to drive the next day after a party or a feast. Now you do not need to buy alcohol testers, as you can find out the level of alcohol content in the blood with the help of your own mobile phone or other device based on Android.