The development of modern smartphones qualitatively affects the improvement of everyday life. Active sports were no exception. A variety of apps act not only as reminders about the time but are also able to replace a personal trainer.
This is especially true for those users who decide to practice at home. Applications clearly prescribe the intricacies of each exercise. They contain optimal implementation rules, as well as individual recommendations.
This list of random workout generator apps will help you choose the best personal training app. With these applications, your workouts will be varied and interesting.
You may also like: 15 Best Workout Apps For Android & iOS
Exerprise – Workout Generator
In the Exerprise – Workout Generator app, you will find eight free programs for people with different levels of training.
Available types of training:
classes for home and gym
cardio training
plan for muscle growth and strength
training with an expander and a fitness ball
circular training
a program for those who first came to the gym.
All this is free. You only need to register to see the programs in your account.
Before you start training, the app will help you create the right schedule and pick up the load. You mark your level of fitness. Also, state how many days a week you plan to do other parameters. The finished workout plan is uploaded to your calendar.
In the program itself, you are offered two options for exercises. You can choose: do only one thing, do both, or alternate them from training to training.
By clicking on any exercise, you will see a tablet with working muscles, rules of execution, and photos. If this is not enough, you can copy the title and watch the videos on YouTube.
The app Exerprise – Workout Generator also has your training diary. Use the opportunity to save posts about your classes and add photos.
And for those who like to develop in the company of people, there is the opportunity to create their own group. This can be useful for motivation. Invite your friends to play sports together.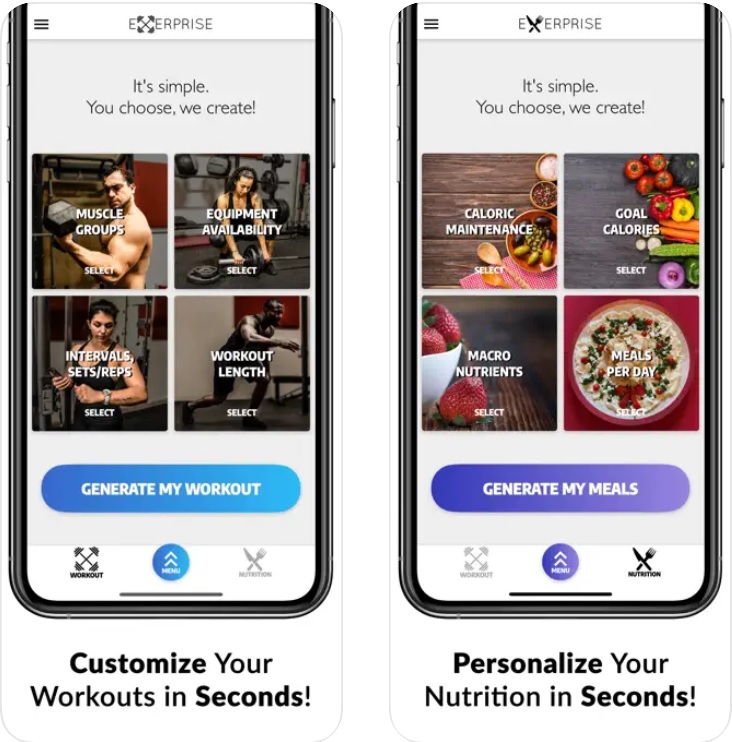 You may also like: 11 Free AB Workout Apps for Android & iOS
Random Workout Generator
In the Random Workout Generator application, you will find many programs for any purpose and level of training. They are categorized as follows:
for weight loss
muscle building
increase in strength and so on
The description of the app Random Workout Generator indicates the purpose, equipment, regularity, and level. If the program suits you, you can save it to your profile.
In any workout, there are links to a description page and a video demonstrating the exercise. If there is no link, just copy the name on YouTube and watch the video with the technique. Besides, there are plans for healthy diets to supplement workouts with proper nutrition.
Here you will find over 600 workout plans. On the left, there is a filter by gender, level, goals, number of classes per week.
In the application Random Workout Generator, you will see the target muscles and workout qualities. View a list of exercises with videos, the number of sets and reps, and the rest time between sets.
Below is a ready-made meal plan with different options for healthy meals and snacks. These are not just tips, but a detailed plan with ten options for specific dishes. Also in the application Random Workout Generator, you can use the calendar to plan activity. You can keep a diary to maintain a regular diet.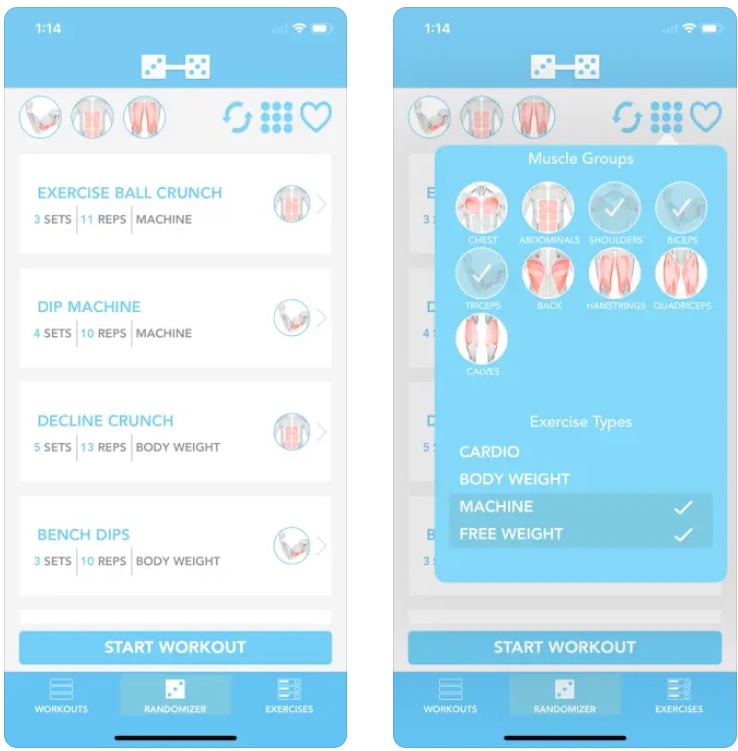 SmartWOD Workout Generator
Workout Generator SmartWOD Workout Generator will help you create a training program for every day. In the filters, you can specify the category, inventory, and level of difficulty. As a result, you will get a list of suitable workouts with a description.
If you don't care what to do, there is a random workout generator. Just click, and the finished workout for today is in front of you. The application SmartWOD Workout Generator has a large list of exercises with video. You can search by name, apply filters by muscle and equipment, add to favorites.
If you did not find the desired exercise, you can add your own. In this application, it is very convenient to compose your program. State the day, add exercises, edit the number of approaches and repetitions, set the time for rest.
Already training, you can change the weight and number of repetitions. Finish the approach and turn on the rest timer with a countdown. Completed workouts are displayed on the calendar. So you can watch your progress.
You can also keep a diary in the application SmartWOD Workout Generator. Here you can enter body parameters and a nutrition schedule. You can add photos to the diary so that progress is more obvious. If you work with a trainer, then you can send this diary by e-mail.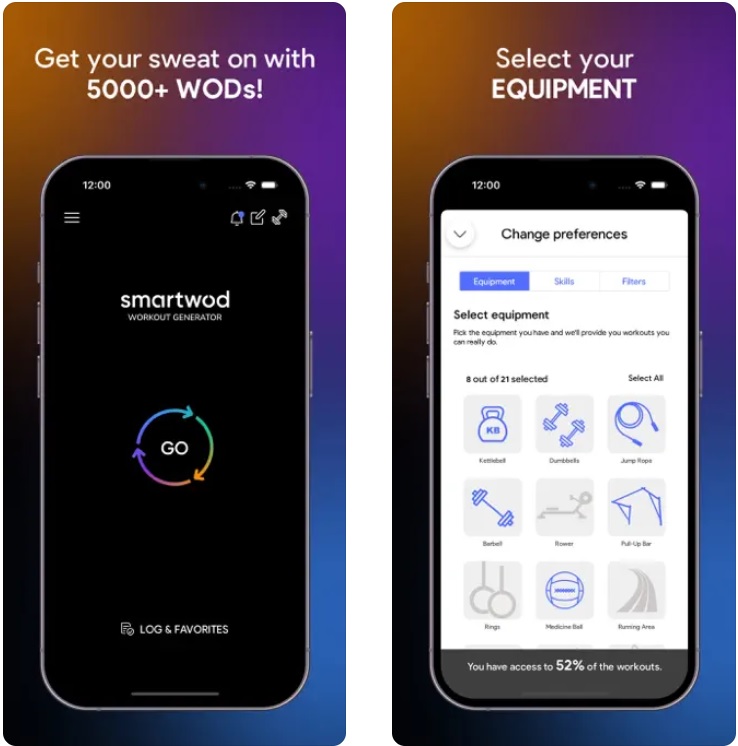 Fitbod Workout & Fitness Plans
Have you been working out for a while and you are ready to push the challenge to the next level? Then this app is a nice choice for you – it includes the function of a random workout generator and apart from that, it involves lots of training programs and fitness meal plans that you will find interesting.
Before you start you should choose your fitness goal so the app understands more all your needs and is able to compile a more suitable program for you. The designed plan will be personalized. It is best to use it together with your fitness bracelet.
Thus, the app will be able to collect all the necessary information about your physical abilities and special features, and, as a result, compile the best possible program for you taking into consideration all your physical abilities.
Sometimes this app generates workouts that don't even feel as workouts – they are a lot of fun! However, they bring you the most serious results.
For beginner strength-trainers, find the confidence to try new resistance exercises and gym equipment. Learn the correct movements from over 400 HD Demonstration Videos.
There are special programs for fat-burning and for training the muscles. Another bonus of the app is that it never overloads you with exercise so the body retains the strength much quicker.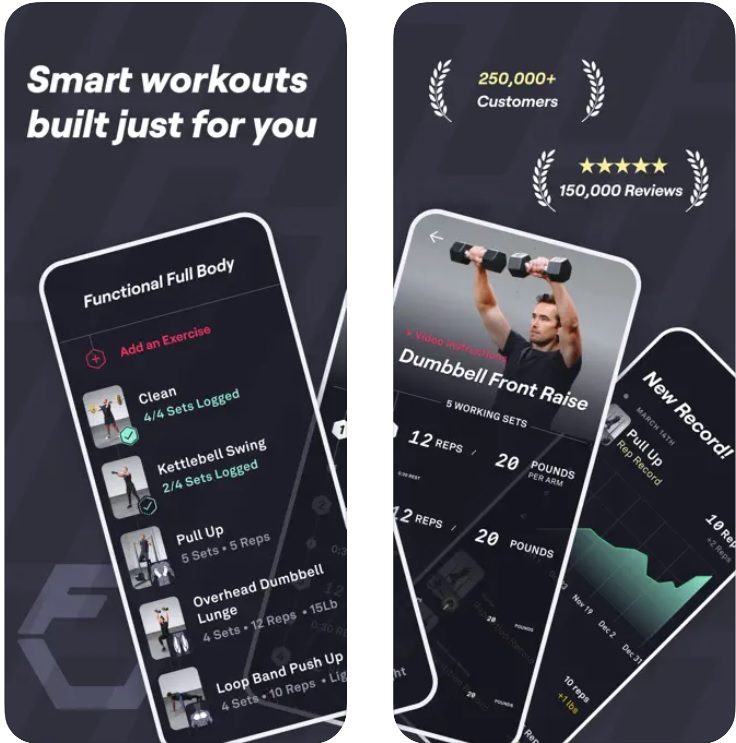 Sworkit Fitness & Workout
The Sworkit Fitness & Workout app helps you keep fit when you don't have the time or the place to do this. If you want to put your body in order, you will surely like this application. For classes do not need extra equipment. So, you can train with him where and when you want.
The application Sworkit Fitness & Workout contains more than a hundred different sets of exercises. One training session takes from 7 to 20 minutes.
But in fact, you yourself can adjust the duration of the workout. If you wish, you can perform more sets. The app allows you to save your favorite complexes and repeat them.
The application includes both strength exercises and cardio, in particular running. But since it is not present in all complexes, you can skip it if there are no suitable conditions for jogging.
To start a workout, click on Start under the selected set of exercises. Then start the stopwatch and proceed. If you need to interrupt while doing exercises, the stopwatch can be paused.
Share your sporting achievements. The application Sworkit Fitness & Workout allows you to do this on social networks and instant messengers.
Each workout in the app has video instructions that show how to perform one or another exercise. To view them, click on the name of the exercise. The application Sworkit Fitness & Workout has a user profile in which you can see the history of your workouts.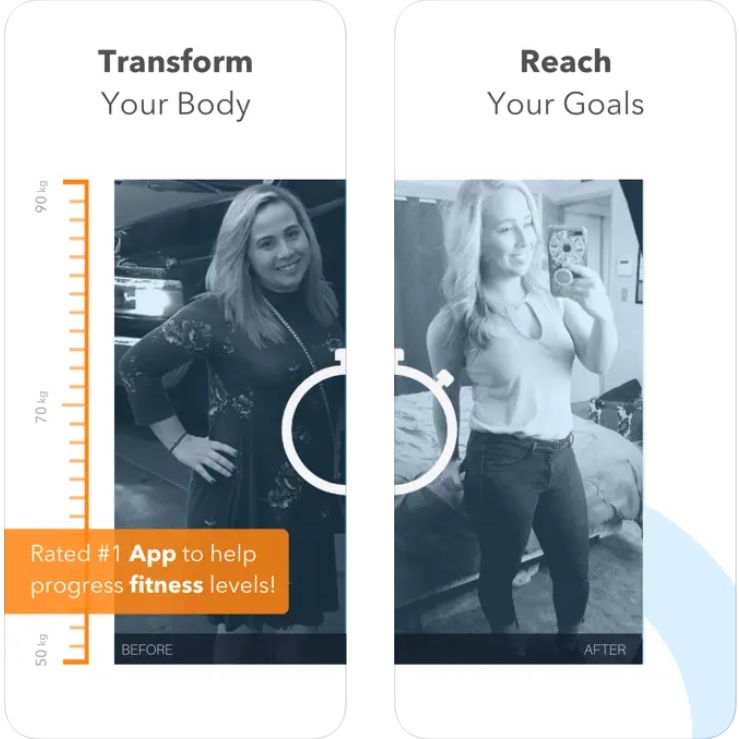 FitnessBuilder
Recently, CrossFit training, combining strength and aerobic training, has been popular. If you do not want to waste time searching for such training, the FitnessBuilder app will be a great solution.
In this application, you will find a large catalog of various workouts. You can also create your own complexes, which will be displayed in the "My Workouts" section.
If you can't decide which program to choose, you can use the "Random Workout" option. The application FitnessBuilder will select for you a random workout from the catalog.
Favorite workouts can be added to the "Favorites" so that later you do not have to look for them on the list. By default, three different types of timers are provided.
Stopwatch, countdown, and Tabata for interval training. You can edit existing timers, as well as create new ones. At the end of the workout, you can save the results along with a photo, which can also be done through the application FitnessBuilder.
Here you will find a large catalog of workouts, each of which can be edited. You can also add your workouts and timers. This will allow you to customize the application FitnessBuilder for yourself.
Besides, each exercise is accompanied by a description and video of the technique. You can also use the convenient search by name, muscle group, or direction.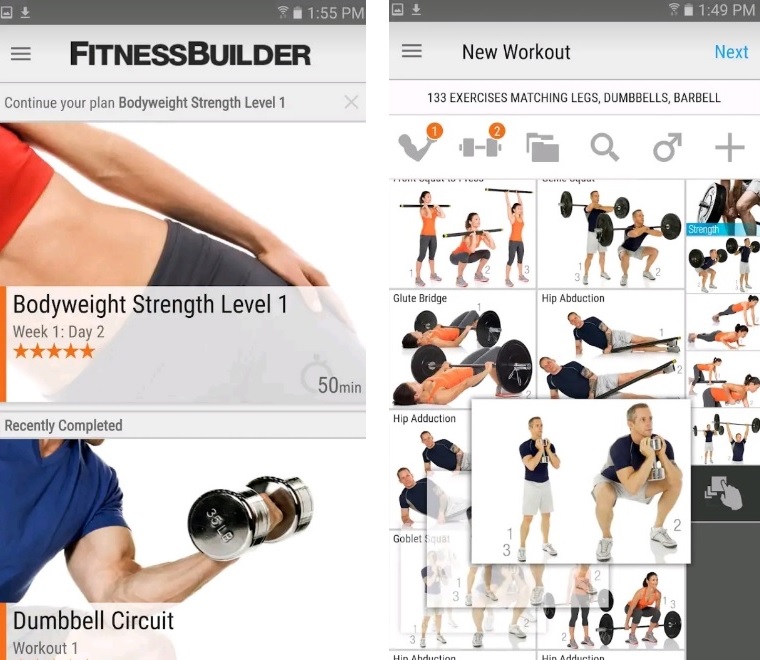 You may also like: 11 Best Body Fat Calculator Apps for Android & iOS
WORKIT
Many apps of one category don't stand out for the diversity of its names, and this category isn't any exception either. Just try not to get lost in all those similar names of random fitness generator apps. This particular one will be suitable for those who like to keep statistics on everything they do.
However, it is a known fact that the apps, that tend to be focusing on statistics, can often appear complicated for the understanding of a regular user, and it applies to any category.
On the contrary, the developers of this workout app managed to make it easy for understanding for everyone, and using WORKIT feels like a breeze.
Considering generating random workouts – there is such a function, but before that, you will need to input the information about your physical abilities, your weight, height, fat percentage, your fitness goals, and so on.
After that, the app will create your individual program and among all the workouts you will find that random generator.
Don't forget to put in the details of each of your workouts to the app – thus it will be able to compile more precise graphs and statistics for you. The workout names sound quite scientific – so it is fair enough to claim WORKIT is more suitable for professional athletes and trainers.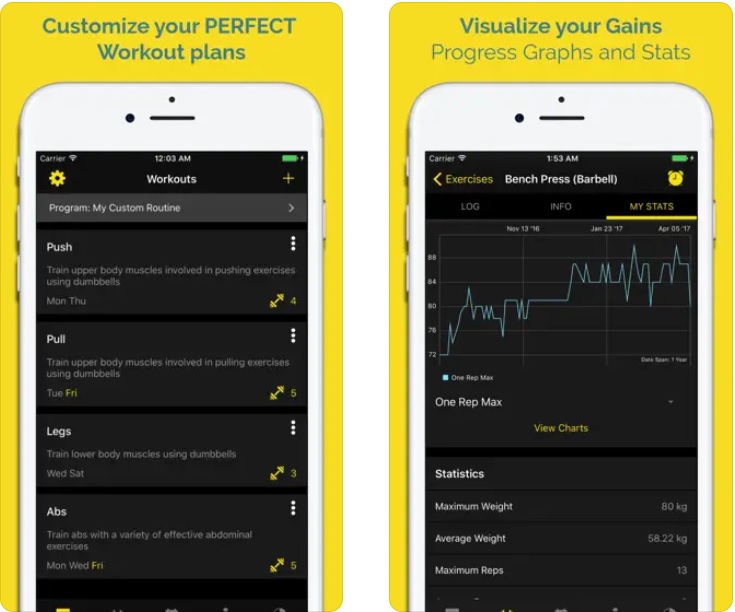 BestFit
The BestFit app is a random training generator that allows you to train the way you want. The basis of this app is complexes of certain intense training. They are based on exercises with your own body weight. On average, training takes from 5 to 45 minutes.
You can do workouts as fast as you can physically. Workout time is used to check your performance and progress. To create an individual training program, the application BestFit will ask you to enter the data:
Your gender.
State 3 important goals in order of priority that you want to achieve.
Choose the level of physical fitness.
State your age, height, and weight.
Choose a goal for the week: cardio; cardio and strength; strength and number of workouts per week.
Choose inventory.
If you have the opportunity to run somewhere, then state this, and running will be part of your training. Based on these data, a training program for the week is compiled. Each of your training days will consist of a warm-up and working out the technique of a specific exercise.
Each exercise that is available on the training day can be downloaded to your phone. See how to perform it with a detailed description of the technique.
After completing each point of the training day, you check how difficult it was for you to fulfill it. Before you complete it and go to the next point, you can upload a photo or write a comment. Other users of the app can also comment on your workout.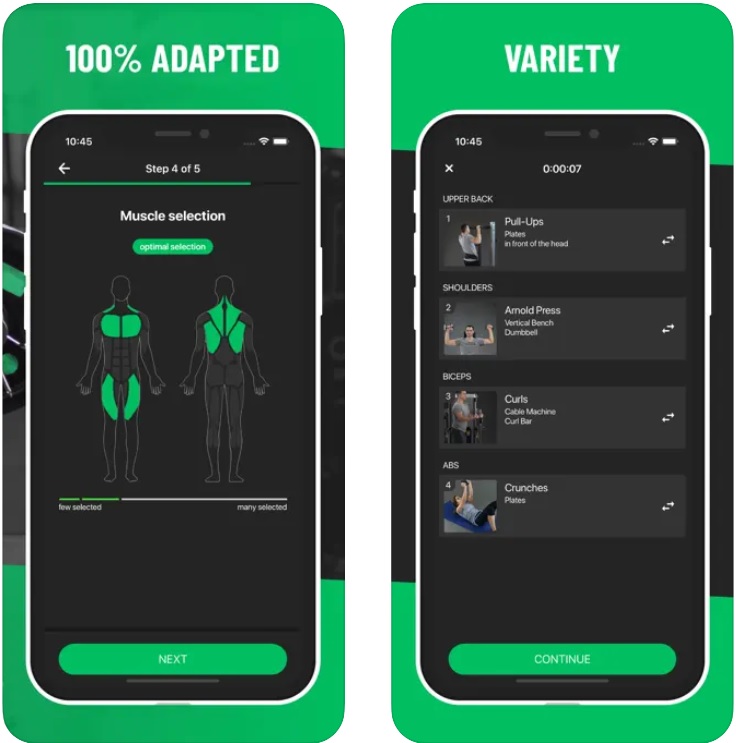 Madbarz – Bodyweight Workouts
The Madbarz – Bodyweight Workouts app is a new intensive training system that will help you achieve your desired results in a few weeks. This is a training system that develops strength, body strengthening, and weight normalization. This is achieved through specially selected sets of exercises.
They replace each other throughout the classes in this system. Moreover, all exercises are performed only with the weight of your own body. They do not need any extra equipment.
A feature of this app is an excellent system of control and motivation of participants. The main parameter for assessing your physical condition is the time you spent on a set of exercises. You need to do the exercises as fast as you can. Workout time is used to track your progress.
For full classes, you will need to register in the application Madbarz – Bodyweight Workouts. You can do this using an email or account on any social network.
Then you can train, record your performance and receive new tasks and complexes. All exercises include detailed video instructions and tips, a timer, and statistics collection.
The free app Madbarz – Bodyweight Workouts also includes a diary where you can record your workouts and meals. It will also help you keep track of your progress.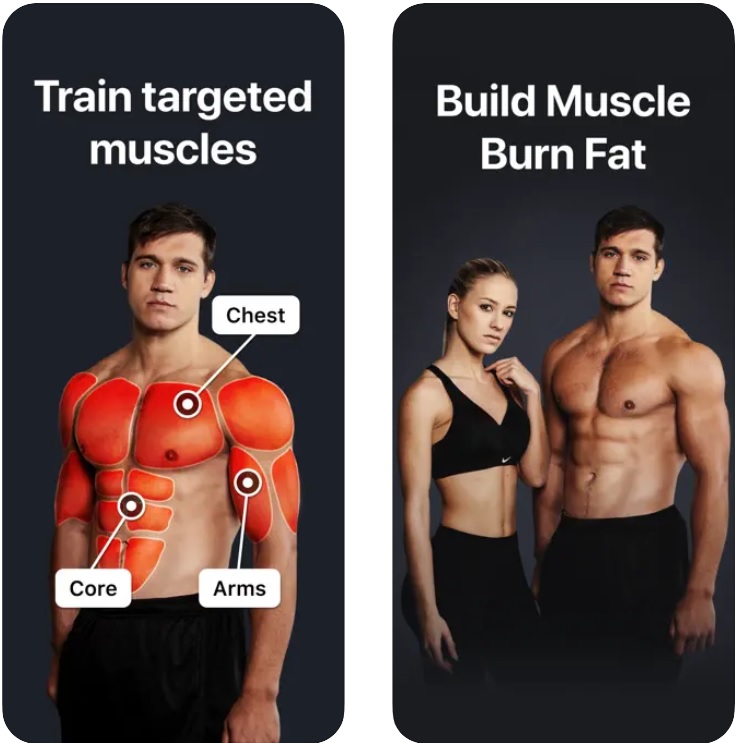 Fitness AI: Gym & Home Workout
Fitness AI: Gym & Home Workout is a sports software that offers workout plans for users based on their fitness goals and preferences.
One of the unique features of this app is its use of artificial intelligence to generate workout plans based on the user's goals, fitness level, and available equipment.
The app also provides real-time feedback during workouts and monitors progress during your training. This individual approach to fitness is a key reason for the app's popularity.
The app's interface is modern, making it easy to navigate and create training programs. Users can select from a range of workouts, including strength training, cardio, and stretching, and the app will generate a plan tailored to their goals.
It is also possible to pick the duration of your workouts, with options ranging from 5 to 60 minutes.
However, the app's limited selection of workouts and exercises, technical glitches, and pricing model may be a drawback for some users. If you're willing to pay the subscription fee and can overlook the app's flaws, it's worth using.
Advantages:
Personalized workout plans.
Use of artificial intelligence.
Real-time feedback.
User-friendly interface.
Drawbacks:
A limited selection of workouts.
Technical glitches.
Expensive subscription fee compared to other fitness apps.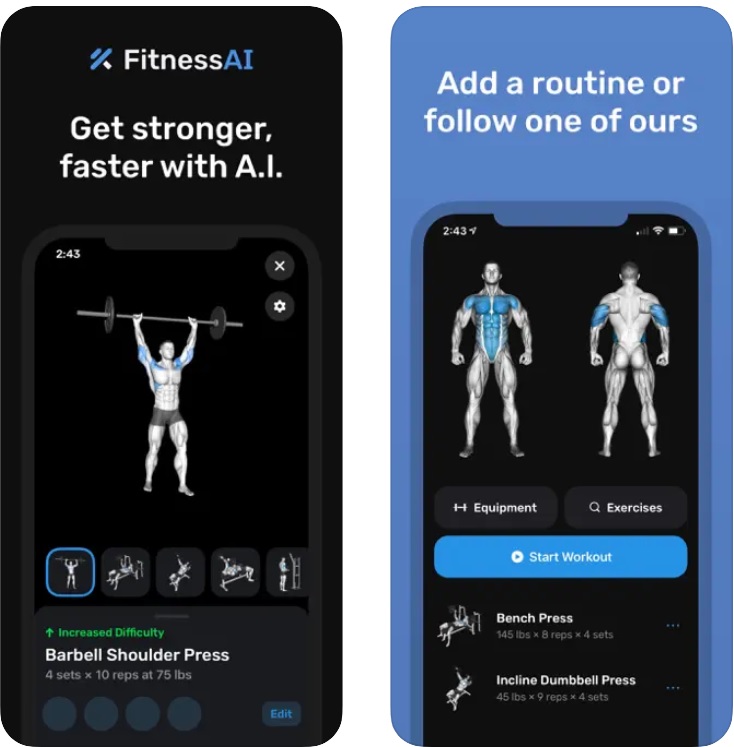 You may also like: 11 Best workout timer apps for Android & iOS
MyWorkoutPlan
Using this app is a good way to keep fit and healthy. You will get your workout plans depending on your sport level and possibilities.
Upon opening the app, users can input their fitness goals, current fitness level, and workout preferences. The app then generates a customized workout plan based on the user's input.
The app also features video demonstrations of each exercise, which is helpful for beginners. Users can track their progress by logging their completed workouts and weight/rep changes.
The video demonstrations of each exercise are high-quality, making it easy to follow along with the workout routine. However, some users have reported that the font size is too small, making it difficult to read on smaller screens.
Though, the app offers a limited number of exercises in each workout plan, which can get repetitive for users who use the app frequently.
the app is free to download, but users must pay a subscription fee to access all of the features, including personalized workout plans and tracking tools.
Advantages:
Personalized workout plans.
Helpful video demonstrations.
User-friendly interface.
Drawbacks:
Limited exercise variety.
The small font size on smaller screens.