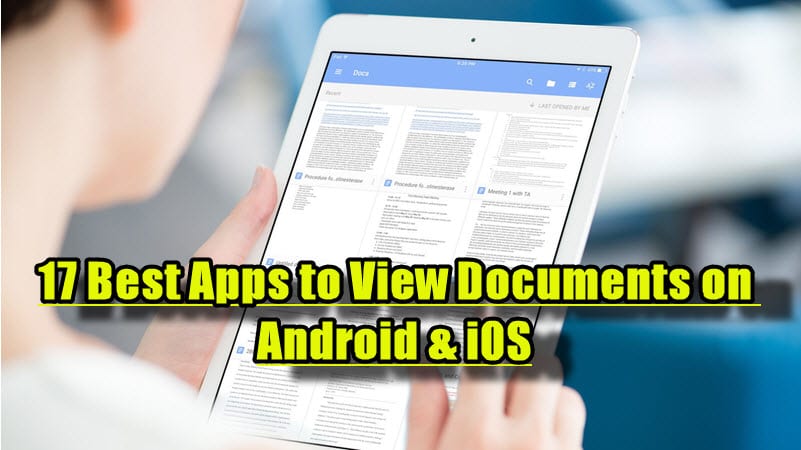 In real life quite often there are situations when it is necessary to view or edit a particular document, open an archive or get an access to the cloud storage.
The abundance of different file formats that are used for electronic documents often forces you to use various programs to view their contents.
Below we will talk about the best applications for viewing documents on Android and iOS.
Microsoft Word
Now you are able to work anywhere, view and write different documents. Now changing or creating documents, you can be sure that they will look right on PCs, Mac computers, tablets, and phones. The Word application is familiar to Office products and has intuitive touch controls, so you do not have to waste time learning it.
With Microsoft Word, you can browse, edit and create documents right in the app. You will have free access to your files in the cloud at any time. Office documents save their format on a computer and mobile devices. Continue working with from the place where it was interrupted last time. The documents you recently worked with are automatically saved on all your devices. You can easily share your files with other users by sending them by email as attachments or hyperlinks.
Read the documents with convenience on the screen of your device. In mobile mode, the document adapts to the size of your screen: you do not have to adjust the scale anymore.
Price: free with in-app purchases
back to menu ↑
WPS Office + PDF
WPS Office + PDF is a free application for working with most popular document types on Android and iOS devices. Using the program WPS Office + PDF, you will not need to sit at the computer for a long time to edit the documents. With it, you can both view and edit existing files, and create new ones.
This program is fully compatible with Microsoft Office files, including Word, Excel, PowerPoint and Txt documents, Google and Adobe PDF files, and support for dozens of other formats such as log, lrc, c, cpp, h, asm, s, Java, asp, bat, bas, prg, cmd and many others. The program WPS Office includes a handy tool for working with PDF-files. You can view documents in this format, as well as make changes to them. Also, if necessary, you can convert documents (Word, Text, Excel, Powerpoint and Doc.) in PDF format.
Another nice feature of the program is wireless printing of documents. You do not have to copy files to a computer or USB-media to print them on the printer: if you have a device that supports wireless printing, you can transfer any documents, including PDF files, to the paper.
Price: free
back to menu ↑
Docs To Go™ Free Office Suite
Documents To Go is a full-featured office suite that includes a text editor, a table processor, and an application for creating presentations. All three types of documents are saved in MS Office formats, and support for almost all versions of the formats. As additional options, you can also view PDF files, iWork files and have the ability to send emails with attachments.
Documents To Go is absolutely beyond competition. It bypassed even specialized PDF readers on the convenience of reading. Scrolling, zooming, turning – everything is done instantly. It is very convenient to zoom in small texts with a pinch gesture. And even files over 100 megabytes open relatively quickly.
Price: free with in-app purchases
back to menu ↑
Adobe Acrobat Reader
Each of us is probably familiar with Adobe Reader. This is the most popular PDF reader. Adobe (Acrobat) Reader is a software that is considered one of the most powerful for work related to the opening and editing of PDF formats. Through this program, the user will be able to do operations related to copying, viewing, printing and transforming the orientation of any PDF file.
Key features of Adobe Reader:
*The possibility of opening e-books;
*The function of zooming the necessary elements of the text;
*Availability of viewing 3D content of the document;
*Availability of printing documents using wireless networks;
*Clear interface;
Adobe Reader is a free application and differs from others in that it has sufficiently low system requirements. Also, Adobe Acrobat Reader is able to open all versions of PDF format.
Price: free with in-app purchases
back to menu ↑
AnDoc – PDF и DjVu Reader
AnDoc – PDF and DjVu Reader is easy to use, yet a functional program that allows you to work with documents in Djvu and PDF formats, directly on the screen of your Android smartphone or tablet. The abundance of advanced settings will allow everyone to change the design and interface of the program to their preferences.
The AnDoc-PDF and DjVu Reader application has a built-in file manager, which will make it much easier to find documents in the device's memory. If you save the necessary documents on your smartphone or tablet, you can find them at any time and start working with them, without using third-party applications.
In addition, the program saves recently viewed documents in a special section, which allows you to return to work with them at any time with just a few clicks on the screen.
Price: free
back to menu ↑
Google PDF Viewer
PDF format has become popular a few years ago on personal computers. Initially, for mobile phones, it was "heavy". The power of mobile processors was not enough for normal work with PDF files, now everything has changed. Mobile devices have become more powerful and technological and viewing documents in this format is not difficult. The application from Google will help you to view PDF files of any complexity on your mobile device quickly and without any delays. Read any periodicals, book magazine, s and other documents quickly and easily.
Also, the program provides the user with the ability to print files, search the text within the document and copy selected sections of the text.
Google PDF Viewer is an ideal app for basic tasks – instantly reads documents that interest the user and does not cause a headache when you need to view large, overloaded with images, PDF files.
Price: free
back to menu ↑
Docs Viewer
Docs Viewer is a simple and easy-to-use application that will allow Google Docs / Drive to browse various files on Android devices. With it, you can view even PDF files and files created in Microsoft Office. The application requires a regular Internet connection. The only condition for using this application is the size of the files downloaded from Android, they can not exceed 5 MB. From other sources, large files can be downloaded. The application is integrated with various applications, file managers, and e-mail.
Price: free
back to menu ↑
PDF Reader Viewer, File Opener
PDF Reader Viewer is a fast program that has a huge arsenal of features and is designed to open and view files in PDF format. It features high speed and a diverse language interface. The software is absolutely free. It also allows the user to add various annotations and comments to an open document and share it with others.
Price: free
back to menu ↑
Document Viewer
Document Viewer is an app that supports most popular formats. It supports the following formats: PDF, DjVu, XPS (OpenXPS), Comics books (cbz) and FictionBook (fb2, fb2.zip). This is more than enough to read the same magazines or books, which are often presented in the same PDF or DjVu.
Document Viewer leaves only positive impressions from the use and it is due to its smart functionality, as well as a pleasant and intuitive interface. Enjoy reading and working with this smart document viewer!
Price: free
back to menu ↑
Files : Document & PDF Reader
Perhaps, this is the most functional client for working with PDF. The number of instruments is huge. You can add notes, sign documents, import from any storage, edit files. You can view most common file types, including Microsoft Office documents, PDF documents, image, and audio files using this application.
The application supports importing and exporting content to Dropbox and Google Drive, and also allows you to open documents in third-party applications.
Price: free
back to menu ↑
Documents Reader and File Manager Pro
Documents Reader and File Manager Pro is a file manager that reads different types of files (PDF, RTF / RTFD, DOC / DOCX, XLS / XLSX, PPT / PPTX, CSV, CHM), transfers and edits! The application has so many features that you can only list them, but you can evaluate them in full only by trying.
Price: free with in-app purchases
back to menu ↑
FileApp ( File Manager & Document Reader )
FileApp is the manager of files and documents for iPhone, iPad and iPod touch. This application reads most types of files, including PDF and Microsoft Office documents, and also plays multimedia content. FileApp allows you to organize files and folders on an iOS device in the same way as Windows Explorer on a PC and Finder on a Mac.
You will have an access to a multifunctional editor of PDF-files with support for annotating, editing, as well as adding comments and bookmarks. You will also be able to create and edit TXT, HTML, XML text files, etc. It is possible to send documents in email attachments.
Price: free
back to menu ↑
Documents 5 – File manager, PDF reader, and browser
File manager Documents 5 is the best application for working with documents on smartphones and tablets. It attracted many users primarily due to the simplicity and adequacy of working with a large number of different formats. In the App Store, you can not find an equally functional, and most importantly – free solution for storing and viewing documents stored locally, on a computer and in cloud storage. What is important, with support for a large number of formats, for example, Microsoft Office documents, e-books, music, movies and images. In the
What is important, it works with a large number of formats, for example, Microsoft Office documents, e-books, music, movies, and images. In the application, there is even an integrated browser with the function of downloading files, which is rare on Apple mobile devices.
Price: free with in-app purchases
back to menu ↑
Documents Free (Mobile Office Suite)
Documents Free (Mobile Office Suite) is a simple office application that will allow you to work with text documents and tables. You can work in offline and online modes. Documents Free also can synchronize documents with Google Documents for further work with them on a PC or Mac.Capabilities:
Features:
*Portrait and landscape modes
*Support for .txt and .csv files
*Limited support for .doc, .docx, .xls, .xlsx files from Google Docs
*Uploading to/from Google Documents
*The table editor supports formulas, formatting and other basic functions.
Price: free
back to menu ↑
PDF Viewer – Read, Review, and Annotate
PDF Viewer is a small and full-featured program for viewing PDF files. Combines a huge list of features, high quality, and speed.
Features:
-Easily import PDF to your application from cloud storage, email, or directly from the sites you are browsing.
-Full-text search for documents.
-Add a personal signature to any PDF document (simply sign on the screen with your finger or Apple Pencil).
-Ability to create folders in PDF Viewer and lay out documents on them.
-Print and share via email, and save files to iCloud, Dropbox, Box, OneDrive and other clouds.
-It allows you to add comments and annotations for any PDF-file as well as make notes by adding text or objects.
Price: free
back to menu ↑
PDF Reader – Annotate, Scan and Sign PDF Documents
PDF Reader is a reliable and simple tool that combines advanced scanning technology and a powerful PDF processing engine. Counting over 6 million downloads, PDF Reader is undoubtedly the most useful application to view documents on your device.
PDF Reader is able to scan, download, import and convert various files and images into a multi-page PDF document. Edited PDF files can be saved and shared with others via email and many built-in services for cloud storage.
Price: free with in-app purchases
back to menu ↑
Foxit PDF Reader & Editor
Foxit Reader is an application-type program that provides the user the ability to view electronic PDF documents. Soft is considered an analog of the well-known Adobe Reader package, however, it is more compact and, therefore, not so demanding to resources. In addition, it is distinguished by a sufficiently high speed of operation.
Despite the fairly simple interface, Foxit Reader works very well when you need to read complex or large-scale documents. Also, there is a fairly simple toolbar, which allows you to create comments, make bookmarks to pages, and also work with various forms.
In Foxit Reader, there is a function to add annotations and exchange information about the document in popular social networks.
Price: free with in-app purchases
With mobile applications, we no longer need to destroy so many trees in order to support the workflow. Most applications for working with documents allow you to download, change and send a new file to the employee without using a single piece of paper.
In the business world, documents are often compressed into ZIP files before being sent as email attachments in order to reduce the size of an email and to adhere to attachment file size limits that are commonplace in most work environments. But, unfortunately, iPhone users have an issue with unzipping files on their devices, especially if the file includes something more than just a PDF.
Have YOU ever run into a zip file on you iPhone? Do you agree that it makes troubles? So, in this article, we'll learn you how to struggle with the problem! You will open for you the ways how to open zip files on iPhone.