Office applications are some of the most popular types of software. It concerns both computers and laptops, and smartphones of different platforms. In recent years, more and more useful programs for smartphones have been developed – office applications are among them.
This way you can work from anywhere in the world – or at least view documents and check them with the data you need.
Working with documents is designed not only for easy reading and editing but also for the ability to work online or together. The modern document viewing software is very advanced in this direction – users can conveniently create charts, formulas, as well as make their own corrections.
It is worth noting that the most common option for most is still Microsoft Office, but at the moment there are many alternatives for smartphones. Next, you can find out the 11 best applications that will help you work with documents using your smartphone screen.
Google Document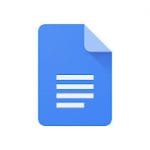 Google has a long history of developing many products for iOS and Android. Document management is also one of the areas of activity of these developers' applications.
They have a whole set of utilities that are designed for different document formats. For example, for the text version, you can use Google Document. It will allow you to view and work with files.
Google Document supports synchronized work between multiple users. If you work without access to the Internet, then the synchronization will only happen after you connect.
You can also add individual comments and labels in the margins so your colleagues can see your opinion or comments.
You won't even have to worry that some changes may get lost in your document – the saving is automatic. Microsoft Word files are great to open in the application, as well as to edit and even create new files.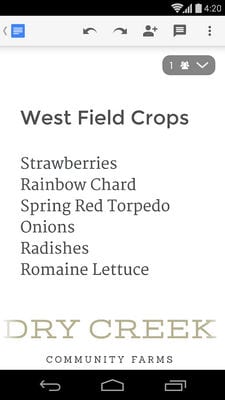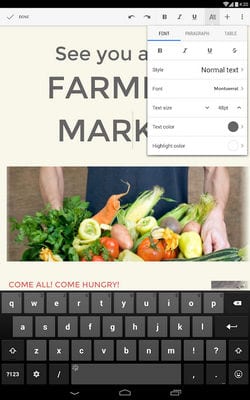 Microsoft Office: Word, Excel, PowerPoint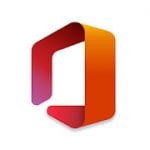 Microsoft Office has been installed on millions of computers around the world for an incredible number of years. Not long ago they developed a handy app for smartphones that combines several programs to work with files.
One utility combines 3 most popular Microsoft products – Word, PowerPoint, and Excel. On the road, on the plane, or even on vacation, you will easily and efficiently use their features.
All documents will not only be easy to view but also to edit and create. The mobile version has a lot of features that computer versions of the software have.
So you can synchronize all your work changes between your devices, simply logging\ in with your Microsoft account. This way, all documents will be stored either in the cloud shared storage or on the network within your organization. By the way, there is also a built-in file converter for working with files.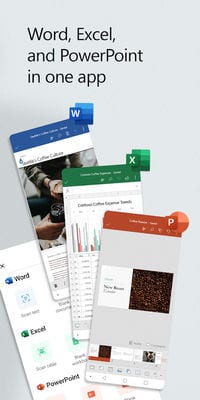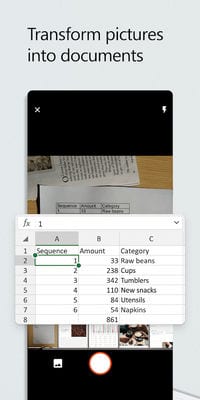 WPS Office – Free Office Suite for Word,PDF,Excel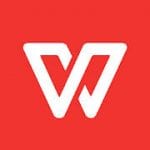 WPS Office is one of the first smartphone applications that became popular among the audience. It has been downloaded more than 1 billion times – we think these numbers will impress you.
WPS Office is a universal office package that supports almost all formats of modern documents. You can work with templates of files, edit documents online, or collaborate on a project.
In addition to the fact that you get a full-fledged editor, you will also be able to work with these documents on the Internet. For example, WPS Office works perfectly with Zoom and Google Classroom.
This functionality is ideal for remote work or study, as you get the most out of your smartphone. For the most advanced users, you can purchase a Premium Subscription. It removes all ads and helps you restore files and documents.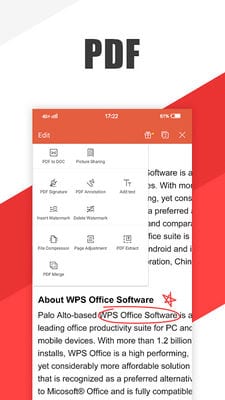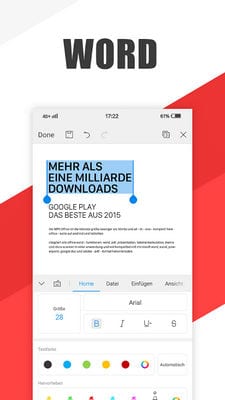 OfficeSuite + PDF Editor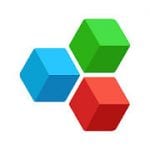 If you're looking for enhanced functionality as well as usability, you might be interested in OfficeSuite. This application allows you to work with Excel, Word, PDF files, and others.
In fact, you get an integrated file manager for your device. The entire interface used in OfficeSuite is quite similar to the classic look of office applications on your computer. So if you've been active in them before, you'll be able to navigate quickly in your smartphone as well.
PDF files, as you may have noticed, are separately listed in the utility name. This is because you will be able to scan PDF files with your camera, export and import files, and fill in the documents themselves.
In order for you to have access to remote files, the File Commander system is used. It is also possible to use a cloud storage system that can hold up to 5GB of documents. Convert and open easily, even with additional devices like a mouse or smartphone.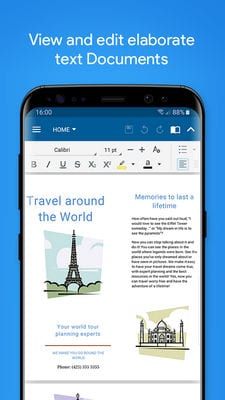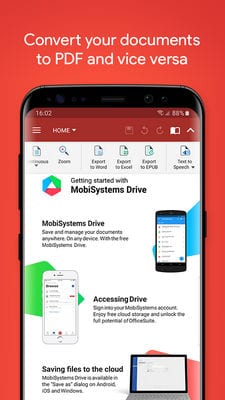 You may also like: 11 Best document scanner apps for Android
Office HD: TextMaker BASIC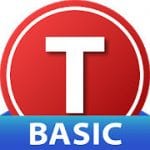 Working on a tablet is much more convenient than on a smartphone. With more screen space and editing capabilities, you get more freedom to act.
Office HD is an excellent optimized app for tablets and is also highly compatible with Word files. Also, the application supports additional file formats – RTF, HTML, and others.
For advanced users, the whole interface is intuitive, and it is ideal for touch control. As with many office applications, Office HD has two versions – basic free and premium.
A premium subscription gives you access to additional and advanced features. However, with any version, you can connect to a printer and print documents. Edit text files the way you want them – follow the instructions. Even complex hierarchical documents can be easily opened, viewed, and modified.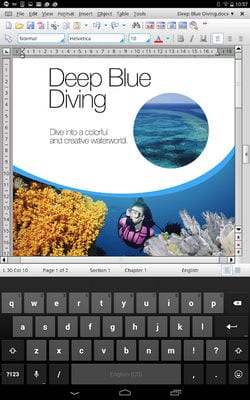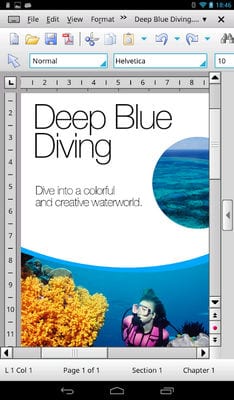 Polaris Office – Free Docs, Sheets, Slides + PDF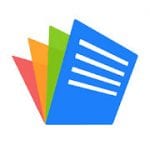 If you have a small amount of memory on your device, you should pay attention to the size of your applications. Polaris Office weighs only 60 MB of memory, so this functional solution does not take up much space.
You can only use one application for all types of documents since it is universal. Polaris Office is fully compatible with files created using Microsoft Office and other similar applications.
Inside Polaris Office, there is also an archiver that helps you unpack all your files without any special and additional utilities. You can easily open any type of document.
If you are looking for a service specifically for creating documents, not just editing them, then Polaris Office will give you such an opportunity.
You can even write on the screen in the same way as with a pen on paper. Connect to any of your devices remotely – all you have to do is synchronize them through Polaris Office.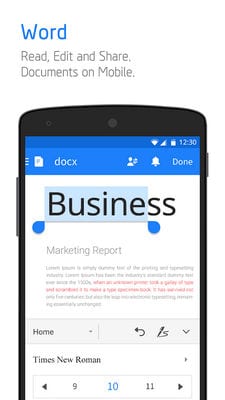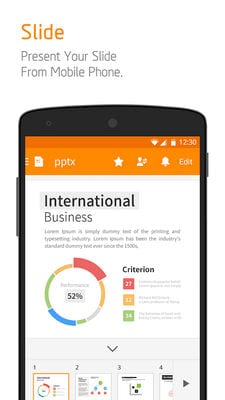 Dropbox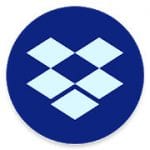 Dropbox is considered by many people to be simple cloud storage and is not seen as a file editor. In fact, you can upload files, share them, and even work on synchronized devices.
This way of working is very convenient when you are working first on your computer and then changing the space and hardware. It's easy enough to work even offline.
You have virtual storage at your disposal, the amount of which depends on your subscription. For example, with Dropbox Plus you get 2 thousand gigabytes of free space.
Smart synchronization lets you move your files to this storage and free up space in your device's memory. Work files can be protected with a watermark or just a password, so you have complete control over your information.
You can view any files that are sent to you online – Dropbox will easily open them for preview or complete editing.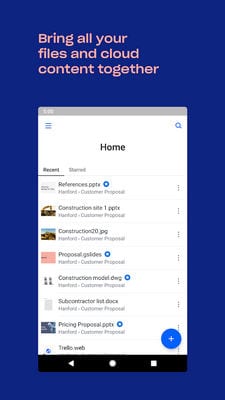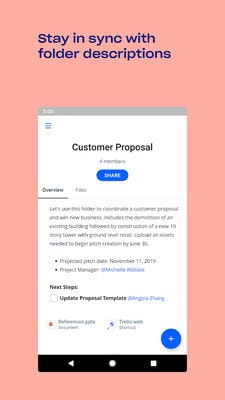 Docs To Go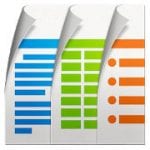 Cloud storage should be perfectly connected to applications that are designed to work with documents. Docs To Go is a free application that has the ability to connect to your virtual drive.
The original formatting is provided by the special InTact Technology. It allows you to save your documents in the format you created.
Versions are available in several popular world languages, so users can use them in the most convenient form. You can work directly with text, its fonts, and outlines.
You can even work with specific sheets of paper, customizing the style of your document. There are a special slide and speaker mode for working with pptx files. The user can add comments to help with the presentation, as well as enable the demo mode.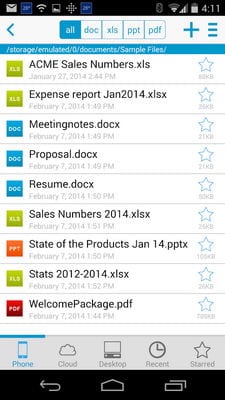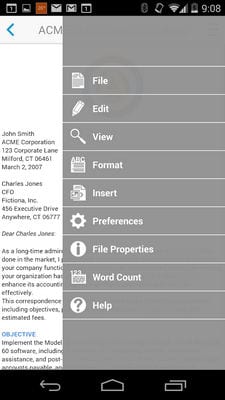 SmartOffice – View & Edit MS Office files & PDFs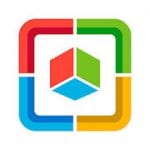 SmartOffice is positioned as a complete and simple application for editing and viewing files. Its interface is intuitive to any user and is easy to use.
All actions with files can be performed directly on your smartphone, using only the display. All images and documents will be scaled to perfectly match your smartphone screen size.
You'll always be able to work – even when you're creating documents or working with old tables. For example, you can work with your presentations in a slideshow or free editing mode.
You can also convert each file to PDF and even add annotations to it. SmartOffice is adapted to 37 different languages. Even local dialects, such as Chinese, are taken into account.
Cloud storage connectivity is also supported – you'll need to sign in to your Google Drive or Dropbox account. All documents stored there will be immediately available in SmartOffice.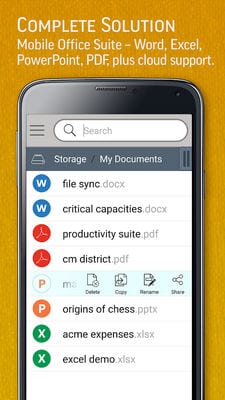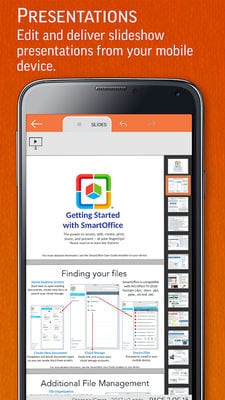 You may also like: 13 Best Document Editing Apps for Android & iOS
AndrOpen Office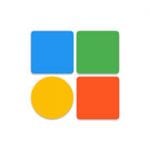 AndrOpen Office is a complete office suite, which contains 5 components for your work. Writer, Calc for dynamic tables, Impress for presentations, Draw for drawing, as well as Math editor for working with formulas and equations are designed to work with text.
If you are going to work with a ready-made file, AndrOpen Office supports working with files of any extension.
In the office suite itself, you can view and modify files, formatting, and editing even entire parts of them. To protect your finished document, use special encryption or passwords.
AndrOpen Office supports setting passwords to a single file or an entire folder. A stylus or mouse can be connected for more convenient use. There are also adapted combinations of screen clicks – for example, a double click simulates a double left mouse click and a single right click simulates a single right click.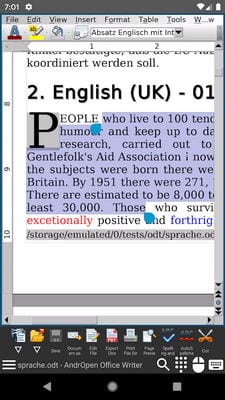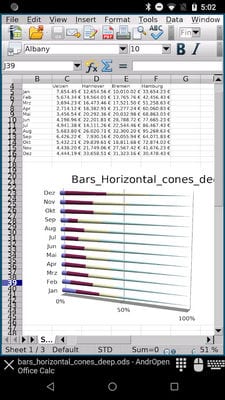 Pages by Apple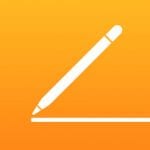 Pages is a great text editor for iOS that allows you to work with templates. You can also let your creativity run wild and create perfect reports, summaries, and even designs.
You can add annotations, images, videos, and even audio files to each document in a couple of clicks to serve as comments or hints. Pages is designed specifically for iPad and iPhone.
Because Apple devices use iCloud as cloud storage, your documents will automatically sync with it. For teamwork, simply open up free access for your partners so you can work with the right documents at the same time.
It's worth noting that Pages is more for creative work. Here you can easily add graphic design elements to the simplest text document, making it more stylish and enjoyable visually.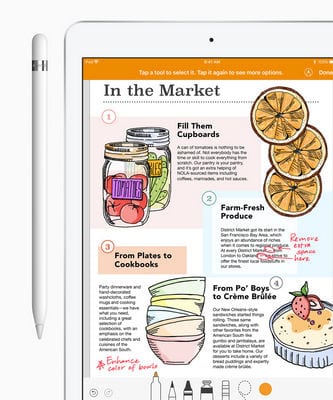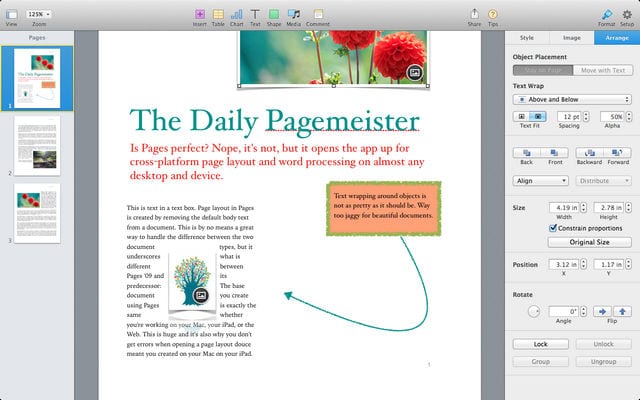 We cannot say that mobile versions of office applications have advantages over classical computer variations. For some demanding jobs, you'll still need to use a computer, as a smartphone doesn't give you that much freedom of action and creation.
However, it should be noted that a few years ago, the correct display of documents on the smartphone screen was considered amazing and unattainable. Now you have the opportunity to get the necessary documents at any time and work with them.
All applications designed to work with documents have different functionalities, so when choosing the utilities, you better pay attention to their capabilities.