Weather is one of the most important or even decisive factors for air travel. It is very important to understand that weather conditions allow you to take off and land the plane without accidents due to poor visibility or other factors.

For this purpose, special aviation weather apps have been developed that allow you to determine the exact weather in the sky. And it's useful to always have an app that will warn you about the severe weather, not just for aviation.
Weather
This is a very convenient and, most importantly, detailed app for monitoring weather conditions in different time zones. Weather data is updated approximately every hour. The forecasts of this app are based on data from the Naval Metrological Department, as well as NOAA data.
In Weather, you can get:
Detailed weather forecast for ten days ahead in all time zones
Precipitation radar data: forecasts of rain or other weather disasters
Visibility, humidity, and pressure data
Sunrise and sunset times, and much more
To use this app, you do not need any special skills and knowledge: all you need is to first add your geolocation to Weather or enter the desired city or area in the search engine.

Next, the app will automatically give you all the data and meteorological conditions for ten days ahead in this particular area.
Moreover, Weather offers several modes for viewing meteorological conditions: through a regular map, in text format, as well as a satellite view. In this app, you can also track the trajectory of natural disasters: hurricanes or tsunamis.
In Weather, you can also set the time period for the rain layer: go to the "rain layer" section and enable the "frames in the past" and "number of frames in the future" settings. Each frame is a fifteen-minute time interval. You can set up to eight frames in the past and four in the future.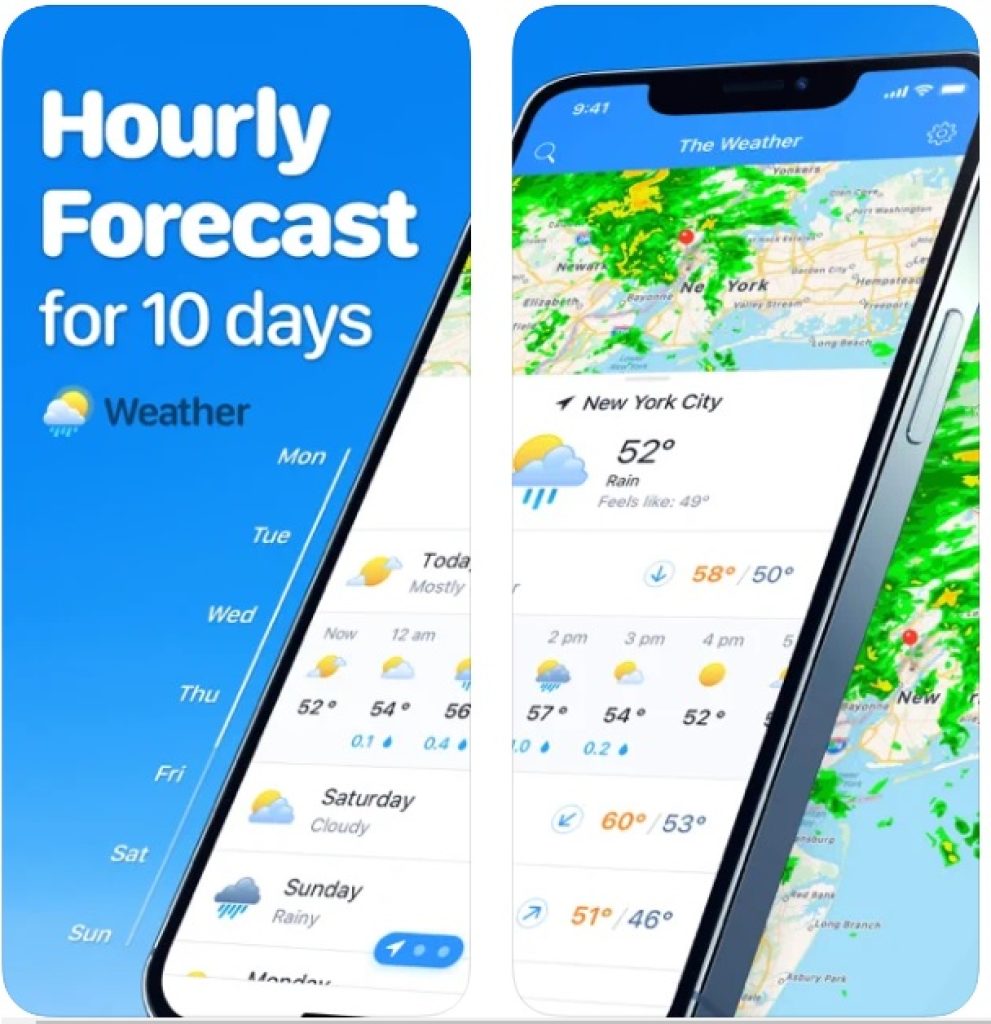 You may also like: 13 Best magnifying glass apps for Android & iOS
Windy.com
This is a visualized weather forecast with a huge amount of extremely accurate data. Besides the fact that this app is really multifunctional, it is also suitable for all people with any requests.
As mentioned above, this app is suitable for everyone: if you are a pilot and you need to know the meteorological conditions for the planned time of your flight, this app is for you.

If you plan to sail out to sea by ship – Windy.com will prompt all-weather data that may be needed. You can use information about weather conditions not only in text format but also in the form of a visual presentation.
Here you can track any natural disasters: hurricanes, tsunamis, or threats of strong winds. Windy.com will provide data on the time, the area that will be affected by the cataclysm, as well as on the trajectory of its movement and the strength of its development. Windy. com is an absolutely free app that doesn't even have ads.
In Windy. com you will have access to fifty-one maps with data on precipitation, air temperature, humidity, visibility percentage, and so on. Moreover, here you can use the "satellite radar" function, which will give you an accurate forecast map of all continents.

Also, in this app, you can watch real footage of weather conditions through CCTV cameras from many points of the globe.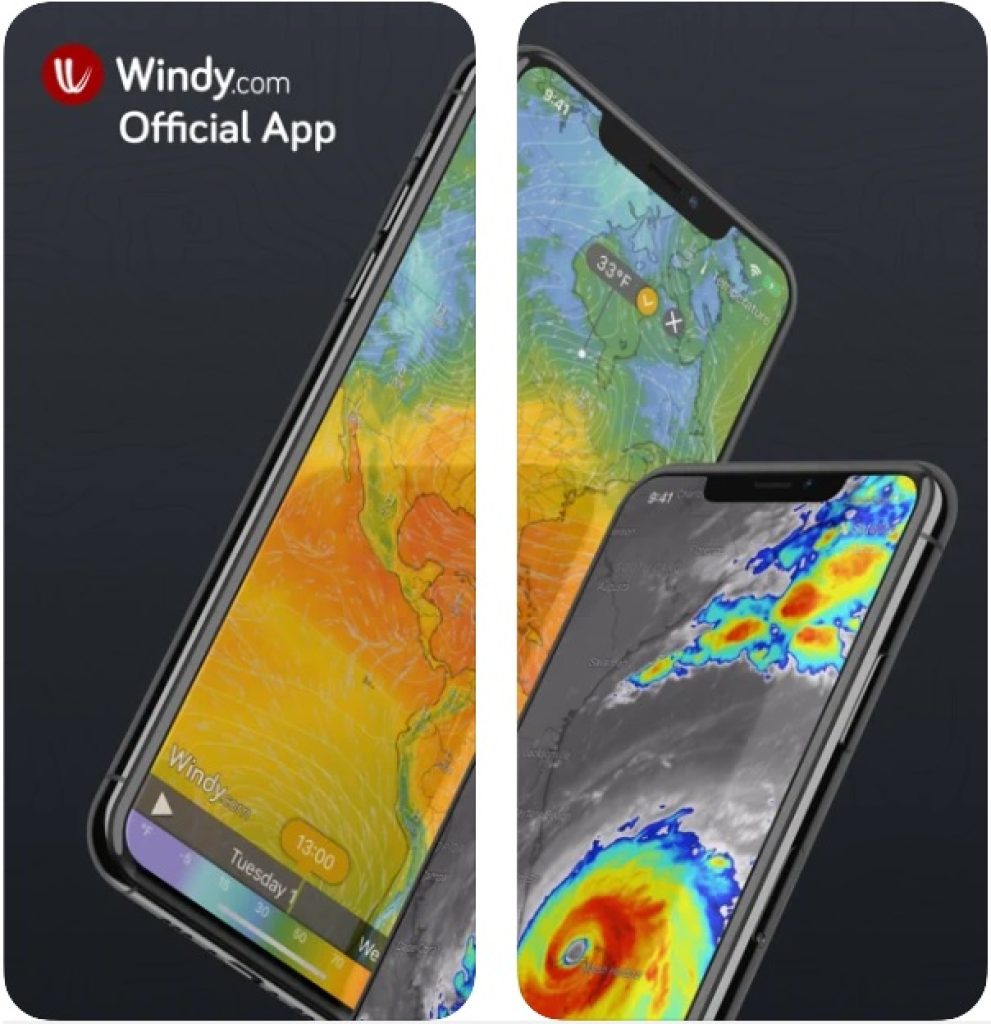 Windy.app- Wind & Weather
This app is designed to get information about meteorological conditions in a certain area. In the Windy.app you will get the maximum amount of reliable information not only about degrees, but also approaching storms, wind speed, visibility level, and much more.
Among the main features of WIndy.app are:
The ability to get a reliable report on wind speed, its cycle, development, and movement in a certain area
Availability of information about visibility conditions at different altitudes from sea level
Forecast based on NOAA data on precipitation, its quantity, and distribution
Forecast of clouds: their presence, quantity, structure, movement, and height, as well as much more
Moreover, in Windy.app, you can configure the notification system. This means that when the weather conditions change, you will receive a notification from the app, which will contain the essence of the changes.

Also, if you follow some kind of storm or natural disaster in the video of a hurricane and tsunami – when their trajectory changes, you will also receive a notification.
In addition to all of the above, Windy.app contains a weather archive: it is a function that allows you to view the meteorological conditions of previous days or months and compare them with the upcoming time periods.

This will help to identify the ideal time for the flight and other activities depending on weather conditions.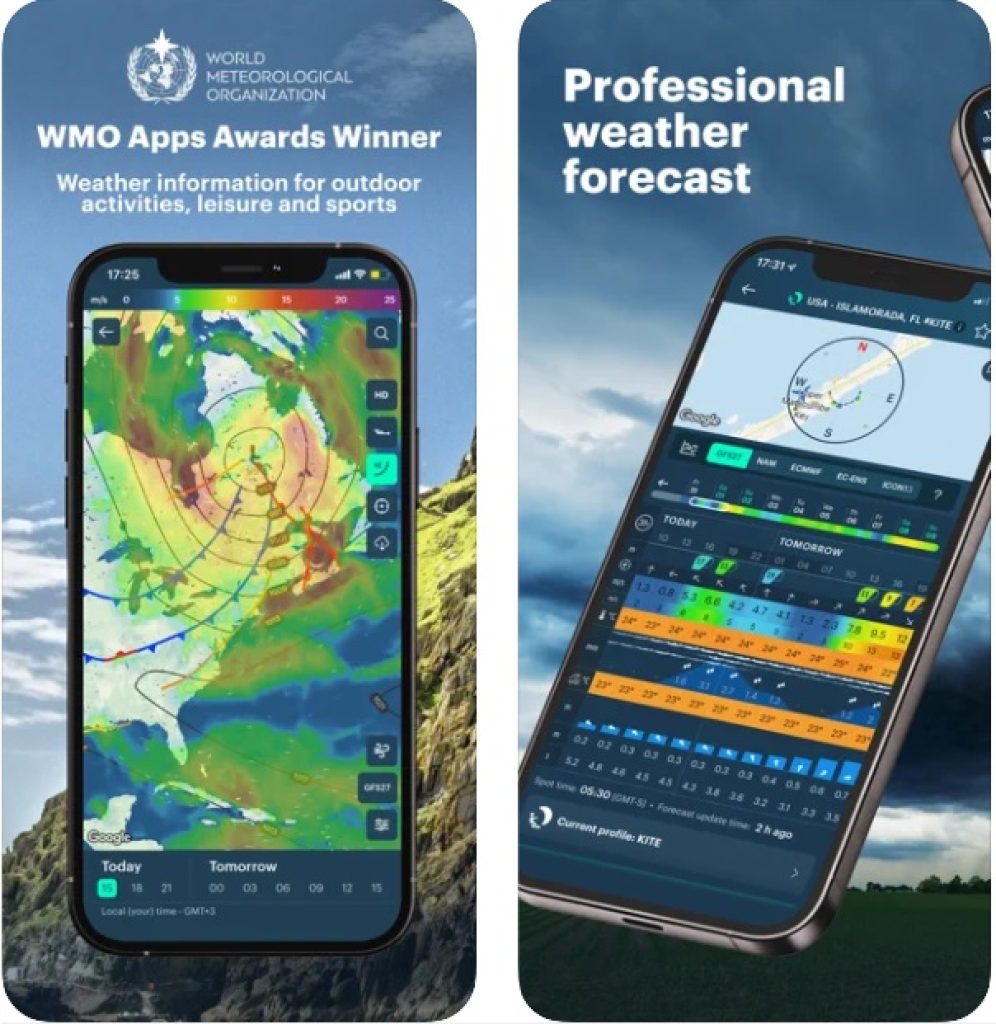 You may also like: 15 Best barometric pressure forecast apps for Android & iOS
Avia Weather – METAR & TAF
This app is created for pilots and aviation enthusiasts. Here you will find information about meteorological conditions around the world, based on data from international airports. Here you can also decipher them and read them in plain text format.
Avia Weather provides information based on data from more than 9500 airports around the world. In this app, you can read weather forecasts both in a professional format and in plain text. Moreover, here you can view a digital presentation of weather changes with satellite images and colorful detailed illustrations.
Moreover, Asia Weather has a selection of the most popular air routes around the world: you just need to select the desired route and the Avia Weather app will give you complete information about precipitation, weather, visibility, and other weather factors from the entire length of the route.

You can also save your own flight routes to a special gallery of this app and use already configured meteorological reports from the entire length of the chosen path.
Weather forecasts in Avia Weather are updated regularly and you can track these changes in the app. Moreover, Avia Weather makes it possible to identify the trajectory of any natural cataclysm and track its movement both in the notification form and in the satellite map format.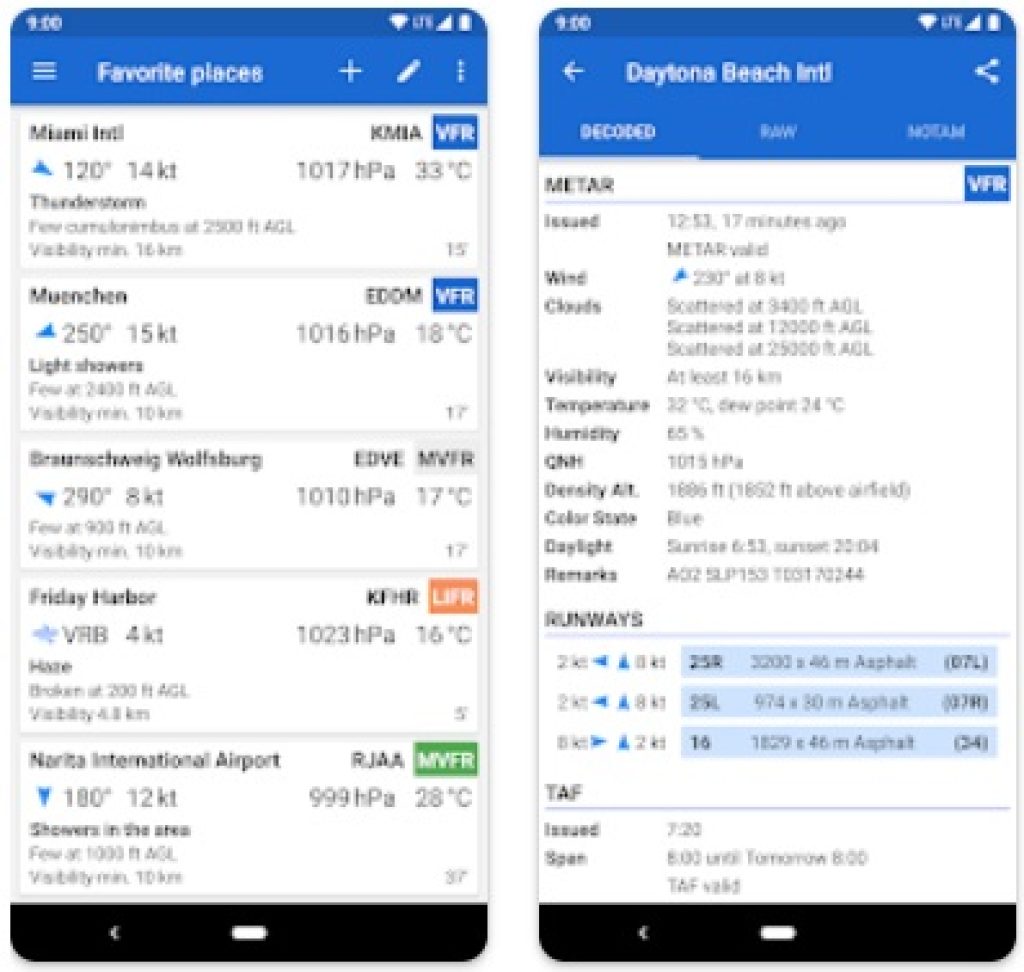 AeroWeather
This app is suitable for obtaining accurate data on meteorological conditions around the entire data of globe. Here you can find out about any weather changes before the flight and make a decision about departure based on this data.
Aeroweather contains data not only about weather conditions in the sky and on the ground but also about airports from around the globe. Here you can see the number of runways and landings, their condition, and congestion.

Also, in this app, there is data about fogs, sunrise and sunset, and so on.
Aeroweather has several modes for viewing weather forecasts: in raw text format, in the usual non-professional format, in the form of an illustrative map, and also as satellite images.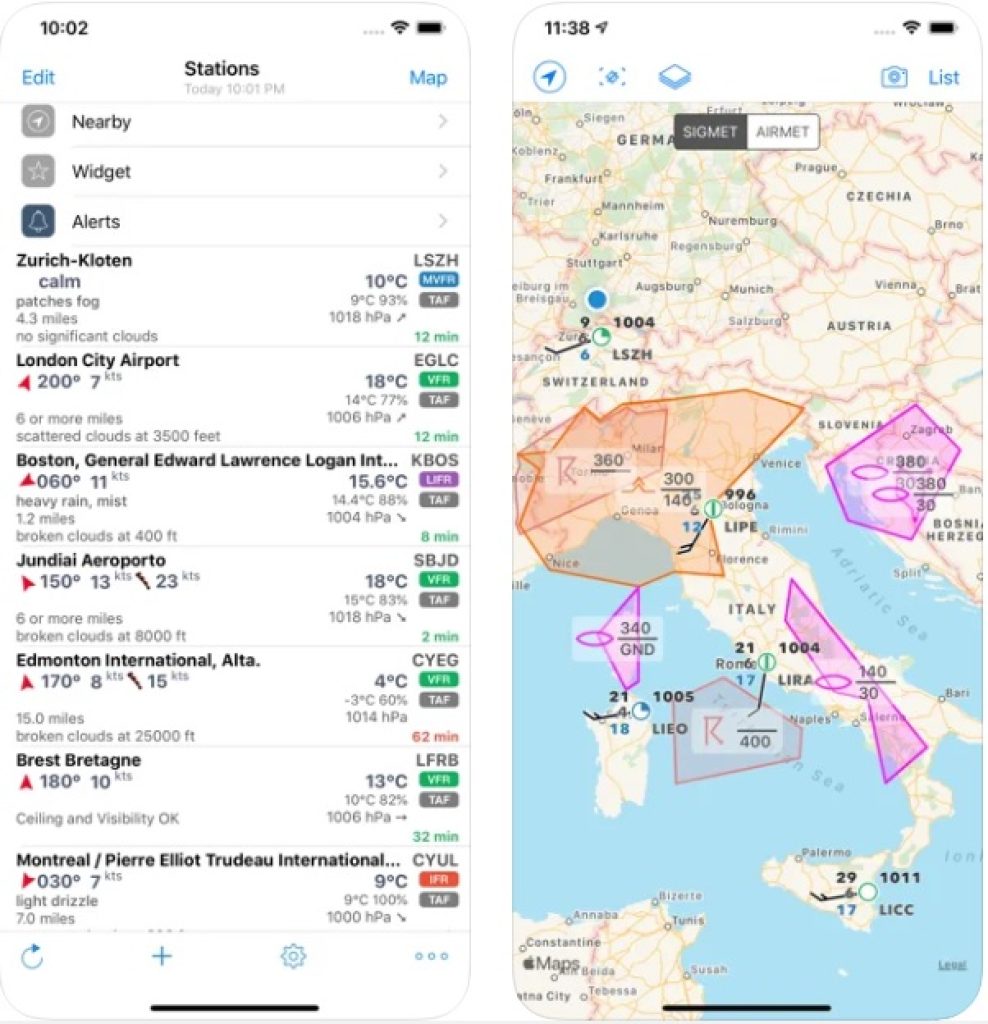 WeatherSpork
This app is created for people from the aviation sector. Here you can find online weather forecasts for a few days ahead.

WeatherSpork does not replace the standard weather briefing, but only contributes to obtaining information about meteorological changes.
In WeatherSpork, you will have access to a variety of weather viewing modes: text format, visualization in the form of a presentation with animation, and visual information from the satellite.
Here you can also find information about the wind, its development, and the trajectory of movement through the route profile view (detailed vertical image).

Moreover, through this app, you can compare the weather conditions for the coming days and choose the safest and most favorable time for the flight.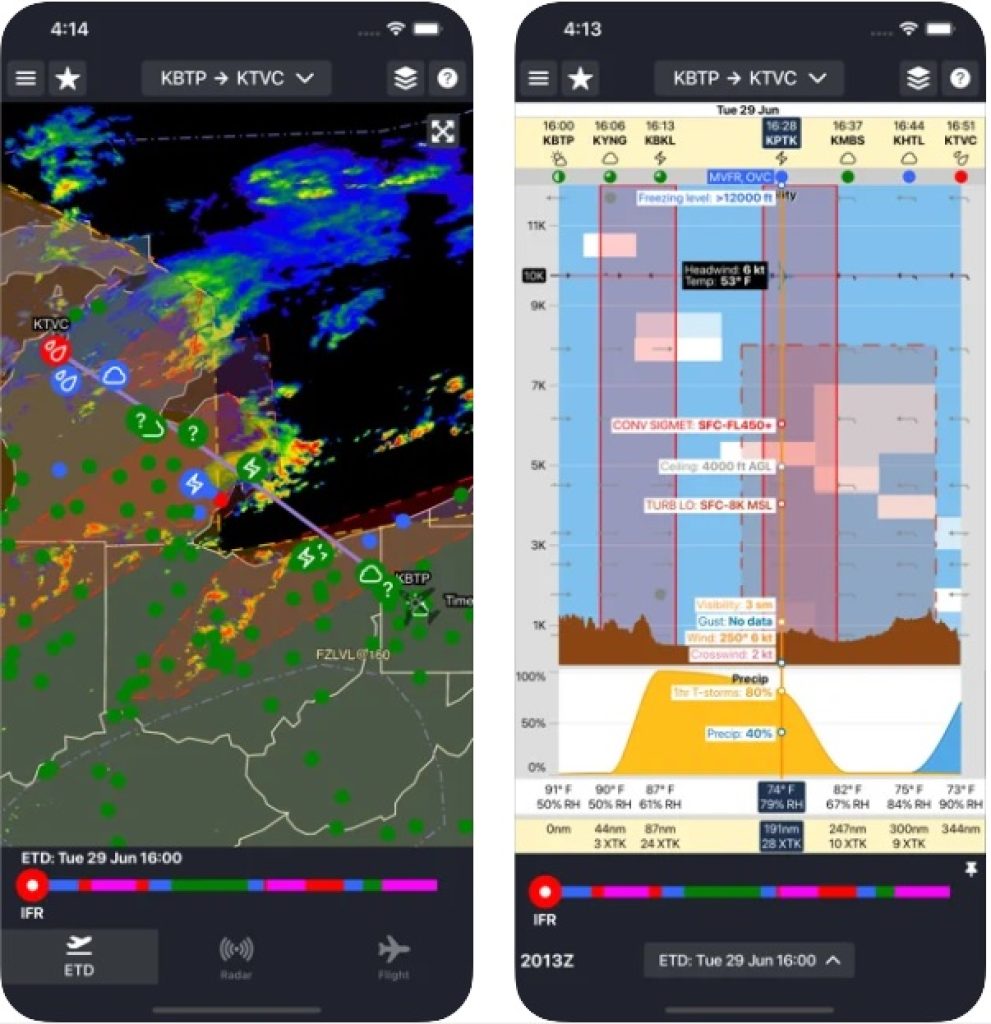 You may also like: 11 Best RV Apps for Travelers (Android & iOS)
MyRadar Weather Radar
This is a multifunctional app for checking weather conditions. In MyRadar you can get extremely accurate data on degrees, precipitation, visibility, humidity, and much more. Here you can overlay one forecast map on another and get a double image with the selected data.
The advantage of MyRadar over other similar apps is the fact that here you can configure notifications in such a way that MyRadar will notify you of approaching precipitation an hour before they appear.

Moreover, any weather changes can also be configured as a notification.
Moreover, in this app, you can track natural disasters, that is, their occurrence, strength on the scale, the trajectory of movement,t and the approximate time of their appearance in the area where you are. It can be an earthquake, hurricane, tsunami, and so on.
MyRadar is ideal for pilots: here you can get acquainted with a detailed forecast of all-weather data or changes, as well as compare forecasts on different days and find the right time to fly.