Gas prices have been crazy lately and if you're looking for ways to save some money on it we totally support you. There are several ways how you can do that. By the way, did you know there are applications for that? In the article down below you will find the best apps to save on gas.
And more useful gas apps that give you cashback you can find in this article.
Upside-Cash back on gas & food
This is one of the most popular apps in this category and it's been there for several years already. This is an excellent app in all aspects and helps you to save up to 65 cents per gallon every time you get gasoline. The interface design is just incredible and it will be easy to handle for any type of user.
I mean, even your grandma will be able to navigate in the app. After downloading the Upside app it will show you the best offers in your area, after that, you will need to fill up using your credit or debit card at the pump. You will need them to follow the app's instructions where you will need to upload a receipt.
After all these manipulations you will earn cash-back points right in the app and will be able to use them. One of the best parts of the Upside app is that it's available at hundreds of different fuel stations, restaurants, and grocery stores across the US. It's really easy to earn cash back on purchases daily with this app.
The app also has a beneficial referral system where you can recommend an app to a friend and therefore you will be getting money back on their gas purchases. Upside app gives you a chance to cash out quickly via Paypal, your bank account, or maybe a digital gift card.
Pros:
Easy to use
Lots of locations across the US
Cashback in various forms
Cons:
Requires filling out a number of forms before you can earn cashback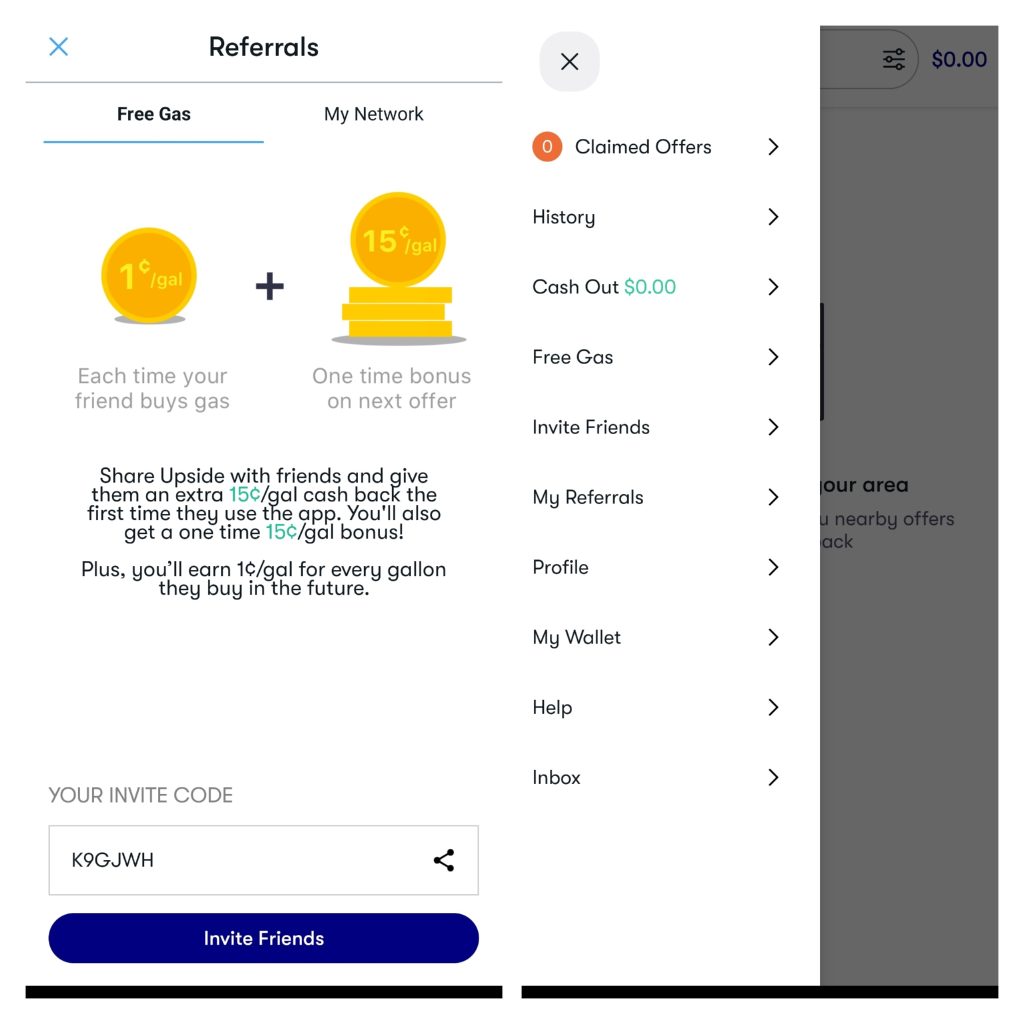 You may also like: 7 Cash Apps That Accept Prepaid Cards (Android & iOS)
GasBuddy: Find & Pay for Gas
GasBuddy is another extremely popular app for saving on gas prices that stays at the top until nowadays. It is easy to use and it doesn't require you to create any additional accounts, you can just open the app and find the best deals on the map.
You can also search for the gas station using the filters that let you serve but the price, location, and stuff like restaurants. And once you filled up, don't forget to use your gas buddy fuel card while you're paying so it will save you up to 25 cents per gallon.
Another way how you can save money with this app is you can track your driving habits and get gas rewards, you can also report up-to-date fuel prices and log your fill-ups and even get alerts about important recalls for your car.
There are also daily challenges in a lottery you can win free gas cards. Just take part in the challenges, earn points, and then daily you can be up to $100.
Pros:
Fast and easy to use
All prospective deals are shown on the map
Ability to sort deals by different factors
Daily challenges and rewards system
Cons:
Ads and misleading information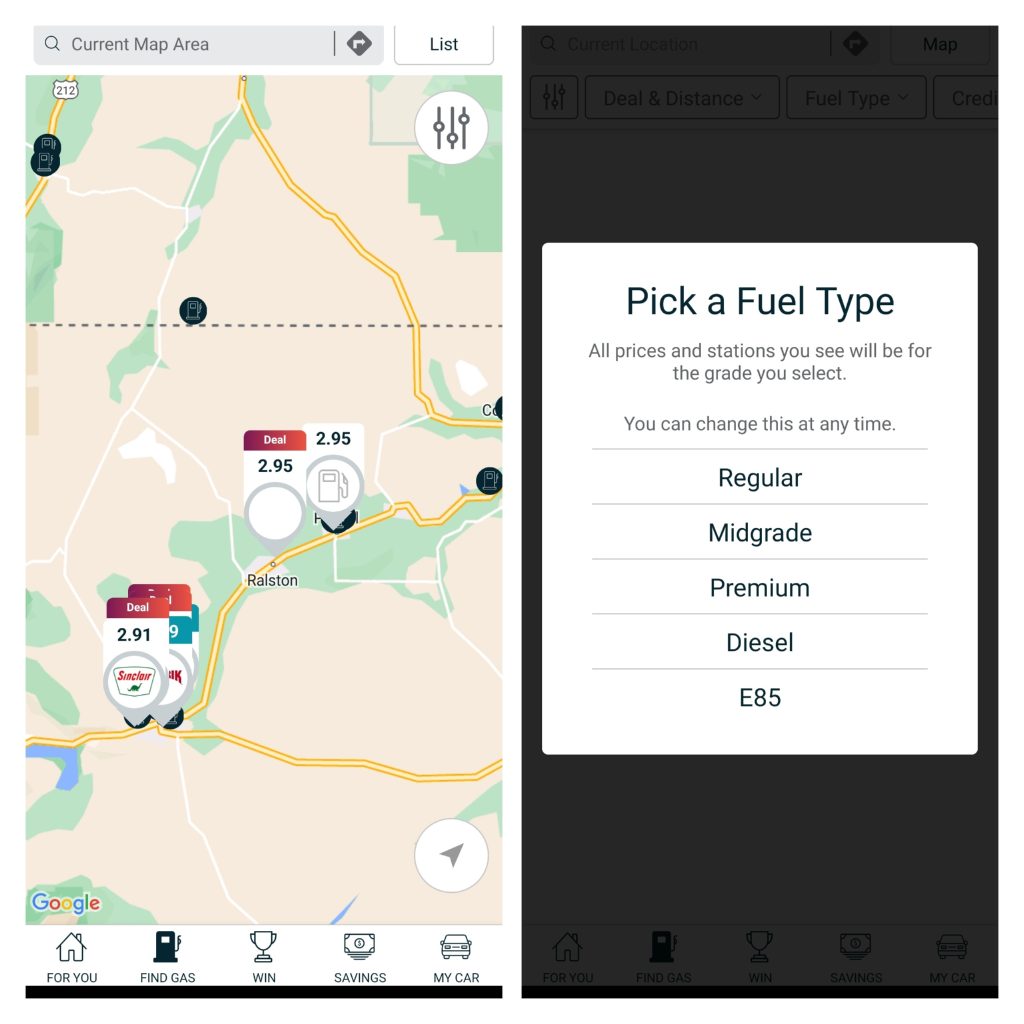 Google Maps
This might seem like an unlogical choice, but Google Maps allows you indeed search for the best gas deals around. It lets you compare the gas prices on the map.
The popular navigation app uses your current location to help you find the nearest fuel station and gives you up-to-date gas prices displayed in the station's business profile.
What you need to do is to open the app and then find the nearest gas station around and then read all the current information about it, including gas prices. Of course, Google Maps is not the most reliable app in this category, but it truly helps.
Pros:
Pre-installed app
Easy to use
Easy to find gas stations on the map
Cons:
The information can be misleading
Does not show all the prices for gas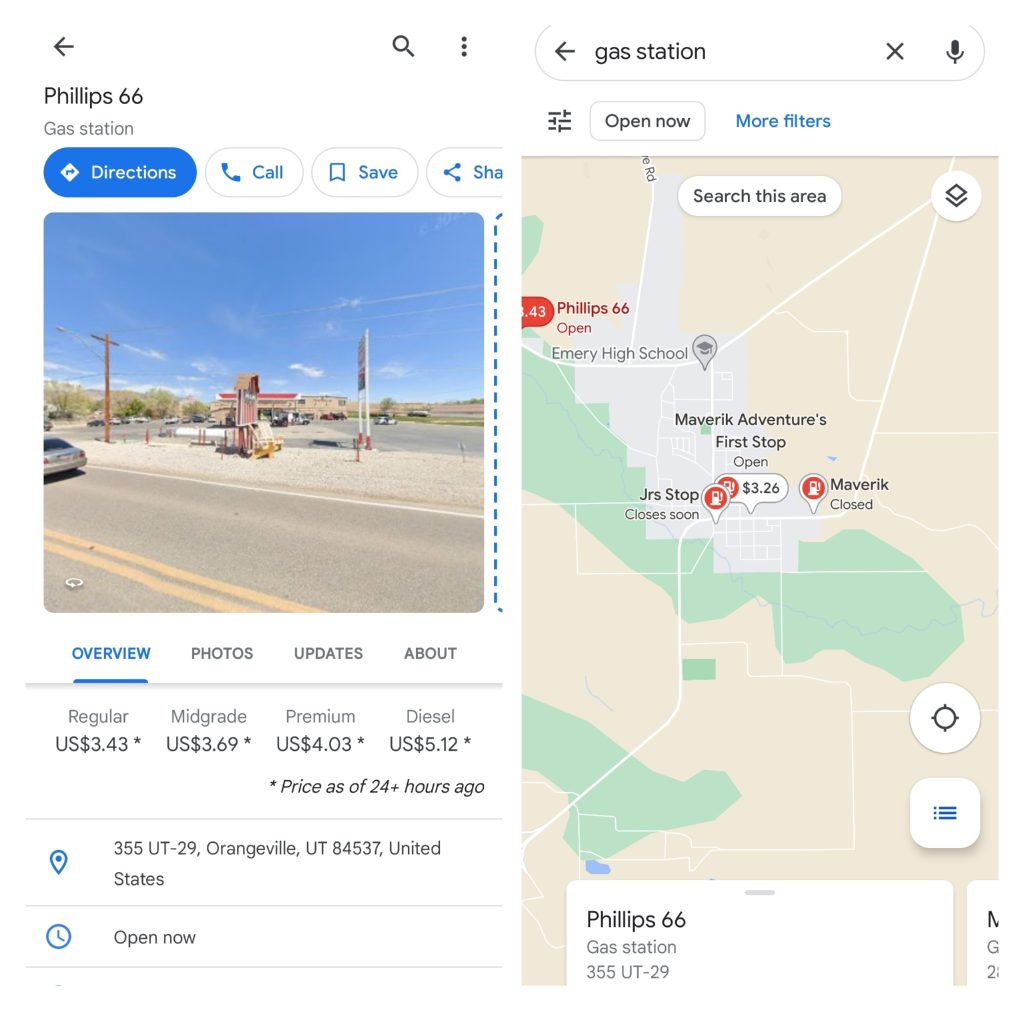 Checkout 51: Cash Back Savings
This is the ultimate shopping cash-back app that allows you to save your money on different purchases. You will be able to save tons of money on your favorite brands, groceries, and gas. The app comes with a new fuel rewards system that offers smart drivers cash back on fuel.
You can earn up to 25 cents per gallon on purchase. Such gas stations like Shell, Chevron, BP, Exxton, Mobile, and others are included in the cashback program. Therefore, check out 51 is a nice app to combat the daily increase in prices.
Check out 51 synchronizes with Google Maps and shows you the best offers and deals on that. The thing is you can fill out the forms as you pay at the station right in the app and then get the points inside the app.
The app itself is quite easy to use, it requires the creation of your account, and depending on your will, you can make the app more or less personalized. One of the biggest advantages of this app is that new cash-back offers are added every week so you can save money on tons of things.
Pros:
Abundance of deals
Easy to work with
Cons:
Lots of extra deals might be confusing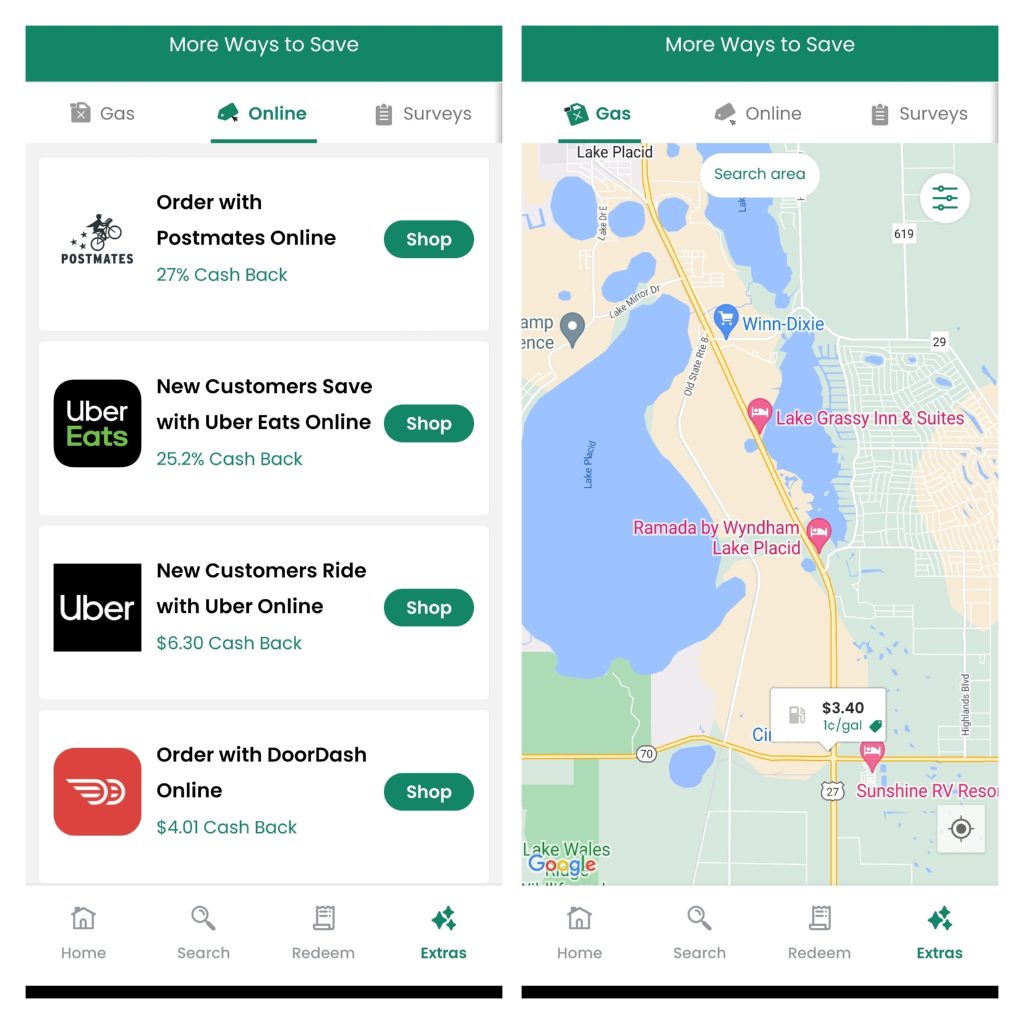 You can also check: 9 Trusted Cash Advance Apps for Android & iOS
Gas Station & Fuel Finder
This is quite a simple and standard Android app that helps you to search for nearby gas stations in search of the best deal possible. The advantage of it is that you can search for the best deals not only in your area but all around the world, which is not available in other apps.
The app will form a list of the nearby gas stations with the best deals so you could easily scroll through them and view all the essential information. In other aspects – it's a standard Android app without any prominent features.
Pros:
Compiles a list of the most profitable gas deals in your area
Can search for the best deals not only in the US but all around the world
Cons:
Lack of features, boring app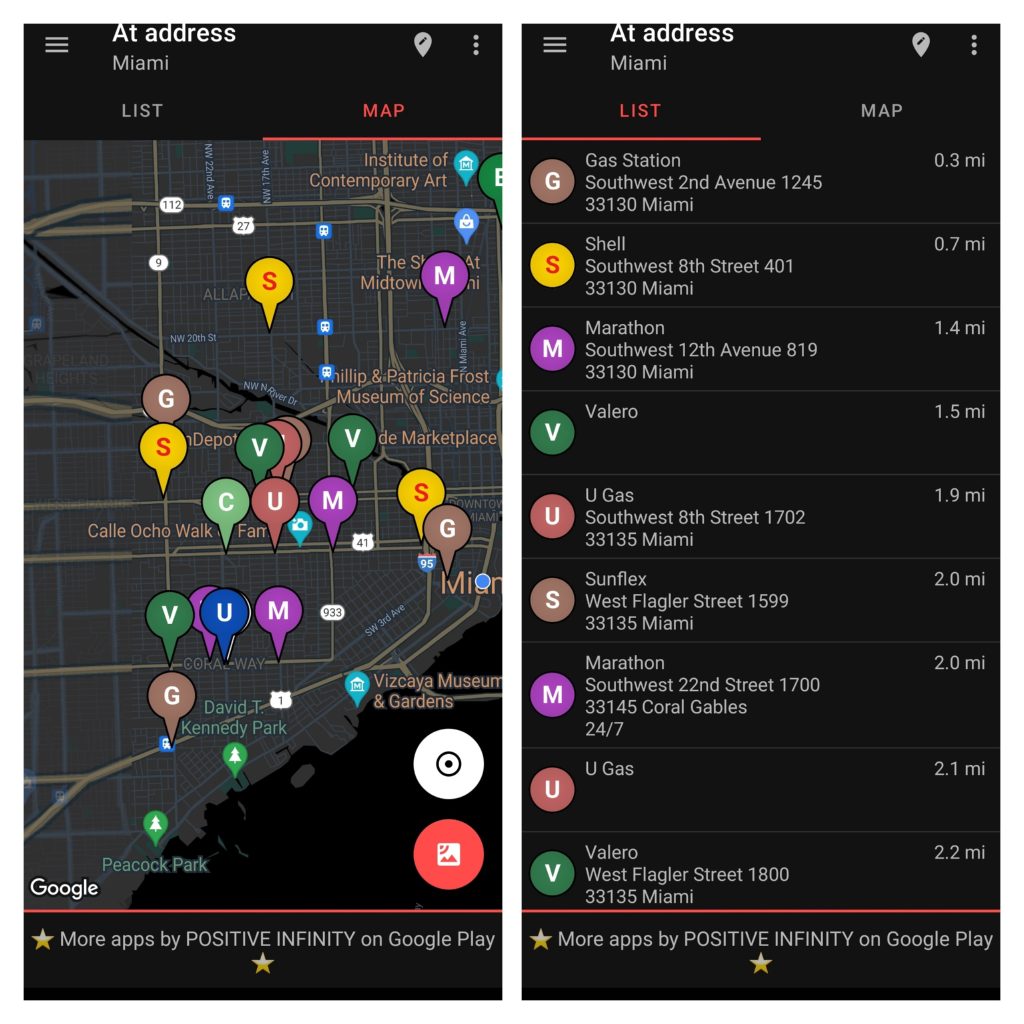 Gas Guru: Cheap gas prices
Gas Guru has also been one of the most popular apps in the category of best money-saving apps and it's still a decent app nowadays. One of its main advantages is that it's easy to use and you can hear filter gas stations by distance, fuel grades, and fuel prices.
It synchronizes will Google Maps and shows you all the best offers around. And it shows you not only the gas stations but also the full list of amenities and services available at age gas stations. And you can compare gas prices near different places, for example, work, home, or other locations depending on your choice.
If you found a location where the gas prices are cheaper than usual you can label it and save it to your favorites. The interface design is a little bit plain for nowadays apps but it's quite durable.
Pros:
Compares gas prices
Search gas stations by filters
Cons:
A little bit obsolete app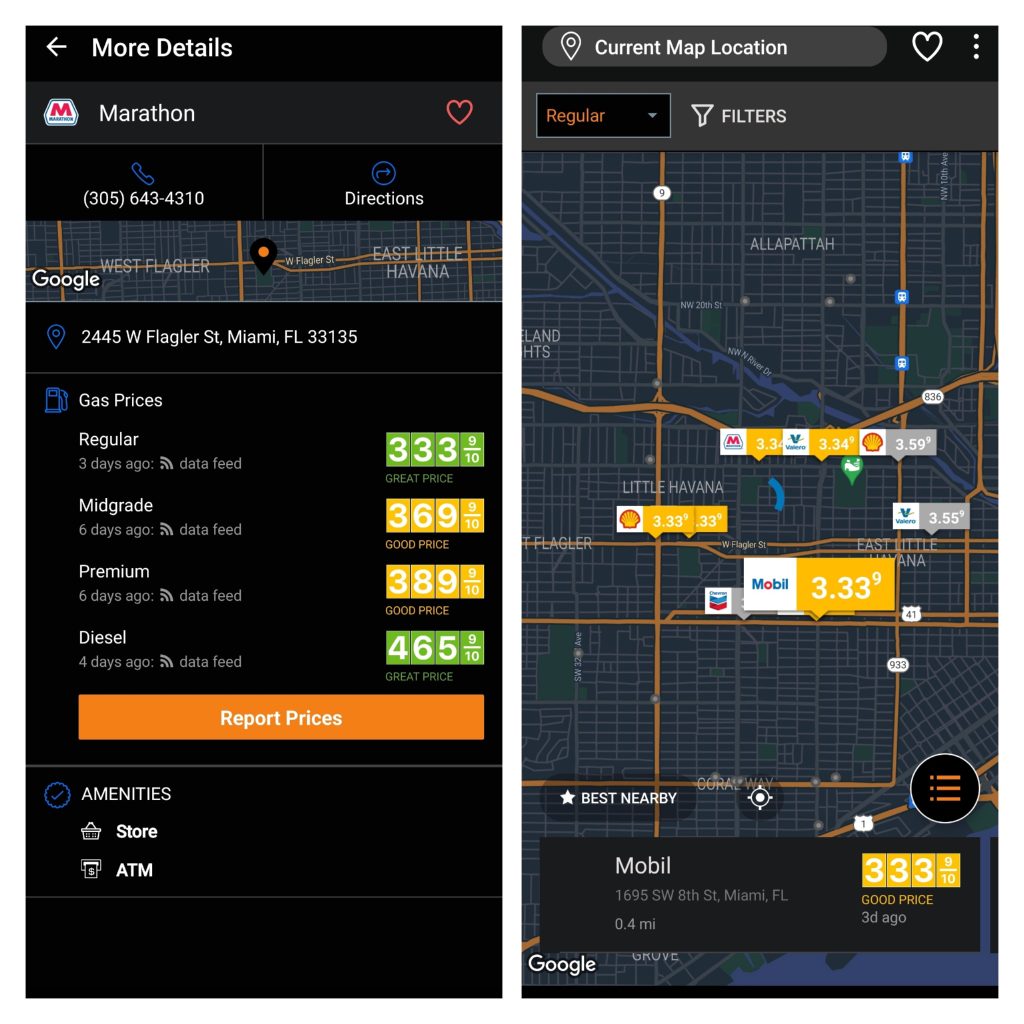 fuelGenie
FuelGenie is another simple app to save money on gas prices. It is a completely free app that will help you to find the best gas deals around you if you allow GPS tracking for the app.
There is no need to create an account or fill out any additional forms here, you just search for the best prices on the map and go to the gas station.
The only thing is we discovered that sometimes the map works with errors and the locations are not really accurate. In all other aspects, it's quite a standard gas price app that has nothing extraordinary in it.
Pros:
Easy to use
Search for the best gas deals based on your location
Cons:
The information in the app can be misleading
The app contains bugs and errors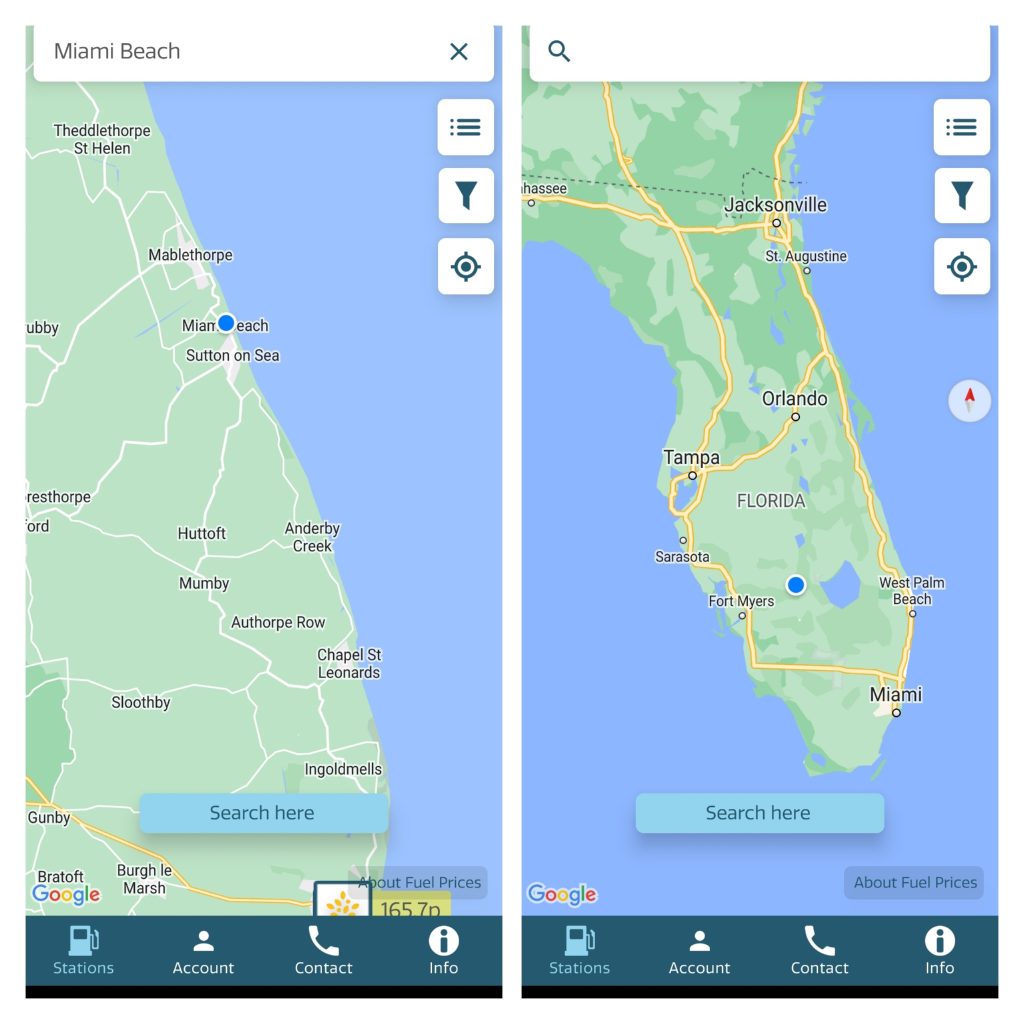 In general, Waze is a GPS and navigator app but it can also show you the best gas deals on the road while you're passing some objects and you can pick up the most profitable offer. The app contains precise information with all the latest updates and they would say it's more reliable than Google Maps.
It even has a contactless payment feature at participating fuel stations and things you can pay for the gas via your phone. Not speaking about the fact that Waze will tell you a lot of useful information about this situation on the road, it will compile the best routes for you and it will compile the roots according to your preferences.
It is quite a multifunctional app that also allows you to play music via itself while you're driving. And it has a cool interface design easy to handle for any type of user.
Pros:
Cool navigation app with lots of useful information
Information about the gas stations with actual gas prices around you
Cons:
Limited features relatable to gas prices monitoring


Roadtrippers – Trip Planner
This is not exactly the gas prices monitoring app, but Roadtrippers will help you to plan your entire trip in your car and plan the consumption of gas in general and find the best ways to save money on it.
Here you will be able to plan the entire road trip and mark all the stops at hotels, restaurants, gas stations, attractions, and so on.
And just like in the Waze app, Roadtrippers shows you the gas station along your route with the gas prices. The app can be described as a useful tool with a user friendly interface that has a separate section for each aspect of the trip, and one of the first features that you will see in its main menu is the nearby gas stations.
You can also cover some aspects here such as insurance, finding auto repair stations branch offices, and so on.
Pros:
Helps you quickly find safe and good hotels and restaurants
You don't need to create an account to use the trip-planning features
Creates a summary of the time and distance of your trip
Doesn't require any registration or a specific form of payment
Compatible with credit card rewards programs and other discounts
Cons: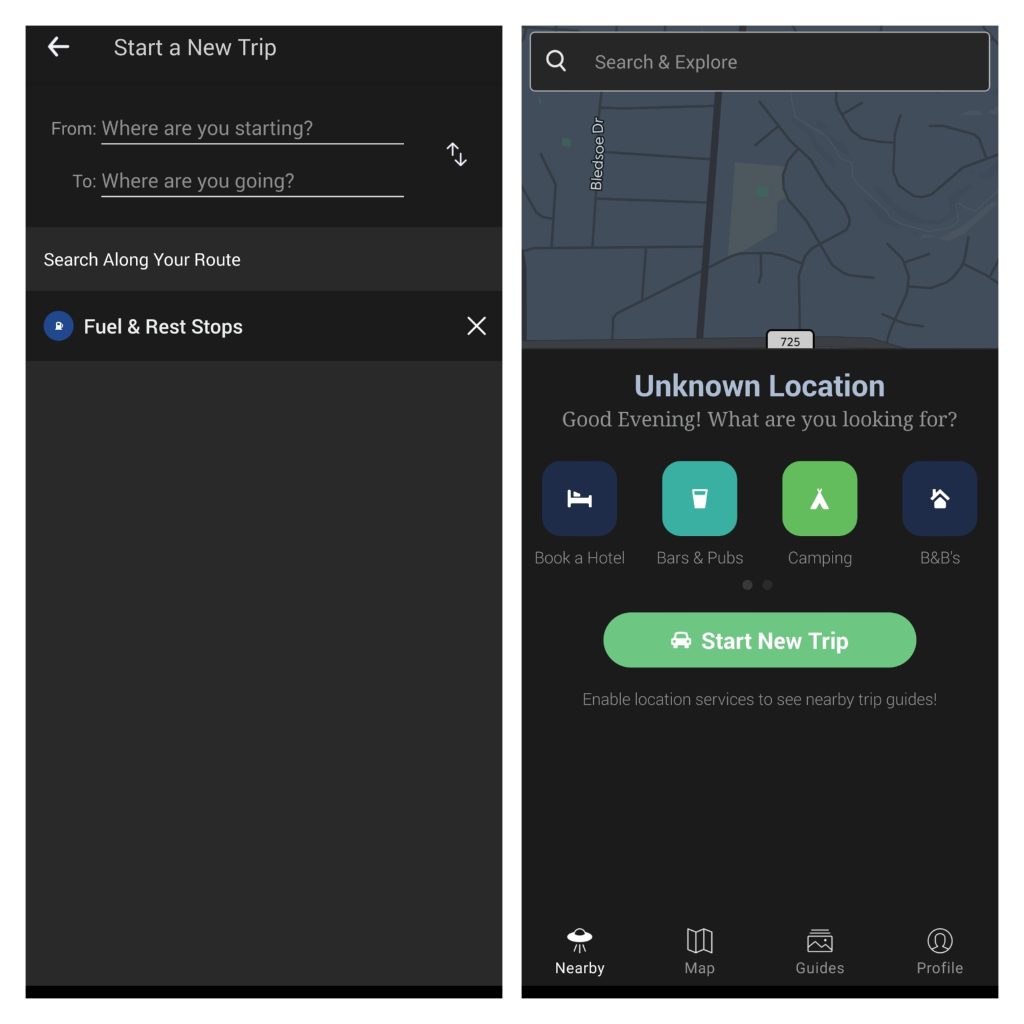 Wanderlog – Trip Planner App
You can use Wanderlog as an alternative to the previous app. It is not the best app in terms of monitoring gas prices, but rather a general road trip planner that helps you to take all the parts of the trip into the consideration.
When you enter your destination, the app will automatically compile the route on the map, showing all the amenities and sights that you may face on the road. It will also show the best gas stations with the best gas prices.
What is more, it provides information about the additional services at stations, for example, car repair and so on. The app is easy to use and you can log in with your Facebook or Google account and invite friends so you plan your road trip together.
Pros:
User-friendly interface
Shows the gas stations with the gas prices on the route to your destination
Helps to plan the trip
Cons: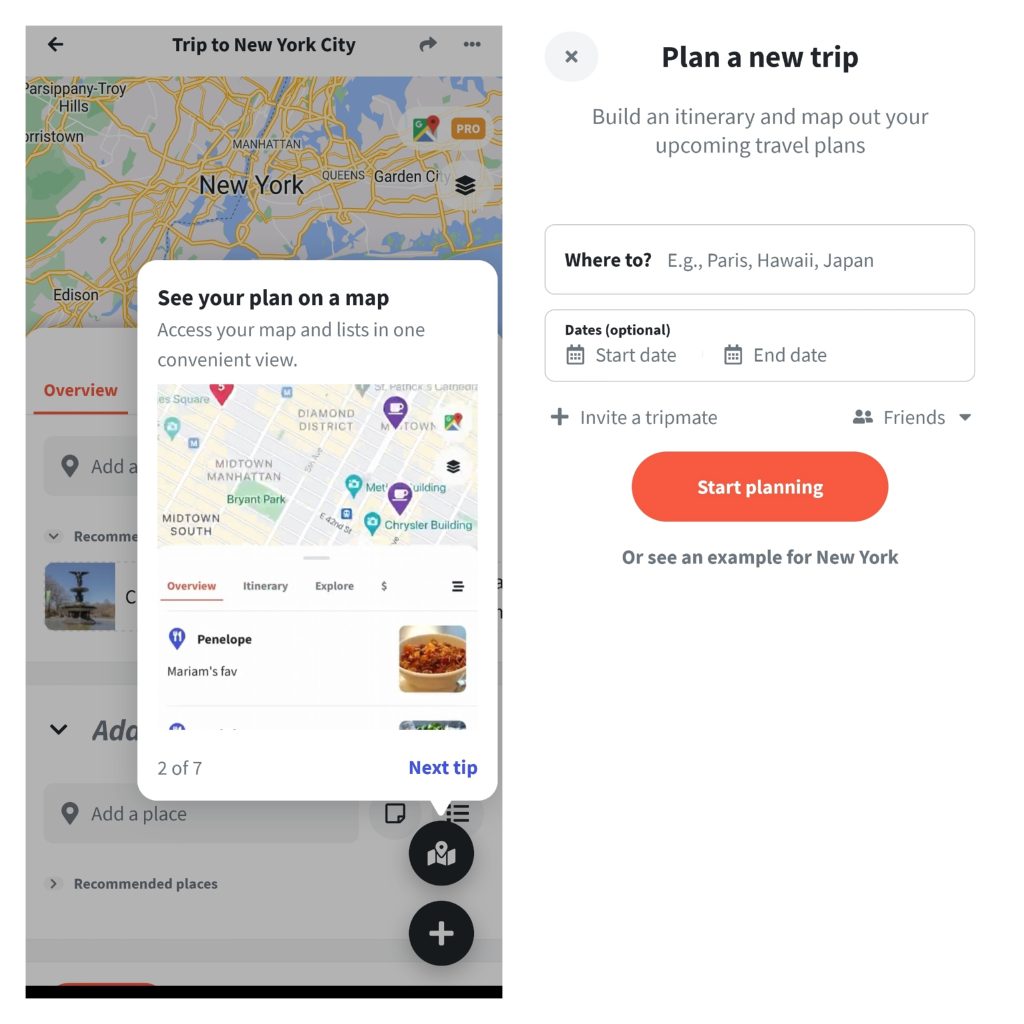 You may also like: 9 Best Online Payments Apps Without Credit / Debit Cards
The Coupons App® Eat.Shop.Gas
If you want to save money on gas by acquiring coupons, then this is one of the best choices. This app provides a broad choice of different discounts and coupons from all the market leaders and the biggest collection of exclusive discounts.
One of the main sections of this app is the gas coupons and gas deals. There is a special section in the app that allows you to save money on gas based on your GPS location and it will offer you the best gas deals nearby. You will never pay more than needed for gas.
And in addition to that, you can use shopping coupons for example shopping on amazon, grocery shopping, and so on. You can also save money on goods for your pets. Pharmacies and drug stores are also included in the system.
There is a feature in the app where you can share the coupons with your friends and therefore, earn points for yourself.
The app is actually releasing use, you just need to open it and explore the best deals nearby, there are daily offers that you can use call me you can use in daily activities to earn more points and then exchange these points for useful stuff.
Pros:
Variety of deals for all types of purchases
Special section for gas deals, allowing you to find the best gas deals in your area
Possibility to get coupons for different types of goods and services
The app is easy to navigate
New deals are offered daily
Cons:
Has a lot of extra features that can be distracting
Only available to Android users