Losing a pet is a huge stress and frustration for every animal owner. And sometimes it's hard to find your pet without someone's help. It is especially difficult for holders who live in big cities to look for their pets.
In order to facilitate the search and get your pet back home as soon as possible, we offer you a selection of 7 Best Lost & Found Pet Apps In The USA.
And to prevent your pet from losing, you might want to buy it a special collar with a chip and connect it to a GPS tracking app for pets.
Runaway Pets
Runaway Pets is an app that was created to find your pet.
The app has a simple and fast registration, and it is also very easy to use. In a few clicks, you can publish a post about the loss of your pet. In the ad, you can indicate its name, photo, breed, as well as the place where you last saw the animal.
Immediately after the publication of your announcement about lost your pet, all users of the app in the vicinity will receive a notification of your loss. If someone sees your pet, they will immediately contact you.
You can duplicate the created announcement about the loss of a pet on your social networks with just one click.
The Runaway Pets app will assist you if you have found another's pet and are looking for its owners. You can also post an announcement about the find, which will be sent to nearby users of the app.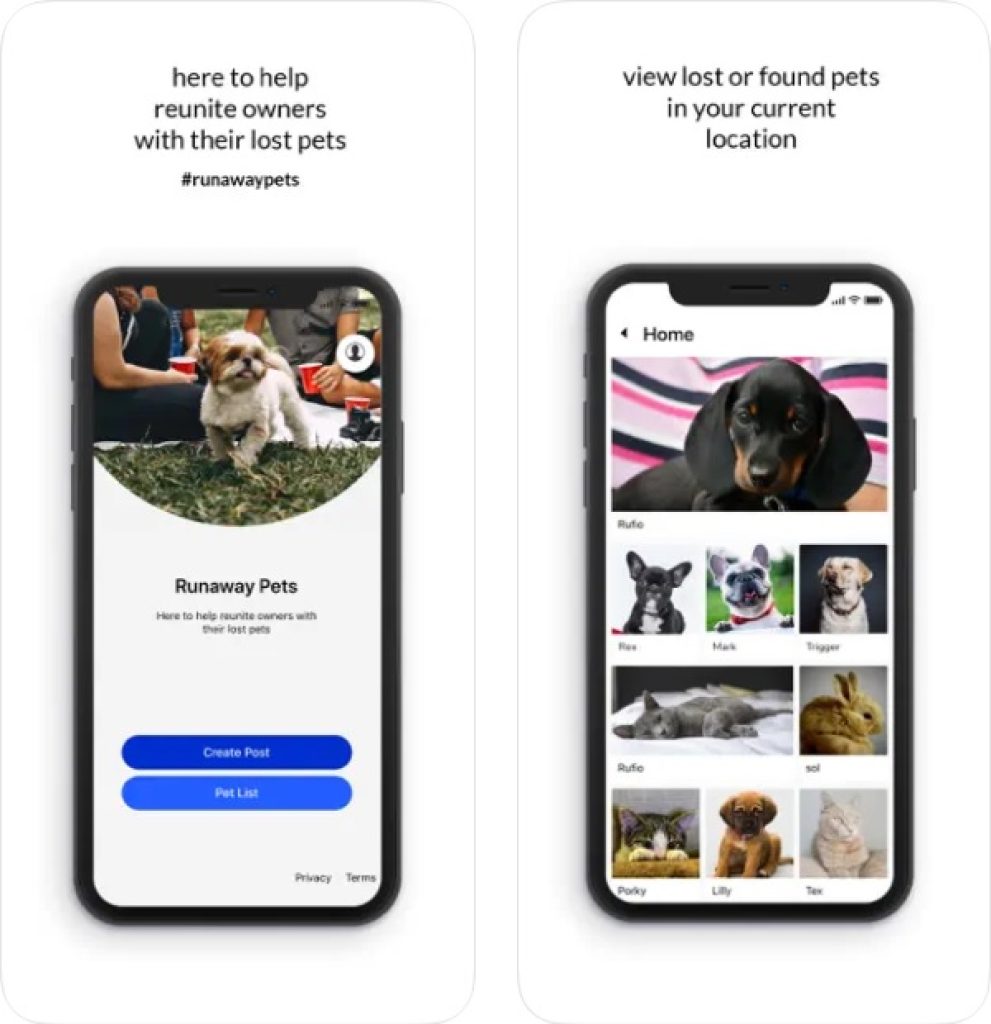 You may also like: 7 Best pet camera apps for Android & iOS
Missing Pets – Find Lost Pet
Missing Pets – Find Lost Pet is an app that will help you get your pet back home as soon as possible.
If you have lost your pet, then just upload your pet's card to the "missing" category. Load the information card with all the necessary characteristics about the animal that will help in its search. For example, enter the pet's name, type, date of loss, last location, gender, and contact information on the card.
In case you find a lost pet (not yours), then post it in the "Found" tab, in some cases, you can even get a cash reward for the found animal.
Help animals re-join with their possessors with the "Missing Pets – Find Lost Pet" app.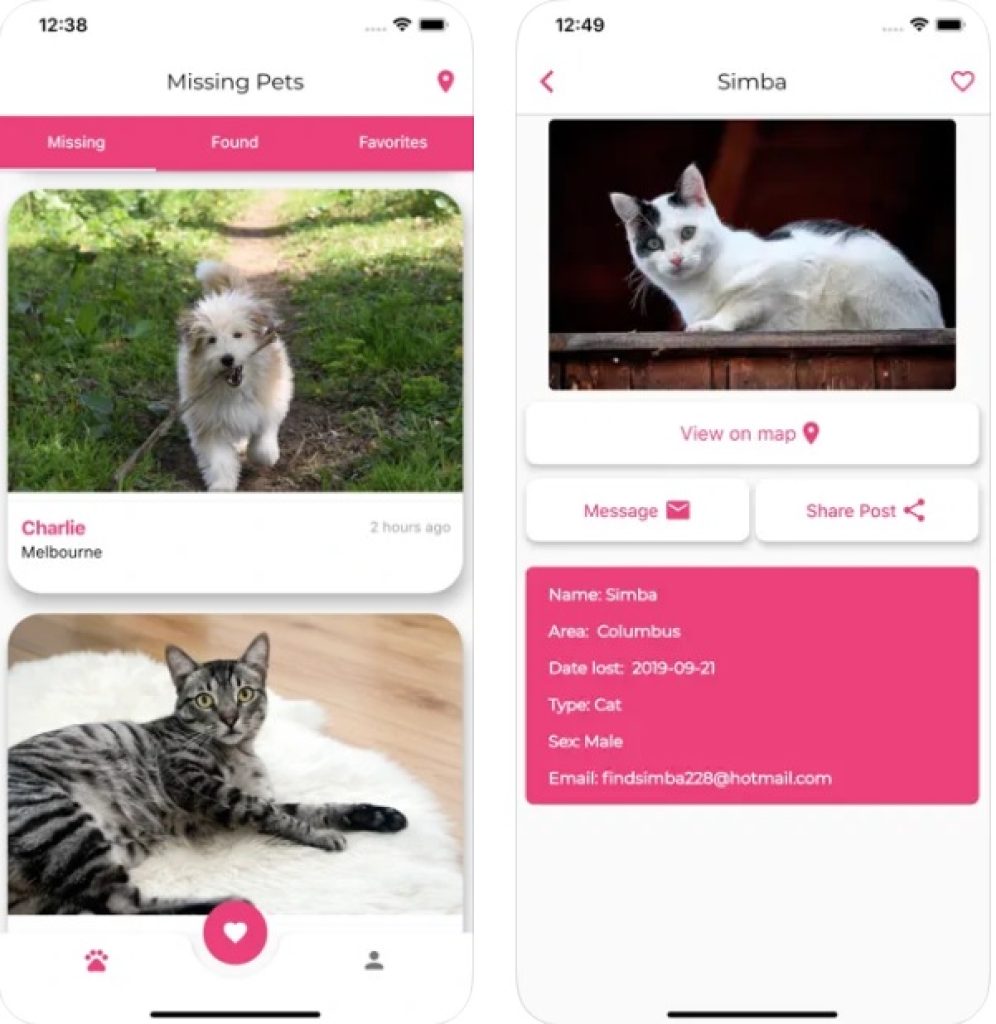 Tractive GPS Pet Finder
Tractive GPS Pet Finder is an unusual app on this list because it will only help you find your pet if it has a special GPS tracker on its collar.
In the app, you can track your pet's current location right on your phone's map. You will be able to see the route that your pet has recently walked.
Tractive GPS Pet Finder app has the function of setting a safe territory for your pet. If the pet leaves this designated area, you will receive a notification on your phone.
Nice bonuses in the application are the remote control of some functions. For example, you can turn on the flashlight or chime on your pet's collar. Such features in the app will make it easier to find a pet at night or in an unfamiliar area.
Find out where your pet is and track its location with the Tractive GPS Pet Finder app.
You can buy a GPS tracker at any hardware store or pet store.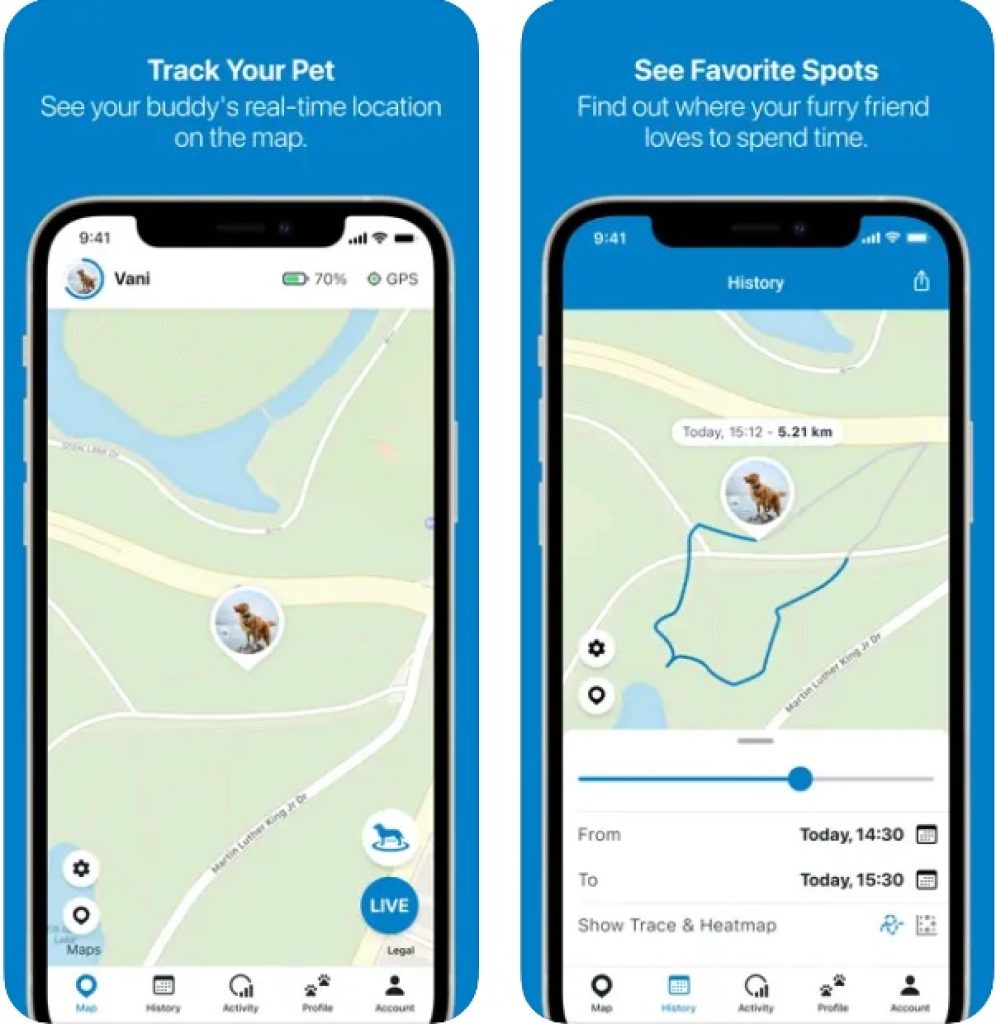 Noseid – An Easier Way to Help Find Your Lost Dog
Noseid is a new way to find your dog. The app is like a microchip or keychain with your address on a dog's collar. All you need is to register and enter brief information about your dog on the card in the app.
You also need to scan the dog's nose with your phone, as every dog has a unique nose pattern. Each dog has its own nose print, which is not repeated in other dogs. Just like human fingerprints.
If you find a lost dog, then try to scan its nose in the NoseId app. If the dog is registered in the app database, then you will be provided with information about the dog and the contact details of its possessor. Also, the owner of the animal will receive a notification that his dog has been found.
But please note that the NoseId app only works in Nashville and is only suitable for finding dogs. But the Noseid app plans to start work in other regions of the USA, so stay tuned and wait for the appearance of the app in your region.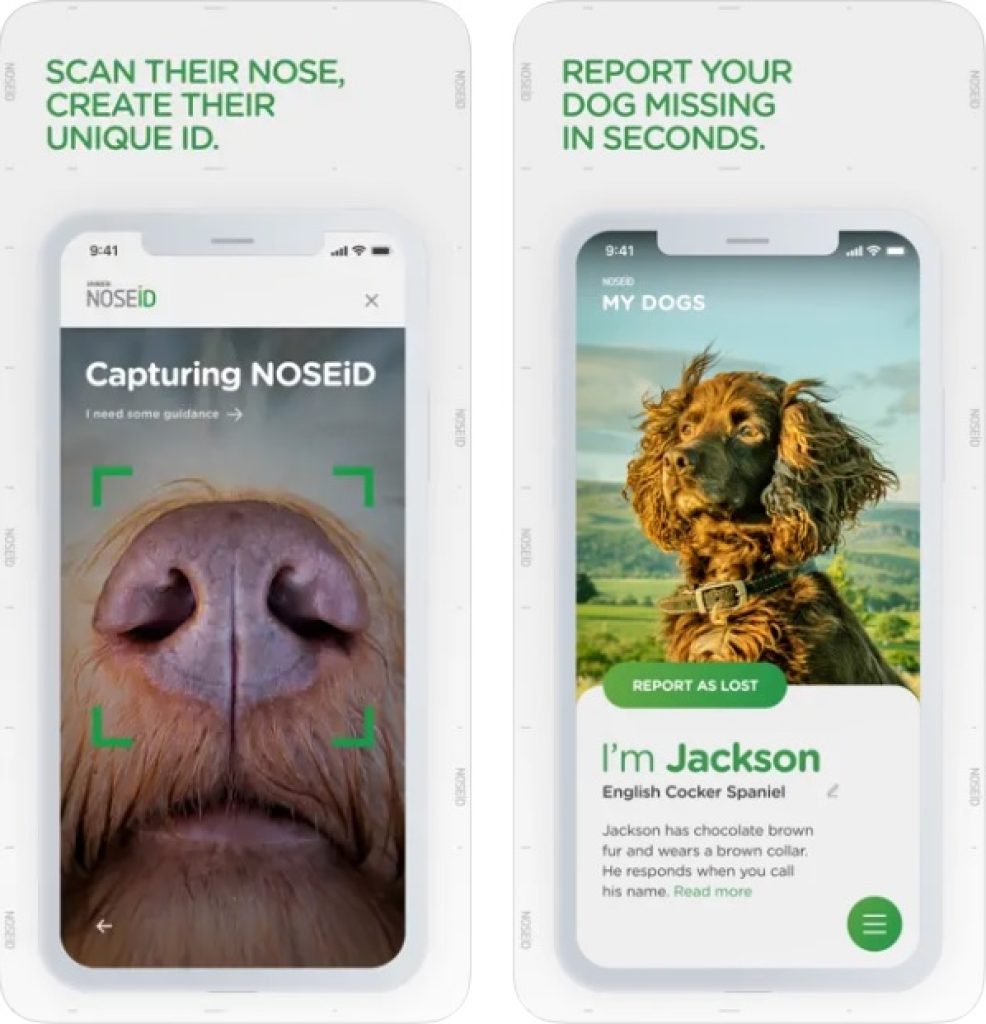 You may also like: 15 Free Apps for Pet Lovers (Android & iOS)
Pawscout
The Pawscout app is a social media for your pets. With it, you can make new friends nearby, find interesting places to walk with your pet, as well as look for an astray pet or help other users of the app find it.
You can post an announcement about your stray animal, which will be displayed on the phone screens of other users nearby.
You can communicate with other users of the "Pawscout" app in a general chat or in private messages.
The app can also be synchronized with the GPS tracker on your pet's collar. With this feature, you can track the movement of an animal in real-time within a radius of three hundred feet from the place, where you are.
Also, if your pet has a GPS tracker, it will be easier to find it for you. Other users of the "Pawscout" app will receive a notification if your pet is near them.
Chat with other users of the app, meet and walk together, and always know the place where your pet is. Check out the latest events and updates on pet owner profiles with the Pawscout app.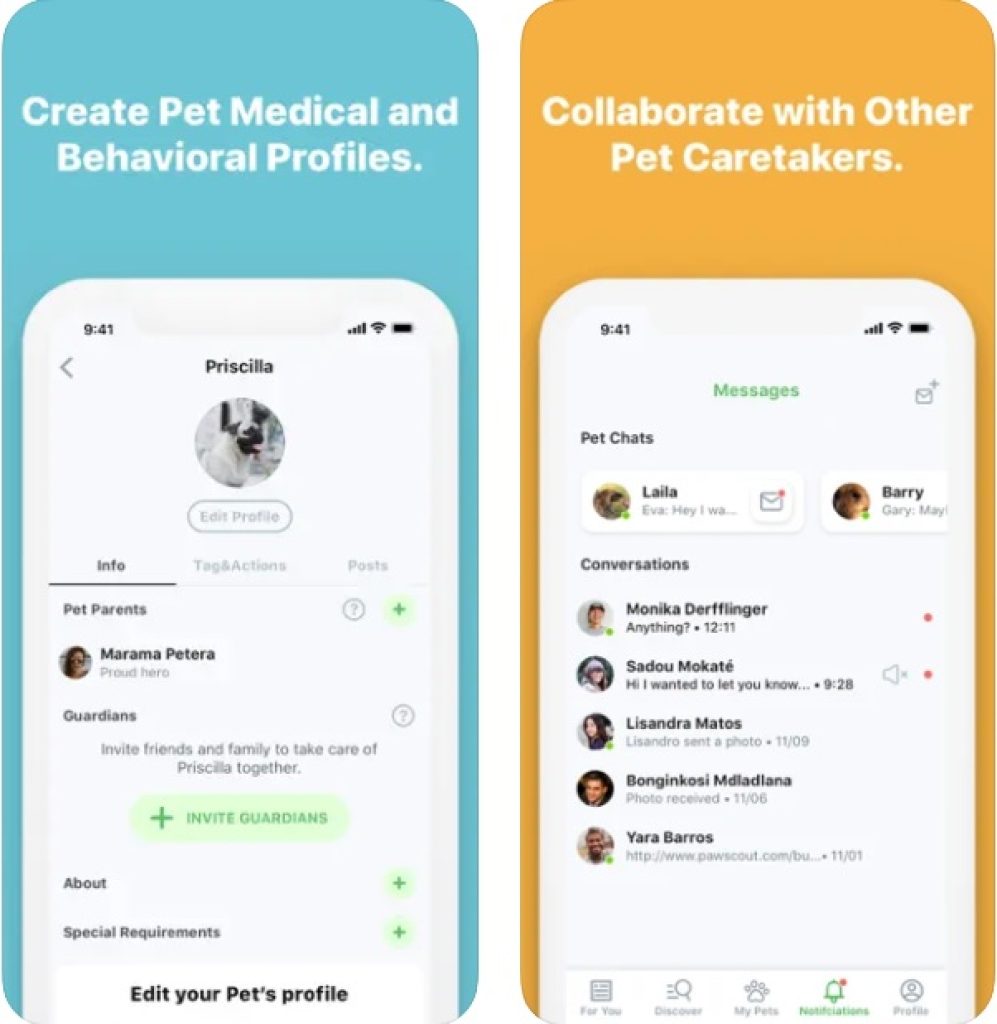 PeTrace – Encuentra animales perdidos
PeTrace is a special app that will help you find absolutely any of your pets. Instead of wasting time writing social media posts and posting an ad, just create an information card with a brief description of your pet.
Use the map, which shows all the found animals and their photos, or you can also use the list, which shows cards with lost or found pets. Use the format you like best.
If you find a lost pet, then contact its owner in a special app chat or simply call the phone number that the pet owner indicated in the ad.
Use the app's internal chat to communicate with the possessors of lost animals and help in finding and returning pets home with the PeTrace – Encuentra animales perdidos app.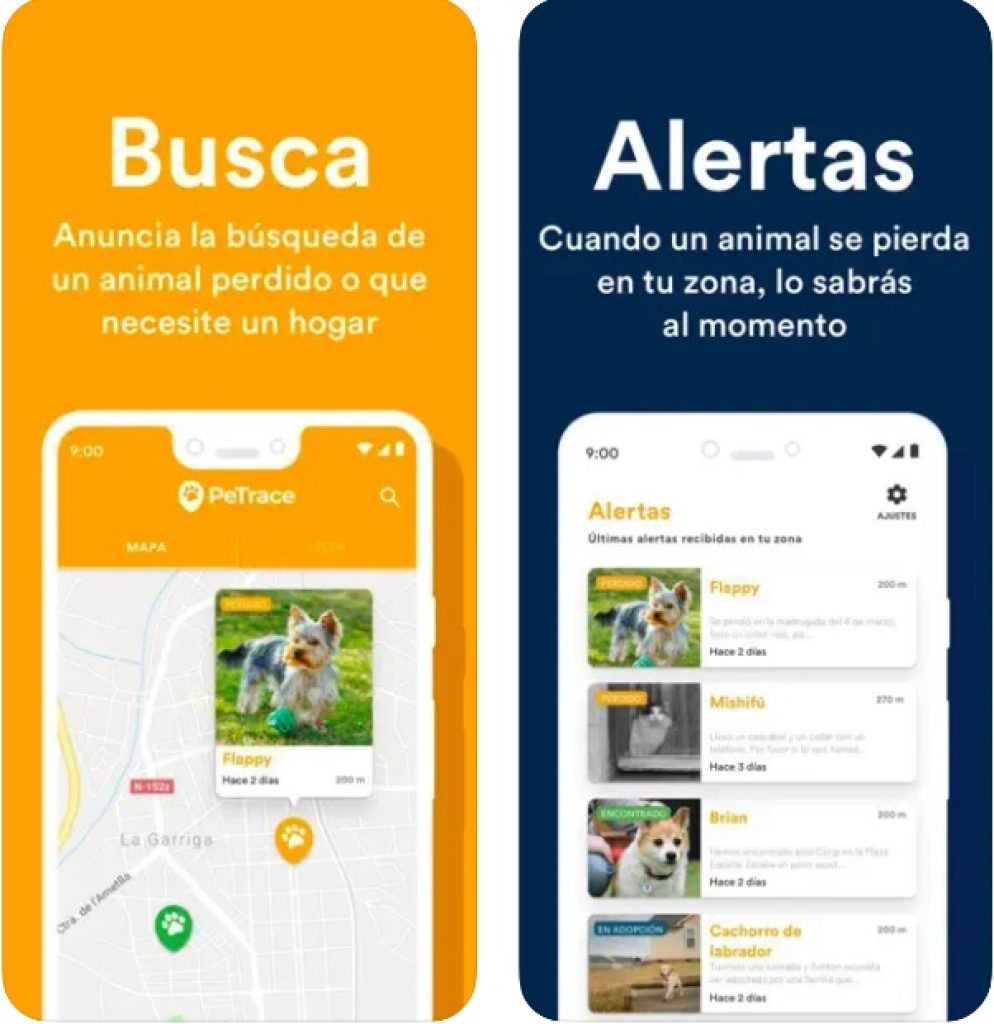 You may also like: 11 Best pet adoption apps in the USA for Android & iOS
PawBoost – Lost and Found Pets
PawBoost – Lost and Found Pets is an app that connects over five million volunteers and pet possessors in media and messengers.
If you have found or lost your pet, just download the PawBoost-Lost and Found Pets app, upload an ad and a photo of the pet, and wait for feedback. A lost or found pet will be automatically posted to PawBoost network pages in your area.
Join volunteers and help find astray pets in your area. Download the app, subscribe to "PawBoost" social networks, and stay up to date with the latest news.