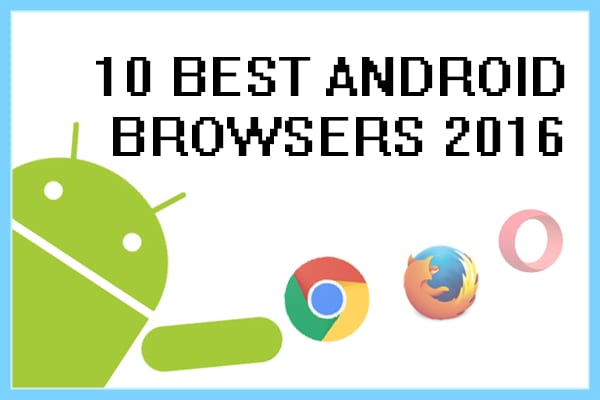 The key feature of smartphones for every smartphone user is, undoubtedly, the access to the Internet. That's why having an efficient, fast and convenient browser is so important.
Many people simply use the default Google Chrome, which is fine. However, today there's a big variety of browsers, from which you can choose the most suitable one. Let's look at some of the best browsers for Android 2016 and find out about their advantages!
10 best Android browsers 2016
Dolphin Browser
Dolphin Browser is one of the best ones for Android devices. There is a number of reasons why. First of all, it started out as a smartphone browser, not a desktop one. Second of all, it has been developing side by side with Android itself, so it is perfect for this system.
The browser has a full package of different functions, starting with voice search and gesture controls and ending with highly customizable settings. It's worth paying attention to the last feature, which makes Dolphin Browser so appealing to many users. The design is simple and looks great without any changes, but regulations are possible and there are plenty of them. You can even choose a theme without any additional downloads.
Dolphin also consumes a smaller RAM comparing with other browsers, which is quite an advantage, as it means you will run out of battery in a longer time. One more reason to download this browser is that it still supports Flash Player, which is used in old sites that don't manage to keep up with the times. The browser is also good in synchronization, so do not worry if you have Google Chrome or Firefox installed on your PC.
All in all, Dolphin Browser is definitely worth a try. There are some annoying default features, but a user may easily get rid of them. Surf the net with Dolphin and enjoy speed, style and efficiency!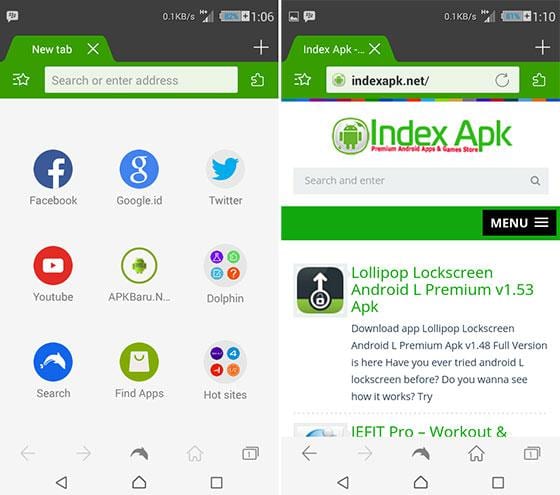 Google Chrome
Google Chrome is an excellent browser for desktops, which kind of makes some of us think that it's also excellent for Android. And it is true! A strict design and all the necessary features are provided in Chrome browser to make our web-searching pleasant and convenient.
If you use Google Chrome as a desktop browser, you're going to love the way everything is synchronized. Google Chrome for Android seems so familiar, that if you have it as a default app on your phone, you'll probably avoid downloading anything else.
If you don't have it already, get it now and enjoy its laconic design, in which everything is just in the right place!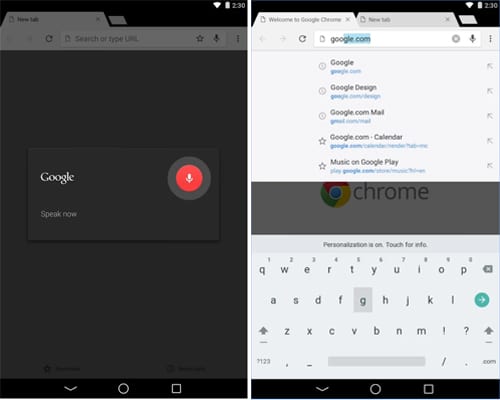 Chrome Beta
Chrome Beta is like a usual Google Chrome browser, only better! It gives you an opportunity to find out about the newest updates of the browser and leave feedback, although it is not required.
You can face stability problems from time to time, so be prepared to it (perhaps, having two versions of Google Chrome is the best option). However, these problems are not so frequent and will hardly prevent you from a slim browsing. Get Chrome Beta to be on the cutting edge of Chrome innovations!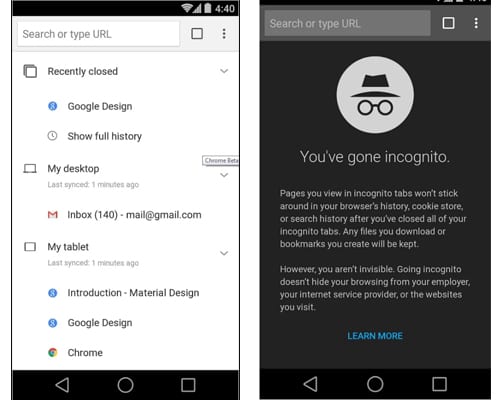 Opera
Opera is another giant among the best browsers. It has been around for a long time, much longer than Google Chrome. Just like Chrome, it was originally designed for computers and then became available on smartphones.
Opera has everything any other standard browser is able to offer. It stands out from others with a relatively small size of its download file and regulations for saving files. Speaking of the last feature, videos and images can be compressed to the needed size in order to save memory space on your phone and lessen the time of downloading.
Since Opera is also a desktop browser, it can easily sync across devices. The browser is quite fast and loads the whole page with all the images at once. There is also a beta version of Opera, which lets to use the newest features.
If your android device is not one of the latest, then Opera is the best choice. Get it now and start saving your phone's memory for other important stuff!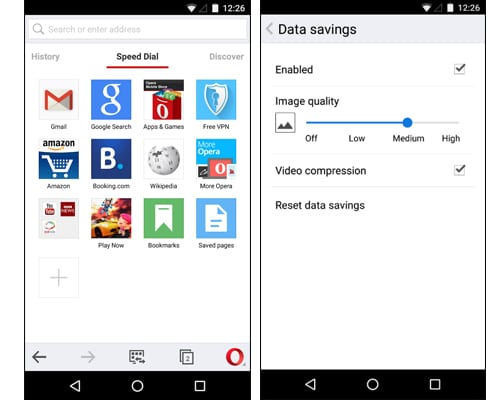 Firefox
Firefox has also been around for a long time. It is the fastest one when it comes to loading web pages, which is probably the most important feature of every browser.
Firefox offers convenient bookmarks, a clever search, a privacy mode, syncing and many other useful things. It's just like most other browsers not ad-free. Nevertheless, it provides a great experience of surfing the net. Firefox certainly deserves its place among the best browsers!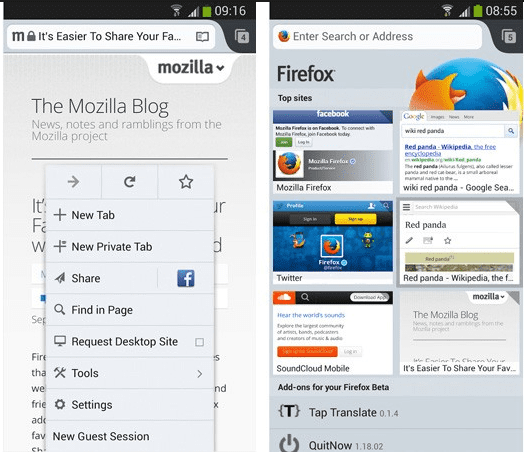 UC Browser
UC Browser is one of the most popular ones in Google Play. It has over 10 million downloads. The browser was created by Chinese company UCWeb and now is used all over the world.
UC Browser's advantage is that it opens quite fast – actually faster than all those above. It provides a whole package of useful functions such as night mode, data compression and so on. The only drawback is that there are too much default add-ons, but they can easily be deleted. So, another great browser to improve your experience in browsing the web!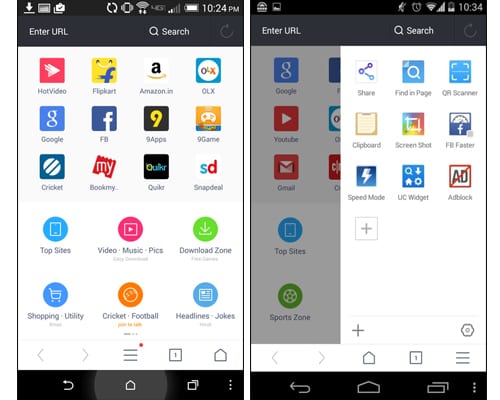 Flynx
Flynx is something different. Nowadays Twitter and Facebook apps as well as some other social media sites apps are extremely popular and sometimes we all encounter different links in them to be opened in a browser. Actually, we encounter them so often, that there has been invented a new way to follow them.
Flynx doesn't open web pages immediately – the way other browsers do. On the contrary, it lets a page open fully while you continue using another app. When you decide to view the chosen page, you can just tap on the bubble of this page, which Flynx created for you when you tapped the link.
Still waiting with nothing to do while pages from Twitter are being loaded? Download Flynx and start using your time smart!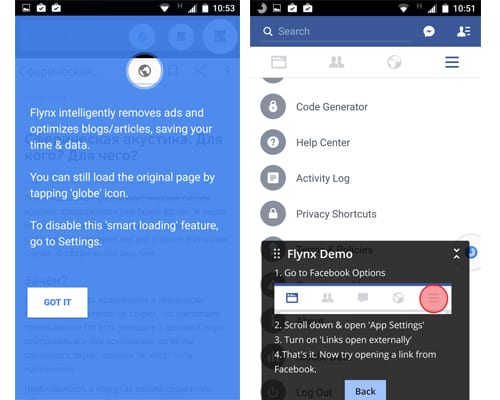 Flyperlink
Flyperlink is an alternative to the previous browser. It also creates bubbles and lets open them whenever you need to. Besides, it has a floating browser mode, which is perfect for using simultaneously an app and a browser.
Flyperlink also supports some basic features like AdBlock and text selection. It's a great tool for multitasking. Get it now and enjoy the new handy way of following links!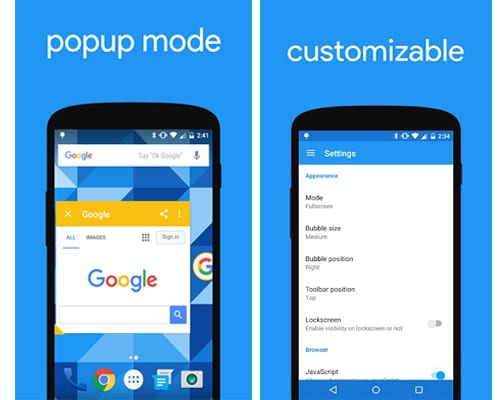 Puffin Browser
Let's end our best Android browsers 2016 list with one of the coolest browsers – Puffin. Puffin is cool, because it, like Dolphin, supports Adobe Flash and efficiently enables users to view sites which still use it by applying to its own servers.
Besides mentioned feature, the most remarkable one is a virtual mouse which imitates an experience of using your favorite laptop or PC. Puffin is full of other useful things too, such as customizable settings, themes, efficient data saving, incognito mode.
The only disadvantage is banners across the screen which sometimes can be annoying. However, it is still a great choice as it is fast and highly customizable.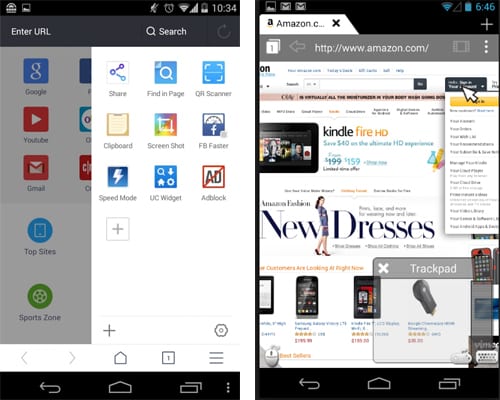 Brave Browser
Brave Browser – Link Bubble is another browser for multitasking. It is the most popular one among three on Google app store. Apart from those tricky ways of opening links, it is also focused on providing security. It has a tracker protection mode and ensures users that no malware is able to penetrate through the browser.
Brave browser doesn't have a search engine, so it is only able to open links from other apps. It may serve as a great addition to your regular browser and used when needed. Download it now and save time opening links with no worries about security!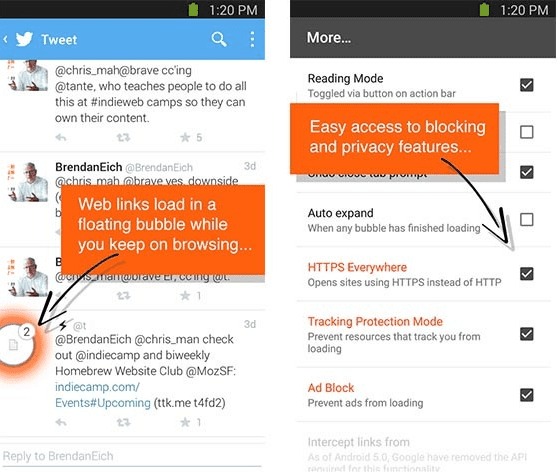 In conclusion, it is worth saying that modern devices make every browser's work impeccable. It doesn't matter which one out of these 10 you choose to use or are using already, your web-surfing experience will still be satisfactory. So choose the one features of which you like most and use the Internet with pleasure!