Sometimes it is necessary to know where the site of employees is. This way you can control the job and performance of duties. It is a list of the best GPS tracking apps for employees that are useful if you have the desire to know about all the routes your workers do.
And more apps that allow you to track employee attendance, in general, can be found in this article.
Employee Tracker, Real-Time GPS Tracker
It is a good choice for you to organize your working strategy and the assignments of your subordinates largely more efficiently.
Make an account and add your employees. Each of them will have a card with a name, id number. Tap on the "Track" button to find out the location.
It is possible to learn where your workers are just right now. There is an essential conference on their agenda, but they decide it would be a good idea to have a snack in a cafe instead. This is not acceptable.
Using this service, you can always be aware of the location of employees, and they, in turn, will know that you can check it at any time and will be more responsible for their job.
Another useful feature is the opportunity to inspect office visits by staff. You will no longer be able to miss someone who decided to arrange an unplanned day off right in the middle of the working week.
Advantages:
Simple and attractive design.
There is a chance to add and create special employee cards that will help you to track them in a few clicks.
It is available to check the attendance of the workplace by the employees.
Drawbacks:
Sometimes the app can take quite a long time to load the map.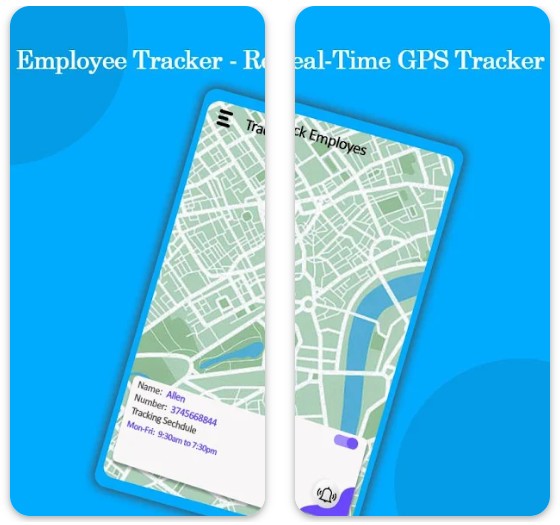 You may also like: 11 Free Phone GPS Tracker Apps by Number
Employee Time Clock w/GPS
It is comfortable to organize work tasks, important meetings, and various trips if there are special services that take most of the assignments on organizing these issues on their own.
You can download this app as a chief, director, or group head of employees. Then it will be very easy to monitor the progress of all work tasks, dates and other essential items that are connected with transportation and workers' move round a city.
There are also many useful functions for employees here. The app will send them a notification that they require to check in at their workplace when exiting and entering.
It needs a number and access to GPS to start using.
There is all that can be essential to planning the jobs of employees, where they should be at a certain time, how long they should stay there and when they should leave this place.
All the details of the timetable are clear to both the manager and the subordinate.
Managers will also receive a message if an employee has not come to the workplace or has not checked in. This will save you a lot of time and effort to control that the work is done exactly as it should.
In addition, there are functions such as a team message to inform all employees, and the option to add photos and documents, just like the creation of lists.
Advantages:
There are all the necessary functions for communication between managers and subordinates.
It is possible to receive reports.
A convenient system for monitoring employees utilizing GPS in real-time.
Drawbacks:
A complicated registration system can take a long time.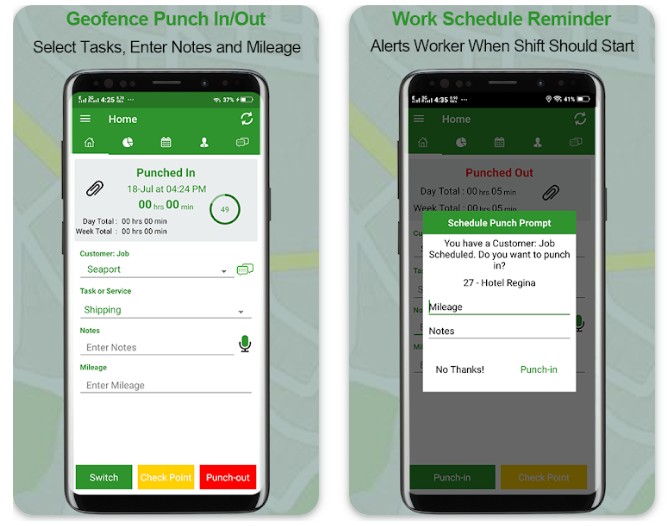 Track Field Employees Location
This is another modern app that will make sure that your employees if they do their job and stay where they should be.
Perhaps you have a delivery company or your employees provide any services at home with customers. Thus, you should regularly check their responsibility level and how the work is going so that you will have a chance to assist them at any time.
The service is perfect for different types of companies. Managers of building, logistics, tourism, deliveries, security, and many other companies will save a lot of time using this app.
Of course, in this service, there is a feature for checking the attendance of the office or certain places by your employees.
In addition, you can effortlessly create a schedule of visits. Has a new order just been received? Add it to the list, choose an employee who can handle it, and monitor its movements in real time.
Advantages:
The service is appropriate for companies and agencies in various areas of business.
Modern and light design.
There are additional components to help organize and coordinate the job of employees quickly.
The app is available in four languages: English, Spanish, Hindi, and Arabic.
You can also get statistics about employees and their attendance.
Drawbacks:
For some areas, the map can be outdated.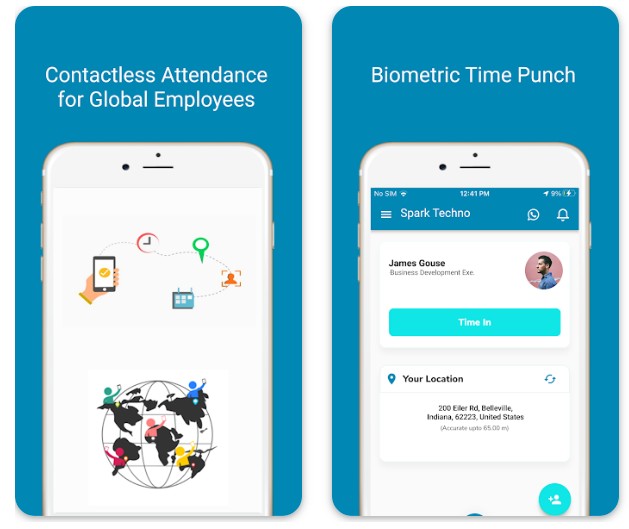 Mobile Phone GPS Tracker
This app is perfect for checking the workers' locations and even family members and friends.
The service operates on the GPSWOX platform, so you can find out which of your subordinates attend the work and who does not in real-time.
Users receive notifications about the progress of jobs, which of the workers who came to the workplace, who left for a conference, or a client. You can always be aware of how the process is going.
Another great feature is planning deliveries, summits, and making various tasks. Moreover, you can get real signatures and make them yourself.
The service also provides live chat with its help you always have the opportunity to contact customers or an employee and give additional instructions and clarify details.
Advantages:
A simple and convenient real-time search system.
You can leave and get signatures.
There is a messenger in the app.
Drawbacks:
There are errors in the screen settings.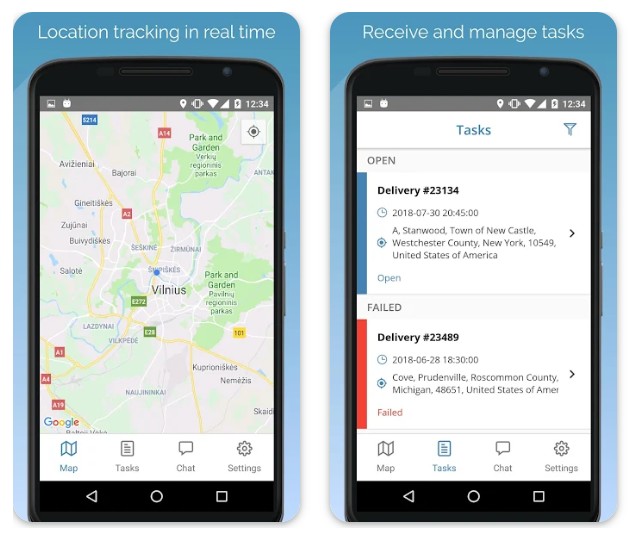 GPS Tracking employees
This service monitors the location of your subordinates so that you can be aware of what they are doing during working hours.
This is an ideal choice of service for a company that has many mobile employees whose duties include not just sitting in the office, but constantly moving between different sites around the city.
You have to connect to the app and contact your employees to establish a GPS connection. Then you can use a map on which your subordinates are marked with special tags.
You will have access to all the movements of workers, and even the number of stops they made during the journey. It is available for you to manage the routes that the employees have passed.
Advantages:
Many additional functions will help monitor the operation and subordinates.
A user account gives you access to edit various management elements.
It is possible to receive reports on employee movements in various formats: Word, Excel, PDF, and others. There is a notification system.
Drawbacks:
Sometimes the app may freeze up during the work with maps.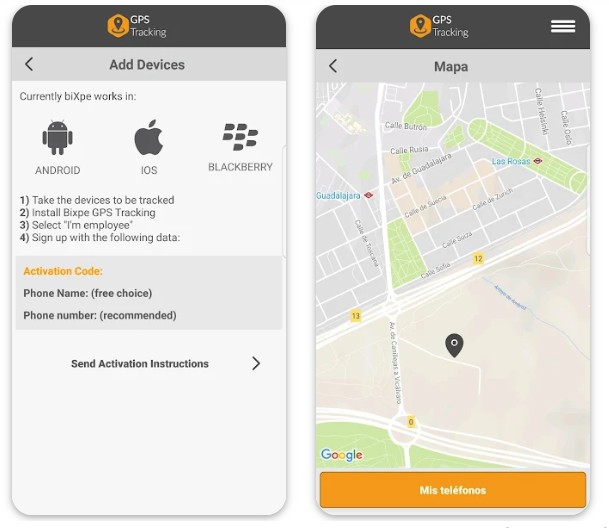 iTime Attendance – GPS Employee
If your goal is to monitor how responsibly employees treat their work, this app is an absolute must. It will be just essential and will make your life much easier.
The main function of this service is to give you information about where your employees are during working hours.
Of course, this app must also be pre-installed on their phones, as well as GPS must always remain on, for the service to operate correctly.
The developers have added a system for recognizing false job attendance reports. Your subordinates will not be able to cheat you!
The app has many options for employees to make it as easy as possible for them to follow the instructions for attending business meetings, office, and so on.
The manager also has certain rights when using this app. Except for basic features, you can make salary calculations and notify subordinates about it, as well as send messages to all employees.
Advantages:
All information about work progress and location monitoring is accessible to both the manager and subordinates.
Managers have many useful features that will help them make their work easier and more efficient.
Drawbacks:
The map of the area can be loaded for a long time.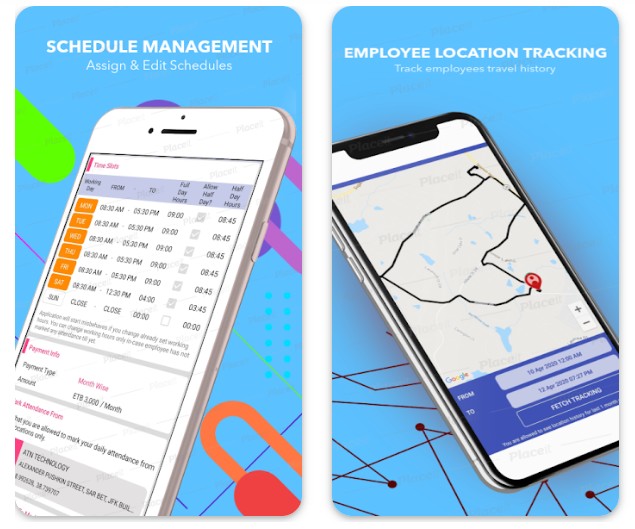 Employee Tracking
Although this app does not have as many additional features as those already described, it nevertheless copes perfectly with its task of tracking employees.
Just download it, log in and learn the place where your subordinates stay in just a couple of clicks.
The design of the service is simple and laconic, so you will not get confused about where which function is located.
You can also get monthly statistics on employees' visits to the places they were supposed to attend. Moreover, you can see how many kilometers your worker has traveled in total.
Advantages:
Simple design.
The app completely handles the task of tracking employees right now.
Drawbacks:
It is possible that users can sometimes experience app freezes.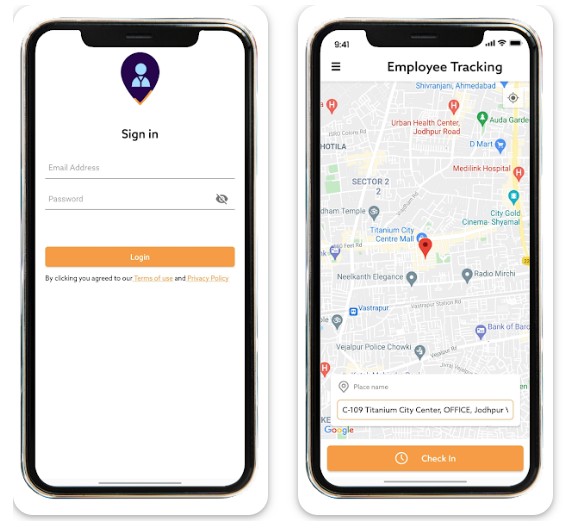 Employee Time Clock with GPS
It is not just a clock. There is a special "clock" with which you can to organize your work at a higher level of efficiency and quality.
As for the manager of a large number of employees, each of whom has their important tasks in different parts of the city or the office, you need to keep track of everyone.
You should always be ready to help your subordinates or find out why this or that employee is not at their workplace.
While you are doing the other part of your work, you just get notifications with the information that all subordinates have reached their jobs and started performing tasks. You can also easily make changes to their schedule if necessary.
The developers tried on the design of the app. It is very easy to find all the features here.
Advantages:
You can monitor your employees using the map and turn on the timer while they are working.
Simple and intuitive design.
Drawbacks:
Users may experience freezes during registration in the app.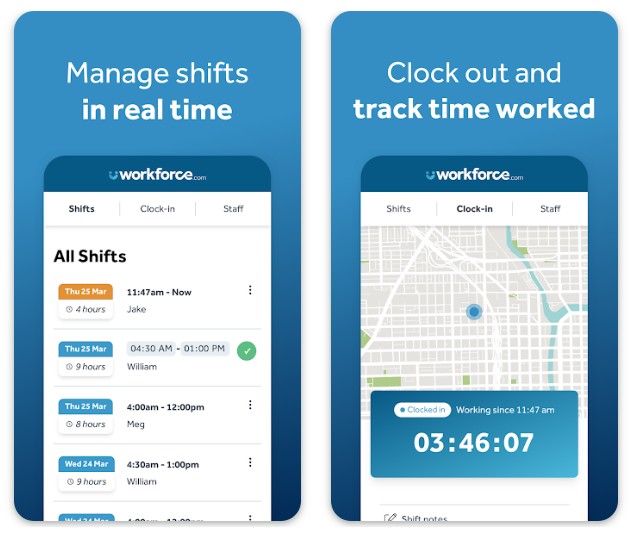 Employee Attendance & Location
You can find out whether employees are really at their workplace or not without any problems. Use this service to always know where your subordinates are with the help of GPS.
This app should be installed both on your phone and the phone of employees so that they mark their presence in the office or in any other place where they should be. So you can see where they are in real-time.
Problems with the Internet connection did not affect the functioning of the app at all. Even if the employee is in a place where there is poor communication, the service can continue to work offline.
Another useful feature is that subordinates can ask for leave from their employer using this app. Employees just send a special request and after the manager reviews it and makes a decision, they will receive a response.
Managers have access to the schedule of their employees. They will also learn if an employee has stayed working longer than it is specified in the schedule.
It is possible to calculate overtime hours to then add them to the total hours to calculate salary. Yes, you can do with this service too.
Advantages:
It is easy to monitor the location of workers.
In addition to other elements, you can also utilize a convenient calendar, leave management, and salary calculation.
It is possible to ask for selfies of workers at their position to certainly know that they attend the office.
Drawbacks:
It is easy to get confused by a huge number of functions.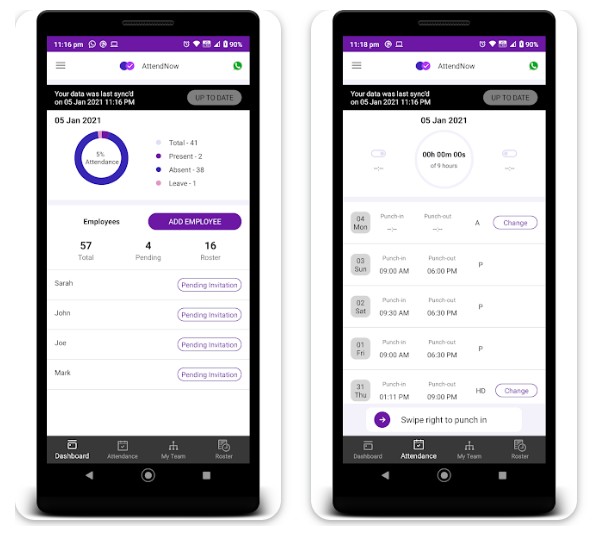 You may also like: 10 Best Employee Scheduling Apps for iOS & Android
Hellotracks – All-in-one locat
This is an app that optimizes your working day as much as possible and will help you cope with all the tasks that require your trips around the city or the shifts of your employees.
There is a built-in map with which it is very easy to see where a person is right now. Just enter the necessary information about employees and you will immediately know where they are in real time.
You can also change their route if necessary. Subordinates will immediately receive a notification that they should change their ways to their place of work.
In addition, the service offers to make work schedules. Users will always have access to all deadlines with just a few taps on the smartphone screen.
Managers who have to deal with a whole team of employees have a useful function. They can quickly distribute various tasks between people. This can be done both via the website and directly in the app.
Advantages:
The app can be convenient and useful for both employees and companies, as well as for families with children.
There is always an up-to-date map of cities.
The service provides features to optimize the work of employees and managers.
Drawbacks:
It is possible that a person's location will not be updated due to errors in the app.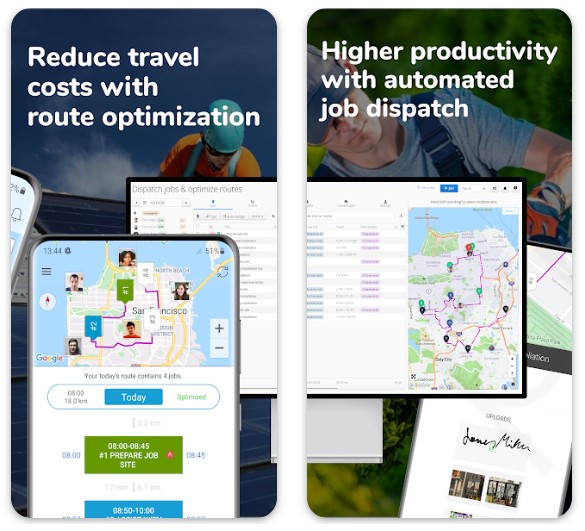 Connection-Live Location Track
Although this service was not provided for work purposes, nevertheless it will still be very useful for tracking by employees.
The basic function of the app is to monitor the location of people. You can create a "circle" to which your subordinates can connect. It is also possible to join other "circles".
Now that all members have access to the profiles of each other, it is enough just to have GPS enabled on the phone to see on the map where the person is right now.
The app saves the history of people's routes. That is why you can see where your employees have been in the last month, as well as when they usually come to the office and leave it.
Every time subordinates mark the place where they have arrived, you will receive a notification. This way you can always stay up to date on the progress of the work.
Advantages:
User-friendly and modern app design.
A simple system for tracking and monitoring people on the map in real time.
Drawbacks:
There are problems with downloading the location.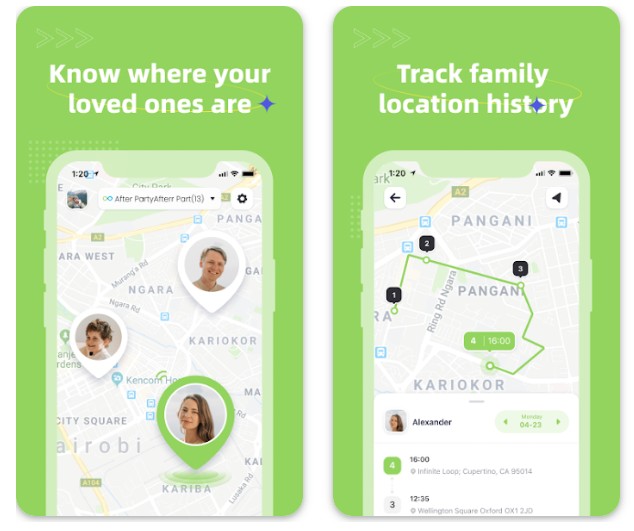 Geo Tracker – GPS tracker
This tracker will allow employees to send reports on the completed route to their employers.
There are not so many special functions for communication between the manager and subordinates, however, it is also quite effective for employees who have to travel various distances and report this to their superiors.
Users can connect to three various maps – choose the one you are already used to or which is most convenient for you.
The map and navigator will not allow you to get lost in an unfamiliar area. In addition, the route you go through is saved in the history, and you can send all the necessary statistics to your manager or friends and family members.
Statistics include information such as the time spent on the path, speed, and so on. This can be saved in KML, KMZ, and GPX file formats. That is why you may transfer and use this data to other similar apps.
Advantages:
The service accurately determines your location.
You can get detailed statistics about the distance traveled.
It is possible to share saved routes with other people.
Drawbacks:
There is no real-time tracking feature in the app.
There are no opportunities for managers to monitor the work of subordinates.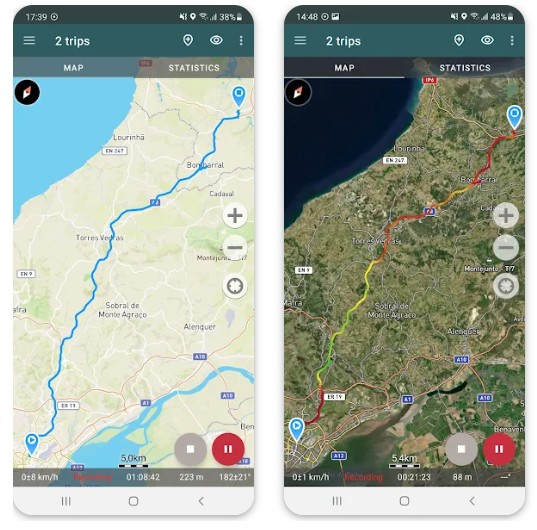 Field Sales Employee Tracking
This employee tracking service is best suited for a sales company.
With the help of GPS, you will be able to get up-to-date information about where your employees are at the moment. This is important for the work of sales companies, but not only for them.
The app will also be an excellent choice for managers of various organizations.
It is possible to see the attendance of employees: at what time they started work and at what time they finished. Moreover, you can receive reports on completed tasks from your subordinates.
This service allows both employers and employees to have equally useful features.
For subordinates, this is, of course, a convenient and simple system that allows them to perform the required work quickly and accurately.
Managers have all the necessary statistics about sales, the location of employees, their success at work, and the completion of tasks.
Advantages:
The app can work without internet access.
There is cloud storage.
The service provides special features for sales companies.
Drawbacks:
Due to the large number of functions, it is difficult to understand how to use the app.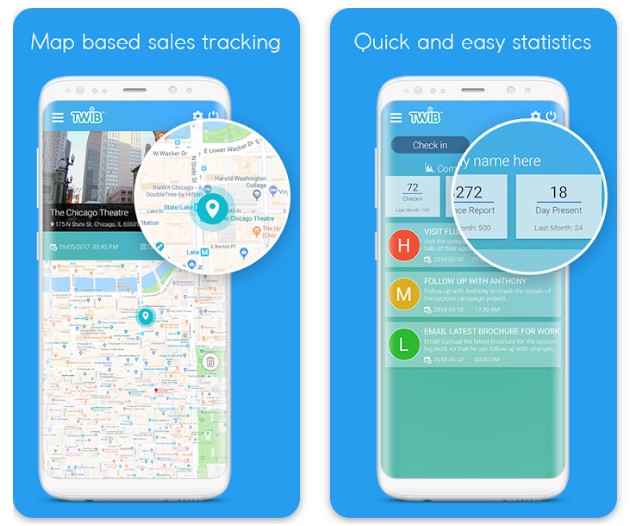 X-GPS Tracker
You will improve your productivity (as well as your team of employees) if you start using this GPS-tracking service.
The app is available for installation on both a phone and a tablet. Choose the device with which it is most convenient for you to work.
Of course, you can keep track of the route of your subordinates and colleagues in real time. Make sure they also have this app installed and GPS enabled to get data on their location right now.
The history of all trips that have been made is also available to you. You can always review it to make sure that all tasks were completed on time and with proper accuracy.
What is more, employees should register their presence and leave the workplace. The manager can use one of the features and ask the employee to take a selfie or photos of the area.
The service provides its messenger so that solving issues in a team becomes fast, simple, and accessible. The manager can contact each employee individually or write a message in a group chat.
Advantages:
It is possible to make lists with tasks.
Easy navigation in the app.
You can make online signatures and receive them.
The service has a messenger.
Drawbacks:
There are problems with entering and creating an ID number.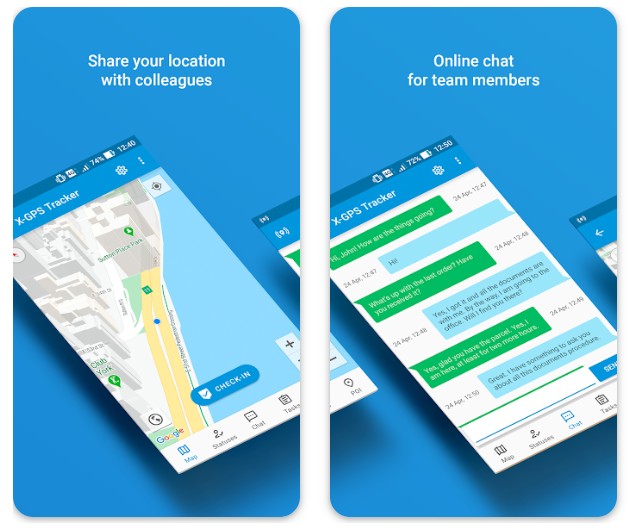 GPS Tracker
This is a simple app to monitor your location via GPS.
It is not suitable for the large-scale work of an entire team headed by a manager, but it will be quite useful for a delivery service employee or driver or other occupation to be able to register the location and chat with a client.
Even if you do not have internet access right now, the app will continue to run and record your route so that later you can still view it and use the rest of the features.
The service can be used as a floating window. That is why you can easily combine GPS tracking and other apps on your smartphone at the same time.
Moreover, you can put a password on the app if you want to keep your routes secret.
Advantages:
There are a huge number of functions for working with maps and creating routes.
It is quite simple to monitor your location in real time.
The service has a built-in messenger.
Drawbacks:
There are no opportunities for the whole team to work.
Outdated app design.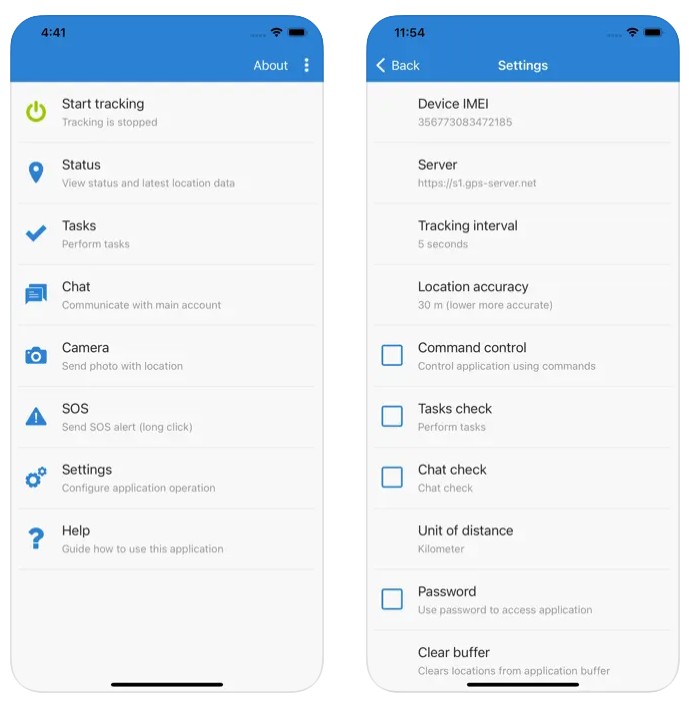 FollowMee GPS Tracker
This app is a good choice if you need to track the routes of your workers. It is also perfect for parents to know where their children are.
This app must be installed on your employees' phones. You can also use the mobile version – this is convenient since the phone is always at your side.
However, it is possible to monitor the location of subordinates through a PC. Just log in to the official website of the app.
The service has a function for setting the interval for updating the route of employees. Normally, the data is updated every five minutes, but of course, you can change this interval at your option.
This app is created specifically for business companies, so there are many unique features such as group planning, multi-tasking, various statistics, and reports that can be received by email.
Advantages:
The app can work offline.
There is a simple and convenient system for tracking employees on the map in real time.
It is available to use various additional functions for group work.
Drawbacks:
There are errors and freezes in the app.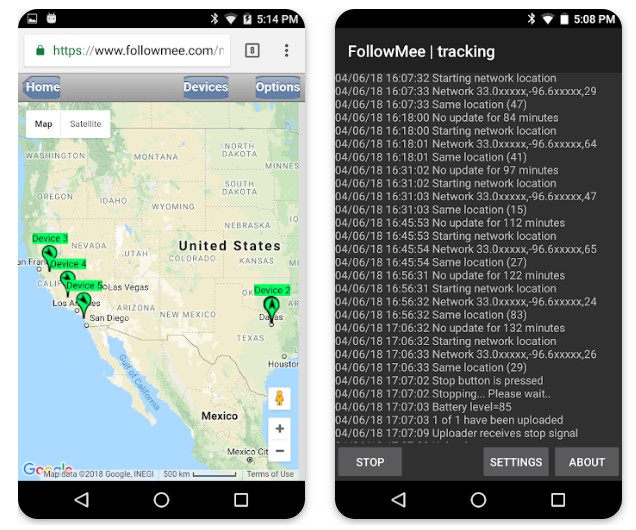 You may also like: 17 Best Time Tracking Apps for Android & iOS
GPS locator and family tracker
Although this app is aimed at helping family members to always be aware of who and where are right now, managers and workers can also use it for work purposes.
Even if a person has GPS turned off on their phone, you can still find out his or her location using the coordinates of a mobile number or WI-FI.
The developers have added a useful battery-saving feature. If the person does not move further along the route, the GPS is automatically turned off.
Moreover, it is possible to organize cooperation with employees using the built-in chat.
The group manager can receive notifications that employees have arrived at the office. It is just necessary to mark on the map the zone that will be a workspace, and when subordinates enter it, it will be considered for presentation at work.
Advantages:
It is very fast and simple to enroll in the service and start using it.
The service can continue to run even without an Internet connection.
There is a function to save the history of routes.
Drawbacks:
The app is more specialized in tracking family members rather than monitoring employees of a business company.