Technology changes the way we interact with service suppliers in every sphere. The tourism and hotel industry is no exception. With the help of smartphones, hotels can upgrade client experience to a completely new level.
Here we have for you the best hotel concierge apps to reach a new level of comfort during your stay. In addition to this, we also want to recommend you the best hotel booking apps & websites in the USA.
HotelFriend
HotelFriend is an app that offers a completely different approach to the guest experience. Dealing with all the stages of traveling has never been easier. With this service, you get help equal to that provided by a team of travel professionals.
HotelFriend allows you to connect with booking services, and track special offers, deals, and discounts. You can install it on your smartphone or use it from any device you like.
The app offers an extensive set of features. As for the booking and checking-in processes, it made them so much easier and much less stressful.
Forget about confusion while filling in the papers – here you can check in via your phone and run the whole process automatically. If something goes not as planned, you can alternate your reservations and bookings right from the app.
When we travel, we want an upscale experience with fewer troubles and worries possible. With HotelFriend, you can browse a vast number of in-built services and choose something you like. Now you don't have to search for somebody to order a meal to the room or room service – everything is available in just one click.
It's essential to keep an eye on your budget while traveling. Here you get a detailed report after every purchase you make through the app. You can track your savings and spending without worrying whether you have enough money to continue the vacation or to extend your stay.
If you still have a problem that can be solved only by a representative of the hotel staff, you can be sure you will reach one – there's an in-built chat in the app that you can use to describe your problem.
Key features:
Online booking
QR code / Hotel code check-in
Ready-made tour offers
Internal hotel services usage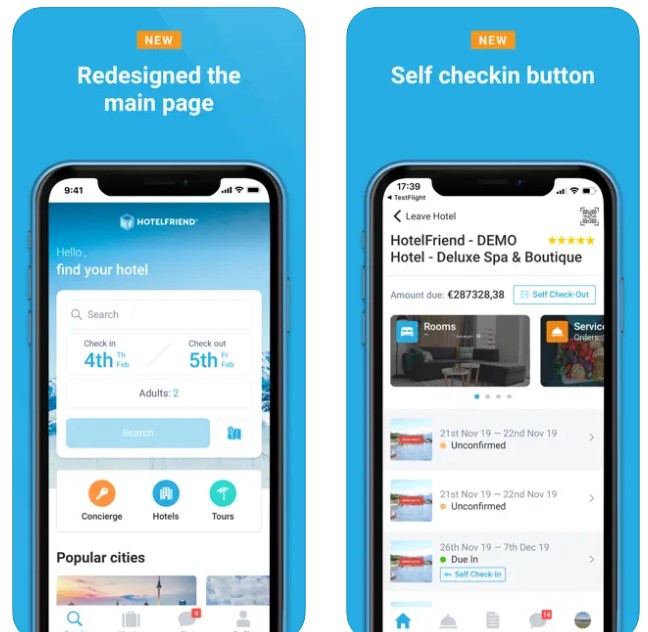 You may also like: 11 Best Last Minute Hotel Deals Apps for Android & iOS
Guestfriend
Guestfriend is the next app that improves significantly the communication between visitors and hotel staff. Firstly, it has all the information you could need to know about your hotel.
Here you can find contacts of the hotel representatives in case you have any questions and also all the details about the services your hotel provides.
When we stay in a hotel, we become extremely lazy. We want somebody to do all the chores for us. Using Guestfriend, you can have room service any time you want – all you have to do is just order it from the app.
As for the services, many hotels provide such cool things as restaurants, spas, sports centers, hairdressers, etc. Some of them require a booking or clarifying other details. You can do all that with Guestfriend and arrange the usage of all the hotel's internal services.
To experience all the functions, you will just have to scan a QR code provided by your hotel with an in-built scanner of the app.
If you have already experienced what the hotel can offer itself, it's time to go outside. In this case, Guesfriend is of great help too. It has an interactive city map inside.
You can use it as a city guide while choosing places you want to visit and creating the root.
When going out it's important to follow the weather. You can also do it in the app – it has an in-built weather tracker of your location place. The service is available in five different languages: English, French, German, Italian, and Dutch.
Overall, Guestfriend is a good multifunctional option to make your stay and save you time.
Key features:
QR code check-in
Internal hotel services usage
Interactive city guide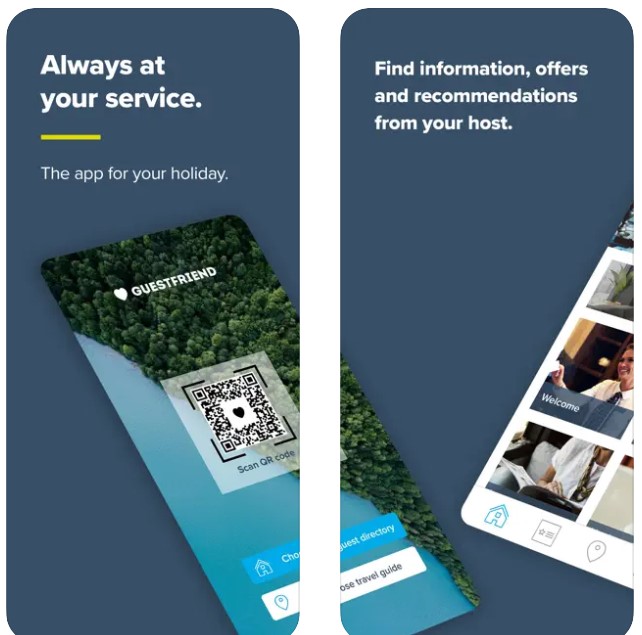 HelloGuest
This app is aimed at helping guests and hosts to manage the processes of arrival, stay, and departure, as well as at making the customer experience as smooth as possible.
HelloGuest's main function is a digital-key room system. Once you have downloaded the app, you will have to let the system scan the QR code to get access to the room.
As you can see, the set of functions HelloGuest has is quite limited and dedicated to one single option – to make the check-in process easy and convenient.
If you haven't made your reservation yet, you can also use the app's search system and search for a host. After you have made your choice, you can also make the payment directly from the app. You can browse all your previously made reservations in the menu.
Other functions include Hotel TV App with hotel information, a TV channel list, internet, video-on-demand, etc.
You can also start a conversation with your host via the app in case you have any questions. To do so, you will have to create an account. Once you are done, you can start a chat by pressing a chat icon in the menu.
If there are any updates with your booking or there's a new message in the chat, the app will send you a push notification to keep you informed about what's going on.
Key features:
QR code check-in
TV Hotel app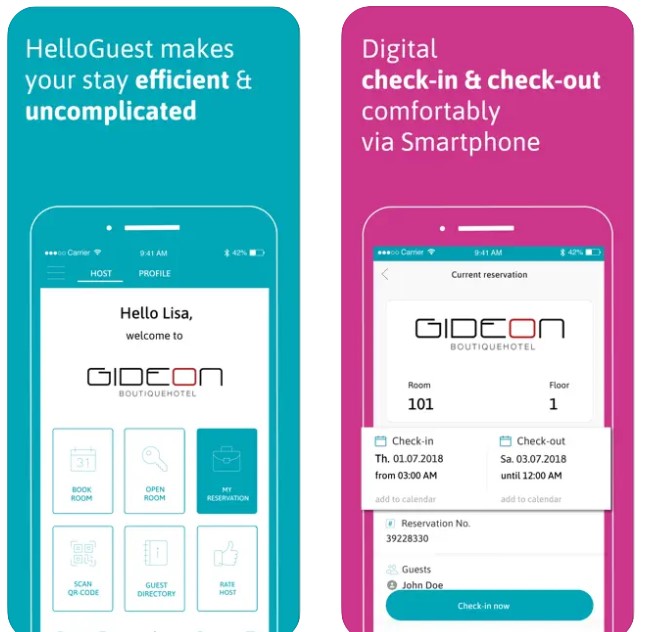 Alice Guest
Alice Guest is one of the best apps of the type since it offers one of the largest sets of functions. By the way, you can browse and experience all the functions by choosing a demo version with a fake hotel.
The app has several services to choose from, such as requests for your room, concierge services, room services, maintenance, TV and Appliance, Valet and Travel, Events, Book Now, etc.
As you can see, Alice Guest comprises three main components of the concierge apps: booking, room services, and a city guide.
In the Counter menu, which stands for room requests services, you may ask for late checkout or a WiFi password. You can use this menu to change the room if you want, to get an extra bed, and to chat with the hotel staff if necessary.
In the Concierge section, you can opt for newspaper delivery, browse through the lost and found department in case you lost something, arrange your AirPort shuttle or make any general request hotel staff will be able to fulfill.
Next goes the Room Service menu, where you are to choose meals that will be delivered to your room. You have an extensive choice of breakfast, lunch, and dinner options.
As for the Travel menu, here you can opt for a rental car to explore the city you are staying in. If you don't feel like going out, you can watch TV and find something interesting with the help of the TV function in the app.
Key features:
Demo version available
An extensive set of functions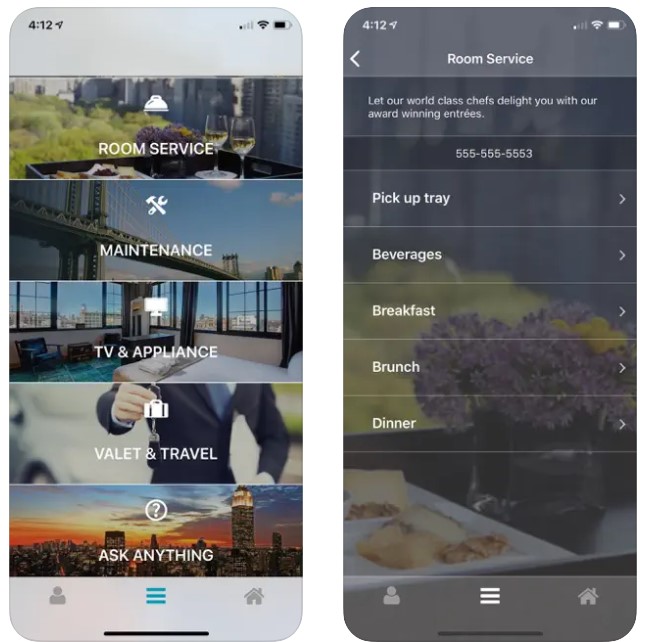 Gustaffo
Gustaffo's main function is providing checking-in and out, so, as well as HelloGuest is one of the basic apps of the type. It has a partnership with many hotels and adjusts its design to the colors and the logo of the company it represents.
How it works: once you have made your reservation in the hotel, it sends you an email letter where you will find an electronic invitation. This invitation is automatically recognized by Gustaffo, which then transforms it into an electronic key.
Once you have done your check-in, you can open the world of additional services Gustaffo offers. It can provide you with a late-night snack delivered right into your room or make a table reservation for you.
You can also set an alarm clock via the app so you don't miss your train or flight. There's also a set of functions to make your departure as comfortable as possible – you can order a taxi right from the hotel and check out via a digital key.
The app is said to be multilingual and supported in any language. If something remains confusing and needs clarification, you can just opt for a chatbot provided by Gustaffo.
It is already filled with information about your hotel, so you do not need to refer to hotel staff if you need answers to the majority of basic questions.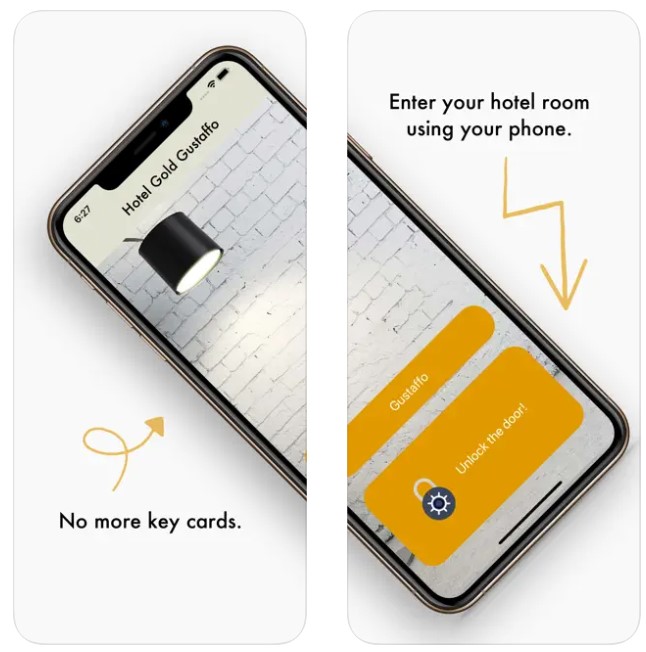 Hinfo
'Guest Digital Compendium' – this is how the app presents itself. Though the word 'compendium' may sound a bit confusing, the functions and the target of the service are crystal clear – to provide contactless digital check-in and out.
Using Hinfo is very simple. Firstly you have to search the name of the property you are staying in or your current location.
You can also use the direct link or a QR code if your hosts have given you any. After that, you are to provide the service with the details about the property and local area details.
If you happen to be a proprietor, Hinfo may be a great start for you to advertise your property. All you have to do is to provide the app with the details about the property, its location, and nearby amenities.
To make guests aware you are using Hinfo, you just have to put an informative sheet in every guest room and at the reception. You can invite your guests by a QR code, an invitation link, or a pop-up message once they use the hotel WiFi.
The app is said to work with all languages and has an in-built translator, which is convenient for both proprietors and foreign travelers. It also helps avoid troubles with communication via messenger.
Key features:
Digital Check-In
Easy to become a new member
Internal Hotel Services
Multilingual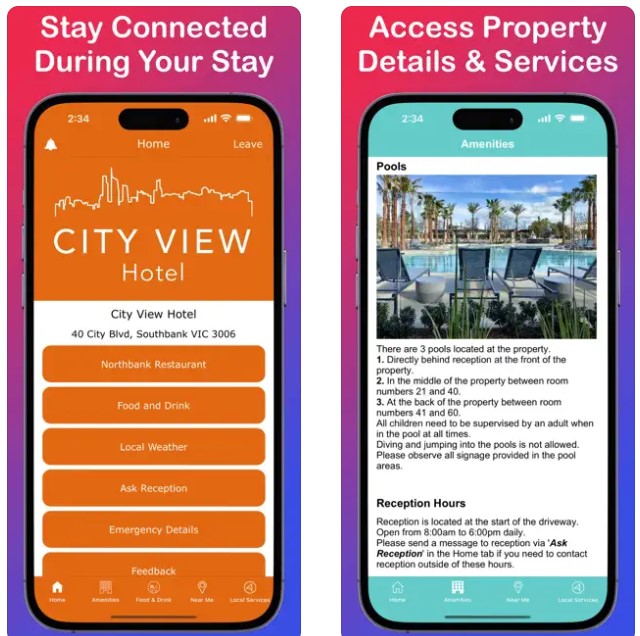 You may also like: 11 Best apps to find apartments for rent (Android & iOS)
STAY Hotel App
What makes Stay stand out in the crowd is the design of the app which is modern and smooth. Everything looks very beautiful, therefore the platform is very pleasant to use.
As for the functions available, we would say they are much the same as those in other apps. They are focused mostly on the services the hotel can provide itself, without the help of any external companies.
These include hotel directories, requests and inquiries, service bookings, and food and drinks orders. If there are any special offers concerning any of these categories, Stay will let you know about them immediately.
What is also very useful is that you can use an active calendar that shows all the upcoming activities if your hotel offers any. Now you can be sure that you won't miss anything.
If you have any questions about your stay, you are to use an in-built hotel staff chat. Don't forget to leave feedback via the app and get an immediate answer from the place of your stay.
Whether you are a proprietor thinking about using Stay or a client, you can book a demo to experience the whole set of the app's functions and see if it works for you and your business.
Key features:
Cool design and convenient UI
Internal Hotel Services
Book a demo feature
Easy to become a new member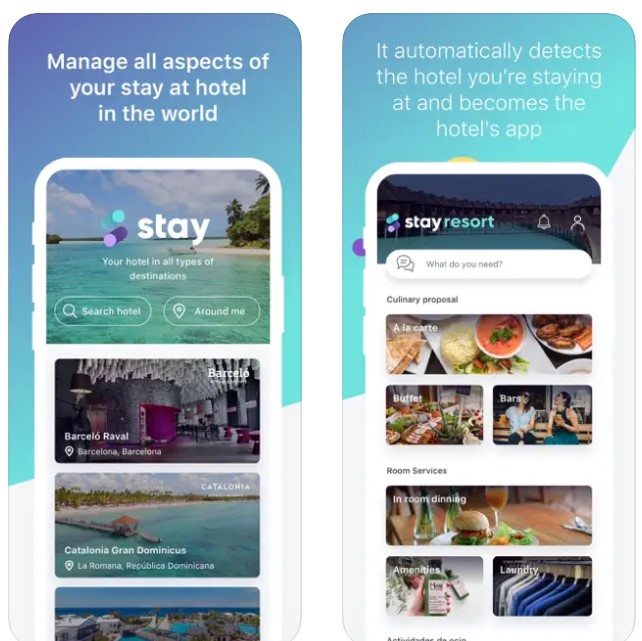 Edgar Concierge
Edgar Concierge also has the opportunity to be used as a demo, so you can explore the app by requesting a trial version. Let's see what it has.
Firstly, it deals with reservations and invitations to guests. It makes the process automatic, so you will receive a link if your hotel has a partnership with Edgar.
As for check-in management, the process is simplified by the system and works similarly to the majority of apps of the type. There's an in-built chat with the proprietor so that you could get an answer to any arising question.
If you are a proprietor, don't miss the chance to use Edgar Extranet to make your team work perfectly.
Key features:
Digital contactless check-in
Edgar Extranet for proprietors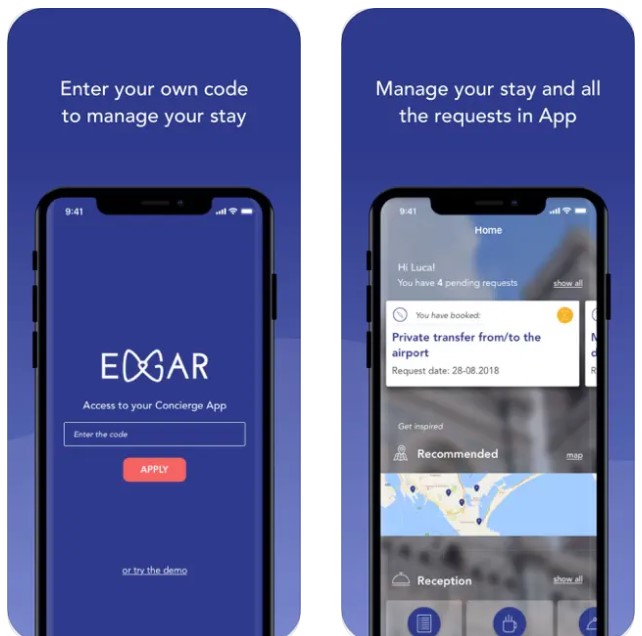 The Digital Concierge
This app is more for proprietors than for guests. As they say, 'Designed to cater to the needs of hosts.
The Digital Concierge is an app that allows hosts to create their Hotel Concierge app, a unique one, catering for their hotel only. It is suitable for almost any type of stay you want to upgrade: short stays, holiday homes, hostels, B&Bs, and so on.
What is more, all the functions are available even offline, so your guests will never be out of touch.
There are no special technical skills you have to possess to start using the app. All you have to do is to fill it with content – and enjoy the effect it makes on your business.
Key features:
Easy to use
Works offline
Easy to edit the content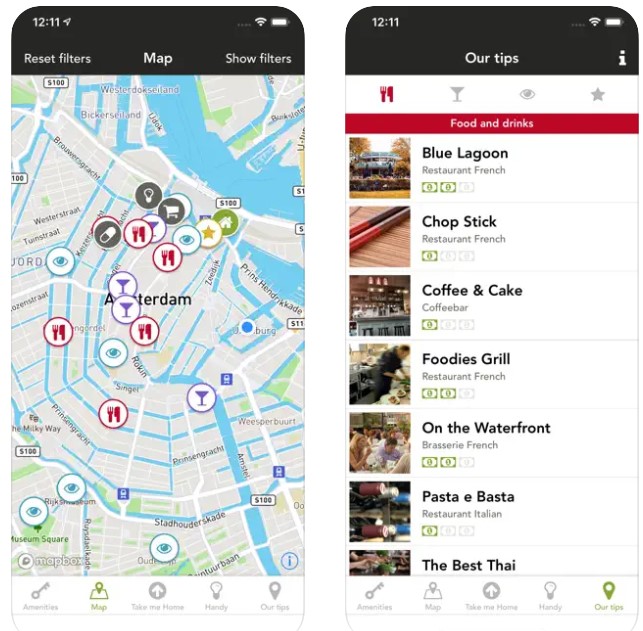 Flexkeeping
It seems that we are moving further and further from basic digital check-in apps. However, the hotel industry is so big and has so many things to take care of, so it's no surprise clients and hosts need different services. Now we present you Flexkeeping – 'The app behind great hotel teams'.
The goal of Flexkeeping is to transform a vortex of routine operations in the hotel into clear teamwork where every member knows the task and does it accurately. As a proprietor, you can overview the work of your crew and see the advancements it makes.
The app deals with three major branches: room service, maintenance problems, and effective communication. As a host, you are to receive requests from your clients and send a member of your team to fix the problem.
You can read thousands of positive reviews all saying that Flexkeeper is truly a game changer.
Key features:
Digital communication with guests and the hotel team
Digital receiving of guests' requests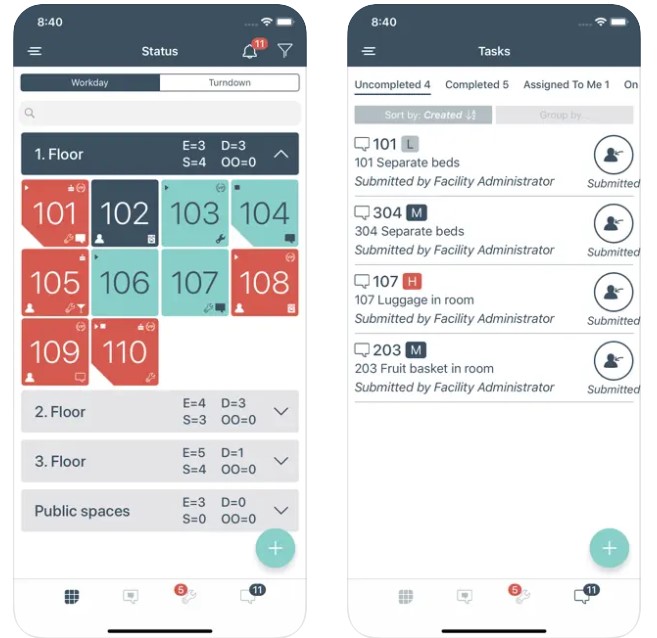 You may also like: 20 Best hotel booking apps for iOS & Android
Viator: Tours & Tickets
Viator is an app made by the famous Tripadvisor service. It is said to be the leader in organizing tourist leisure, offering memorable tours, activities, tickets, and travel experience opportunities all around the world.
Have you ever been in a situation where you have dozens of tickets to every possible activity, and you have to keep an eye on all of them not to accidentally lose them and miss a guided tour or a ride in an amusement park? Now you have Viator – your assistant of organizing your leisure and stay.
Key features:
Leisure organizer
Digital tickets
Hotel Bookings
Works offline