25 Best hunting apps for Android & iOS
Somewhere, deep down in the soul, every man considers himself to be a brave hunter, and this, frankly, is far from misleading, because from the immemorial time people have procured food for themselves hunting wild animals.
No, of course, today in our time, in order to get a few pounds of fresh meat for your family, there is absolutely no need to run around in the forest with a gun and arrange traps, because for that it's enough to go to any supermarket and buy everything you need.
But here's the question, if you do not need to kill anyone for food, then what to do with your hunter's instinct? The answer is simple – to hunt animals not in the real, but in the virtual world.
We present to your attention 25 best hunting apps. The list includes not only the shooting games but very useful applications which will be helpful during the real hunting.
REAL HUNTING APPS
GEO-PAK Hunt
The application allows you to achieve a completely different level of hunting. Using it, you can find out the location of your hunter friends, their direction, and status. You can plan all the nuances of the upcoming hunting in advance, and after its completion – to analyze the statistics. Never before the hunting has been so safe and organized!
Also, you can trace the location of your hunting dogs. In the application, it is possible to determine the distance to a specific object using the camera of the phone. Get information about weather conditions in your area right on your mobile.
You will be interested in the possibility of keeping a journal of the hunter, where you can add your photos, and share it with your friends.
For longer work of your phone in the application, the mode of power saving is provided.
IOS version
Android version
HuntWise
Quickly find out the best place and time for hunting. Especially for hunting maral, deer, musk deer, or Siberian
Roe deer, as well as ducks, geese and kulik.
Algorithm for prediction
The moon phase is a good indicator of animal migration, but our studies have shown that the movements of animals depend on many other variables as well. The application uses a unique algorithm Sportsman Tracker, working on the technology Wildlife Intelligence Technology (W.I.T). It uses the moon phases, pressure, wind speed, temperature, future and past forecasts and many other variables related to the weather to find the most likely way of moving animals and increase your chances of successful hunting. In addition, for the first time, our algorithms adapt to each species of animals and different locations to present you an adaptive and customized forecast.
Manage your data
The convenient control panel gives you the ability to identify or change privately and quickly the characteristics of each hunting location. Users of this application get access to the Sportsman TrackerTM platform, which allows you to synchronize automatically all data with all applications of the Sportsman Tracker line. One input for all applications.
Hourly weather
Sometimes, you just need an old weather forecast. Now, it can be obtained for all hunting places, without switching applications and without using search engines.
View the best phase of the moon/sun
Using the moon phase calendar is a time-tested method that allows hunters to predict the movement of the prey. In the application, you will find not only a detailed forecast based on the phases of the moon, but the access to all the traditional data of this method with just one brushing-on one screen you can see the moon's illumination, the moon phase, and the time of sunrise and sunset.
IOS version
Android version
Quiver Hunting App
If you belong to that category of hunters, for which all the details are important, then this application is for you. The application will help you succeed in hunting and become the best shooter in your company.
The Quiver Hunting App shows the movement of deer, weather conditions, so now the whole process of hunting will only bring pleasure. The application allows you to understand how the movement of deer depends on weather conditions.
Key features:
The ability to track key events on the screen of your mobile just with a couple of clicks.
Create notes about everything that you see and hear during the hunt, about your observations.
Observe the weather, sunrise and sunset, the speed and direction of the wind, and pressure.
This is the best app for hunters who like that everything was "on shelves". Your chances of getting a trophy in the forest are now much higher. Good luck to you!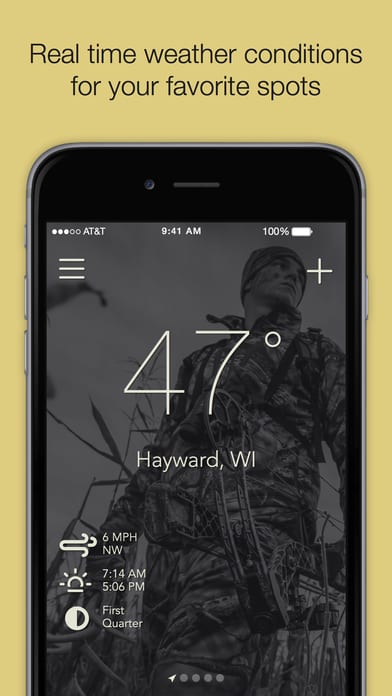 IOS version
Turkey Hunting Calls
If you are going to hunt for a turkey, do not forget to download the application Turkey Hunting Calls to your phone. The app makes animal sounds to lure the prey. Also, in the application there is an instruction, telling about the peculiarities of turkey sounding, when, where and what sound is best to use.
The application does not require access to the Internet, so you can use it even in hard-to-reach places where there is no connection. For better sound, it is recommended to use external speakers.
IOS version
Android version
iHunt Calls
The iHunt application is designed for the phones. It saves hunters and naturalists from purchasing of an expensive, bulky, electronic equipment- the decoy recognizes and plays hundreds of sounds of birds and animals, and does much more. Among the available simulators, there is a variety of categories, including such a dangerous predator like an alligator. In the memory of the iHunt, about 600 different sounds are recorded. Together with the alligators, one can conjure up the sounds of 46 other animals and birds. For example, 29 sensors for ducks, 40 injections for deer, 50 – for coyotes are available for hunters. For alligators, there are 26 sounds.
Of course, there is a need to grab an acoustic amplifier, for example, the mouthpiece. In addition, the iHunt allows you to identify various sounds of birds and animals in the environment if they are close enough and clearly visible. Also, the software gives you the ability to view the factors of weather, moon phases, and the seasonal hunting magazine data.
The hunting app iHunt is the most sold of all the existing analogs. It is available for purchase via iTunes and Google Plaу. The cost is only 2.99 US dollars, which is significantly less than the cost of a special electronic hunting decoy, not to mention about the dimensions of these devices.
IOS version
Android version
HUNTING GAME APPS
Deer Hunter Classic
The developers of this application offer each player to become a real hunter. This game is a full-fledged hunting simulator, which will enable everyone to become a real professional in this business.
Wild nature makes it possible not only to enjoy beautiful plants but also to meet with rare animals. On them, you have to arrange a hunt. However, you must remember that you yourself should not become the prey of wild beasts. Everyone will be able to visit a different part of our planet. In addition, as you progress through the levels, the new tasks will be available to you, which will be performed in the scenic places of the Earth. Here you can enjoy the picturesque world, hunting for rare animals. Arrange hunting for cheetahs, bears, wolves and many other predators.
However, it is worth noting that the beginning of the game is not so dangerous. In the initial stages, you will need to hunt deer and other herbivores. Here you do not need to worry about your own safety. The first levels are designed to ensure that the player understands the intricacies of the game and management. Also, you can hone your skills here to go to a more dangerous beast. The game implies a fairly large selection of different weapons intended for hunting. Achieving positive results, you can significantly improve your weapons. For example, you can purchase additional stores, optical sights, butts, and trunks. Gradually, you can pick up for yourself exactly the weapons with which it is not terrible to go even to the most dangerous beast.
Playing the application DEER HUNTER CLASSIC, each gamer has the ability to fill the table of their own achievements. If you want, you can compare the achievements with the success of your friends. To do this, you need to connect to the Internet. In addition, you can play on the network not only with casual players but also with your friends. This makes it possible to play together in order to track down and kill the biggest beast. If you do not want to spend time pumping your weapon, the developers offer to buy some items for real money. One of the main advantages of this application is that it can be downloaded and installed for free. Now, there is no need to go on a long journey to shoot some game. To enjoy the hunt now you can on the display of your mobile device that works on the Android and IOS platforms. Carefully drawn details are visible even on a small screen. Therefore, everyone can fully understand the events.
IOS version
Android version
Dino Hunter: Deadly Shores
Are you looking for something original for a long time? Then, we suggest you plunge into the world of the game DINO HUNTER: DEADLY SHORES!
The Island lost in the ocean had developed beyond human civilization for centuries – untouched plant species, unique animal organisms, and impressive natural resources remained outside of accessibility. However, the journey of a tiny ship on a paved course led to the discovery of a whole treasure trove of useful items. There was only one snag – resources, plants, and animals are protected by horrific and ferocious dinosaurs! Download the DINO HUNTER: DEADLY SHORES on your device and join a group of hunters!
In this shooter, you will not be bored because you have to hunt the most ferocious animals that ever live on our planet. Yes, we are talking about dinosaurs!
In the game, you can buy the steepest weapons and pump guns! Start hunting for the most terrible predators of the planet in different parts of the world!
Go to explore various areas, such as the coast or the impassable jungle. Open the hunting season and try to defeat the fiercest predators on the whole planet. Powerful weapons can cope with all kinds of predators, and an accurate sight just does not leave chances for them.
Dino Hunter: Deadly Shores can be proud of its advantages:
Modern three-dimensional graphics (shaders, lighting, high resolution and so on).
Great sound.
The low system of requirements.
A large number of weapons.
A realistic environment.
Dinosaurs.
A fascinating gameplay.
IOS version
Android version
Hunting Safari 3D
Hunting Safari 3D – is a simulator of the hunter for the android devices. Yes, here you have to hunt for various animals again and bring valuable trophies to your character home. The application pleases with a lot of locations, tournaments, rifles and other game elements. The gameplay is very dynamic, the developers are constantly updating their project, making the gameplay, even more, fun. In this novelty, there is a personal office where all trophies, all collection of achievements are placed. One of the main advantages of this fun over the similar games is the graphics – it is excellent, like the whole technical part.
Collect all necessary equipment for the hunter and send to your first location, where your career will start. Begin your hunt for wild animals and do not forget to take all the trophies with you. The places for hunting will be completely different – they are scattered all over the corners of our planet. At your disposal will also be all modern rifles. Of course, from the very beginning, only a few species will be opened, however, they will be opened gradually, as the game progresses. To replenish your arsenal with new cannons, you need to extract as many valuable trophies as possible and pass various tasks. Of the one hundred missions presented, more than half have an increased difficulty of passage.
Interesting features of Hunting Safari 3D for Android:
20 types of weapons;
100 exciting tasks;
a variety of animals;
the most beautiful graphic part;
achievement system.
At night, you can explore the locations with the help of certain instruments, only they must first be purchased. Earn game currency and do not forget to visit the store, where all new items will be sold. Open not only the rifles, you can also unload the automatic queue on the animals. In your inventory, there will be first-aid kits that will be useful to you. You can also use binoculars to inspect the territory – the corresponding button will be on your screen. Among other things, you have to chase after the victim, shooting it literally from a meter – it all depends on the task you are performing. Already now it is worth downloading Hunting Safari 3D on Android phone and tablet and to try earning your first trophy – do not miss a great opportunity to hunt.
Android version
Wild Hunt: Sport Hunting Game
Wild Hunt: Sport Hunting Game – is another exciting simulation of the hunt for the Android devices. In this game, you will hunt in a variety of places, and your prey can be anyone. Developers of the Ten Square Games realized excellent graphics, high-quality drawing of all locations. Despite the boring process of hunting, the gameplay turned out very, very dynamic.
Go to your first hunt in any place that is accessible to you. Of course, not all maps will be available at the very beginning, they will have to be opened during the game. The weapons will also be opened, you can buy it in specialized gaming stores. This requires money, and you can get game currency for your booty. In the described novelty, there is a rich choice of weapons.
Wild Hunt: Sport Hunting Game for Android:
different tournaments;
the mass of locations;
comfortable control;
a large selection of hunting rifles.
If you consider yourself an excellent hunter, then it's time for you to various competitions between hunters. Of course, there will be prizes, but for this, you need to bring the maximum amount of production. On some rifles, special sights are installed, through which you can see in what place you need to shoot in order to kill an animal for felling. In addition, you can improve the skills of your character – do not forget to use this opportunity. If you download Wild Hunt: Sport Hunting Game on Android phone and tablet now, you will have more time to prepare for tournaments with prize-winning places.
Android version
Shark Hunting
Shark Hunting – this is an action in which we have to hunt sharks under the water. We go to the depths of the sea to avenge insidious predators for their attacks on people.
The game process represents a kind of deep-sea shooting gallery. The main character stands as stumped and can not budge. Our task is to shoot simple blue sharks and earn points until the ammo runs out. Sometimes, on the horizon, black sharks will appear, the only purpose of which is to finish us off.
Therefore, you need to respond quickly to the appearance of such predators and kill them before they swim to us. When we run out of ammunition, the game will end.
In addition to normal hunting, the game has a "Survival" mode, where we have to fight off the attacks of numerous black sharks.
Graphics and sound

Visually, the three-dimensional game graphics looks decent: models of sharks, the glare of sun rays penetrating the thickness of water, and of course, the flight of a bullet falling into a deep-water predator – all this is admirable. However, the game has too few different locations. If the developers tried and added a bunch of different places, it would be more interesting to play.
Shark Hunting – is an excellent original shooting gallery, which must be on your smartphone.
Android version
Safari Hunting 4×4
Safari Hunting 4×4 – is a fascinating hunting simulator, where users will face one on one with a bunch of beasts. Players will be able to hunt for a wide variety of shrouds, starting with large and slow rhinoceroses, ending with ferocious lions. Be careful, because many animals will not just stand and look at you and this hunt can turn into a hunt for you. Users will be able to navigate both on foot and by car. During the drive, players will be able to select any of the two camera modes. Collect trophies, getting good money for them, on which you can buy new weapons and cars further. The players wait for a very convenient and simple management, as well as an extensive map of the shrouds, where you can find the most diverse living creatures. The Safari Hunting 4×4 application has good graphics and realistic sound effects.
Features:
Interesting gameplay.
Good graphics.
Convenient operation.
A large variety of animals and much more.
Android version
Animal Hunting Sniper 2017
Animal Hunting Sniper 2017 – first person shooting on android, where you will travel through Safari. In this game, you take in your hands the most modern sniper rifle and will lead the hunt for wild animals. Navigate the beautiful and diverse locations of the game and slowly sneak up to the animal, so as not to frighten it away. Point your target, aim, and shoot, trying to get into the most vulnerable places of the animal. Get valuable trophies and beware of huge predators that can harm you. The game will please you with numerous locations and various weather conditions. Discover new weapons and ammunition.
Android version
Hunt 3D
Hunt 3D – it is time to open the hunting season. Become a real professional hunter who can shoot not only small but also large prey. You have to go a long way from a common profane who cannot get from 3 meters to a deer, to a real pro who gets a squirrel in the eye and can also shoot a snow leopard on the run. In the game, there is a wide variety of nature, weather conditions and weapons, all weapons can be bought and improved to move on and kill larger and more complex game.

So, what do we expect in the game «Hunt 3D»? Hunting, hunting, and once again hunting for wild animals, and not only from secluded positions in the bushes called perches, but also from steep four-wheel drive jeeps that cut across the prairies, and even from helicopters flying across the sky. By the way, it's incredibly difficult to shoot from such positions, both with sniper rifles and with rifles, so you do not get bored playing too long because you always want to beat your records.
Oh yeah, we almost forgot to tell you about the most important thing, in this entertaining novelty the developers prepared for us far more than one location, and several dozens at once, many of them are on different islands and continents. And this means that we will hunt for a lot of different animals (wolves, roe deer, zebra, elephant, bison, cheetah, lion, hyena, fox, bears, martens, and so on).
MONSTER HUNTER FREEDOM UNITE
Monster Hunter Freedom Unite – it is known throughout the world RPG for PSP for hunting for monsters and provide many opportunities:
the creation of the hero at your discretion;
a huge selection of weapons – about 1500 species;
the system of tasks and missions – 400 different tasks;
about 2000 items of uniforms;
a variety of monsters – monsters, dinosaurs, talking cats;
the presence of multiplayer makes the game even more attractive;
more than 500 hours of gameplay.
The Monster Hunter Freedom Unite series is based on the idea of hunting, there is no plot. There is a system of tasks, taverns for the formation of online groups and the huge beautiful locations, inhabited by a diverse beast.
The first thing you have to do after launching Monster Hunter Freedom Unite is to create your own character. The process is pleasant, as it brings a bit of creative expression. You can not only choose the sex, hairstyle, but also the voice, style of clothes, face, hair and skin color.
Monster Hunter Freedom Unite has 12 weapons, which are conventionally divided into four types: heavy, light, for melee or ranged combat. Preference for one of them changes the feel of the gameplay beyond recognition. Changing not only the set of techniques of a character but also the speed of movement. You will have to work out a tactic for each one separately. If you prefer to deal with opponents from afar, then take a bow and arrows. Love the contact battle – a crushing hammer, swords or spear will help you. Of course, in the process of passing the game, a weapon can be alternated, coming up each time to the next task in a new way. The hunter's arsenal is truly great. There was a place for traps, bombs, baits, traps and other utensils. In addition to weapons, a hunter can buy or create armor. To create unique things special materials will be required.
The gameplay of the Monster Hunter Freedom Unite contains many components. In addition to hunting, it is necessary to explore the surrounding world, to extract useful herbs, rare minerals, fish, breed cats or simply keep a garden and much more – a whole set of mini games. Man-like cats are especially funny, some of them can be your cook, others are faithful assistants in battle. Nevertheless, the main thing is hunting, searching and exterminating monsters, the size of which is so different that sometimes you wonder how great the creatures are. Representatives of the fauna have their strengths and weaknesses, techniques and abilities. Battling each of them, you will have to assess the situation on the fly, adjust to the behavior of the beast. Remember, our smaller brothers strive to tear the player to shreds.
Deer Hunter 3D
Deer Hunter 3D – is a realistic 3D hunting simulator in the forest. You are a hunter running through the forest with a gun in search of prey. Your task is simple – to track down the target and try to shoot it from the first shot. Note, that the animal behavior is as realistic as possible, so you should be cautious and accurate. For convenience, the rifle is equipped with an optical sight.
You will hunt in various picturesque places worldwide. Deer, bears, moose and other animals can become your trophies.

Peculiarities:
virtual hunting with realistic 3D graphics;
a variety of the animals kinds;
27 various places throughout the world;
development of hunter skills in accuracy, endurance, and animal tracking;
trophy room;
unlock the new weapon.
Players are expected high-quality and realistic 3D graphics, a variety of wild animals with carefully designed behavior and world locations with 29 different sublevels. For successful killings, the player receives trophies, new weapons, and skills. Hold a hunt, practice in accurate shooting and competently track down a potential victim.
Deer Hunting in Jungle 2016
And again we have an excellent shooting range on the subject of hunting, this time from the Action Action Games studio. In this game project, you have to go to one of the most northern points of our planet – Alaska. Try your hand in the confrontation with the most dangerous Land mammals. In general, the game is not much different from numerous analogs, but it has excellent graphics, capable of conveying the whole atmosphere of the natural charm of those places.
Hunt and get the rarest trophies. Many of which are happy to bite our avatar, but the arsenal of various weapons will help to cope with any threat to life. Track down the prey, sneak up on the line of sight and make one accurate shot to become one of the best in your craft and open up new regions for exploration.
In this game, the developers take you to places full of wild animals that can easily be shot with an excellent rifle. A large selection of weapons, a lot of tasks and animals, what else do you need for good hunting?!
Features:
Several missions.
A lot of weapons.
Interactive environment.
Beautiful graphics.
DEER HUNTING IN HUNTER VALLEY
The snow-covered valley, a large number of deer wandering in search of food – what else does a real hunter need? It's time to take up arms, go into the winter forest and become the best hunter for deer. Open the winter hunting season!
Try to kill as many deer as possible, get rewards and become the champion of 2016! Remember, time is limited. While you are tracking down the victim, try not to disturb other residents of the valley.
Features:
Many levels with limited time.
Excellent optical sight.
Excellent graphics of the environment.
Real-time deer hunting experience.
Android version
Duck Hunting 3D
Do you think you are a good hunter? What? Never been on the hunt? But the season is already in full swing and you should hurry up and get a gun and show how good a sniper you are. In the game Duck Hunting 3D on Android and IOS operating systems, you will go to nature with amazingly beautiful landscapes, where you can just check your accuracy and shoot in wild ducks. You will have a real "cannon" in your hands, which in real hands will become a real sniper rifle.
For each killed duck you will be credited with playing money. You can always see its quantity in the upper left corner of your display. This money can be spent on buying more new weapons or for exploring new territories, all at your discretion. Also, in the Duck Hunting 3D, the gameplay itself is perfectly implemented. You can fully experience all the delights of hunting in the wild area. Stop reading, take the barrel, charge it with cartridges and choosing a successful position, expect wild ducks! Lastly – don't forget to remove the trigger lock, because if you do, then you will not see the trophy.
The game will appeal to all lovers of shooting from firearms and most likely will delay for a long time. It can be played endlessly because there are no restrictions on the levels.
Features:
Best rifles for shooting.
First-person view.
Great 3D graphics and great sound effects.
Entertaining and interesting missions with a lot of tasks.
For the passage of each level, a certain amount of time is allocated.
A lot of positive emotions are guaranteed.
IOS version
Android version
Big Hunter
Did you ever play in hunting simulators on mobile devices? I'm sure that many users had a similar experience but you hardly ever hunted the same huge and ancient beast that lives in the game with the talking name Big Hunter. The development of the game was engaged in Studio KAKAROD INTERACTIVE, and in this case, the developers offer us not only to hunt, but also to solve the global problems of a huge tribe.
If most other hunting simulators force us to shoot animals to fill any low goals: pleasure, adrenaline, earnings, then in the game Big Hunter we have to do it purely for the sake of life. A prolonged and debilitating drought has overtaken your tribe, the sun mercilessly dries the soil, not allowing anything to come up. Only for this reason, your once-peaceful tribe has to take up arms and go hunting.
Hunting is an easy task when a hunter is armed to the teeth and has a complete information base about a potential victim. In the game Big Hunter, everything is quite different: only spears, agility and masculinity are at your disposal. These qualities though are outstanding, but they are not always enough if you have to hunt for mammoths, in this case, this should be done without any help. You are the leader of the tribe, therefore, caring for your charges is your direct responsibility.
From the very beginning, it should be noted that the Big Hunter, despite its proper appearance, is not an easy-to-mad arcade with one-button control. Mammoth – is a huge beast, dangerous and hardy: you have to not only accurately throw spears, but also run a lot. In order the mammoth as soon as possible surrendered to your will, throwing spears should be only in the right areas: the head and neck are the most vulnerable parts of the mammoth's body. Getting on the back, you will cause negligible damage, and in the case of tusks, one should not expect even minimal damage.
At the same time, the developers have introduced some tasks into the game, which, although complicate the gameplay, but still make it more interesting. Sometimes, only 20 copies will be allocated for shooting a mammoth, sometimes, only a minute will be at your disposal, and exceptional mammoths will also come across, for the murder of which you will need to get in certain small areas of the body. Each level in the game symbolizes one lived day. There are 100 of them, and this figure gives hope for some funny and interesting game ending.
IOS version
Android version
Call of Mini™ Dino Hunter
A virtual adventure in the world, where in addition to danger and drive there are also terrible monsters, and every detail requires carefulness and attention – a rather risky test. In the game, you need to be extremely careful, as there is no help from the outside: the protagonist gets into the society of dinosaurs, which are quite unfriendly to the guests.
It is not clear what is the objective of the thoughtless of the tourist, but the irrepressible thirst for new impressions pushes him to new nonsense. Actually, it was stupid to get into the lair of prehistoric monsters, and even to threaten the confrontation – in general out of the ordinary. However, in this game, such risky challenges await each participant: a dangerous and ambitious action from the category of extreme adventure requires fortitude and self-control.
The Call of Mini Dino Hunter – is more than three dozen types of dinosaurs, habits, and customs which will have to be studied. And it is necessary to do this in conditions of the day and night, in fog and tropical rain – a difficult test for a novice hunter. From this journey, you are unlikely to bring memorable pictures on the backdrop of giant monsters but to come back with an unforgettable experience and the ability to cope with any difficulties – certainly.

That's why the Call of Mini Dino Hunter – is a unique journey that will temper the character of each smartphone owner, teach you how to use different types of weapons, not to be afraid of complexity and risk.
Features:

21 weapons;
24 fights with bosses;
5 heroes with their unique features;
50 assignments;
32 dinosaurs;
50 achievements;
50 items for weapon upgrading;
50 skills to improve your hero.
IOS version
Android version
Evolution: Indian Hunter
The plot of this game originates from the moment when the Lakata-Siu tribe was forced to move from ever-green plains to the scorched prairies of America. Now, they need to live in harsh new territories, and seek a common language with unfriendly neighbors. The leader of this tribe is considered to be the respected warrior of Acachet, who is your father and your teacher as well. Listening attentively and taking his knowledge, you can quickly learn medicine (collecting and using medicinal herbs), master the possession of deadly weapons (spears, tomahawks, and bow and arrow), as well as learn to track down your prey. All this knowledge will further help you strengthen your position in the tribe, and will allow you to nominate your candidacy for the post of a leader.
In graphic terms, the game is implemented on the similarity of the series of the beloved "Grand Theft Auto". That is, the game world is open and has no limitations, the mapping is carried out in the perspective of a third person, and the assignments can be taken at any time when you want. By the way, the tasks in the game Evolution: Indian Hunter are quite diverse and interesting, here you will also hunt deer, fights with deadly predators, create medicines, and even stealth missions where you will be forced to kidnap horses from a competing tribe. In general, the game is quite interesting and diverse.
Features:
14 levels;
different types of weapons;
realistic physics of the game;
a lot of tasks.
excellent graphics.
IOS version
Zombie Duck Hunt
A cool shooter for Android, in which you will hunt for partridges. Probably, many remember those very days when no one had computers, and everyone went to clubs, to play on the prefix Sega or Dandy.
When it was possible to pick up a special pistol and shoot at the ducks. And then the parents came and dragged us home by the ears because otherwise detach from this session was simply impossible. Those were the times.
And again, hunting for ducks. They, those days, come back. Open the hunting season, only now not simple ducks, but zombie ducks. All that is required of you is to download the application, run it, and tilt your device in different directions. Thus, your sight will move to the side where you tilt the device. That is, the control is carried out with the help of an accelerometer. Once the victim was caught in the sight, do not hesitate, and then click on the screen to make a shot.
At first, you will only have a gun, but as you pass, you will be able to discover other weapons, more powerful, steeper. Keep in mind that the more you can hit ducks, the more points you will earn. The game has a huge selection of weapons, starting with a shotgun and pumping grenades and a rocket launcher.
But be careful: if you do not deal with the evil spirits, they will crack down on you!
Hunting Season Countdown
Are you in anticipation of the upcoming hunt? Download this application, hammer the start date of the season and all you have to do is to wait for the cherished day!
Add your photo from the last hunting, as well as guess a new trophy, which you would like to shoot. To take a picture, use your built-in camera. Discuss the details of hunting with friends via email, Facebook or Twitter.
One of the functions of this application is the automatic addition of a screenshot to your social networks. Set up alerts and warning messages.
Predator Hunting Calls
An application for iPhone devices that will allow you to communicate in the language of predators! Hunting will now become even more effective because the app contains more than 12 sounds that hunters use to lure such animals as coyotes, lynxes, foxes, wolves and even pumas.
Now, on your mobile phone, those sounds that you really need are available, and which will provide you with an effective hunt! For more productive work of the application, use the additional external speakers to increase audibility to wider areas.
Among the list of calls, there are such sounds as jack rabbit scream, woodpecker distress, cottontail scream, coyote pack howl, hurt fawn and hurt pup.
Hunting Safari
Hunting Safari – is another hunter simulator for Android tablets and smartphones. The game will send fans to shoot in virtual animals in different corners of the planet and will assign tasks of varying complexity. First, you will be introduced to the general rules, will be allowed to hunt for herbivores, and then you will be sent to a dangerous safari with tigers or tracking down a bear. Predator, in contrast to herbivores, can knock out even the most experienced hunter. Use a powerful optical rifle sight to shoot from a safe distance. Collect the trophies with the killed animals, because they are an indicator of skill.
By the way, to kill them in this game is necessary not as horrible, but exactly as you will be told (to the head, to the body, to the neck, to the heart, and so on), otherwise your current mission will be failed, and you will have to start it from the very beginning. As for the management, it is very simple in this game, and is realized as well as in any other hunting simulator, and even in a dash about zombies.
If you have a desire to hunt hares, bears, lions, and other inhabitants of our planet, then you should definitely choose the application called "Hunting Safari".