There are situations in our lives where we lose things in various places and can't find them. The easiest way out is to return where you lost the thing and search for it manually, but there is a simpler solution. This article will present a number of the best lost and found apps.
And we can also offer you a similar article where you can search for lost and found pets in the USA.
Faundit
This app can be called innovative in the field of utilities of this type because it is brought to an ideal. The easy-to-use interface and catchy design of the program will allow you to find missing things as soon as possible. It is worth noting the surprisingly simple functionality that even a child can deal with.

The most important advantages of the app:
automated notification system, with the help of which you will be sent a notification about the found thing in a particular place
the ability to pick up a thing in several ways, which include pickup if the thing is not far away, or delivery if the thing is significantly distant from you
option of registration in loyalty programs, which will allow you to receive very profitable offers for every one-and-a-half kilometers traveled
a simple function for registering a lost thing, including a series of several simple steps in order to greatly simplify the search
a "found things" tool that will allow you to find the item you need most quickly and easily by tag or title, and to contact the person who found it
a unique opportunity to gain new acquaintances and connections through communication between people from different strata of society
the ability to help any other person by registering the thing you found in the app with a subsequent return to the owner
Thus, we can conclude that this utility will be worthy of your attention due to its simplicity and optimized functions. The program has been operating for a year and receiving positive reviews from users, which indicates the quality standard. Try downloading this utility and make sure for yourself.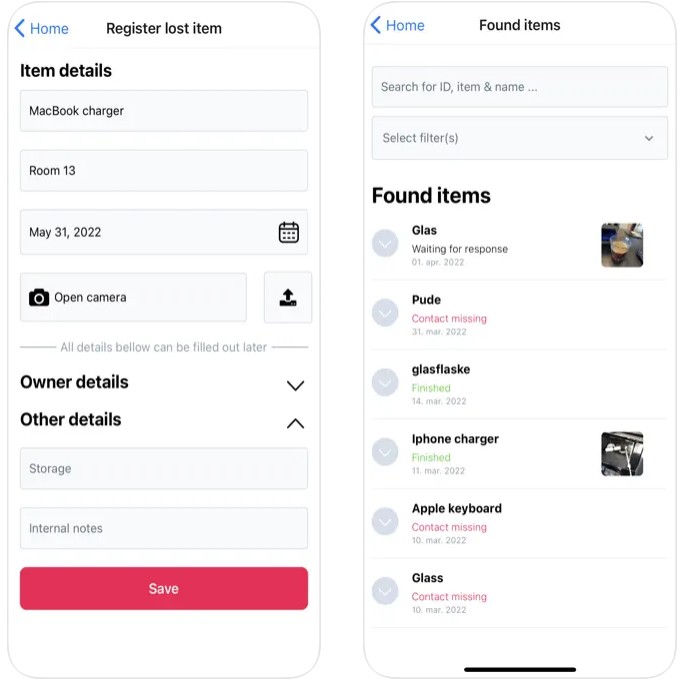 You may also like: 11 Best GPS Pet Trackers (Android & iOS)
Found Business
If you truly respect and value your time, then this app should suit you one hundred percent. Found Business has been the choice of successful businessmen and investors for more than three years thanks to its automation. When downloading this app, the search for missing things will accelerate significantly.
Several of the most key functions of this utility are:
simplification and acceleration of the process of searching for an item due to optimization and systematization of things on various filters within the app
the opportunity to bring undiscovered things as a gift to various charities, making the world so not much better
the ability to return the found item to its owner using a personal meeting or delivery by courier, which is paid for at the expense of the app
the function of searching for things when using various filters by color, type of device, size, special signs, and many others
the ability to make a good impression on their business and business by returning items found and lost to their owners
an innovative option to search for a thing by any photo or video, which can significantly speed up the search for a loss
ease of use and sequences of simple steps that allow interaction with app quickly and easily
So, Found Business is the best option to look for lost things with value for yourself. Thanks to this app, you can realize yourself not only as a businessman but also as a person. The program is constantly being improved by developers so that the process of finding things is simplified to a minimum.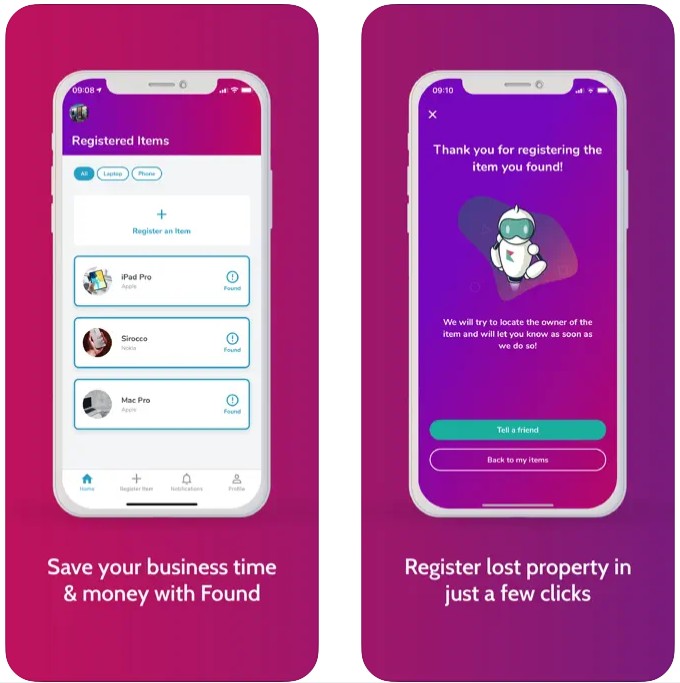 Found
This utility was created to make the search for missing valuable things the most productive. Due to the fact that all options of the app are completely free, it has been popular among users for more than one year. It can be said that this is simplicity and convenience in one bottle.

Several features of this program, on which the greatest emphasis is placed:
simple registration of all found or lost things literally in one click, which allows you to start searching for the required thing as quickly as possible
a unique option of the utility, which consists of smart analysis of the image or video you downloaded to speed up the search for the items
by registering an item in this app, you will be able to confirm the fact that the registered item is only yours and a draw of more than
the possibility of purchasing additional profitable offers for insurance of absolutely anything, be it electronics or a means of transportation
communication of people from all over the world and joint mutual assistance, which allows you to make new friends and improve relationships
As a result, we can say that Found is one of the best apps nowadays in the field of searching for things. It is worth noting that the utility is being improved by developers, as well as new features are being added. That is why you should install this app on your device and forget about the search for the loss.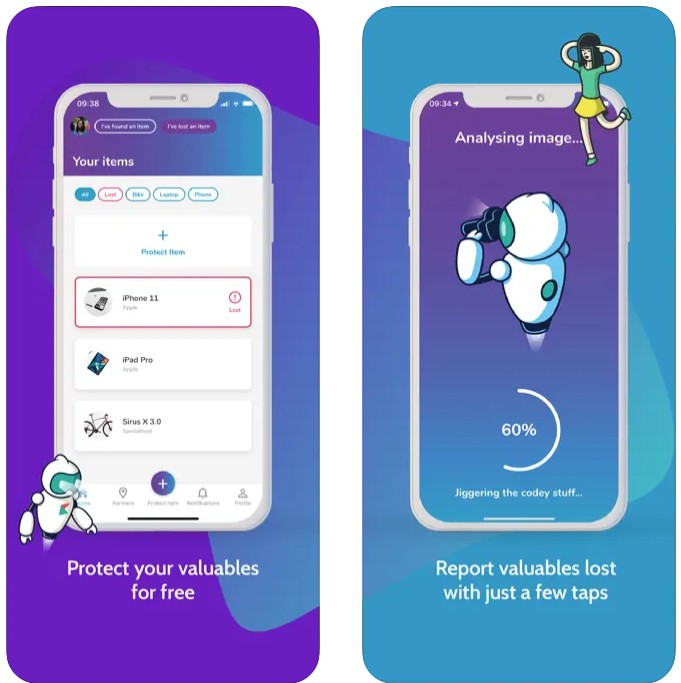 Lost And Found
Lost And Found is one of the best programs for finding various losses, as well as returning them. With it, you can both return your thing back and find another person's missing item. The app is designed as simple and understandable as possible for each user.

This utility highlights the following characteristics:
the ability to communicate with other users of the tool if you have any leads on their lost thing or have found it
search for things missing for some reason, up to especially valuable or stolen, and a high probability of returning the found items to the owner
the ability to share various files, ranging from photos to videos and documents, which can lead to the search for a particular item
Search for absolutely all types of things, be it electronics, sports equipment, expensive jewelry, or other types of items
a unique option of this program, which is that you can search not only for things but also for missing pets or even people
Thus, this utility is as full-format as possible and will appeal to absolutely any user who wants to return his thing as soon as possible. The interface of the app is as simple and easy to use as possible. Try to use this utility at least once – and you will definitely not be mistaken in your choice.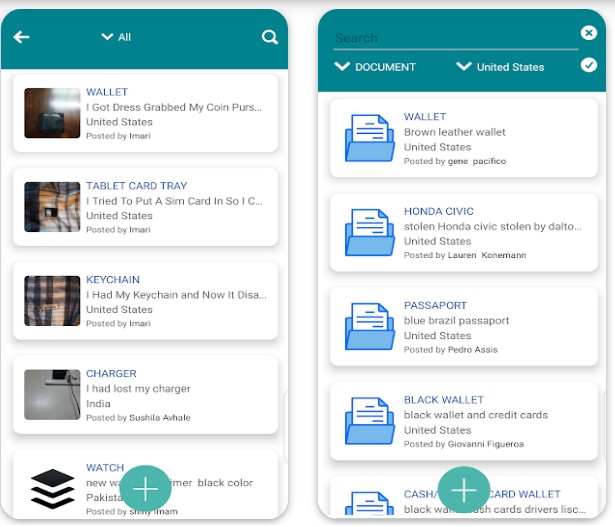 FundBuro – Lost and Found
When a person loses something or value, he begins to experience a huge amount of negative emotions and stress. To stop a person from meeting these emotions, FundBuro was created by Have it Back. Thanks to this app, people from all over the world have already been able to find numerous losses.

Characteristics of the app which are paid with special attention by developers:
the most accurate and up-to-date information about all missing things for the current moment, as well as the possibility of communication with people who were able to find things according to signs
the absence of any payment means in the utility in order to search for a particular thing, which allows you to find it without losing your finances
structuring and organizing registration to find lost things, which can be useful for any corporation or well-known company
a quick search of your thing from various archives and repositories of found items inside the app, which allows you to speed up the search for missing
easy and fast registration, which does not require you to enter any personal data or other confidential information
Thus, this app will become your indispensable assistant in the possibility of finding a particular missing thing. This program was developed by leading German specialists, which indicates a high standard of quality. Try to download this utility and make sure it is effective with your own eyes.


Findthing – Smart Finder
This app is one of the innovations in the field of finding things because it offers search items combined with the Nut beacon. This search method significantly speeds up the search for a loss and is suitable for those people who really value their time. In addition, the utility does not require any cash investments.

Some of the most significant characteristics of this app are:
if you need to urgently go somewhere, but you cannot find, say, keys – just go to the program and click on its icon, the beacon will ring, and you will immediately find the loss
the ability to share the useful properties of the device with your family in order to search for items and minimize the risk of repeated loss was easier
one of the most important options of this utility is the determination of geolocation using the location tracking system installed in the Nut device
having inside the program residents from all over the world who can help you find a loss if it is too far from you
the ability to synchronize your device with the search engine and security service, which will be able to provide all possible assistance in the search
Summing up, we can say that this app is really worthy of user attention due to the huge number of developed options. The easy-to-use interface and bright design pleasantly complement the big picture. In addition, various changes are constantly made to the utility, as well as up-to-date information.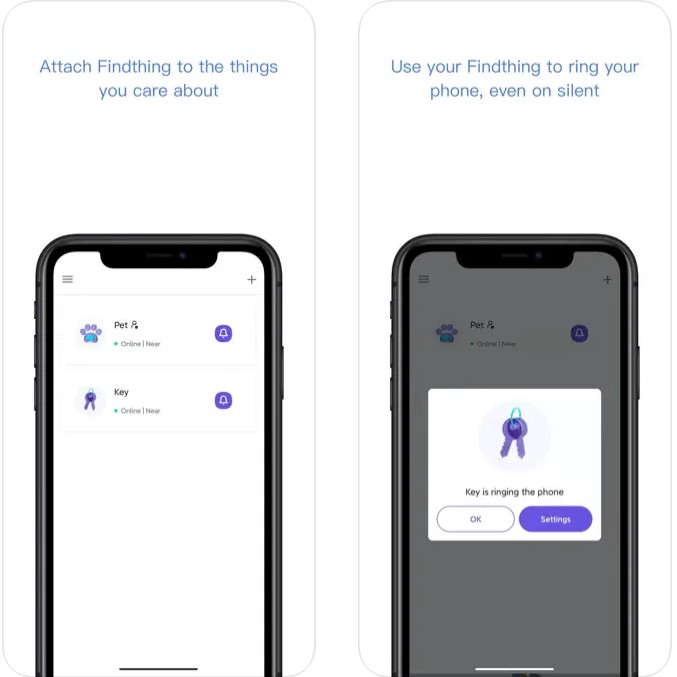 You may also like: 11 Best Key Finder Apps To Try (Android & iOS)
Lost and Found (Lost & Found N)
This app can be safely called one of the largest platforms, thanks to which you can return your lost things safely. It is worth noting that this program can find both objects and animals, cars and people. Control in the utility is simplified to a minimum.

Some of the most significant features in this program are:
a clear and easy-to-use utility interface, as well as a sophisticated design of the app, made at a very decent level
the ability to simply register a find or missing thing literally in a few clicks, followed by a user response
using not only the program itself but also social networks such as Facebook or Twitter to speed up search
the simplest control and options among all utilities of this type, as well as optimization of all functions within the app
To summarize, we can say that this app will be able to help you very much in finding various things. This utility is notable for helping to find more than a hundred thousand people and return them to the right path in life. By downloading this app and helping other people, you make yourself better.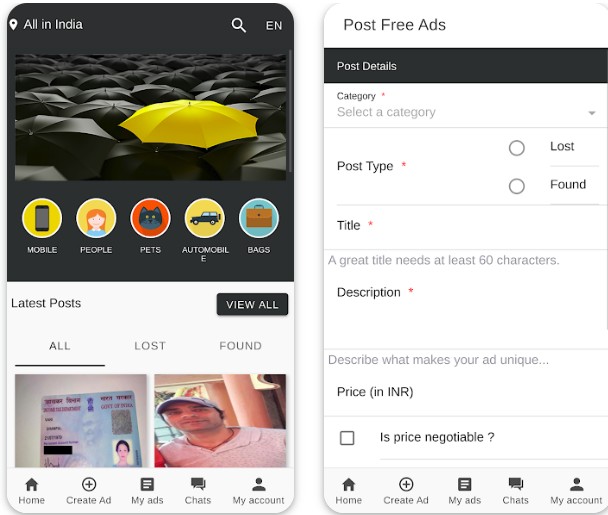 Lost and Found
If you have ever had a failure to lose a valuable thing like a key or passport, then you should pay attention to this program. Lost and Found allows you to register a lost thing right in the utility. The main goal of this app is mutual assistance from people to each other in finding a loss.

Options of the app to look out for:
eye-catching and eye-pleasing design of the program, allowing you to both correctly present the functions of the app to the user and save your vision
reliable and easy registration, which does not request the personal data of the user of the app, and also allows you to start searching for things as quickly as possible
the simplest and most convenient presentation of announcements about found and lost things, which increases the possibility of finding a thing
one of the incredible options is to search for a missing item in a particular state, city, or locality
To summarize, this utility is a good option when searching for missing things. It is worth noting that in addition to the banal search for things, the utility also unites people and allows you to find new acquaintances.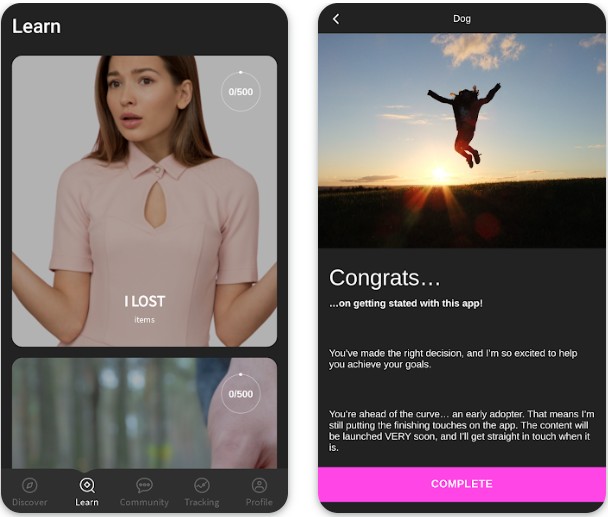 Bring it Back
Bring it back is one of the easiest ways for you to get your personal belongings back most quickly and intact. It is worth noting that this app has the widest and most detailed database of missing and stolen items. Registration in this utility is as simplified as possible.
If it turns out that you will find someone else's abandoned thing, then you can contact the owner for its subsequent transfer. In addition, the program has a smart filter system that will improve search parameters. It is important to say that the creation of ads in the app does not depend on time and place.
The utility has such a quality as secure communication to preserve the confidentiality of all user data. Also, all options of the app are completely free and automated. As a result, this utility is constantly being improved in order to help people find lost things as soon as possible.

Gotcha! Lost & Found App
Gotcha is an app that is mainly focused on looking for missing pets, but it has other options. You can also file missing item notices and assist in the search for missing items. This utility was developed by one of the promising companies.
The program has different ways to find your pet. It can be a beacon on the neck collar, scanning the QR code on the collar, or even locating it by the built-in chip. In addition, the app ensures complete privacy and security of user data.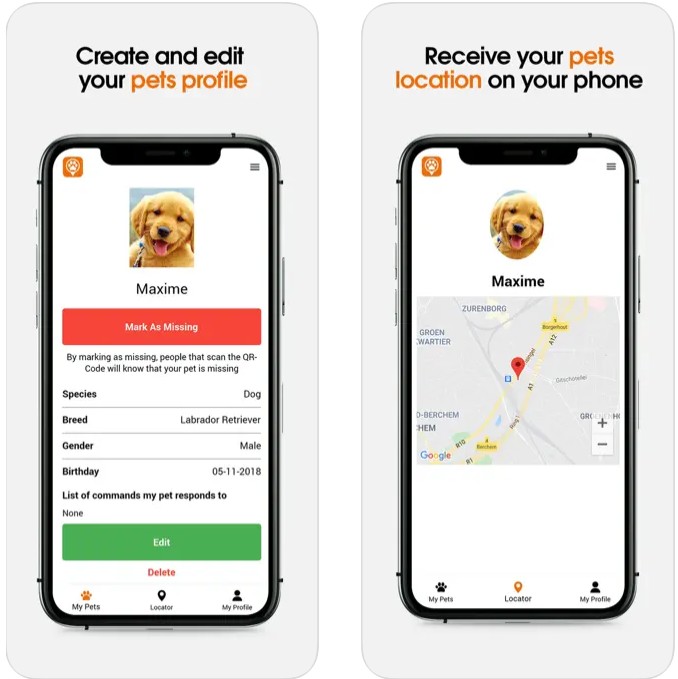 You may also like: 4 Best Clap To Find Phone Apps for Android
Tile
This program uses one of the most reliable and convenient methods for finding all your missing things – a location transmitter built into objects. This method allows you to easily and quickly find out the location of the missing thing and quickly pick it up from there.
It is worth noting that when approaching the location of the thing, the sensor begins to vibrate in order to orient the user more accurately. In addition, the utility is completely free to use and has a reasonable charging economy mode for your device.