Today there is an app for everything. You name it! Are you pregnant? Well, there is an app for that. In fact, there are lots of amazing apps for that. With pregnancy apps, you can communicate with other future parents, track all the necessary measurements, get daily info and so much more. Choose one of the best pregnancy apps from the list below and make these 9 months easier and more fun!
What to Expect
What to Expect is one more great pregnancy app made specially for future caring and cautious parents! The app is based on the best-selling book called  "What to expect when you're expecting". Today, with such a variety of good pregnancy apps, reading books on such topics is a little bit old-fashioned, but still useful. For those who prefer more modern ways of getting info, there is this app.
The app will send you daily tips, health news, reasons to be happy, stories from real parents and so on. Moreover, every week you will get a cute video showing the phase of your child's development. The coolest part of the app is how it reflects the size of a baby – it compares him/her to a fruit! A sure way to visualize something is to compare it to something else.
One more advantage of the app is a strong community designed to help everyone. Groups of interests will help you find like-minded people. So if you want to move with the times (e.g. get the latest news about health), get funny updates on your baby's development and communicate with kind & supporting people just like you, then don't just expect, get 'What to Expect' now!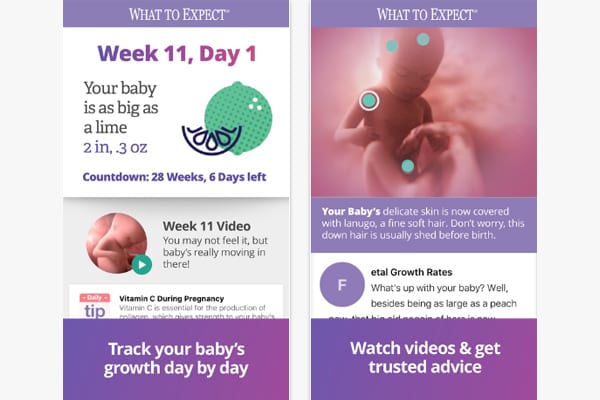 The Bump
The Bump – Daily Pregnancy and Baby Tracker is a completely free pregnancy app that will provide you with all the necessary information about pregnancy. Just like the app above, this one will introduce you to all the latest news about pregnancy and parenting. What's more, with this app, you will be able to ask questions not only to other future mothers and fathers but also to experts and app's editors.
The Bump also has an embedded planner which can be perfectly integrated with your phone's calendar. Never forget about visits to your doctor and other important things you ought to do!
As for the updates on the development of a fetus, there is a gorgeous 3D visualization that will help you to see the exact state your baby is in. Besides, the size of the baby is also compared to a fruit. Download The Bump today and start getting helpful advice every day!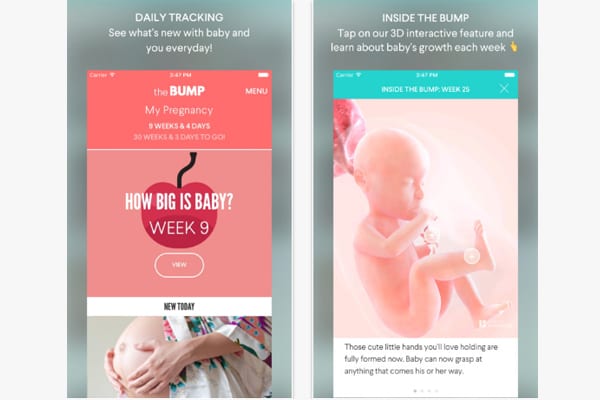 Pregnancy ++
Pregnancy ++ is an excellent pregnancy app for keeping track of your pregnancy's details. You can log anything that is of interest to you – your weight, visits to a doctor, baby shopping lists, some notes, etc. Of course, it is nice to have everything organized in a nice paperback journal, but with the app, you can be sure that everything will be secure and wouldn't get lost or forgotten.
The app does not only track things. It is also designed to provide future moms, dads, grandparents, aunts, etc. with info concerning the development of the fetus. Every week you get to receive beautiful images from the series "How is your baby probably looking right now".
There is also other useful information that will help you deal with current pregnancy difficulties. By downloading Pregnancy ++, you are getting a set of useful features that will be of a great help in your situation!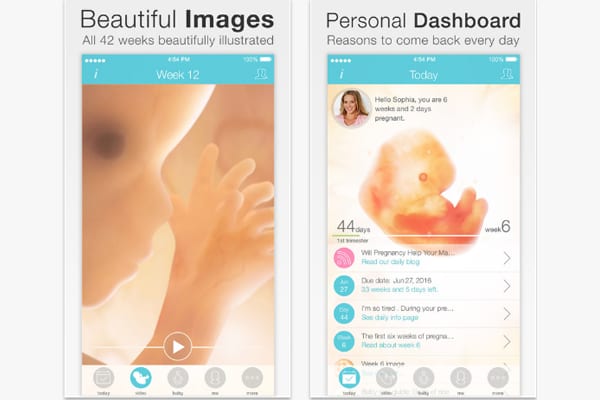 Sprout Pregnancy
Sprout Pregnancy is a great pregnancy app that has all the necessary features a one might require from such apps. The app is full of interesting information and useful materials and, what is great about all that, everything is at the tips of your fingers. No more dubious lengthy books or numerous misguiding results from the google search. All that you really need to know is accurately organized in one app.
The app, however, is more than just information. It allows users to write notes, upload pictures, log some measurements – everything to create nice memories! Apart from that, there are also some practical features, such as weight tracker, checklists, contraction counter and so on.
Your personal timeline will show where you are and how much time is left to expect. Get Sprout Pregnancy now and keep yourself organized & educated on every step!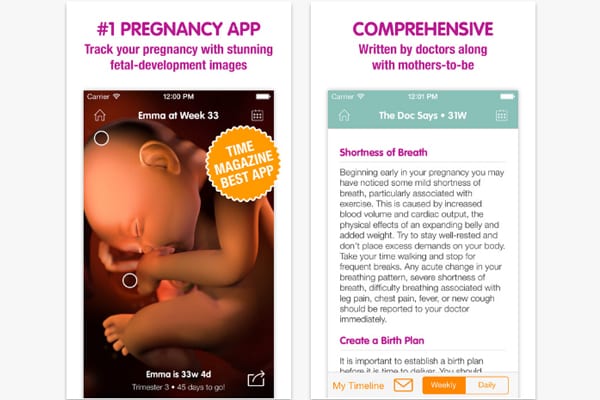 Glow Nurture
Glow Nurture is one more comprehensive and advanced pregnancy app, which means that it includes a full package of useful features. First of all, Glow Nurture is a tracker that can log anything relatable to your pregnancy.
Then, the app is an excellent supporter both during your pregnancy term and after it – you will be provided with daily tips and advice, useful articles and the possibility to communicate with other users of the app.
Besides, with Glow Nurture, you will be able to view how you are doing by getting visual insights, alerts and so on. So one more great pregnancy app for you!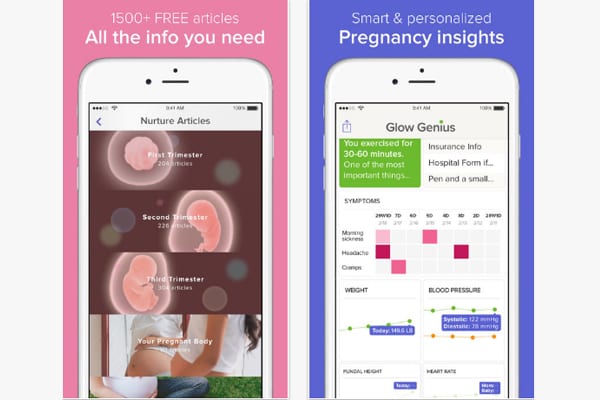 My Pregnancy and Baby Today
One more daily tracker and information provider for pregnant women! My Pregnancy app will keep you aware of your baby's development and give useful advice on such topics as nutrition, exercise, weight and so on – practically anything that can come across your mind. Every week there is an educational video showing a baby's development stage and telling all of its peculiarities.
The app is also a social network that can match you up with other parents-to-be who have the same due date. It is very helpful because you can share all of your difficulties and doubts with someone else and get a moral support. Get the app today and have a good time using it!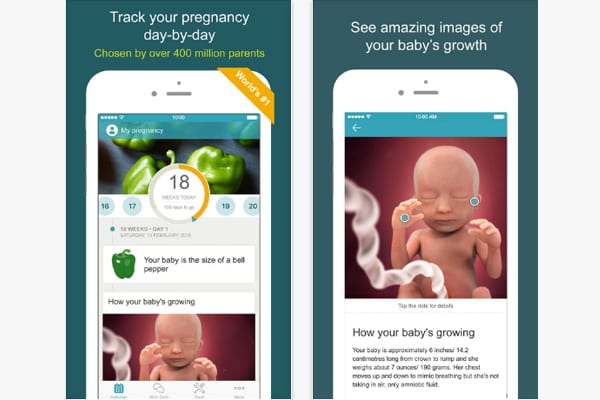 Totally Pregnant
Totally Pregnant will help you with everything. Wanna find the best hospital? Need to know where they sell the best low-priced baby products? Need advice to cope with morning sickness? Totally Pregnant has it all! It is designed specially for you. It gives only those recommendations that are relevant to you by recognizing your location and due date.
Besides that, the app is also packed with a bunch of useful features that are present in the other apps. Cool 3D videos of baby's development, weekly and daily readings, weight tracker and so on. The greatest feature of the app, for which the app praises itself, is a community of moms, that is able to give support and advice based on personal experience rather than on raw facts taken from some highbrow book. So you should like totally get Totally Pregnant!
Ovia Pregnancy Tracker
Ovia Pregnancy Tracker is one more comprehensive (read 'has it all') app with a bunch of cool features we have already encountered. Probably there are so many pregnancy apps that differ practically only in design because there is a huge request for such apps. And this means only one thing – all the apps try to be somehow better than the others to make you choose them and use them! This one is not an exception.
Ovia Pregnancy is designed to give you personalized advice based on your tracking parameters, such as weight, sleep, symptoms and so on. Besides, you can find information on what medicines are safe to take, what food is safe to eat and what symptoms are normal.
Another feature that makes the app kind of outstanding is that it compares your baby's size to funny images of arms, feet and so on. Download the app now and always be on the safe side!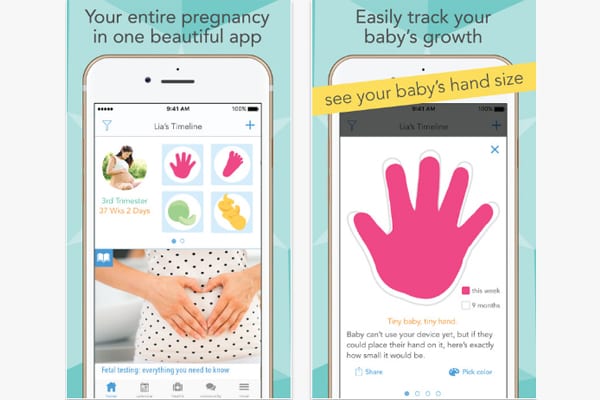 Today's Parent My Family
Today's Parent My Family is both for parents-to-be and for those who have already become parents. The app provides you with useful tips, recipes, health information and how to do videos on such topics as baby care, food, etc., so that you could parent like a pro!
Apart from that, you can create a gorgeous storybook with pictures and everything. Afterwards, it is possible to save it, share it, print it – whatever you want to. Get Today's Parent today and acquire all the necessary skills to be a great parent!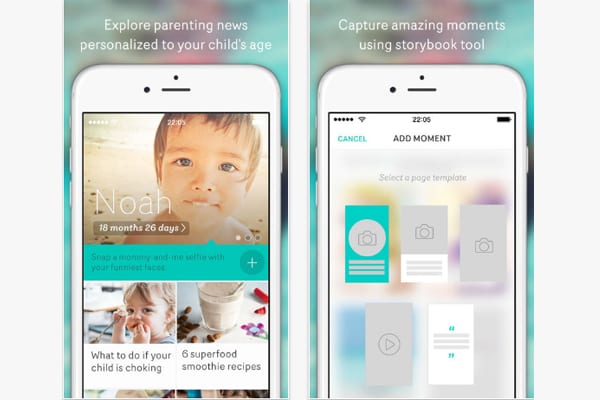 I'm expecting Pregnancy App
I'm expecting is one more pregnancy app that has lots of useful features. With the app, you will get daily tips, advice, updates on what's is happening to your body and to your fetus, weekly videos and so much more!
You can learn how to make your symptoms less hard and painful. You can track your weight. There are some other features you might like to explore. Get the app and start exploring them now!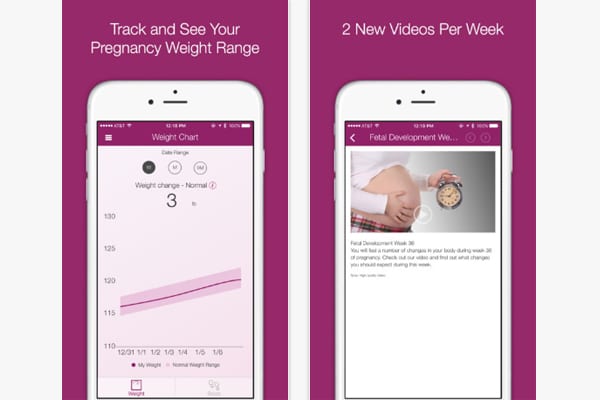 iPregnant
iPregnant is a pregnancy app for iOS, which, unfortunately, requires some charge. This is probably the only drawback of the app though. iPregnant consists of lots of features that will surely turn out to be useful at some point of your pregnancy. The app is practically no different from the other apps, nevertheless, it is worth enumerating its features.
First of all, the app tracks lots of different stuff. You can log everything starting with weight, fundal height, doctor's appointments and ending with 50 different symptoms. Secondly, it helps you understand the stage of your baby's development. Like so many other apps, it does it with the help of 3D images and relevant information.
A community of parents-to-be is present here as well. What is remarkable of this app is that you can also track you future pregnancies! This pregnancy app for iPhone certainly deserves to be on our list!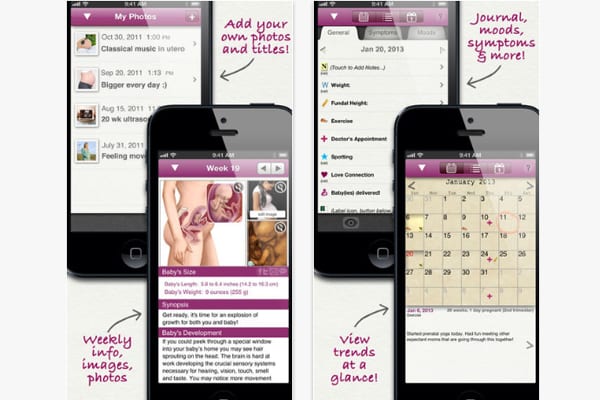 Baby Pics
Lots of good memories are so bright thanks to our well-kept photos. And, of course, a period of pregnancy is one of the most delicate and inspiring memories. If you want to make and keep photos of it in some original way, we've got a solution for you! Baby Pics is designed exactly for that!
With over 500 hundred of beautifully crafted artwork and your own personal text, every photo can turn into a wonderful short story which you can be excited about long after your term and/or your baby's growing up. You can keep photos right in the app, you can share then, print them – anything your heart desires. Get Baby Pics today and start capturing your precious moments!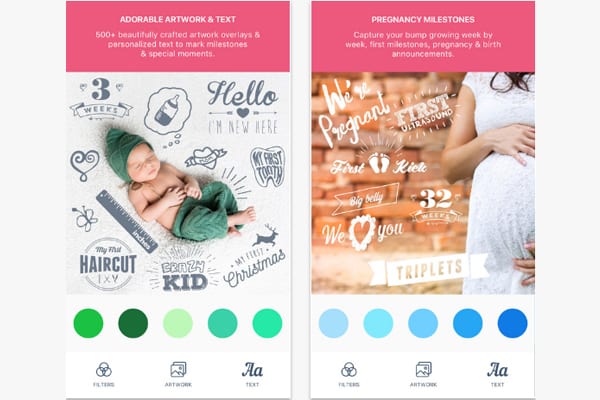 Cinemama
Cinemama is one more app designed to help you store your memories. With this one, you can create an amazing fun animation of how your belly was increasing in size. You can use special alignment tools to make your animation more impressive. The more photos you take, the better!
So if you want to make something special and like taking pictures of yourself (well, who doesn't?), then we strongly recommend you to get this app!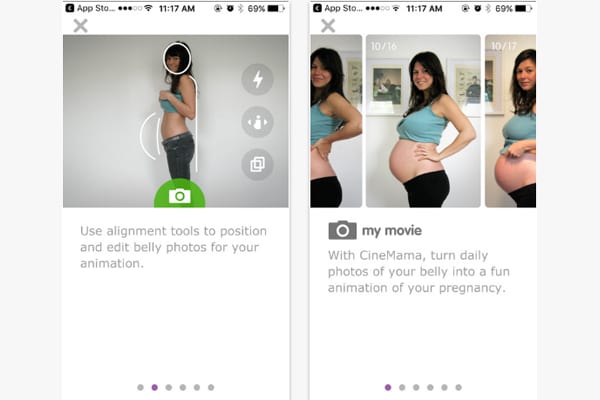 KickMe
KickMe is a kick counter for Android – the best kick counter for Android, according to its developers. The aim of this app is to count all of the kicking sessions your baby is making. You can count them right in the app or add those ones you felt without your phone at a hand.
This feature is provided by some other pregnancy apps, however, if all you need is this feature and nothing else, then this app is for you! It's very simple and easy to use. Download KickMe now and be sure all the kicks are logged!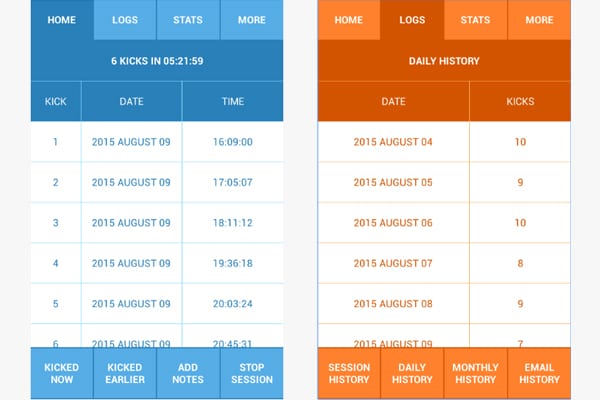 Full Term
Full Term – Labor Contraction Timer, Pregnancy Reference & Kick Counter includes all of the features mentioned in its name. The app is designed for those who are almost there. A little bit more kicks, then contractions, and here it goes – a new life being born! Until that, though, it is recommended to register contractions, which you can do easily with this app.
You can share all of the information with your doctor if you want to. Besides, all of the functions performed on a simple decluttered interface. Download the app right now and be ready when it starts!
Contraction Timer
Contraction Timer is aimed only for timing labor contractions, which is nice because it means that the app is not loaded with lots of other features that might be not so useful and even annoying at the moment.
The app measures both duration of contractions and intervals between them. One more advantage of the app is a clear and user-friendly interface. So one more great option for those who are / will be in labor!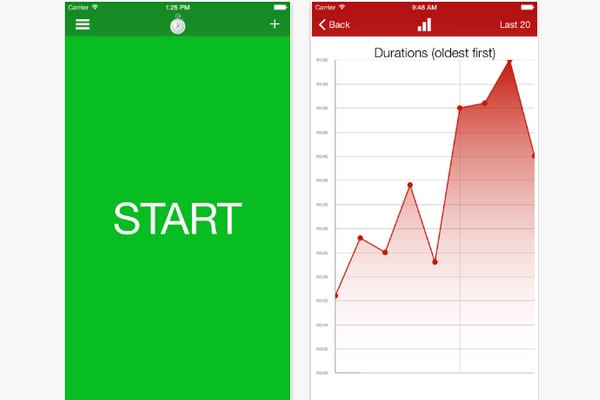 Insight Timer
This one is another kind of timer. If you believe in the wonders of meditation many scientists nowadays are telling about, then you might wanna try this app. The reason it appeared among pregnancy apps is that it has a special playlist dedicated to pregnancy & parenting.
Overall, the app has a nice touch. It creates a community of meditators who are open to sharing their experiences with the world. There are lots of free audio guidances for meditation to listen to. So if you are interested in this topic, then download the app and find your own zen-mode!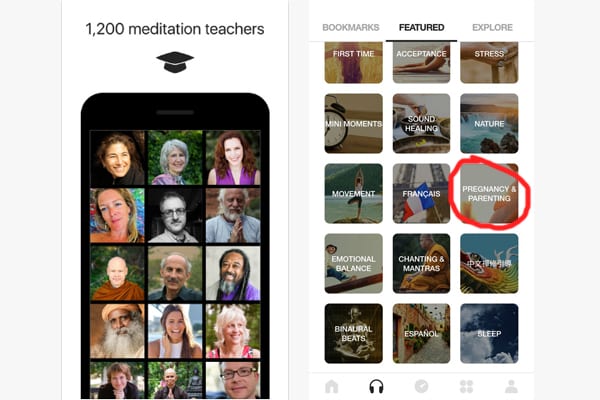 Mommy Meds
Mommy Meds is an app made for checking medicines on safety. It is perfect both for pregnant and breastfeeding women. You can search or scan a barcode of a medicine and then read all of the info concerning taking it while caring or breastfeeding a baby.
The app is developed by the Texas Tech University Health Science Center's InfantRisk Center, so you can be sure that all of the information is based on the years of research. The only con is that the app is not free. Download Mommy Meds today and, once again, be on the safe side!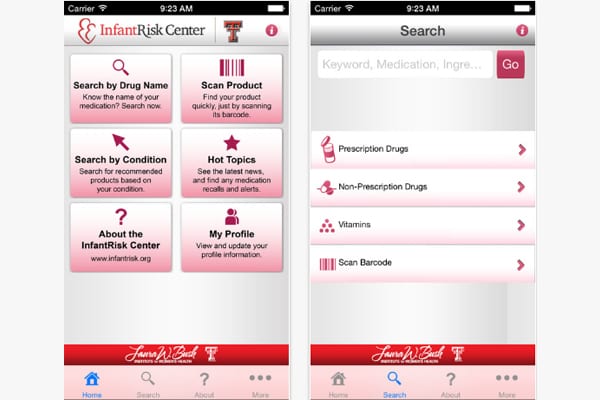 Quick Tips for New Dads
Don't really know why all the good pregnancy apps for dads are created for iOS. You can suggest your reason in the comments :). Anyways, Quick Tips for New Dads is a survival guide for all the expectant fathers on pregnancy, labor, and baby care.
It is packed with useful tips and how-to guides so that you could learn all the necessary skills required to deal with a baby. Information is given is a brief and understandable way. Get the app today and have everything you need to know about pregnancy at the tips of your fingers!
BabyBump Pregnancy Pro
BabyBump Pregnancy Pro with Baby Names is a comprehensive pregnancy app that includes everything you might think of while creating an app for pregnant women. It is a social health network, a tracker, a contraction tracker, a kick counter, a names generator and a photo slideshow editor.
To start with, the app is a great support during hard times of your pregnancy term. If there is some problem, you can go to forums to seek an advice or find someone with a similar problem who might help you.
Besides, the app will send you daily updates on such things as common symptoms, cravings, body changes to expect. Apart from that info, you will also be provided with the details of your baby's development, such as schematic pictures, size, weight and so on.
You can track practically anything with BabyBump! Weight and waist measurement, symptoms, your mood, contractions… One more great feature is the possibility to make a beautiful slideshow from pictures of your belly. All in all, time spent waiting for a new life to be born can be fun and exciting, especially with BabyBump Pregnancy Pro!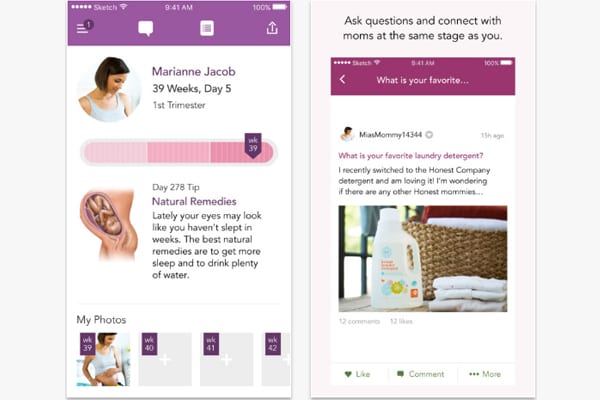 BellyBump
BellyBump is an app for Apple's customers that can make taking pictures during pregnancy more fun and exciting. This one, however, requires payment. With the app, you can edit photos, create videos and share all of that with your friends and family. The app can send you reminders of when you should take a picture.
A beautiful and interactive design of BellyBump will make you go to it more and more often. Download the app today and take pictures with pleasure!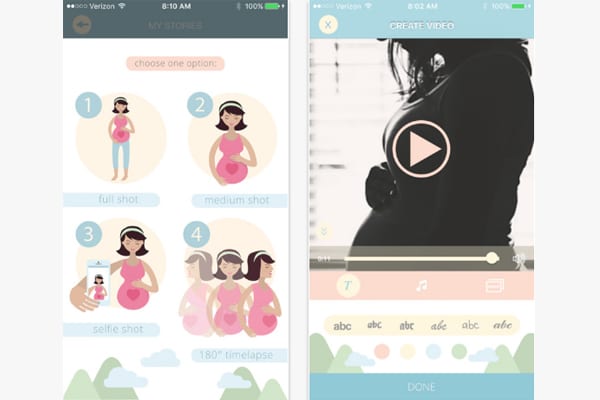 Who's Your Daddy?
But, of course, the details of pregnancy may be important not only for moms-to-be but also for dads-to-be! Who's Your Daddy? is a pregnancy app for all the first-time future parents, but especially for men.
The app will provide you with useful everyday tips and weekly updates on baby's development. What's more, there are lots of useful tools (like contraction counter) and a timeline. So if you have learned that you're gonna be a father and are confused about what to do next, then this app is what you need! Requires charge.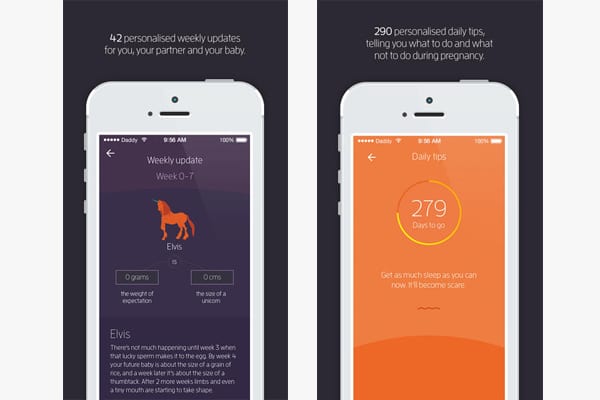 Those were 22 best apps for pregnancy. Get one of them and keep your health under control! If you are interested in keeping your health under control regardless of whether you are pregnant or not, then you might wanna check out our article dedicated to health apps in common.
As always, be smart in choosing apps!