The key to success in every business in every sphere of life is organization and productivity.
In order to provide these two most important elements to each user, some developers have created certain apps that allow increasing productivity, organization, and the feasibility of cases due to a number of necessary functions. In this article, we have collected 10 of the best productivity apps for iPad.
And more productivity apps for all devices can be discovered in this article.
Todoist: To-Do List & Planner
This app will be able to become your personal manager, thanks to which your work activity and life, in general, will become organized and productive. Here you can also get motivated and train your willpower to work and do things.
This app is used by more than thirty million users around the world who entrust their affairs to the manager in the form of the Todoist system.
Firstly, here you can make your personal and work schedule by week, day and hour. Also, there is a reminder system that will send you a notification to remind you of some important matter.
Moreover, you can synchronize the account of this app with other Apple apps, such as reminders, calendars, mail, and many others. Also, Todoist has ready-made templates for work projects, standard accounting, and so on, which you can use to simplify the task.
Among other things, in this app you will be able to create your own visual schedule at will, highlighting priority tasks, and creating a full-fledged to-do table. Also, you will be able to view the templates of the visual organization of the main screen with a schedule and use them.
This app increases productivity in personal and works affairs by creating an atmosphere of organization and thoughtfulness in each issue, as well as thanks to convenient functions that allow you to control any tasks.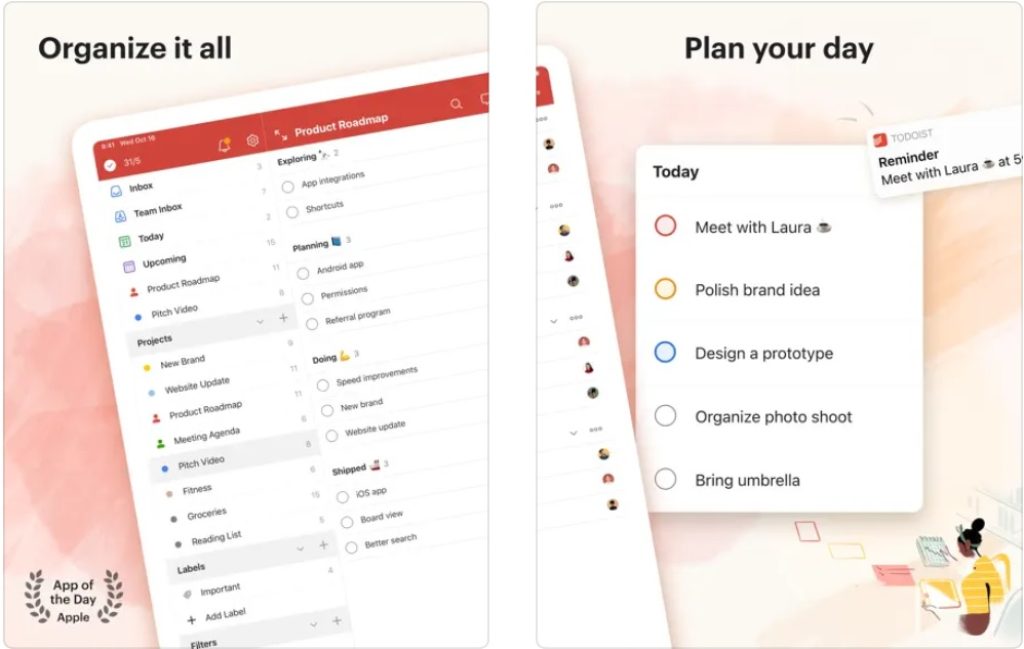 You may also like: 11 Best day planner apps for Android & iOS
Focus Keeper- Time Management
This app is a unique tool for learning time management. Here, each user will be able to make their day much more productive due to the uncomplicated process of implementing certain temporary sessions, within which your main activity will take place.
You can configure all the time frames yourself, or use standard session templates.
The essence of such working sessions is that you will need to choose the number of time intervals, for example, half an hour long, and also choose time breaks between these sessions.
As soon as the time comes, the app will make a call and automatically start the timer on the home screen of your mobile device. During the time allotted by the timer, you will need to focus as much as possible on the task at hand and perform it until the time runs out.
After the end of the working session, the break timer will start. After four or five working sessions with short breaks, you will be able to rest more: twenty to thirty minutes. Such a system will save you from overwork, as well as contribute to the completion of cases at the appointed time.
The calls that the app will make as an announcement about the start or end of the timer start, you can choose yourself by uploading any song or melody to the app or choose the sound you like from the selection of the app.
Also, the most friendly user interface is presented here, which you can independently modify using the fill function, color palette, or different themes.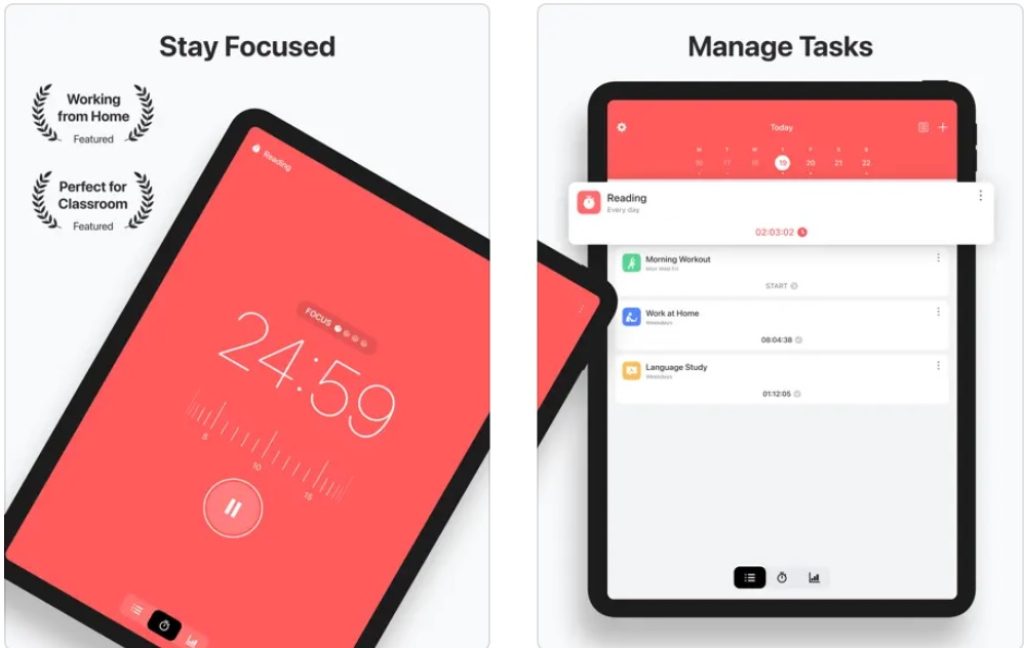 Outline: Powerful Notes
Outline: Powerful Note is an app with an incredibly simple and friendly interface that can replace any paper notebooks or digital tools for saving information.
Here you can use any number of documents, synchronize them with each other, as well as package them according to any criteria, for example, by date, importance, subject, sphere, and much more.
This app is also convenient because in it you can make important notes not only in plain text format, but also use tables, various fonts, text selections, diagrams, and so on.
In the Outline app, you can download and add files to records from other apps or from your mobile device, and attach them directly to a document with a new record. You can export the same notes to other apps and messengers on your mobile device.
Also, you can set additional passcodes to unlock especially important notes and documents. This app is a universal platform that will be indispensable for every user.
Moreover, in addition to tools for the introduction of printed text, there are also tools for drawing. You can not only record, but also depict your thoughts.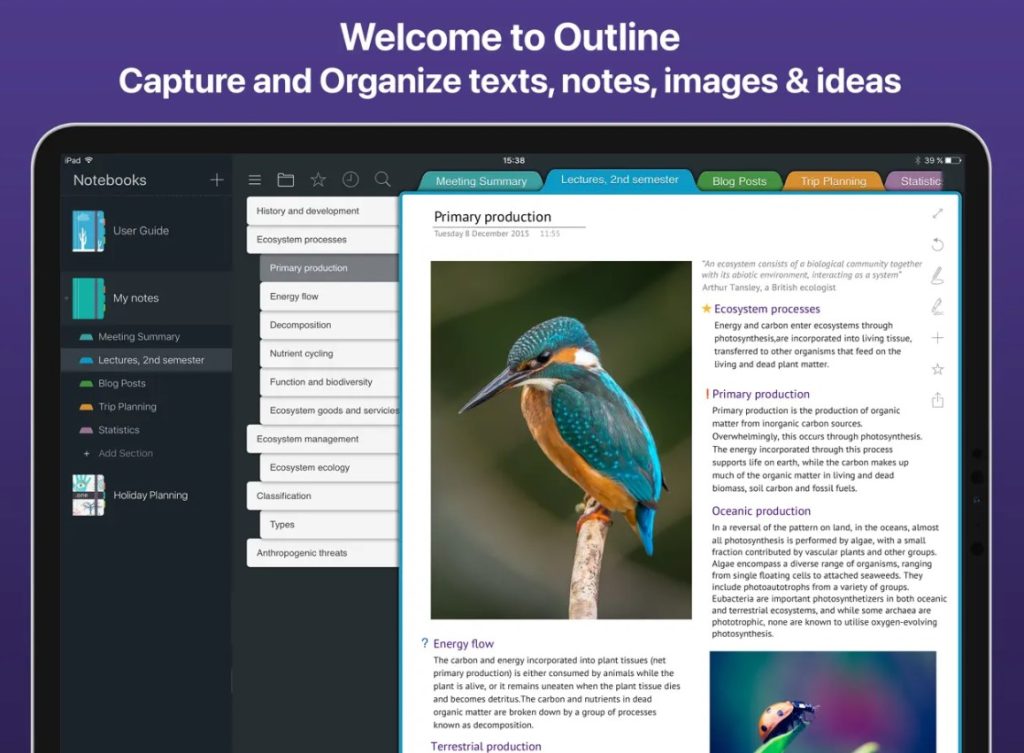 Productive- Habit Tracker
This app is a tool that can change your life by introducing into it useful habits and organization of the working day and everyday life. Here you will be able to find motivation for yourself, make a schedule of work cases, acquire new habits, as well as track their implementation through statistics and schedules.
This app is also exciting because here you can read scientific articles about the psychology of working capacity, take interesting cases and habits from there, and then implement them into your own life.
While using this app, all your actions will be tracked and put together into a single picture of your personal and work progress, which can then be viewed both in the form of a text report and in the format of diagrams and graphs.
In addition, you will be able to share your progress with users from all over the world, as well as compete with them in the number of completed goals.
Each habit that you will read about in this app will have a description to give an understanding of how following this habit will be useful and what impact it will have on you. Also, here you can join motivational cases that will help you cope with failures and laziness.
Also, Productive has a reminder system that will notify you of upcoming cases, habits that need to be completed, and so on.
These reminders can be configured both according to time and location: just enter the addresses of your work, home, or sports hall into the system, and then every time you are at a certain address, the application system will send you the necessary reminder.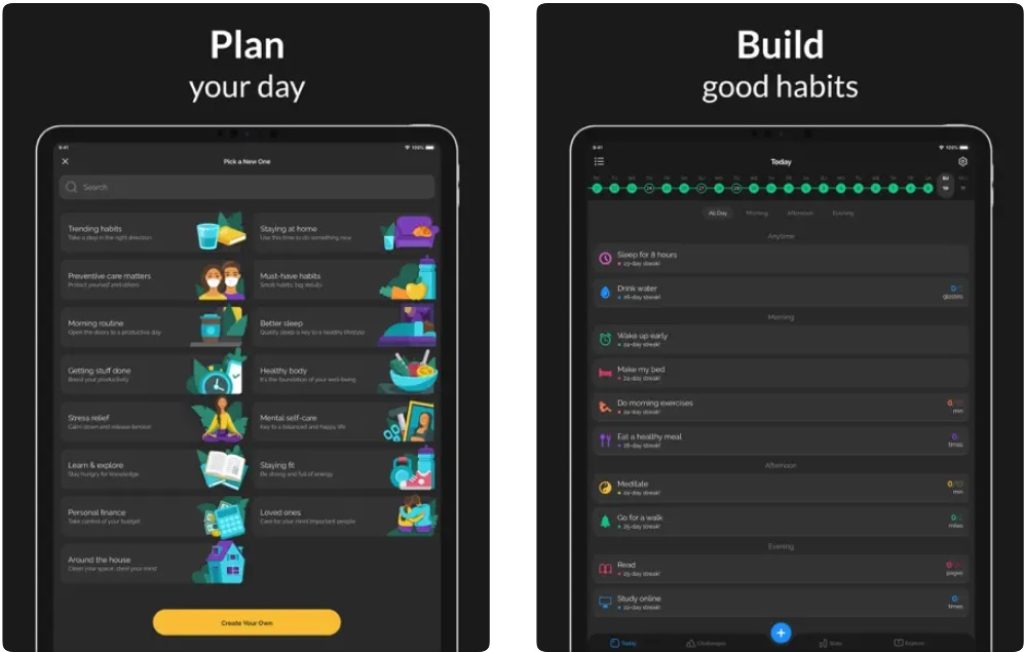 ZoZo App
This app is for those people who often post content on various social networks. With this special keyboard, you can add details such as links, documents, photos, and that sort of thing to your posts much faster.
Create keyboard shortcuts, each of which refers to a specific picture or a whole text that you often use. Every time you type this key combination, the content is inserted into your post.
It is possible to save such types as images, texts, pdf files, links, and even videos on the keyboard. This feature will help you if you often add your ads, thanks, or warnings in your posts or the description under the video.
However, this keyboard is useful not only for bloggers but also for all people who work via the phone. You can send your resume, business documents, cliche phrases, and much more with just a few taps on the screen. Using this app you save a ton of time.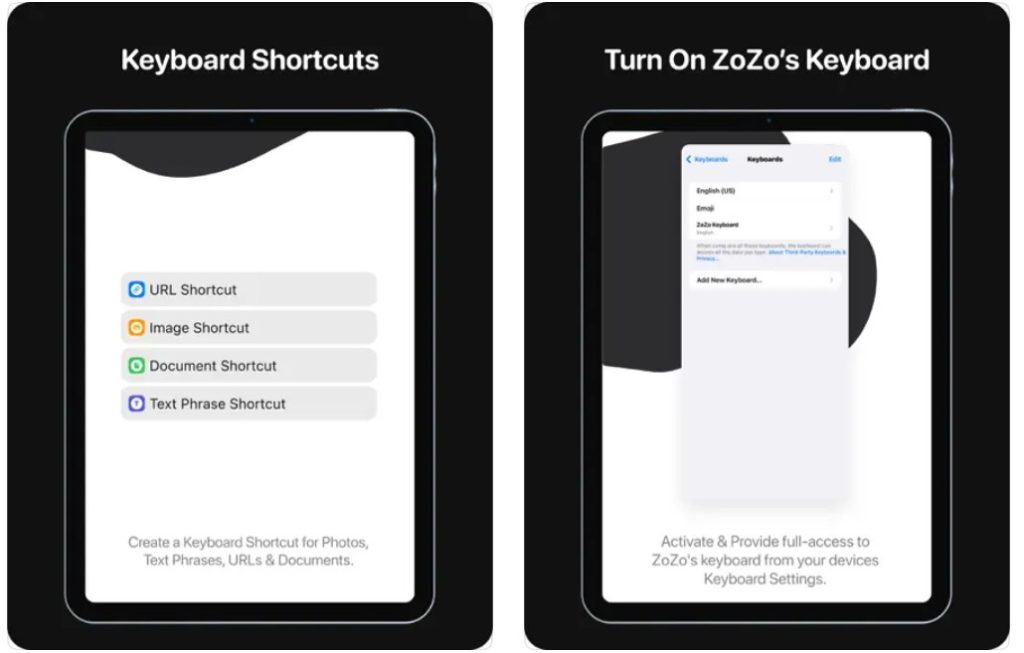 Markup – Highlight & Annotate
This app is a salvation for those whose work is inextricably linked with work on texts, for example, for students, employees, etc. Here you can read any documents and works much faster, without wasting time on unnecessary information. Any function in this app can be reconfigured to suit your personal goals.
One of the main functions of the Markup app is that you can upload the desired file with any text here, and the app system will automatically analyze it in a few seconds and highlight it for you, and put on a separate sheet the key points from the text so that you do not have to waste time reading unnecessary material.
Also, before analyzing each text, you can enter keywords into the system, or complete sentences that will also need to be taken into account as important in the analysis.
In this app, you can edit any documents and files, including jointly with other users, by sharing with them a link with access to the edited file.
Also, you can synchronize Markup with other apps on your mobile devices, such as reminders, calendars, and any others. Here you will be able to analyze all the texts, independently highlight important sentences, and put them on another sheet to get a more informative text.


You may also like: 11 Best Motivational Apps for Android & iOS
Numbers
This is an app for detailed analysis, creation, and editing of documents, tables, and various kinds of diagrams, which increases productivity, as it allows you to create any documents of any complexity with any data much easier and more interesting.
In this app, you can use dozens of various templates to create tables, graphs, diagrams, texts, illustrations, presentations, and much more.
In addition, Numbers also specializes in working with numbers and calculations, which you can perform here, and then the results will be automatically entered into the necessary tables.
Here you can also set up a collaboration with other users by sending them a link with access to the edited file. Moreover, in each of your created or edited files with any content, you can add illustrations of different formats, both created directly in this app and downloaded from other sources.
This app is known for its colossal collections with different templates, which include graph templates (there are dozens of columnar variants only, and there are also linear ones, etc.), diagram templates with any number of parts and percentages that you can edit by size and colors, table templates with any number and size of cells, any presentation slides with ready-to-place fields for text, graphics, and images, as well as much more.


Tips & Tricks
This app undoubtedly increases your productivity both at work and in everyday life, as it is a full-fledged guide for any apps, websites, gadgets, and even specific articles. Here you can find information about any innovations that will become indispensable in your work in the future.
This app publishes news about the latest innovations in the form of apps, websites, as well as developments of companies engaged in technical developments.
There is a very convenient search bar here, thanks to which you can find both a specific app or website and the necessary apps for your queries by simply entering a number of necessary functions into this search bar.
Also, this app contains a description of each site and app, which includes reviews from professionals, specialists, and other ordinary users.
Among other things, this app contains a separate selection of fascinating and useful life hacks tested by users. For example, you will be able to discover new features of the apps you already use or try new sites that suit your business with a number of the latest features.
Also, this app contains information about the functions of the iPad with any update – this means that you will be able to learn how to use your mobile device in a new way and increase your productivity by using functions that were previously unknown to you.
A guide on how to use all the functions is also provided in the app.


Calendar by Fantastical
This is an app in the form of a calendar that you can customize yourself, focusing on your needs and desires. This is a calendar that will clearly demonstrate your whole life, including the work area.
Here you can not only plan new cases and record them in the calendar but also plan numerous meetings and events, as well as enter files with documents here.
The main page of the app looks like a regular calendar with countless possible numbers of cells to fill. You will be able to customize the color scheme, and the required number of fields to fill in, as well as enter any business and events here.
Moreover, you can set up a notification system that will remind you of any event or business in advance in the form of a notification on the home screen of your mobile device.
You can choose the sound for this notification from the iPad selection, from the selection of this app, or download the desired sound or melody independently.
Your calendar in this app can be synchronized with accounts in other apps, such as social networks, mail, work apps, and much more. Data from there will be automatically displayed in Calendar by fantastical.
Also, this app is synchronized with the weather forecast, so if you are planning an event or a meeting, the app system will definitely warn you about upcoming weather events so that your meeting does not spoil due to unforeseen precipitation, and so on.


Evernote- Notes Organizer
This app is a full-fledged organizer of your work and daily activities in the format of an app for your mobile device. Here you can organize, plan, and also implement various kinds of work cases, meetings, events, and much more. With this app, your productivity and organization will be at the proper level.
In this app, you can keep your personal diary with the necessary entries and notes, as well as add them to the calendar of a separate event if necessary.
Each of your steps will be thought out and organized with detailed accuracy, as there is also a system of reminders and notifications, both by time and by location (just enter the necessary addresses in the app, and it will notify you of the right thing when you find yourself at a specific address).
Also, this app will be able to sync with any other apps on your iPad, as well as with your other devices with shared iCloud.
Also, this app has a document scanner function: this means that you can take any document in paper form, scan it, and it will be automatically transferred to a digital variant and added to the desired cell in the calendar as a file, or as a full-fledged document text.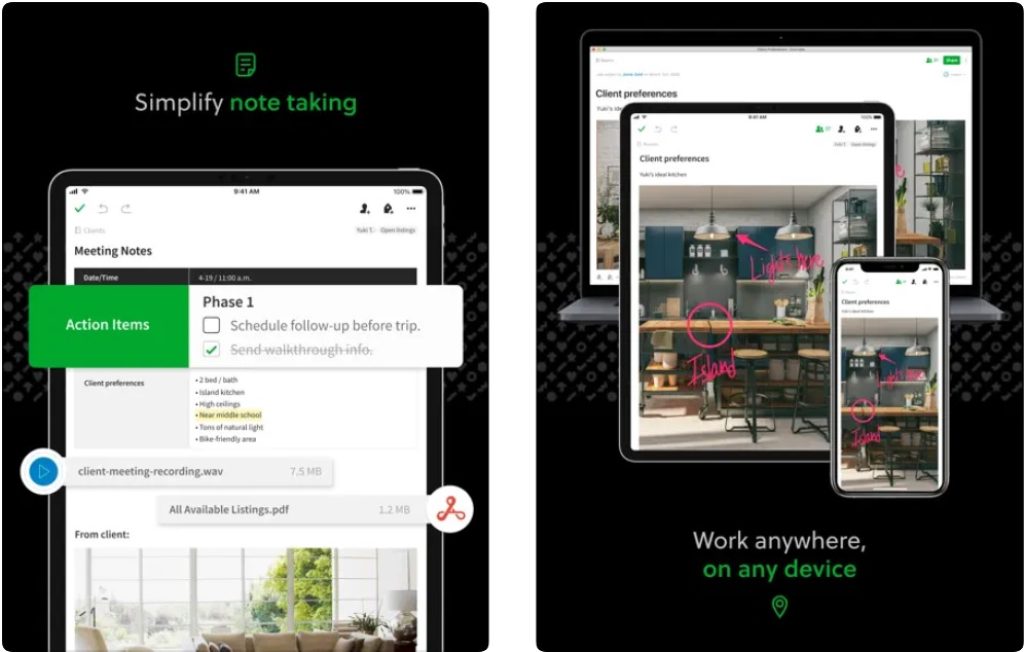 You may also like: 11 Best event planner apps for Android & iOS
Pages
This app is able to increase your efficiency and productivity due to a huge number of tools with which you can create documents, tables, as well as graphs, and reports with special ease, accuracy, and of course originality.
In the Pages app, you can find a huge number of templates of various kinds of standard documents, for example, a contract of sale, accounting records, contract data, as well as any standard schemes, tables, and graphs.
Using these templates, it will be enough for you to simply enter the text in the appropriate cells and the document will be ready.
Also, this app is able to sync with other apps on your iPad, as well as with other devices that are linked to a shared iCloud. Thanks to this, your documents will be transferred to Pages automatically.