Often people just don't have time to pick up a suitable outfit for the day. However, technology allows you to simply download the app on Android or iPhone to stay stylish without extra effort and waste of time. Therefore, in the article down below you will find the best outfit matcher apps.
And we also wanted to ask to you also check out our other cool article about the best second-hand clothing apps.
Acloset
The app is perfect for those who don't like to think about what to put on and how to combine it.
Many people can't pack their many things in a suitcase or bag, but with this app, you can put all your jeans and shirts on your phone without any problems.
It's really easy to do this. The users will not have to look for similar clothes for a long time in an endless catalog and tag them by category.
The artificial intelligence of the app is always happy to help with this time-consuming and boring job.
All you need to do is take a picture of each element of the wardrobe, upload the received photos to the app and wait a moment.
Artificial intelligence auto-removes the background and divides items into categories such as season, material, and color. Isn't that convenient?
The users of this app at will can also add the date and store where the purchase was made to manage the clothes that were bought in one place.
It is not uncommon for people to wake up in the morning and see that the wonderful weather that was yesterday has changed radically. Now it's raining outside and with strong wind, and one wanted to wear a light dress.
In such a case, this app has a solution. The service offers to use of a useful function of auto-match the outfit, according to the weather.
One does not have to waste valuable time searching for a raincoat and boots early in the morning when one has to rush to work.
The app also keeps statistics and takes into account how long one has been wearing these clothes, the cost of look, and preferred style. Users can get to know things about their fashion tastes that they didn't even realize.
If suddenly the statistics showed extremely unsatisfactory results… Well, users can continue to stick to their style – tastes differ in the end. And they can look into the wardrobe of style leaders.
More than 700,000 people from all over the world are ready to share fashion ideas and inspiration.
Advantages:
There is a possibility to easily upload the entire wardrobe to the app with the help of Artificial Intelligence.
The service picks up fashionable looks based not only on personal favors, available clothes, and style but also on the ground of the weather conditions.
Users can subscribe to their friends, trendy experts, or other people, and follow their wardrobe.
Drawbacks:
There are occasionally errors and freezes in the app.
If one cut a photo of clothes manually, the application may freeze.
Users face problems during registration.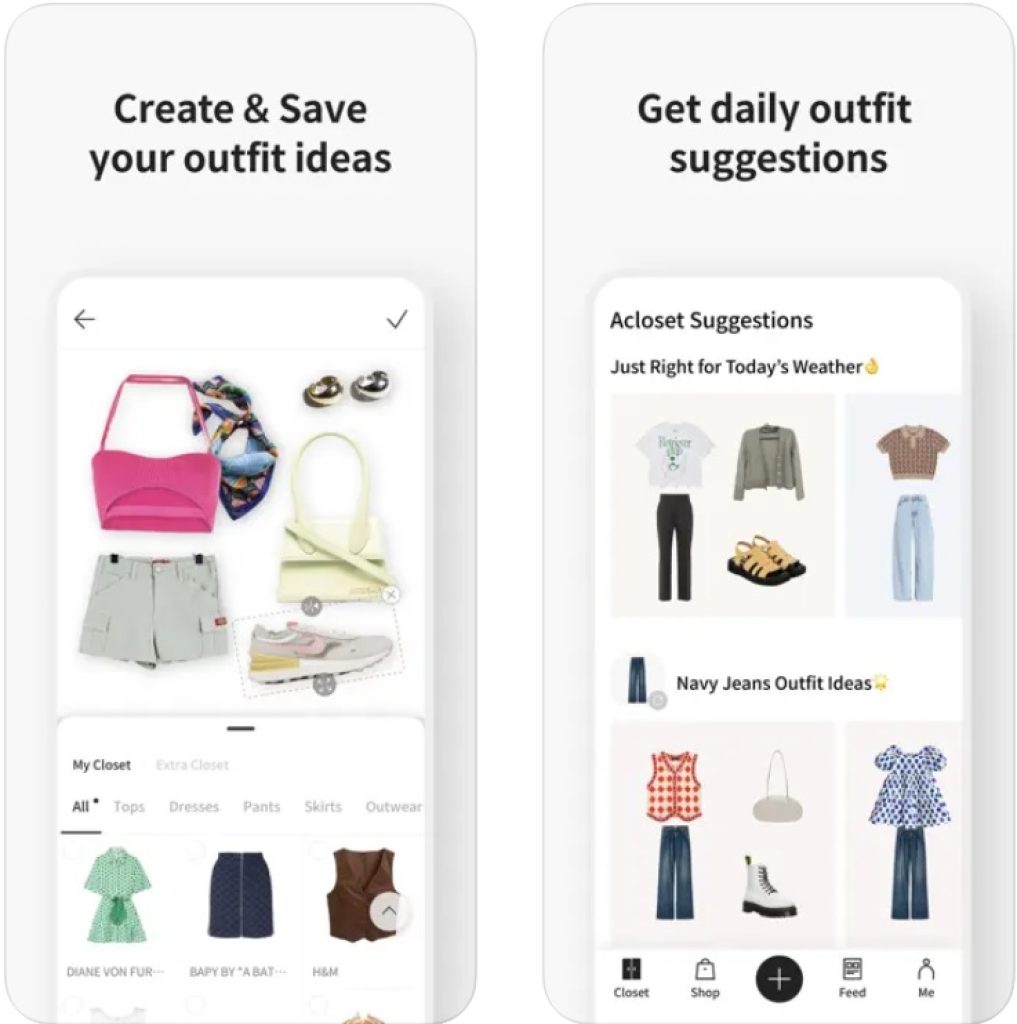 You may also like: 11 Cheap Aesthetics Clothing Apps & Websites
Combyne
The app is perfect for fashion fans who like to create new images and mood boards. Creative people will find their place of realization here.
Users have access to more than 35 categories with a wide variety of clothes. The service offers a search for your favorite brands and designers.
Friends can evaluate the new outlook as soon as the user has made it. Share a look and discuss what is better to go on a date or an important job interview.
With this app, one can always stay up to date with fashion innovations, because there is an opportunity to follow not only the updates of friends but also real style icons and stars.
The pace of modern life is too rapid to keep up with the latest trends, but at the same time not to think about what to wear tomorrow. This app is ready to help with this task.
Combyne will not allow getting behind the fashion. New clothes for stylish looks and useful advice are always available to users.
Also in Combyne, users have the opportunity to buy new jeans, skirts, dresses, suits, and other items of clothing right from the comfort of home. The service collaborates with more than fifty stores and brands.
Advantages:
A huge amount of clothes can be combined and make-up outfits for any occasion.
It is possible to make shopping right in the app.
Users may follow the updates of both their friends and fashion bloggers.
Drawbacks:
Some users have a problem with downloading the app.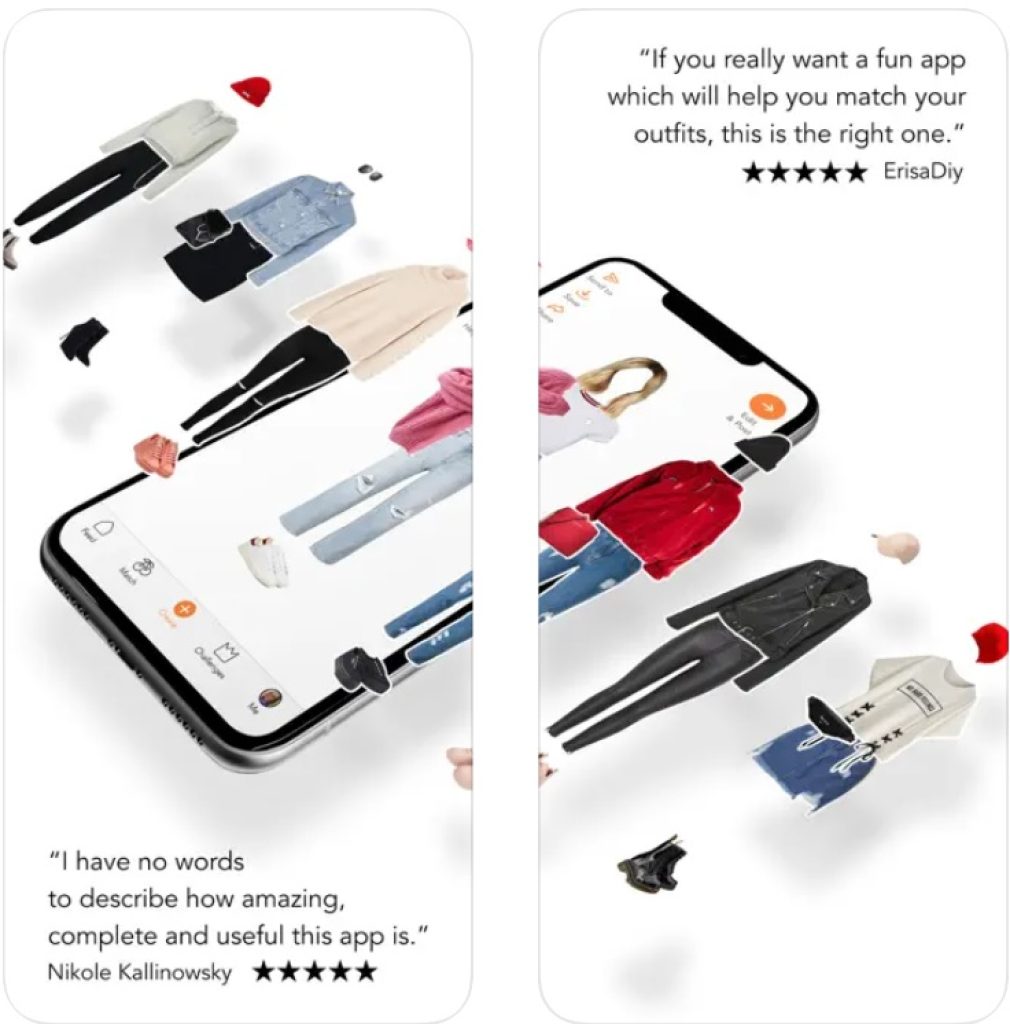 Your Closet – Smart Fashion
This is another smartphone app with which one can easily create, plan and share looks.
The set of functions is similar to the sets of apps previously described. In the same way, one can add clothes, classify them, add notes, and so on.
However, it has its differences too.
For example, users can plan their wardrobe for a month in advance and then look at it in the calendar. This is suitable for all those who love accuracy and order.
And those who often go on travel or work trips will surely like the function of packing planning. Make a list of everything you need for an elegant look and don't forget anything!
Advantages:
The application has an easy-to-use and easy-to-understand design.
Users can work with a wide range of functionality for more exact outfit creation.
There is an opportunity to share the made-up looks with friends on Pinterest and Facebook.
The service offers data synchronization and backup.
Drawbacks:
The old design of the app.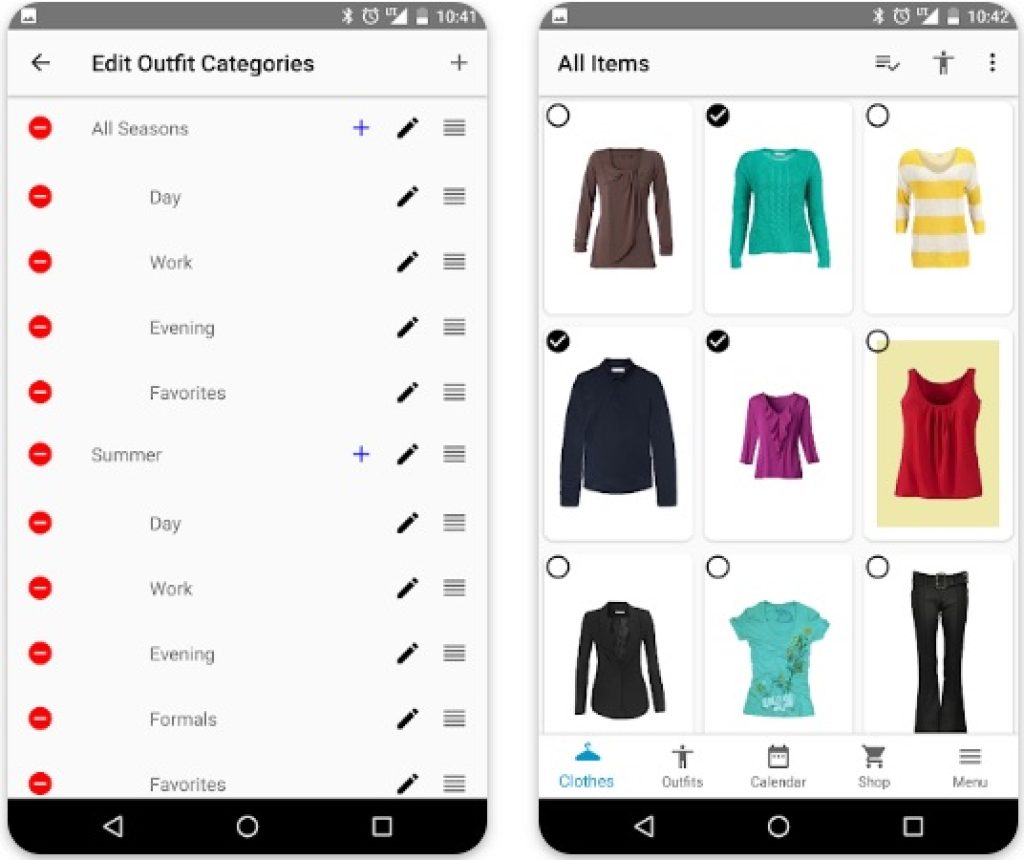 Smart Closet – Fashion Style
And no, the name of this app is different from the previous one, though a little.
Users choose clothes from thousands of brands and add them to their closets. In addition, they can also fill up their virtual wardrobe with clothes from a very real one.
The received set can be divided by color, brand, price, season, and other categories for convenient and quick searches.
Combine clothes as you wish. Trousers and jackets? Skirt and top? Everything that the user will only like!
The ready-made outfit should certainly be shown to friends so that they will appreciate it. The service implies the possibility of sending looks via a variety of social networks.
Advantages:
One can add one's category.
There is an opportunity to share the look on social networks.
The service catalog is set up for each user individually.
Drawbacks:
For some users, the app may crash.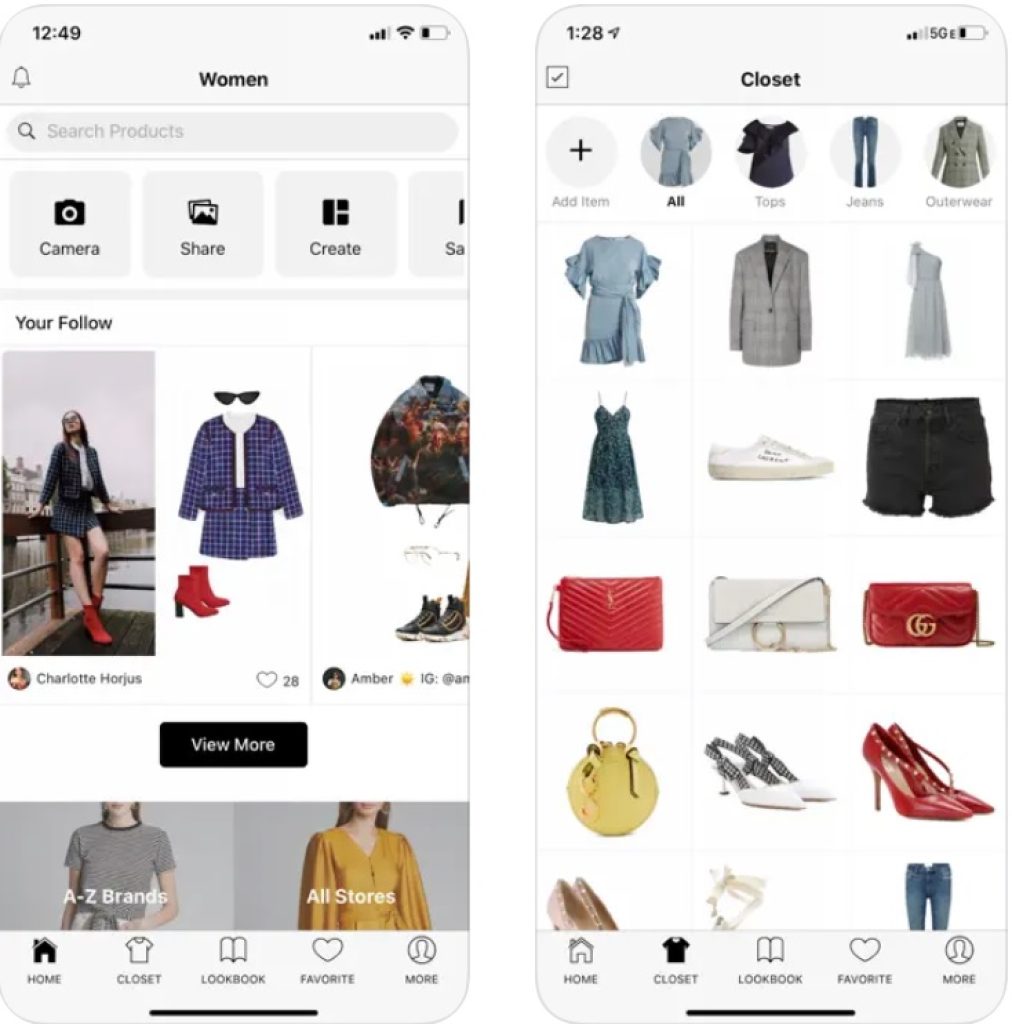 Shoplook Outfit Maker
This service allows for the creation of bright and aesthetic mud boards and collections with outfits.
Fashion fans will find plenty of room for inspiration and new concepts here.
Creating wonderful looks is now easier than ever – drag the parts of the outfit onto the canvas, remove the background from your image, and combine different styles to find your unique one.
But not only people who are fond of trends and style will consider this app useful. It will also be very attractive for creative personalities.
Amateur designers (as well as professionals and just those who like to make aesthetic pictures) can fully unleash their talent in creating mud boards.
Shop look Outfit Maker has all the necessary tools to make the visualization boards look truly awesome, filled with different details and conveying the atmosphere that the artist wanted to share.
It can also be just a game. The developers of the service have added fun challenges in which participants can compete with each other.
Advantages:
There is an opportunity to share mud boards and looks on social networks.
Not only branded clothing but also various pictures and decorations are available to create a set.
Drawbacks: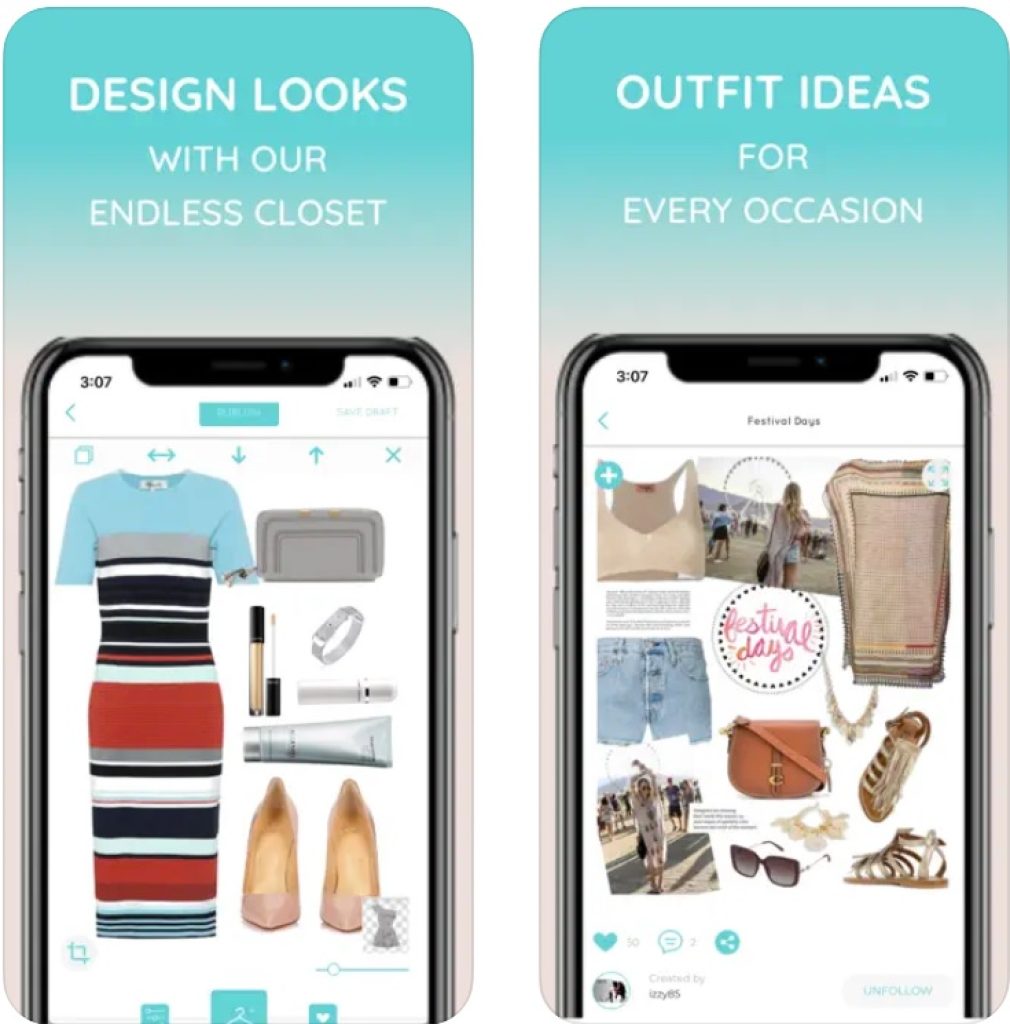 You may also like: 11 Best Plus Size Clothing Apps (Android & iOS)
Pronti AI – Outfit Maker
Don't know what to buy to make your look more stylish? This service will help those who are confused in choosing new clothes and not only.
The app easily picks up a set of clothes to make a person look amazing at any event: a charity party, a meeting with friends, or just a walk in the park – it doesn't matter, the new outfit will perfectly match.
First, you need to fill your online closet with clothing from one that stands in a quite real room. The more shirts and blouses are added, the more Pronti will analyze the style.
Pronti focuses on the user's preferences, wardrobe items, as well as the weather to choose the most suitable outfit.
Before going shopping, the user should check the Pronti. This service will tell which new dress will be best combined with existing clothes.
The app contains sets of outfits from a huge number of brands and designers.
It is not rare when people have a closet full of very different clothes, but they hardly combine them and finally dress either absurdly, or always in the same suit.
The developers have tried to make their service useful for such people. That's why Pronti can also optimize the wardrobe and offer many ways to create new looks from old clothes.
Advantages:
This is an easy-to-use app for composing outfits for every day.
Completed looks can be shared in messengers and social networks.
Drawbacks:
The app can crash during use.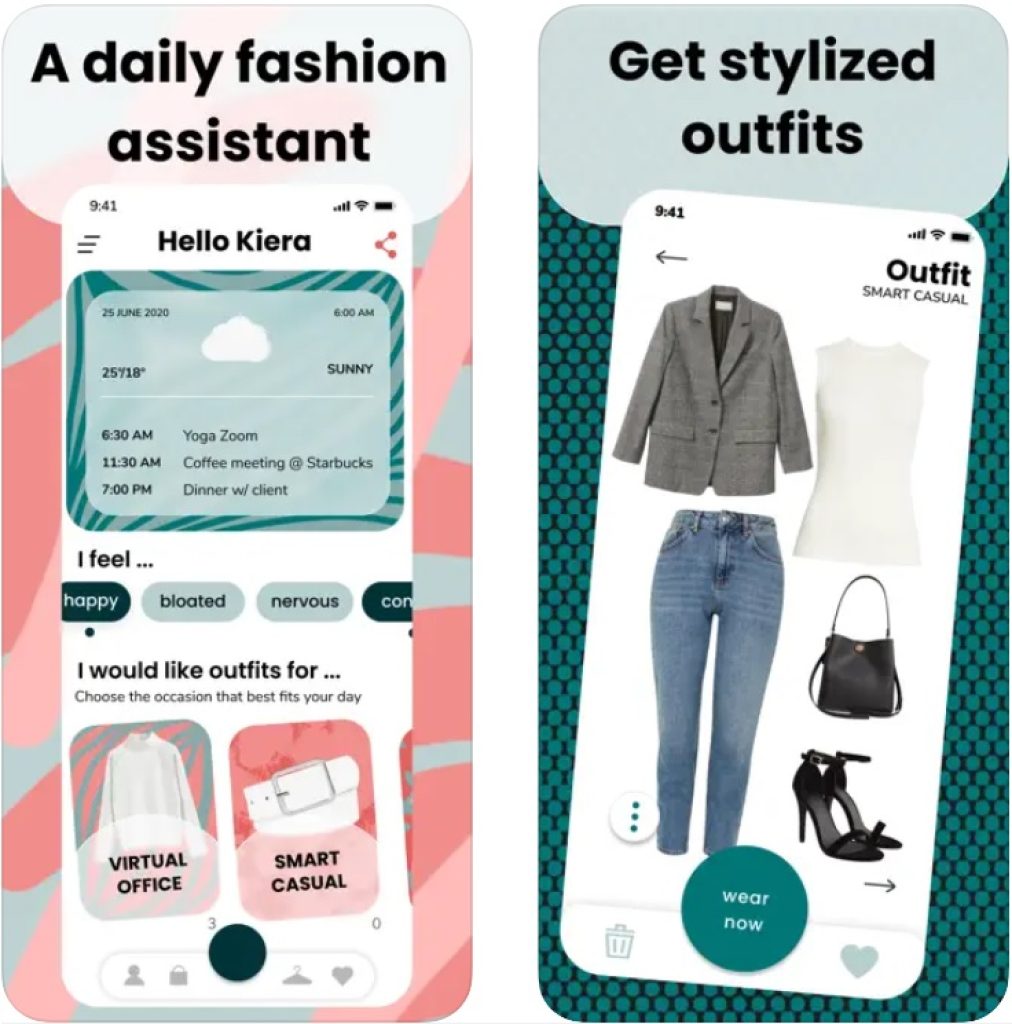 Whering – Digital Wardrobe
The service will work as a great assistant in choosing an outfit for any event. This is a virtual stylist, always ready to help with the choice of a suit.
With Whearing, users will look at their clothing set differently. The app sorts your dresses, skirts, and shirts to offer the best choice. It also keeps statistics – what users wear most often.
Life is already full of urgent tasks so one can still stand for hours in front of the mirror and think about what look will be suitable. Everything is prepared – the users' clothes have been added to the virtual wardrobe and are available for search.
The service can create looks of their already existing clothes that users could not even think of. Friends will be delighted with the changed style!
After all, the photos of the wardrobe items are added to the virtual closet (don't forget about accessories, bags, and shoes), and the app will carefully edit them and categorize them for convenience.
Users can create looks on their own without getting up from the sofa. Millions of variants of the created new outfits will be placed in the app.
If the user does not want to waste his time on this or he is just bored with doing this, you can simply use the "Dress me" function, and the service will automatically select the best outfit of clothes from the virtual closet.
The app shares the idea that things should not be used just a few times after purchase and then put to waste. It is looking for ways to combine old clothes to save nature.
The service will also help users save money on buying new clothes. Rational use and style are the main principles of Whearing.
Advantages:
It is possible to plan purchases and outfits using a calendar.
The service allows users to create lists of necessary clothing items for trips.
The rational attitude to the creation of outfits
Drawbacks:
Some users are having problems at the sign-up step.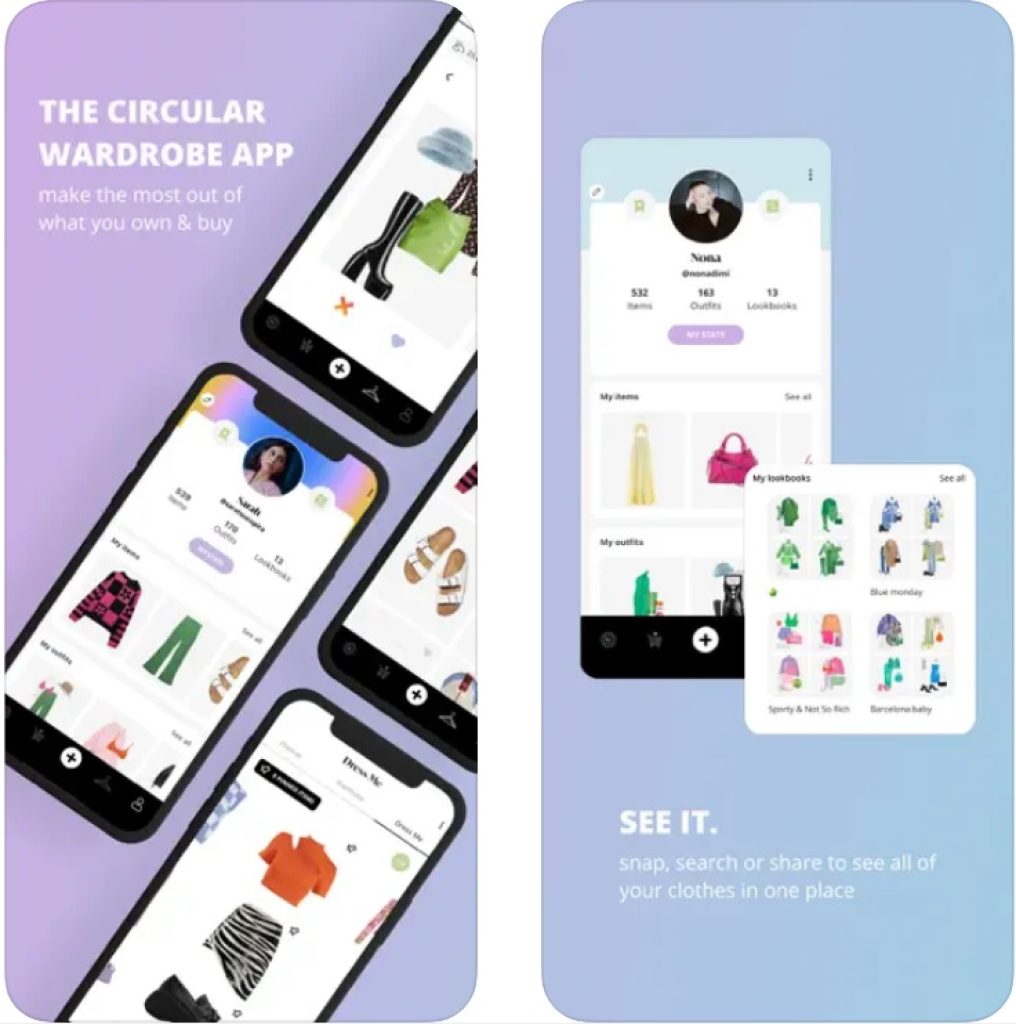 Pureple Outfit Planner
Skirts and jackets don't fit in the closet anymore, but it still feels like there's nothing to put on. This service will solve this problem easily.
Copy clothes from the wardrobe to the app and save time thinking about the outfit every morning. The service also supports the opportunity to upload clothes from the Internet.
This app puts everything "on the shelves" and one will no longer be surprised to find a forgotten dress that was bought a century ago.
Pureple virtual stylists will offer users a look based on the available clothes and tastes.
The app is customizable and flexible, everyone will be able to understand it. In addition, people can use it on several devices at once and make a backup copy so as not to lose anything.
Pureple is suitable for both women and men, people of any age and lifestyle.
Advantages:
Planning outfits with the help of a calendar.
There is a possibility of backup and use on several gadgets.
Wide available functionality.
Drawbacks:
Users complain that occasionally all created and planned looks disappear.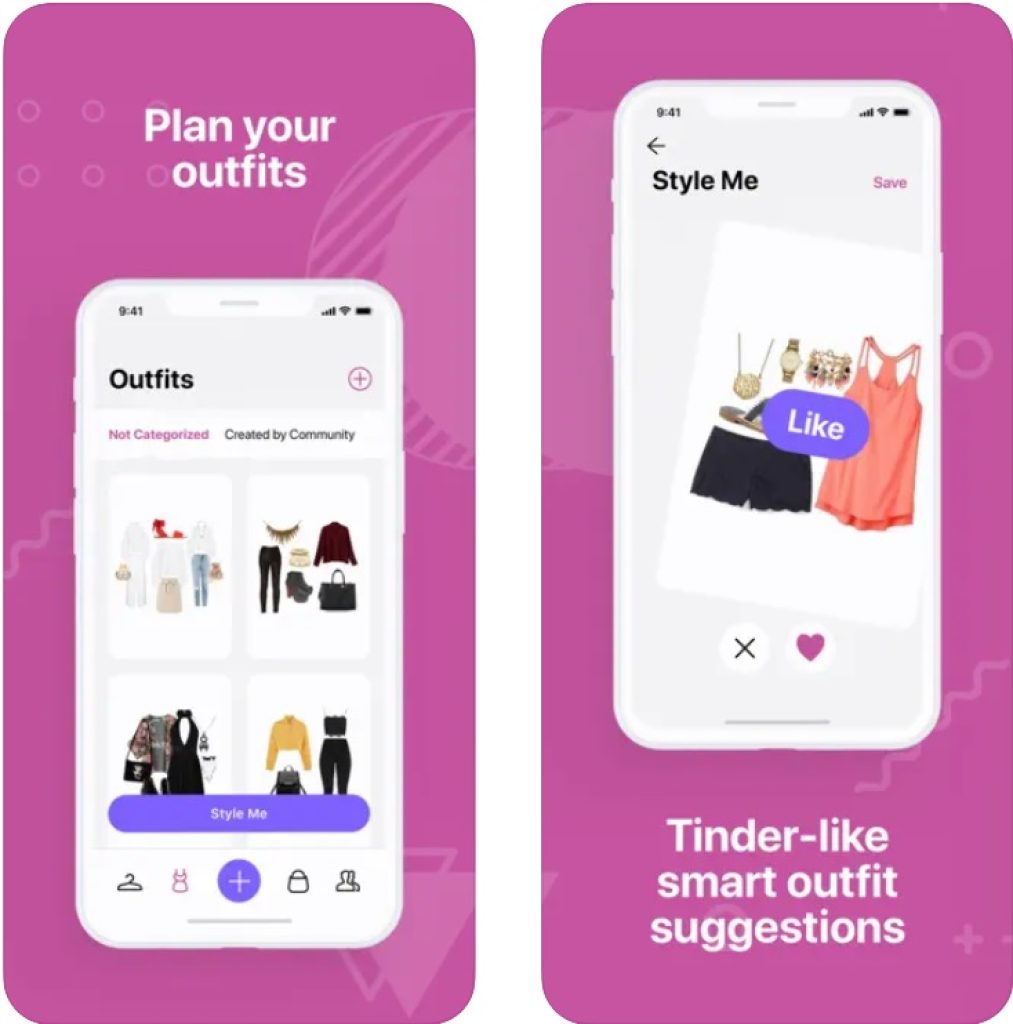 My Wardrobe – All your clothes
The service will help people make outfits in advance so that they always look stylish and attractive.
Although it is implied that the app should save the user's time, in reality, they will have to sort the added photos with clothes themselves, which, moreover, will not even be cut off. But it's free.
Combining clothes is also a user's job.
Make looks that you are going to wear soon, and the app will send you a notification so that you don't forget what you were set to wear.
Advantages:
This is a free app with a wide range of functionality.
The easy-to-use app.
Drawbacks:
There is no auto-sorting or photo processing, everything is done only manually.
There are no look boards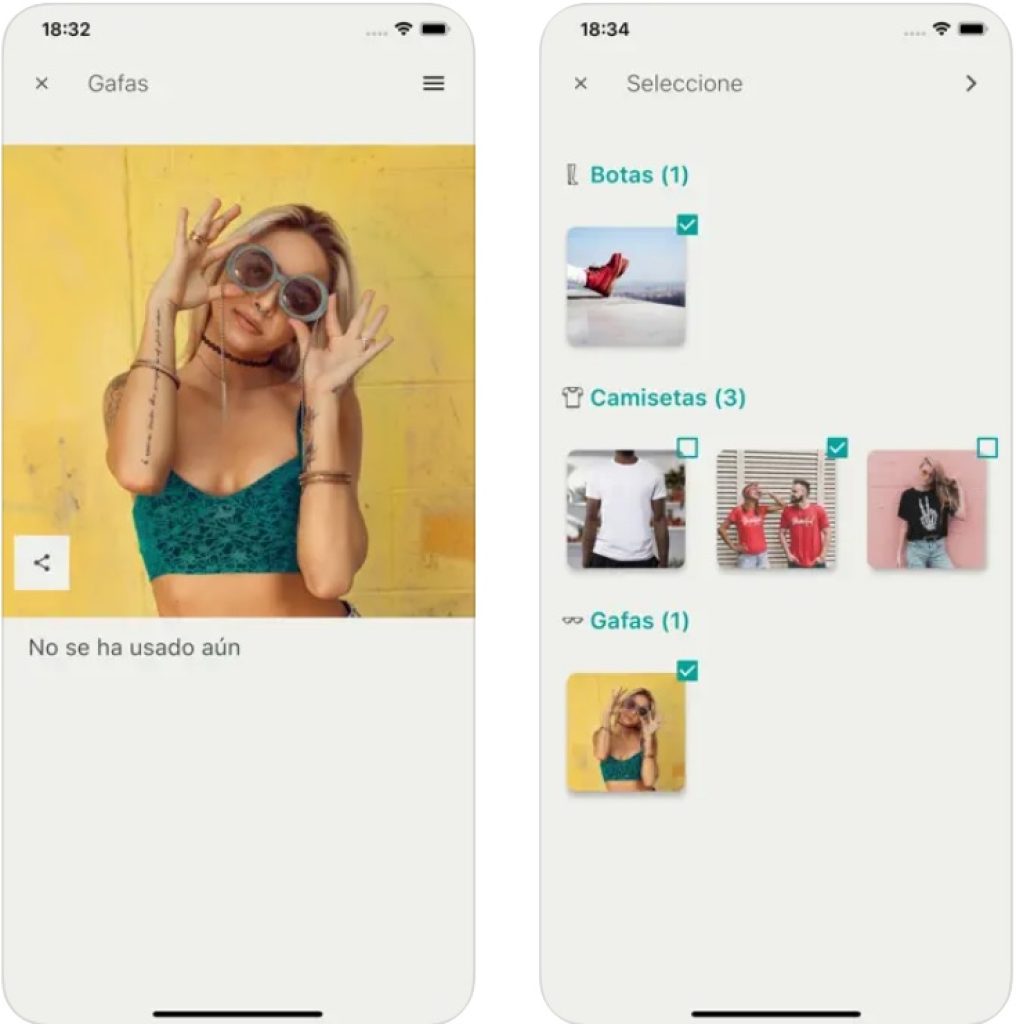 Outfit Tracker for Clothing
The service offers the help of artificial intelligence so that users never feel embarrassed about their fashionable choice.
Unlike other apps, where users do not need to fill out the virtual wardrobe completely at first, just take pictures of the clothes they are going to wear this time. The app will remember the look.
Sometimes people feel awkward when they appear to people in the same clothes that they already wore last time. Artificial intelligence will help to avoid such situations. I will never forget what you appeared in front of friends, at parties, or business meetings.
Add event tags and even people who will see looks. Always be dressed uniquely.
Advantages:
It is possible to keep an outfit diary on multiple devices and save entries to cloud storage.
Users can plan looks and won't repeat them.
This is an easy-to-use app.
Drawbacks:
The service does not have a wide range of functions. Only the necessary ones, no more, no less.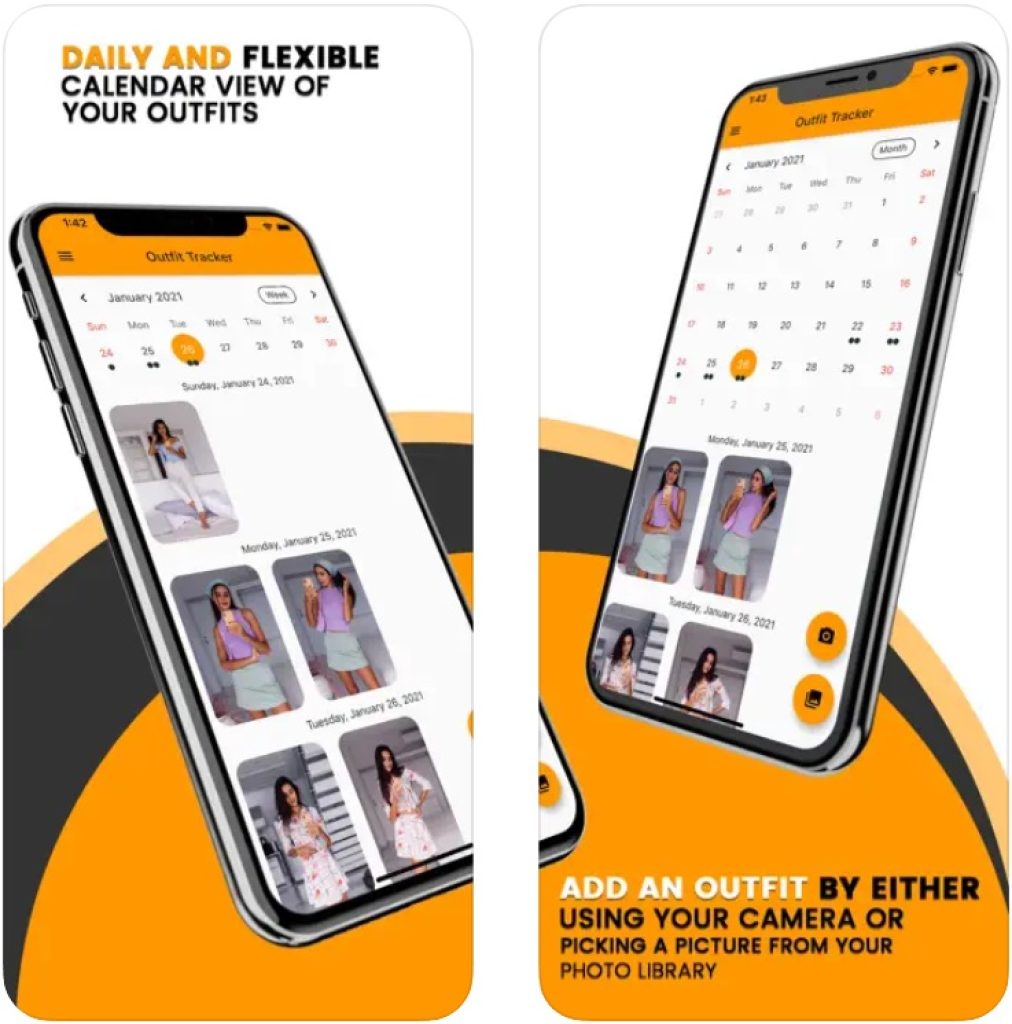 You may also like: 15 best apps to buy clothes on IOS & Android
Stylepedia
This is a service that contains the whole universe of fashion.
Users can create a perfect and unique outfit to then apply it in real life.
However, the developers decided to make the application much more interesting than a simple clothing planner. Participate in style competitions with friends. Who has the most fashionable look?
With the exclusive fitting function, users can see the outfit on themselves, just by making a couple of taps on the screen.
Creating a suitable outfit for going to the cinema or a beach party is very simple.
Users who would like to test their design skills will certainly use the opportunity to participate in fashion competitions. Become a winner at Fashion Week.
Advantages:
There is an opportunity to share images with friends via social networks.
Convenient functionality to create images for any occasion.
Virtual fitting.
The service is supplemented with gaming elements such as fashion challenges and contests.
Drawbacks:
The virtual fitting has not yet been perfected and therefore may be incorrect.