Snoring is one of the most popular health issues that the majority of us faced at least once in life. It's not a dramatic problem, but it surely needs to be taken under control. In the following article, we listed the best snoring control apps for you.
And to keep your sleep cycle in a healthy condition we recommend using these apps.
SnoreLab: Record Your Snoring
We kick off this list from one of the leaders of this niche – SnoreLab. As you already guess from its name, this application was specifically developed for people with snoring issues.
Main advantages:
Autodetection of snoring
Recording of snoring
Measurement of the intensity of snoring
Comparison of various snoring sessions
Habit tracking
Statistic analysis
This is the best tool to record your snoring and try to push it away from your life. Nowadays, lots of sleep cycle apps have the feature of sleep and snore recording, but this one not only does that, but SnoreLab is also capable of measuring its volume and strength of it.
And, of course, the app will track your statistics of snoring. All you have to do is to open the app before you go to bed and then keep it close to you while you're asleep. In addition to that, SnoreLab will do a quick check of your other routine habits and factors which can cause snoring.
Another advantage of SnoreLab is its perfectly designed interface – it's easy to navigate and pleasant to use. All in all, we recommend this app to anyone who wants to get rid of their snoring problems.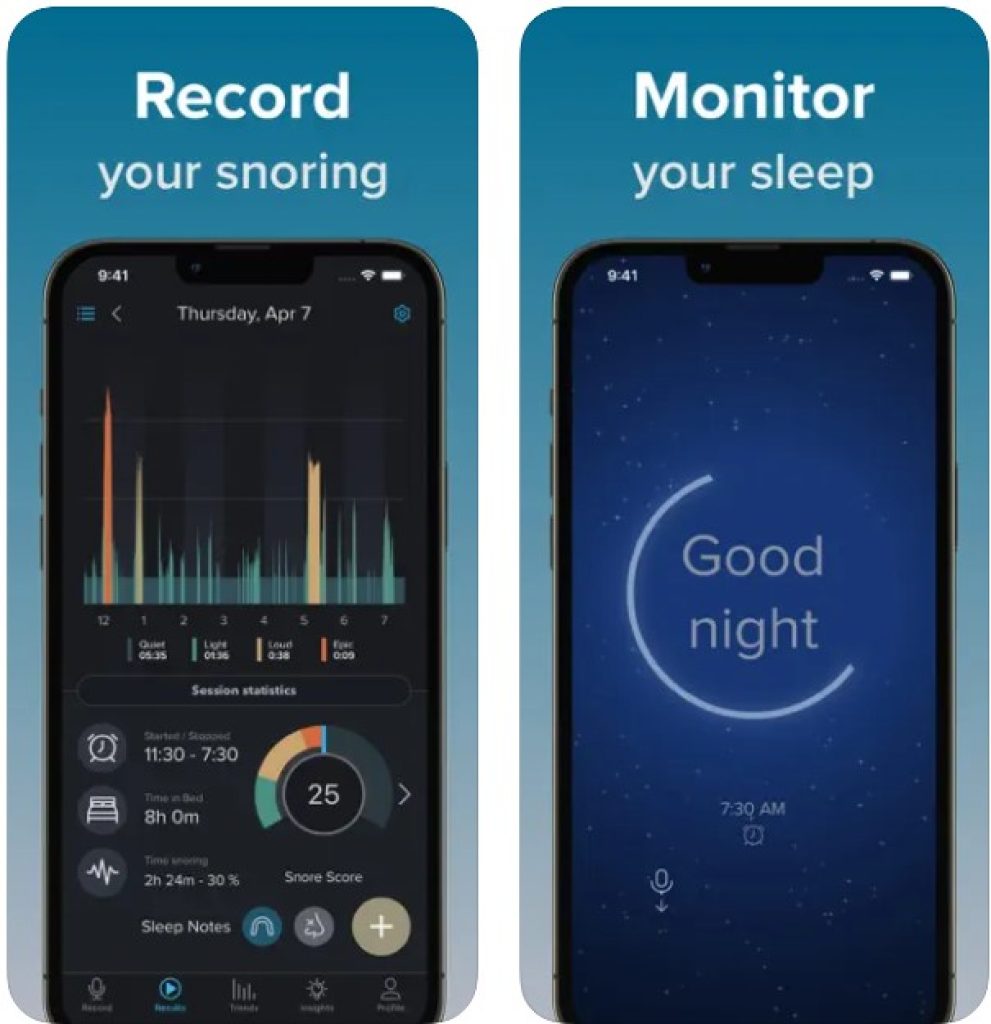 You may also like: 9 Free Sleep Cycle Apps for Android & iOS
Do I Snore or Grind
This app is more simple than the previous one, but it doesn't diminish its functionality. It was developed to record your snoring. To be more precise, not only snoring, but also grinding, and you can listen to all the recordings and compare them.
Main advantages:
Sleep and grind recording
Sleep cycle recording
Smart alarm
Another special feature of "Do I Snore or Grind" is that you can select whether you want to record snoring or grinding, or both.
In addition to that, there is an alarm in this app that is not just your regular alarm – it wakes you up only when you are in your light phase of sleep. The app will detect that by the intensity of your breath.
In general, your whole sleep cycle will be recorded and analyzed along with the number of your awakenings during the night. If you want, you can record your progress using the history feature.
Once again, the app is remarkable for its cool and comprehensive interface design and easiness of usage. However, some users face issues with this app – for some reason, "Do I Snore it Grind" doesn't record sleeping on some devices.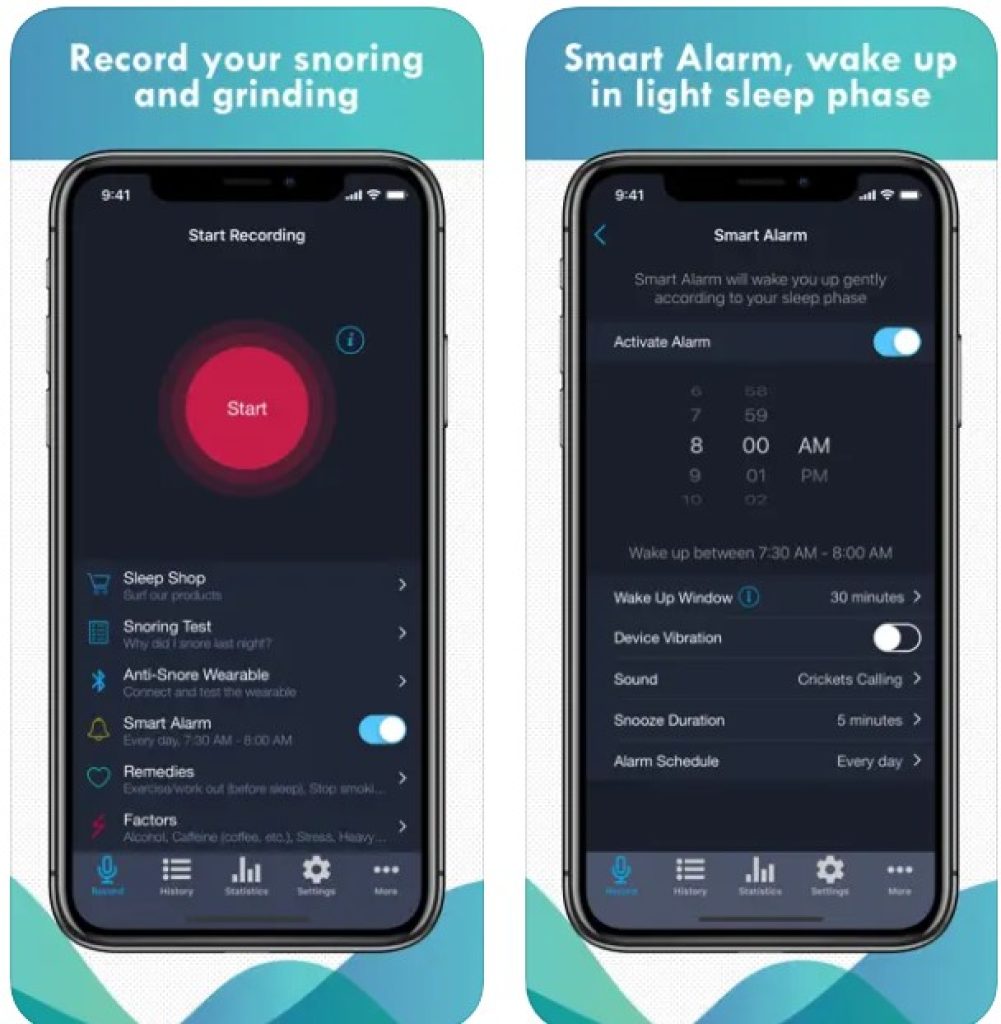 SnoreClock – Do you snore?
This app makes a sharp contrast to the previous two because of its flaming interface design. In other aspects, it's basically an analog of the previous app – this is also a snore recorder that makes the analysis of your sleep.
Main advantages:
Authentic design
Comparative scales
Endurance of the recordings
However, there are some differences. First of all, SnoreClock has two scales: the red one identifies the intensity of sleep and the white one identifies the number of hours of your sleep. Therefore, you can notice a correlation between your snoring and your sleeping cycles.
Since the app records everything that is happening to you during your sleep it can also serve as a good recording of sleep talking. Moreover, SnoreClock is probably the app with the longest timeline for sleep recording – it can record up to 11 hours of sleep.
After a while, the app will compile the statistics of your sleep cycles and snoring, and you can see them on the scales and compare them. Another advantage of SnoreClock is that it's totally free.
And of course, we couldn't go without mentioning the imperfections as well. Obviously, SnoreClock has issues with overall functionality and launching, since lots of users complain the app doesn't run on their device.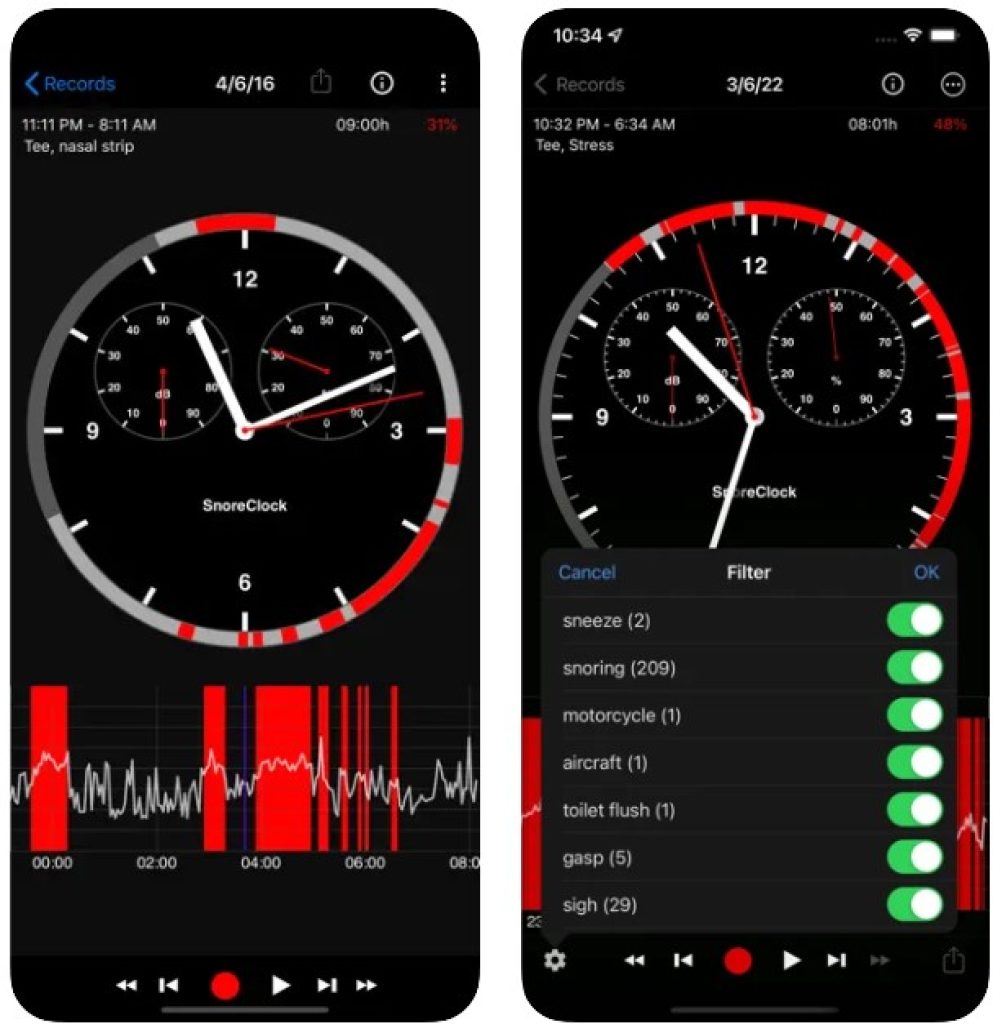 SnoreGym: Reduce Your Snoring
Besides the fun name, this app has another distinctive feature: you can notice it's paid. In fact, all of the sleep recording apps are paid, but most of them have an in-built subscription after the trial period.
Main advantages:
Set of anti-snoring exercises
Detailed explanation
Set of helpful features for working out
Moreover, SnoreGym is a little bit different, because it is concentrated on the practices and exercises to reduce your snoring. Inside the app, you will discover a lot of detailed instructions and animated pictures for the exercise.
The main target of those exercises is your upper airway muscles. Apart from those, you will also have to train your cheeks, tongue, soft palate, and jaw. Don't forget to record everything to the app, so it can track your progress and evaluate your results.
Honestly, this is a truly decent app, since usually, the guides to any exercise are boring and badly designed. SnoreGym, on the contrary, stands out for its excellent looks, a set of useful features, such as a timer for exercises, a diary, and so on, for its detailed attention to everything.
The only disadvantage is that the amount of anti-snoring workouts is very limited.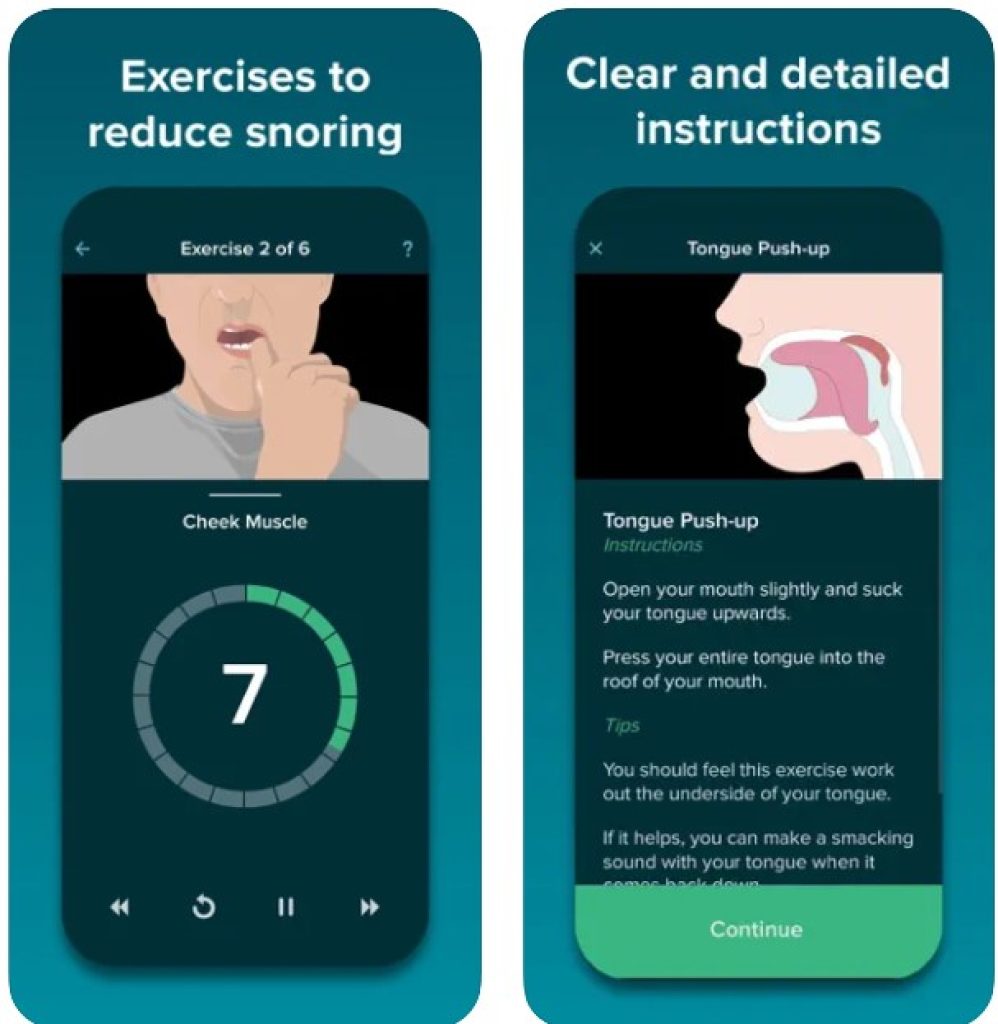 Goodsomnia Lab
This is a more general sleep recording app, but it's still good for the snore recording. Like a good classic sleep recording app, it allows you to record your sleep cycles, listen to the records and watch the statistics.
Main advantages:
Reliable app
Sleep tracking and recording
Sleep cycle analysis
Thanks to the detailed sleep recording and analysis, Goodsomnia Lab allows you to identify which factors cause your snoring. But in general, the app controls the overall quality of your sleep. The app received lots of awards, including recognition from the European Health Commission, so it is truly trustworthy.
This app has everything – sleep tracking, assistance in forming healthy sleep habits, in other words – everything. But, of course, it doesn't have as much focus on snoring as all the previous apps.
In other words, if you need a decent sleep tracking app along with the snore recorder – you can go for the Goodsomnia Lab. This app is flawless in this light.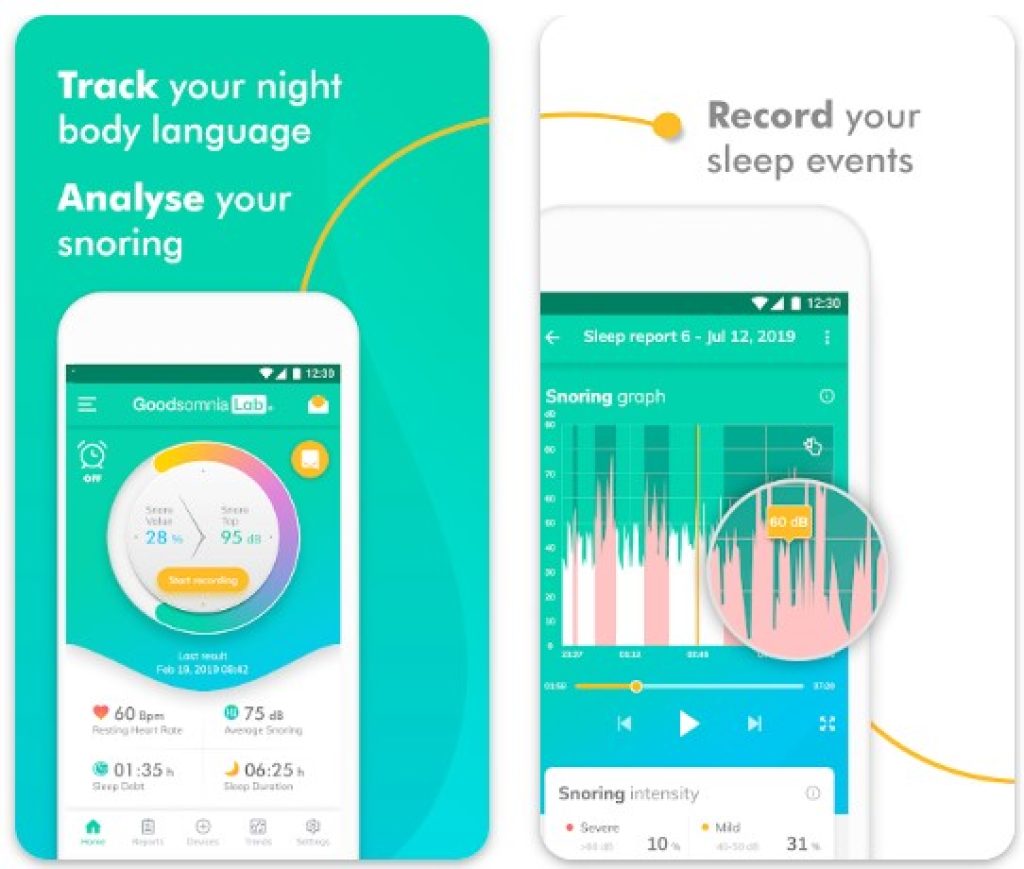 Snore Control
This app is outstanding for its many aspects. First of all, it has such an unusual interface design! But a the looks are the least that Snore Control can offer. This is an app developed specifically for you to work on your snoring problems – it will analyze your sleep in snoring with the help of AI.
Main advantages:
Adjustable settings of the night sleep recording
Analysis of snoring by the artificial intelligence
Adjustable sensitivity of the mic
Snore Control is available for iOS devices, including Apple Watch. There are 2 ways how you can actually make the recording of your sleep – you can select to record everything, or, switch on the function of the recording only of your snoring.
Moreover, Snore Control pays extreme attention to the accuracy of the statistics, and therefore, you can make a precise analysis and figure out the causes of your snoring. An interesting thing is that the app includes the snoring samples and it can tell you what kind of snore you have.
But that's not even it – the app has an extremely useful feature if adjusting the sensitivity of the mic for various conditions in the room where the recording takes place. Thus, the overall recording is going to be of higher quality and can give you a better result.
If you want, you can also add the recordings to your favorites, and Snore Control also synchronizes with Apple Health.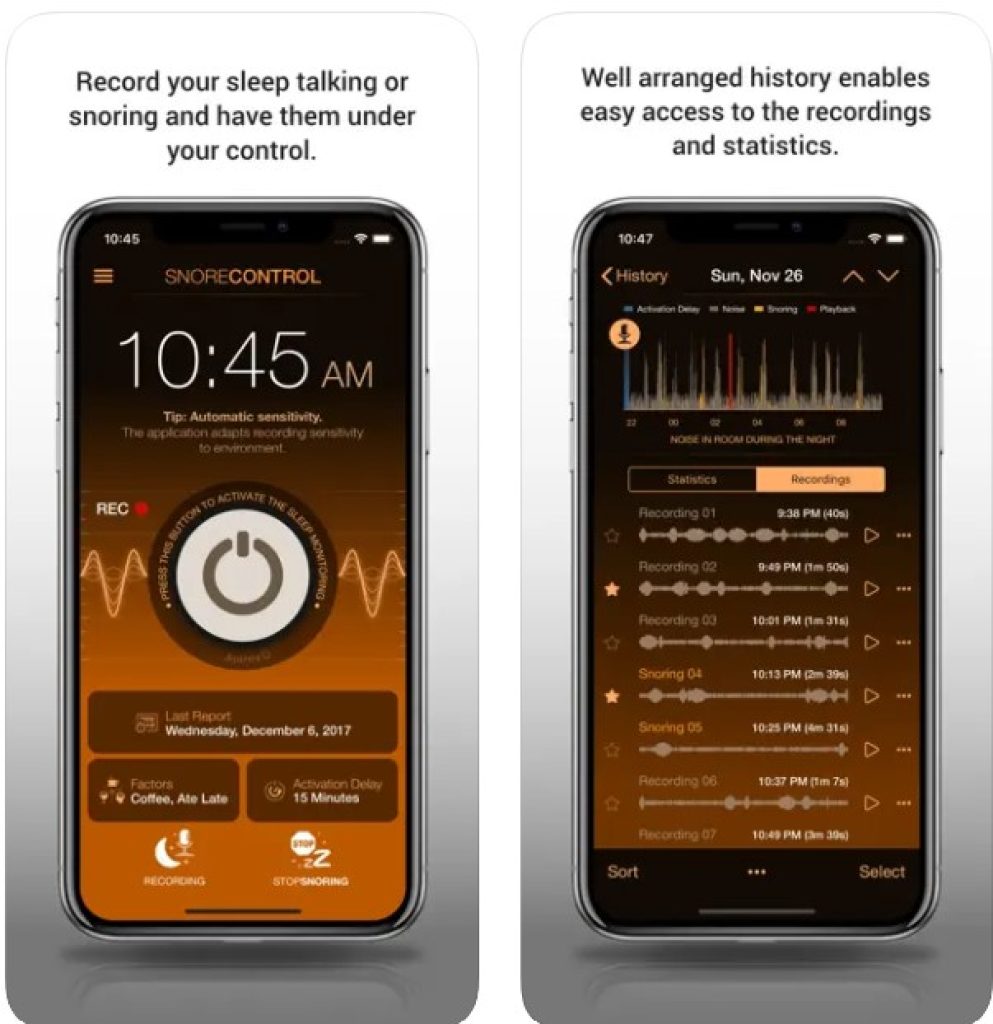 You may also like: 9 Best Sleep Apps for Apple Watch
SnoreTrack – Track/Coach Snore
SnoreTrack is an underrated app that definitely deserves to be on this list as one of your main snore recording tools. This app works as your sleeping-snoring calendar.
Another purpose of SnoreTrack is to improve the overall quality of your sleep. It will remind you to fall asleep in positions that do not cause snoring.
In all other aspects, this is quite a simple app. It feels like SnoreTrack is a compilation of all the most necessary features of the sleep tracking apps, thus, it would be suitable for those users, who don't like to spend much time on extra features and tools, but to use only what they need.
The app will record each night of your sleep and store it. You can open the calendar every time and see what type of snoring and sleep you had on a certain night.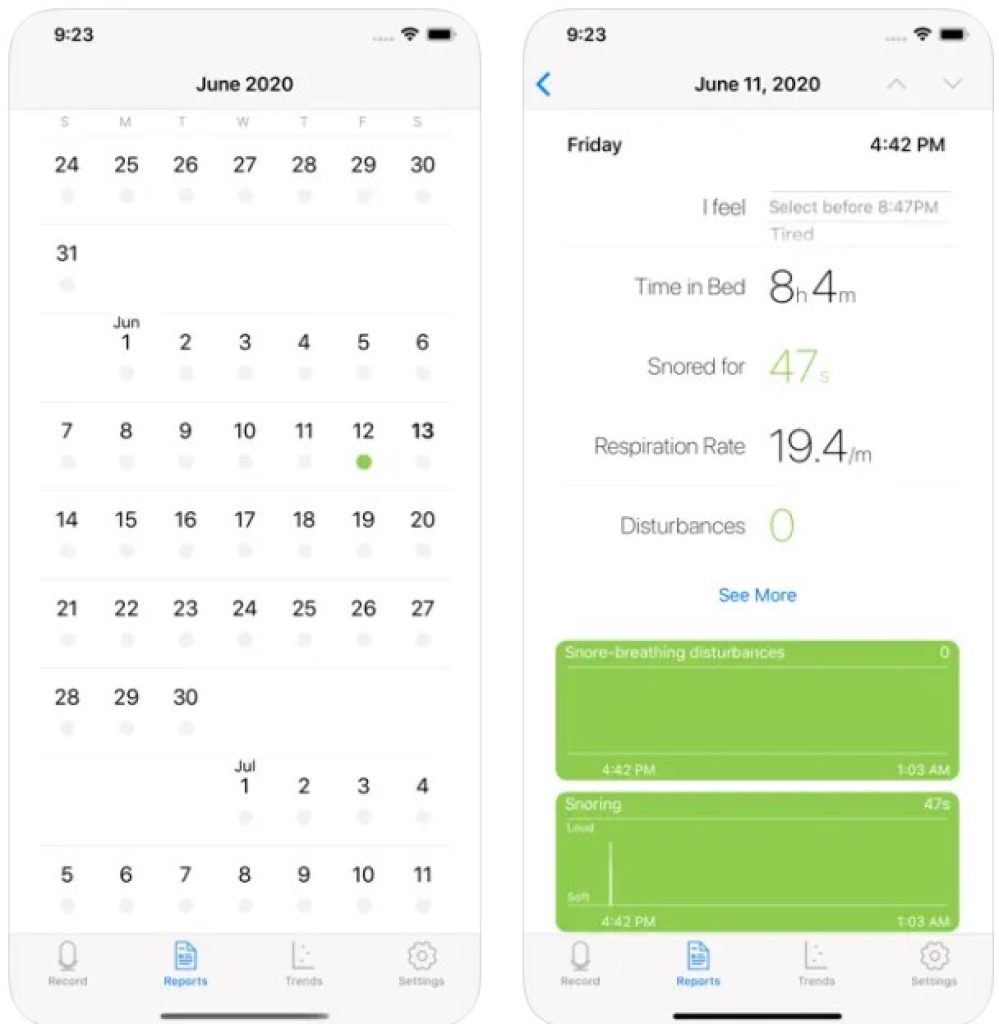 Snore Free: Stop Snoring Gym
As you have already guessed by the name, this is an analog of the SnoreGym app. It also contains a collection of special gymnastic exercises to train your muscles so you could reduce and eliminate snoring. The app claims you just need a regular practice of 10 minutes a day.
One of the advantages of Snore Free is that its range of exercises is much wider than SnoreFym's: here you will find more than 40 various practices. Most of them are targeting your cheeks and jaw. Apart from that, the app also contains useful tips, mediations, and more interesting information on how to reduce snoring.
In comparison to others, Snore Free has quite a simple interface design. In other aspects, the app works flawlessly.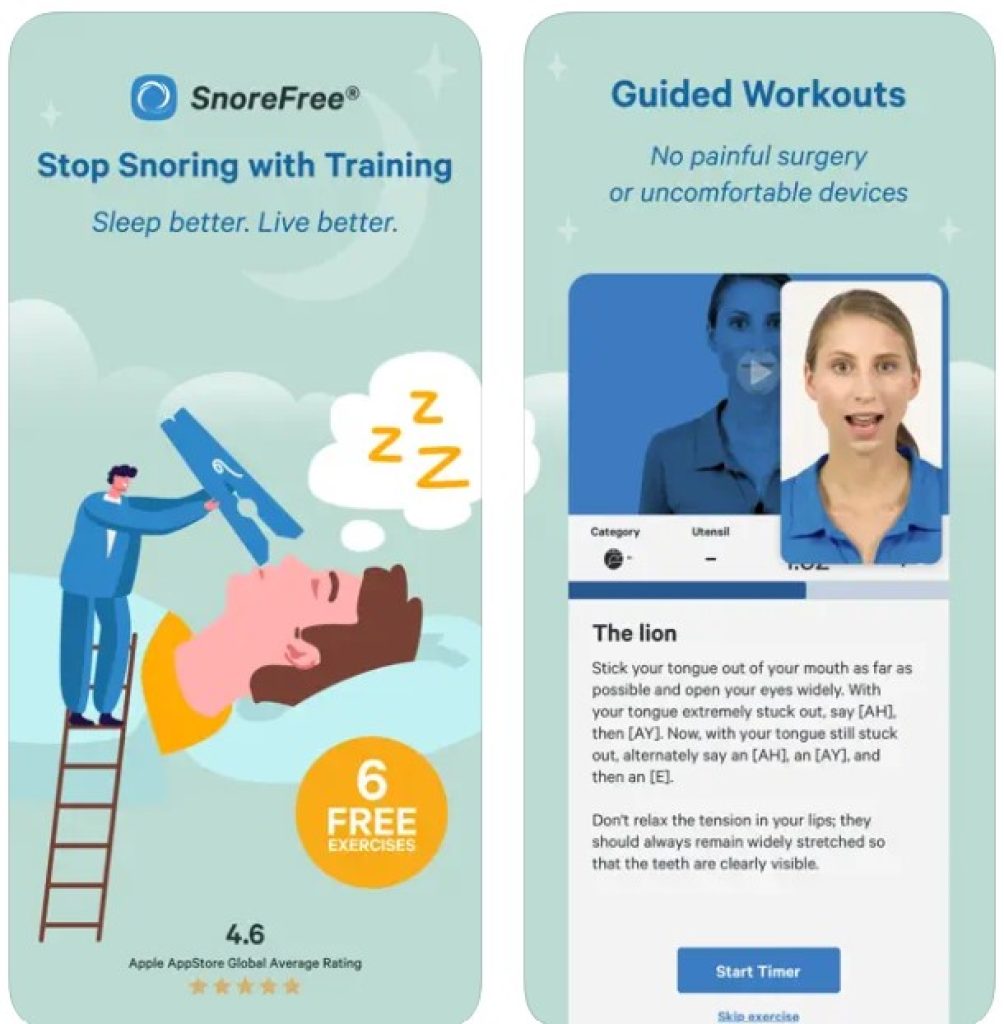 Sleep Monitor: Sleep Tracker
If you ever made an attempt to explore the sleep-improving apps, you've probably seen this one. Indeed, Sleep Monitor is one of the leaders of the industry in everything that concerns sleeping and analyzing sleep.
It won't give you too much in-depth snore analysis but for those who want to keep control of their sleeping in general, this is a nice option to go for.
Like any classic app in this genre, it records your overnight sleep, makes some basic analysis, tracks statistics, and so on. In the morning you can listen to the recordings and see if you snored or not. Sleep Monitor also contains tons of tips on how to get better sleeping.
And though the app is free initially, after a trial period, it will require a paid subscription for further usage.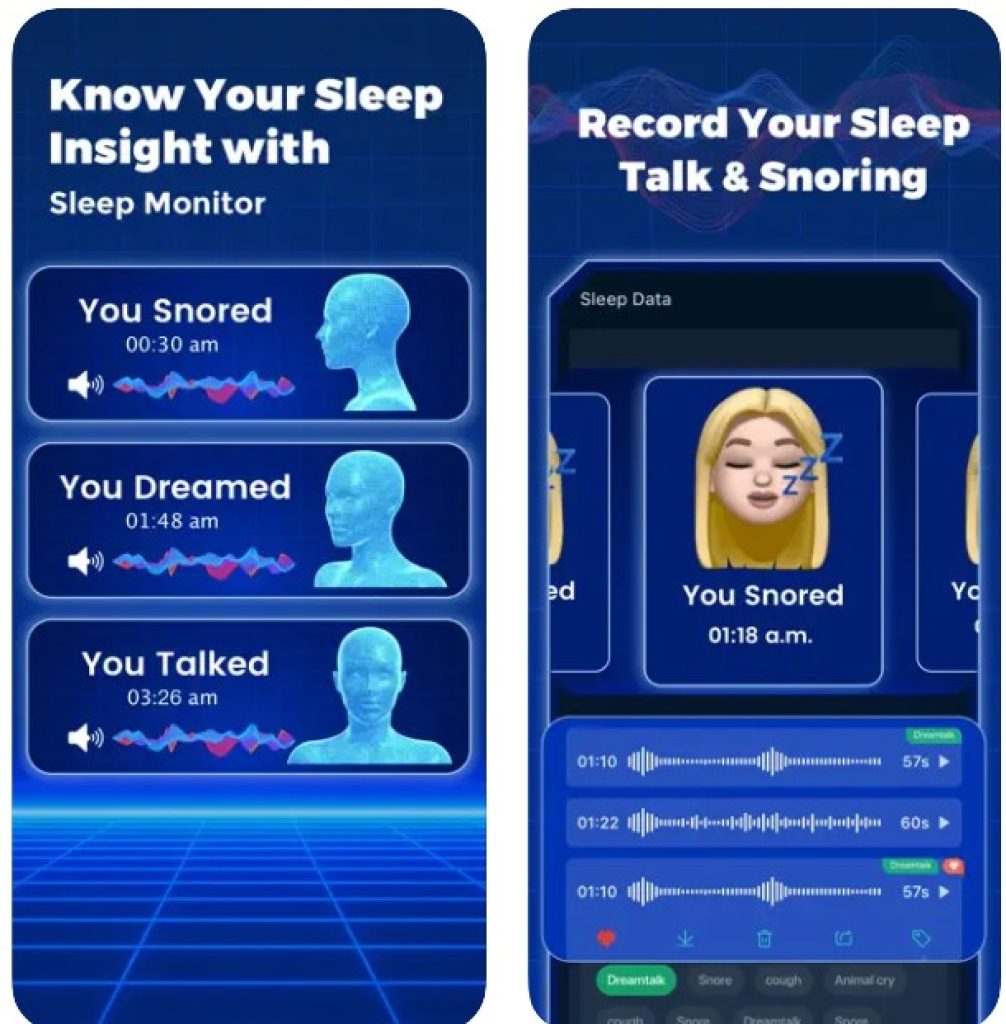 PrimeNap: Free Sleep Tracker
And just like the opposite to the previous app, we found one that is completely free. It also does some basic sleep recording and analysis where you can track your snoring. Moreover, PrimeNap comes with a gentle alarm function that will help you to wake up in the morning.
We won't name all the basic features of any sleep recording app that any application of this type has – we will name only the unique ones. Among them, you can discover a sleep diary – a notebook where you can record or write down your dreams.
There is also a feature of the multi-touch snooze so you wouldn't be awakened too sharply and not overslept as well. In other aspects, PrimeNap is quite a basic app with a basic interface design – but don't forget, it's a free app, which is rare for this category.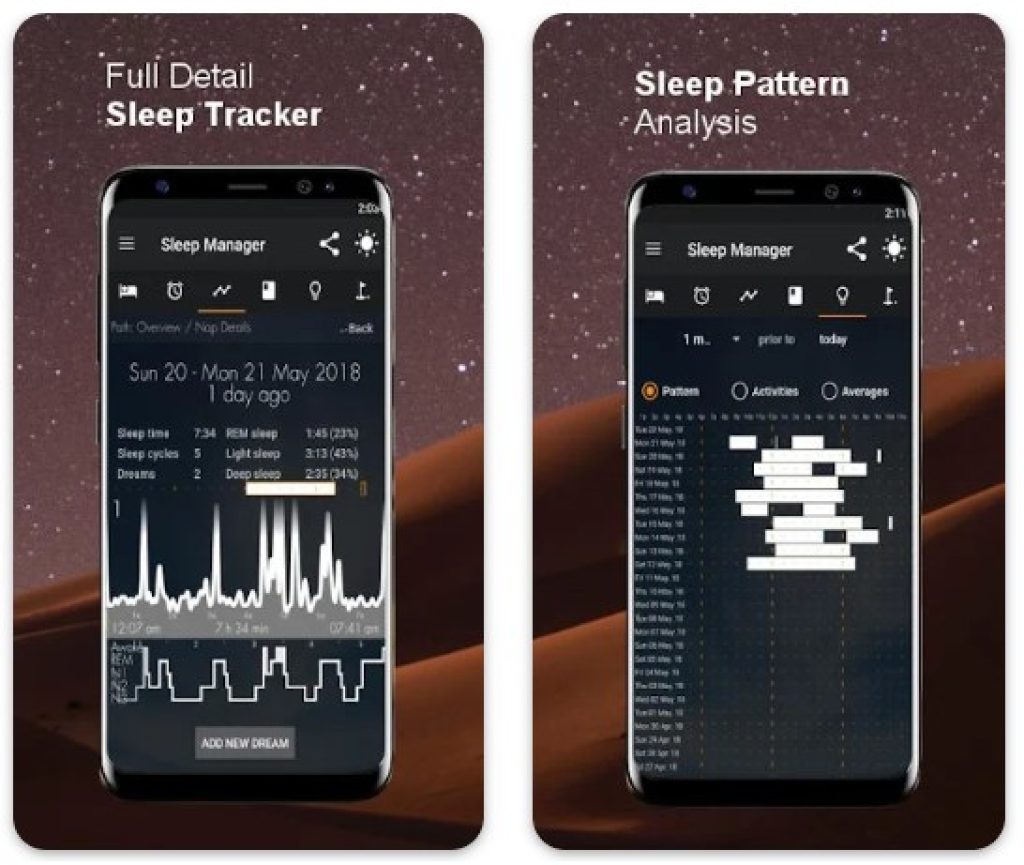 SnoreApp: snoring & snore analysis & detection
This is a simple app for snoring recording. And even though its name says it is a special app for sleep and snoring records, in fact, this could be a regular voice recorder and it would make no difference. This app will be suitable for those who just want to make the records of their snoring and that's it.
The interface design is quite plain and a little bit obsolete. The app can detect the snoring on your recordings though and makes the basic statistics. Another advantage of SnoreApp is that it's quite lightweight and it's free.
Moreover, SnoreApp can be synchronized with the smartwatch (not Apple Watch, it's available for Android devices only). In general, the app is good, except for some minor bugs on some devices.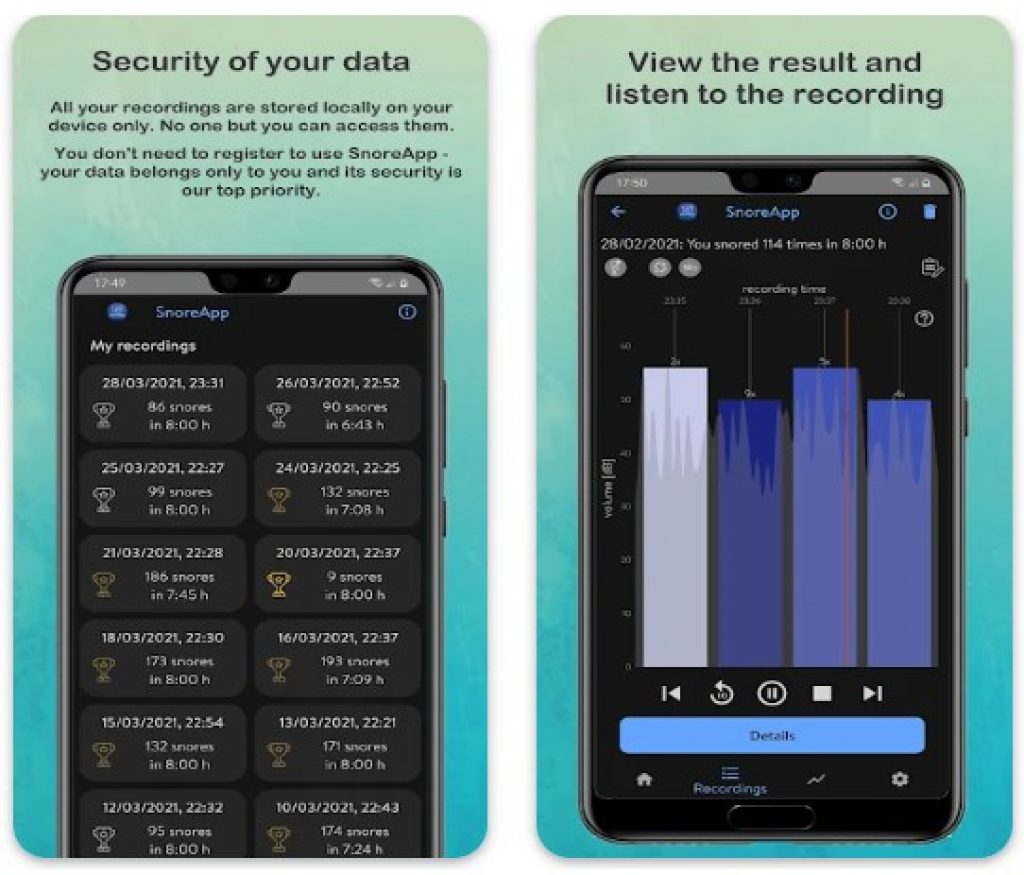 Voice Activated Recorder
This is not a snore analysis app – but if you only need to record your night snoring you don't need more. As you already guessed by its name, this voice recorded is getting activated by the sound of the voice. You can leave it running overnight while you're sleeping and if you snore, the app will record that.
As we mentioned earlier, the main problem with all the sleep and snore analysis apps is the fact that they are paid. You can do this little lifehack and get yourself a regular smart voice recording and get the same quality recordings and statistics of your sleep as you would have with the paid subscription.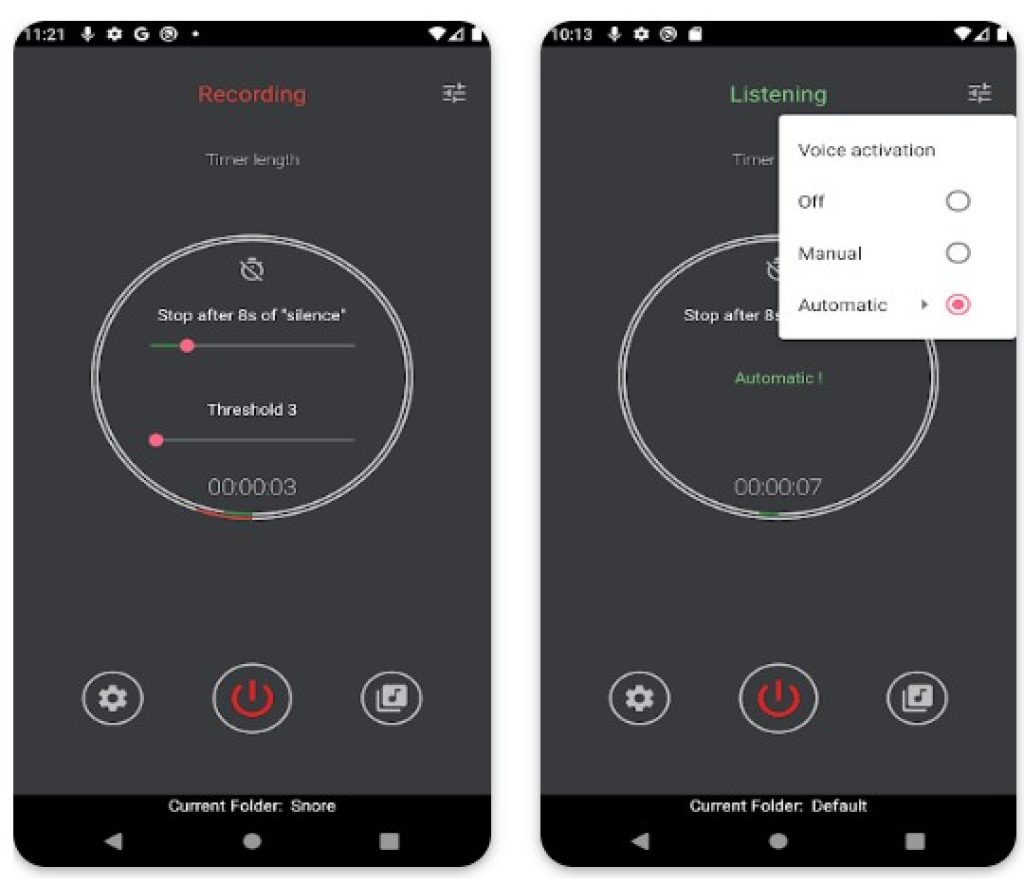 Sleep Cycle: Sleep Tracker
Another quite old and reputable app on the market. The name of this app speaks for itself – it helps you to improve the quality of your sleep.
The app is very convenient in usage – at the beginning, you will see a quick guide on how to use it. In fact, that usage is easy – just put a mark into the app when you go to bed – and it will record all the sleep automatically. It won't record every minute of it though – just the most essential moments, including snoring.
Then, on the diagram, you can view how many times at night you snored. Unfortunately, the app won't tell you the reason for it, it just analyzes the depth of your sleep. And there is a gentle alarm feature to help you wake up smoothly.
All in all, Sleep Cycle is a nice app, but it has one peculiarity like the majority here – only the 30-day trial period is free.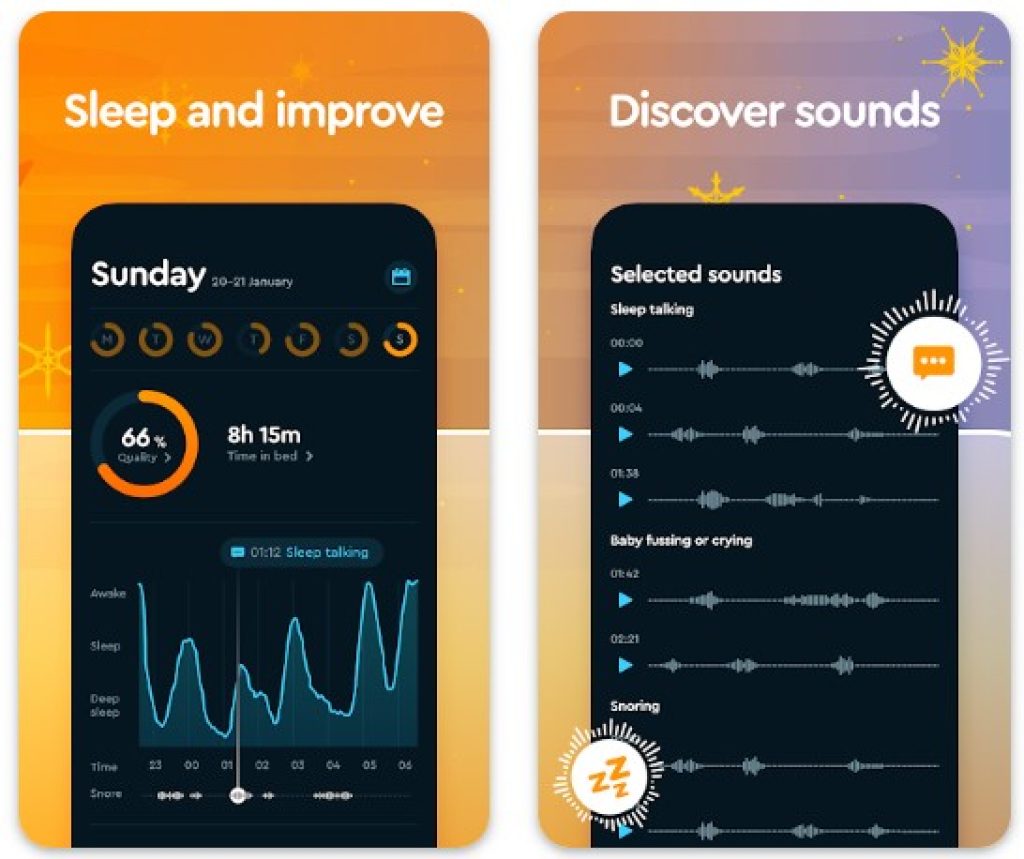 Snoring Analyzer
Not the most multifunctional app on this list – however, it will be suitable for those who don't want to spend money on it or spend time trying to understand a difficult interface.
Just leave it running before you go to sleep and Snoring Analyzer will detect the moments when you snore and record everything. In the morning you will be able to listen to those records and analyze your snoring possibly identifying the problem of it.
Moreover, the app contains useful tips and information about how to reduce snoring and get rid of it. Once again, don't expect much of this analyzer – the negative feedback of many users can be explained by their unrealistic expectations. Like, you don't expect much from a totally free app:)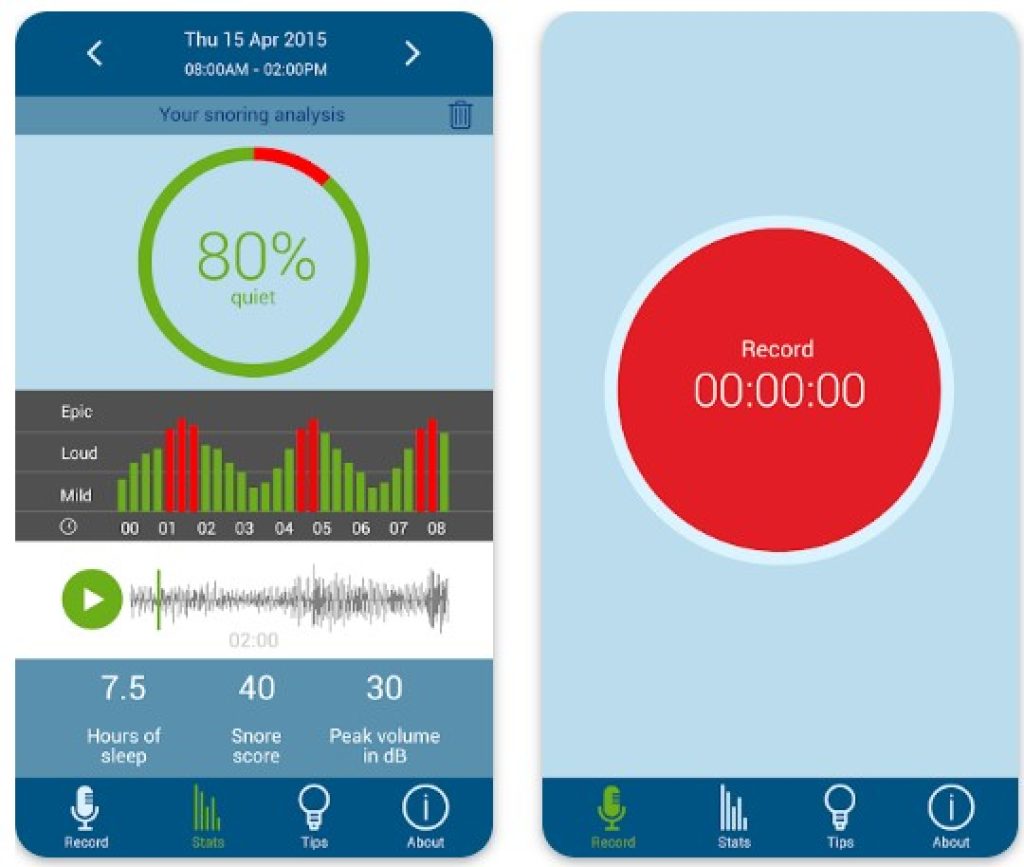 You can also check: 11 Best apps to check room temperature (Android & iOS)
Sleeptracker
As we have mentioned before, there are many sleep tracking apps on the market and most of them are working with snoring. Bad thing is that usually, they offer just some basic recordings and nothing special.
Like this one – Sleeptracker – will do the general analysis of your sleep, including snoring analysis. It works according to the same scheme as the Sleep Cycle app. The main difference is in the interface design. It seems like here the developers put more thought than the developers of the latter app.
Moreover, this app is just an addition to the special sleep tracking hardware that you need to buy first for the total qualitative analysis. Yes, it sounds complicated, but if you really want to get a high-end data and analysis about your snoring and sleep cycles in general, you can go for this option as well.