Are you looking for more digital tools to increase your music productivity? Then look no further than these free sheet music scanner apps. With those, you will be able to scan and save the notes' images to your device and carry them with you wherever you are.
And in addition to the sheet music scanner apps, you might be interested in apps to learn to read music, in case you're only a beginner on this journey.
MuseScore: sheet music
This is a universal music sheets scanner app that will become your assistant in case you're playing a certain musical instrument. Here you will get access to more than one and a half million free note sheets. There you will find the piano notes, guitar music sheets, and other instruments.
Also, MuseScore includes music compositions for any taste, starting from classics and ending up with gospel music. What is more, the app allows you to scan and then play the favorite no cheats in the online and offline modes.
Before you start using the app, you need to preview the instruments catalog and make sure that the instrument you're playing is there. You can search for certain compositions by applying the certain filters that you will find in the app.
If you found music sheets that you especially like you can add them to favor so you don't lose them because there are so many of them in MuseScore. Of course, you can always scan your own music sheets and import them to the app and then practice later. You can zoom in and out pictures so you see every detail.
The app also comes with the pro version and it includes some extended features, such as volume regulation, the possibility to transpose the notes to any pitch, and the possibility to export music sheets into pdf, MIDI, and other formats.
All In all, MuseScore is not just any app for scanning music sheets, it can become your true music teacher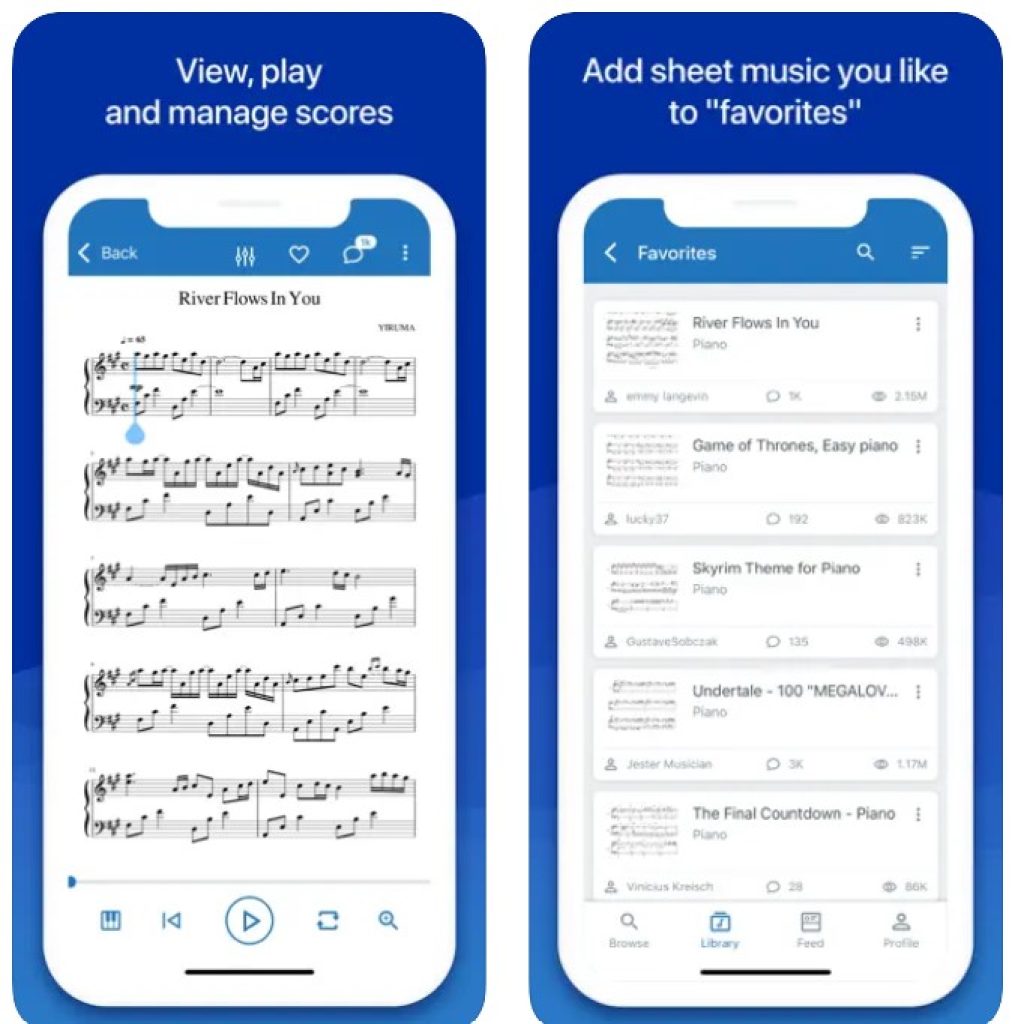 You may also like: 7 Free Music Platfroms for Artists to Upload Music
Musicnotes Sheet Music Player
This is also quite a complicated app for the management of music sheets and it will be suitable for professional musicians. It has an interactive mode so you could use it in your rehearsals and even in your performances. There is a transponder instrument that allows you to alter the music keys.
You can also add the music sheets right in the app by using the virtual pen or simply your finger. What is more, here you can organize your music Shades into the setlists so you always have quick access to them.
And obviously, it has the music sheets scanner feature, which allows you just can note from any surface and then add them to the app. Later, you can convert those notes to live melodies or just save them as music sheets. Musicnotes Sheet Music Player is totally free and it can serve you as your eternal music storage.
Therefore, your music library will always be in the palm of your hand. Music notes provide offers for all the qualification levels for piano, guitar, voice, flute, and other popular instruments. The music of all the possible genres can be found here, starting from classic compositions and rock and roll music.
They're also some extended features for adjusting the music, switching the music keys, adjusting the tempo, and adjusting the volume the majority of them are available only in the Pro paid version of the app.
So it's up to you if you just want to use this app as your regular music sheets scanner, the free version is more than enough. But if you want to use it as your music notes manager and you want to keep all your music compositions in there and create some new music, then probably makes sense to go for a pro version.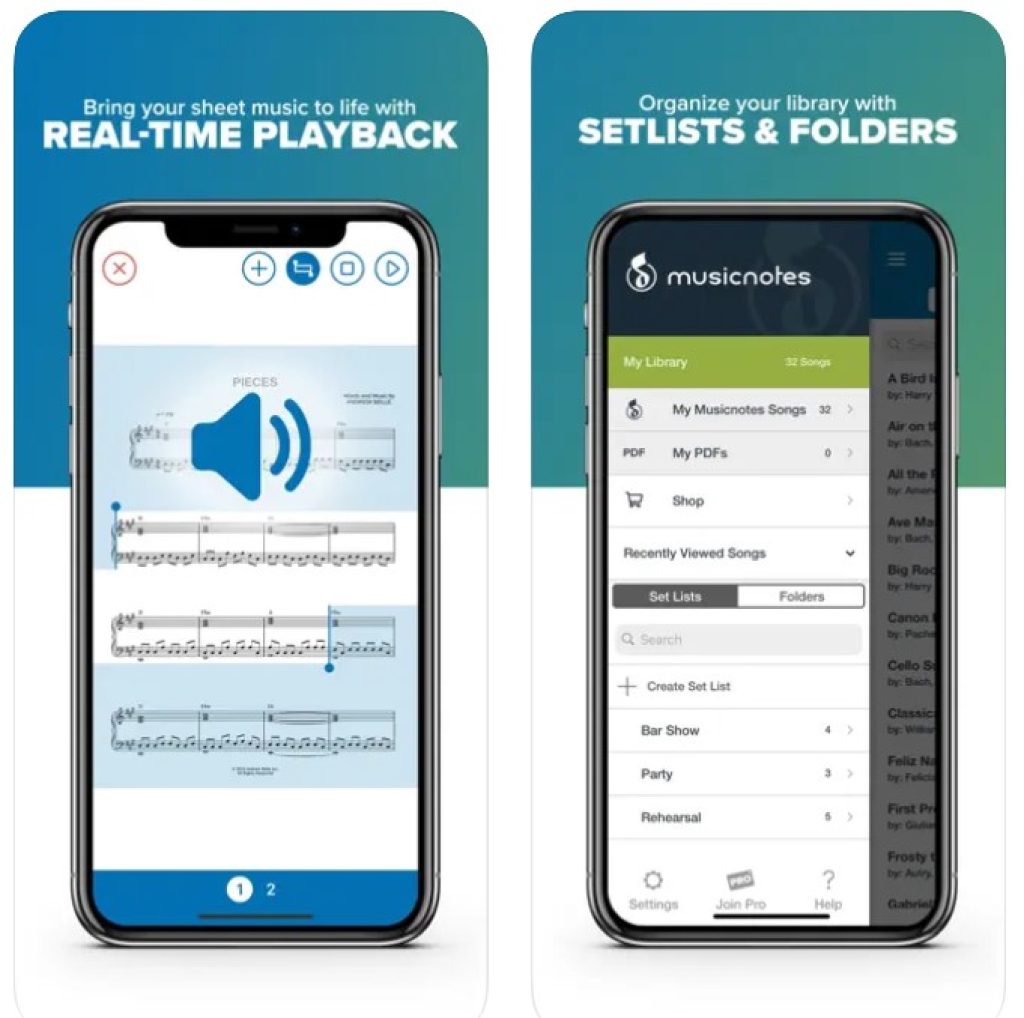 MobileSheets
First of all, pay attention that this app is a free trial version of a paid application. It contains a wide number of features that would be useful for any professional musician, and of course, it includes sheet scanning.
By the way, the last one is available in the free trial version as well. Just remember that your time with MobileSheets is limited.
It is even hard to name all the aspects and features of the substance there's really a lot. First of all this app allows you to view the music sheets in several modes, for example, you can view two pages simultaneously, half of the page, etc. You can switch the pages with your hands, or with your Bluetooth devices, and so on.
And the app is capable of converting the music Shades into music tracks. There's a metronome with several modes and sound effects. And I do not lose or forget any music sheet page, there are bookmarks for easy access. The app supports several file types come including PDF files.
You can easily scan and upload the music sheets to the app, and it's remarkable for having a strong AI feature that will recognize and read the notes from the sheet and will transport them to the app.
You can add those pages, paint on them, highlight the necessary parts, and so on. It's recommended to use this app on your tablet rather than on your phone.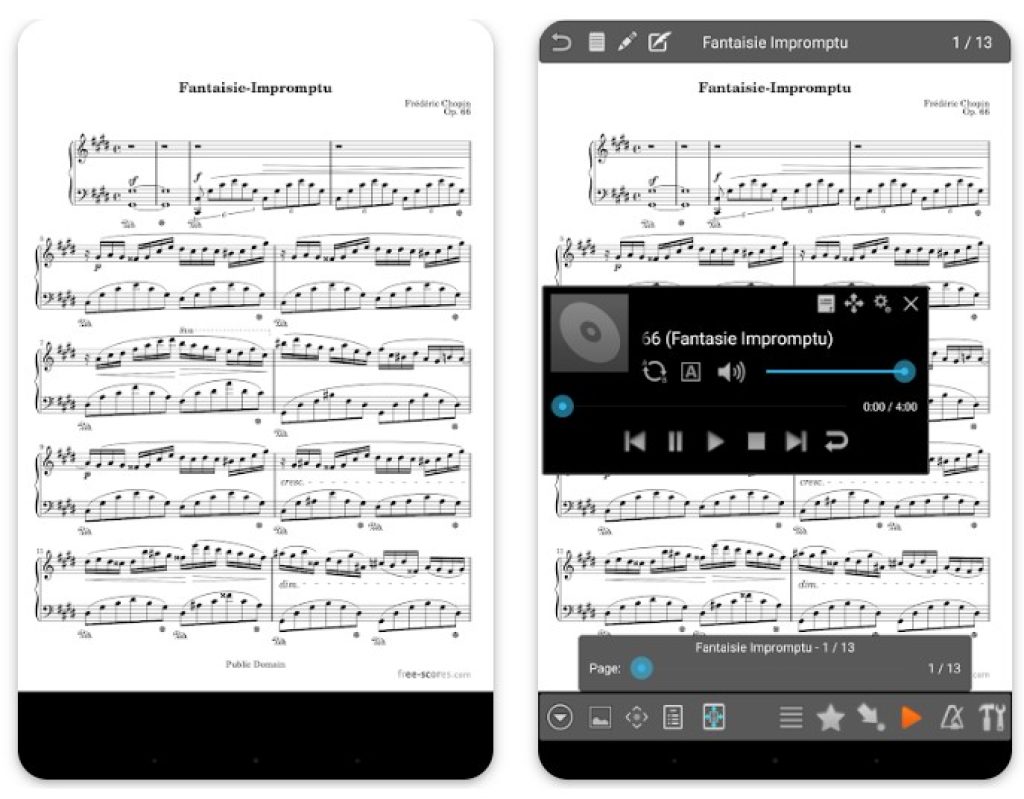 You may also like: 11 Best Apps To Add Background Music To Video (Android & iOS)
PlayScore2 needs hi-end camera
This app was created for you to upload the music sheets and then this app recognizes it and process it and then places it.
Here you can scan your music sheets in several ways, using your phone's camera or uploading documents right to the app it doesn't matter. Then you can review the reading music as the piano list. You can edit the sheets, adding paintings, highlights, and so on.
After that, you will be able to download that list in PDF format or even media format it's up to you. The artificial intelligence feature built into this app really does a good job of analyzing the music sheets.
So if you want to have an app that can read the music from the sheets automatically, this is a nice choice. But keep in mind that this app cannot divide notes for different instruments and it cannot detect the whole music by 100%.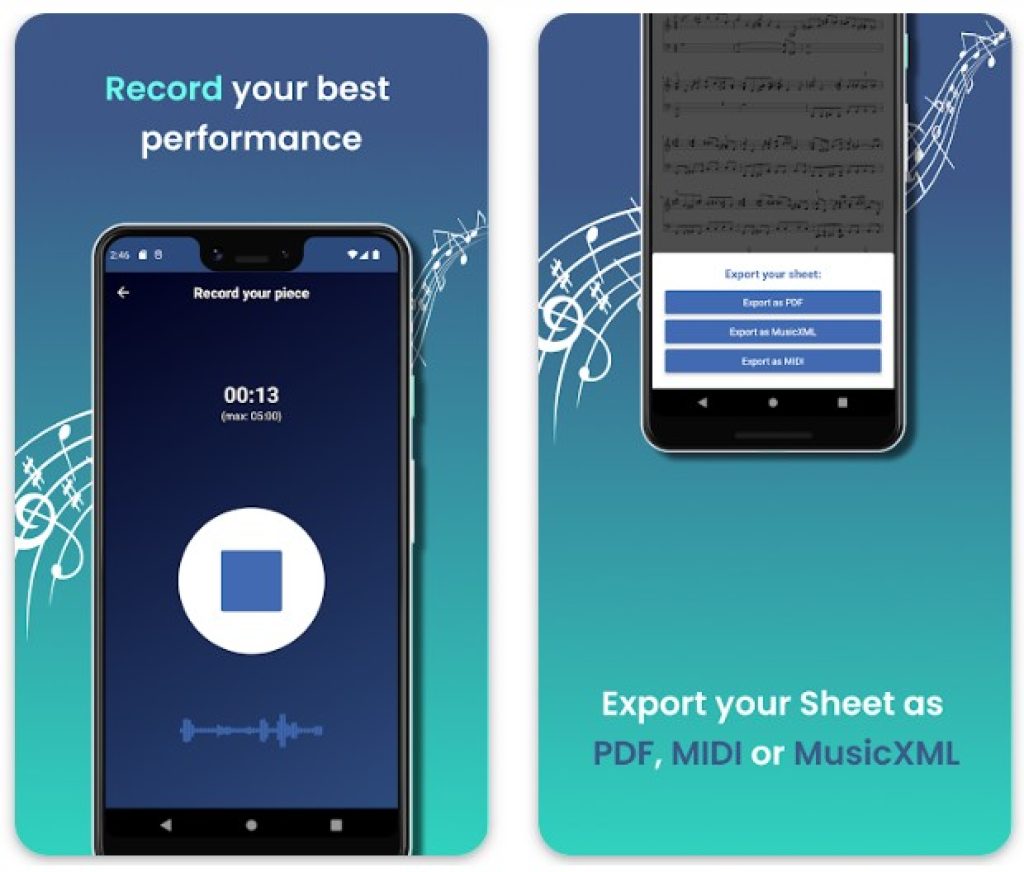 Midi Sheet Music
This is a free application for all devices to scan your music sheets and then convert them into media music. It also allows you to highlight some notes and insert another edit if needed.
Here the midi notes are presented with more than 50 piano classic songs, starting from the classic composers and ending with the popular melodies.
Frankly speaking, midi sheet music doesn't provide a lot of opportunities in terms of scanning the sheets because here you can only basically take pictures of your notes and then just transport them to the app, but it works decently and really makes any mistakes so that's a trustworthy thing.
And in case you just looking for a simple music sheet scanning up without any extra features and complicated schemes, this is a perfect choice for you.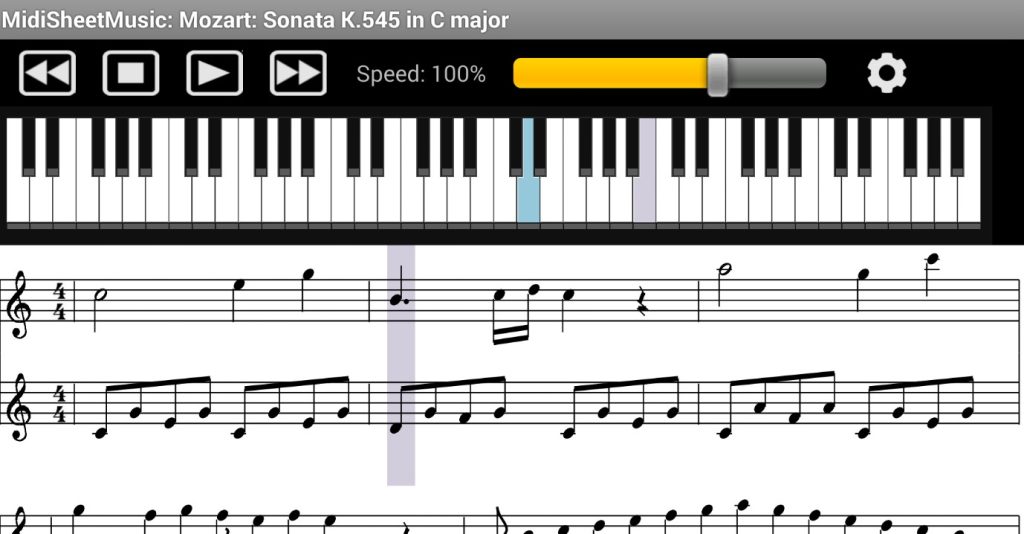 Soundslice
This is a reliable and trustworthy resource to scan your music sheets. Basically, it can do all the same things that the apps we've already mentioned in this list, but online. You need to create your account and then upload the pictures of the music sheets to the website. The process of import takes about one minute.
The service can read all types of music notations. It doesn't matter which instrument you are playing – you can still upload and process your music sheets here.
Or, if you are using the mobile version, you can take pictures right there. By the way, here you can edit the music notations as well. But remember that the service gives you only one month for the free trial period.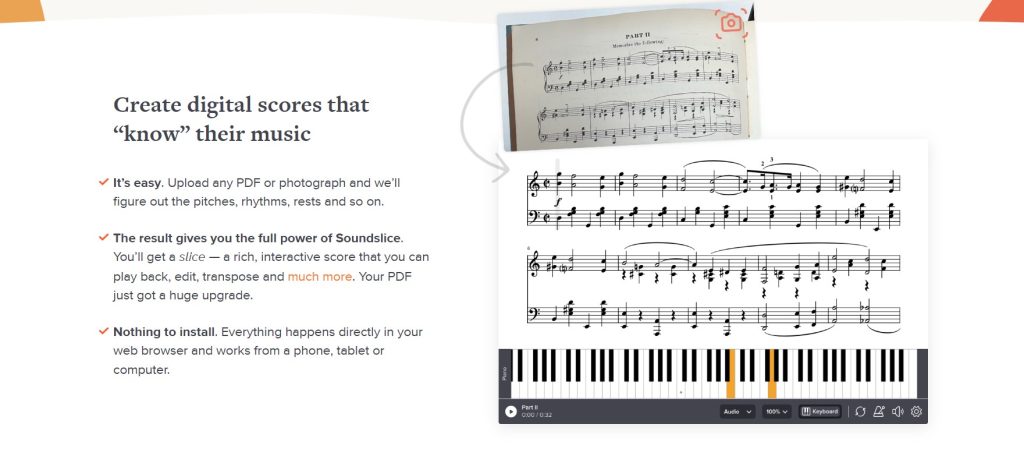 You may also like: 7 Best Music Speed Changer Apps 2023 (Android & iPhone)
IMSLP
It might be not really easy to find this app on the digital store, but it turned out to be a hidden gem. It allows you to create your own music notes library and manage it. And the initial collection of notes that you will find in IMSLP is quite decent and you can pick up something from there.
In IMSLP you can also view and annotate scores with our built-in score reader. Here you can browse and download scores from an award-winning collection of more than 500k+ note sheets. Just add those scores to your library and you will be able to listen to them anytime, anywhere.
Speaking one more time about the music sheet scanning ability of IMSLP, it is capable of recognizing and reading your notes but if the composition is too complicated or the notes are poorly visible and written it can give errors.