Undertale is an interesting game in the RPG genre with its plot and entertaining gameplay. The storyline leads players all over the world of Undertale, which is full of different mysteries and riddles.
In the game, you become a little child in a wonderful world that you need to learn and even get out of various strange stories. The game has not only puzzles but also battles, obstacles, and terrible secrets. Unfortunately, Undertale is not designed for mobile devices, which is why players need to look for alternatives.
In general, similar games can be called different RPG applications in which you can find different puzzles and interesting stories. In some of them, you will get into a hostile world, in others, you will simply meet unusual creatures. Maybe the list of 11 Best Games like Life is strange for Android & iOS will help you find such games as well.
Also, a feature of Undertale can be called a lot of different endings, which depend on your decisions in the game – this is difficult to find even in the best applications. We decided to find for you 11 Best Games Like Undertale for Android & iOS.
OXENFREE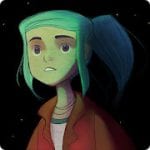 Originally OXENFREE was for computer users, but now you can easily install it on your smartphone. In order to fully immerse yourself in the atmosphere of the game and begin to sympathize with the main characters, we recommend watching the trailer, where you will immediately fall in love with the surroundings of OXENFREE.
The immediacy of the main characters, the mysterious atmosphere of the island on which they stay, a little mystical and supernatural – for these reasons, the game is so loved by users. You will play for Alex – you will have to choose all the replicas and perform important actions.
All the power and atmosphere of OXENFREE lies in the dialogues between the heroes – you will immediately feel that you are in the role of a teenager. The relationship with the other characters will also develop depending on which answer option you choose in each dialogue.
It's worth noting that you don't have much time for thinking, so most of the selections you'll need to do in a hurry. There's a lot of endings in OXENFREE – as you can imagine, it's up to you and your dialogs.
However, all these finals are not fundamentally different from each other – rather, they can be called different states of the game universe in which you find yourself. You will understand it yourself if you decide to pass the game several times.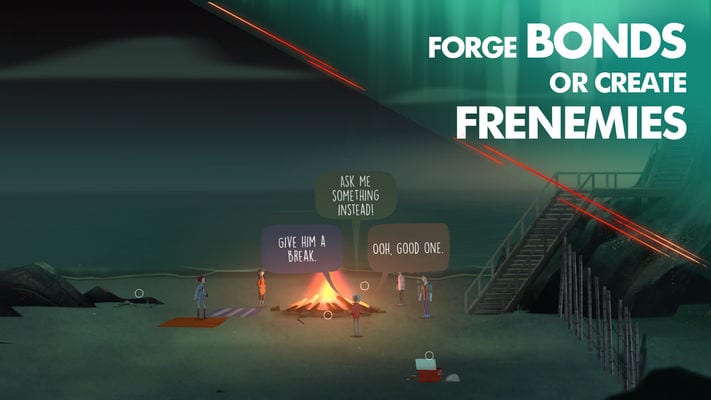 You may also like: 11 Best Horror game apps
To the Moon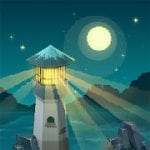 The ability to fulfill all the desires is a really magical and even unreal thing. But in the game To the Moon, it will become a reality because you find yourself in the future, where the wishes are fulfilled by a special agency.
However, there is one nuance – a wish must be only one and will execute it only a few hours before death and only as part of the subconscious.
Anyway, this development is quite fantastic, so you have to become one of such performers. To the Moon offers you to play the role of the employees of the Wish Execution Agency – doctors with different characters and even different gender.
In the game, your task is to fulfill the wishes of a dying old man, and his dream was to fly to the moon. In order to reach the very moment of dream fulfillment, you will need to study all the contents of his memory, looking through all the details of the old man's life.
In the Moon, a lot of attention is paid to details – even those that at first glance may seem insignificant to you. Even small things scattered around the old man's memories will become an incredibly important part of the story in the future.
The gameplay will be a constant movement through the locations where you will collect items and solve puzzles. To the Moon will be for you a gaming interactive book, which will bring a lot of fun while reading it.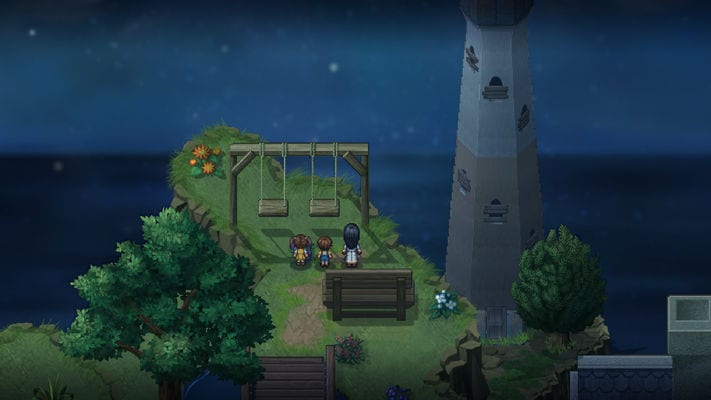 Peace, Death!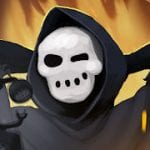 If you are familiar with the game "Papers, Please!", the game Peace, Death! will seem to you an interesting parody of it in a different world. It is an arcade simulator, where you will play the role of Reaper – assistant to Death.
Of course, almost all people are afraid of death, but not everyone understands that she has a hard enough job and sometimes you just can't do without helpers.
The work is difficult and ungrateful, but in Peace, Death! you will need to face it personally. The game is not the easiest among arcades – it will encounter difficulties and tasks that will even make you panic.
The story begins quite simply and even funny – your character has absolutely no means for a comfortable existence, so he has to go to work. Peace, Death! offers you the role of a kind of court in Purgatory, which will send people to heaven or hell.
As with any job, there is also a probationary period, which you will have to endure with good grades. In Peace, Death! in total, there are 47 levels on which you will only distribute the souls of people between heaven, hell, and purgatory.
In Peace, Death! There are many interesting features – for example, as soon as you see a mirror at the level, you'll need to do the opposite because here Hell and Paradise change places. With other funny things, you will encounter already in the game.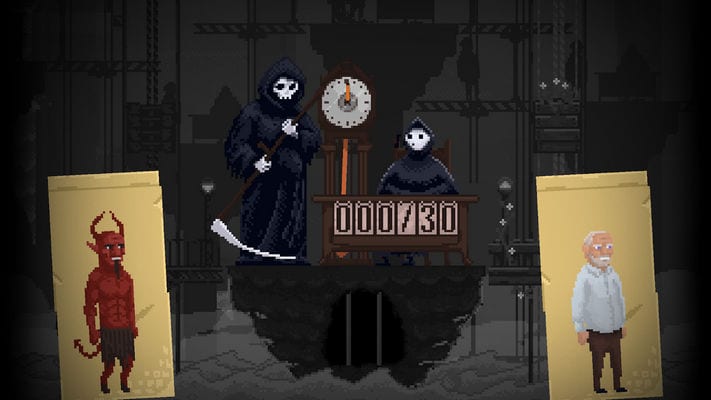 Choice of Robots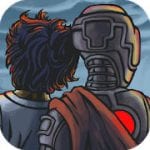 Many games that claim to have multiple plot endings can disappoint users. If you are waiting for radical plot twists depending on your choice, then you can find them in the game Choice of Robots.
This is an interesting interactive novel with RPG elements and a great story. It can safely be called one of the few games where your choice will really matter.
How about you take over Alaska and become the sole leader there? Alternatively, you want peace in the world and help people while living in love and harmony with the robot? All this you can realize in the Choice of Robots.
The game has a huge number of proposed elections, each of which you will need to think about. Be prepared to read quite a lot here – the developers claim that the game has more than 300 thousand words of a science fiction novel.
In Choice of Robots, events take place in the near future, and you play the role of a young robotic scientist. Only you will determine how the relationship between people and robots will develop in the future.
Passing the game will take you a total of about 5-7 hours, and it is worth noting that it will be a pleasant time spent almost like in the company of a good book.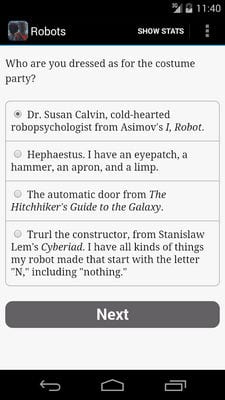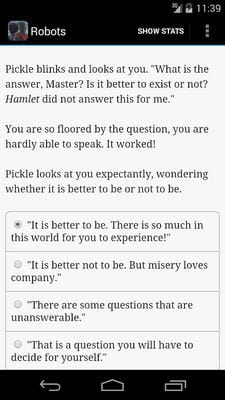 Lily's Day Off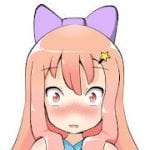 Lily's Day Off is another visual novel where you will become the main character interacting with all other characters.
The game can't be called a typical or banal visual novel – in the process of communication and making different choices, you will learn the characters of all the people around you, and each of your routes can radically change them.
Lily's Day Off starts with getting up on the side of the road while seeing the real idol in front of you. You should agree that there is something unusual about it.
Lily is the superstar that you meet. How your relationship will develop in the future will depend only on you – you can become friends, a couple in love, but also you can kidnap or even kill her.
In fact, the game gives you complete freedom of action – even in the most brutal manifestation of them. It is worth noting the graphics of Lily's Day Off: your dialogues and interactions look like a school notebook or diary, which makes the game nice enough and gives it a little school charm.
In the game, you can find not only cute scenes with a pretty girl but also real scenes of violence – of course, if you want it. Lily's Day Off has 16 completely different endings, so you can play the game at least 16 times.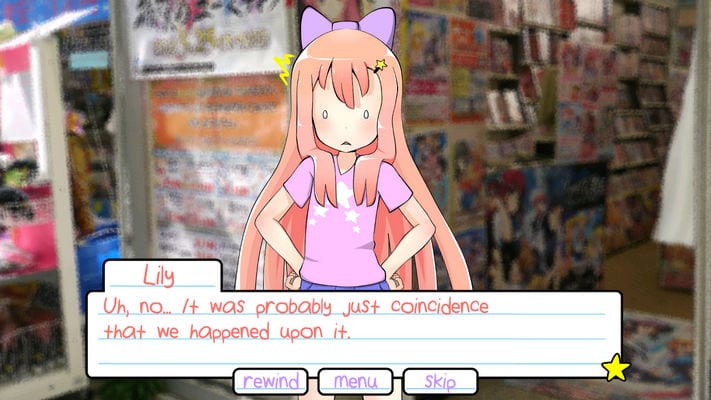 You may also like: 11 Best Visual Novel Games for Android & iOS
Kaori After Story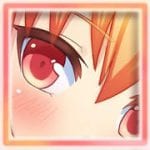 Role-playing games with romantic relationships are in demand among users. Kaori After Story game is just such a game – where you will be involved in a romantic relationship, in which you will be as close as possible to know the main character.
Kaori After Story can be called a comedy sequel to "Ace Academy", which is also a visual novel. There is an excellent voice, a huge number of elections, and an interesting story, which has even adult and vulgar moments for fans of the genre.
According to the plot of the game, you have just finished your studies and are looking forward to the Christmas holidays. You are a guy who was invited by a girl named Kaori to celebrate Christmas together with her family and another friend.
In Kaori After Story you will get to know all her family, as well as try to get to know the girl closely – along with her mysteries, secrets, and experiences. The mood of the heroes can change suddenly and you will need to adjust to them, choosing the most appropriate options for replicas and actions.
The whole game is created in anime style, so the emotions and facial expressions of the heroes are often hypertrophied – but we know that among the players there are a huge number of fans of this genre.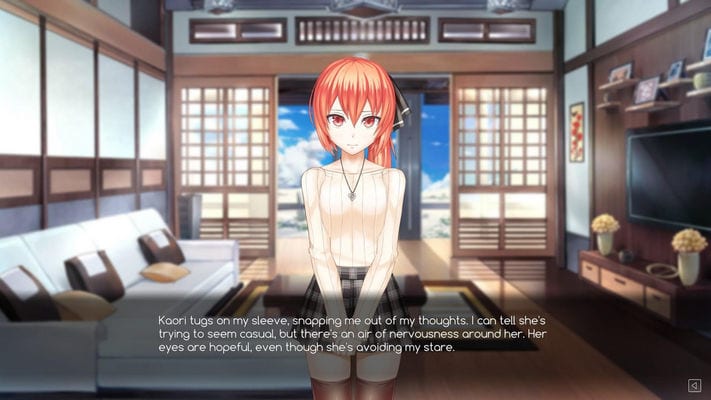 Strange Telephone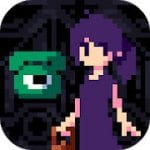 There are a lot of romances among the games we have collected, but we try to collect different genres and types in one collection. Strange Telephone is an adventure game, but it is quite difficult to refer it completely to any genre.
In it, you will find elements of quests, puzzles, and other genres. Such a mixture of styles did not make the game terrible or strange: Strange Telephone is interesting, and the main character will be the object of your endless sympathy.
Separately note the atmosphere of the game, which was successfully transmitted by the developers with various details.
In the story, you find yourself in the role of a girl who is locked in a dark room with a single door. The only company you have is the phone, which looks old and decrepit.
Your goal is to get out of this room, but for this, you need to find the necessary key to the door. Strange Telephone offers you to move from one dimension to another, finding in each of them not only hints but also monsters with beautiful scenery.
If you suddenly reach a dead end, the phone will help you – just call the right number. But do not abuse this opportunity: all in all, Strange Telephone gives the player 5 calls, after which the old phone will be disconnected forever. Interest is added by the variability of finals, and we recommend to get to each of them.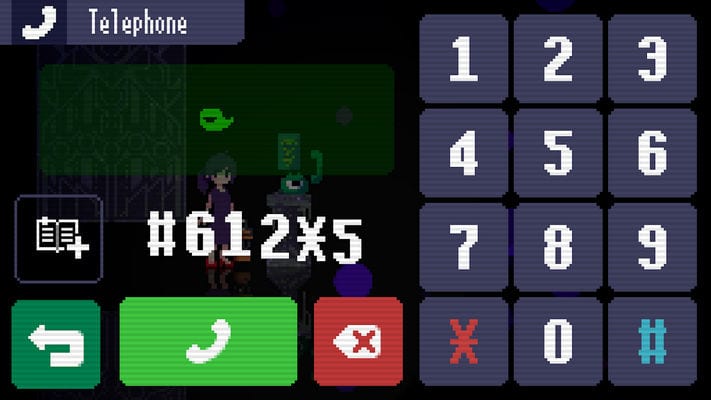 7Days : Mystery Puzzle Interactive Novel Story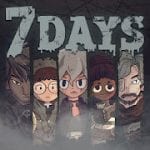 If you are tired of classic and boring games, you can discover quests with multiple choices. 7Days is an adventure game with many puzzles, which is implemented as a chat.
In chats, you will make all decisions and choices, and the route of history will depend on all the dialogues. You will die every time you make too harsh or wrong choices – so you are motivated to think carefully before each of your messages.
You'll have 7 game days to go through the story – at the end of each of them, you'll need to make some important choices. According to the plot of 7Days, each of the characters the messenger gave his own task, which will need to be done.
But its wording is so mysterious and weird, that you will not be able to figure out the essence of it by yourself. For this reason, you will need to cooperate with other spirits – well, or at least pretend that you are cooperating.
It is impossible to predict the consequences of your decisions so that the ending can change because of any accidental phrase.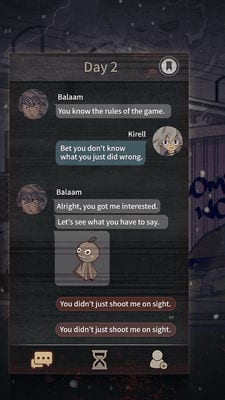 Always Sometimes Monsters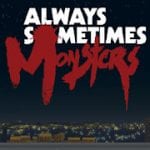 Not everyone likes fantastic stories, parallel worlds, and other elements associated with mysticism. In the game Always Sometimes Monsters there are no fictional lands and worlds, and only people will act like monsters.
You will start the game by choosing two characters – your hero and his beloved. This will not affect the story, but this way you can customize things a little. It should be noted that your gender, race, and even sexual preferences will affect the further development of the story. Who knows where your life will lead you?
Always Sometimes Monsters will tell you a story about a loser writer, who after a quarrel with a loved one finds out that she is getting married. There are a thousand questions in my head, and the most important of them is "How could this happen so quickly?
Suddenly your life collapses, your money is gone – and so are your future plans for life. Always Sometimes Monsters is an unusual plot shooter where you will try to get your loved one back with violence.
It should be noted that the developers thought more about the hidden meaning of the game than about the graphics: here you will meet the problems of racism, homophobia, and many other modern issues. Starting as the most trivial story, Always Sometimes Monsters can surprise you in the process.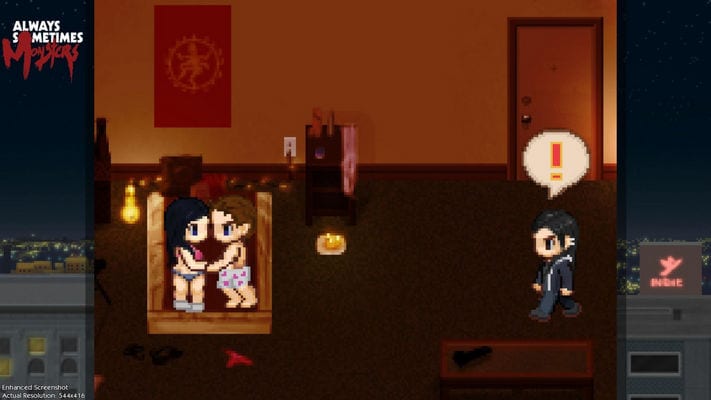 DISTRAINT: Deluxe Edition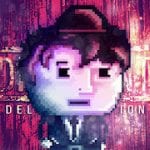 Typically, all stories in games and books are based on the fact that there is someone unique and unusual, often with non-standard abilities and thinking. The developers of DISTRAINT also tried to tell you the story of an ordinary and usual person, whose life suddenly becomes a real psychological horror.
Deluxe version differs from the usual one in that the visual component is improved, as well as the gameplay itself – there is no advertising or restrictions that could prevent you from passing.
By the way, it is worth mentioning that the visual part – for example, graininess – you can customize yourself.
Throughout the game, there are gloomy and dark tones, which are illuminated only by dim light sources. Your protagonist desperately needs money, which is why he has to perform not the most pleasant tasks.
For example, your first goal is to confiscate the property of an old woman, regardless of their moral principles and humanity. In fact, you are faced with a moral conflict of the hero with himself, because he stepped over his conscience and now regrets it.
Throughout the game, you will receive even more unpleasant tasks, which over time will lead you to one of the many dark endings.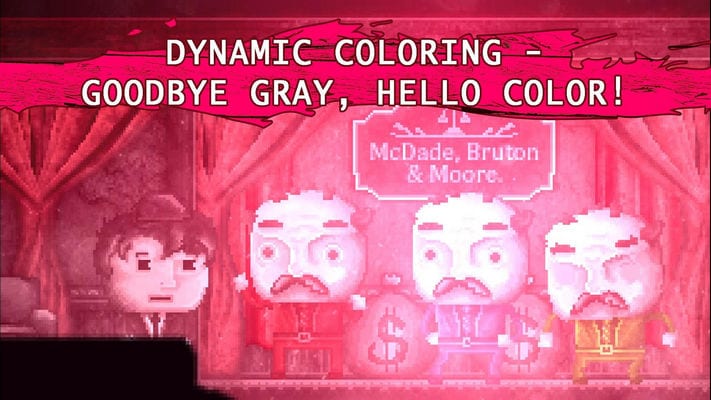 You may also like: 21 Free Puzzle Game Apps for Android & iOS
OPUS: Rocket of Whispers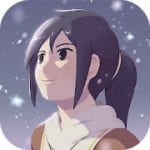 The plot of the post-apocalypse often becomes a basis for history in games and films. In OPUS: Rocket of Whispers you will be told a sad and melancholic story of life after the global cataclysm, which left only two survivors – a boy and a girl.
Each of them has its own complex life story and unique experience that you may need. It is worth noting that the developers of OPUS: Rocket of Whispers have woven together religion and science, creating their own concept of the game world.
This can manifest itself in the most unexpected way – for example, the church performs its rituals with the help of missiles sent into space.
Your task in OPUS: Rocket of Whispers is to rest all the souls of dead people by sending them into space with those very rockets. In the game, you will explore the neighborhood and collect parts for rockets that you do not have and that you will have to collect by yourself.
The whole craft of objects is a story, which limits the player a little – especially if you want to create something of your own. Note the interesting thing about spirits – in some places, there are so many spirits that you can hear them whispering on top of background melancholic music.
The games that are popular on all platforms have no full analogs. Any game that will copy the plot or game features, will be simply not interesting to pass. For this reason, we tried to find games that have similar features to Undertale but do not copy the game completely.
Among them, you can find gloomy or adventure stories, battles, and fights, as well as a huge number of puzzles and riddles. Mobile games of this genre will really drag you, and the storyline will not let go until the very end.
Funny, sad, dark moments, and even sometimes black humor – all this you can find among those applications that we have chosen. We hope that our article and searches could help you!