Children are our future. It is important for each parent to properly organize the time of their child, otherwise, the baby will grow up uncoordinated and irresponsible.
Sometimes we just don't have enough time to write tasks on a piece of paper and hang them on the refrigerator. We work in the office or are busy with other projects.
But what if you remembered important duties but are no longer at home? Forget about the notes on the fridges, it's time to move to the virtual world.
Apps with tasks and rewards assist you. We've compiled a list of the best kid reward apps for you. You will be able to properly organize your child's time, and the baby will receive a well-deserved prize.
The child will be motivated to complete duties. These apps are also easy to use and can be synced to your child's phone.
If you also want to educate your kids, then check these best reading apps for kids. There you find the best reading apps for kids.
Child Reward – chores, rewards, and statistics
Meet the first app on our list. It has a star point system. Parents will get an extensive set of tools to add tasks for children. Each task can have a different value of points. The more difficult the task, the more reward the child will receive.
The child will complete buildings and receive points. When the kid collects the required number of points, he or she will be able to receive a prize.
Download the app and create your account and your child's account. Then, sync your devices. Synchronization takes place in seconds. You just need to scan the QR code. The app constantly notifies parents about all completed chores.
Monitor tasks online. You can add or remove tasks for your baby at any time. If you have a lot of plants in your home, make it your child's duty to water them. This will develop responsibility. Add watering tasks to the app and your child will receive rewards.
The app's calendar will show your child's progress in completing assignments. You can also sort buildings by category. The app has advanced statistics for completing chores. You will be able to check statistics and give gifts to children for completing tasks well.
Child Reward has a stylish design that will please not only parents but also children. The parent will not get confused in the app because the interface is easy. All panels are simple. Add icons to tasks.
This helps the kid visualize the duty and make it more interesting. You need to select Parent Mode after registration to get the full functionality of the app. Child Reward shows you a tutorial on how to use the app after registering.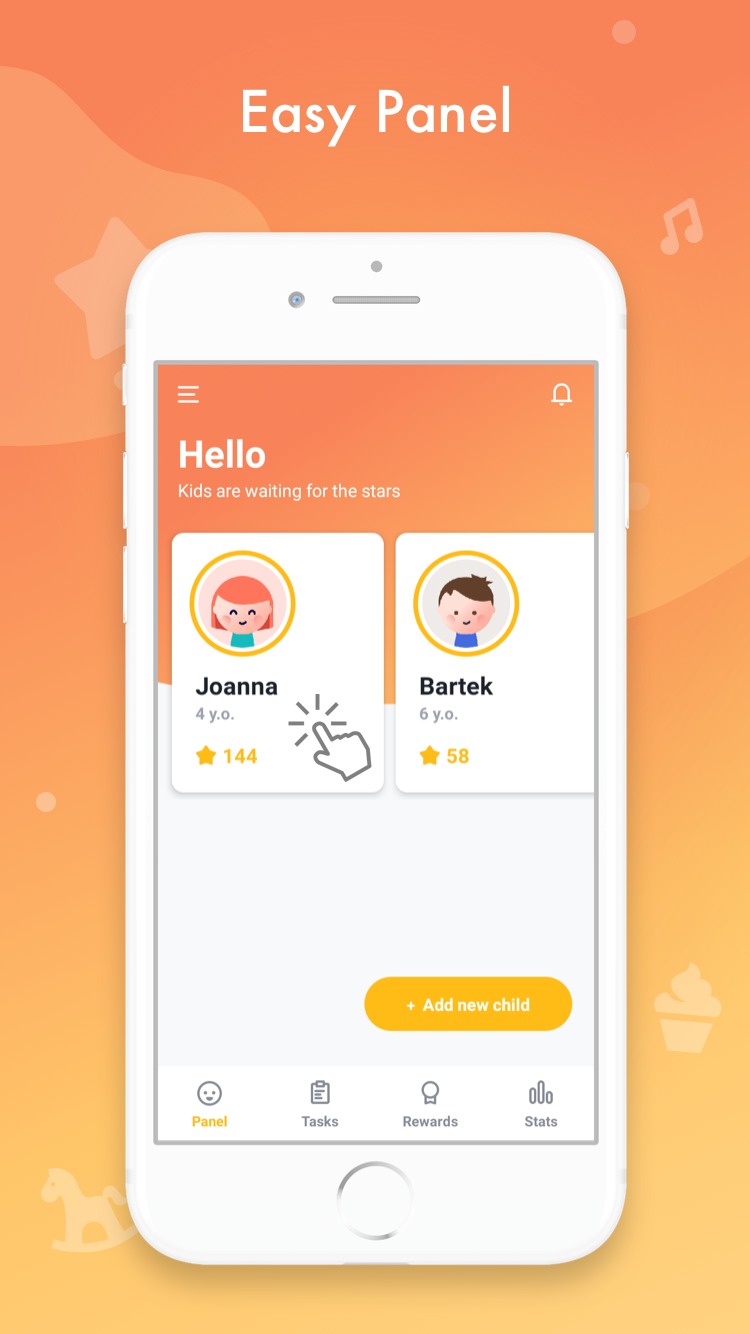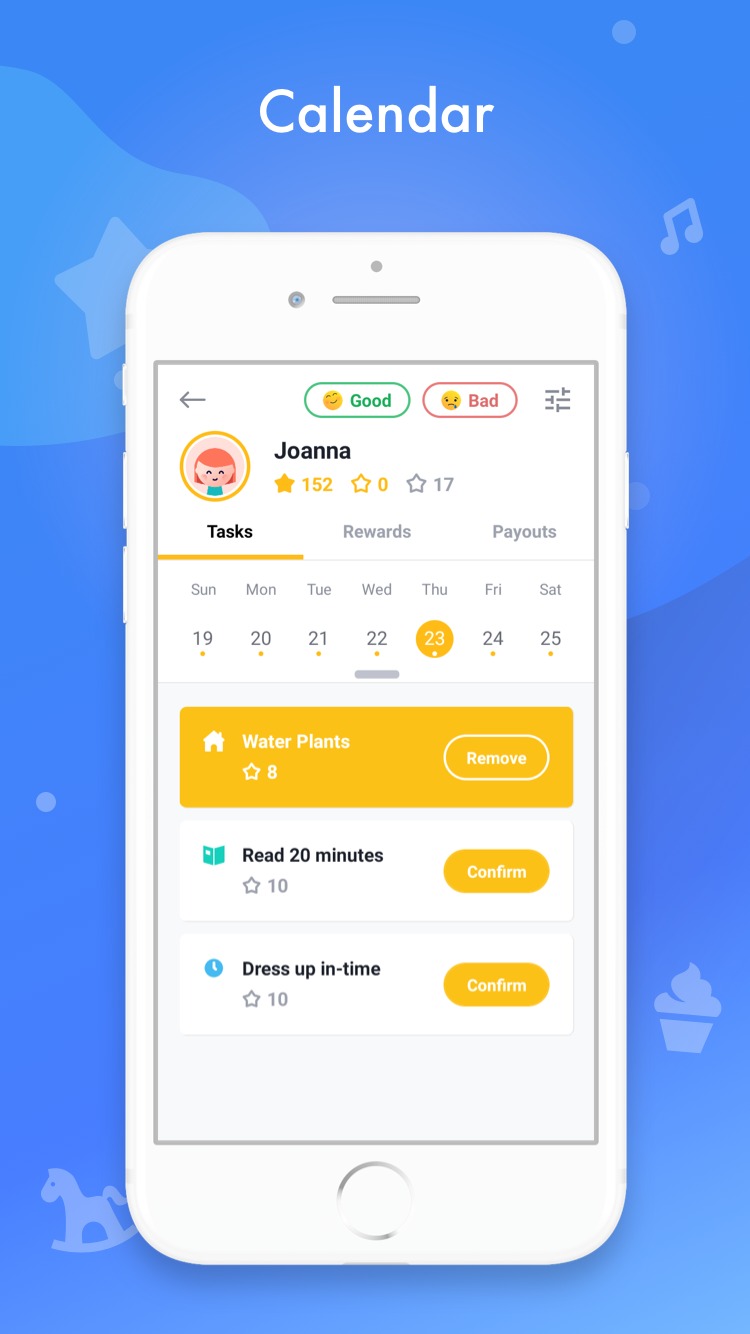 Believe it or not, such a functional app takes only 18MB. It has been installed over 50 thousand times. Download it and your kid will be happy to do household chores and receive valuable bonuses.

You may also like: 9 Free typing apps for kids ( Android & iOS)
Our Home – chores, rewards, groceries, and calendar
This app allows you to become more organized and motivated. Your babies receive awards for all household chores. It will be interesting for them to do everything correctly and quickly. Come up with an honest reward for the children's efforts.
The app has a calendar in which you can write all the important events related to your family. Install the app on the smartphones of all your family members and sync them.
Share the grocery list in the app and kids can buy whatever you've planned. The app has a modern transformative system of fast tasks. This means that thanks to this app, your home will be clean, the pets will be walked, and the children's homework will be done.
Kids will love doing household chores, as they will receive cool prizes. You can assign different rewards to your children. The app is suitable even for those with more than 3 children.
No matter how many children you have, the app can be synchronized with dozens of devices. Create tasks for a specific family member. You will also be able to send messages and reminders within the app.
You can raise successful kids thanks to rewards. Children must score a certain number of points to receive the bonus. Build responsibility from an early age.
Keep track of the daily detailed statistics of tasks. Your babies will not be able to deceive you. Everything will be under your control even if you are at work. Choose an avatar for each member of your family. The app has dozens of cute animals for avatars.
Each task has its own category. For example, playing the piano is a music category and running is a sports category. Categories are needed for more accurate statistics.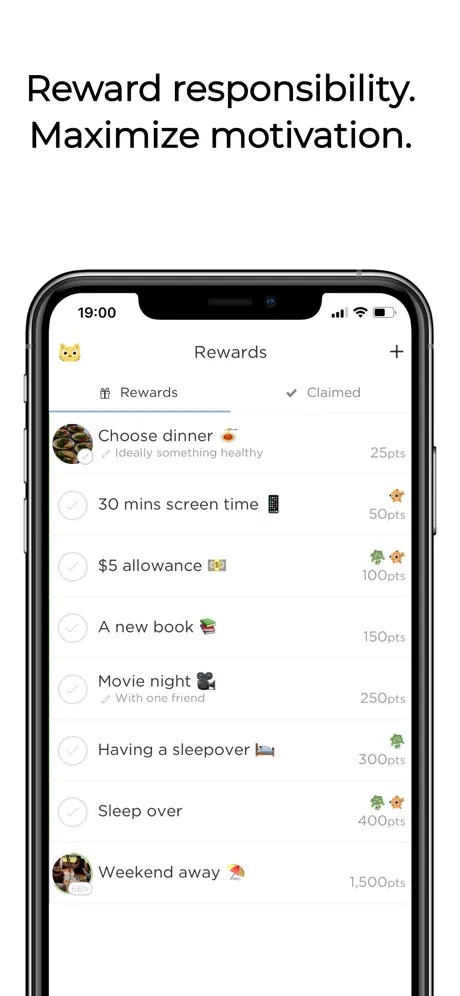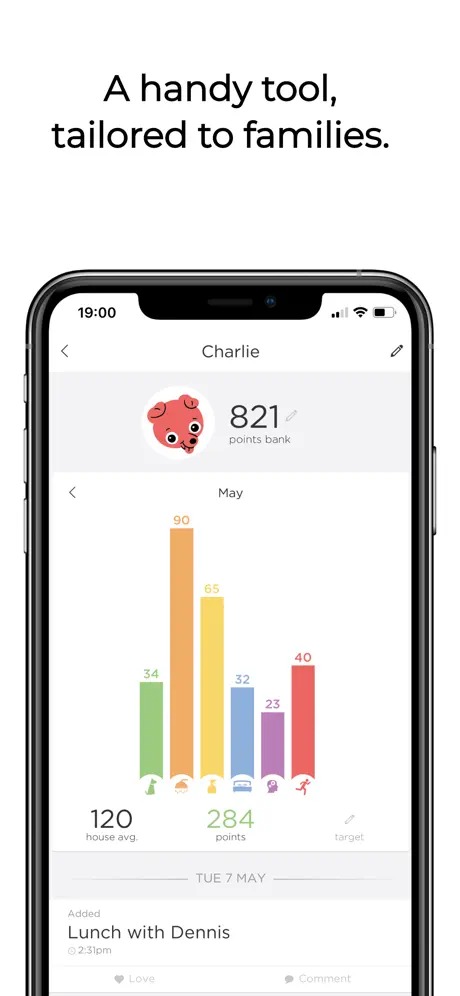 The interface of the app is stylish and practical. It has been installed over 500 thousand times. Install it and you can control your kids by rewarding them for doing the right thing.


iReward Chart: Chore Tracker
This app was the best in 2010. It will help you reward your kids with good behavior and household chores. You need to sync your device and your child's device so that you can give duties anywhere and anytime.
The sync mode is free. Create an account for your kid. Type in his or her name and add tasks. Set a reward for completing tasks. The prizes can be completely different. For example, for each completed chore, the child will receive candy or $ 1.
The app will reward the child with a star for each task completed. If your son or daughter gets a lot of stars, he or she can spend them on prizes. This app develops not only responsibility and punctuality but also the ability to use money correctly, in this case, the stars.
Children like to be responsible and to be respected. They will feel grown up thanks to this app because they will have important homework! The app has many positive reviews from popular media such as CNN, NBC, and others.
iRewardChart has free and premium versions. The free version will allow you to sync only with 1 device, as well as give 4 tasks per week. The premium version gives you unlimited control over your app.
You can also see the rating of your children. The one who has more stars is the one higher in the rating. The app has a nice design and an intuitive interface. iRewardChart is 7MB. It has been installed over 10 thousand times.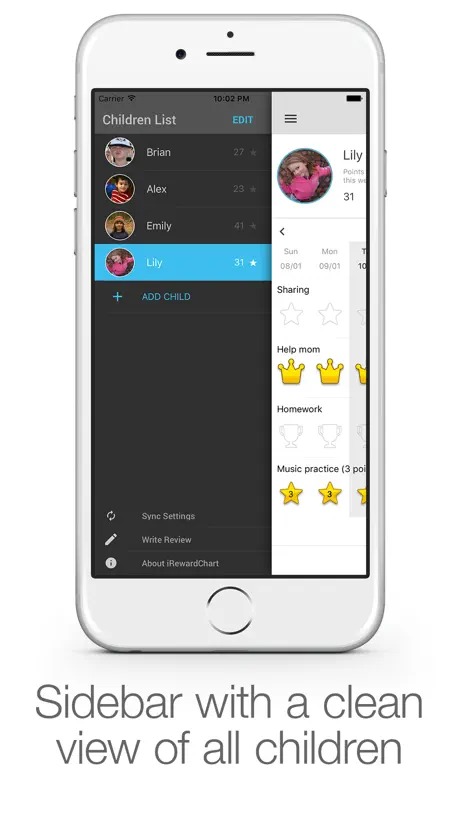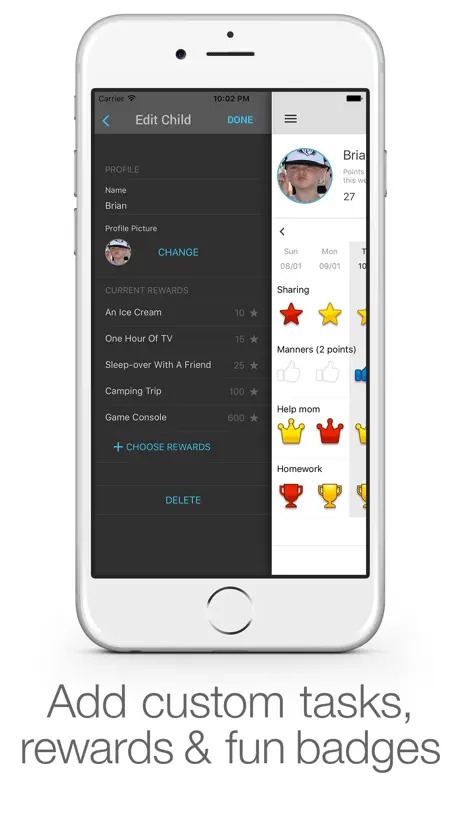 Install it and you can give tasks to your kids regardless of your location.


S'moresUp – Smart Chores App
Even though the primary goal of this app is to organize your home chores for the whole family, it could be a nice rewarding app for your kids as well. Smart Chores app will help your family to stay organized, stay connected and interact with the assistance of one simple app.
The app itself is not free however, you will get a 45-day free trial with access to the premium features. The main feature of the Smart Chores app is of course the division of these chores.
You need to create an account and then add all your family members to the app. Then you have to choose the chores from the templates and assign them to your family members. It is better that every one of you would install the Smart Chores app so you all can get notified about which course you are assigned to and do that on time.
But let's not stray away from the main focus child reward system. This app provides an elaborate system of rewards for completing the chords. The app tracks when the task is completed, and after that parent can transfer the money to the digital wallet child.
This is a great way to motivate your kids to clean around the house without having to constantly remind them about it. By the way, the app also has an email chart where you can discuss all the issues and details about the upcoming cleaning and so on.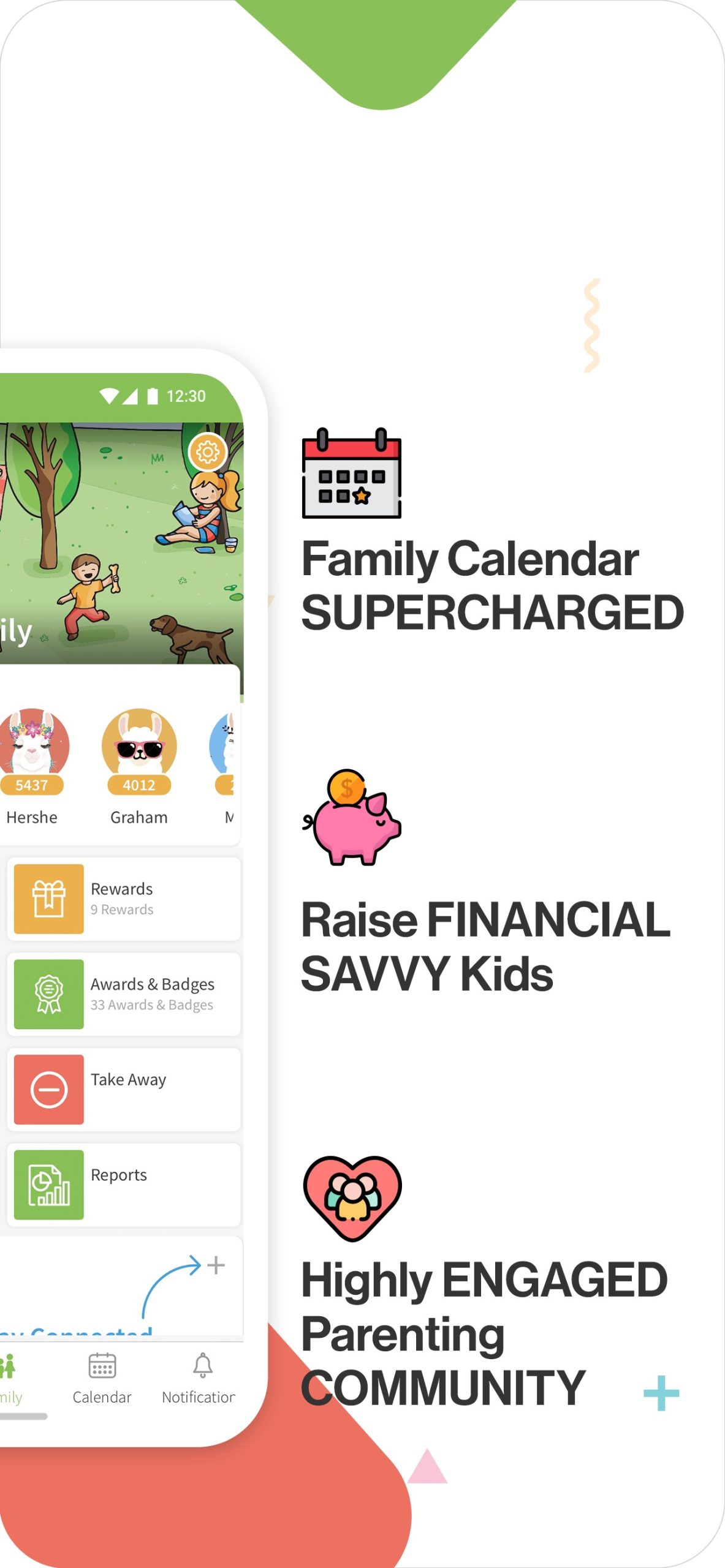 The only possible drawback of this app is that without the free trial period, its capabilities are really limited and if you want to have access to all the great features that it provides you will have to pay for the subscription.

Kidz Tokenz – Kids Reward Syst
This app will be useful for those whose child misbehaves and has bad manners. You can use this app to increase the productivity of your child, and also to teach them the right Behavior and learn them to take real advantage of it.
This app for forming positive habits is extremely simple to use that's why even the busiest parents will be able to utilize the bonus points in order to discipline their children with minimal effort. You don't have to raise your voice at your child anymore.
Create an account for your child in this app, choose the mode of either negative or positive Rewards and choose the pointing bonus system for various actions. The app uses an award system to teach your kids positive behavior and habits.
As you open the main menu you can see a table of options and rewarding systems with the characters that your children will like.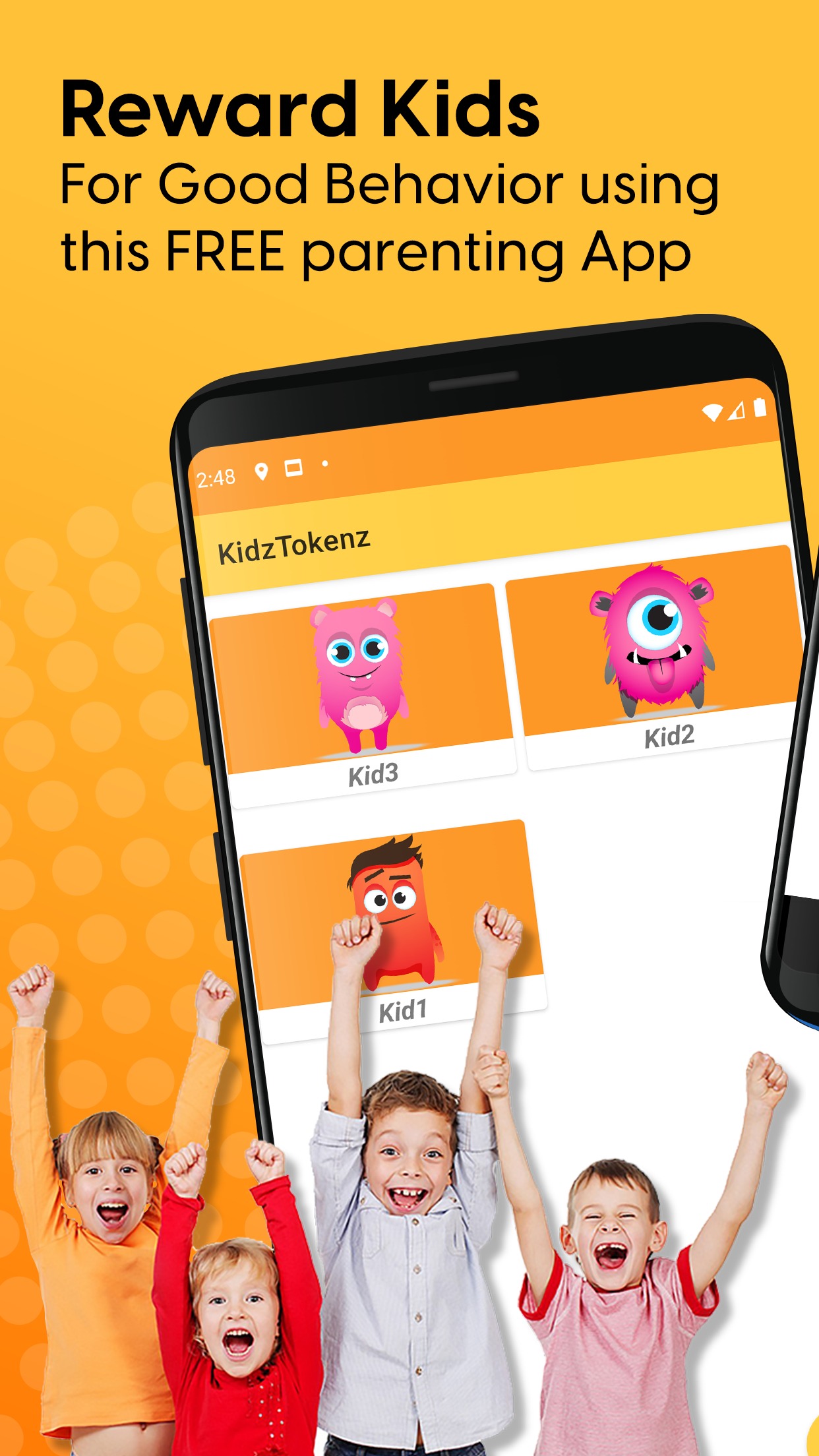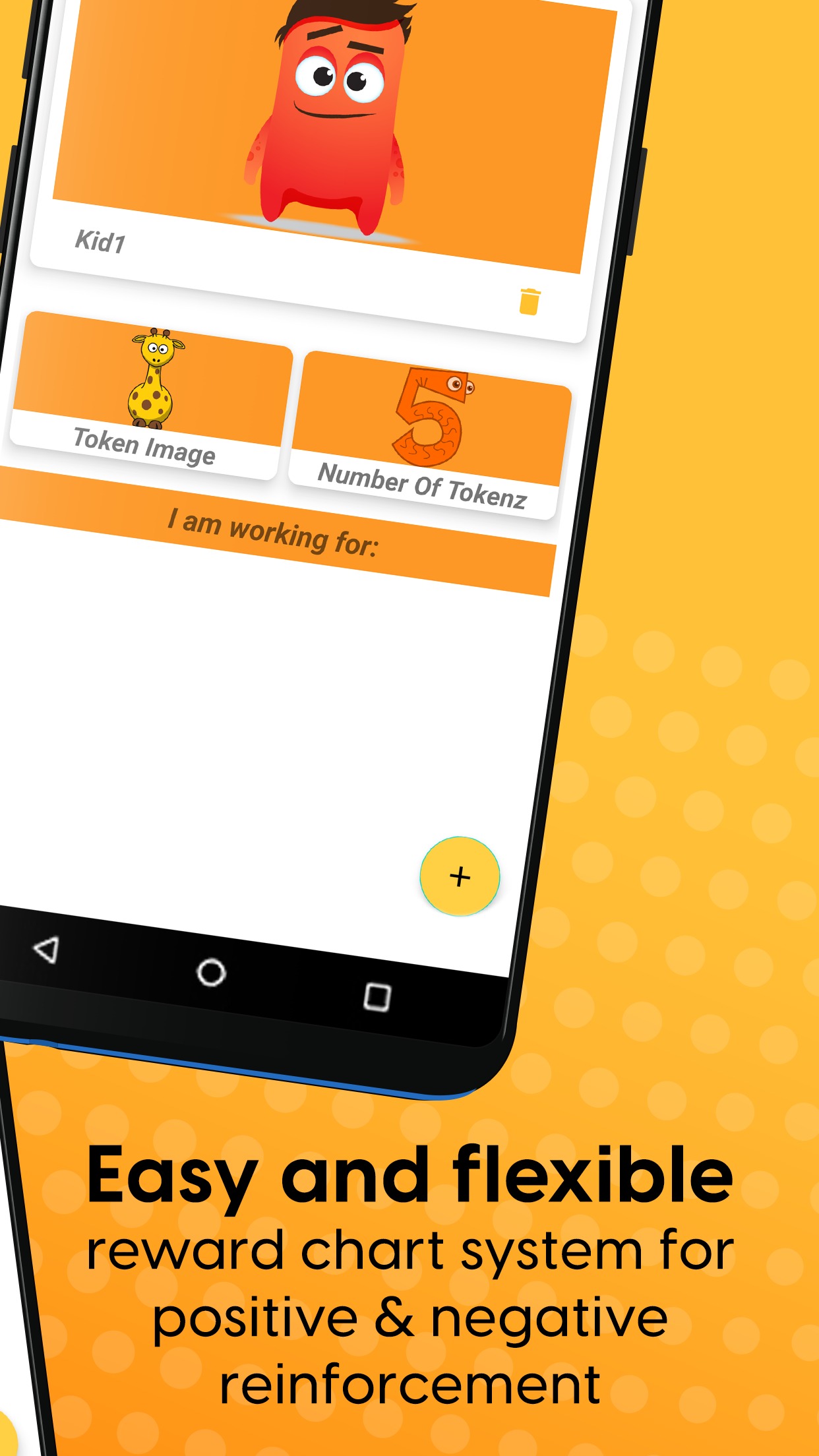 Kidz Tokenz is developed in a way that it will be exciting to use both for parents and their kids. This app is quite new on the market so it can contain various bugs and hang-ups but in general, for weaker Android devices this is a nice option.

Rooster Money: Piggy Bank, Allowance and Chore App
This multifunctional app helps parents to control the behavior of their children. It includes an allowance manager, chore jobs, a savings tracker, and piggy bank. All of this is encouraged by awards. Sync devices in one click.
You will be able to give tasks to your kids and you will always know whether they have completed them or not. Each task has its own value and category. The more difficult the duty, the more reward the child receives.
Create to-do lists for your kids. Add as many tasks as you like. The app has no limits. You can also set daily tasks. This will save you time because you will not need to write the same chores every day.
The app is easy to use. Kids love it because it is stylish and fun. What does the app allow parents to do? Almost all! You will get the full functionality of controlling the child's behavior. Register to get all the possibilities.
An online piggy bank teaches your baby how to manage money. Allocate a certain amount for your child's pocket money. The app will show you detailed spending statistics at the end of the day. If your child can save money, then this is very good quality.
Moreover, you can recommend to your child goals for saving money. This will give your kid motivation. The app supports all common currencies.
You can block or unblock the child's allowance at any time. It will teach your child not only responsibility but also money management. If you want to get even more tools, buy the full version of the app.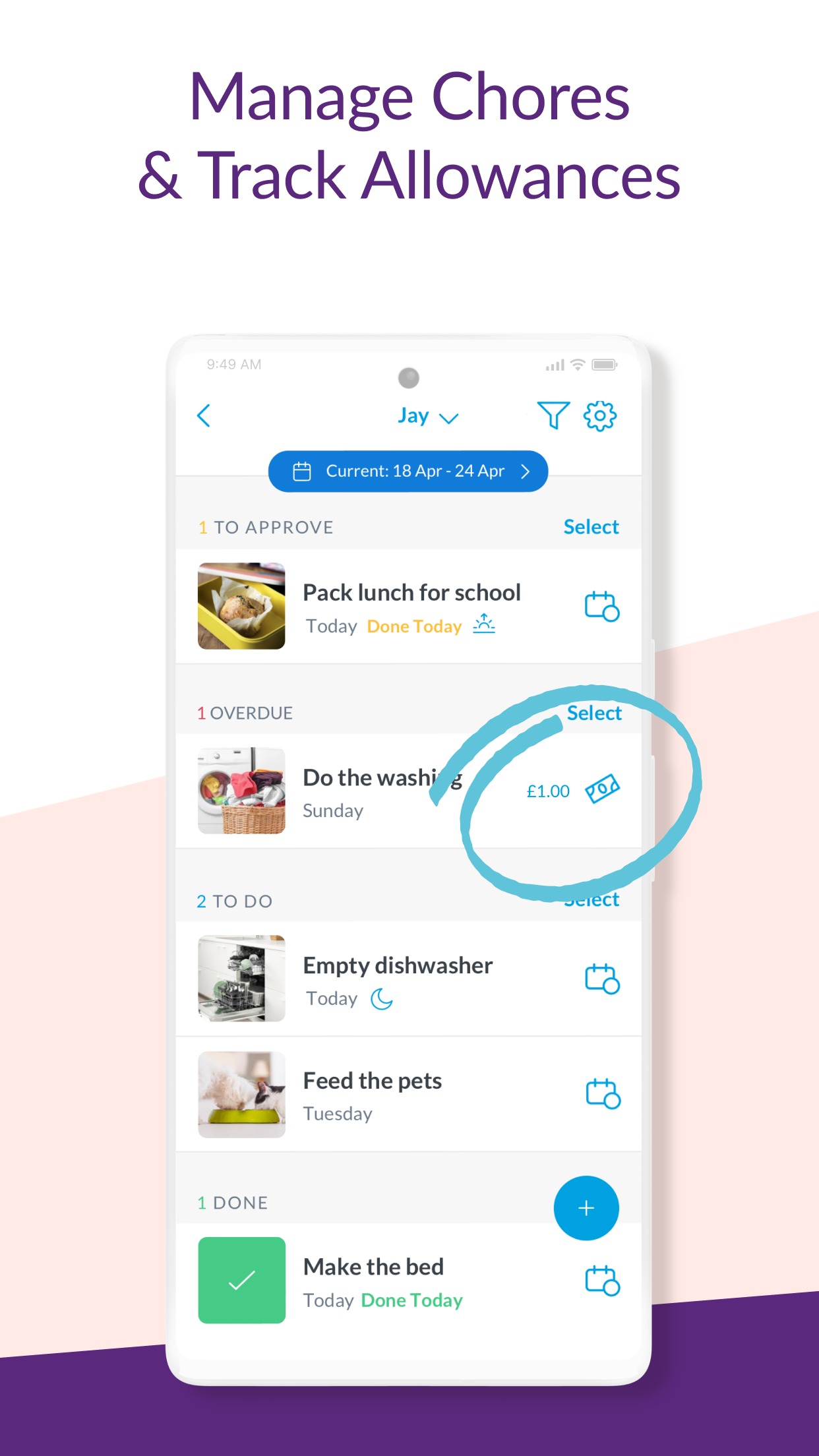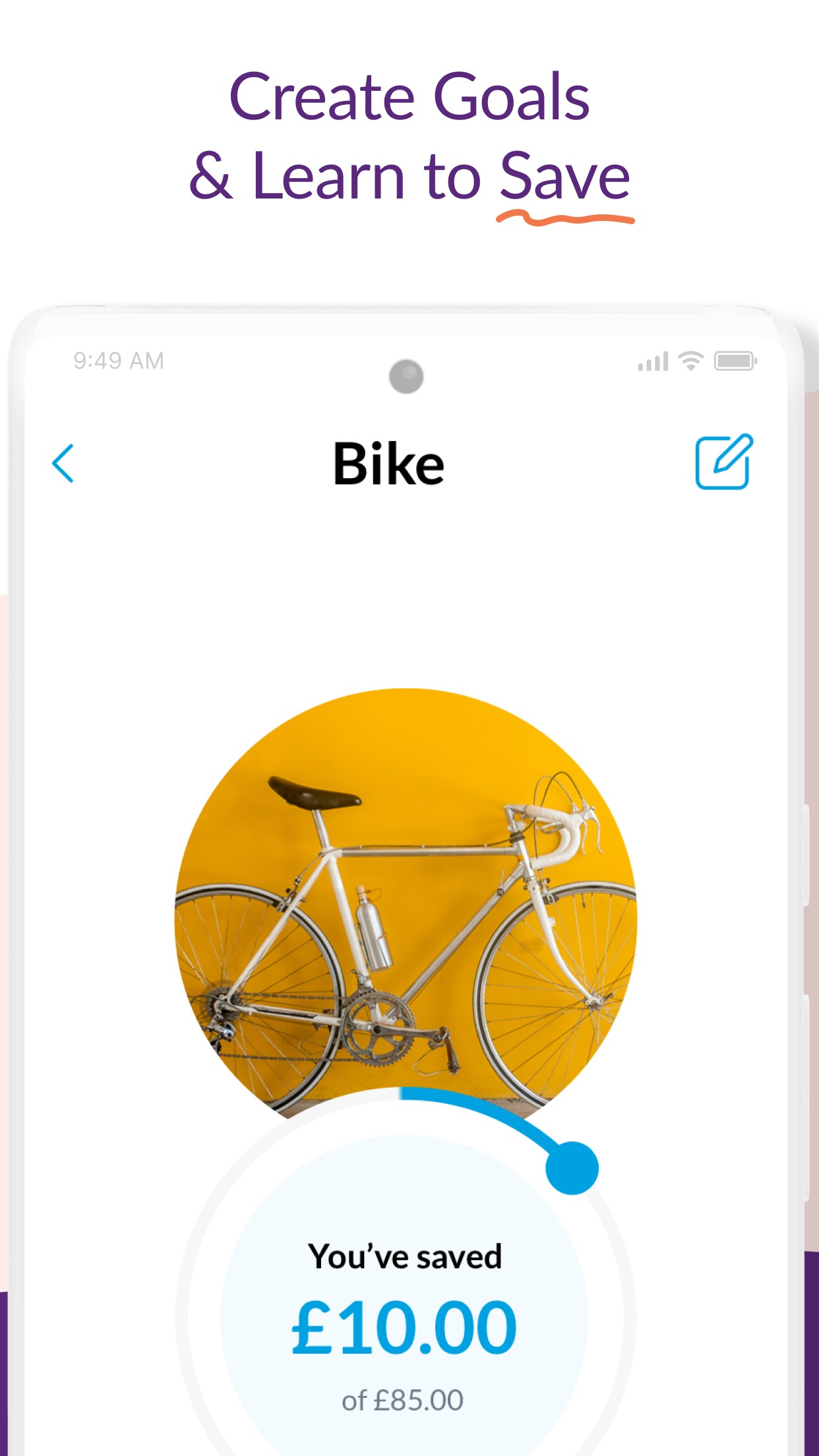 Rooster Money has hundreds of positive reviews. Download RoosterMoney and join 100 thousand users who want their kids to be better!

You may also like: 11 Free STEM apps for kids (Android & iOS)
Chores & Allowance Bot
Doing family chores is so boring. Children do not like to do this and always try to come up with excuses. Download this app and you will see how your kids love their chores. They will receive prizes for completing their tasks.
You can create harmony in the family. Moreover, the app can be synchronized with multiple devices. Distribute household chores among all family members and come up with rewards.
You will monitor the activities of all family members. See their accounts and track statistics. The rewards help your kids develop the right habits. Kids can fully personalize the profile. They can choose an avatar and nickname.
The free version of the app allows you to sync the app with any number of children, but you will not be able to give tasks to everyone at once. You need to buy the Premium version for this, otherwise, you will have to duplicate duties for each kid again and again.
This app is also a piggy bank and allowances. Set daily monthly and yearly allowances. Select rewards. Children must collect a certain number of points to buy the prize. The more valuable the reward, the more expensive it is.
The more difficult the task, the higher the reward. You can also choose fun currencies such as emojis, smiles, foreign currencies, and more. Add penalties for missed tasks. This will increase the motivation of your children.
You can add photos to each task. This will help your children better understand what to do. Your kids won't be able to make changes to their accounts without a special code. Select regular duties and mark them with a special sign.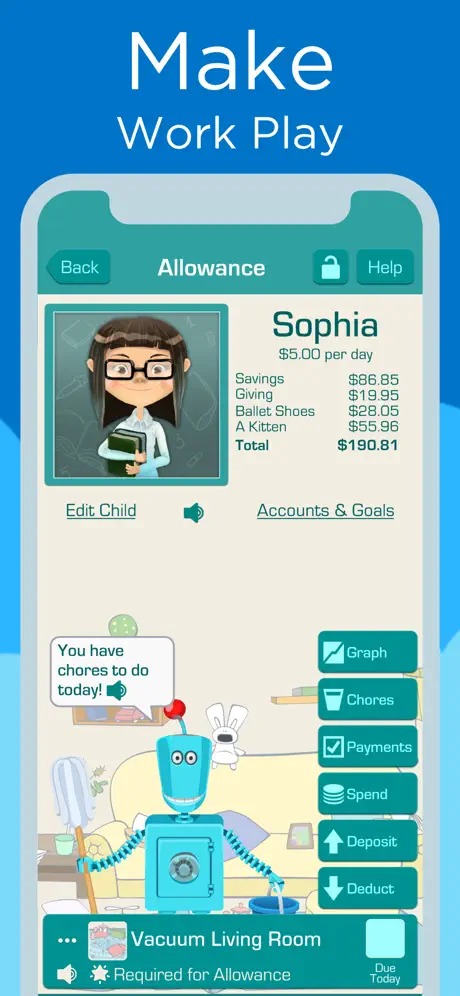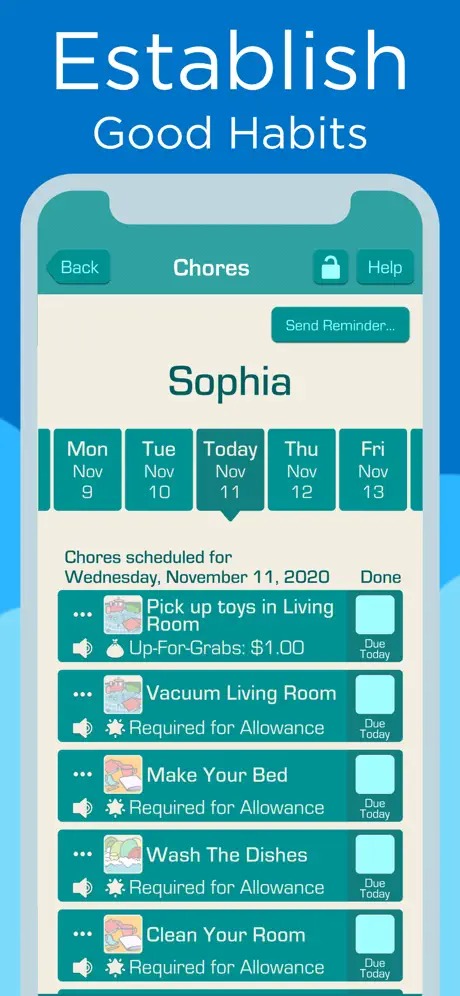 You will no longer have to write this task every day. It will automatically be duplicated. Don't forget that in addition to household chores, this app teaches your kids how to handle money. It has been installed over 10 thousand times. Chores & Allowance Bot is 96MB. This app is a great helper and mentor for your babies.


Privilege Points Chore Tracker
Tired of begging your kids to do housework? Stop doing this and download this app. It has a smart points system and privileges. Set tasks and children will receive a bonus after completing them. What rewards will they be?
Maybe this will be money, a movie show, or a party? Children will be motivated. Synchronize your device with your children's devices in just one click. The app sends your kids reminders for each duty. You can add as many tasks as you like. The app will show you the statistics on the completion of all tasks.
The app has a nice design that you can quickly master. Kids will love the design for its simplicity and style. Add icons to tasks to visualize them. If you want even more options then get the premium version.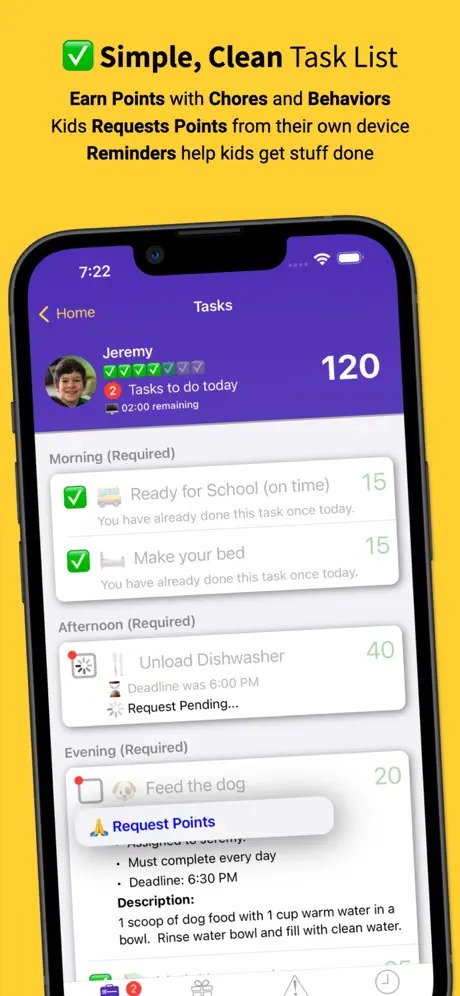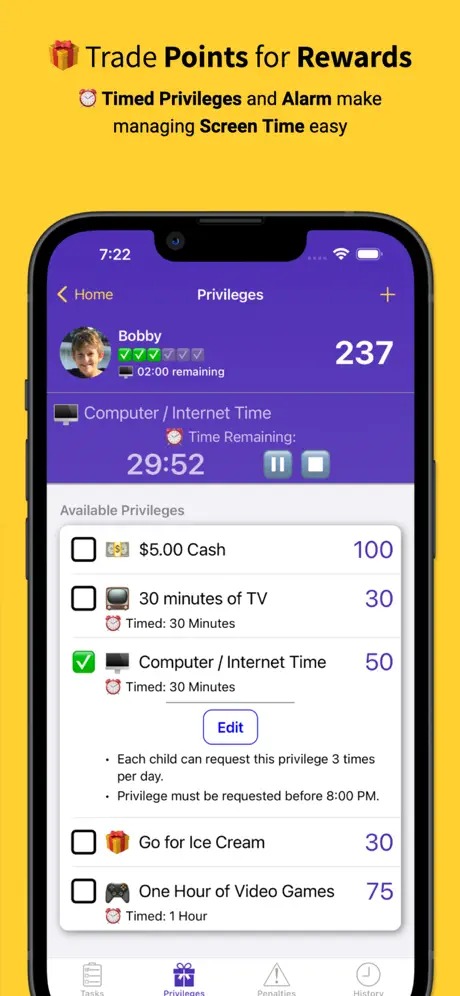 This will expand the tools for managing tasks and rewards. Developers periodically update Privilege Points Chore Tracker by fixing bugs and adding improvements. Download it and you can motivate your kids to do housework.

Kiddy – Reward Kids For Good Behavior – Parenting
Good behavior should always be encouraged. This app allows you to set rewards for completing chores. Your children will become more responsible. Rewards can encourage good behavior. Set the number of points for each task.
If the task is difficult, such as weeding the beds or dusting the whole house, then the prize will be valuable. The app has already a whole list of ready-made tasks. You only need to pick what you want your kid to do.
Keep track of tasks in real-time thanks to the sync of your phones. A distinctive feature of the app is tasks of good and bad manners. If your child misbehaves, give him or her bad points.
The app has ready-made plans for training useful skills with cool rewards. Your child can add any wishes to the wishlist. Try to do them.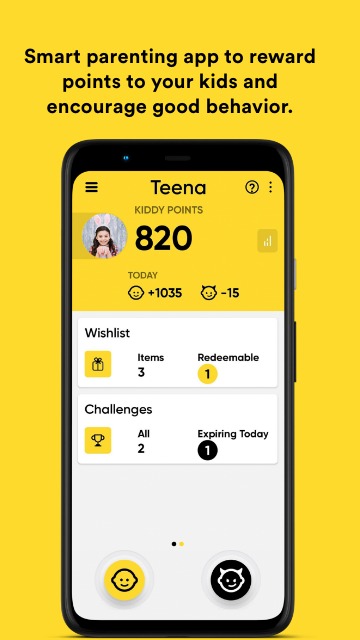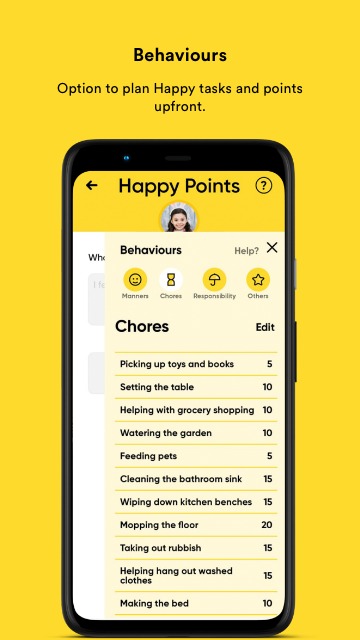 The app has a stylish yellow interface. It has been installed over 10 thousand times. Kiddy makes your children more responsible because they take care of points and tasks. You can share your kids' progress on social media right from the app.

Kids Reward by FlashPeak Inc
This game is designed to motivate children to complete tasks and achieve goals. In it, parents can work with their children to come up with goals and tasks to do. And for their successful completion, there will be rewards and bonuses.
Their number is determined by a parent. You can give small jobs, for which will gain 1-3 pieces of coins, and you can create a big goal, upon achieving which the balance will increase by 5 coins or more.
After a few tasks will be successfully completed, you can please the child with a gift, extra time on the phone, or real money.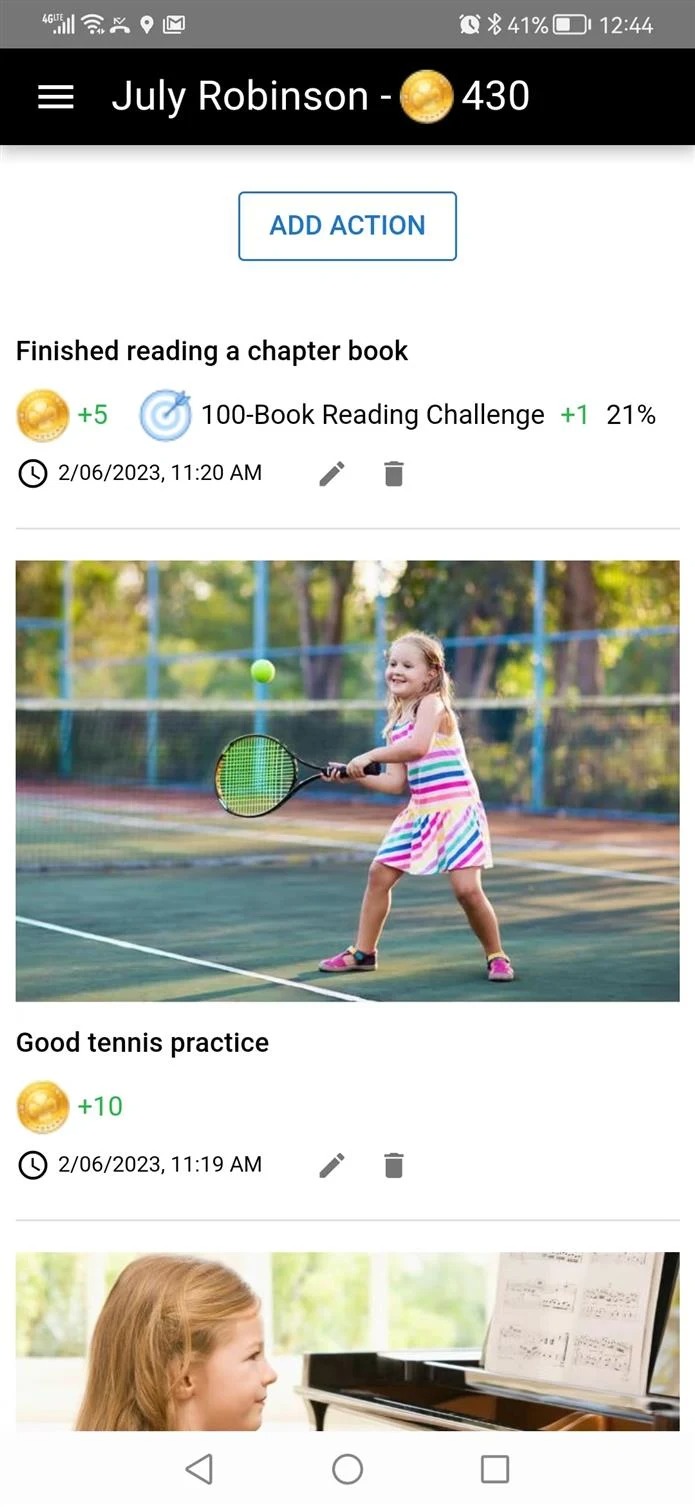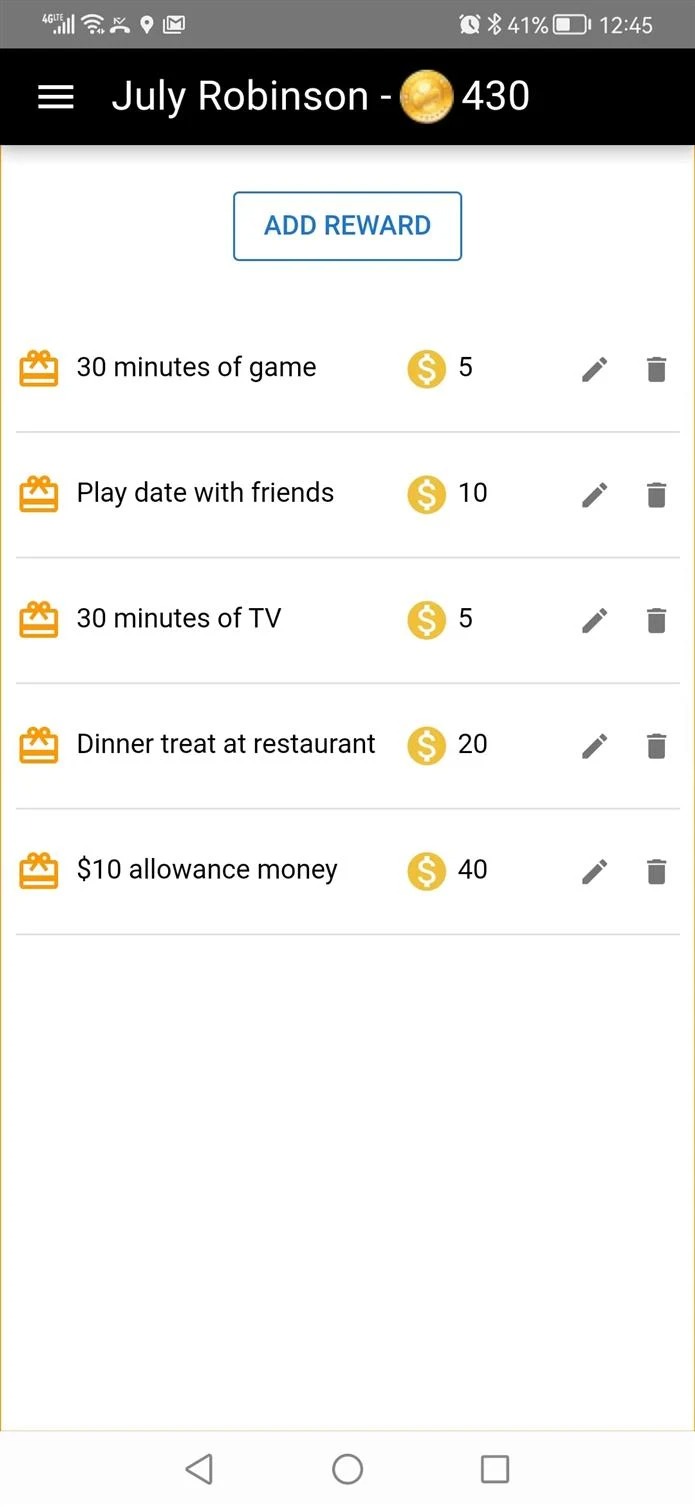 The app is presented in the form of a convenient and simple table where you can record all the tasks completed by the child. After a parent confirms completion of the task, virtual coins will be added to the child's account.


You may also like: 11 Best Chore Apps For Kids (Android & iOS)
Chores 4 Rewards
This app is designed to help parents and children. It allows you to give your child tasks for which he can receive various bonuses and points. And later, virtual rewards can be replaced by gifts, toys, and other surprises that will make children happy.
In the app, you can create tasks and set goals that the child will gradually perform. And this can be monitored by parents from one account.
The child can also be added to it, so he can also see his achievements. It is possible to set any number of bonuses for completing tasks and goals, which will be automatically credited to the children's account.
There are also paid features that can be activated by subscription. In them, users will be able to check the behavior of the child, and for this to gain extra points or take away already accumulated.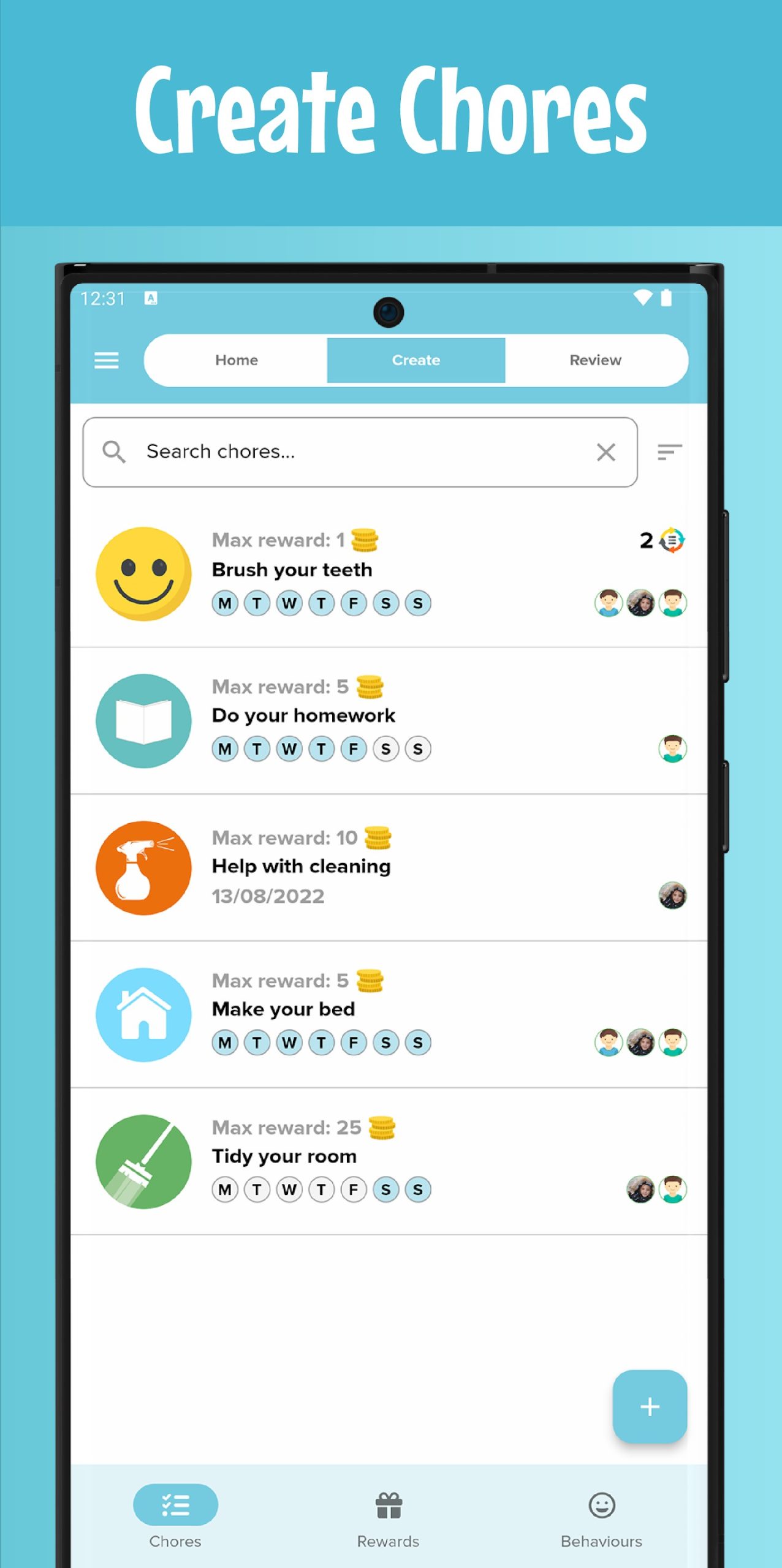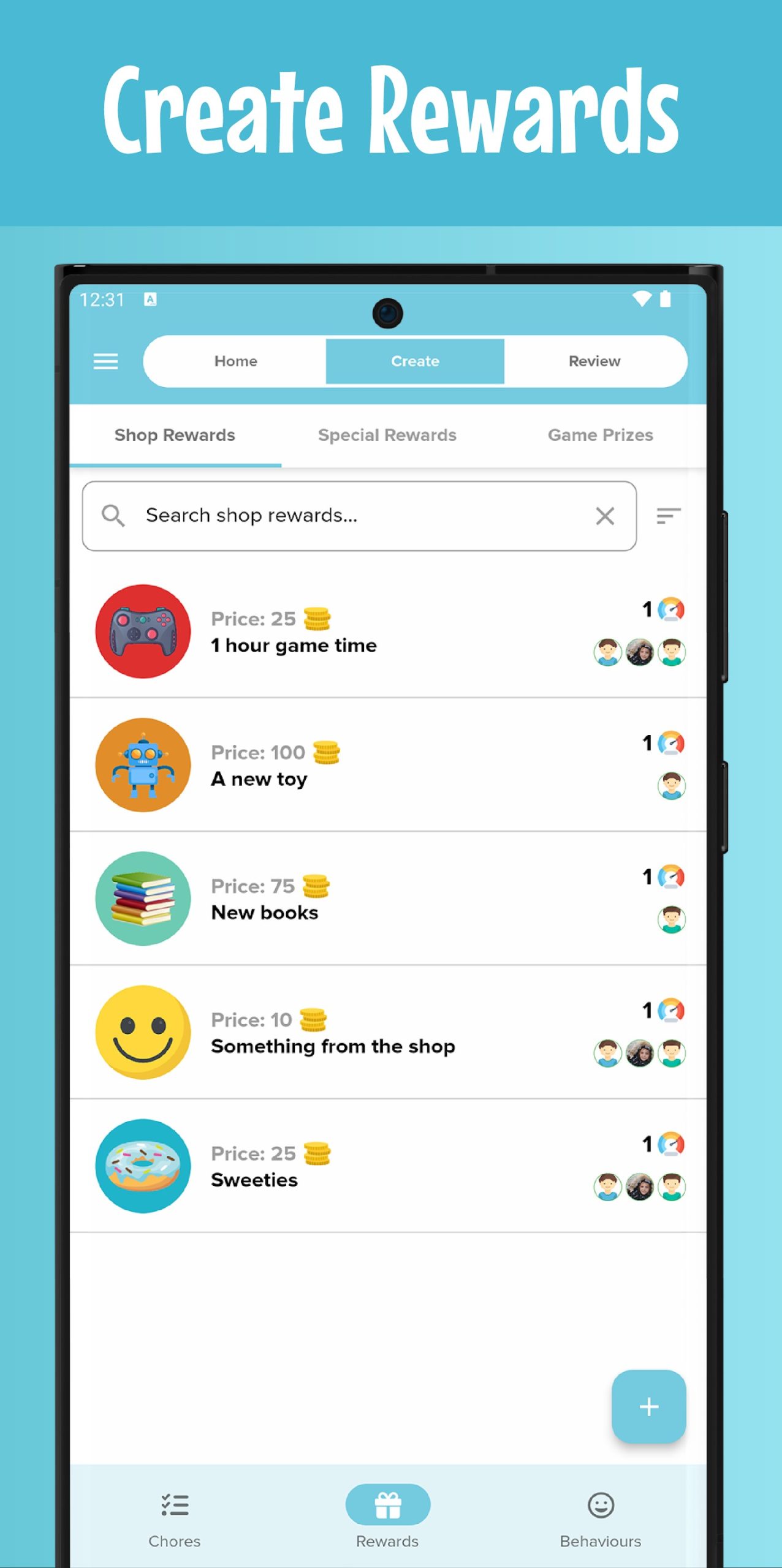 There are also extra games, statistical data, and voice recordings of tasks.