Wanna let your inner nail artist out? Then keep reading this article!
There are plenty of painting nails games for Android & iOS that lets you express your creativity and try various nail designs. These games will show you what it's like to work in a nail salon and will bring you through all the manicure steps. And if you're into girly salon games, you'll probably enjoy making wedding makeup as well.
We've gathered together the 7 best apps in that category you may try. Take a look!
Nail Salon 3D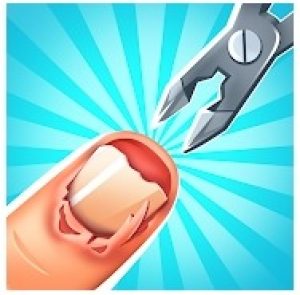 Let's start with the game that lets you dive right into manicure madness.
This game is a full-on virtual nail salon right at your fingertips. The mechanics are simple — you'll need to serve clients and try to consider all their requests. Once your job is done you'll get the money that can be spent on buying more materials and all that.
Herewith, you need to make sure you're doing your job carefully and leave no mess — the clients won't appreciate it if you'll accidentally cut them or break the finger. Plus, you'll get to work with all kinds of nails and do both pedicures and manicures. You also need to consider not all nails are healthy at the beginning, so you'll need to take care of that as well.
There will also be VIP clients that you'll need to recognize and take care of. The nail sim is ultra-realistic and there are lots of steps to go through before the nails will be done. Beyond that, you'll get to spend the money on salon development — buy new furniture, paint the walls, and don't forget to charge extra money for comfort. You may also add new procedures such as nail extensions and more.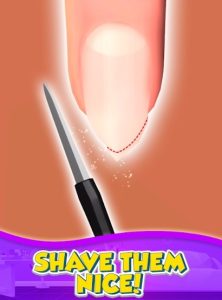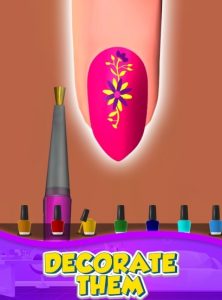 You may also like: 17 Best Anime Dress Up Games for Android & iOS
Nail Salon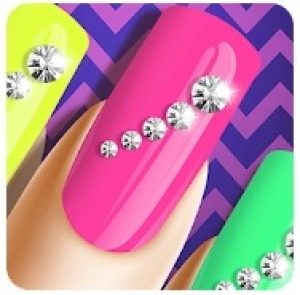 Next, we have a nail painting game that lets you express your creativity.
If you wanna try your powers making complex nail designs and need virtual training — this is the app to go for. This game will get you through all the manicure steps — polishing, shaping, painting, decorating, and so on. Herewith, the process of manicure is quite realistic as well, so you may easily cut someone or break the nail.
The game covers a wide nail polish shade range and loads of decorating items like crystals, glitters, stickers, and even flowers. All the shades are sorted by categories such as nudes, grunge ones, pastels, bright ones, and more. There are also thematic decor collections dedicated to holidays, movies, and more.
Plus, you can make manual painting designs with brushes and all that. You can also experiment with topcoats by mixing classic shiny tops with matte or velvet ones. Besides, you may pick a skin tone of a person whose nails you'll do. Once you'll be done, you'll get to save a pic of the result and share it on SM. The game is fully free, and it runs offline which is great.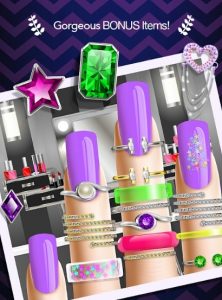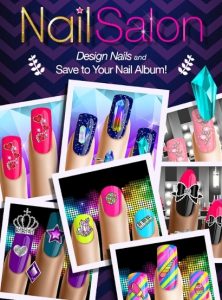 YouCam Nails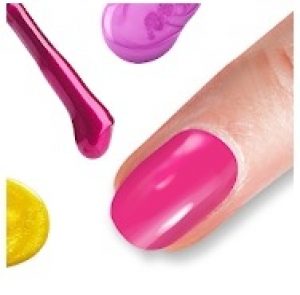 Wanna test how good of a nail artist you would be? You can't go wrong with this game!
This is a nail art game that lets you express all the possible manicure styles. The game covers hundreds of stunning nail polish colors, patterns, decorations, and all that. For now, there are over 70 colors for you to try, and new ones are being added on regular basis.
Besides, you may not only use pre-made decoration options but draw on the nails with the brush as well. You may also mix the decorations and create your own unique designs if needed. There are also plenty of stickers, glitter pieces, and even flowers you can add individually. The game lets you choose one of the 5 nail shape options and regulate the length, so you can come up with any manicure.
In case you have a design in mind but are not quite sure how to do it the game covers dozens of step-by-step tutorials to guide you through the entire process. Once you'll finish your design you can take a photo from various angles and save it for your nail photo book. You may also share the outcome on SM.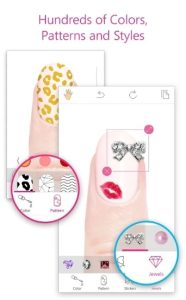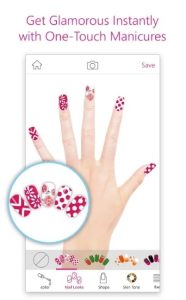 Girls Nail Salon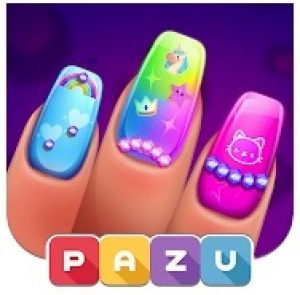 This is a nail-dressing game that lets you experiment with manicure styles.
This game has one purpose — to let you get as creative with nail art as possible. So if you've ever wanted to get crazy with your nails but didn't have the guts — this is the best way to do it. The game covers dozens of nail polish shades you can try and mix as your heart desires.
In the mood for the gradient? Now you can do it as easily as pie! Plus, there are loads of decoration options covered such as glitter, gems, stickers, strikes, and more. The game also comes with an impressive pattern collection filled with animalistic prints, flowers, abstraction, and more. The holiday collections come up from time to time as well, so you could always do trendy nails.
Beyond that, the game lets you go through the entire manicure procedure. Thus, you start with giving the nails care treatment, correcting the shape, buffing, and all that. It's also quite easy to break the nails or cut the finger with scissors so make sure to be careful and gentle. The game runs offline, so you can play whenever you want.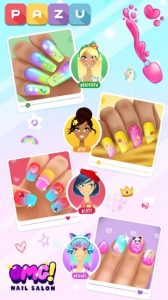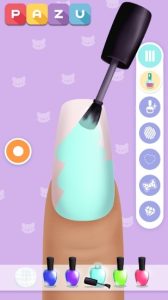 Check also: 7 Free beauty salon games for Android & iOS
Acrylic Nails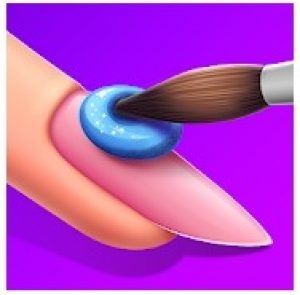 This game is made for all the long nail lovers out there.
The main concept of this game is to let you turn all your crazy design ideas into life on long nails. Your goal here is to work a full day on the manicure salon and make sure all the clients are satisfied. You'll get to go through an entire nail-making process step by step.
First, you pick the length, apply the acrylics, shape, buff them, and all that. The polish applying process is quite realistic as well, so you'll need to be careful and make sure everything is nice and smooth. The same goes for designs so if you wanna make an ombre — you'll need to figure out the technique of doing that.
Plus, you may use various brushes to draw custom designs on nails. The game covers a wide variety of nail polish shades, decor options, stickers, and more, so you can do any design the crosses your mind. Each manicure will bring you money that may be spent on extending the polish shade range, buying new decorations, or whatever else.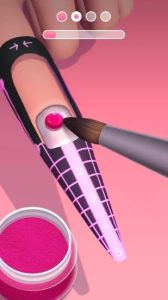 Acrylic Nail Art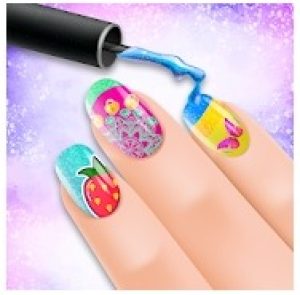 This is a classic nail salon game that lets you make complex nail arts.
This app gives you two options — you may rather make custom designs or paint some of the pre-made ones by numbers. Both options have their pros and cons. Color by numbers may seem a bit boring, but you may not stick to the pre-made color palette while painting by numbers, so there's still a piece of creativity left for you.
As for the custom designs, it gives you absolute freedom of creativity, but it's quite easy to mess the nails up. The game comes with a huge nail polish compilation, so you won't struggle with the lack of choice. All the shades are sorted by categories such as pastels, reds, nudes, grunge ones, the fall collection, and so on.
Besides, the game covers plenty of decorating options like glitter, stickers, strikes, and more. There are also loads of brushes you may use to paint on tails manually if needed. The game regularly updates its collection, so you'll always have new materials to try.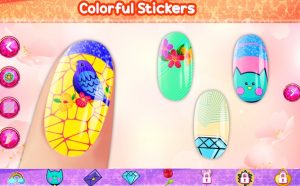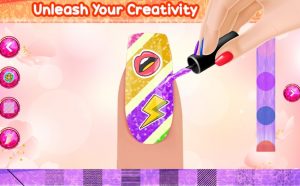 You may also check: 11 Best Dress Up Games for Adults (Android & iOS)
Hello Kitty Nail Salon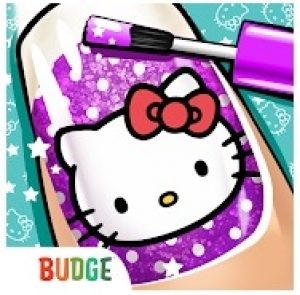 And lastly, we have a nail art game that lets you make super cute manicures in a blink of an eye.
Considering the popularity of Hello Kitty in pop culture the chances you haven't heard about it are quite low. It's a cute white cat that is loved by millions of people worldwide, and you'll get the job in its virtual manicure salon. You start the manicure by choosing the shape — there are 5 options to choose from.
Then, it's time for the base and decor. The game provides you with dozens of nail polish shades, so you could bring your best ideas to life. Plus, there are loads of decorating options like gems, glitter, fairy dust, and stickers with cute characters. Herewith, you can come up with any nail designs you want — it should necessarily include the Kitty itself.
The game also covers various patterns and prints you can use if needed. Plus, you may load a pic of your nail and paint on top of it. Once the nails are done you'll need to take a pic of them and save them to the history album. You can also share your work on SM right from the game.