If you are tired of constantly have a stack of business cards in your pocket, we have to present to you an excellent solution – Contapp. This is a multifunctional contact management application that enables users to control all their business cards.
Now let's find out why this app is worth downloading.
First of all, we would like to mention that this is a quite lightweight tool, so there is no need to waste too much time on the installation process.
We recommend also checking the best contact apps list.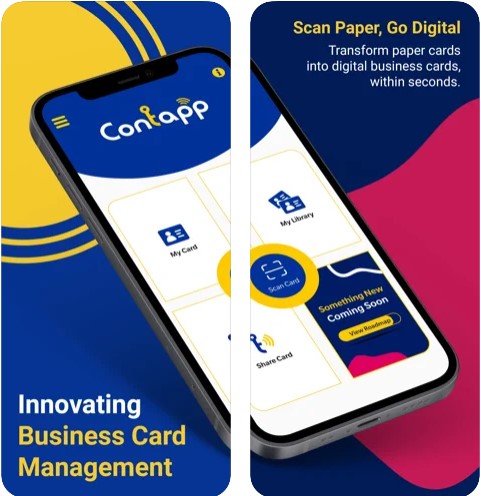 But, what are the key features of this app?
Quickly create digital business cards
Scan and transform business cards into digital cards in a few seconds
Location function integrated with Google Maps allows saving the exact location of where you meet people
Intelligent search features
Quick sharing using proximity technology or social messaging platforms
User-friendly interface
Secure cloud backup with 24/7 access to your library
Create custom groups
Additionally, the app enables you to add media links, profile picture and notes to your business cards.
We were truly impressed by the magnificent app's design that makes its interface very convenient to manage. Despite a great number of features, the app comes with simple navigation. Therefore, even novice users will quickly understand how to use this tool.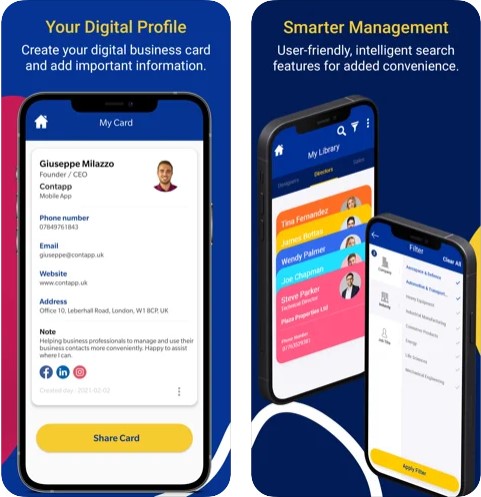 In case you have faced any difficulties while using this tool, you can easily contact customer support. The technical assistants are very responsive, therefore you can write them at any time and they will tackle all your problems.
By the way, Contapp has a good rating in the market and we have not found any significant disadvantages there.
Maybe you would also like to check the best voice-changing apps during the call – if you want to prank your friends from your contacts.
To conclude, Contapp is a top-grade tool for all business professionals, managers, and entrepreneurs. The app works as a free digital business card, business card scanner, and business card manager. So, hurry up to try it – you will not regret!