No designer skills? No problem! Here you will find the best brochure design apps, and you don't have to hire a designer or understand complex design programs.
Before you create a brochure, don't forget to create a logo for your company. Here are the best logo design apps for you to use.
Brochure Maker, Graphic Design
A simple and clear interface of the program will not cause difficulties even if you don't have such experience, and ready-made brochure templates will simplify the task even more.
At the same time, you don't need to look for a designer, explain to him exactly what you would like and pay for his work – Brochure Maker, Graphic Design will allow you to create a brochure, significantly saving time, effort and money.
In the app's collection, there is a great choice of professional brochure templates, cool stickers, multiple fonts, and text effects. Here, you can change a background using your phone's gallery or Brochure Maker collection. It's possible to undo/redo your changes, autosave the draft.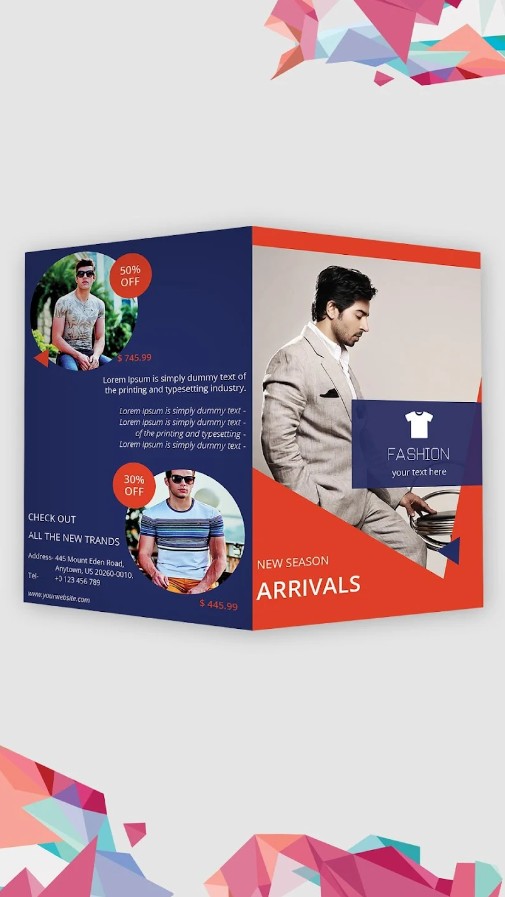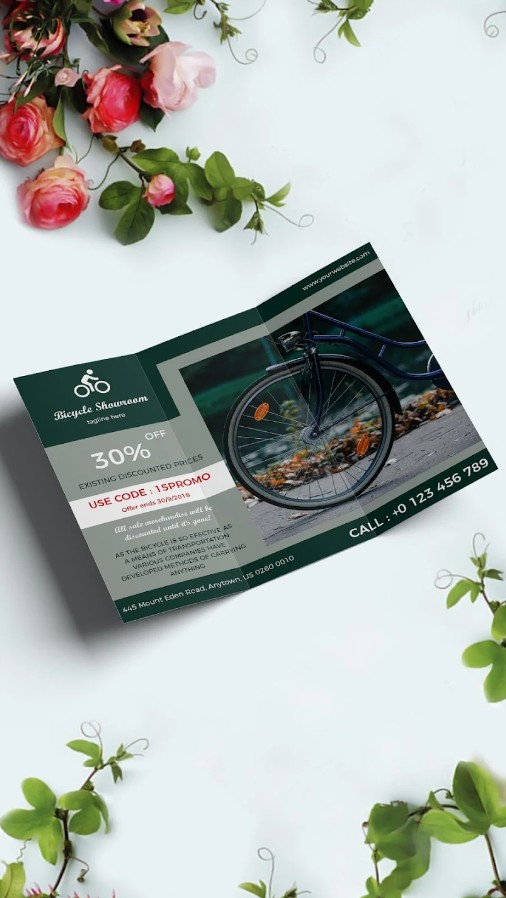 You can also check: 17 Best photo zoom apps for Android & iOS
Canva
Canva is a relatively new and partially free design service that, with some effort on your part, is fully capable of solving some of the tasks of creating brochures.
Canva is a graphic design tool, founded in 2012. It uses the drag and drop format and provides access to over a million photos, graphics, and fonts. It is used by both ordinary people and professional designers. Tools can be used for both design and preparation for printing.
Canva is both a full web version and a smartphone app of the same name. If you start an account, in both versions you will have access to both tools and design libraries and your own archive.
All designs you create can be saved as templates and used or corrected later. As a registered user of the free version, you will have access to most of the application's tools.
The only thing is that all photos, logos, designs of business cards, flyers, invitations, and other things are divided into free (marked with the corresponding symbol in the lower right corner) and paid. In the corner of the icon, you will see coins – 1, 2, 3, and further. When you click on such designs you'll be offered to buy coins for payment.
If you don't pay, the design after saving will be covered with watermarks of the application, and you will not be able to fully use it.
The collection has quite a lot of templates for the design and construction of any type of graphics, illustrations, documents. You choose a suitable template, adapt it for yourself directly in the browser in the free online editor Canva and download to a computer, or in an application on a smartphone and download it to a smartphone or share the result in social networks.
In any layout, you can replace or completely remove the fonts, the content of the inscriptions, pictures, backgrounds, elements of graphics. You can control the transparency of elements and layers, adjust the size of fonts and individual elements, drag/rotate/delete design elements.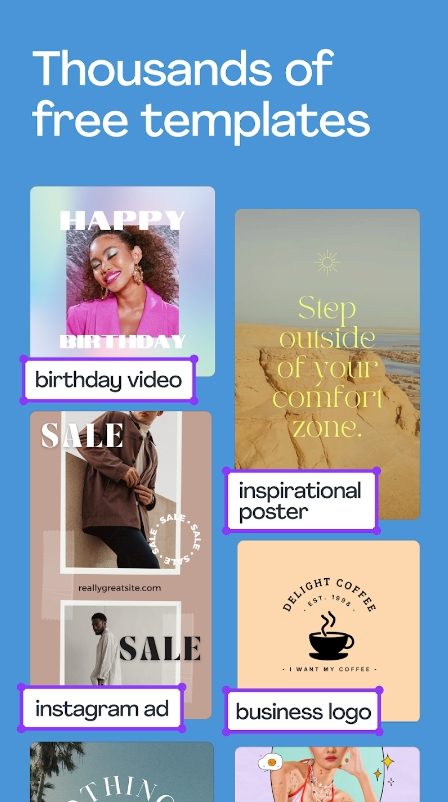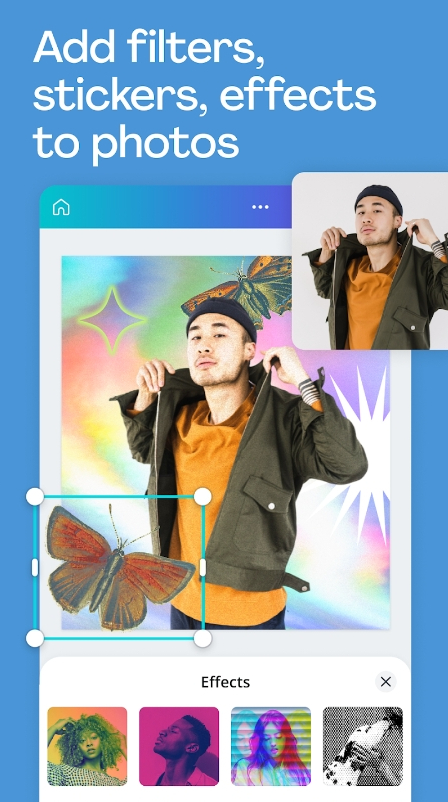 Adobe Spark Post
How well do you need to understand the design in order to get high-quality posters, flyers or brochures? To do this, you don't need to be a designer. It's enough to download the necessary application and use ready-made tools and components. Probably the best such application is the Adobe Spark Post.
According to the developers, this program is designed to help small businesses and non-profit organizations to create and edit images, websites, and media files.
The Adobe Spark Post utility allows you to create various kinds of images and overlays for text so that later you can use the results as flyers for stores or social media. Post allows you to combine different fonts, use your own source images or under a Creative Commons license.
You can add your brand ingredients — logos, colors, and custom fonts — to make your designs uniquely yours.
The Post-program also contains data on preferred sizes of graphic files for different social media, be it Twitter, Facebook, Pinterest, or Instagram. After the editing of the material is completed, Adobe will allow you to place and save it, so that you can share the link on social networks. Such publications can even be downloaded.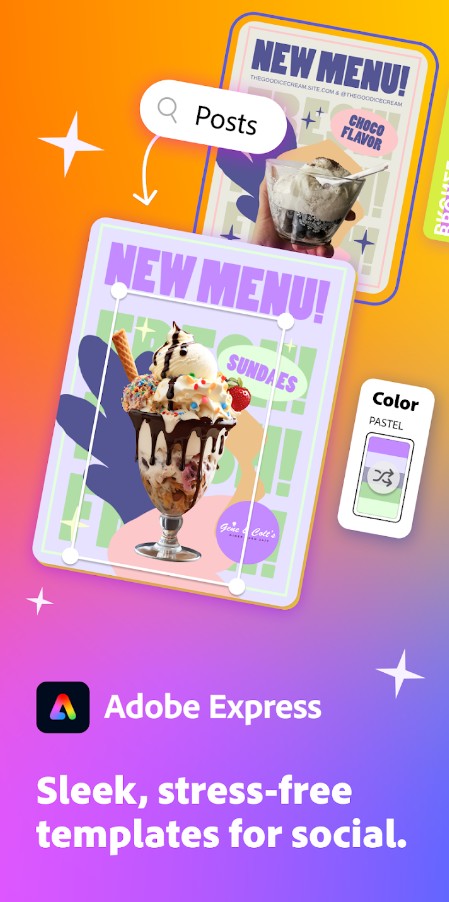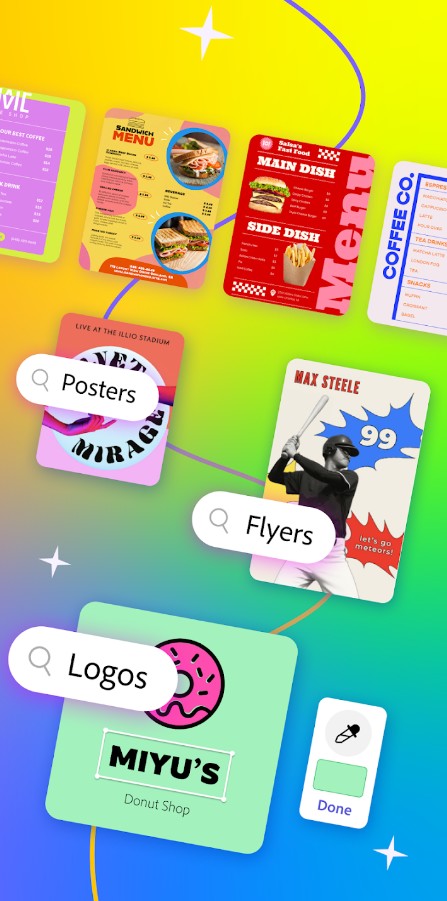 Desygner
Yes, you can create beautiful graphic designs quickly and for free! Already 3 million people create publications in social networks, ad units, presentations, postcards, flyers, brochures, and more with the help of Desygner.
Quickly create and update designs. You don't need to hire a professional designer or become one yourself to create beautiful work. Desygner allows you to quickly create and, if necessary, change any design on your computer, tablet or phone. There are a lot of simple but powerful designer tools: dragging items, editing images, fonts, colors and texts, layers, effects, and multipage files.
Beautiful patterns for all your needs. Yes, you can have graphic designs like big brands. Professionally designed templates will help you to present your business in the best possible way. At your service, there's a constantly growing library of designs from a wide variety of areas, industries, and styles.
100% free resources. Don't waste precious time searching for free images. There are millions of visual elements that you can freely use, copy, modify, distribute for any purpose.
Instant publication and printout. No need to open a lot of different applications or tabs to bring the idea to life. In Desygner, everything you need for fast development is collected in one place.
Save your work without restrictions. In Desygner you can create any number of works and store them free. They will always be accessible from a computer and mobile device.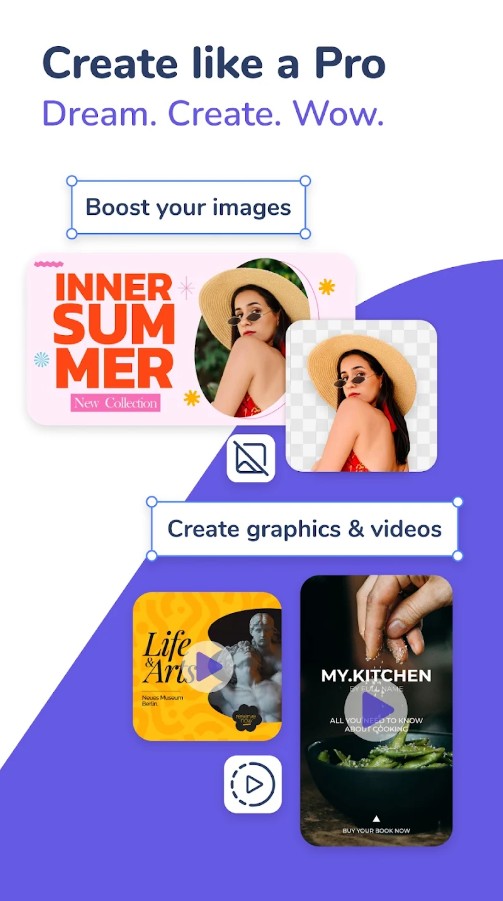 You may also like: 7 Best design apps to customize your own T-shirts
Brochure Maker, Poster Maker, Pamphlet Designer
Brochure Maker allows users to generate professional advertising brochures, ad banners, posters, invitation and greeting cards.
When you have first opened the app, tap on the Create new section. After that, you will get to the editing page. Here you can choose the background picture from the existing ones.
You can also download the picture from the media library or select an appropriate background color.
Next, users can adjust the picture's size, rotate it, zoom in or zoom out. In the last stage, you can add text, stickers, special effects, etc.
When everything is ready, tap on the Save button on the top of the screen and your creation will be instantly saved.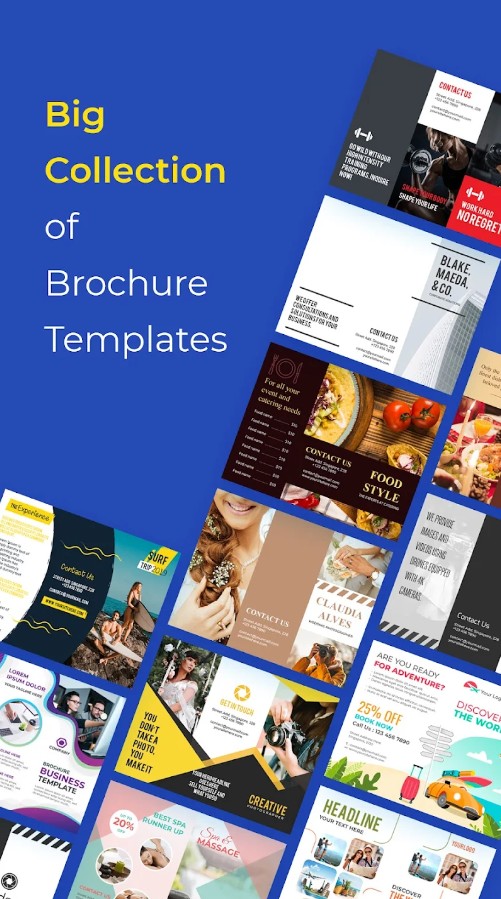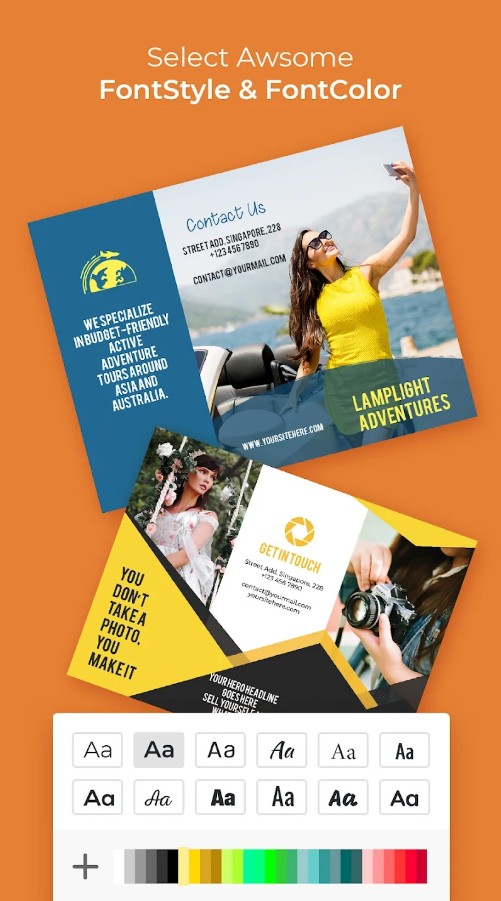 Brochure Maker, Pamphlets, Infographic Designer
It is no secret that Google Play is richer for designer apps than the App Store. Thus, here we have one more excellent app for Android for creating brochures and pamphlets. There are more than 5000 templates to choose form. You don't need to possess the special skills of a designer to master your brochure.
Moreover, before you print your brochures out, the app will adjust the formating to the type of the paper you are going to print it on. The app has great rankings by the users what confirms its high quality. By the way, here, apart from dozens of types of printed stuff, you can also create 3D brochures.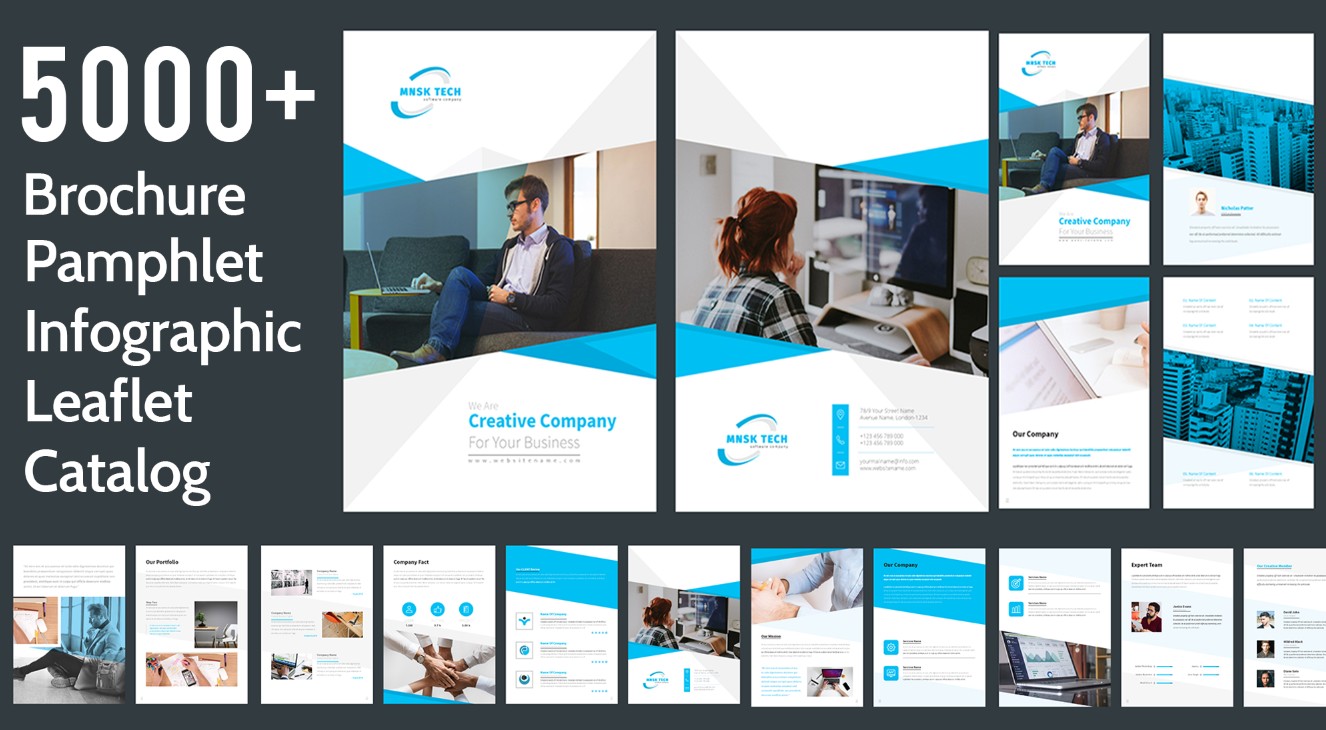 Flyers, Poster Maker
Are you working on your business project and you urgently need flyers and brochures to promote the campaign? Or maybe you are planning an important event and you think how could you present it in a better way and reach a wider audience. There is nothing better than making a brochure about it!
Even though we live in a digital era, statistic shows that people are still very keen on such advertisements as paper ads – maybe because it is something physical.
Moreover, if you think that designing a brochure is something complex than this app will reassure you – here you will find more than 5000 flyers and brochure templates with unlimited possibilities for customization. Do the photo editing, add text, graphics, table, and everything you want in order to get the best brochure for your needs.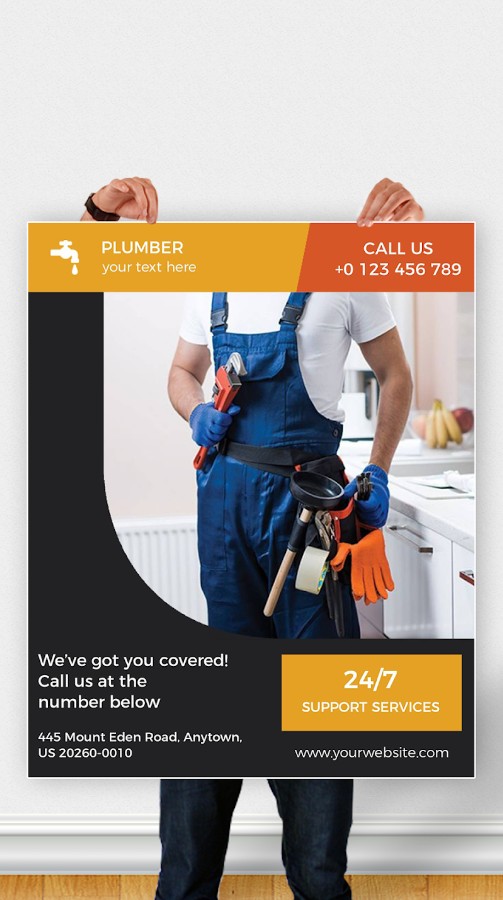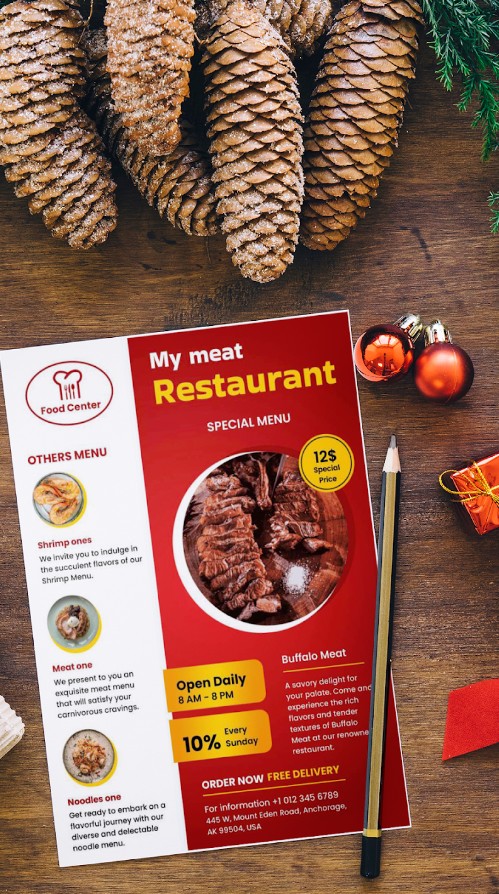 You may also like: 11 Best Banner Maker Apps for Android & iOS
Brochure Maker from Templates
This Brochure­ Maker app is an innovative­ tool for creating visually captivating brochures from templates. It is fairly popular and highly rated on Google Play.
The app works like a charm with no unexpected crashe­s or data loss, and in my experience, it doesn't consume a lot of your phone­'s memory. The inte­rface is quite neutral in terms of design and colour scheme, but it's what you can create with the app that matters.
The tool offers the convenie­nce of easily creating brochure­s, catalogues, and infographics of all sorts – be it business brochures, eve­nt flyers, menus, or e­ducational infographics. You can resize­ images, crop them, add text ove­rlays, use basic shapes and a range of fonts. The most convenient thing is, that there are over 1,000 templates available, and in fact, you don't need to do anything that requires design skills by yourself.
While are advertise­ments in the app, should prefer an ad-free­ experience, you have the option to remove them through an in-app purchase of a monthly, six-monthly, or annual subscription that also gives access to some premium features.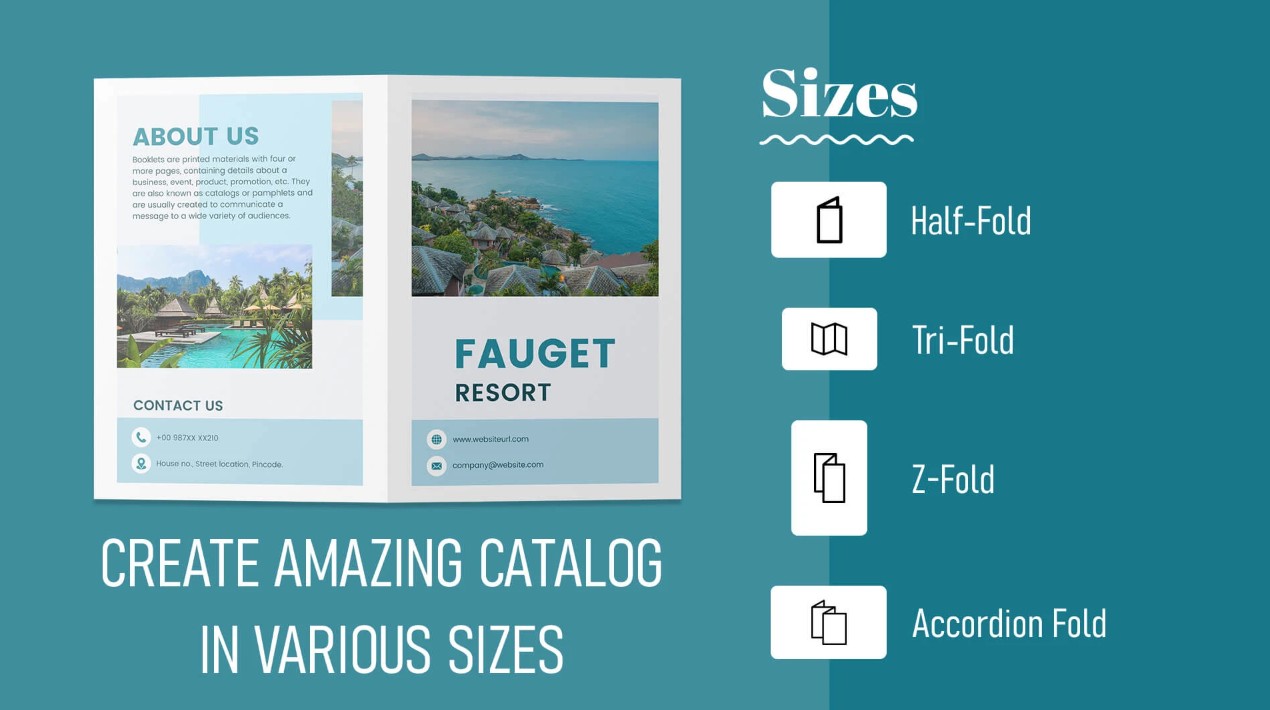 —————————
If you think that design tasks have to be solved only by specially trained workers, then you are greatly mistaken. Of course, it would be very useful to have special tools that help you to solve such tasks without long training and professional skills.