Cudo Miner is a crypto mining platform that offers automated mining and reduces manual configuration. The software supports Windows, Linux, Mac, and Ubuntu.
Now let's find out why this service is so special!
First of all, we would like to mention that this program does not ask for a constant fee. Before you start using this software, you will have to create an account. But this process will not take up much time!
And if you're new to the topic and have only started trading cryptocurrencies and stocks we can advise you to explore our article about the stock market simulator apps.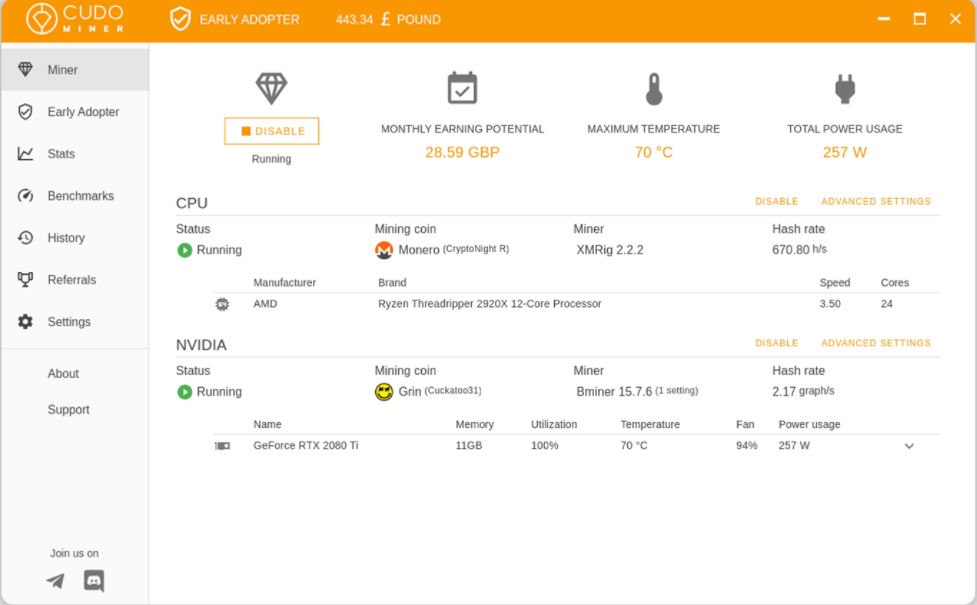 The program scans the coin value and difficulty to guarantee the highest profitability. During this time it will also automatically trade your coins, so you will receive the best price in the market.
Moving on, Cudo Miner offers excellent management facilities. So, you can easily keep track of your earnings or stats, withdraw funds, manage users in the Web Console.
Furthermore, you can also start, stop, restart and reboot your mining hardware remotely.
The next useful feature that many users will certainly like – the platform offers a wide range of settings and parameters. So, you can customize benchmark timeout, miner sleep, GPU intensity, OpenCL settings, CUDA settings, and so many other things!
What is more, Cudo Miner boasts a minimalistic design that guarantees a pleasurable user experience. Moreover, the interface is very convenient to manage. Thus, we can surely say that this tool is suitable for all miners.
However, if you have faced any difficulties while working with Cudo Miner, you can contact very responsive customer service. The technical assistants will tackle all your problems at any time.
We have to admit that the developer guarantees ultimate safety. Therefore, all the users will receive payments instantly and there is no need to wait for the payout from the pool.
And did you know there are also apps for your smartphone for buying cryptocurrency? You can find them here.
Summarizing all the points mentioned above, Cudo Miner is a top-grade service. More than 100 000 users already enjoy Cudo Miner, so hurry up to try it as well. We believe – you will not regret!