Are you bored? Do you like dancing? We have prepared some entertainment apps for you that will help you have a good time. They are dancing apps with your picture that will surely make you smile. With the help of these apps, you will become a real dance king!
And if you want to create more realistically-looking videos with different faces we really recommend exploring our article about deepfake apps.
You will also be able to make a parody of famous dancers by adjusting your head to different silhouettes. The list below includes apps suitable for iPhone and Android devices. Here they are:
Dance Yourself 3D
Dance Yourself 3D is an app where you can make funny videos with your face. You will be able to come up with different funny scenes, mount your face and move it into the image of another body.
There are GIF animations, with which you will easily create short but interesting clips. You can also send videos to your friends via Instagram and WhatsApp.
The program has many kinds of dances, you will be able to choose your own favorite and shoot fun content for it. To all of the above, you will be able to shoot a New Year's greeting for the New Year and Christmas. Shoot a dance with friends and family. Create your own unique dances and make others happy.
If you are looking forward to some holiday and looking for free dances to music that suits it, you can always use the right sounds and shoot videos.
For example, you will create an unforgettable video, putting a 3D model of your face in the dance video. Please yourself on your own birthday and surprise your family and friends.
Celebrate love, gay pride, and other important days by sharing funny videos that lift your spirits. There's also a section for creative romantic videos. It will pick up animations and animated themes. You'll create beautiful love videos, enjoy the music, and pick the right frames to make everything look great.
These videos will be memorable if you make them for a wedding, or edit them for a boyfriend's or husband's love party. Create 3D clips and send them to your loved ones via TikTok, Facebook, and other services.
Users love the app. Here you create the atmosphere you want. Make your video clips colorful and rich, so everyone around you will be crazy about what they see.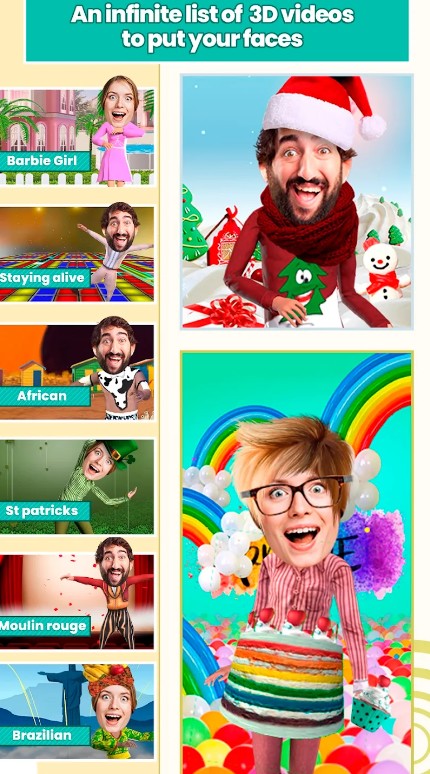 You may also like: 11 Best apps to make photo slideshow with music (Android & iOS)
Funny Dance with Your Face
An extremely simple app and it is super easy to use. All of that means that it is suitable for the usage of people of all ages because FunnyDance with Your Face is so easy to handle.
The whole algorithm is pretty classy. You open the app, choose the picture from your phone's library than cut it so only the facial expression is visible, and then apply it to one of the templates in the app. By the way, Funny Dance with Your Face has more than 10 various templates.
After you applied a face to the pic, the app will generate a funny dancing video with your picture. Isn't that what you've been looking for?
The only drawback is it's full of ads. Also, the interface looks a little bit outdated.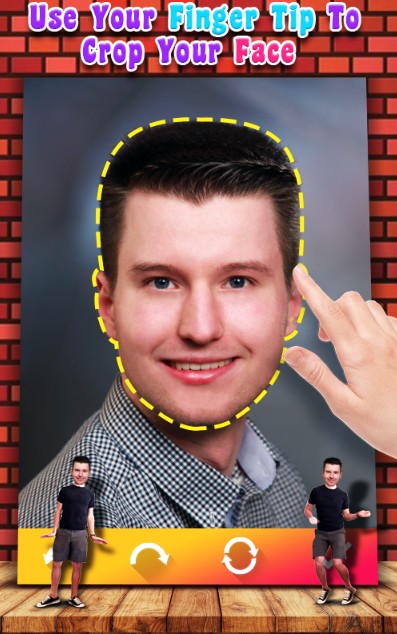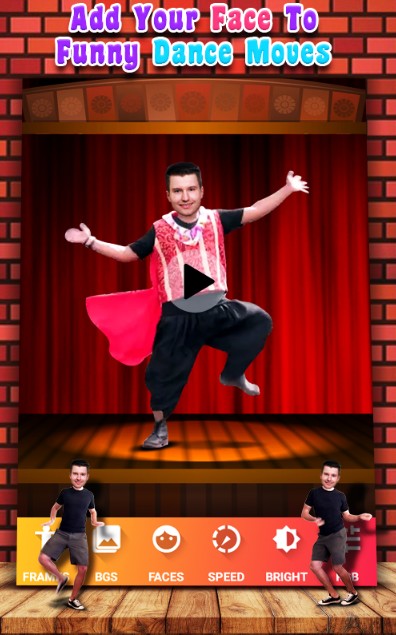 My Hero Birthday
This is a cool and unusual app, especially if you want to send someone a happy birthday card in a unique way. You can both insert your face into a dancing picture or paste the face of that person who has a birthday. After you create a video you can add the voiceover.
The app is remarkable by an amazing set of all-time favorite characters: Batman, Cinderella, Spider-Man, Harley Quinn, and others.
After you created a video, you can save it to your device or share it via social networks. Among the drawbacks of My Hero Birthday, we noticed that the app tends to crash from time to time.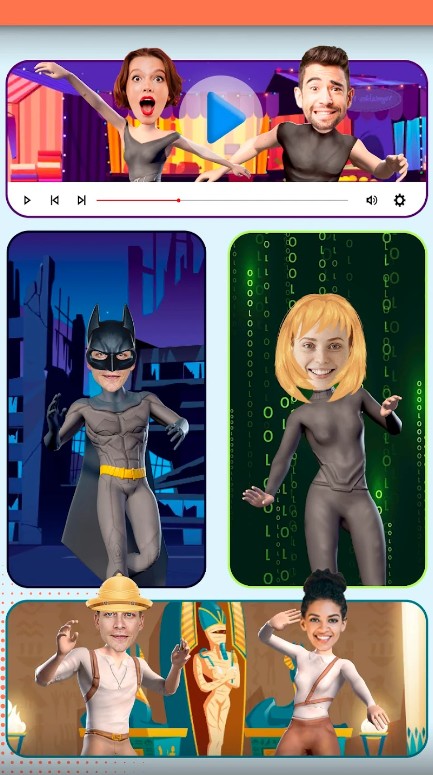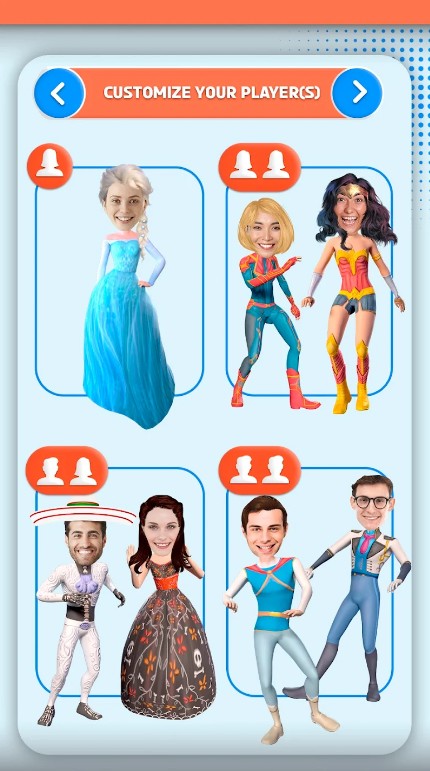 ElfYourself by Office Depot
You can join a New Year tradition and turn yourself into an elf. With ElfYurself app, you can become a star of your own video. Your photos will be put on the faces of dancing elves in festive costumes.
You can upload up to five photos of yourself or your friends and relatives from your phone library or from Facebook. Then, you are to choose a dance you like and the app will create a unique video that you can send to anyone via email or publish on Facebook.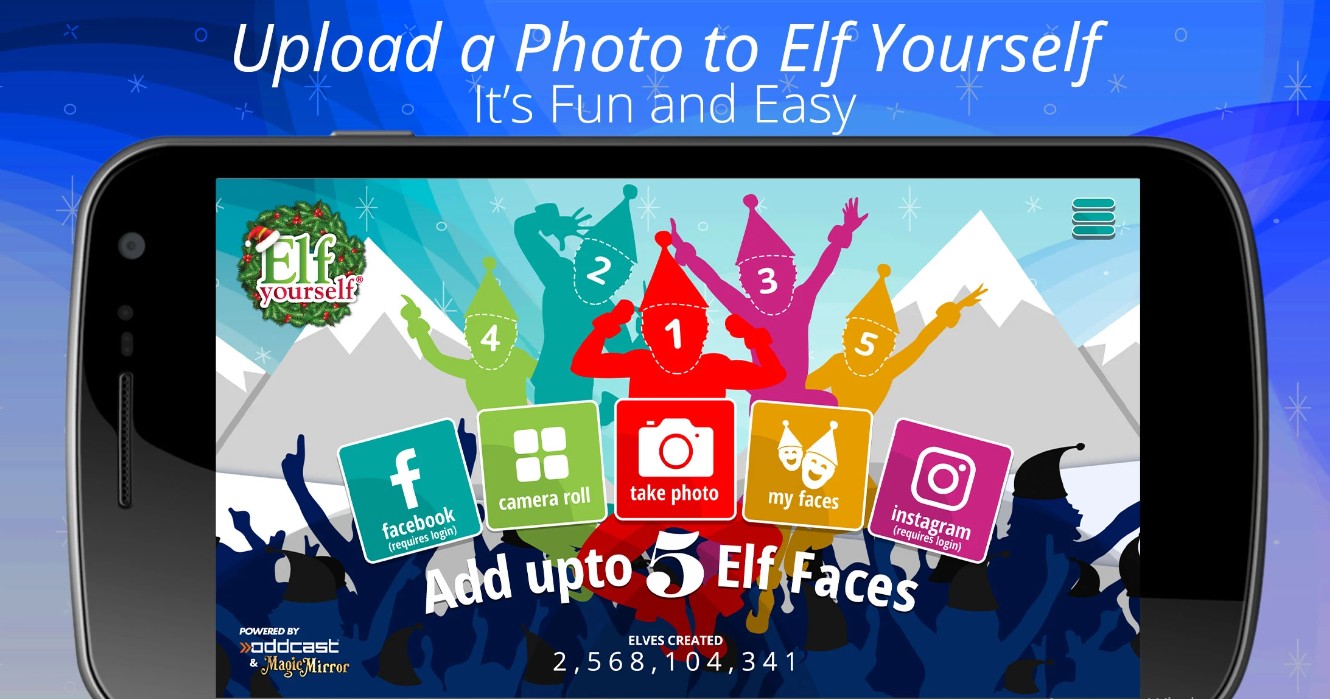 Elf Dance – Fun for Yourself
Elf Dance is a good dancing app with your picture which will add pleasure to the Christmas holidays. With the help of the application, you can join your friends and relatives in a funny elf dance. You will really enjoy creating a new unusual dance and will surely make your loved ones smile.
You can include up to five elves in your team. Choose a photo of each one and make them all dance together. You can also choose songs from the offered list in the app. After that, save the video and share it via social networks or post it on YouTube.
With the help of this fantastic tool, you are able to wish Merry Christmas to everyone.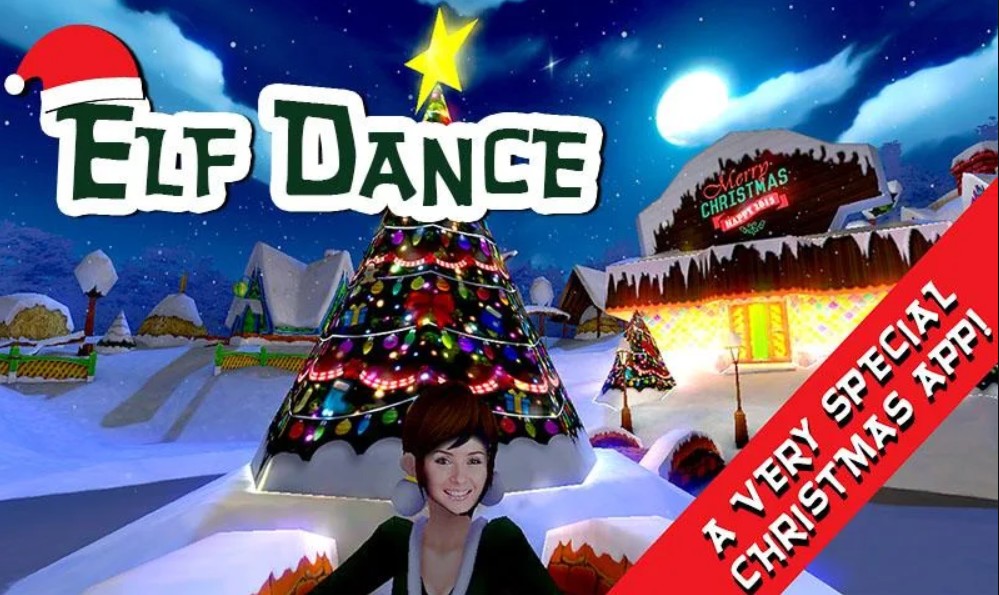 Face Dance
Face Dance is an app that brings your face to life and transforms old photos. You will be able to take selfies and take pictures in different trends. Take pictures of anything that interests you. Capture your pet on camera as a dancing friend or girlfriend.
There is a lot of music in this app, everyone can find something they like. You will be able to change your old boring pictures and turn them into bright images. You will sing your favorite songs, and enjoy dances, which are also popular in TikTok.
You'll also be able to spread the fiery video on social media such as TikTok, Instagram, and others. To always be on top, don't miss new hits. The program allows you to shoot a dance every day. Be sure to try new animations for your selfies.
Privacy is completely user-friendly and does not save photos or animated videos. Songs are selected based on incendiary content.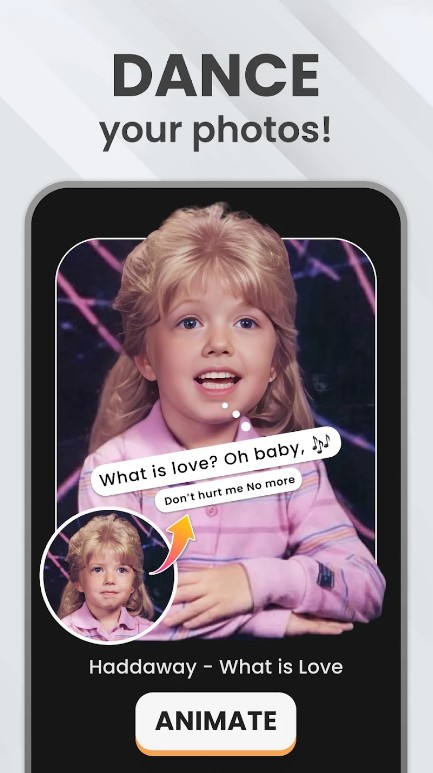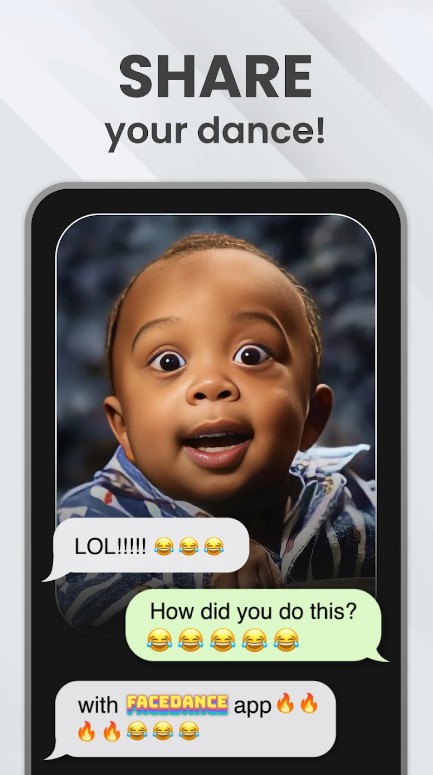 Anime Yourself
Anime Yourself is an app in which you become a dancing anime character. You will be able to create a 3D model of your face. There are interesting backgrounds, decorations, and outfits to choose from.
Record fascinating videos, come up with original dance moves, and send them to your friends. If you're a fan of anime, you're probably familiar with the culture of otaku and you'd like to see yourself as a character from there.
This app is designed for that, you can not only quickly become a hero of your favorite stories, but also create their own academy of dance. It's possible to pick up clothes for your character from the manga. Embody the images of your favorite characters, pick the music to your liking and shoot videos.
Have fun and make videos. Don't forget to share your content on social media. If the video is interesting, it will move rapidly to the top. The app is really worth your attention. Fans of anime will definitely like it.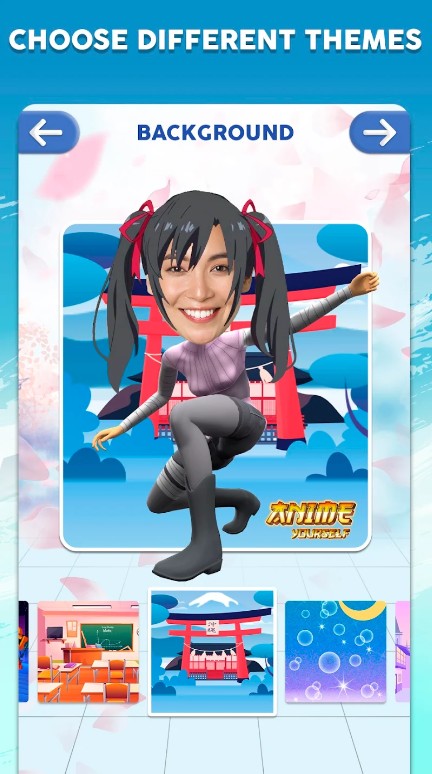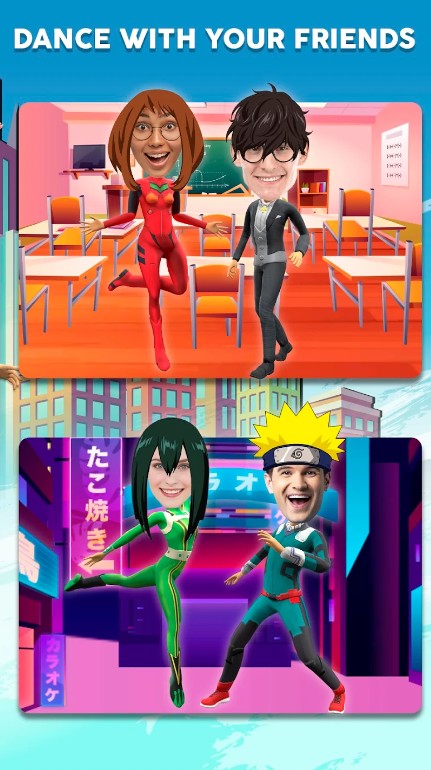 Dance-ish Me
Dance-ish Me belongs to one more type of dancing app with your picture. In this app, there is only one dancer – the worldwide famous Kenichi Ebina. Add your face to his body and dance as if you were a professional.
You can add photos from your phone's library or from Facebook.
You can share your dances with friends via Instagram, Facebook, Twitter, by Email, or post them on YouTube.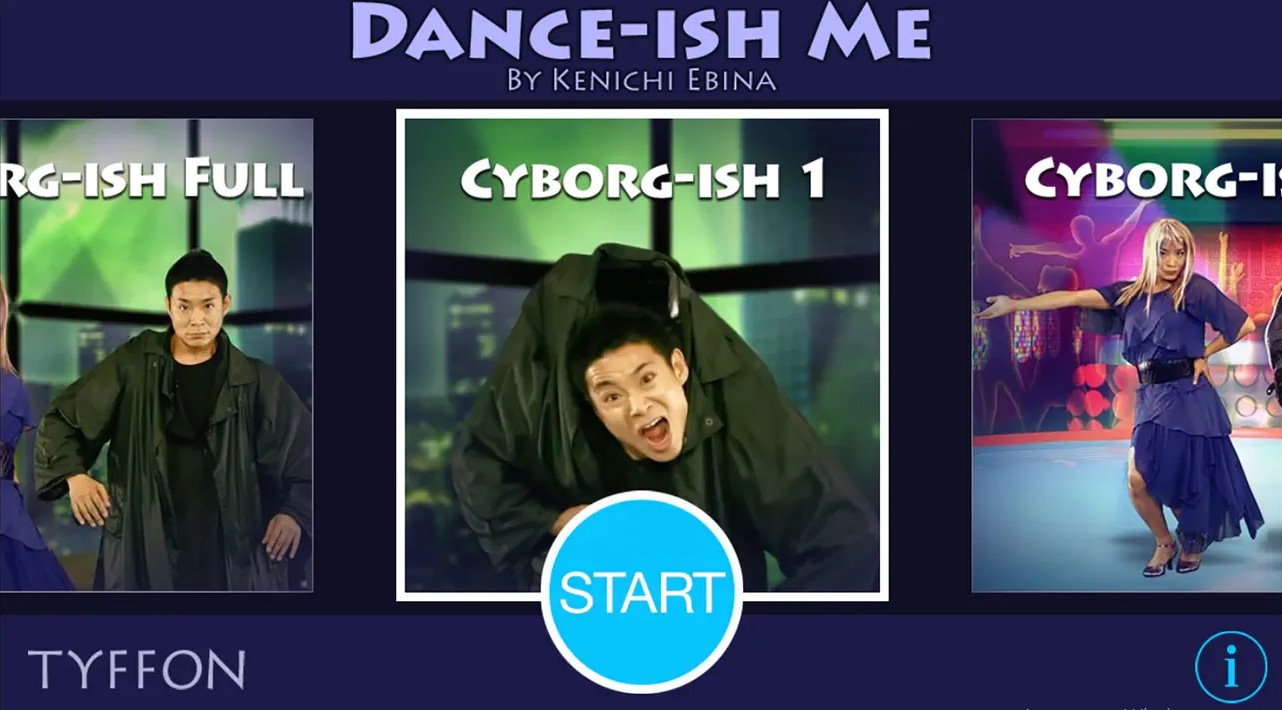 Animate Me – Dance Video Maker
Animate Me is a great way to make your friends and relatives dance in a funny way. You can choose costumes, a type of dance, a song, and a background. There are different dancers and heroes to choose from. Take a photo of a person you want to make dance with and add it to the chosen body.
When everything is done you can share a ready video with others via social networks or directly through SMS.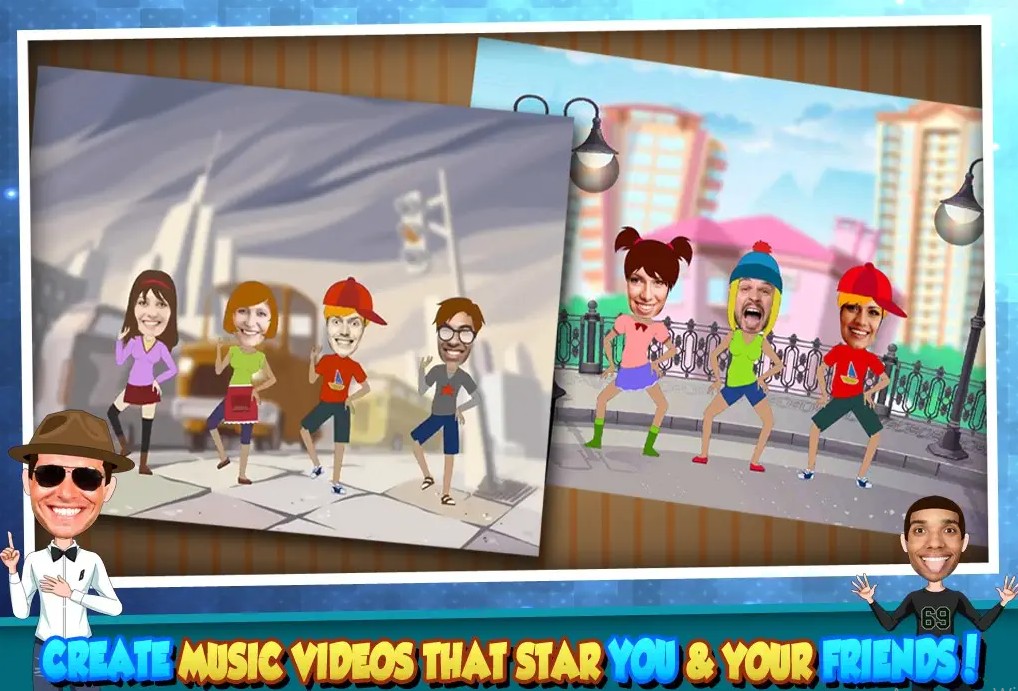 Animate Yourself 3D – Dance Video Maker
Animate Yourself 3D is a unique app available on iPhone devices. It already has plenty of users because it is absolutely new and close to reality. It has its own specific features that other dancing apps with your face don't have.
You can choose characters, costumes, backgrounds, dance genres, and even the color of your skin. Also, it is possible to add text bubbles to the characters to make them talk. Have fun adding crazy words to your dancing friends.
The list of characters is great – it includes Santa Claus, Policeman, Fireman, Doctor, Superhero, Teacher, Pimp, African, and many others.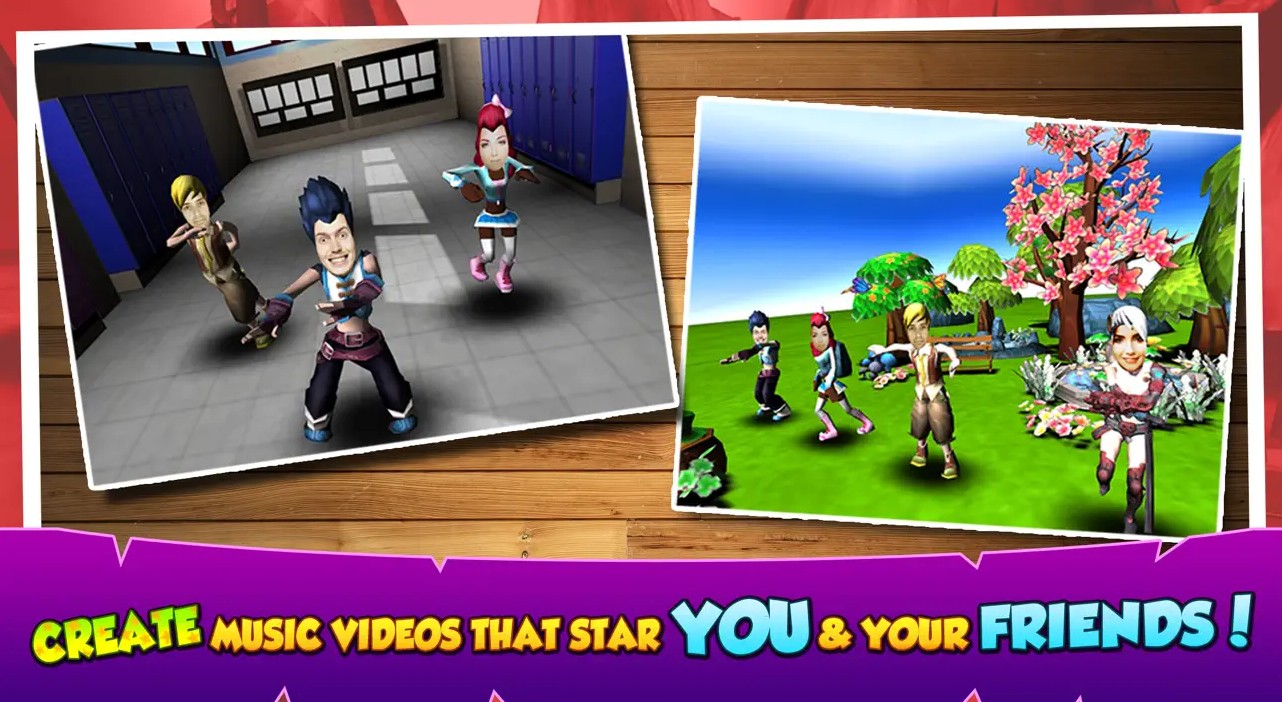 You may also like: 11 Free Face Dance Apps
JibJab: Ecards & Greetings
JibJab: Ecards & Greetings is a unique and entertaining app that allows you to add pictures to fun and animated dance videos, creating personalized and hilarious greetings to share with friends and family.
With a vast library of dance templates and greetings, the app makes it easy for users to become the stars of their own custom videos.
The app uses advanced facial recognition technology to ensure seamless and realistic integration. It enables users to create personalized and heartwarming messages for various occasions, such as birthdays, holidays, and special events.
JibJab: Ecards & Greetings offers a wide variety of dance categories, from funny and quirky dances to heartwarming and sentimental routines.
With its easy-to-use interface and creative features, JibJab brings joy and laughter to the world of messaging and greetings, allowing users to express themselves uniquely and share memorable moments with loved ones.
To sum up, you can bravely download this app if you want to have some fun.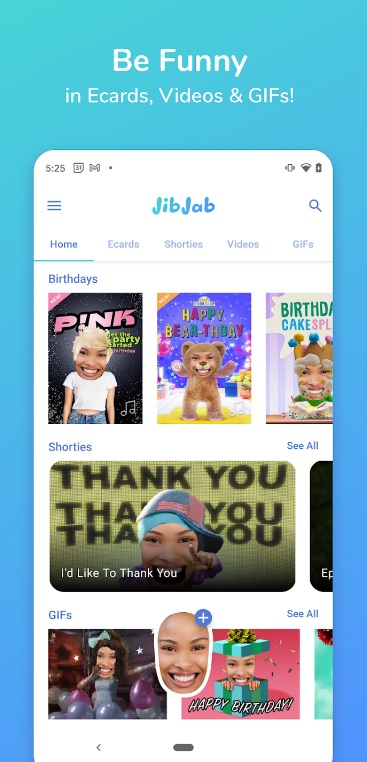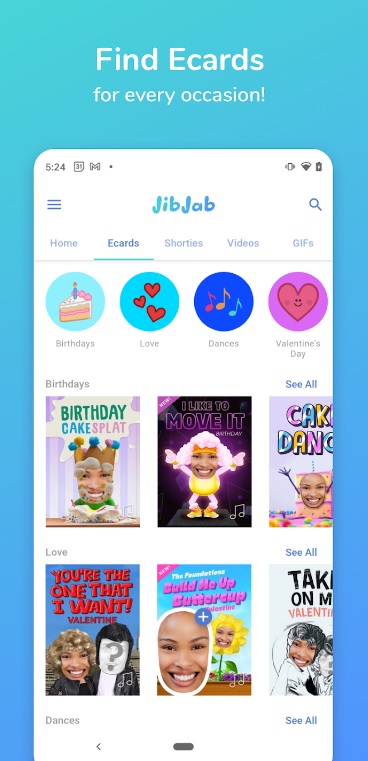 Reface
Reface claims to be the semi-professional video editor that can change any face in any video to the one you want. Frankly speaking, it will work only with simple vids. Don't expect that you will get a deepfake effect here.
On the other hand, you can find the video with the dancing person and use this app to paste your face or the face of your friend in there! But keep in mind that your device shouldn't be the oldest so you can utilize the app at its full capacity.
You can also add your voiceover to the videos and make just animated pics. New templates and effects are added on the regular basis and this fact helps Reface stand out from its competitors on this list.
And before you use this app make sure your Internet signal is strong and stable, otherwise downloading and uploading the videos will take you forever.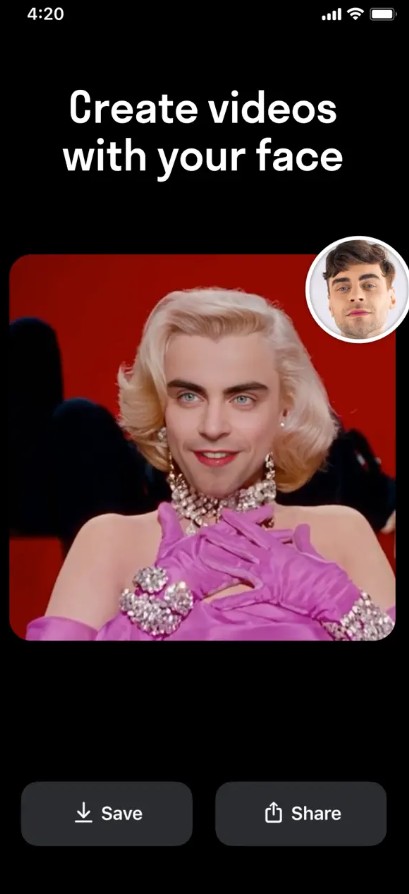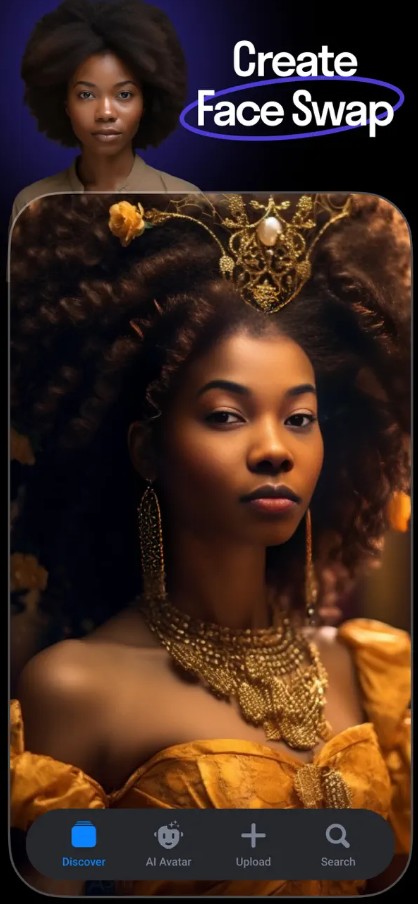 Birthday Dance Video Maker
Birthday Dance Video is an app that will make you a dancer in no time. You will become the bright star of any celebration. Choose your dancing themes and create a 3D model of your face.
You also have the opportunity to choose clothing and jewelry. Make videos and share them with friends.
You've probably ever wanted to create the perfect character with a beautiful appearance. Well, this program can make your wish come true. You will pick up your skin and hair color and accessories. Then you can shoot a rousing video.
The app has many different backgrounds and themes. For different celebrations, you can choose certain effects to create a unique atmosphere. Discover new outfits in the app, there are plenty of them. Pirates, villains, fairies, superheroes, everything for a fun party. Shoot a video alone or with friends.
Use the video as an original greeting, as a clip carrying entertainment content. The program is blowing up the internet because it is liked by young users and people with a sense of humor. It will bring joy and make the holiday richer.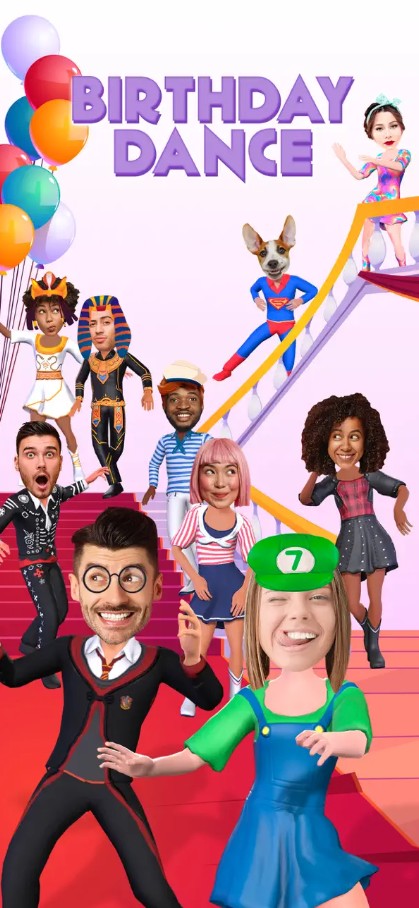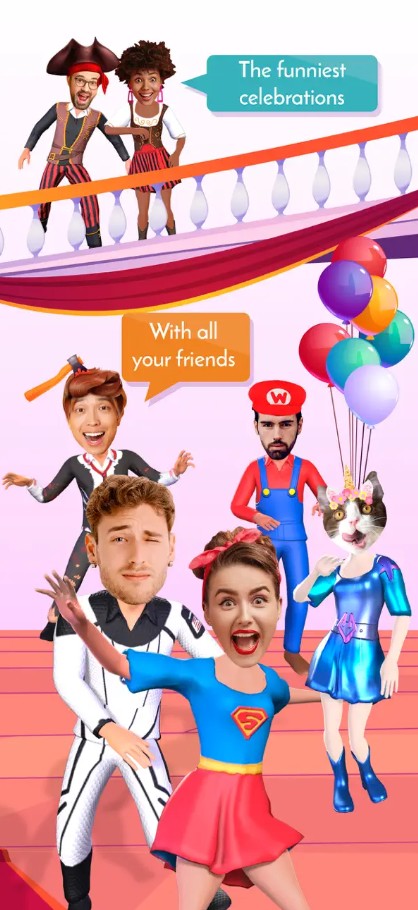 Funny Face
Funny Face is an app that will help you create funny videos. The program has many fascinating filters, with them you can create vivid videos.
Enjoy video clips and make 3D ones with original themes. The themes in the app are enough: superheroes, elves, Christmas, and more. Here you will create unique videos with an entertaining character.
The funny videos section will allow you to create funny faces, and insert them into GIFs or social media. Experiment with facial expressions and create your own creative video. With Funny Face, you can make your family and friends happy for the holidays. Prepare skits and dance to your heart's content.
Also with the help of this program, you can mount love videos. Make these videos from your favorite photos or scenes from your favorite movie or TV series. Create a great gift for your other half. Be sure to share your video clips on social networks.
This program is suitable for making creative content, you can also shoot your own pet. The app is not only entertaining but also helps to replace your program for filming with your face.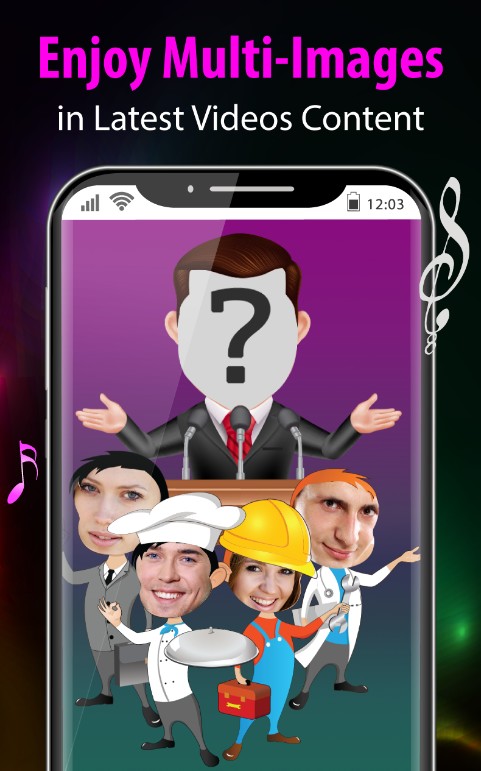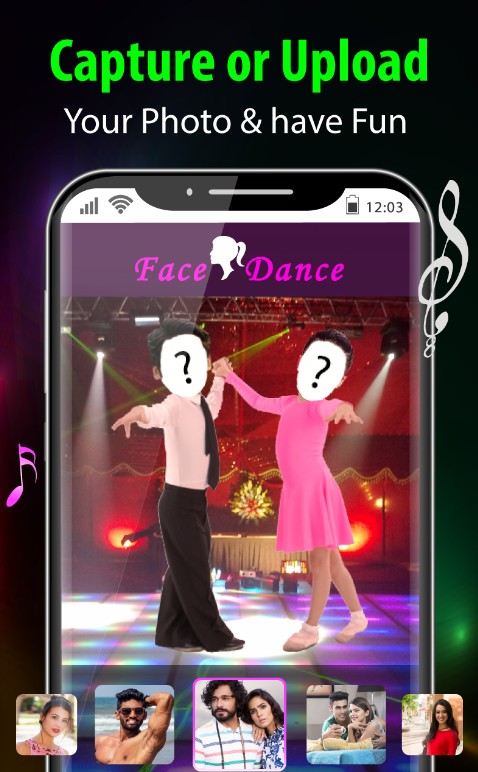 Christmas Dance
Christmas Dance is an app that takes you into the world of New Year and Christmas. It's a great program with all the Christmas dances and rousing music.
You will be able to make videos of your favorite characters. You can upload from one to three shots. You will shoot your face and transfer it into the bodies of elves and snow maidens to completely transfer the image.
If you want to have fun from the heart, make sure you shoot video clips with your family and friends. You can even bring your pet along for a fun shoot. You'll choose songs to your liking from the albums.
Create unique dances with cool moves. Try on different jewelry and even clothes. Get creative with the backgrounds, and find locations with Christmas trees and balloons.
The resulting funny videos you can post on social networks, send by mail to relatives and celebrate the new year cheerfully. You will be the star of the New Year's greeting with your image of the hero.
Choose an interesting dance to start shooting, then click create. You will bring a smile to everyone's face and enjoy the magical atmosphere of the holiday. You will love the app if you like to move and spend time with fun.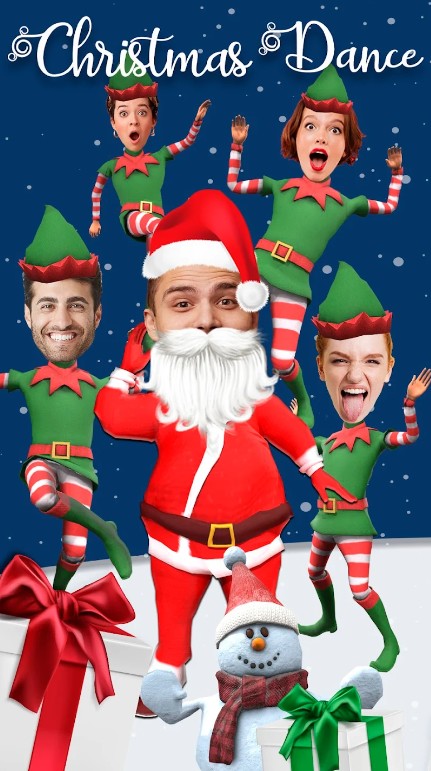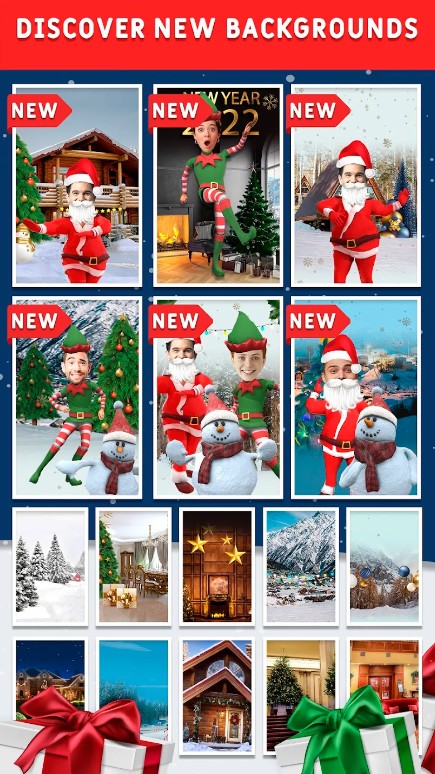 World Dance 3D Face
World Dance 3D Face is an app that allows users to put their faces right into the heart of the dance action. With this app, you can become the star of dance videos and groove alongside professional dancers in various dynamic settings.
There your face seamlessly integrates with the dancing characters, making you the center of attention in mesmerizing dance sequences.
It offers a creative and engaging way to share personalized greetings, and celebratory messages, or just to have a good time with friends. The app opens up a world of possibilities to express your personality and celebrate special moments with a touch of dance and joy.
With a wide range of dance styles and music genres to choose from, World Dance provides a thrilling experience for dance enthusiasts and those looking to add some excitement to their messaging and social media posts.
So, if you're ready to bust a move and become the star of your very own dance videos, World Dance is the perfect app to put your best face forward and dance your way into the spotlight.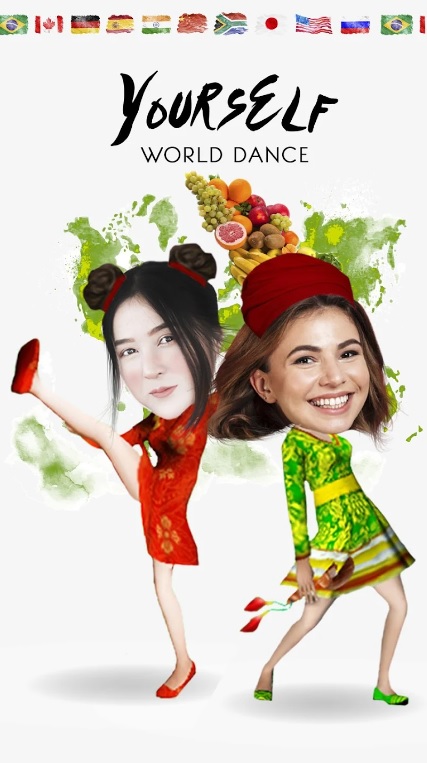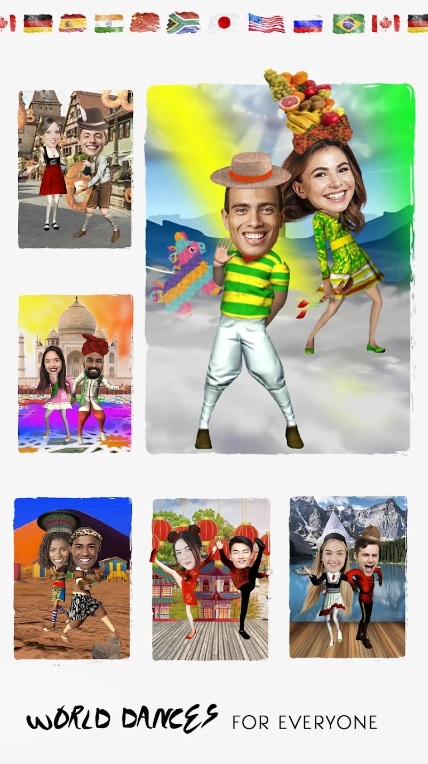 You may also like: 5 Best Beatbox Apps for Android & iOS
Mimic – AI Photo Face Animator
Your Face Dance is an app that helps you create unique dance videos. You will become a 3D animated dancer. Choose a beautiful background, and theme, edit your face and place it on the bodies of your characters. Celebrate your favorite holiday with fun and humor.
The app has cool decorations and costumes. Come up with your own original moves and dance with friends or a fun company. Make the most of the program.
Create different kinds of videos, choose a great look for the characters, and send them to your friends on Instagram and WhatsApp. To top it all off, you can post videos on social media.
Find dance scenes in the app, unlock costumes of pilots, astronauts, and more. Watch templates and get creative with your videos using uploaded face images.
The app has the best dance songs for every taste. Users love the app. It's free, you can even develop your creativity in it. This service is great for adding to your celebration.