Dark Rage is a challenging game that you will come back to over and over again even after completing it a few times. Vast open world, a delightful variety of enemies, engaging number of tough bosses, some of which will amaze you with unexpected tricks and gyps! This is what awaits you as soon as the game is loaded onto your gadget, which will proceed very quickly.
Are you a game apps fan? Then you definitely should check out one of our best lists of apps like Huniepop.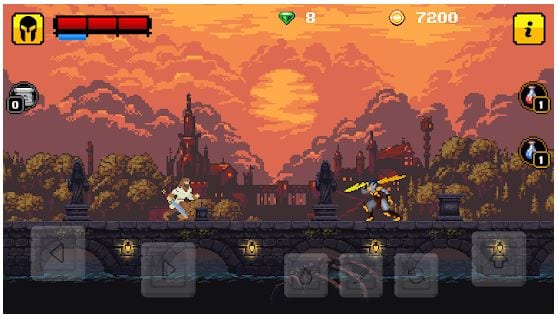 The resurrected hero wanders after his death in fantasy dungeons, castles, and other surreal locations, meeting traps and enemies at every turn. Defeat living skeletons, bloodthirsty zombies, incredible creatures, and other monsters and take their souls to collect. Get gold and exchange it for potions, equipment, and weapons to fight in fierce battles. Upgrade your skills and get gems.
And if you feel like you want to share the fun of the game with your friends – pick up a game from our list of multiplayer games.
Each of the more than twenty bosses you will meet have their own staggering abilities, superpowers, stunts, and combat tactics. Take some time and patience to master the necessary skills and begin to overcome the obstacles encountered. This role-playing game is definitely not easy, but the sweet taste of victory is well worth the effort.
The representation of a dark fantasy world in 8-bit pixel graphics turns out to be incredibly attractive. At the same time, the locations are designed superbly and fascinate with deep colors. Sinister dungeons, lurid thickets, blazing castles, and devastated cities await you.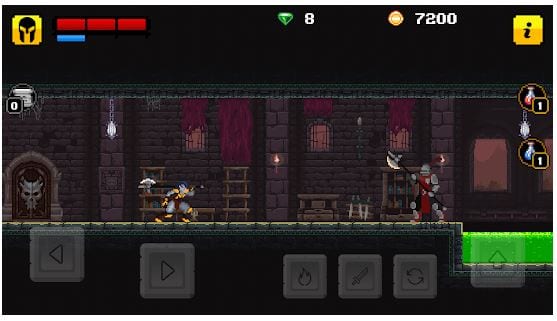 The controllers are conveniently located below the action stage and are customizable in size and position. The game supports joysticks and other external controllers. The operating is smooth; the game does not slow down and does not freeze. The tech support team is quite responsive in case of any issues.
Want to explore more horror games? We highly recommend checking out this article.
Don't let the dark boredom take you over. Better be captivated with the Dark Rage. Become the resurrected knight and perform the righteous retribution to the forces of evil in the mysterious dungeons!