Do you like drawing? If yes, then you might also like to compete with other artists. This is why we decided to create a list of the best drawing contest games.
By the way, if you want to focus on Draw & Guess games, you should take a look at 7 Best Draw And Guess Game Apps for Android & iOS.
There are good options for iOS, as well as Android users. Most of them are free of charge or have some in-app purchases.
Doodle Run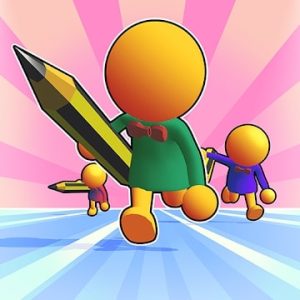 Do you love drawing and competing with others? Then you should take a look at a game called Doodle Run. It was designed as a combination of running and drawing games. This will allow you to test a wide variety of skills. This game is about creativity and speed to make a long story short.
Now let's focus on the functions you will explore in this amazing drawing contest game:
When you start, pick a character first. Your choice won't impact the process of the game but it's still fun to have a big number of characters to choose from, isn't it? 

How does the game work? You start your run and your 

aim is to be faster

 than others. However, you also need to draw at some points. You will be given a word – it will tell you what to draw. You have limited time so hurry up! If your drawing is ok, you can continue the game and get points. 

Enjoy 

bonus levels

! They are a bit different than usual runs.
The game is quite big – it requires almost 300 MB to be installed and function well. The app supports up to 1o foreign languages.

The app is free of charge with some ads that are not too frequent and they never appear while you are drawing.

You can get this exciting drawing game on the App Store and Google Play.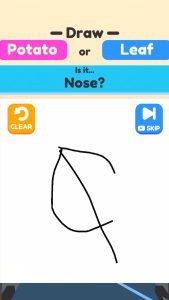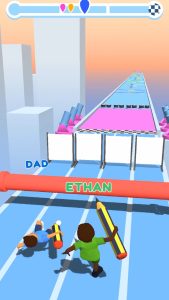 You may also like: 5 Best Disney Drawing Style Apps
Draw It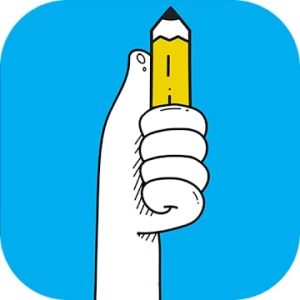 Drawing is an interesting and fun process. But can you draw fast? Let's check it! This is a truly addictive and challenging game for everybody, both children and adults.
Please note the game works online only, which is quite logical as both you and your opponent need to be connected to the Internet to access the battle from their devices. 
Let's see how exactly it works! You need to take the following steps to start:
Once you downloaded the app and created your account, you can 

start drawing

. When the game begins, you will see a pair of words that represent what you have to draw. Please remember – your time is limited! This is why try to sketch fast. Still, the quality should also remain well or you won't get a good score. 

The more you play, the better you get. And you will also 

unlock new interesting word packs

! They will get more complicated with each round. 
These are the basic functions of this nice drawing game. If you want more, you can go premium. In this case, you will get additional cool features. 
Get free coins every day

. This will boost your progress and will get access to premium tools and features, including the ones for drawing. 

All the ads will be removed

 from the game, allowing you to fully concentrate on the process. 

Get VIP word packs!

 They are much harder and more interesting. Even if your drawing skills aren't perfect, you will still be able to draw them or at least have fun. 
If you aren't sure whether you should try this premium subscription, enjoy a free 3-day trial. 
There is a pretty serious disadvantage. If you choose the free version, there will be a lot of ads. 
Both iOS and Android users can download this app on the App Store or Google Play.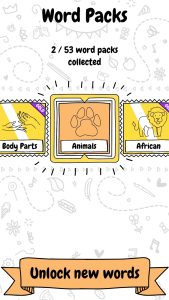 Perfect Paint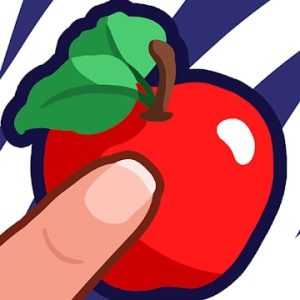 This app is a bit different from the others listed here. Its main feature is that you don't have to be creative during the battle. What you need to do is to copy the painting of your opponent. 
The more similar these paintings are, the higher your chances to win will be. This is why try to be attentive and mind the time – it is always limited. 
Here are some other features of Perfect Paint: 
All the pictures 

are divided into topics

 so you can choose what you like most. If it doesn't matter, just do nothing and then the drawings will appear randomly. 

Your 

skills don't matter

. Even if you have never practiced drawing, it won't be a problem. The game will start with a simple drawing that is easy to copy. 

Make your paintings bright!

 It is important to copy the shape of the image, you also have to add some colors to it. This makes the game harder as you need more time to copy. 
All the listed functions are available at no cost. There will be a significant number of full-screen ads though. If you see a video ad, there is no way to skip it, which might seem annoying. To remove them, pay 2.99$ once. 
The size is quite big – it requires 187.5 MB of phone memory. However, there are no glitches or bugs. 
Perfect Paint is available for iOS, as well as for Android users for free.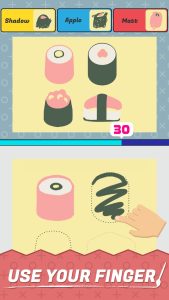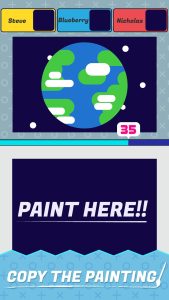 Drawize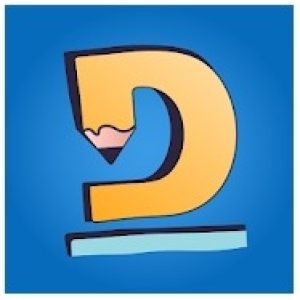 Now you can check another nice game called Drawize. It provides you with a good way of competing with your friends at a big party or home. 
You can do a great number of activities there. Let's see what exactly you will discover: 
Explore 

a useful practice mode

. This option will come in handy if you have zero drawing skills. 

Try Daily Challenge

. This is a perfect way of testing yourself – your speed of drawing, attention, and ability to concentrate. 

Guess and Draw

. This is one of the most exciting game modes. As you might see from the title, you need to draw objects and others have to guess what is being depicted. 

Use 

advanced drawing tools

 – brushes, sprays, pencils, and pens. All of them are available for free from the very beginning. There is no way to unlock most of the features. 

Compete with your friends

. The more you play, the better your skills will get. To test your sketching abilities, make sure you compete with others. By the way, if your friends don't feel like drawing, you can always find an opponent online. 
Drawize is a pretty small application, it requires about 16 MB to be installed. 
Both Android and iOS users can enjoy this cool drawing contest game for free.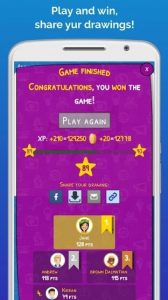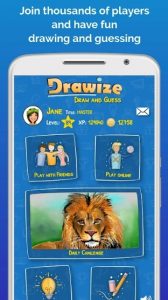 Gartic.io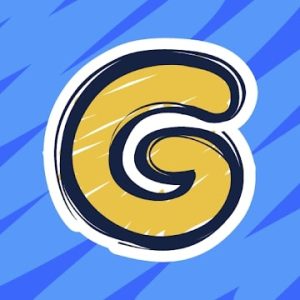 Here is another good example of a contest drawing game. It is universal, you can play with one friend or a group of people. 
It has an intuitive and friendly users interface, which will help you start drawing at once. 
Here are the best functions you will see in this drawing app: 
One of the most competitive modes is

 draw & guess

. One person needs to draw a picture (the time is limited so hurry up). Others need to guess what is being drawn by the player. 

When you manage to guess right, you 

will be given points

. The more points you get, the better your chances to win will be. 
The app is free with some ads. However, they aren't too frequent meaning you can easily do with a free version. 
By the way, if you want to create cool sketches but you have zero drawing skills, make sure you check 11 Free Apps To Turn Photos Into Sketches (Android & iOS).
Another cool thing about the app is that you can add up to 50 players. It makes Gartic.io a great option for big parties. 
You can download Gartic.io on the App Store or Google Play and start your drawing contest for free!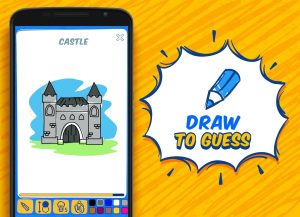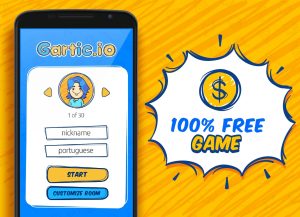 Perfect Draw: Drawing Contest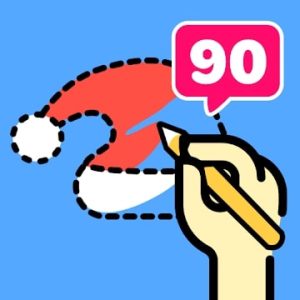 If you are searching for a simple and good application, Perfect Draw is something you should try! 
It has a friendly user interface that makes it super easy to get started thanks to a friendly interface.

Let's see what you can do with the help of this cool game. 
Test your drawing and painting talent!

 Everybody can do it. It doesn't matter if you are a beginner or a skilled artist – in this app, you can make your first picture in a few minutes. 

Explore a wide variety of pictures

. Start from the easiest ones and increase difficulty.

Improve yourself. You can get better with each drawing. What is more, you will be given little tips to improve your drawing.
However, some serious disadvantages can make your experience worse. The first downside is that you can't zoom your picture. This is why it might be hard to draw little details.
Another important thing is that there is a timer, which might be a bit distracting. Unfortunately, there is no way to remove it.This is why the rating of this app isn't too high – 3.7 out of 5 on Google Play.
All the basic functions are available at no cost. Still, if you need to go for some in-app purchases, each of them will cost you 1.99$. The size of the app is 40 MB, which isn't a lot. By the way, ads are quite frequent. They often appear after each of your drawings.
You can download Perfect Draw on Google Play for free.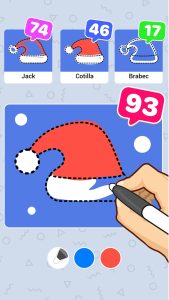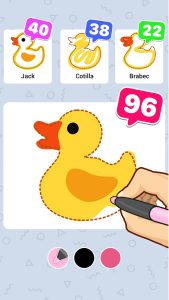 Draw With Friends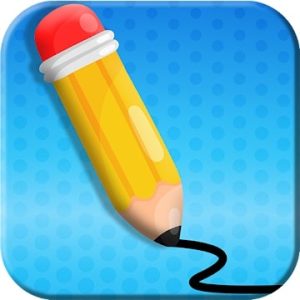 Are you looking for an addictive and competitive drawing game? If yes, you need to check Draw With Friends. This game will be a great option for Pictionary game lovers. 
You can do a great number of things with the help of this application: 
Create a group of your future opponents

. It can be your real friends or people from the Internet, it doesn't matter. The game requires an Internet connection, as you play in real-time. 

Set the theme

. Before you start playing, make sure everybody understands the rules well. For example, you can agree on drawing pictures united by the same topic. It can be sports, animals, or anything you want. 

Use 

various tools for drawing

. You may choose from pencils, pens, brushes. What is more, there are plenty of colors to choose from. 

Start drawing! 

Do it fast and don't forget about the quality. Then vote for the best drawing and determine who is the winner. 
There are some bugs, though. They appeared after the latest update. Still, the developers promise to fix them soon.
This multiplayer game is free. You can download it on Google Play and test your drawing skills, have fun, and even master your drawing.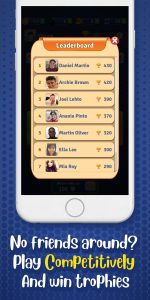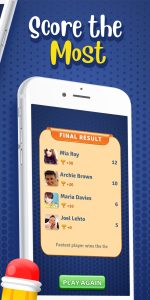 LetsDrawIt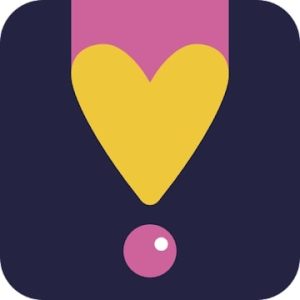 This is a game that contains four different word games inside! You can switch between them whenever you'd like to. All of these games are multiplayer enabling you to have time with your close friends.
Let's take a closer look at each of them:
Draw and Guess

. You probably know about it. The rules are simple – one person draws, and others have to guess what is being drawn. The one who manages to do it wins the round and becomes the next person to draw. 

Draw Best

. This is a truly competitive game for kids and adults. Its aim is to draw the best picture and do it fast. To determine whose picture is best, you will rate each other's drawings! You can't rate your own one. 

Copy image

. As you might understand from the title, in this game, you have to show your drawing skills and attention. Be fast and don't miss even little details. 

How to Draw

. This is a perfect game for beginners. If you have no experience in drawing, this is what you need to start with. The game is packed with detailed tutorials that will tell you how to draw objects step-by-step. 
All of the games are real-time, meaning you need to be connected to the Internet to play them. 
If you don't feel like downloading the app on your device, you can go for a website. In this case, you can create your private rooms and invite your friends to draw. These rooms can be devoted to a specific topic, such as sports or relationships. You may accept such invitations in your application. 
LetsDrawIt is available for free on Google Play for free.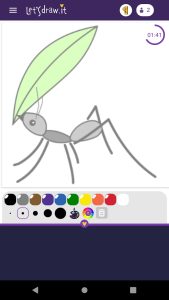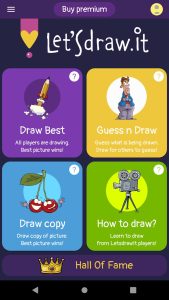 You can also check: 9 Best Apps to Draw Step By Step in 2021 (Android & iOS)