Do you want to create your own unique furniture so no one else would have such a unique piece of art in their houses? Great idea! Have you already decided which tools you're going to use for that? We just were going to offer you free furniture design apps.
By the way, we have lots of useful articles about design apps for those who are in process of decorating their home interior. For example, you can check out our collection of the best exterior design apps & websites.
Moblo – 3D furniture modeling
Moblo is one of the few apps that allows you to design specifically the pieces of furniture and not just choose the positions of the furniture in the room. It's a great 3D modeling app that allows you to express your creativity even in AR mode.
All in all, Moblo is a great 3D instrument for supporting your creative impulse. Here you can design everything, starting from the regular coffee table and ending with the wardrobe or kitchen mobile will help you to create the whole interior with your own hands.
When you just open the app, you can choose one of the templates of the furniture and then start redesigning it. You can change the pieces right in the app, you can create your own pieces and designs and apply it to the object. You can rotate and view the object in 360°.
You can also drag and drop objects on the picture and so on. You can also choose the materials from which the pieces will be made this can be metal, wood, glass, etc.
And when you're done with designing a piece of furniture, you can switch to the augmented reality mode and try to place this item somewhere in your room immediately so you could see how it looks.
What we really liked about this app is that it's super-duper easy to use, and even an inexperienced user will get it right away how to use Moblo.
The only disadvantage of the app is that it comes with a free trial version, and in order to get access to its all features forever, you will have to go for the paid subscription.
Advantages:
Broad possibilities for the furniture design in details
Ability to rotate objects
Ability to place the furniture in the room using the AR feature
Lots of templates to work with
Disadvantages:
The free version is limited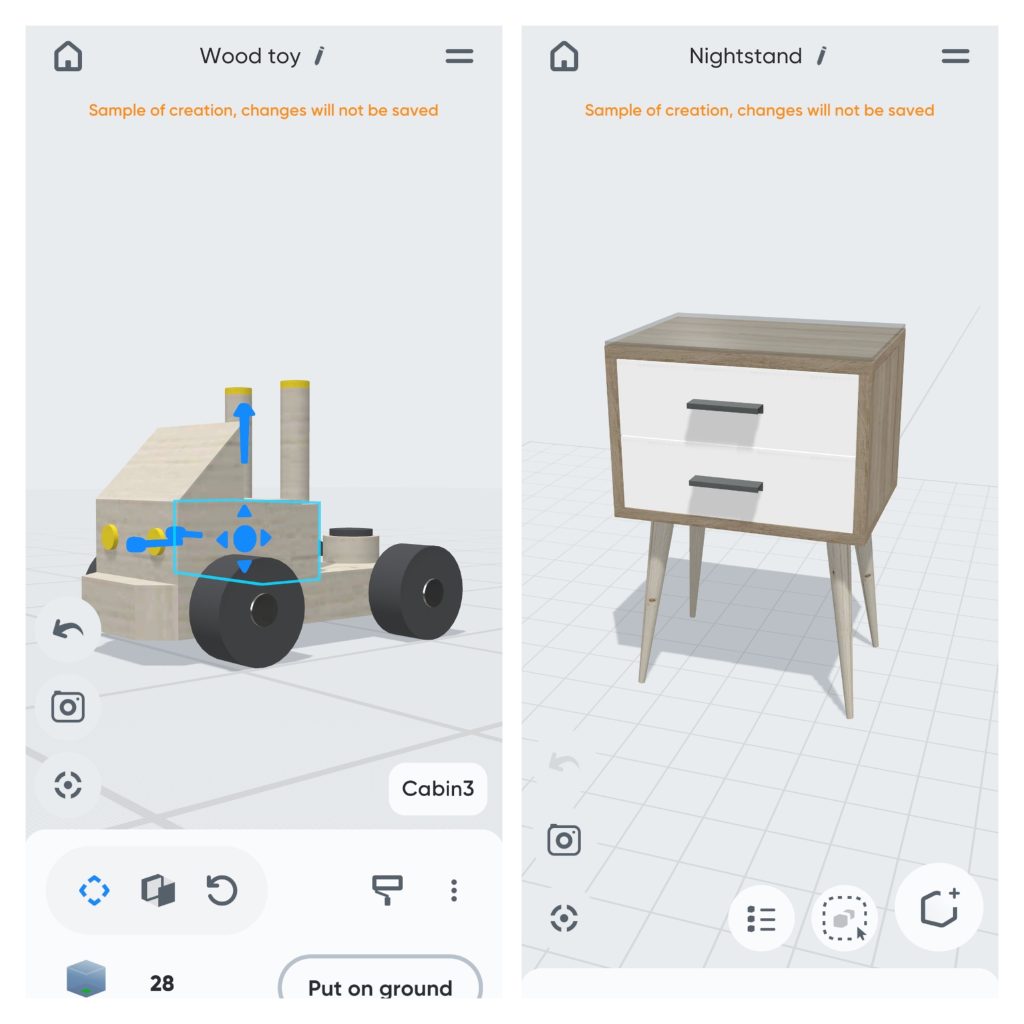 You may also like: 25 Best Home Design Apps for Android & iOS
Houzz
Houzz is one of the most popular interior design ideas apps in the world. In fact, it's an app presented by Houzz magazine.
It's not the app where you can exactly decorate and design your unique pieces of furniture. However, this is the place where you can design the sets of furniture for your rooms and for the house in general, and also combine pieces with each other, select the best pieces and also purchase them right in the app.
In fact, the app contains lots of different sections and interior design ideas, but it's really easy to find the furniture section. You will find it right in the middle of the main menu. You just click on it and there you can see all the furniture sets are grouped according to which room they belong.
Therefore, you can explore all the sets and also explore what they're made of if you can combine them, how much they cost, where they are made, and so on.
We could talk about Houzz for hours because it contains more than 25 million photos and provides endless possibilities for your house design for you.
But in terms of the furniture design in Houzz, you can find nice combinations and get inspiration for the overall design. And what is even better, the app is totally free.
Advantages:
Easy to use
Lots of furniture options and items
All the furniture sets are grouped in the app
Drawbacks:
No real possibility to create your unique piece of furniture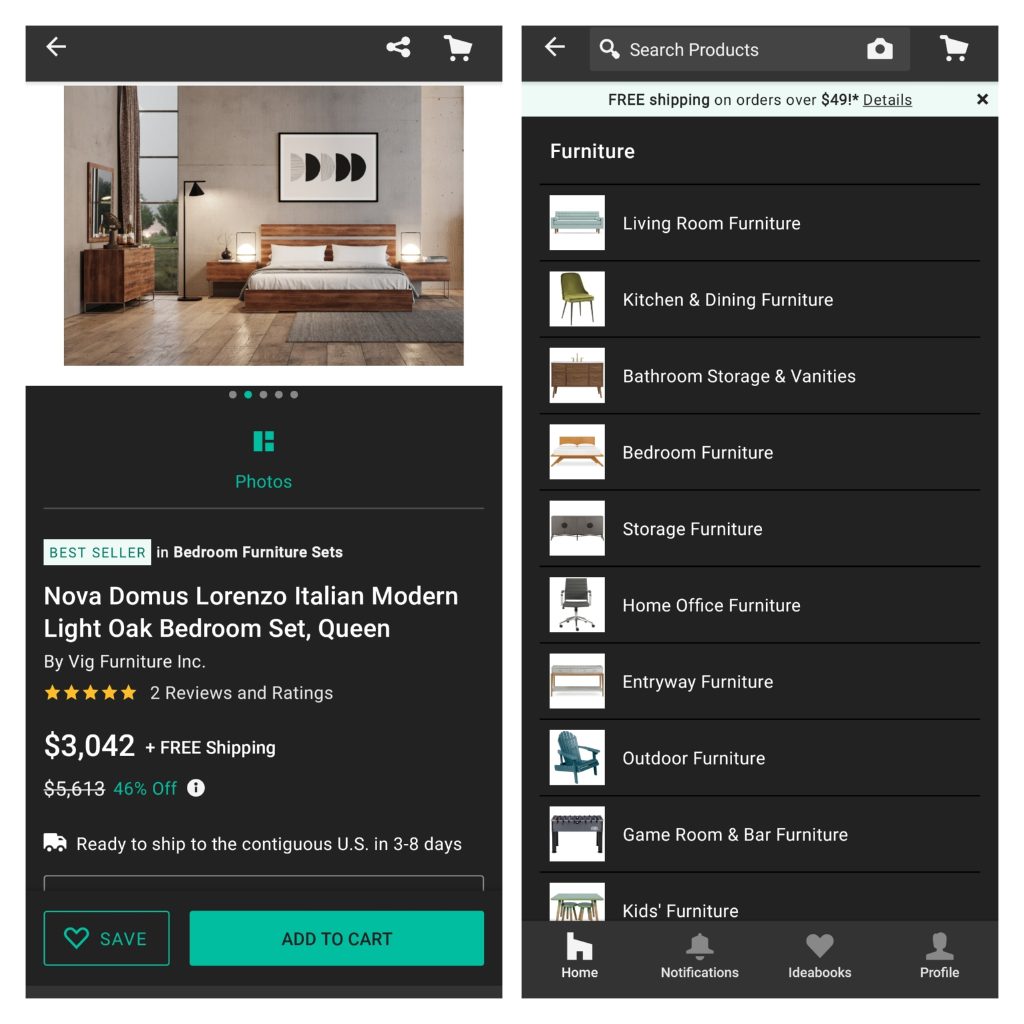 Room Planner – Home Design 3D
Just like the previous app on our list, iCanDesign is also a more general home planning app, but it has a prominent furniture design element in it as well.
First of all, the insulation of this app is extremely easy and you don't need to create any additional accounts notice to use it. Secondly, all the furniture and designs are divided into categories in the main menu, for example, bedroom, kitchen, kids' room, and so on so it's easier for the user to navigate.
You can select the category depending on which type of furniture you want to design and decorate, and then explore this section. You can create the design of the room totally from scratch, or you can go with the already existing template.
You can always tap on a certain piece of furniture, and see which alternatives the app can suggest. Therefore, you can choose the alternative, place it in the room where you want, and see how it's going to look.
And of course, the app gives you the possibility to select the size of the room, the shape of the room, and so on. Therefore, you can create the furniture layout in a certain room and that's how you express your furniture design element here.
We didn't find any errors or bugs while we were testing the app so it's really reliable. It's easy to use for any type of user so it's for everyone. Everything is great except the fact that you cannot fully customize the furniture here, you can just choose different versions of it
Advantages:
Ability to view everything in 3D format
Customize your own rooms
Different variants of furniture
Drawbacks:
No possibility of customizing the pieces of furniture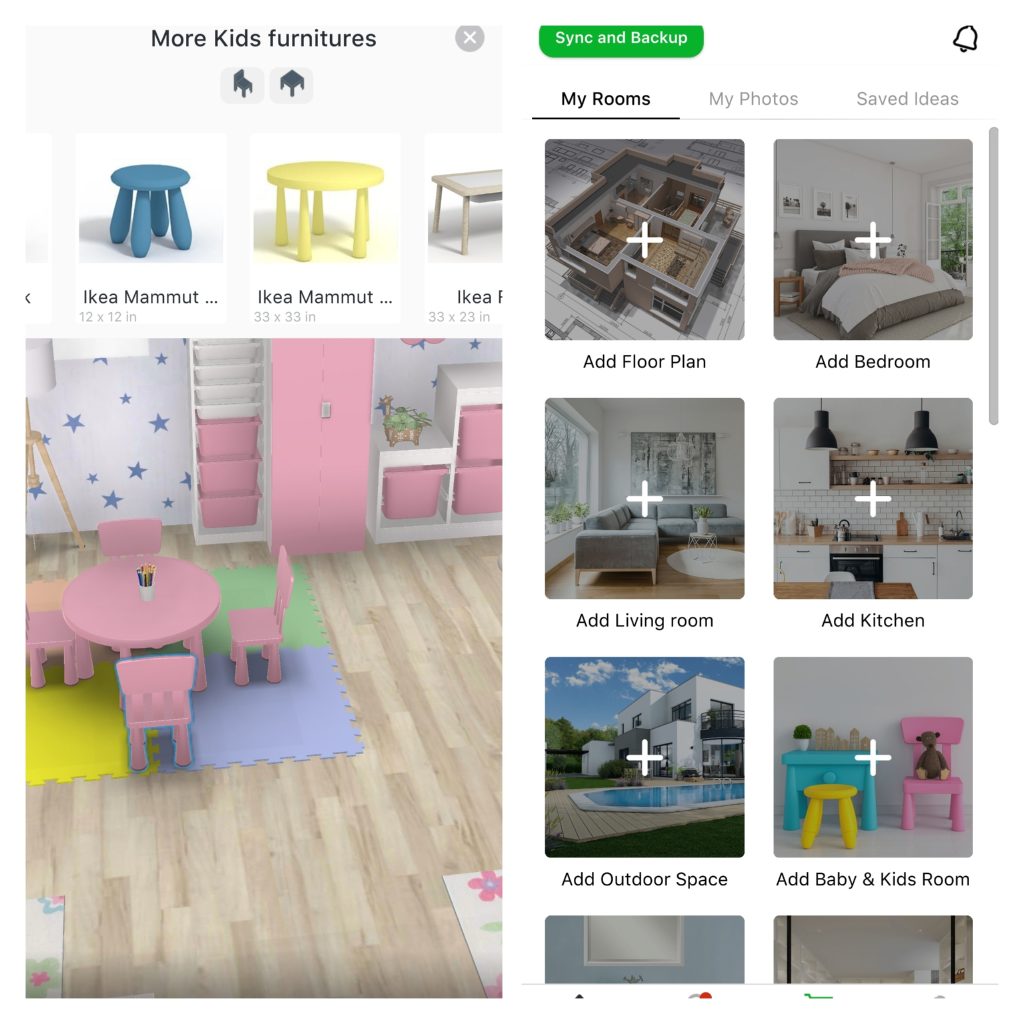 PLAYHOUSE: Design Game
This is something in between the design app and a game. Officially, playhouse positions itself as the home decorating game but in fact, it works in a similar way to all the apps on this list. You have to decorate different rooms with furniture and create nice interiors.
For each new design, you receive coins. The app is easy to use, you don't need to create any accounts, you can just open the app, then watch a quick tutorial, and then start playing. At the first levels, you will not be receiving a lot of furniture options but the selection will be growing as you move further to the next levels.
To be honest, all the furniture sets and pieces are quite typical, but the game element here add that excitement and the motivation for going further and finishing the decoration. The furniture pieces here are not customizable, and you can only select the layout of the furniture in the room.
You can create all types of interiors and then save them to your device. That's pretty much it about the app, it doesn't have too many features but it also doesn't have annoying ads in it. The only aspect that we didn't like was the quite low quality of the image, with pixels and distortions.
Advantages:
The selection of furniture pieces extends as you pass on to the next level
Eye-pleasing interiors
Easy to use
Disadvantages:
Low image quality, pixels, and distortions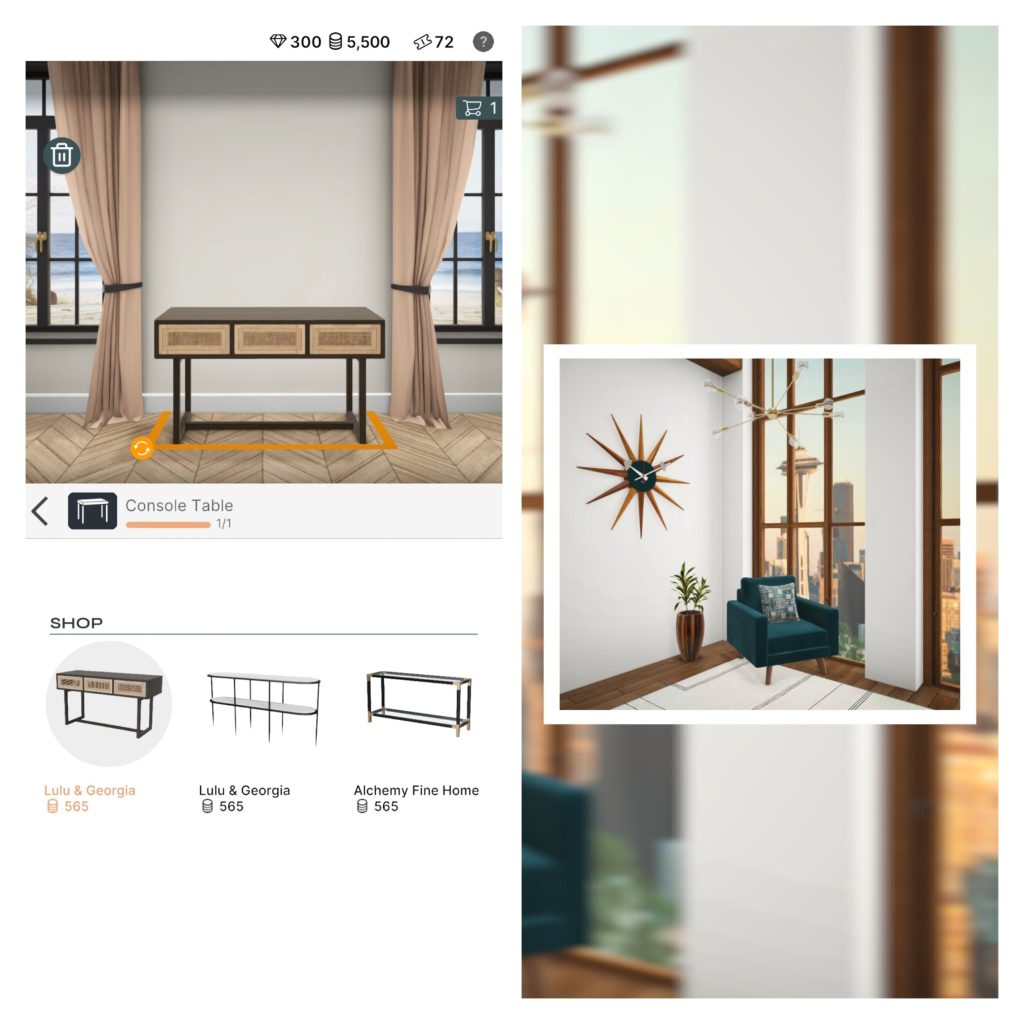 You may also like: Best Nursery Design Apps
Homestyler
This is a more simple design app where you can select different types of furniture for the rooms. The app requires an account or you can log in using one of your Facebook or Google accounts. After that, you can start designing the house.
The app will highlight this part where you can place the furniture and you just need to tap on those. After you tap on a spot, the app will open a wide selection of furniture for that particular place. For example, if it's a place for a chair, you will see a selection of chairs.
If that's a place for a coffee table, you will see a selection of coffee tables. We were really impressed by the variety of furniture that Homestyler provides, but we didn't really like the overall quality of the graphics here.
In comparison to the previous apps, where you can view all the pieces in 3D format and in high dimension, here you rather see a 2D picture in not-so-high resolution, and we even saw pixels on the screen. It certainly ruins the overall impression when you are using Homestyler.
But all other aspects were good and we really liked the fact that here you can find the furniture design inspiration in terms of how to place it across the room.
Homestyler also has a lot of additional elements in it, for example, the newsfeed about the world of interior design in general or the community where you can find additional inspiration or share your works.
Of course, these are all extra elements that you might not need. In terms of usability, we would give this app 7 out of 10 because it makes you start doing the design immediately after you open it, without even giving you a chance to select a certain room for that.
We found that a little bit confusing, but in all other aspects, in terms of choosing the furniture and placing it was quite easy. By the way, some users complained about the app crashes on their devices.
Advantages:
Lots of options for furniture elements
Ability to create your own room designs
Additional features, newsfeed, and community
Drawbacks:
Mediocre-quality of images
No possibility to create unique furniture pieces
Crashes on some devices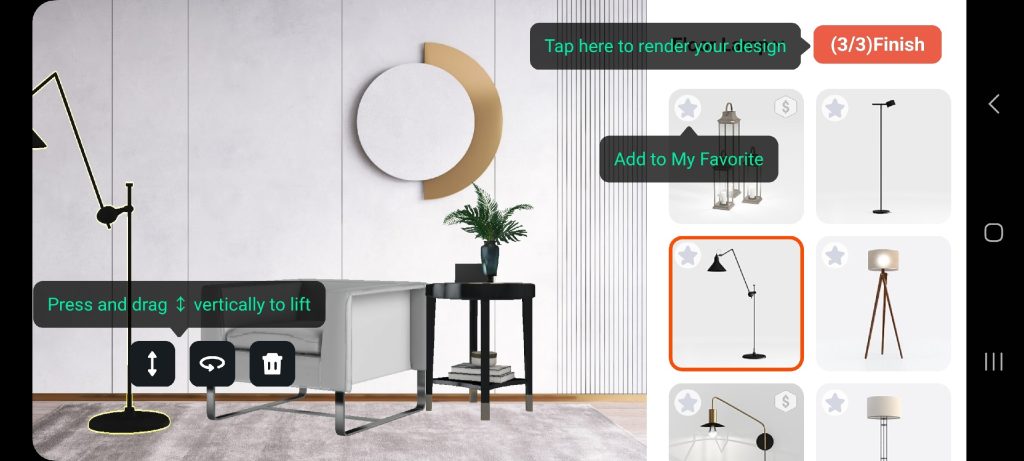 Planner 5D
Planner 5D is one of the most popular apps in the category of home planning and interior design. No wonder you can also choose the layout of the furniture in the rooms here. You cannot really customize the pieces of furniture, but you can choose their positioning of them and just combine your own sets.
The one talk that we are always getting surprised about is how easy Planner 5D is in use even when it has a bunch of different features. When you open the app you don't need to create your account, you can just start designing a room or a house from scratch or you can choose a variant from the templates.
You can view your project as a classic plan or you can switch to the 3D mode. You can always add additional Furniture to the room by clicking on one of the different sections at the lower part of the screen.
The selection is bright enough, but keep in mind that in the free version of this app, the majority of the items will be locked. Apart from that, here you can also read the newsfeed, and see the project of others, in other words, take the part in the community's life.
Once again, Planner 5D doesn't bring anything special in terms of customizing the furniture and so on, but it can bring you some inspiration on how to place the furniture in your rooms or maybe find some inspiration for the furniture sets.
Advantages:
Easy to work with
Lots of furniture options
3D mode to view objects
Possibility to create different types of dwelling projects
No ads
Drawbacks:
The majority of the furniture pieces aren't available in the free version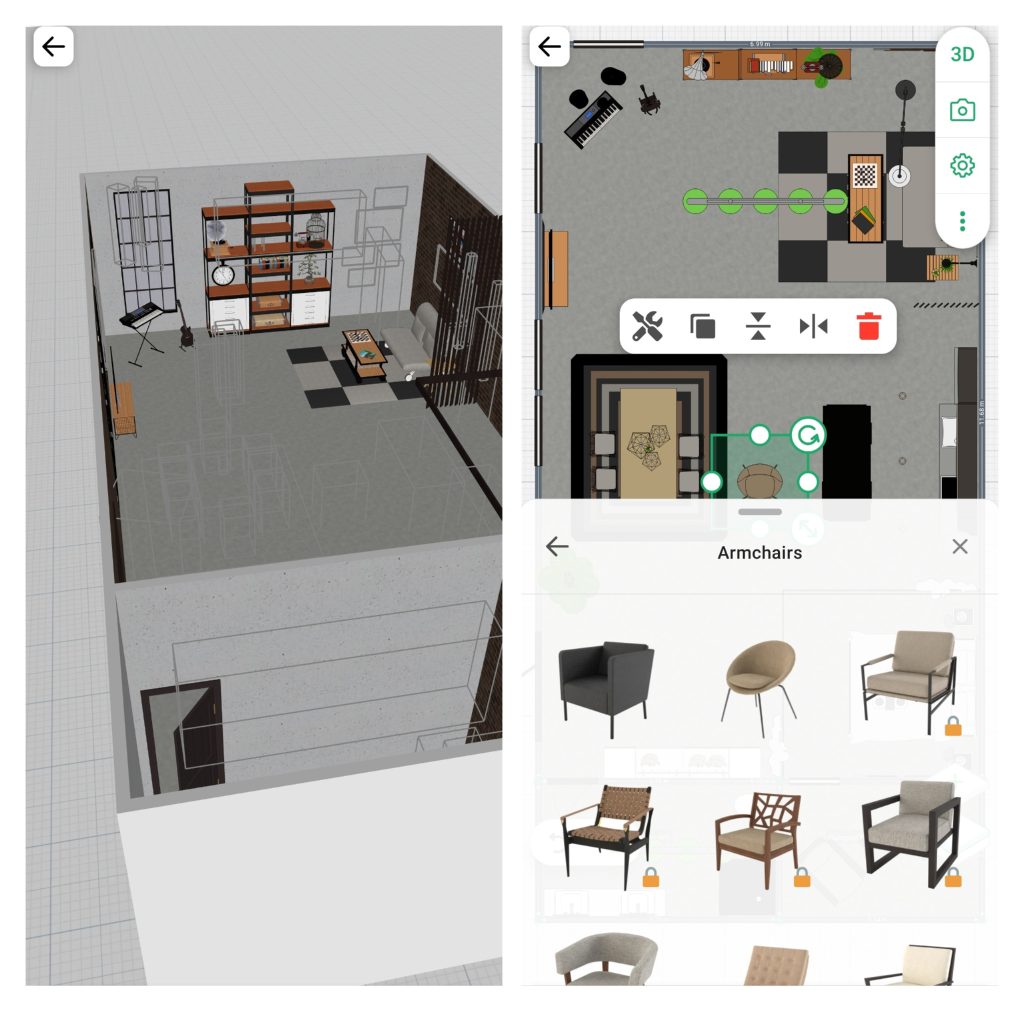 Closet Sketcher
As you have already guessed by the name of this app, this is the tool that gives you the possibility to design your own closet.
Basically, you can build a general standard closet, using different elements that the app provides, for example, you cannot drawers, barrels, and other additional pieces to the closet so it looks more personalized and you can create a project or your own closet in the app.
The picture can be viewed in the 3D format which is really convenient and it also can be viewed in several modes. For example, you can view the contents of the closet and you can view its exterior with the glass doors. After you're done decorating the closet, you can save the image to your phone's gallery.
You can also choose the size of different elements up to a single pixel. The only thing that we didn't really understand is how to alternate the color of the wood and the color of the closet in general.
Therefore, we can say that it's not really easy to navigate in the app, and you will have to do some digging before you explore all its features of it. But overall, it is a furniture design app, even though here you can design only a single piece of furniture.
Advantages:
Possibility to create a closet from scratch
Lots of customizable elements
Possibility to choose the size of the elements
Viewing objects in 3D format
Drawbacks:
Navigation in the app is confusing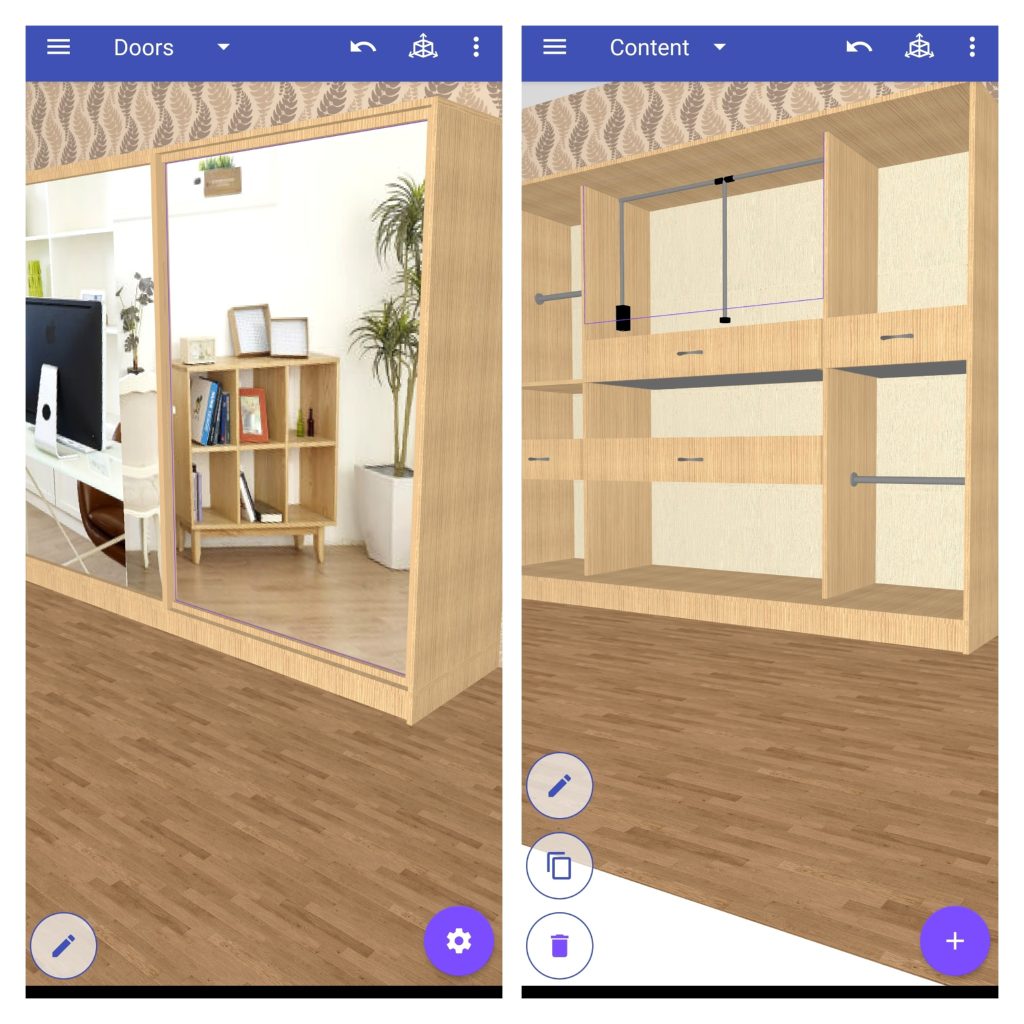 Kitchen Design 3D
This is a good app for kitchen design, but it's a little bit boring in terms that it's quite a standard planner app where your main task is definitely to plan through itself instead of designing the furniture.
The app still provides a decent choice of different furniture pieces though, and you can add them to your room by selecting a piece that you need from different categories.
It's actually really convenient and even though the app is dedicated to a single topic of the kitchen, it still has different categories of furniture so it's easier for you to navigate.
There are tens of variants of kitchen cabinets, sinks, tables, chairs, etc. First, you need to choose the plan of the room, then add all the necessary Furniture pieces to it and after that, you'll be able to view the space in the 3D. When you're done with the design, you can save it to your phone's gallery.
All the furniture pieces which are presented here are by Ikea. They carry that classic Scandinavian minimalistic design, so all the fans will appreciate it.
We didn't find any significant disadvantages here, except the fact that you cannot really customize the furniture, but you have to select from what you already have. But some users complain about the excessive amount of ads which is quite surprising for us because we didn't see any.
Advantages:
Possibility to create a project from scratch
Lots of Ikea furniture items to choose from
Possibility to view everything in 3D format
Drawbacks:
Quite a basic design app
Only Ikea furniture items to choose from
Ads (?)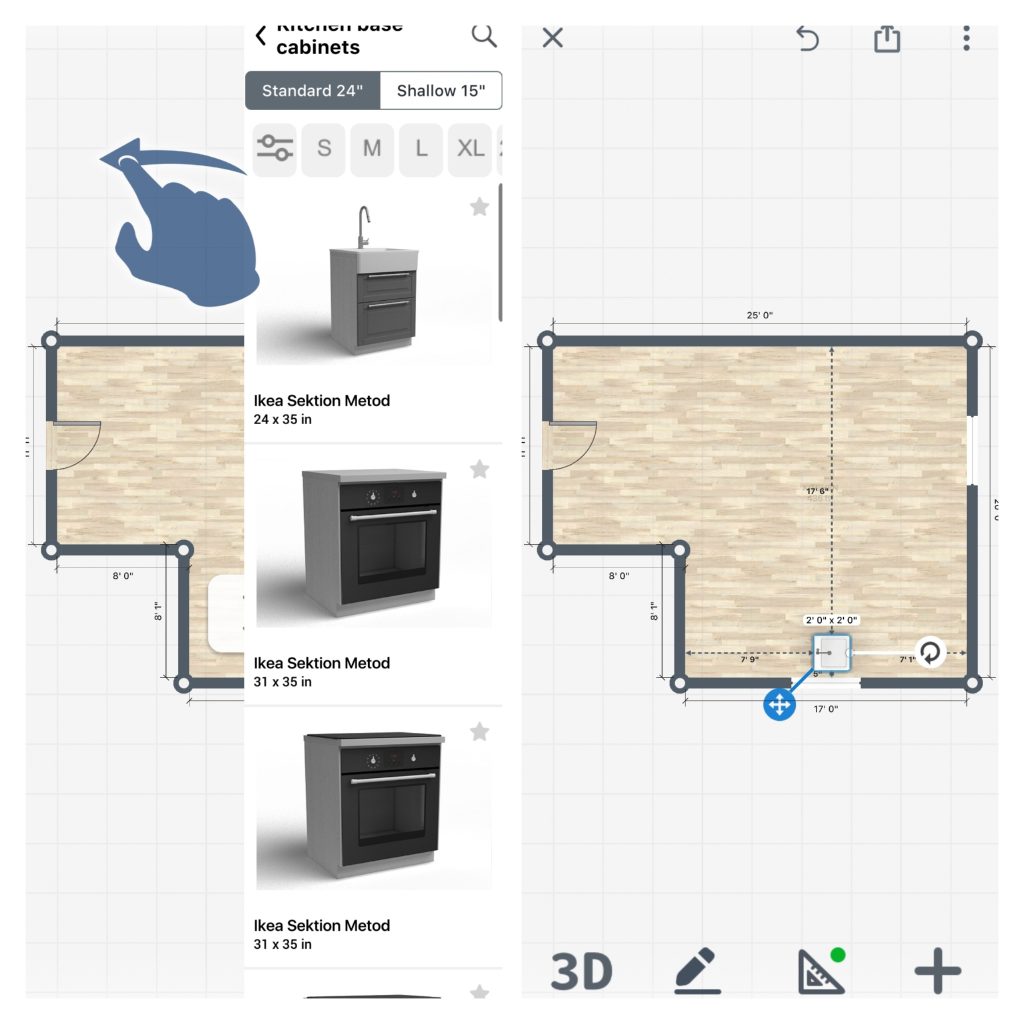 You may also like: Best Free Kitchen Design Apps
Woodfurniture
This is quite a classic, or, better say, a basic app for wooden furniture design inspiration. It is in fact very simple. You just open it and see different categories of wooden furniture. Frankly, we didn't understand according to which principle those categories are formed.
But inside each of those you will find different pictures of wooden furniture that would be an excellent option for a country house or even an urban condo. The app also allows you to set up a picture as wallpaper, in case you need it. The good thing is we didn't detect the presence of ads.
Advantages:
Lots of wooden furniture pics
Easy-to-use app
Drawbacks:
A basic app that is actually a picture gallery