Even though many people think that their dreams are just combinations of memories or impressions of the day, there are some people who attach more importance to the meaning of dreams.

They say that dreams can help in making the right decision if they are correctly interpreted. Moreover, the quality of dreams depends on your sleep cycle. And in the article down below, we collected the best dream interpretation apps.
Dream Dictionary and Dream Journal
Dream Dictionary and Dream Journal is a multifunctional app. This application combines a dream diary and a whole encyclopedia of possible interpretations of various objects, phenomena and actions in users' dreams.
In addition, many people forget about the fact that dreams not only help to predict the future to some extent, but also analyze past events. If in a dream a person experiences the same difficult emotional state as in reality, then this means that it is time to pay attention to this and figure it out.
Among the features that allow to de-code the dreams meaning in no time, can be found the following ones:
For interpretation, users can use a list with all the possible meanings of things appearing in a dream.
To track the frequency and type of dreams, there is a dream calendar.
To record each dream, there is a section called a dream diary.
For those people who experience insomnia or cannot calm down and tune in to a good sleep after a hard day, there is a function of listening to soothing sounds, including sounds of nature. Users will also receive daily notifications when it is time to write down a dream.
The users' reviews seem to be fine, an even the ads aren't as annoying as always.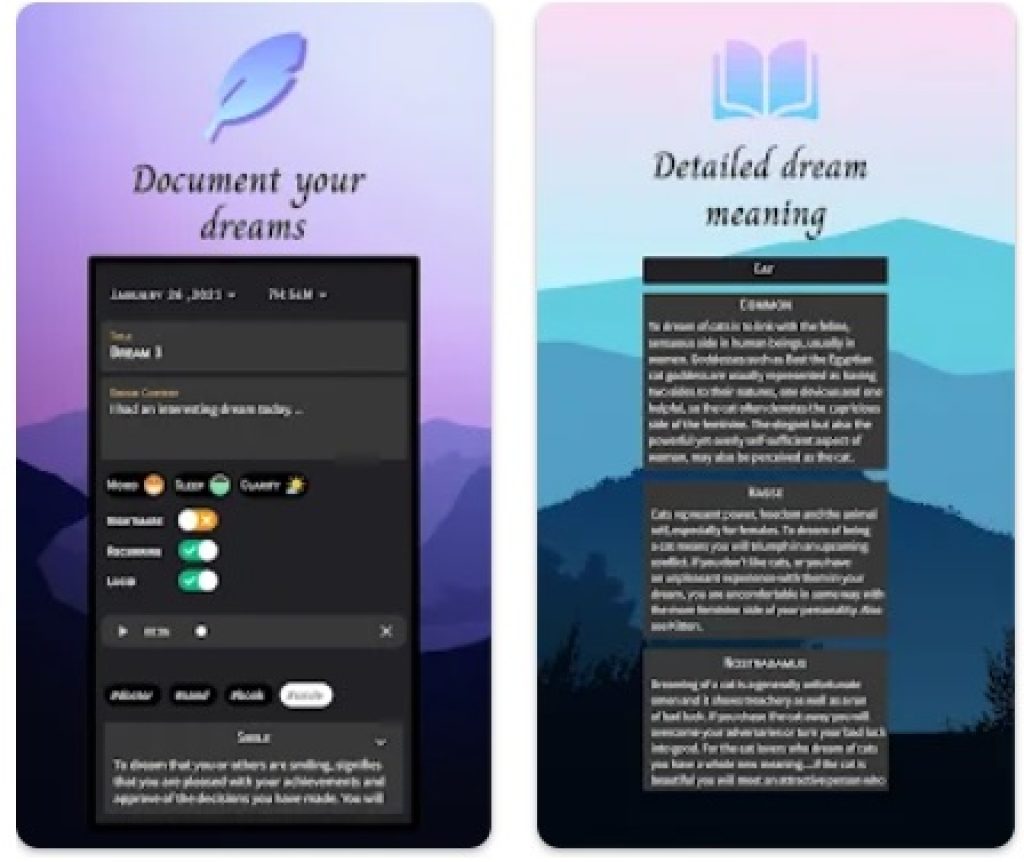 You may also like: 15 Apps to help you sleep well
Diarium
This application is not directly related to the interpretation of dreams, but it can be quite useful in collecting and sorting them further.
Diarium is a digital diary for all devices that works without a subscription. Moreover, during the testing of an app we noticed that it doesn't have ads.
One of the main features of Diarium is that the users can attach images, videos, audios, files, tags, people, ratings, or locations to their journal entries.

All this may not be directly related to dreams, but a huge number of functions allow users to describe their dreams in as much detail as possible for further interpretation.
Data can be protected with a pincode, password, or fingerprint. That is why there is nothing to worry about while using this app.
There is a possibility to customize the diary theme, font type and size. This provides users with an opportunity of a more creative approach towards the organization of their dreams.
According to the reviews, the users are quite satisfied. At least there is no sign of an evident hatred. In everything that concerns structuring the information Diarium works quite well.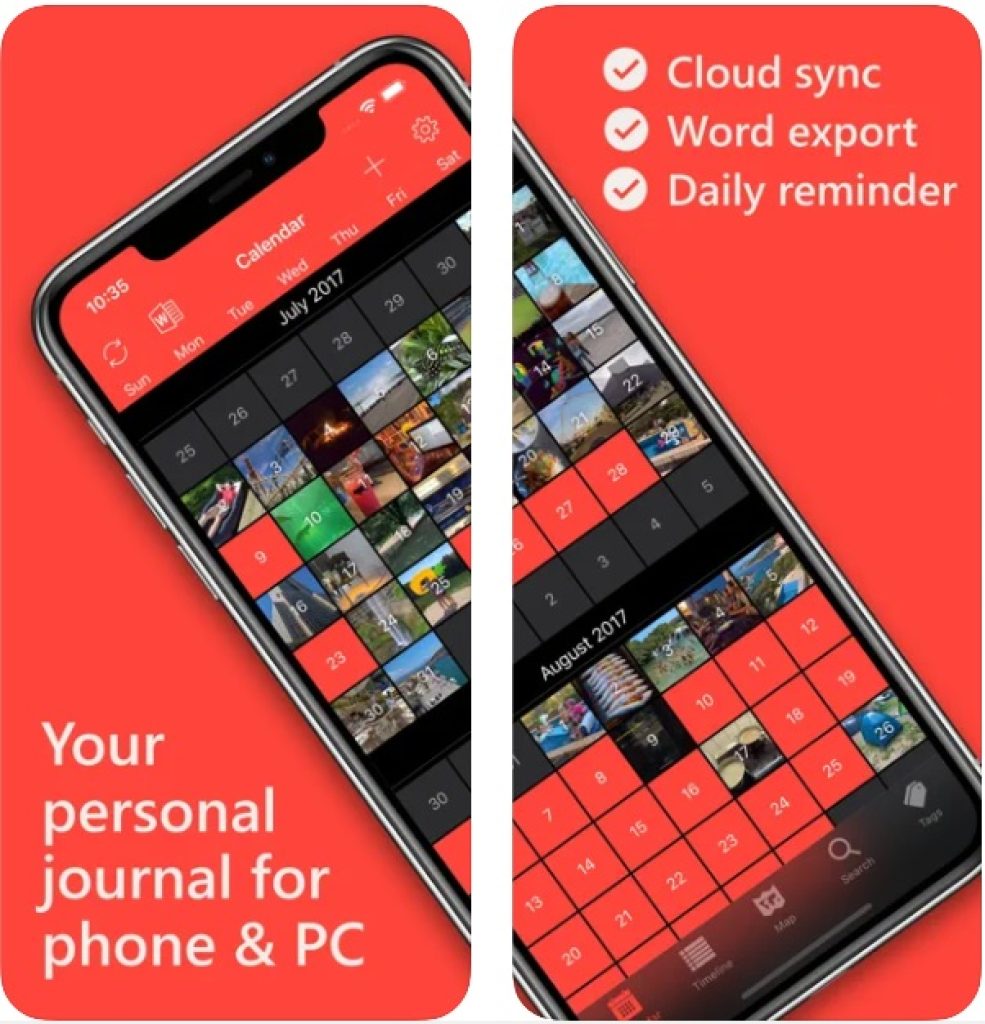 Freud
Freud is a private and secure dream journal that allows users to record and analyze their dreams. This, in turn, allows its users to understand their emotions and even predict a possible outcome of the events in the future.
Even by the name of this app it's evident that the app practices the scientific approach to the dream interpretation. Therefore, Freud will be working with your subconsiousness while de-coding your dreams.
The app analyzes symbols that appear in dreams and finds hidden information behind it. In addition, each interpretation will be unique, because only the person himself/herself can truly clearly understand the meaning of the dream and its symbols. Users can also tag dreams with emotions and then look at statistics.
The advantage of this application is that it offers free interpretations, so the user's choice is not limited to only dream books.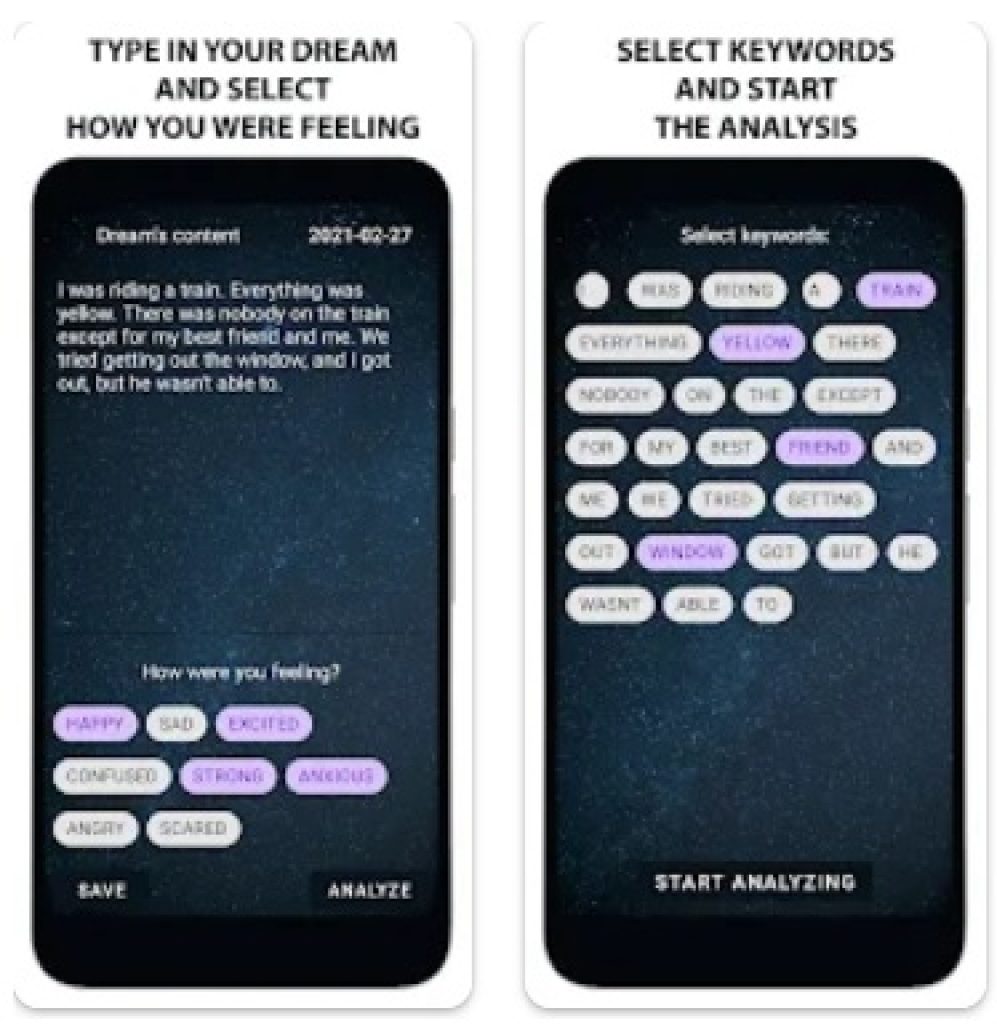 Oniri – Lucid Dream Journal
This app is a useful tool if you want to record your dreams, analyze them and also experience lucid dreaming.
Write down your dream before you forget it. It is possible to make voice recordings as well.
The service allows you to make a complete analysis of your dreams. Remember who was with you, what you did, and where it happened. Your emotions are also very important.
Moreover, you get interpretations of your dreams. The service contains a large number of different explanations and you can find your own.
Besides, the service generates statistics of your dreams as a chart. This function is useful to find out which elements in your dreams are repeated and also what emotions you have most often.
Lucid dreaming is a unique experience that will give you new vivid sensations. Here you will find an audio guide that will help you understand the theory. Various tools such as reminders and alarms are also available to you.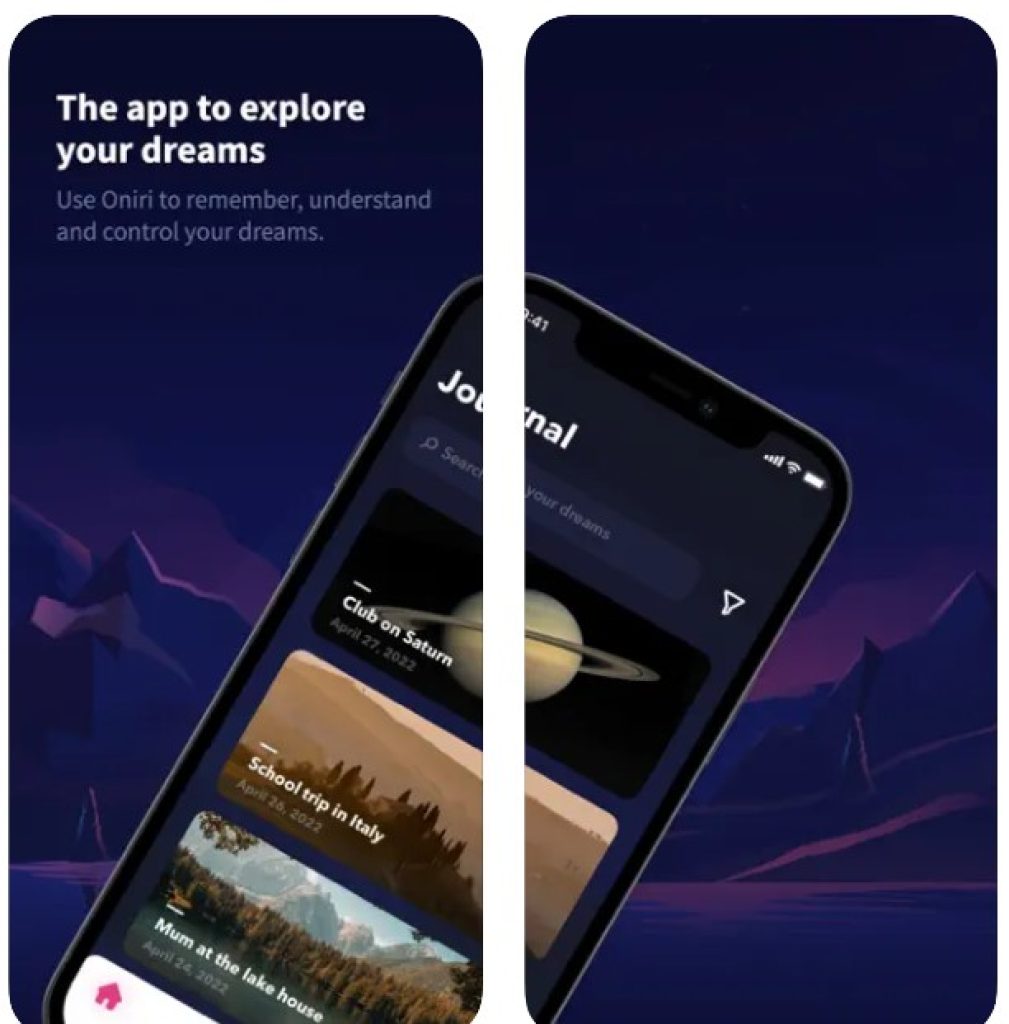 Dreambook
As many believe, dreams are inextricably linked with the emotional state in which we are in our lives. That's why one of the main recommendation of psychologists is to write your dreams down.

Using the Dreambook, users can clearly see the possibilities that await in the future and make the best decisions.
One of the first and most convenient features of the appis that it does not require an internet connection to access the interpretations. Just like in other applications, here, you can search for dreams or their specific parts by keywords.
It is also possible to add dreams that are special to users to favorites by marking them with a star. For people who want to see all their notes in a clear and beautiful way, the customization of the text font is provided.
The app has several different types of dream books. Each user can read the interpretation of several and choose the most suitable one.You will discover the information from the ancient sources. There is also a dream book, according to Freud, Miller; a small, English and French dream books.
The best advantage of the Dreambook app is that all the information is gathered in one place and available in the offline mode.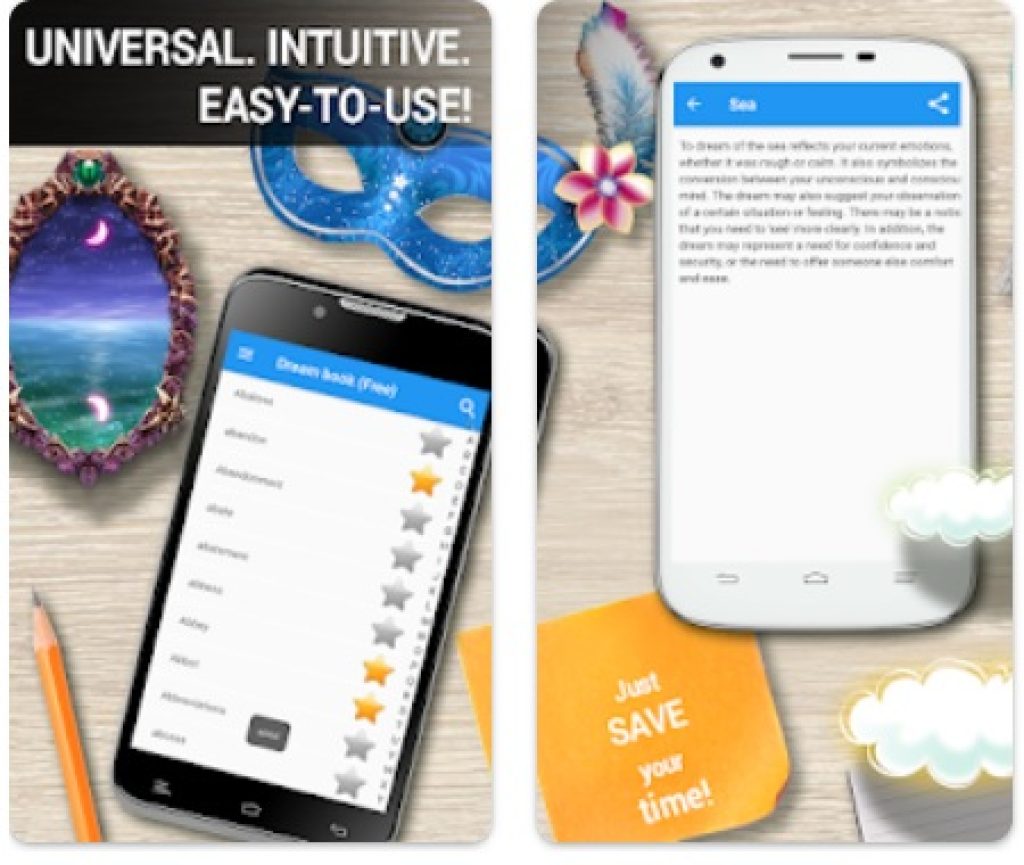 Awoken
This app is also focused on teaching its users how to manage their dreams and practice lucid dreams. One of the most outstanding features of Awoken is sending out notifications about when a user needs to record their dream.
Another interesting feature is the reality check. While using it, users can look around and thereby develop their awareness.
To protect their data, users can connect the application to the Cloud.
Here users can also study the patterns of their dreams, the frequency of the appearance of different objects and emotions.
For greater efficiency in capturing their dreams, users can record audio with a dream story and then convert it to text, as it is sometimes quite difficult to print all the thoughts in the morning.
However, despite the large number of useful features of Awoken, there are some negative reviews. There are complaints about the absence of the notifications, which significantly reduces its effectiveness, because the main feature of this is that it reminds the users to regularly practice writing down their dreams.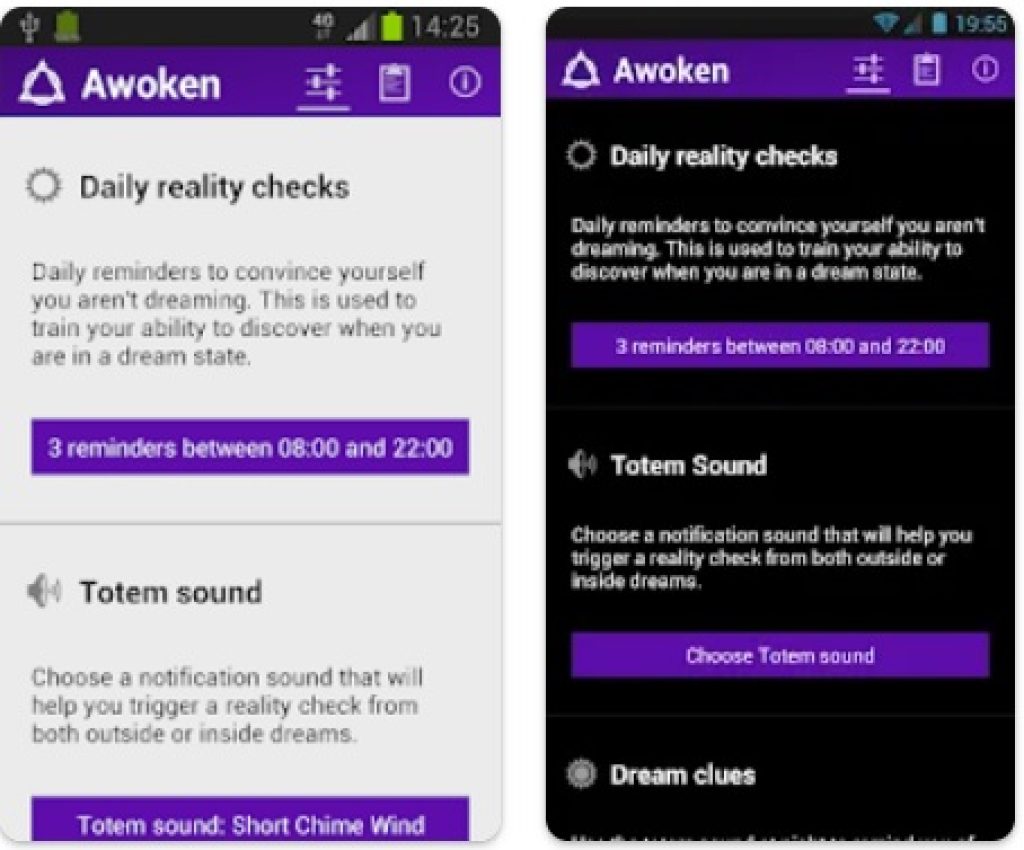 Dream Journal & Lucid tool
Dream Journal & Lucid tool is a dream journaling application designed to quickly and efficiently record and analyze users' dreams. The app is a kind of an open-source, where each user can add their own information. This is the advantage and disadvantage of the app simultaneously.
Also in Dream Journal users can mark their dreams with emotions or tags that express their feelings. After that, it will be possible to consider in detail what kind of feelings the user experiences most often and what he/she dreams about. The more entries in the diary, the more detailed information each user can collect.
For convenience, the app constantly gives users reminders that it is time to write down or remind themselves of their dream.
In addition, in this application you can not only export dreams, but also register through Google and perform full synchronization.

The synchronization between devices is supported in this case – you can, for example, log in with your account in the app on your desktop and gain access to all the data you saved before. Additional Google account settings will assist you with the data protection.
But for those for whom this level of data protection is not enough, there is a password setting function.
According to user reviews, they are satisfied with the app. They note that it works stably and does not crash. However, many have noticed that Dream Journal lacks some functions and because of this, the entire functionality of the application becomes rather scarce.

Users would like to see features such as voice recording, notes, and a function for writing comments after a while.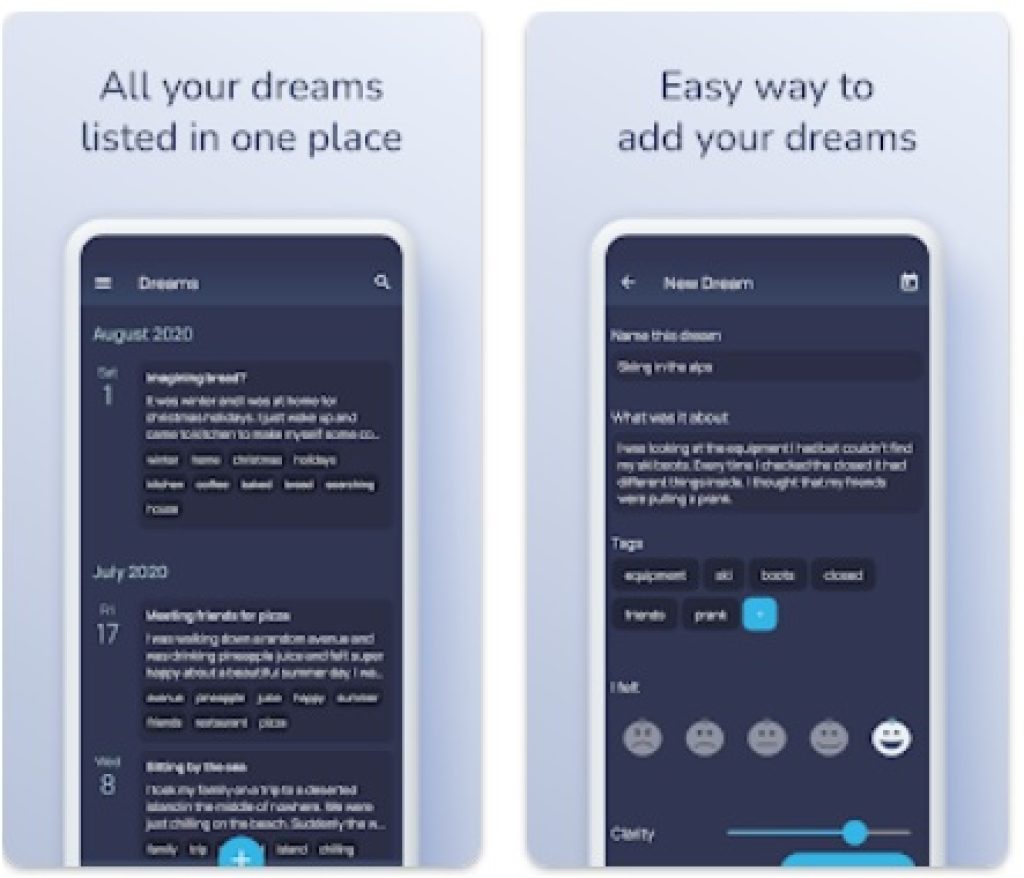 You may also like: 11 Best apps to check room temperature
Dream Journal Ultimate
Dream Journal Ultimate is the world's largest database of dreams. This app is very popular among those who constantly write down dreams and give it a lot of meaning.
Users of this application can easily, without any restrictions, write down an infinite number of dreams for free.
What's even more interesting is that this app can work as a small social network for those who like to write down their dreams. The reason for this is that users can not only write down dreams on their own, but to discuss it with others.

They can also add them to the Dream Wall, where other users can read, and then somehow comment, giving their opinion on the meaning of the dream.

And if the user can't figure out the meaning of their dream in any way, then the app offers him or her to find similar dreams by tags, read them, and perhaps understand more about their own dream.
With Dream Journal Ultimate, any user can work with their dreams in sufficient details.
Users can sync their dreams to access and write notes anytime, anywhere and on any electronic device.
Users can pin particularly important and unusual dreams and see them immediately without the need to search.
Like in other apps, you can add tags to your dreams and then search for them using those keywords.
Also, users can set a reminder to write their dreams in the journal and be sure that they will not forget about it.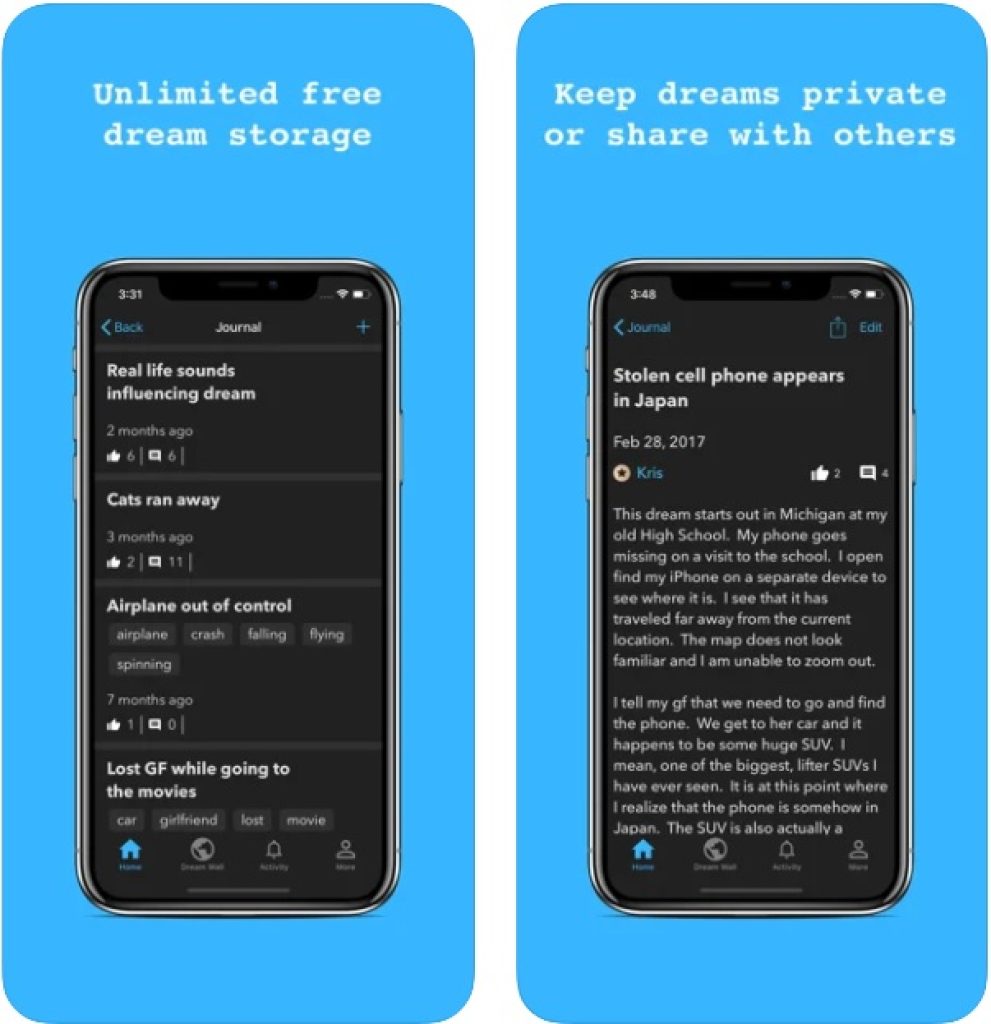 Somnio
Another crucial part for understand your dreams' meaning and nature is the sleep recordings – and that's what the Somnio app was developed for.
Before you use Somnio, make sure that your device has enough storage space to record you're sleeping every night.

In order for dreams not to get lost in the notes, here they can be sorted into different categories based on personal preferences. So it will be much easier to find any dream and interpret it.
To analyze the cycle of the occurrence of dreams, it is possible to view the frequency of recording dreams in the calendar.
In addition to convenient categories, each user can put tags to indicate special events or symbols in dreams.
For people who value the safety of their data very much and do not want anyone to know about their dreams and notes, Somnio will also be a great option. Here, each user can secure information using a fingerprint or a screen lock.
For even more convenience, the app offers the option to export dreams so that users can access them at any time. To make it easier to find any dream, the application has a search function.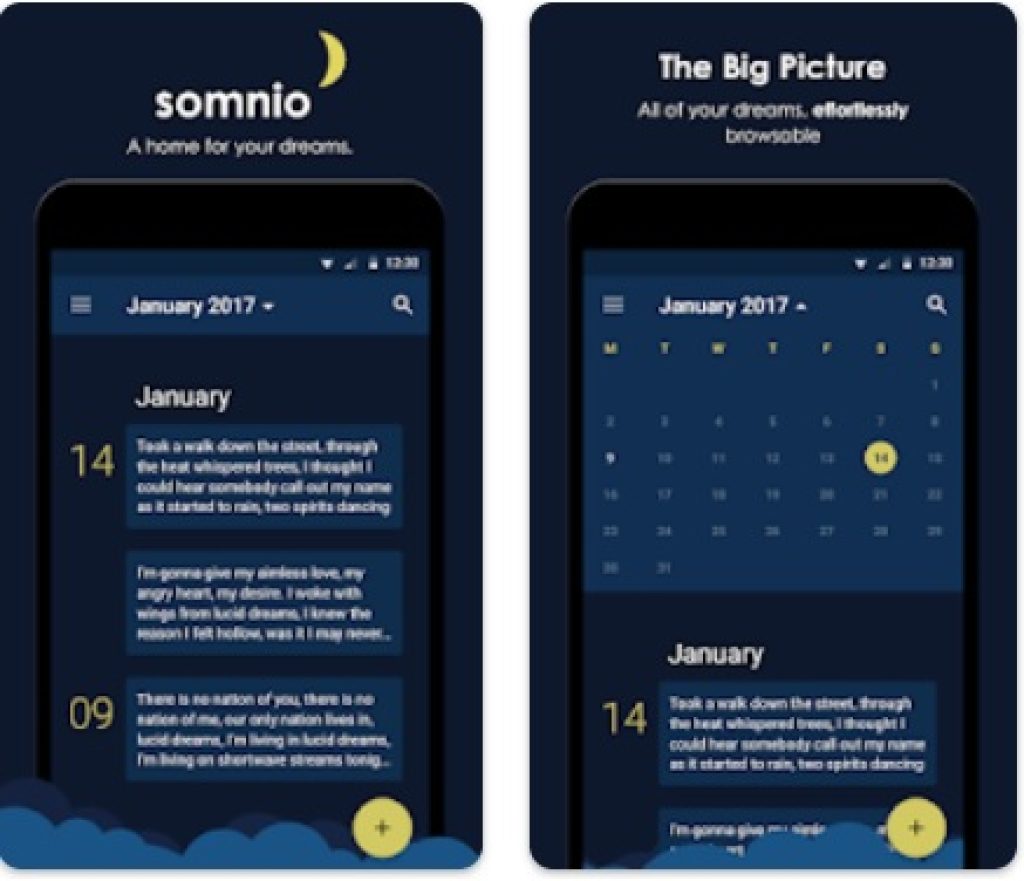 Lucidity – Lucid dream journal
The Lucidity-Lucid dream journal app positions itself as a tool to achieve the goal of managing your dreams.
This application can be used to simply record your dreams and record their interpretation.
For a pleasant use, the application provides a fairly simple interface and navigation. You can also use the password feature to protect all your information.
For swift sorting and further quick search in the application, you can mark different dreams with tags and sort dreams into different categories.
In addition, this application has a rather interesting feature, which is morning and evening reminders. In the morning, the application will notify users that it is necessary to record a dream, and in the evening it will remind them to read past dreams to improve memory and speed up the recall of dreams.
In addition to the basic functions in the application, you can record your dreams using your voice and even sketch them so that later it will be easier to remember the clear picture of what you saw in a dream. Also, users can securely save their data and then export it.
Despite all those positive elements, just like the rest of users we noticed that Lucidity has a tendency to freeze and crash from time to time.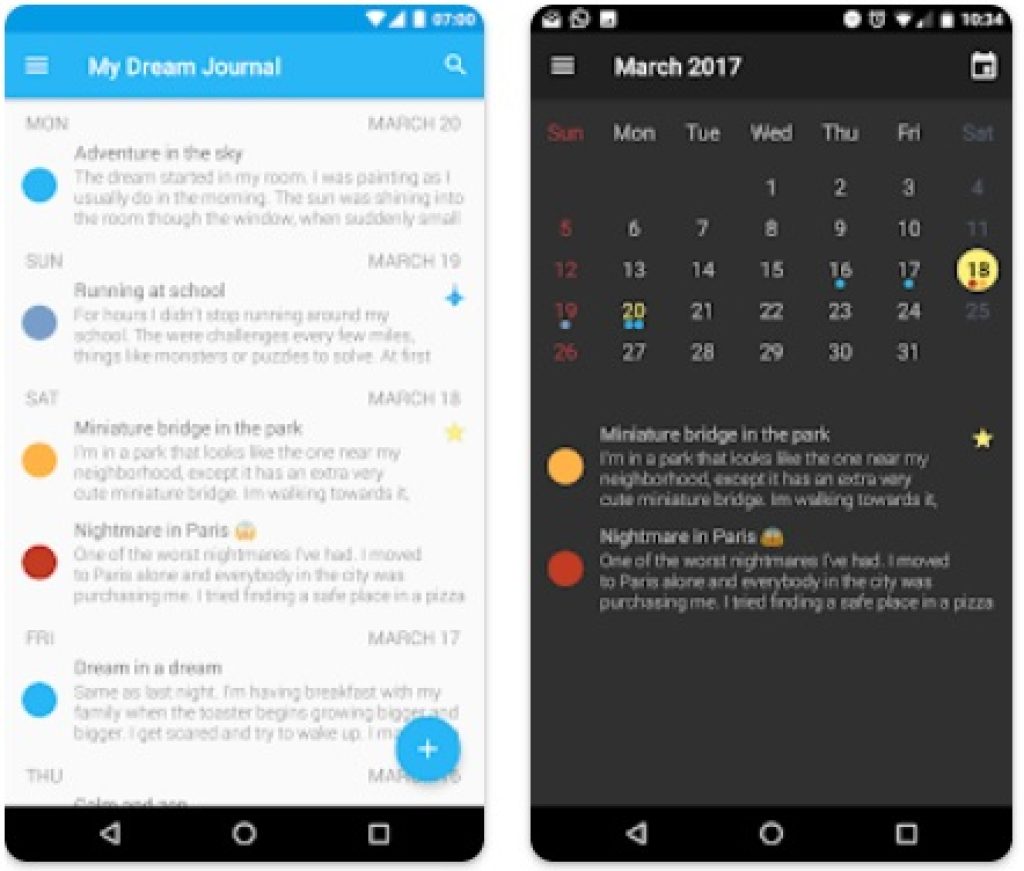 Dream Meanings
Dream Meanings wouldn't be our first choice for understanding the nature of night visions, but it provides users with access to a large number of different meanings of objects seen in a dream.
The application has alphabetical sorting, as well as a search function. Therefore, finding a suitable interpretation is quite easy. This library of dreams contains more than 10,000 dreams and their meanings.
Another advantage of Dream Meanings is that it works offline as well.
There is nothing superfluous in the design of the app, so it is quite easy to use and quickly find the desired dream meanings.
This app interprets dreams according to Miller's dream book. However, it would be more convenient if there were interpretations from other dream books and they could be compared.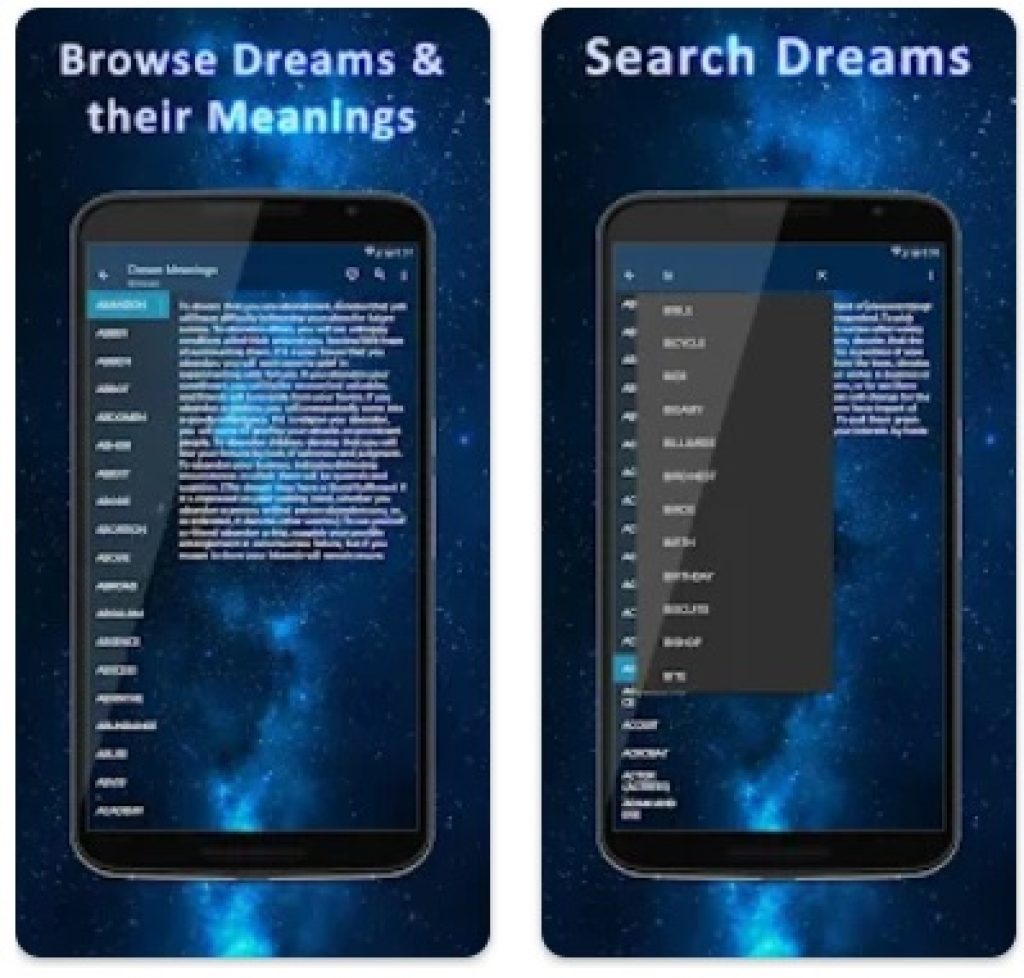 You may also like: 33 Best Health Apps
Lucid
The Lucid app is quite similar to the Dream Journal & Lucid tool in some aspects. Here, it is possible to mark each dream with special tags and mark your emotions, as well as in the previously mentioned app. All of this is necessary to compile special statistics that the user will be able to view and evaluate after a while.
With this app, you can also synchronize all your data to the cloud and access information from any device at any time. There is also a function of recording your voice and talking about your dreams immediately without having to write them down.
However, it is essential to keep in mind that the synchronization function will be available to users with a professional version of the application, which is a minor inconvenience.
Also, users can analyze their dream in terms of its clarity and detail, and then see how often users have dreams that they manage to remember.
It's really easy to navigate in the app, and the users' feedback confirms that. Among other remarkable features you will find the following ones: analyzing the quality of sleep and mood after certain dreams.
However, as with all apps, this one also has glitches. For some users, the tag function doesn't work, which greatly complicates the search and sorting of their dreams. This means that the meaning of the app is lost.
Also, many users would like to have the ability to export files in various formats. For some people, the application crashes and notifications about having to record a dream are not received.
All those drawbacks didn't play well for the position of the app on this list.