Droid Transfer is a Windows software that enables users to transfer SMS and media files from Android smartphones to the PC via a USB cable or local WiFi network.
Now let's find out how we should use this tool.
When you downloaded the software, you will have to install the "Transfer companion" app on Google Play to your Android device. After that, make sure that they both are connected to the same wireless network. Open the mobile app and click on the button "Scan Droid Transfer App QR Code".
In the last stage, you should use the mobile app to scan the provided QR code on the official website.
In order to transfer all the files from your Android effortlessly and quickly, use these file transfer apps.
Then, you will get to the new web page where you should choose the desired category to start copying the files from your Android. There are seven categories:
Calendars – check and copy your calendars on the PC
Call Logs – copy call history as HTLM, PDF, and CSV or print it out
Contacts – cope, restore, add, and backup your contacts
Files – view and share files from your Android mobile phone to PC
Messages – view all your chats on the PC
Music – sync with iTunes or transfer between PC and Android
Photos – add, copy, delete, and export pictures or videos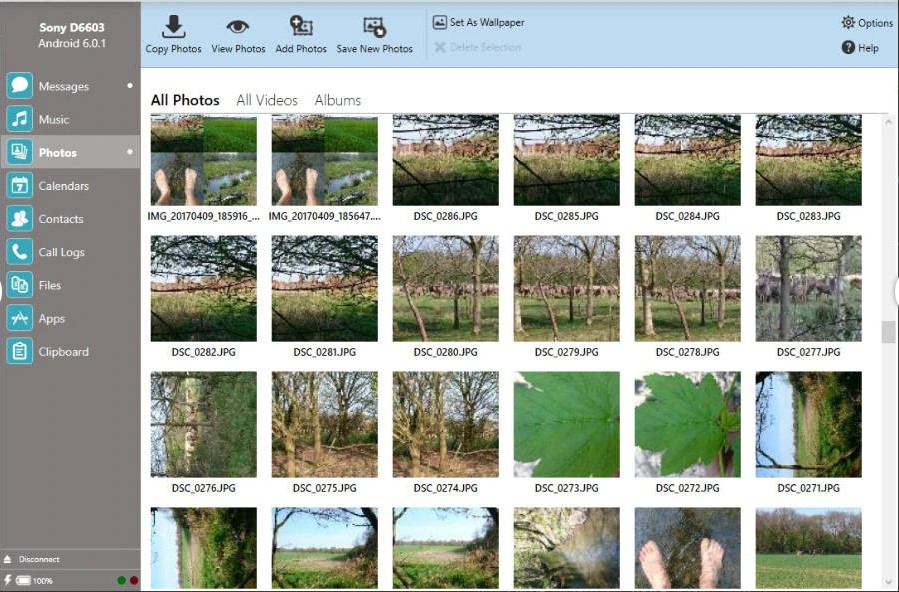 We advise you to keep your Android device turned on and don't swipe to another app to have effective communications between both devices.
Moving on, in Droid Transfer, you can backup all messages and save SMS and MMS in various file formats – f. ex. PDF, HTML or Text. Plus, the program will save all pictures, emojis, videos in your messages, and even dates they were received. Another interesting option there – you can even print your messages while using this program on the PC.
You may also want to explore the QR code reading apps for your Android device.
Overall, Droid Transfer is a quick and user-friendly software that comes with a great variety of useful options. No doubt, this is a must-have tool for all Android users!