11 Best file transfer apps for Android
Sometimes it is necessary to transfer files from your computer to Android and vice versa. Most people who are not technically savvy use a USB cable or Bluetooth for this purpose.
But the method of using wires is quite cumbersome and inconvenient. And the speed of transmission through Bluetooth leaves much to be desired.
We have a WiFi network almost everywhere. So let's consider sharing files between your computer and phone over a wireless connection.
There are many different applications for this. This list includes the best file transfer apps.
Portal – WiFi File Transfers
The Portal – WiFi File Transfers app allows you to move files between your smartphone and computer.
To get started, you need to log in under your account and scan the QR code of the computer. After that, the computer and the phone will connect and you can start working.
The application interface is very like the regular home screen of your phone. The default app tries to use a local network and not release your data to the "public" Internet.
You can transfer any files to the smartphone without installing extra software. Also from the computer, you can manage all the phone files.
Working with files is no different from Explorer. Files can be moved with the usual drag-drop or through the menu.
When the application Portal – WiFi File Transfers starts, the rear camera of the smartphone automatically turns on. The image is broadcast on a computer screen. You can switch to the front camera or take a picture.
Photographs were taken, and all photos can be viewed in a separate Photo application. You can also quickly take a screenshot, or watch video files, music or ringtones.
Here you can also just see what is happening on the smartphone, and record all this on video.
Developers are actively improving the application Portal – WiFi File Transfers. They try to provide their users with the most simple and convenient way to move files.
The application Portal – WiFi File Transfers is absolutely free and works without any restrictions.
You may also like: Duplicate Files Fixer App: Duplicate cleaner for Android
Send Anywhere (File Transfer)
A large number of functions and features are presented in the Send Anywhere (File Transfer) application.
After launching the app for the first time, it will tell you about all the advantages of the application.
Then you are prompted to enter and register in the app Send Anywhere (File Transfer). Or enter the program, postponing the registration process.
After all operations, you will be taken to the main screen. There is the address to go through the computer and the QR code scanner. Besides, below are shortcuts to application features and capabilities.
Among the functions of the app, there is the ability to transfer files between mobile devices. Do not forget that the recipient must have the same program installed.
After registration, you need to go through synchronizing your phone with a computer. After connecting, you will see a working screen with various functions. On the right side, there is a window with features and a menu with information about your device.
You can go to the address book, view contacts, edit what you need and make a call. You can also listen to music, view images and movies. You can also take screenshots, set ringtones and check the cameras of your mobile device.
So, you get full access to the file system of the device and can upload and download files.
The Find My Phone feature is especially interesting. For its operation, it is necessary to activate this option on the phone. After that, you can search for your mobile device via the Internet.
You will see the location of the phone on the map. Besides, you can make a call to the device, turn on the Intruder and Lost Device modes. You can also delete all the data.
This is a universal app for sharing photos, music, videos and other files with a computer. Moreover, the program not only fulfills its function. It also provides access to the mobile device through a computer.
ShareMe (MiDrop) – Transfer files without internet
The ShareMe (MiDrop) – Transfer files without internet app allows you to transfer your files between your smartphone and computer.
When you first start the application tells about the main elements. You will also learn how to use the program.
First, you need to create a connection by clicking on the big red button located in the lower right corner. Next, you need to choose which device you want to connect to.
On the left side of the screen are categories of files. Select the one you need – it opens on the right. Everything is simple and clear.
Pictures can be viewed in an enlarged form. Music can be listened to in parallel, apps can be installed directly from a computer. Files can be downloaded and downloaded, deleted, copied, moved and so on.
After moving the file to the phone, the file and extra information will be displayed on the screen. Thus, you can immediately use the necessary document, image or video.
The application menu is like the web version, that is, it is divided into categories. Recordings, applications, camera, gallery, music and so on. The transition between sections is carried out by swipe. You can view files, send them and delete.
This is a functional utility for exchanging files between almost any device. The app ShareMe (MiDrop) – Transfer files without internet allows you to exchange files, download apps and listen to music with enough comfort.
The key advantage of the app ShareMe (MiDrop) – Transfer files without internet is the support of popular platforms. So you will not have problems with file transfer.
Firefox Send
Firefox Send is an app for synchronizing data, alerts, files and much more between devices.
This application is able to combine Android devices and a computer.
Using this app, you can send a message, find out the location, send or receive notifications. You can even record a video or take a screenshot. You can also send data from any application through the Share menu.
When you open the device, you can see the history of alerts and clipboard. Alerts and clipboards are automatically synchronized between devices.
If the app is installed on a device that supports sending messages, then you can send them on other devices.
To do this, on the phone, enable sending messages and select the devices to which you can send them. After that, you can send a message, for example, directly from the browser. All messages are automatically synchronized between devices.
By the way, you can also start a call from any device.
In the program settings, you can choose which alerts you want to synchronize. You can respond to such an alert from any device. Besides, the application Firefox Send automatically synchronizes the clipboard between allowed devices.
Collect: Save and share ideas
Collect: Save and share ideas allows you to exchange content between devices.
It can display notifications from a smartphone on a computer. The features of the app have made it an indispensable assistant in everyday work.
The application facilitates the interaction between your mobile device and the computer. It has a set of tools designed for comfortable work in conjunction with a mobile device and a computer.
It can display notifications received on a smartphone on the screen of your computer. It also can transfer text, links, and files between devices.
The application Collect: Save and share ideas pleases not only with its capabilities but also with its implementation. Everything is done very conveniently and works seamlessly.
For example, a link sent from a smartphone to a computer will immediately open in a new browser tab. You do not need to perform any extra actions.
By default, notifications from all apps are broadcast to the computer. Any program can be excluded from the list.
This is a unique application that provides comfortable interaction between all your devices. It is indispensable for users who are tired of sending pictures to mail to open them on another device.
Zapya – File Transfer, Sharing Music Playlist
Zapya – File Transfer, Sharing Music Playlist is a convenient app for exchanging files between mobile devices and computers.
To use the application you need at least two devices, any of them can send or receive files. Via Zapya – File Transfer, Sharing Music Playlist, you can send links, notes, location information, photos, and any files.
Files are saved on the server, and you see a notification by which you can open a link or download a file.
In this application, you can add the devices of other users. You just need to send them an invitation by e-mail. If the invitation is accepted, a new device will appear in the list of accounts.
Information can be sent either to one device or to all at once. Erroneously sent or irrelevant files can be deleted. They disappear from applications and from the server.
Besides, in the application Zapya – File Transfer, Sharing Music Playlist, you can send many files at once. But there are some limitations. You can send up to 100 files at a time.
The app Zapya – File Transfer, Sharing Music Playlist allows you to establish a connection between mobile devices and computers. This will help you synchronize folders between them. The more devices between which the folder expands, the faster they are transferred.
Besides, the application Zapya – File Transfer, Sharing Music Playlist updates only those parts of files that have been changed. It even works with various networked storage devices.
X-Transfer
The X-Transfer application allows you to transfer files from the phone to the computer and vice versa. It also helps to learn about everything that happens with apps while you are sitting at a computer.
You no longer need to go into your pocket behind a smartphone or go to the other end of the room to watch a notification.
When working with this app, you can decide which apps can send notifications to the computer. Besides, the application has another very useful feature.
From a computer, you can hide event messages from the notification center of a mobile device. For this, there is a special button on the banners.
Besides, you can send notifications not only from a phone to a computer but also between all your devices. For example, to collect information from all the others on one device.
What is important, they can not only be broadcast but also saved on the server. This will be useful if the device is offline.
The only condition for the app to work is that it must be installed on the sending and receiving devices. With it, you can share photos, music, videos, contacts, and applications.
This is a free application that has no restrictions and annoying ads.
AirDroid
AirDroid is a convenient and simple app for sending large amounts of data from a smartphone or tablet.
When launched, the application displays the contents of the device's gallery. A long press on the file opens it to the full width of the screen.
A quick press puts a checkmark on the file. You can select the desired number of files, but at a time it is allowed to send no more than ten gigabytes.
After the files are selected, you must click next and specify the email address of the recipient. Write the address, click transfer.
Beautiful animation of downloading files with a background image appears. It moves when the position of the smartphone changes. When the download is complete, the picture will turn black and white.
The recipient will immediately receive a letter with the names of the files sent to him. It also contains information about their total size and the date. There is a week to download them.
The application AirDroid integrates into the menu with which you can share files. This menu opens through the file manager, gallery and many other applications.
With the AirDroid app, you can send not only music and video but also all types of files, including documents. Besides, file uploads can be paused or forced to end.
It can be useful if you were going to send a large amount of information. But there is no time to wait until all the files are uploaded to the server.
The app AirDroid is free, it can be used without registration, there are no restrictions on daily or monthly traffic in it.
Xender – Share it
If you have many files that you need to transfer or share with people on the Internet, then the Xender – Share it app will be useful.
Although the app is most useful for sharing video files, you can share documents. Keep in mind that sometimes it takes longer to exchange large files than for several small ones.
The advantage of using the application Xender – Share it is that it does not use much data from your device. It also does not consume much battery power.
The application is supported by almost any mobile device. You can also cross-share from one type of device to another.
It is useful since many people do not have the type of device they use. You do not need to download any special program to use the application Xender – Share it or even connect to a computer.
All you have to do is find the files you want to share and transfer them to the desired contact. The application Xender – Share it allows you to play all types of media content.
In most cases, files are transferred within a few seconds, unless they are large. If you do not have content to share, you can transfer data from one device to another.
This simple free application allows you to download up to 10GB at a time. It also sends a link to download your files by e-mail, without having to go through authorization.
SHAREit
Want to share files quickly with your computer and other devices? The SHAREit program will help you in this case. Besides, the utility provides many extra options for interacting with your PC.
Immediately after launching the app you will be offered to choose an alias and a photo.
You will then be taken to the main screen. It looks quite stylish, clear and minimalistic. The first thing that's striking is the Send and Receive keys.
At the top is a line with the number of images, applications, and audio recordings installed. Pull-on the bottom edge of this line. A menu with the functions of memory clearing and connection to the devices will open.
The application SHAREit runs without any restrictions. You do not need to connect your device to the network and spend Internet traffic.
You can transfer files without this add-on. It is also one of the fastest applications. This means that transferring files from phone to computer and vice versa takes a few seconds.
You can also share files with other devices. For example, with smartphones or tablets. The application SHAREit is supported on all platforms.
Files of different types can be transferred simultaneously. Want to move photos and music to your phone? Now you can do it without any problems or difficulties.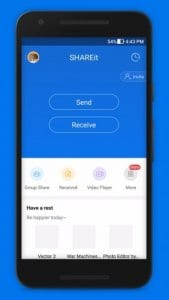 This is an easy to use application. All you have to do is select the file, specify the location and wait for the result.
File Transfer
File Transfer is an application for quickly transferring files between mobile devices and computers.
Here you can transfer files from a phone to another smartphone and from a smartphone to a computer. At the very beginning, you need to configure parameters that are remembered once and for all.
The process of sending files to other devices is very simple here. Press the corresponding key, select the necessary files and proceed to send.
You will start a scanner looking for other devices with the File Transfer application. Choose a destination and the application will start sending files. The recipient must select "receive" files.
Also using this application you can synchronize your device with a computer. Go to the official website of the developers, download the program and install it. The program for the computer is like the mobile version and has a similar menu structure.
Besides, when connected to a computer, you can display images on the screen. You will also gain access to the computer's file system and data archiving features.
This is a fairly functional file-sharing application. It allows you to download and send them from your computer to mobile devices and vice versa.
The application File Transfer has a couple of configuration options. You can select a folder to save files. Also, the app allows you to allow redirecting photos and audio files to a gallery or a folder with music.
You may also like: 11 Best gallery apps for Android