It wouldn't sound anything new if someone would tell you that today because of the power of the Internet you can communicate with anyone in a digital way.
In fact, nowadays there are so many apps for meeting new people online and chatting that it is getting even confusing sometimes… They differ significantly, starting from the quality and ending with the audience that those apps include.
The problem mostly is to find a good app without any unpleasant surprises.
The apps which would allow organizing chats at the local level are always popular since there are a lot of daily problems that we are facing and we need to contact someone from our area to get help. Check out this list and you will discover cool apps that will let you chat at a local level.
You may also like: 11 Best Stranger Chat Apps Without Login (Android & iOS)
Facebook
Well, this one might be not the most original, but surely a proved way to find locals to chat. Highly unlikely there is a person who has never heard of Facebook (and if not, they barely would have a need to communicate at a local level).
The list of this app's functions is pretty wide, starting with creating your own profile with a detailed description of your life's main events and ending with a subscription to the meme groups.
Today any serious organization more or less have its official representative on Facebook. Usually, there you can view all the main info about them and also connect the people you are looking for. The same works for the groups. There are thousands of groups from all across the Globe which are serving their specific purposes.
And there is probably a group for people from your local area, you just need to check it out. Type the name of your town in the search bar and see the results.
The chances that you can even find the official group of your town is really high. As a consequence, thus you can communicate with other participants in this group – you can see their pages in the "group members" section and just message whoever you want.
Facebook has its own messenger and it is quite convenient to chat one-o-one. However, for the group chats, it is either better to leave your comments right at the wall of the community's page so the others can see it and reply, either ask people to add you to private WhatsApp groups.
However, there are certain disadvantages to using Facebook to chat at the local level. First of all, people check their Facebook messenger not so often so no guarantee you are going to get a response. Secondly, Facebook is known as not the safest app on the planet (especially after the Cambridge Analytica scandal).
And, finally, the groups that you may find out there can be, in fact, "dead" groups. Always check when their last post was made – maybe it was 2 years ago – then the probability that someone of the group members is still open to chatting decreases dramatically.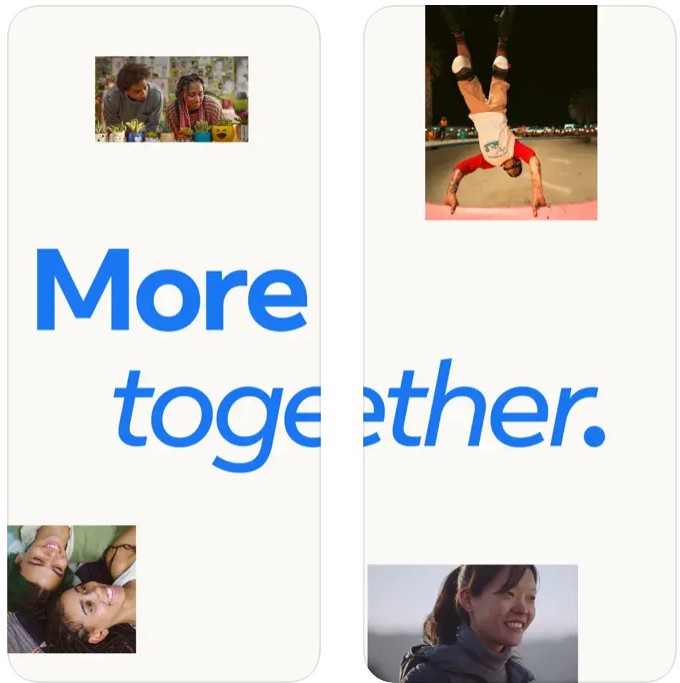 You may also like: 11 Best Snapchat Filter Apps for Android & iOS
Couchsurfing
People who love traveling probably know this website and the app. It is actually one of the best ways to communicate with locals, even if you're not traveling. Usually, people using this app are really interesting to talk to, since being at Couchsurfing requires a certain open-mindedness and eagerness to help.
The app works in the following way: you also need to create a profile where you fill the required information about yourself and the traveling experience you have. You can fill the form in different languages, depending on the purpose of using the app.
Then your page will be visible on the website. In the beginning, the app was used only to find a place to stay at local's houses but lately, it evolved into a wide community with various activities.
Nowadays, you can type a location into the search bar and see which activities and groups it offers. There are a lot of free walking tours in touristic towns, spontaneous pub crawls, emergency groups and so on. If you are traveling and would like to meet locals – this app is one of the best. In fact, sometimes there you can meet even millionaires from Monaco who are offering their place to stay with Couchsurfers.
And even if you would like to explore your local area this way this app is also a good choice. You will probably discover a lot of interesting places and people who you didn't even know while living in your town. You can organize some activities together or offer your place for travelers to introduce them to your hometown.
What is more, here you don't have to worry about safety since all the users can leave reviews on other users' pages – and if something is wrong you will always see it. This app is not a dating app, it is about discovering people and cultures, so if you are looking for finding your love, it is not really a choice.
Now, let's talk about the disadvantages. Just like in the case with Facebook, it may take a long time to get a response from users. Always check when the person was seen on the website the last time and the percentage of responding, otherwise, it doesn't really make sense.
Besides, the app used to be completely free, but sadly, nowadays you must get verified (to pay the yearly membership fee) to send the unlimited number of messages to users.
Otherwise, the number of people, that you may contact is limited down to 12. But you can always go to the local groups – these have no limitation for communicating with others via commenting on the posts.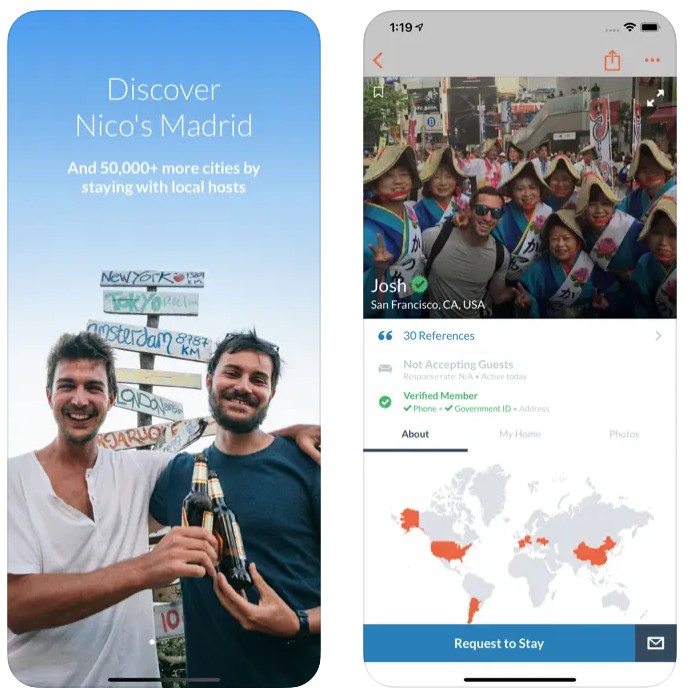 Nearby – Chat, Meet, Friend
Knowing your local people can be quite helpful. They can show you places you didn't even suspect about, or tell you about the best farmer markets around.
Or maybe there is someone who has the same hobbies or career as you – and you could learn a lot from each other, but you just living nearby without even knowing it. You can take the most from your local area by using local chat apps.
Now let's look at the app which was developed specifically to chat locally, find new people and make friends. Is it more effective than the apps listed above? Well, it has its advantages, and here they are.
Nearby actually is a simple app. What you need to do here is to create your profile and fill out the necessary information about yourself.
Then, activate the GPS mode so other users could see your location and you could see other users nearby. There is an option to chat personally or in groups. By the way, here you also have a chance to chat anonymously.
Just like in the case with previous apps, this one is also a website which is available from any Internet browser. In Nearby, when you view the page of a user, you can see the group in which he or she a member.
Maybe it will help you to find common interests. There you can also see the person's friends and when they were last seen.
Possible disadvantages: it is not really clear how many users this app actually includes. While the downloads number is high and the app is claiming to have more than a million users in it, some of them complain that in reality very few people in it and it is quite unpopular.
However, you can try this out – if you like innovative apps, then you will find people using the same app who also think the same way as you.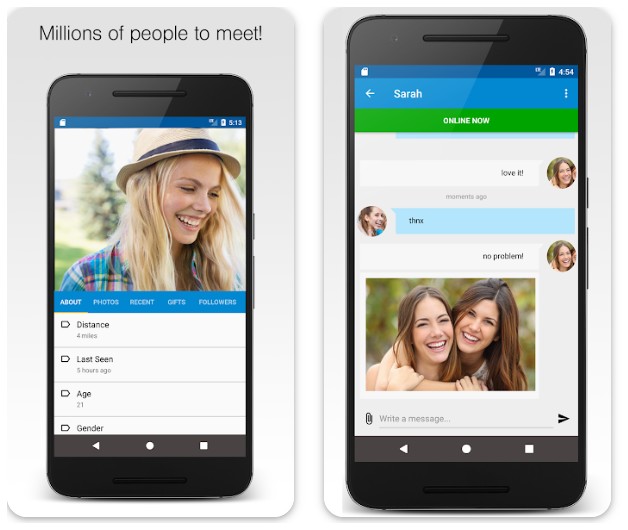 MeetMe
This one app seems to be more popular than the previous one for Android. From the first sight, you can tell that it looks more attractive and it seems to have more users in it. Though, the algorithm stays the same – you need to create your profile so you are visible to others and browse the app to see all the users who are currently nearby you and would like to meet.
There is a function to chat in private where you can send the messages to each other. Also, it is worth to mention that this app is the live streaming app so you can make your live streams there and, maybe, thus find new people and friends. Or it can be an option if you're just bored.
Unlike the previous apps, this app can be used to flirt as well. It's not completely a dating app but it surely allows you to extend your borders to flirting with other users without being banned from it. Who knows, maybe you will find your real match in your local area.
During the live streams, you can also send gifts to streamers (thus they earn points a.k.a. money) or make double streams with someone and earn money this way. It is useful in the sense that if, for example, you have a certain hobby and you would like to find people who would share your interests with you – you can easily do it here.
The app claims to have more than 100 million users. Even if the light version is free, the premium subscription that allows you truly enjoy the app is not. And be attentive while using this app – though the number of users is high, it seems like the app indeed has a lot of fake accounts chasing their own commercial goals. The bot problem is also not the last one in this app.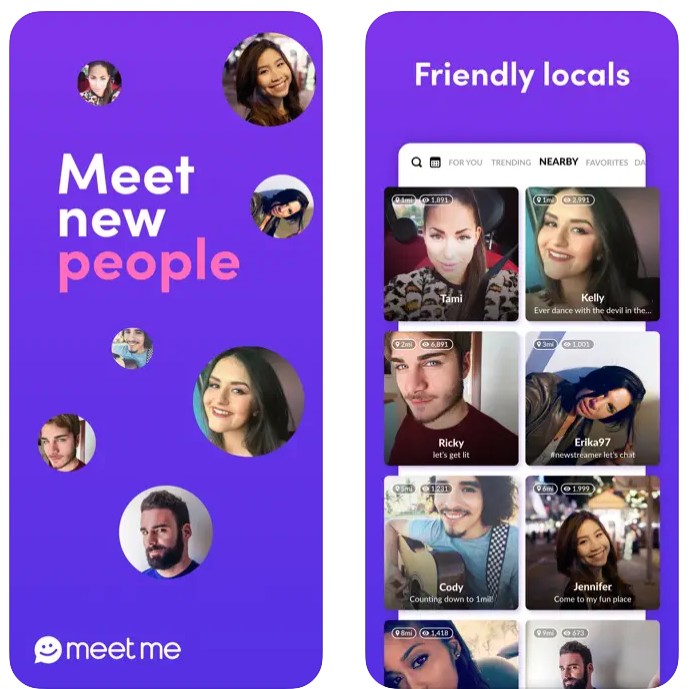 SayHi!
Meet interesting people who live nearby using this app. By the way, it seems to be on the market a little bit longer than the previous two and it has more positive reviews on it.
Create your account, fill the gaps with all the necessary information and switch your GPS location on. Thus, you will see users who are currently in proximity to you.
Although, you can set up a function that will send you a notification each time if there is someone of your friends is nearby. Here you have different types of chats, where you can send regular text messages with emojis, voice messages, pictures, and snapshots and also here you can send gifts too, so if you like someone on the app you can always send them a gift.
The messenger in this app is definitely its advantage. It includes a far more detailed way to control them here. For example, here you can watch the status of your messages, if it's read or not. You can also detect where your friend currently is and what he/she is doing.
For those who have trouble to start a conversation (or maybe just to save time from writing the trivial phrases in chats), there is a base of words that you can choose to greet someone or simply to write something. Just one aspect that you should be aware of – users say it is impossible to delete your account from there so pay attention to what and how you post in this app.
Officially this app was made to be a local chat app but when you start filling your profile it feels like more of a dating website, so it's up to you to choose. The information blocks include such aspects as eye color, age, dies, occupation, height and so on.
A little bit more, than a random person should know about you, right? But, as was mentioned before, you are always free to choose. Anyway, this app is a fun way to spend time.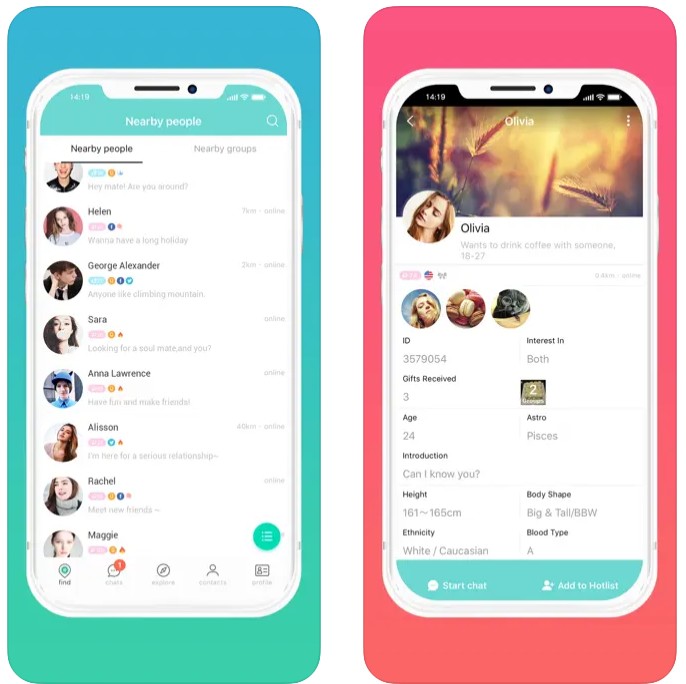 You may also like: 7 Best Virgin Dating Apps for Android & iOS
SKOUT – Meet, Chat, Go Live
The SKOUT app is designed to find a soul mate, interesting people, as well as to communicate on the Internet. It has social networking functionality.
Before you start using the app, you need to register. Registration is done by creating an account via email, cell phone, social network Facebook, or Google account.
The app allows users to search for both a soulmate and friends to communicate nearby. All you have to do is install SKOUT on your device and fill out a profile. You can add your photos, write information about yourself, highlight interests and hobbies.
When searching for people to meet, the app allows you to set certain parameters for profiles. For example, it is possible to search for people according to your location. Using this feature, you can get acquainted with a person who lives close to you.
Another feature of the SKOUT app is the ability to maintain a social networking feed. In it, you can post photos with various captions. Other users can rate them, like them, and write comments. SKOUT also has gifts you can give to your friends and new acquaintances.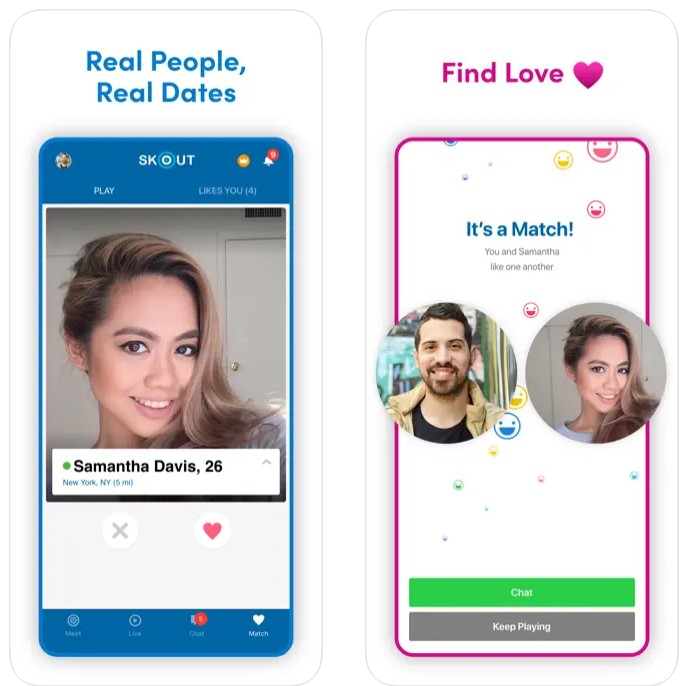 Yubo: Chat, Play, Make Friends
The Yubo app is designed for conversations and video calls. You can use it to find friends with similar interests, create group chats and conduct live broadcasts. This is a social network that allows you to make friends and communicate with them in chats or via video chat.
The aim of utility is based on communicating with real people, including people nearby. Immediately after registration, a selection of rooms opens where you can find users with common interests. There is an opportunity to chat with representatives of the LGBT community, streamers, gamers, and so on.
All you have to do is enter the room of interest and start a chat. The utility has a built-in picture guessing game. You can create polls and vote. The app allows you to go live and start online broadcasts for friends. You can create a video chat with up to 10 participants.
The utility will help you find old friends or meet new ones. The app analyzes the interests of users from all over the world. With its help, you can start a conversation with people who are interested in movies, music, art, games, and other areas of life.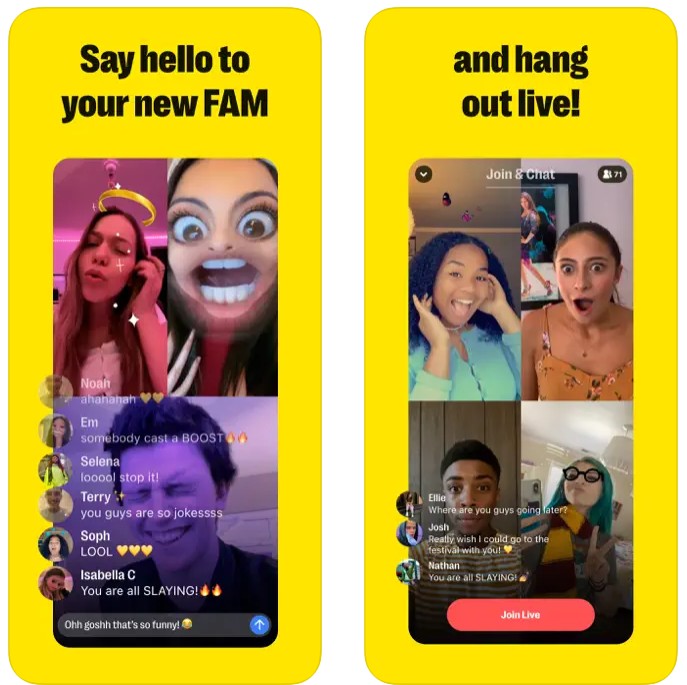 hi5
This one might seem like it is more a find-new-friends type of an app, but still, it is more of a dating app, so if you are looking for another type watch the list above. However, the design of this app is calmer and differs from most of the dating apps which are thousands nowadays. Logically, it would attract more people who just want to chat or hang out with you without any dating intentions.
So why not use this app to find your local people better. By the way, the possible disadvantage of not-dating apps can be that if you accidentally like a person you chat with it may be tricky to get the conversation to a romantic note, with possible negative consequences for your profile.
This app allows you to meet new people and see their profiles, shown to you, according to the hierarchy of proximity. While browsing through the profiles, you can also see people's age and current status. The distinguishing feature of this app is that it has some kind of a dating game that you play before actually asking someone out.
There is another dating game in the app called "Pets", however, many users simply don't understand it. The idea of it that you are basically getting "bought" by another account.
At the same time, the app claims to maintain the highest privacy. Officially, it should help you to meet more new people but the ultimate point of it is unknown.
Though, in general, it is is a good and simple app which really can help you to find interesting people nearby, if only you don't pay attention to these weird games, which, obviously, developers tried to integrate into the app but haven't worked enough to finish their idea.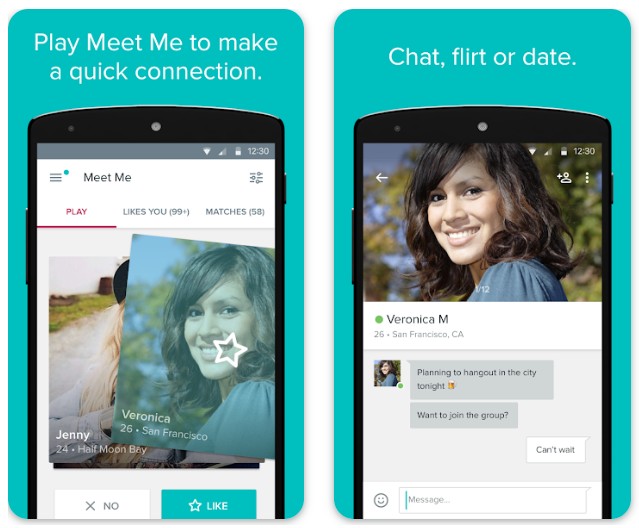 SelfieYo Chat
SelfieYo Chat is a little bit another kind of an app. It is not a regular chat app like in previous cases, it is more like a game where you earn points depending on your activity. Why is this app even on this list?
Well, here you got your status where you can let all the local people nearby know what are you up to at the current moment. You are basically chatting with each other by evaluating selfies.
The app claims to keep the locals updated on what's going on at the current moment in their area. As the main idea, random selfies of users should reflect current activities. Basically, it is a more "socialized" version of Instagram or SnapChat.
The creation of an account in this app is simple and doesn't take much time. When you first enter the app, you create shortly a new account, filling just your name, location, and age and then you will be asked to take 2-3 selfies of you in order to demonstrate what you are currently doing at the moment. Or you can record a video – such an option also exists in this app.
Just like on Instagram, here you can edit your pictures before posting them. Your whole profile will be consisting mainly of photos.
When you are scrolling through the photos of others – you can like a pic by swiping left or right and then a user that you liked gets a point. After that, a private chat is opening where you can talk (if both users agree to talk).
The interesting aspect of this app is that it never shows very specific pictures based only on location. Yes, the location does matter and the filtering happens to depend by the place where you're currently at, but still, the app doesn't use this algorithm of picking first the users that are closest to you. It sorts the more popular content first (now can we say it is Instagram 2.0?).
But the app never reveals your precise location. In the sense of safety, it is definitely better. Also, you can block all the disturbing users and they won't even know about it.
At some point, it can be even more reliable than Instagram because it never saves content that you deleted (we all know about the recent Insta update where it claimed to become "public" and now all the photos posted there are public property).
At some point, this app can serve as an analog of the Trip Advisor. If you are visiting a local restaurant or bar, or any public place like that, you can always take a selfie there, post it and tell other users how lit is that place.
Or, on the opposite, warn others of going there. Thus, it is really helpful software for people who would like to see around.
Another design feature that differs it from Instagram – it is much more simple and it seems less comprehensive. Yes, it is a local chat app, it shows you people and their pictures depending on the location but if you got used to the Instagram multi-tasking situation you may find SelfieYo Chat a little bit cheesy. But let's give some credits to this one because it makes the whole communication process much easier and less pompous than on Instagram and Snap Chat.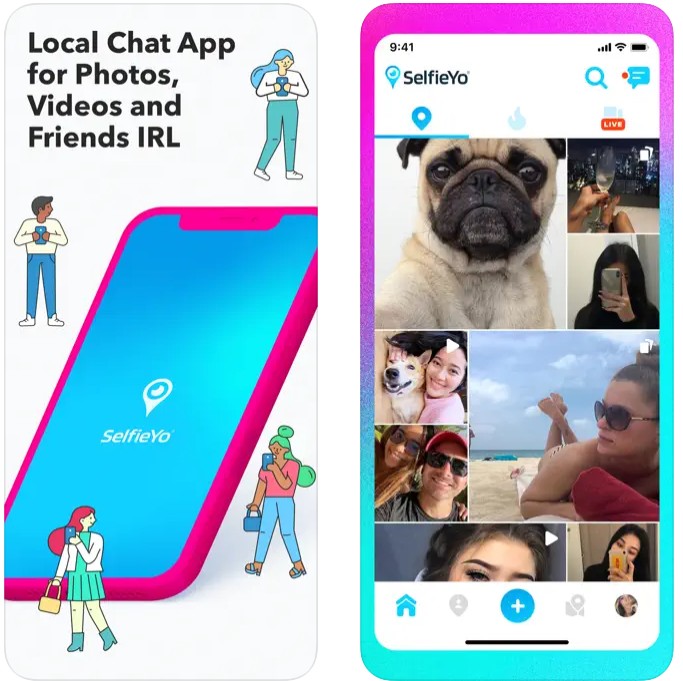 Tinder
No surprise, if you have heard of this app before or maybe even used it since it's been one of the most popular dating apps on the market for a pretty long time already. So let's look at Tinder one more time from the angle of finding locals for a chat.
First of all, if you are looking for an app that is proven to be used by lots of people and where you're not going to feel like a lonely jerk trying to be innovative – this old school way is for you. And let's be honest, it is a really efficient way to chat with local people. Of course, it was initially made as a dating app but lately, it has developed into a huge social-communication platform, where you can just hang out with people.
In fact, now this app allows you to expand your social network and meet new people when you are traveling. Or just to have fun when you are bored. And a few statistics – the app has more than 30 billion matches to date. Seems interesting where there are only 7 billion people on Earth. But the match is not the same and here is why.
For those who are not familiar with the algorithm of the app: you register, create your profile with the main information about yourself – it depends on you how detailed you want to have it. But it is always better to highlight your name, age, location and a couple of facts. And, of course, profile picture.
Then you switch on the location and the app starts to show you people (of the opposite gender if you are here for dating) who are nearby. When you swipe right, you just scrolling through profiles. When you swipe left, you give a like to someone. Later this person can also like you back and thus you start chatting.
You can also add the profiles to your favorites, block users or delete your message history. It is also possible to add multiple photos to your profile. So if you are more into the proven ways to meet new people this one is a choice for you.
Just one aspect – the function of regular non-dating hangouts is not really promoted, thus, not a lot of people know about it so it may be difficult if you are using this app just to find a company to chat somewhere.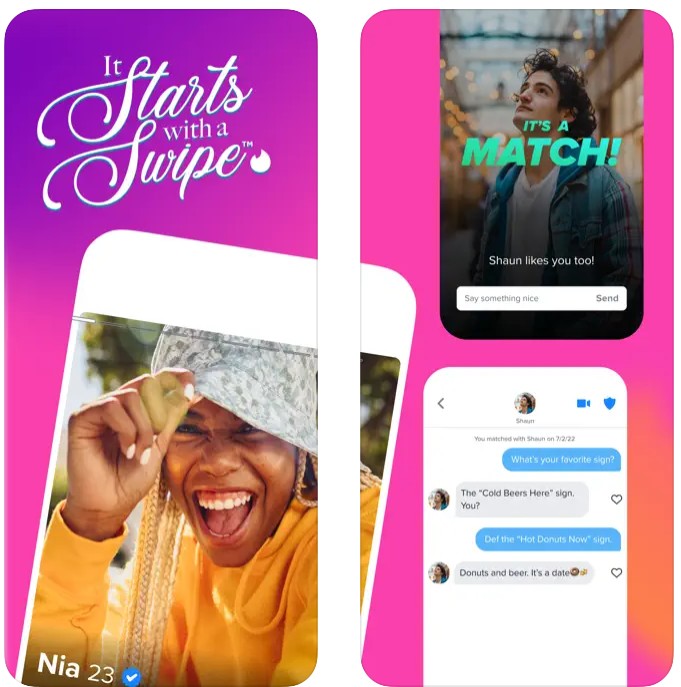 You may also like: 17 Best free chat apps to talk with strangers for Android & iOS
Qeep
And the closing app on our list is called Qeep and it's a dating app as well. It is not that much popular as Tinder but just in case if you are tired of the first one, you can always try something new. However, it is not like this app is completely unknown to a wide public. It actually involves more than 20 million users. So what are they attracted by?
Qeep also uses the method of proximity – it means it shows you first the accounts of people who are closer to your current location. By the way, here you can also not only to find dates but also friends.
But, just like in the case listed above, this option is not so popular and known here. And considering the fact that it is much less popular than Tinder then it is dubious that someone will be willing to hang out just for the sake of the hangout that often.
Still, the app can be useful to get to know more people from your neighborhood. To be honest, this app is extremely similar to Tinder. You also need to create your profile page where you fill out the information about yourself, and when other users scroll through the feed, they will see your name, age, and location.
Though the interface looks different. It's the matter of taste but here it looks like a more budget option. Here you are also swiping right to look through pages of users and swipe left to like someone, then if it is a match you start chatting.
But let's give Qeep some points – it has its distinctive features. It can identify the pages of users who are just recently joined the app so you will see it when scrolling the feed. What is more, the search for this app is based solely on the proximity of people to your location, so only locals will be displayed.
The app itself claims to be a very reliable tool to find a real match and build serious relationships, however, the reviews sometimes tell us that this may not work in the way the developers see it. Still, if you are up to something new or just curious to see if someone from locals uses this app you can always try it.