Do you want to quickly find all the duplicates on your mac? In this case, Duplicate Annihilator for Photos will help you to tackle this task in a few seconds! First of all, we have to admit that this is a stable and reliable application that does not contain any viruses. Plus, it's extremely lightweight, so you will install it in a couple of seconds!
And if you're not sure if that picture is the duplicate you may want to install a before and after photo comparison app.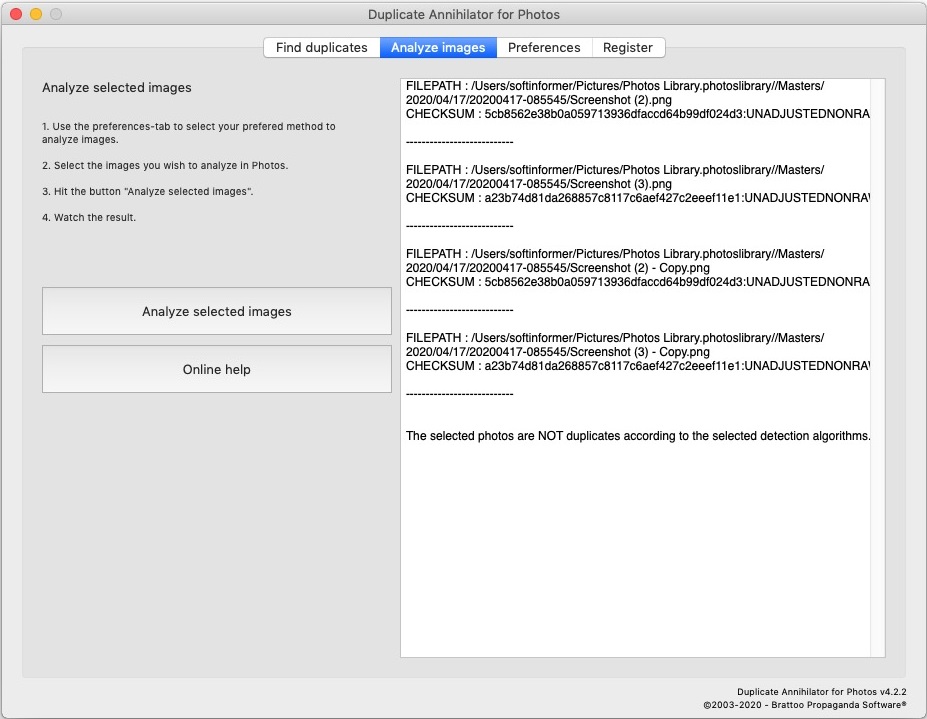 The program allows users to detect duplicates via effective algorithms using electronic checksums like SHA1. When the duplicate is found, you can easily delete it.
Duplicate Annihilator for Photos offers a great variety of ways to recognize duplicates. For example, you can also detect duplicates by using such metadata as filename, dimensions, filesize, Exif creation date, or date of creation.
So, in Duplicate Annihilator for Photos, you will quickly find all duplicates, imported thumbnails, missing image files, and corrupt JPEGs. If you want, you can also mark duplicates with a description to instantly find them via search or smart folders.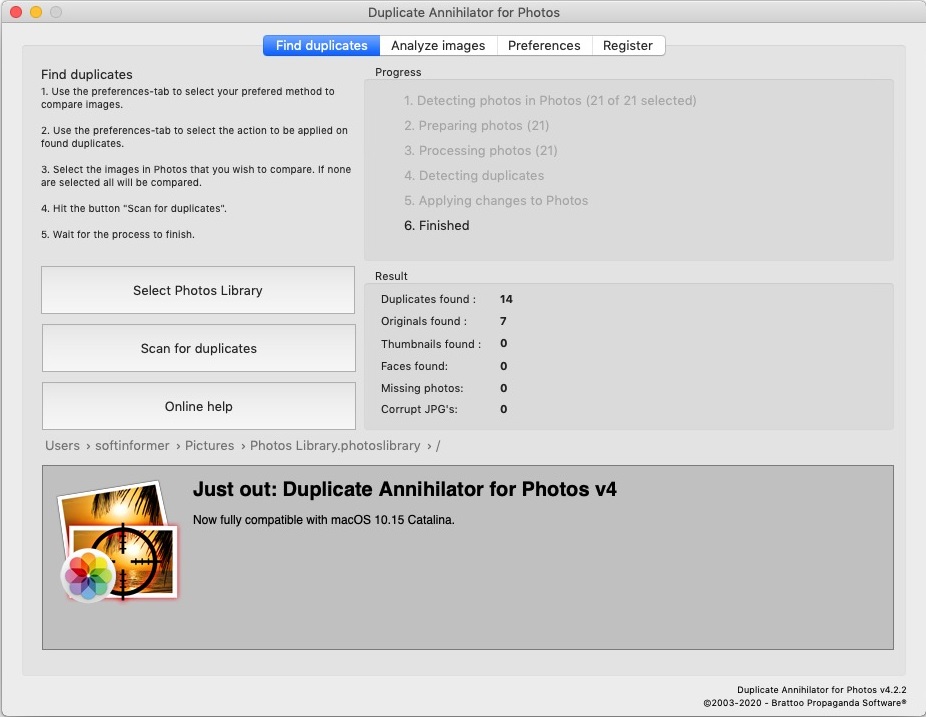 Furthermore, the program enables you to remove duplicates created internally by Photos or during import. Due to the built-in algorithms, you can also compare images to discover the differences.
What is more, Duplicate Annihilator for Photos boasts a minimalistic design that makes its interface quite user-friendly. Thus, we can surely say that there is no need to have any professional skills to understand how to use this tool. The next feature that many users will certainly like – the developer offers regular updates!
If you want to add unusual effects to your photo like levitation we recommend trying out these apps.
The program comes with a demo that allows you to scan up to 500 images. But you can also purchase the full version that does not contain any limits at a quite accessible price. All in all, Duplicate Annihilator for Photos is definitely worth downloading. The developer guarantees a pleasurable user experience. Highly recommended!