What could be better than learning while playing? The Electric Puzzles app from the ECStudio Systems team gives you this opportunity in a fun way.
The game consists of several sets of electrical circuit puzzles. You should start to understand a little about them, and if this is your child who plays, the application will help him or her master the basic knowledge of how electricity works.
Find more cool games in our article about the best cross-platform game apps.
The application does not require registration, its design is rather laconic. The settings are minimal, but you can choose from two background options and enable/disable sound effects. There are forty puzzles in each of the sections. You must have completed the previous tasks for the next one to open.
The essence of each task is to arrange the elements of the electrical circuit in such a way that a light bulb is lit, or another required effect is performed. The first tasks of each section are always elementary, but the further ones are more and more complex and consist of many elements of electrical circuits.
The only thing is this game doesn't have the multiplayer mode. You can find games like that on this list.
The Electrical Wires section dares you a solution to problems on the correct position of bulbs, wires, and batteries. The Rotating Resistors section complicates your knowledge. Rotate the elements of the circuit so that all the lights in the circuit light up, but taking into account the influence of resistors.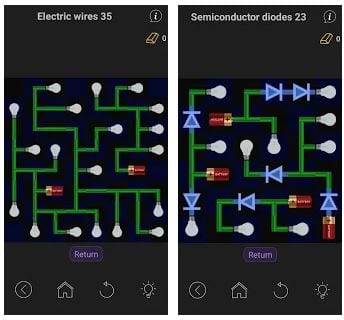 The Semiconductor Diodes section will bring new information to your child and make you puzzled. And the Logic Gate section will make all the lights in your brain light up! It's not so easy to follow the correct sequence of tapes in this section, but do believe, the pleasure of the solved tasks is worth it.
Looking for something different? Check out our list of the best horror games to have a real fun!
Speaking of technical specifications, the application works stably, does not hang or crash. If the game provokes you to learn more about electrical circuits and how they work, you can check out other developments from the ECStudio Systems team. Those guys specialize in this very topic.
Develop your mind and don't let the lights go out in your brain with the addicting game app – the Electric Puzzles!