Since I opened up the Centric app for myself, I can't help but share how much I like it. Let me tell you why this app has quickly become a must-have on my device.
You may also like: 11 Free Offline Puzzle Games for Android & iOS
Centric is a puzzle lover's dream come true. It's a captivating puzzle app that offers a wide range of breathtaking images to piece together. The moment you open the app, you're greeted with a beautifully designed interface. It's clean, modern, and incredibly user-friendly – plus, it's not too complicated, and hence, not frustrating.
Basically, it's a type of a jigsaw puzzle, in that you need to combine elements to assemble a compete picture. The difference is the pieces are in the shape of concentric circles that you have to move within and around each other. The pieces are intuitive to move and connect, and the app provides just the right amount of challenge to keep you engaged. It's a perfect way to unwind after a long day or pass the time with a bit of mental exercise.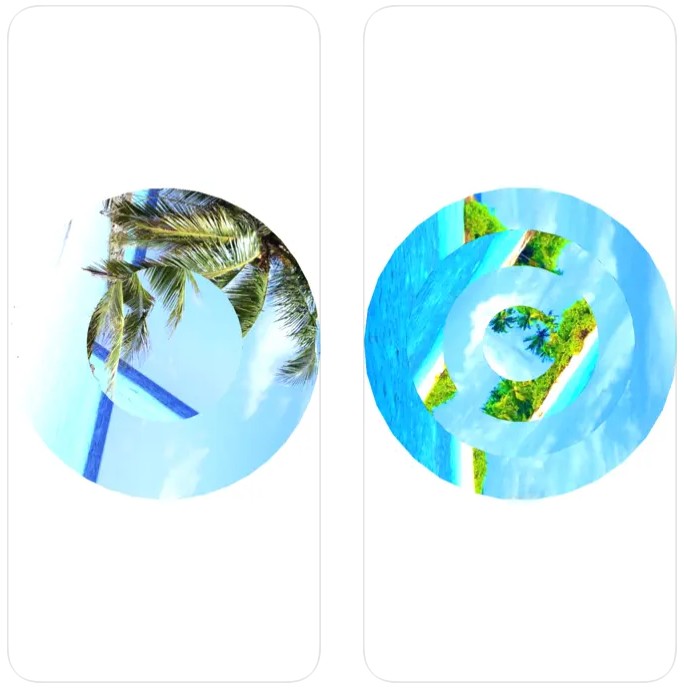 Overall, it's a perfect blend of relaxation and challenge. The app offers a diverse selection of images, from stunning landscapes to intricate artwork. The images are of top-notch quality, and each one is a masterpiece on its own. I, for one, liked the one with the sunset by the sea – but other images feature tropical and seaside themes, and are also nice.
Centric is available on iOS devices, and it runs like a dream. I've had no issues with performance or functionality.
The app has received well-deserved praise from users. It boasts high ratings on App Store – currently, the average is 5.0. While it's free, you can purchase puzzle packs for $0.99.
Centric is a captivating puzzle game app available for iOS users. It challenges players with a unique and engaging gaming experience that revolves around solving puzzles using shapes, patterns, and spatial logic.
You may also like: 15 Best Team Buidling Games for Android & iOS
The app offers a diverse selection of puzzles that cater to various skill levels, ensuring that both casual gamers and puzzle enthusiasts can enjoy their gameplay. Each puzzle is designed to be visually appealing and mentally stimulating, making it a delightful pastime for users.
Centric provides a user-friendly interface, making it easy for players to navigate through the puzzles and levels. The game's intuitive design allows for a seamless gaming experience, and its controls are responsive and straightforward.
One of the key strengths of Centric is its ability to keep players mentally engaged and challenged. The puzzles are not only fun to solve but also help enhance cognitive skills, making it a rewarding experience.
Whether you're looking for a casual brain teaser or a more intensive puzzle-solving challenge, Centric offers a wide range of puzzles to cater to your preferences. It's a must-have app for anyone who enjoys brainteasers and wants to keep their mind sharp while having fun.
Overall, Centric is an exceptional puzzle game app that offers an array of entertaining and mentally stimulating challenges, making it an excellent choice for puzzle enthusiasts of all levels.
You may also like: 7 Best Sliding Block Puzzle Games for Android & iOS
In conclusion, if you're a puzzle enthusiast like me, Centric is a must-have app. Its beautiful design, diverse image selection, simplicity, and smooth functionality make it a joy to use. I highly recommend giving it a try and discovering the joy of solving stunning jigsaw puzzles right on your iPhone.