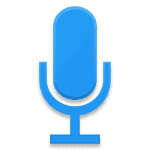 Easy Voice Recorder is an easy-to-use voice recorder for your smartphone, which allows you to record with great simplicity all your wise thoughts, notes, interviews, and lectures. Since the recording time of the conversation is limited only by the free space in the phone, you can not worry about that at the most inopportune moment the recorder will stop working. After the recording, there is an opportunity to instantly publish the sound file in social networks, cloud storage or send it by e-mail.
Main features of the program:
recording in stereo mode (on devices that support it);
the ability to record from the microphone of a Bluetooth headset;
automatic stop recording during silence;
use the camera microphone for better recording;
select the quality of the recording by setting priorities (high quality or small file size);
ready-made records can be shared with friends and easily saved to your computer.
noise reduction;
using the microphone of the camcorder, which improves the recording quality;
sync with Android Wear;
support of Dark and Light themes;
support for a large number of audio formats and much more!
For ease of use, the application has a set of widgets that can be installed on your smartphone's desktop and quickly activate the recorder when necessary.
Easy Voice Recorder is an excellent and very useful application for mobile smartphones that will allow you to record all the information you need anywhere and anytime. The usage of such a dictaphone is a pleasure because the interface and management are made at a high level. The quality of the recorded files is worthy of the highest praise. To be able to record the necessary materials in the formats as MP4, 3GP or WAV, you need to download Easy Voice Recorder to your smartphone. The number of settings of the application is simply impressive. You can adjust the length of the recording, the recording control indicators, and the player, as well as many others. Enjoy with pleasure!