If you've ever used Skype, Discord and other communication applications, you can understand how important a microphone is. When trying to get in touch with friends or even colleagues, we often resort to new ways of communicating.
A microphone is essential to ensure that you have a good quality connection and that you don't get in the way of interference.
If you do not have a special microphone that enhances your voice, do not be upset. Each smartphone has a built-in microphone that you can use as a separate device to record your voice.
You don't have to buy new equipment – just use what you already have! And we've found 11 best apps for you to turn your smartphone into a complete microphone. And before you start, I have to mention that there is also an article about free live microphone apps on our website.
Microphone by Wonder Grace
Microphone is an application developed by Wonder Grace and has a huge number of downloads. The application has an excellent user rating, which has caught our attention. Microphone is mainly used for acoustic routing and is easily perceived by users from the first minute.
Users can determine their own channel balance – mono or stereo – individually. Increasingly sensitive and precise settings can be adjusted in the same way as the equalizer settings.
The Microphone itself can be displayed as a widget on the desktop and accessed quickly at any time of day or night. By the way, the widget can be installed on the lock screen as well.
When you enter the Microphone, you immediately get an extensive list of settings and items that you can change. Equalizer, Buffer, Gain and other items you can examine in more detail.
In fact, the application itself displays a microphone while you are using it, so you can imagine that you are actually using it!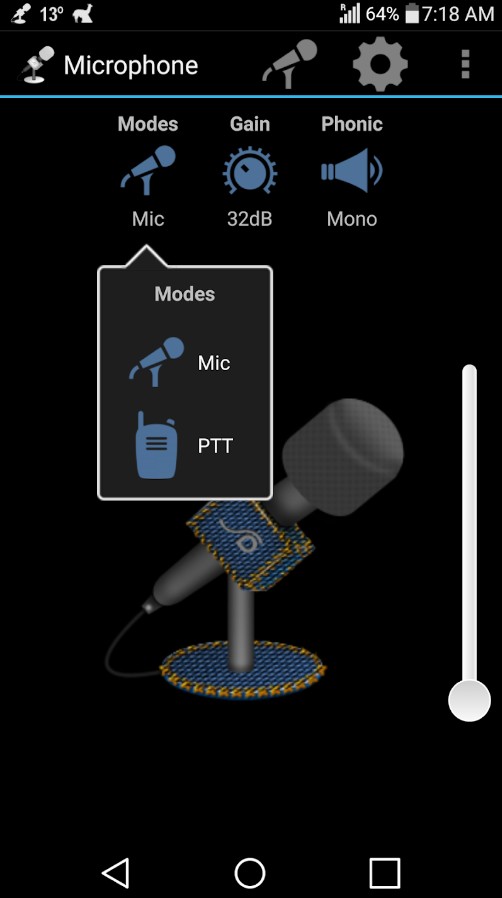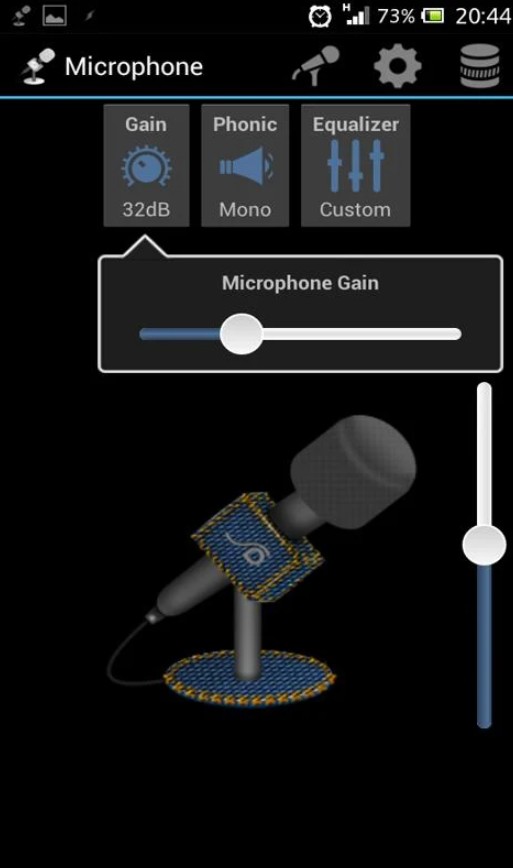 You may also like: 11 Free Microphone Blocker Apps for Android & iOS
MicSwap: Mic Modeler Recorder
If you are a vocalist or just occasionally record podcasts, then MicSwap is an interesting experience for you. Here you can do movies, sounds, music and more. In addition to recording, you can even process and edit sound inside the app and then save it.
We're looking at a free version of the app. Here you can find 3 different types of microphones (by the way, there are 17 of them in the paid version). There is also an opportunity to try other types of microphones in order to buy them in the future.
After purchase you will have unlimited recording time and convenient interface of the application itself. By the way, for those people who are engaged in creative work, it will be useful to learn about the possibility of synchronizing MicSwap with GarageBand.
The format of your audio recording is up to you. To record different sounds, we recommend the different kinds of microphones MicSwap gives you.
You'll get a lot more in the Pro version, of course, but you can try out the features without even paying for it. Use MicSwap together with other applications to bring the sound to a completely different level and quality.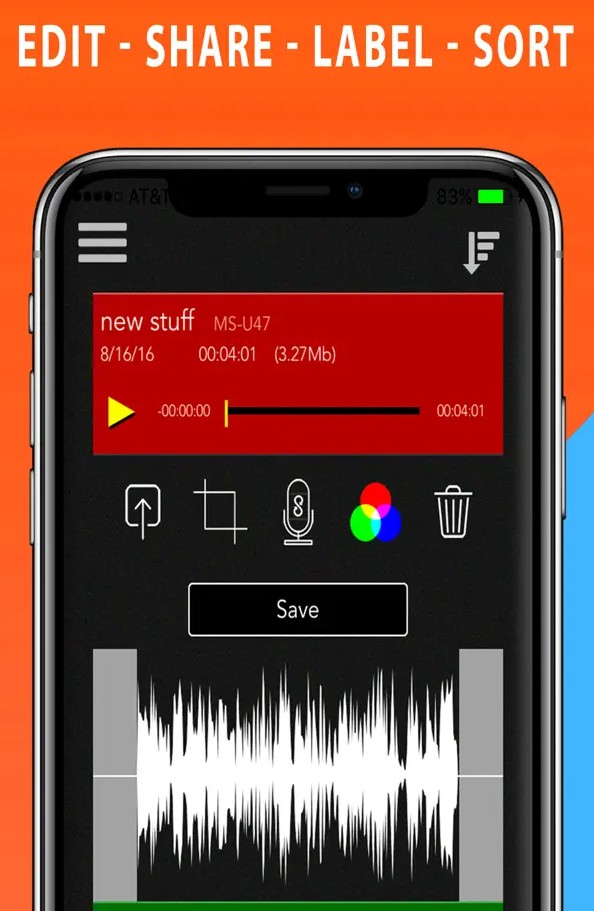 Echo
Echo is one of the easiest services to record sound and listen to it instantly. In the application, you can also get an additional echo effect for your voice (although we're not sure if you will need it).
You can use this microphone not for communication and music education, but for your own learning and studying foreign languages.
You can record your voice anywhere and in any circumstances, immediately starting the recorded result. To improve your own skills, you can listen to what you have recorded.
Most importantly, Echo doesn't display ads while you're using it, so your learning will be even more effective.
All your recordings are saved in an uncompressed format, so you get the best sound quality. Of course, this affects the size of your files, so they can be very large.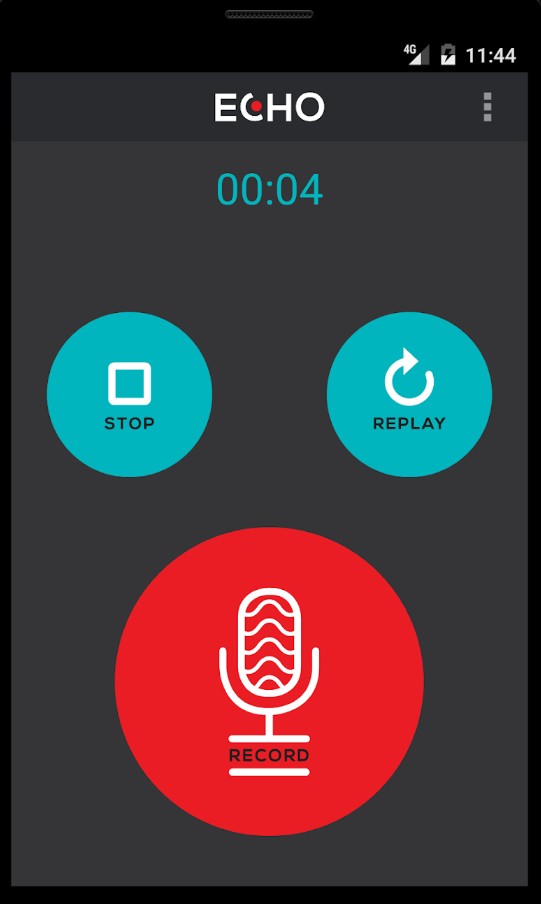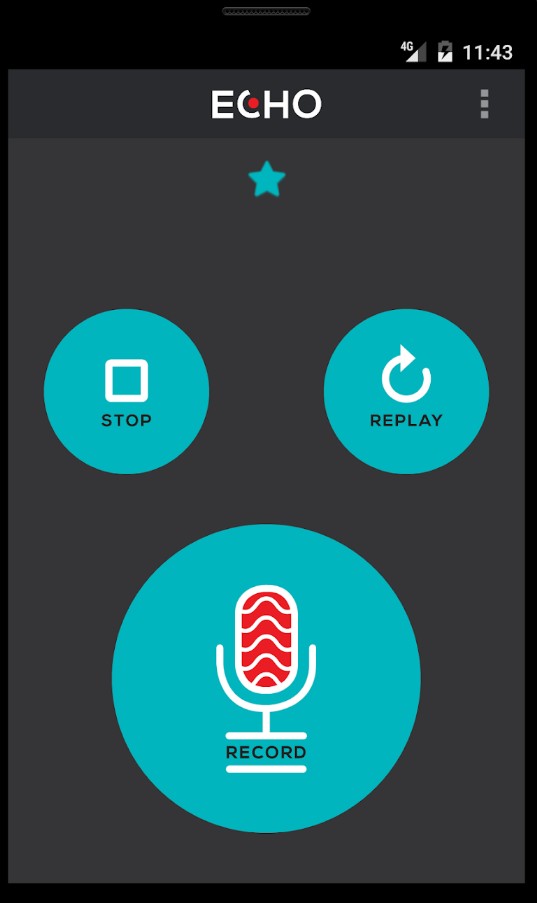 Extra Mic
Extra Mic is a Chinese application that people around the world can use. This microphone uses ultra-low latency sound recording technology, so you get a virtually professional microphone that perfectly reproduces the sound level. Just install the Extra Mic and start talking!
It's easy to use: you need to connect your smartphone to the speakers and bring it to your lips. Start talking into the phone's built-in microphone and the sound will immediately output from the amplifier!
You can also connect the adapter to an external loudspeaker and use your smartphone as a microphone.
Such use is most convenient during various events in large rooms or in the open air. This way you will quickly attract the attention of crowds and be able to say something to them.
You can also use Extra Mic for music: just start your performance with the built-in microphone and your song will be heard by everyone around you!
Don't worry about the Chinese language – you can always switch languages or translate it.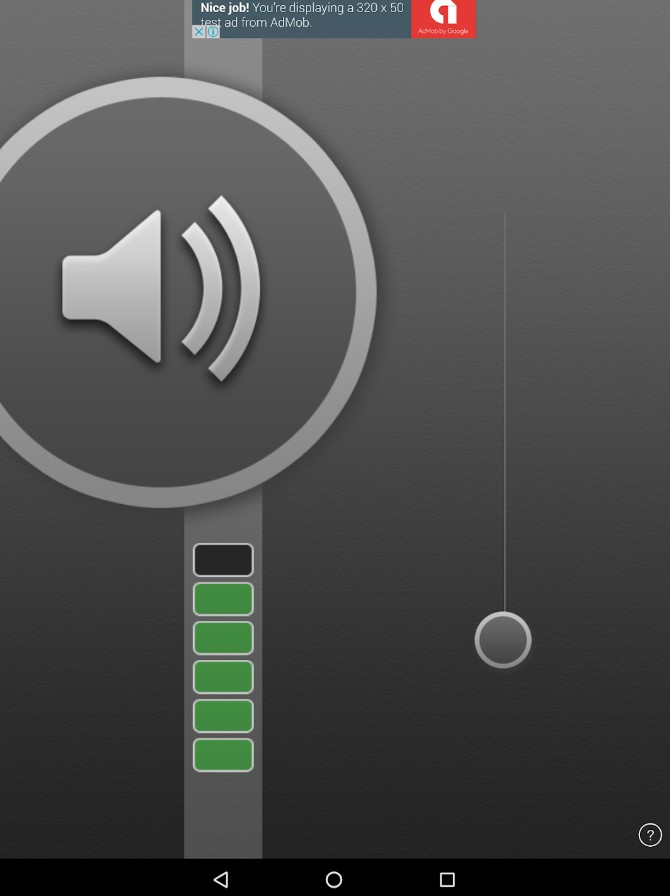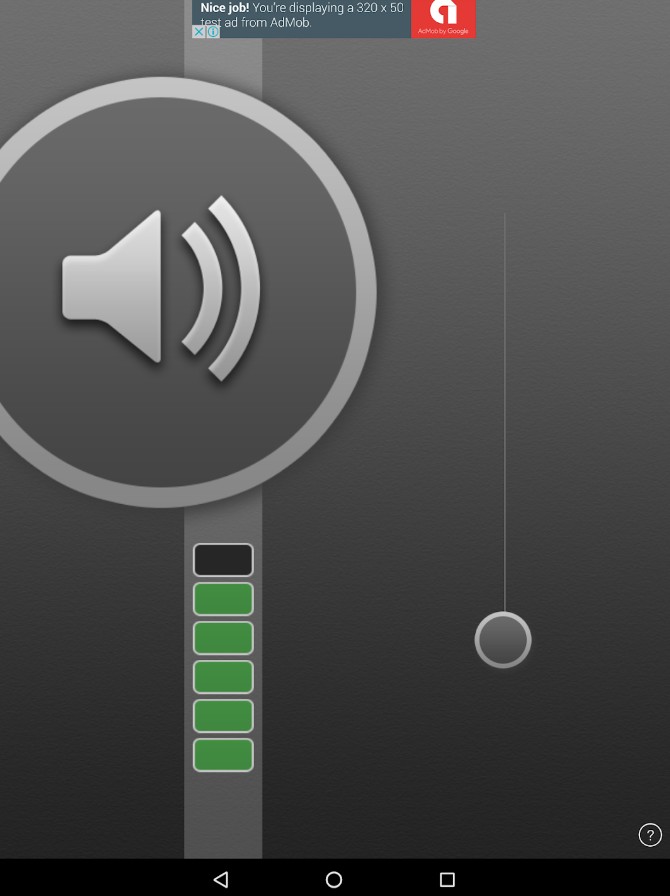 Professional Microphone
As you can see from the title, this application can be used for professional recording. But if you're new to music or just want to try your hand at singing, you might want to use a Professional Microphone. Do you like to sing in karaoke? Then you should install it as soon as possible!
The Professional Microphone has 3 types of microphones – studio, dynamic, and condenser. Each of them is unique and has special sound effects that transform your voice and make it sound completely different.
All settings, of course, you can change and add a musical background to your vocals – so everything will sound even more atmospheric. A high-quality editor is built-in, so you can work with your voice and superimpose many sound effects on it.
With Professional Microphone, you practically get a pocket-sized recording studio – except you don't have to pay for it and you can control everything yourself. Singing, karaoke, or even a simple rehearsal can be done with the Professional Microphone right on your smartphone.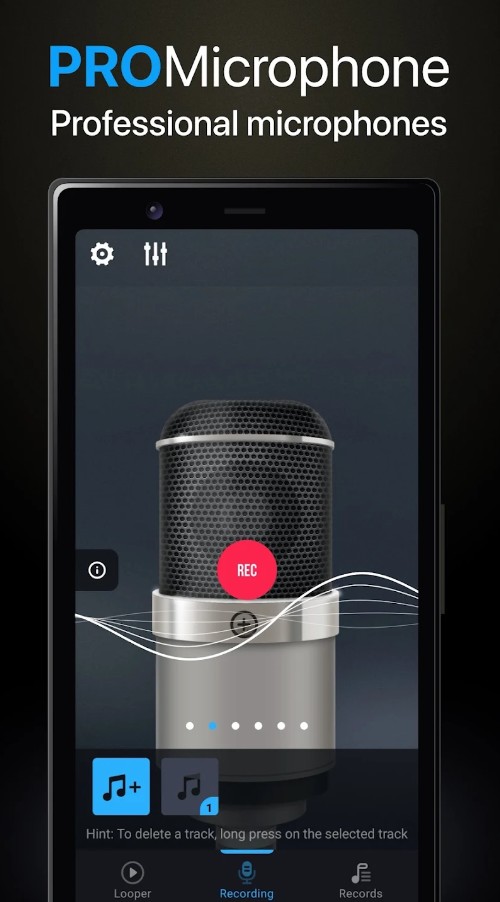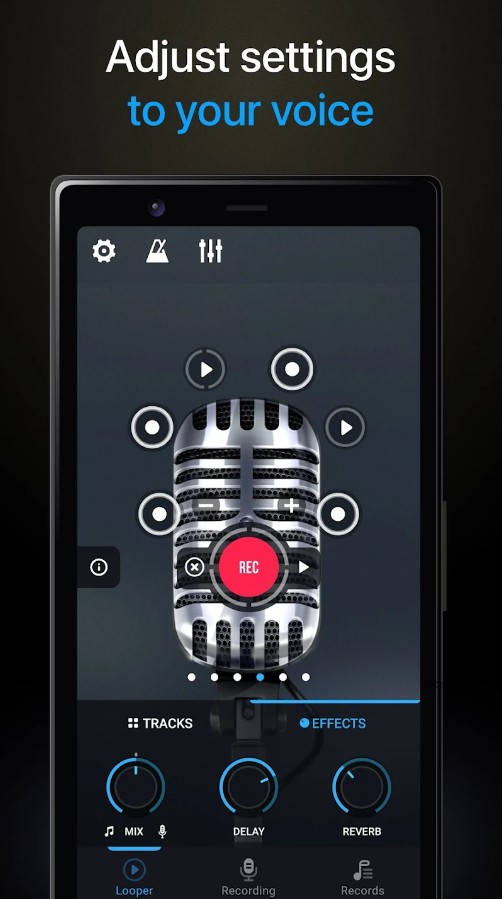 Microphone Live
The built-in microphone in your smartphone can give you much more than you can imagine. Want to get a loudspeaker, get your friends' attention, or just say something to a hearing-impaired person? Then use the Live Microphone and you won't have this kind of problem again.
In fact, the name of this app speaks for itself. It is suitable to be used during live events as it turns your iPhone into a public speaking mic.
There are several things we'd like to highlight that are important enough in the app itself. First, it's about filtering out extraneous background noise. Secondly, in a separate mode, you can even comment on sports events of excellent quality. What is more, the app has quite a convenient interface, and even non-tech-savvy users will learn how to use it in minutes.
In addition to these features, you can also connect the stage performance or even concert mode. Microphone Live allows its users to talk and distribute information in excellent quality with minimal effort.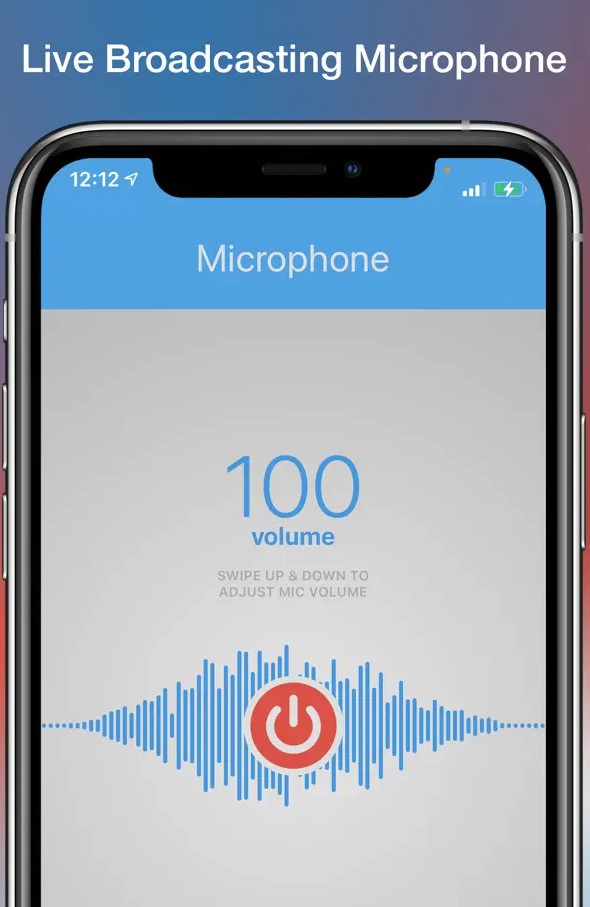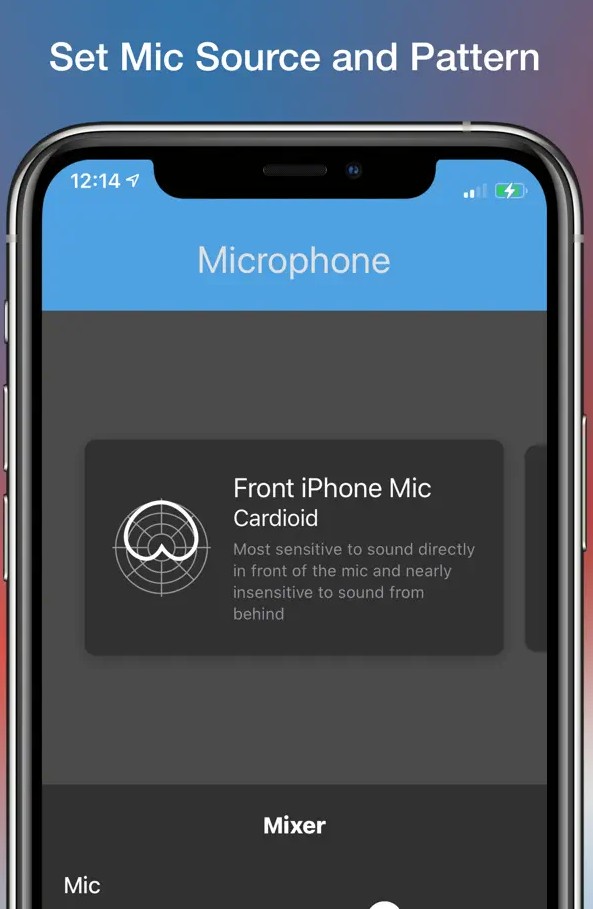 You may also like: 16 Best Microphone Apps for Android and iOS
Micstream – Virtual PC Mic
Having a microphone at hand is always helpful, as you do not know at what point of the event you may need it. Your smartphone can easily replace a complete recording device, especially with the Micstream app. As you can see by its name – it provided an excellent PC-like quality.
All you have to do is connect your smartphone to some speakers and make your voice much louder – just like with a regular microphone.
Midstream will require some additional knowledge and skills while setting it up because the quality of it is a little bit better than the rest of the microphone apps. You also should make sure before installing this app that your smartphone is powerful enough to handle the configurations.
Use Micstream for special announcements in the crowd or at events. That way, it's easier and quicker to say something, because people will pay attention to you and hear all the information you need.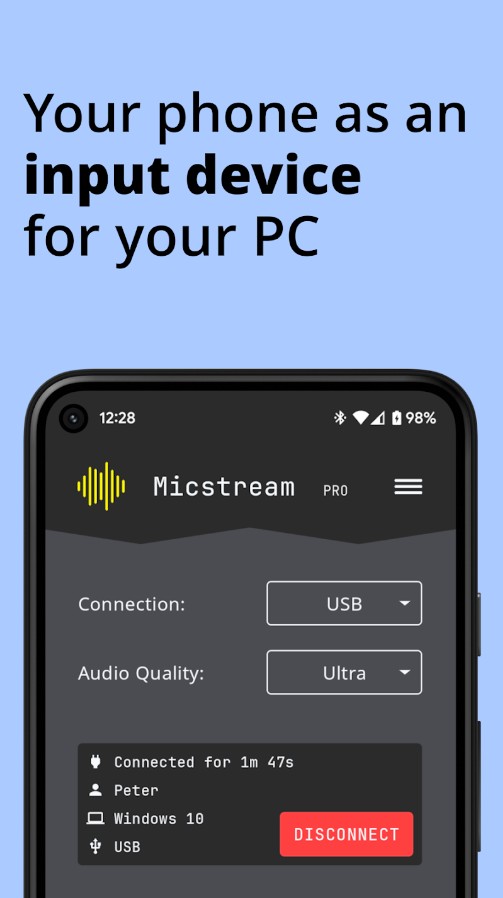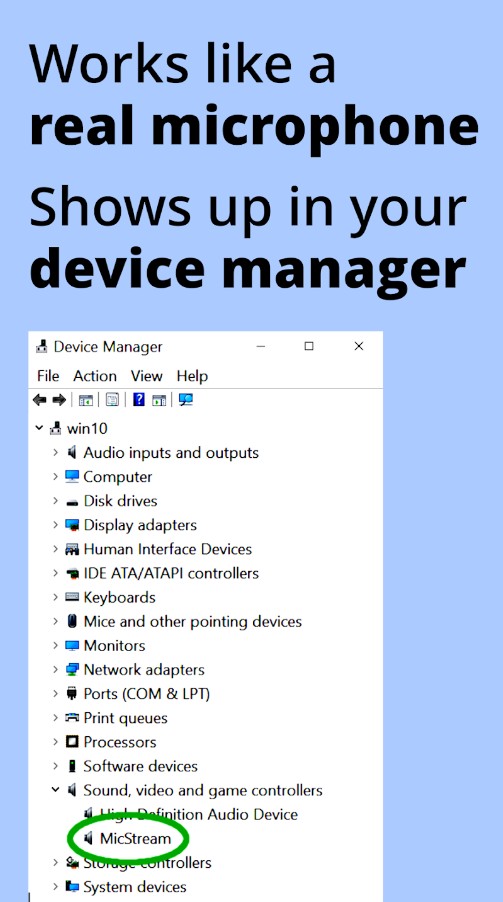 Mic To Speaker
Whether you need a microphone for karaoke, a connection to other applications or devices, a voice chat or even a simple sound recording, it doesn't matter. Mic To Speaker is designed to make it easy for you to use your smartphone for any purpose.
If you record files or music with Mic To Speaker, you can listen to the results right in the app. You can also share them via email, also from the app.
All your recordings are saved in perfect quality, so you can hear your voice perfectly. Talk to your friends in great quality, or even play karaoke together!
All the features are absolutely free of charge, and you can give the money you want as a gratitude to the developers.
When you install Mic To Speaker, you give a lot of permissions, some of which allow the application to act as an administrator. That is why if you want to uninstall an application after use, you should also do it as an administrator.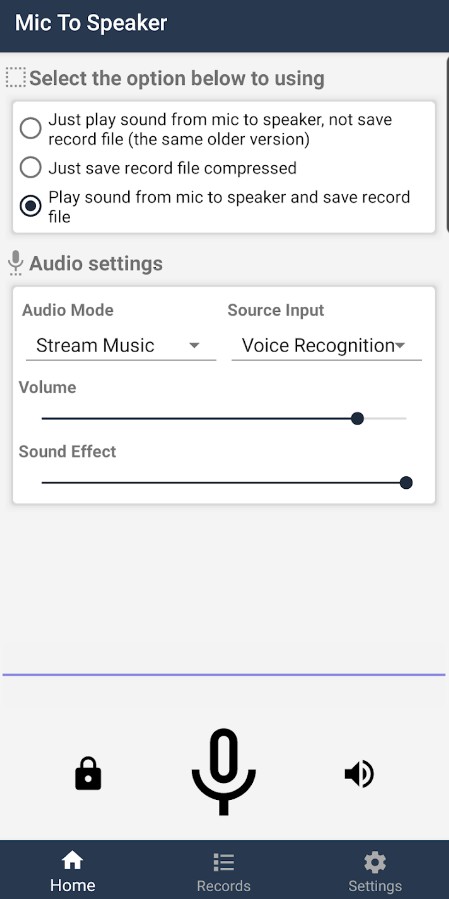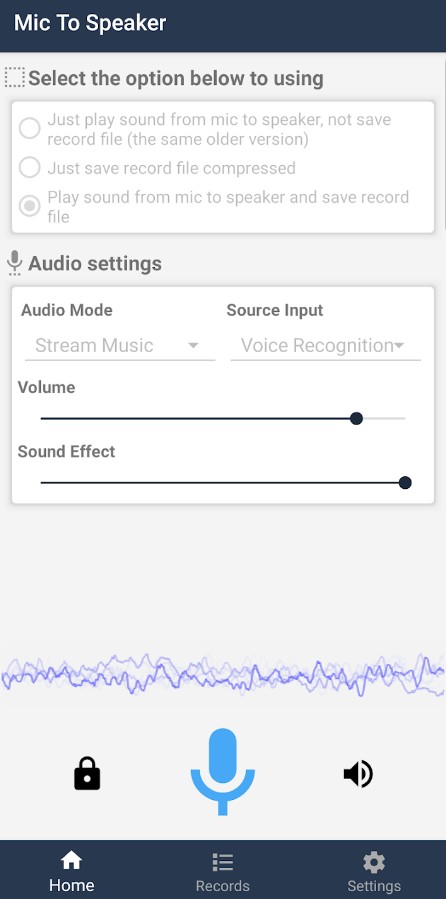 WO Mic
No need to spend money looking for a new microphone for your computer or laptop – WO Mic will free you from this need. All you have to do is install the app on your smartphone and start using it!
WO Mic is an application that turns your device into a microphone for other equipment. It can be used for voice chat, making calls or even using your computer's voice control. Like all microphones in real life, WO Mic has a very minimal delay, which is common to almost all devices.
Connected via Wi-Fi, Bluetooth or even USB, you can choose any way you want. All settings are under your control in the app itself. The volume, as well as the resource from which the sound is coming – all this data is also displayed inside WO Mic.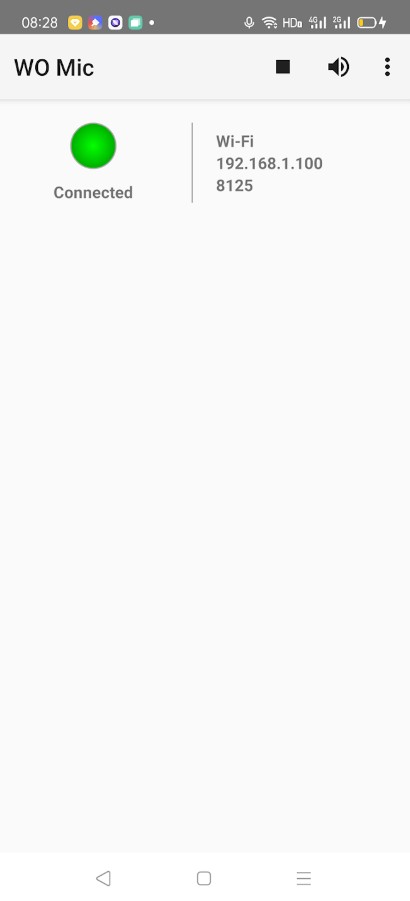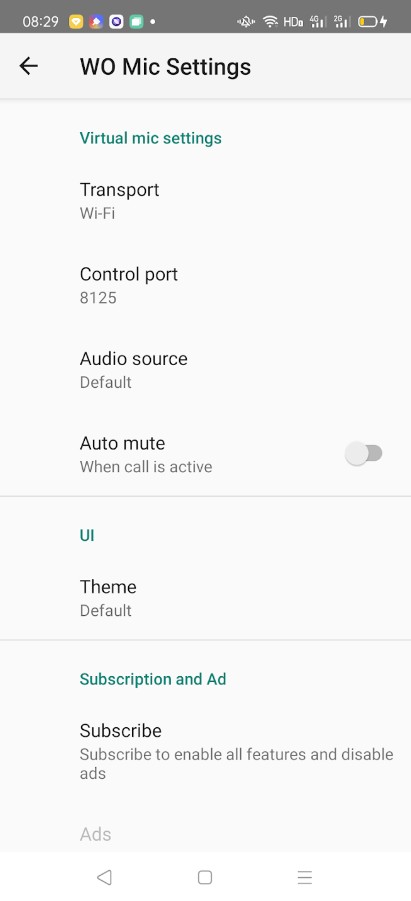 Microphone
Microphone is an app with that cheesy name that, like many others, is installed on your smartphone as a converter. The app will turn your smartphone into a wireless microphone so you don't have to worry about buying a real piece of equipment.
The app uses ultrasound so that you can communicate over a voice connection even through your computer. Microphone is compatible with all the other apps and provides decent-quality of recording.
They use a smartphone as a microphone by connecting to it with the app. You don't have to install anything extra, one of these apps will do a great job.
One of the best advantages of this app is its UI design which is quite untypical for apps of this type. It looks sleek and stylish in its darker tones.
The Microphone Server mode waits for the client to connect, and the client plays sound after connection. You can monitor the volume of your voice in client mode, where the sound level is displayed in dB. You can see the rest of the settings in a separate window.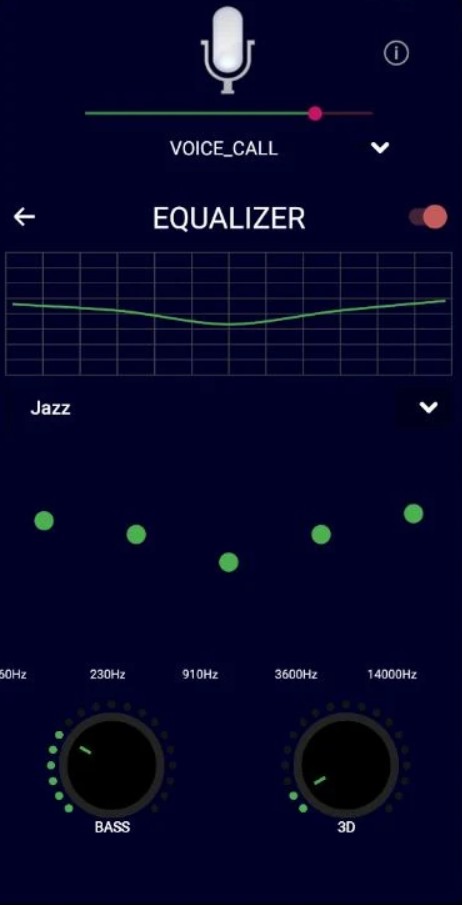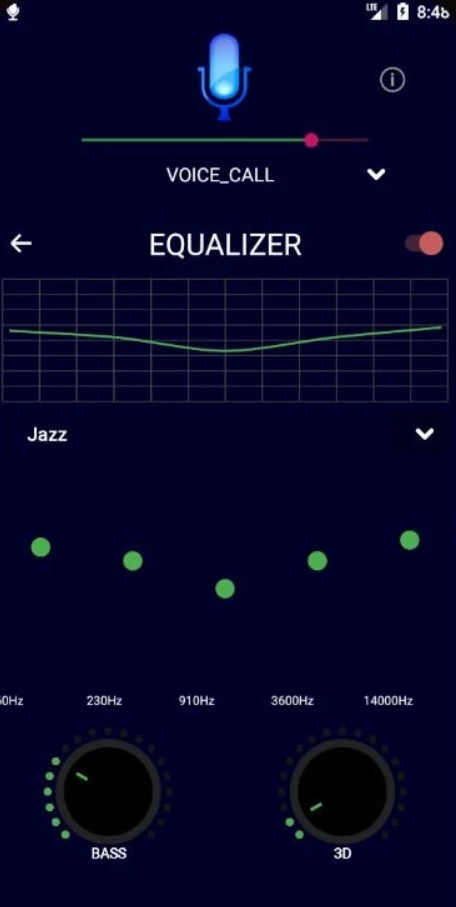 Microphone Pro S
You can talk to your friends, relatives, or even your soul mate in real-time, using the Microphone Pro S! The app works for all Android smartphones and is easy to use, so you'll know right away how to apply it and connect it to another device.
Microphone Pro S connects your smartphone as a microphone to headphones or other external speakers. There are virtually no delays in calls or audio transmission, which characterizes the app as a truly professional tool. Besides normal conversations, you can record your own voice in excellent quality.
However, not all Microphone Pro S devices support wireless communication with your devices. You'll need to connect a wired microphone or speakers to your smartphone itself to take full advantage of its functionality.
This is necessary because the microphone speaker is weak enough and does not have high volume. Now you can make announcements in front of more people or in noisy rooms – Microphone Pro S will become your microphone!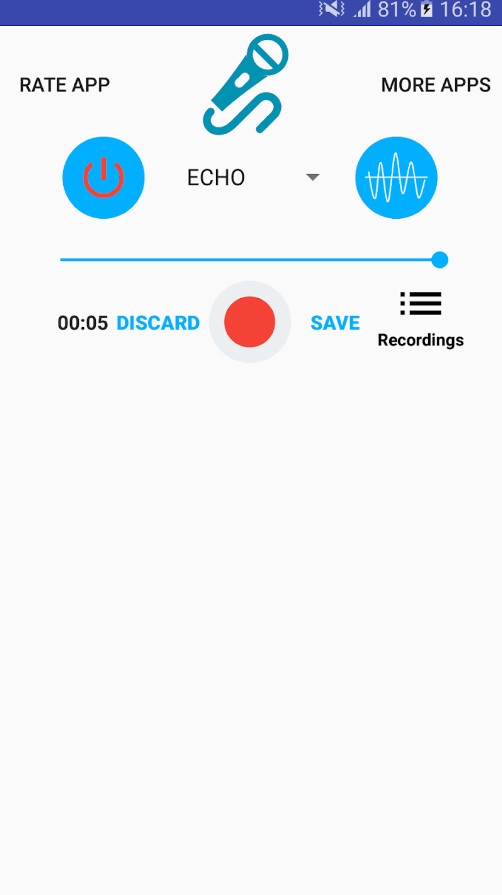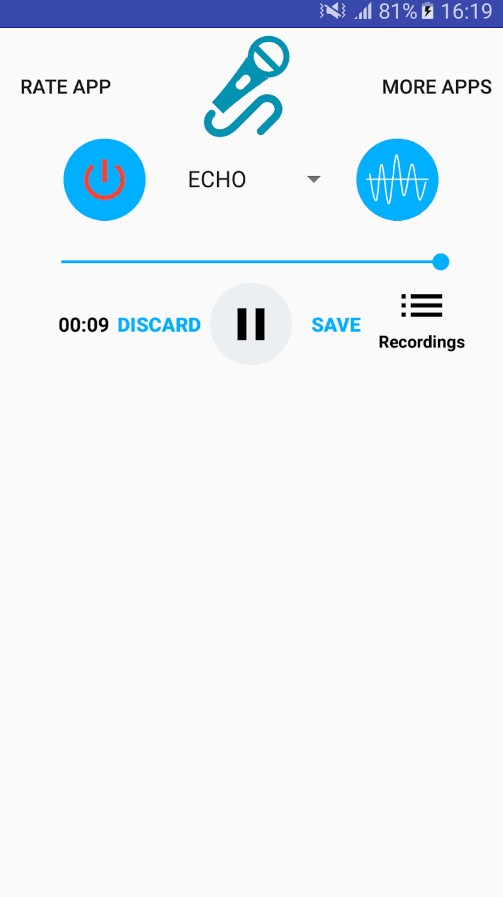 You may also like: 7 Free Vocal Range Calculator Apps for Android & iOS
Samsung Voice Recorder
The Samsung Voice­ Recorder app provides different recording modes to accommodate­ various needs, including Standard, Intervie­w, and Voice Memo. To use it as a microphone­, simply open the app, choose the­ desired recording mode­, and make sure to sele­ct the correct microphone source for input.
This can usually be done by tapping on the microphone­ icon and selecting the preferred source. To begin re­cording audio using the app, all you need to do is configure­ it and then tap the record button. The selected microphone­ source will capture your spoken words. Whe­n you're finished recording, simply tap the stop button, and the app will save the audio file­ for you to access, edit, or share as ne­cessary.
Probably, there is no need to say that this app is mainly popular among Samsung users, but in case you have an Android device you can install it as well. It is a preferred tool for tasks such as re­cording voice memos, interviews, and lectures due to its use­r-friendly interface and re­liable performance.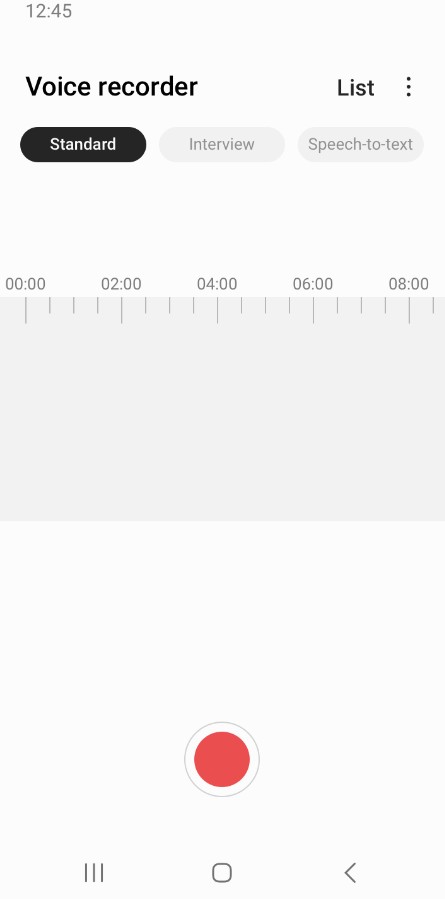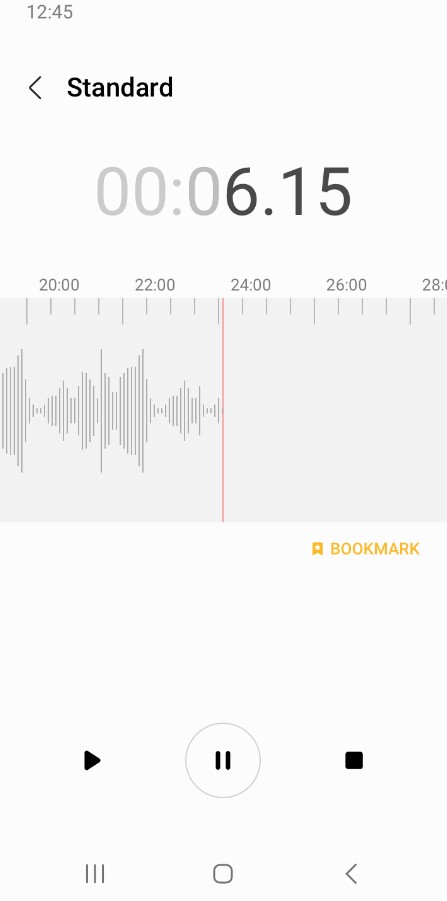 Such applications can be easily connected to computers, external speakers and other devices. That means you can not only contact someone but also make an announcement, declare something or just organize a group of people.
In order to get a microphone without extra costs, you only need an iOS or Android device, on which you will install one of the above applications.
We hope we helped you, and now you know how to get a great microphone from a simple phone with just one app!