Participating in any virtual sport means being the real owner, manager, and coach of your own virtual team. In fantasy sports, this virtual team competes with other teams to figure out who deserves to be a winner. To practice your skills, we gathered cool fantasy football apps and websites.

Any fantasy sport, and especially fantasy football, is for those, who love to compete and want to gain control over their own team. And to watch the best sports highlights from the real world you can always use these apps.
ESPN Fantasy Sports
ESPN is a rather large sports platform. With its help, users can receive up-to-date news, and alerts, as well as watch, live broadcasts of sports events.

Here users can get the most up-to-date information with the score of the game and comments of experts on it. The information in the app is clear, comprehensive, and straightforward.
There is also a separate section with fantasy sports games, including football. Here users are offered a choice. They can create their own football league, become their real manager, and play with their friends. Or they can join another person's league and meet new people with the same interests.
On the website, users can find all the latest information, news, ratings, and many more things related to the fantasy football sphere. Here users can also look at the current top leagues and the best teams.
As for user reviews, they are quite different. Many people say that there is no competitor to this app in terms of convenience of usage, as this app includes all the features from news to fantasy games themselves. But many users have problems such as non-working broadcasts, and app crashes.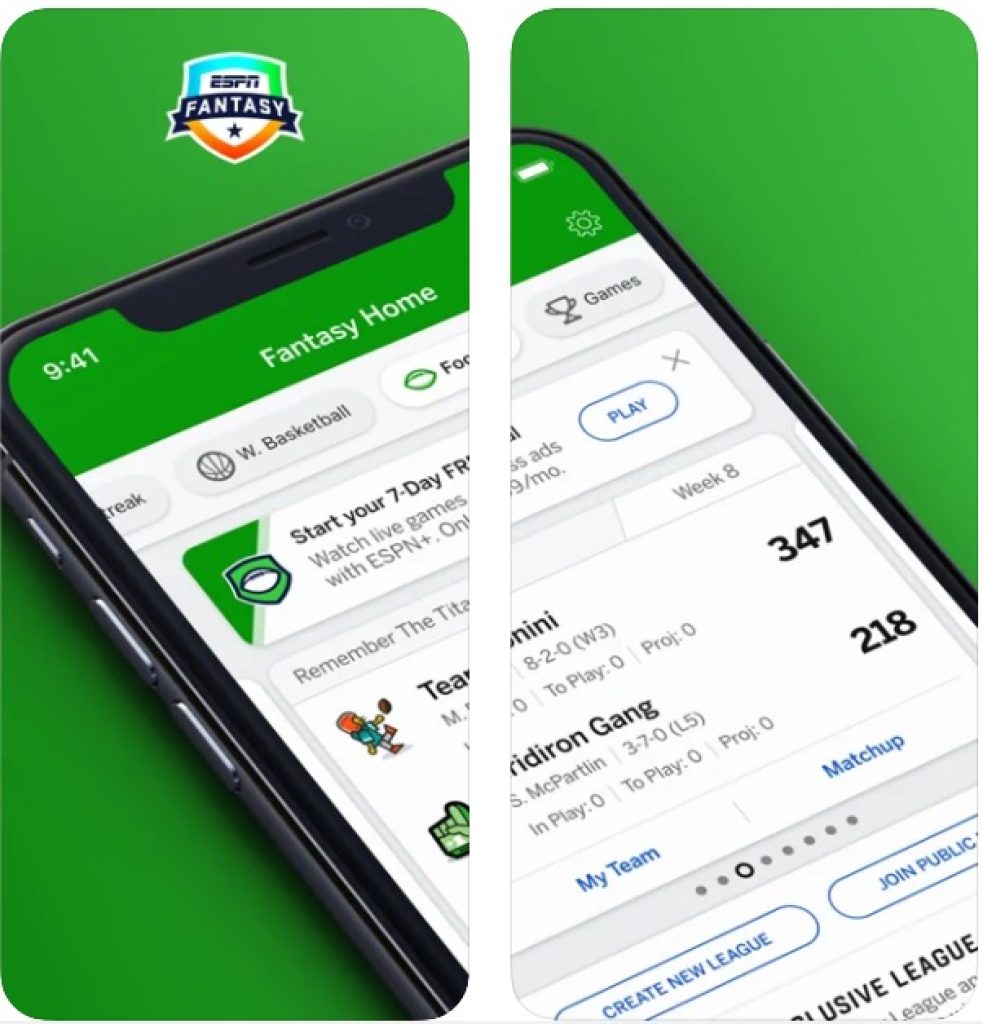 You may also like: 17 Best Sports Streaming Apps for Android & iOS
Sleeper
Sleeper is an app that allows its users to create their own football league and play with their loved ones or friends and get a new game experience. This app can be used by everyone absolutely free of charge.
The features of this app include the ability to create a team of NFL players, communicate with other users in the chat, and recruit players into the league.
Convenient chat allows its users to send GIFs, photos, and more. The interface of this app is quite simple. Even beginners will have no problem understanding its navigation.
In addition, the developers of the app have included a "squads" feature that allows users to participate in competitions with league mates or other players for real money.
The management of the app is simple, and any action or strategic decision can be performed with one click on the phone.
For those who are deeply engaged in creating well-thought-out strategies, it is possible to conduct research about athletes and learn new information that can help during the game. Here, each user can create their own unique game strategy.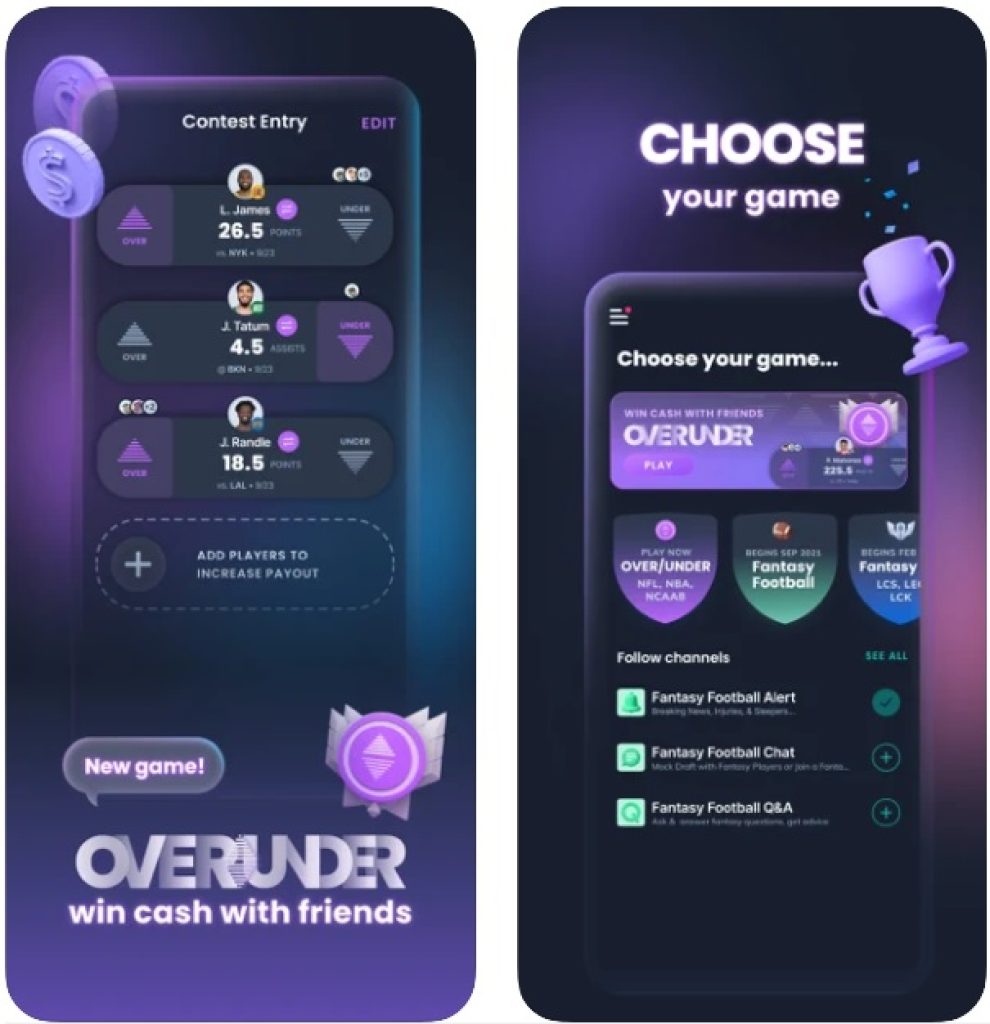 Footballguys Fantasy Football Draft Dominator
This is both a paid app and a site that offers its users the most up-to-date information and football strategy advice.
With this app/website, users can optimize their team for better results. Users will be able to use the latest information to make smart decisions while playing fantasy football and taking their players off the bench.
The app will not only help in using the best qualities of the players but also in predicting the opponent's next move. The app allows you to create several drafts to prepare for different game development scenarios.
The app constantly offers updated rankings and news so that its users are aware of every event.
And with the "Footballguys Rate My Team" feature, you can get feedback on your team's draft and find out how well (or poorly) it was done. This app employs more than 60 experts who can suggest the best strategy for the game and assist each user.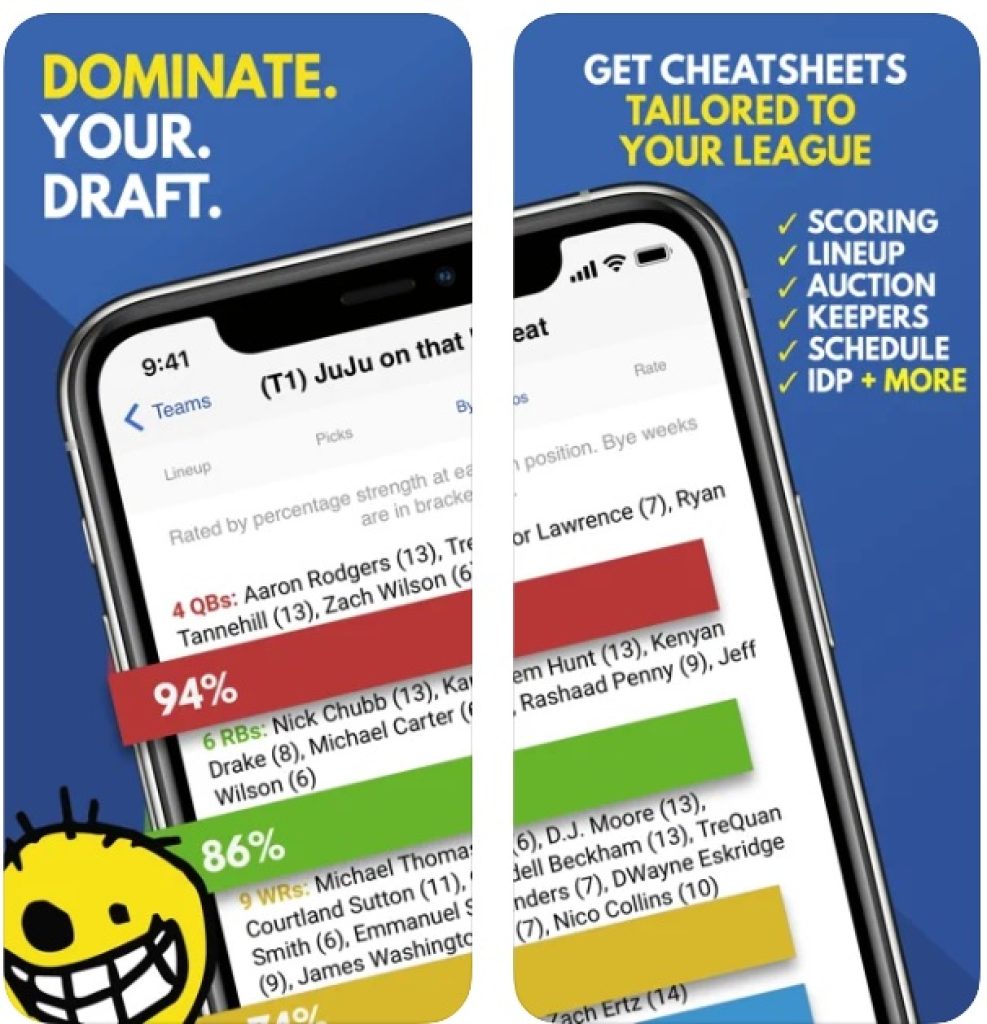 Yahoo Fantasy Sports
Sports Yahoo is a frequently used website where fans of sports can access all sorts of information on their sphere of interest. There users can watch news, check scores for different games, and play fantasy sports, such as football.
It is possible to create or join public leagues, keep track of scoring, and adjust team settings. For people who care about the visual aspect of such sites, there is a dark mode.
In addition, the developers have added a feature that allows its users to see their place in a ranking. This ranking is compiled based on the winnings and statistics of each user during the games.
One of the downsides of this service is that users need a subscription to unlock all the features. Thus, users who have not paid for a subscription will not be able to view extended statistics, expert ratings, and much more.
For those players who love excitement and gambling, there is an opportunity to participate in the so-called prize leagues. There, such users can compete with other players to win a cash prize.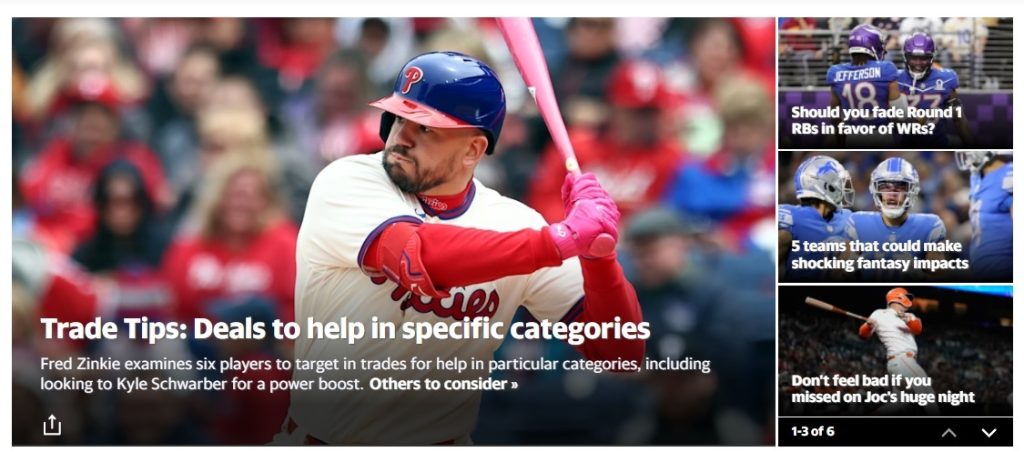 NFL Fantasy
NFL Fantasy is a visually simple and concise website. In comparison to ESPN and Yahoo, it is quite similar in its functions.
As soon as users access the website, they are immediately prompted to create their own or join someone else's league and start playing. Users can also enter the league through an invitation link by entering the league's ID.
For beginners, the website immediately offers guidelines that thoroughly explain the main terms and strategies of playing fantasy football.
After creating a league, users can draft players themselves or let the site do it automatically. Next, users choose the starting line-up and begin the game.
With the help of the function that has tracking data, users can analyze the actions of players and the game in general to make tough decisions.
Moreover, the website saves all the best moments of players and then displays them to the users. This function is called highlights. This option permits users to rewatch any part of the game as many times as they like.
On the site users can see the ranking of the best teams. The NFL leaderboard ranks the best teams in all leagues by analyzing the team's performance for the current season and adjusting for league strength.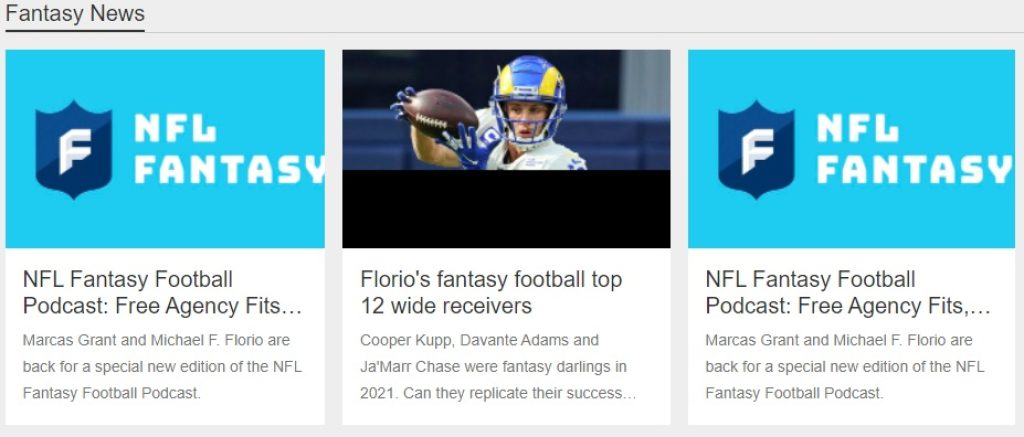 You may also like: Top 8 sport video analysis apps for Android & iOS
CBS Sports Fantasy
CBS Sports Fantasy is the site where fans of fantasy football or any other fantasy sport can find all the latest information on this topic.
When the user opens the website, the Home Page immediately displays the most recent news related to the world of fantasy football.
There are also video and audio libraries where users can watch or listen to news and analysis of sporting events. For convenience and speed, users can view up-to-date information about different players to choose the best ones for their league.
And of course, users can play fantasy football via this site. In order to create your own league, no financial contributions are required. However, the free version of this website has some limitations.
For example, in the free version, there is a restriction on the number of teams, and each user can create no more than twelve of those. For more, users will need to pay for a subscription.
Also, there is a limitation on scoring. In the free version, it is standard, while in the paid version, more than 1000 options are available to the users.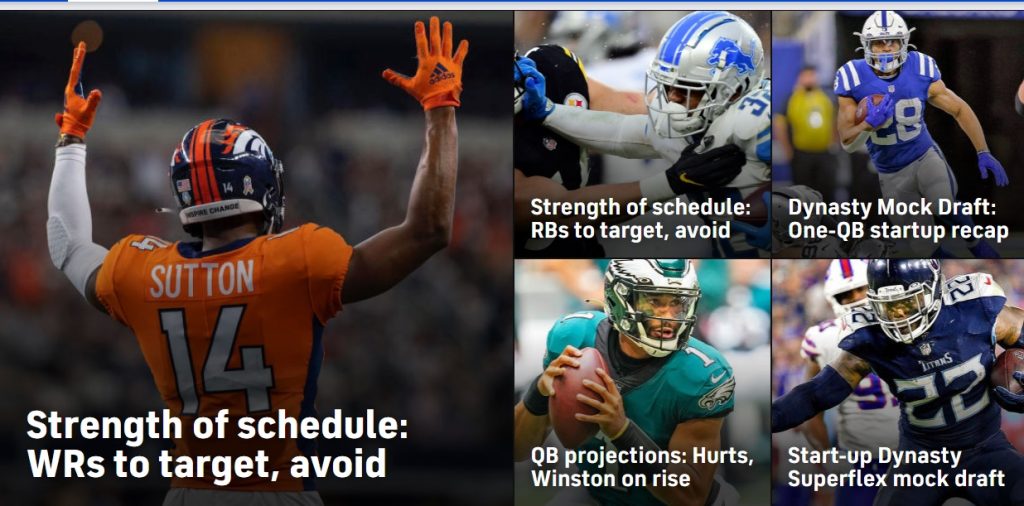 Draft Kings
According to expert reviews, Draft Kings is the best site, where users can play daily fantasy football games for cash prizes.
There are three ways to win money on Draft Kings. Firstly, you can bet money and withdraw it quickly if needed. Secondly, users can play over 300 casino games available. Lastly, users can engage in participating in daily fantasy sports games if they enjoy gambling.
The advantage of the latter method is that it is not necessary to be the first to win a cash prize. However, users should note that not all US states allow to participate in such activities and place bets.
On a site with fantasy games, you are immediately encouraged to select a category of the sports game. The advantage of playing on DraftKings is that
you can draft a new lineup at any time
you can choose your favorite stars every week.
For those people who want to compete more, there is a function of playing in public competitions or in private ones with friends.
As for cash prizes, they are paid immediately after the competition ends. Subsequently, users receive these payments regularly.


Fanduel
With FanDuel, each user can play safely and control the entire game process. This site provides users with the opportunity to raise their stakes as high as possible. Bets that can be possibly placed significantly vary in the amount. Users may bet five dollars or several thousand dollars if they want.
The interface of the website has earned praise from many fans of fantasy football because it is easy to find information there. The layout is done in a way that everything is in plain sight. Users also liked the variety of game options.
On the site you can choose to play fantasy games, participate in various competitions or tournaments. Users can choose a different fantasy game team each week to diversify their experience.
To receive cash payments, users can compete in both free and paid games.
As for the feedback from fans, they say that the games provided by Fanduel not only engaged them into the sport even more, but also provided an opportunity to win money by only using their phone.
Also, many users enjoyed the layout of the website. It is indeed user-friendly, and everything is processed quickly.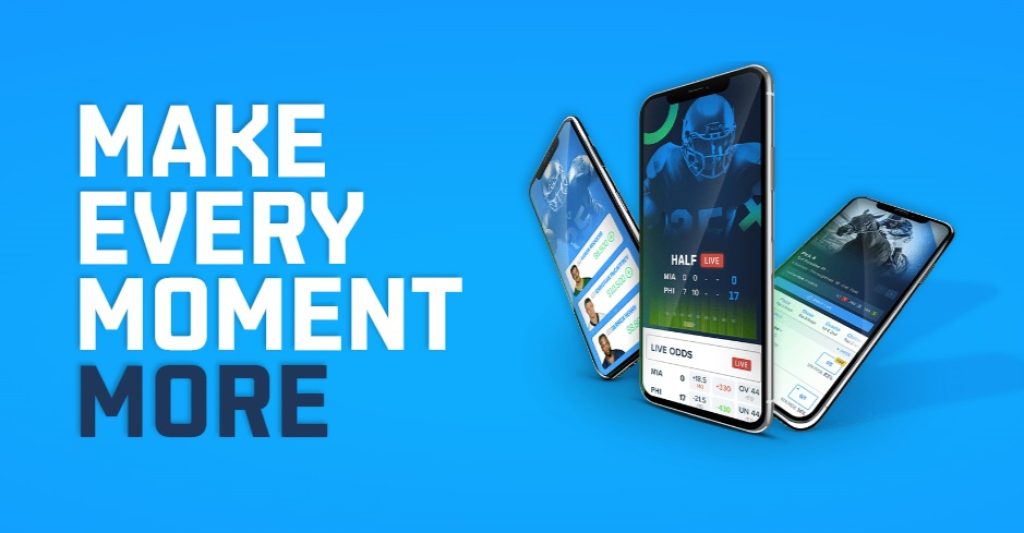 Rotowire Fantasy Football Draft Kit
Although users have to pay a subscription to use this platform, it provides a huge number of functions necessary for compiling your strategy for playing fantasy football.
Each user gets cheat sheets where they can look at the rankings. Users can also practice building their team and strategy endless times with the "Mock Draft Simulator". With Average Draft Position (ADP) reports, users can spot the latest trends as if they were professionals.
Of course, the platform provides up-to-date news and rankings.
The platform also offers an opportunity to ask experts any questions on the topic of fantasy football. In a special "tips and strategies" section, beginners will be able to figure out how exactly to play fantasy football, will learn the basic terms of the game, and will also immerse themselves in creating their own unique strategy.
Also, on the site there is an opportunity to watch the preview of the teams. Information is divided by the year; you can see any team category from 2006 to 2022.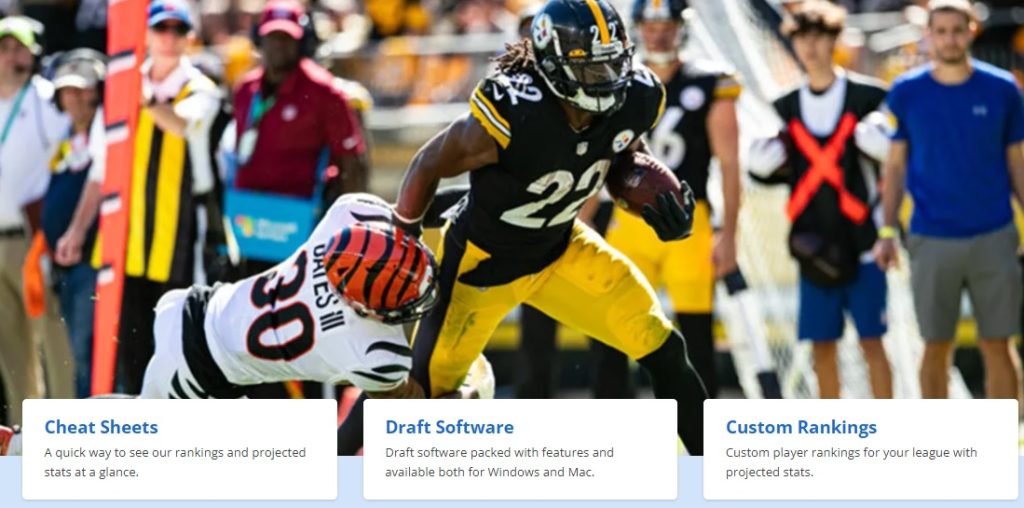 Fantasy Pros
To develop a successful strategy and win a game, certain advanced knowledge is needed. The Fantasy Pros website may become one of the sources of this knowledge. There users can find hundreds of tips from fantasy football experts.
The site offers assistance with draft, lineup decisions, and more. In order to test your strategy, there is a draft simulator option.
One of the downsides is that to fully understanding the website and explore all the tips that it provides will take a lot of time and effort.
Users can take advantage of features such as rankings, playbook, and trade analyzer.
Site navigation is pretty simple; all the most necessary information is on the home page.
Users can also read the most recent articles on the topic of fantasy football in one place and replenish their knowledge for a successful game.
However, to access the most advanced tools such as Premium Draft, In-Season, and daily fantasy, users will need to purchase a subscription.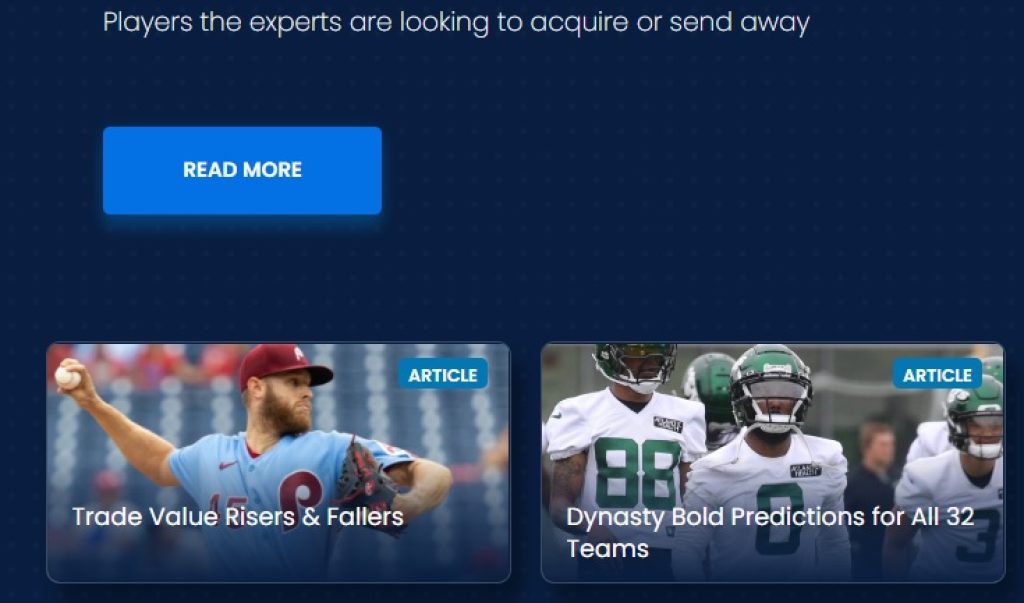 You may also like: 11 Best football prediction apps for betting (Android & iOS)
Fox Sports
Fox Sports is also a site that contains a lot of information. There, users can find news, game schedules, broadcasts, and more. On this site, you can read various analytical articles.
There are also advanced statistics that give users enough information to draw up a competent game strategy.
The interface of the site attracts user attention at first sight, as it is minimalistic and the information is precisely split into corresponding categories.
Transitions between pages are smooth, and the visual component really distinguishes the website from others, where the design is quite cumbersome.