The bridge is an age-old game that doesn't seem to lose its popularity even now. And if you're a fan, we've got exactly what you need!
We've rounded up the best free bridge card game apps for Android & iOS you could try. These apps offer exciting trick-taking games that lovers of blackjack and spades will surely enjoy.
These are great for both seasoned players and newbies. So whether you want to hone your strategy or learn the basics, these apps got you covered. Let's get into it!
Fun Bridge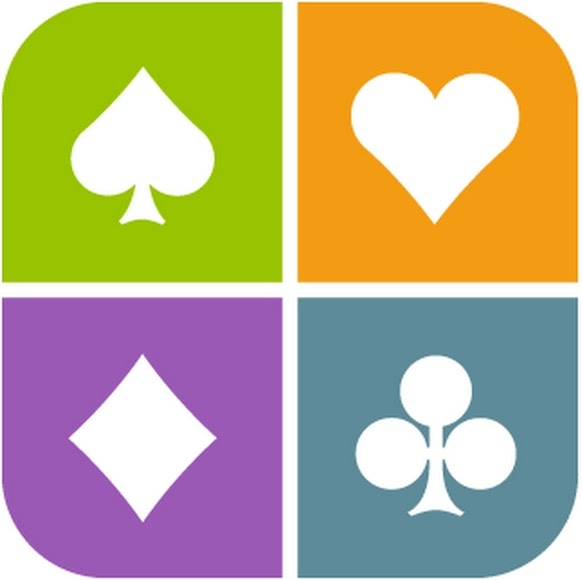 Let's start with an app that lets you enjoy a classic bridge game. And if you can't fully recall the rules, don't worry: there's an in-depth tutorial to get you through the basics. In fact, the app will teach you how to play even if you have zero experience with a bridge. Handy, huh?
The app covers a series of tournaments where you can test your skills by contending with other users. All the rounds are set up with players of the same level, so everyone has equal winning chances. The new daily tournaments come out every day, and make sure to participate in all of those to get extra bonuses.
And if you're not in the mood for a contest, you can practice deals in a solo mode. This way, you'll stand against the PC which is quite helpful if you just want to get better. As for the multiplayer mode, you'll get to challenge any player, so it's possible to play with your mates, too.
And if that's not enough, you'll get to gather a team and participate in a championship with worldwide squads. There are even federation tournaments here, so you'll never get bored.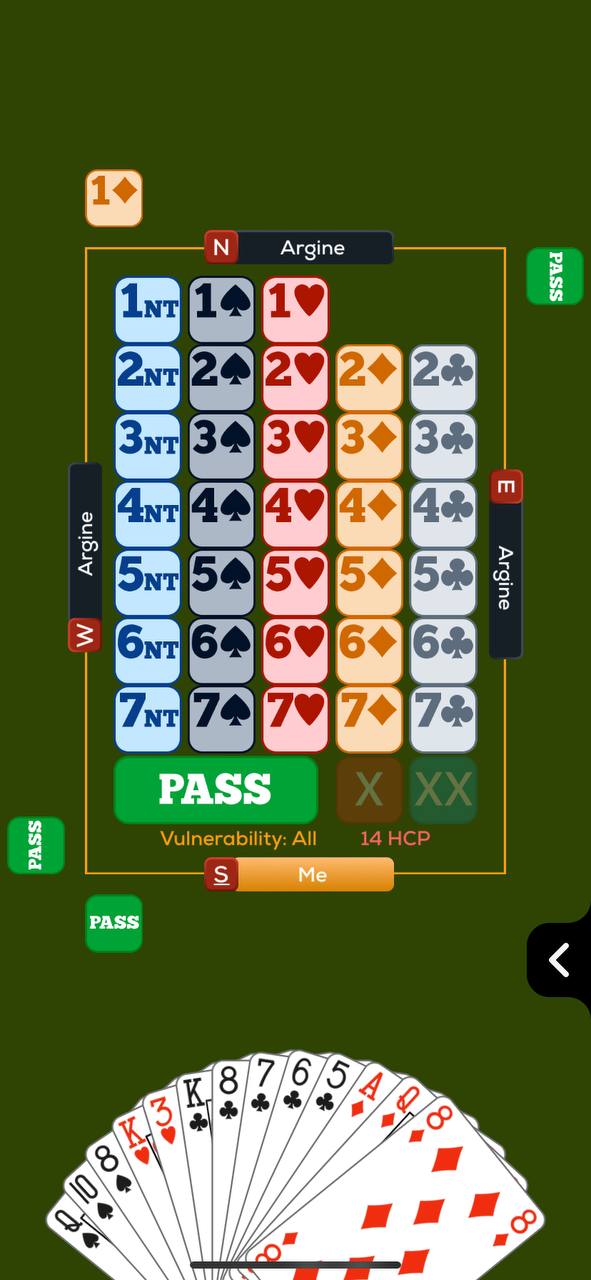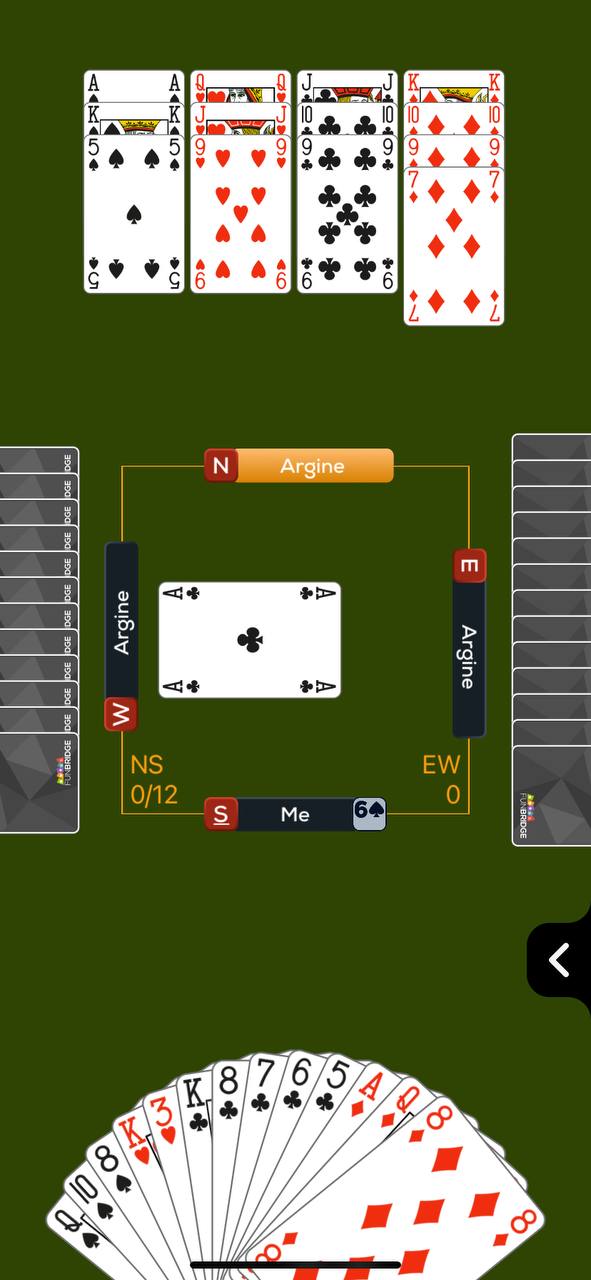 You may also like: 4 Best Blitz Card Game
Bridge V+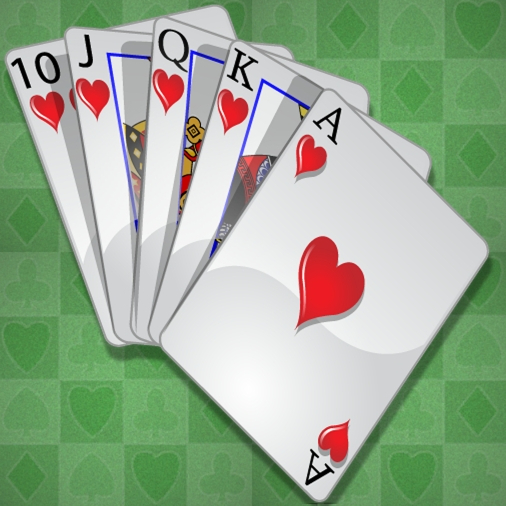 This game comes with a classic bridge board and a couple of modes o keep you out of boredom. Each mode represents a type of bridge you may want to play. There are such options as Rubber, Chicago Bridge, and tournaments. All of those are equally engaging and fun, so just pick the one you enjoy the most.
As you may guess, the tournament mode lets you stand against other users with the same skill level. The good thing is, there are no paid features in the app, so the win fully depends on your abilities. In fact, you'll get to start your own club with your fam, friends, or other users.
And if you want to get better at playing, the app covers a cool tool that lets you replay the round and see how the PC would have played a certain hand. Cool, right? You might find out some cool maneuvers via this tool.
There's also a hints system to help you move through the levels. The solo mode is covered as well, so you can always practice at your pace. It's available offline, too, which is handy.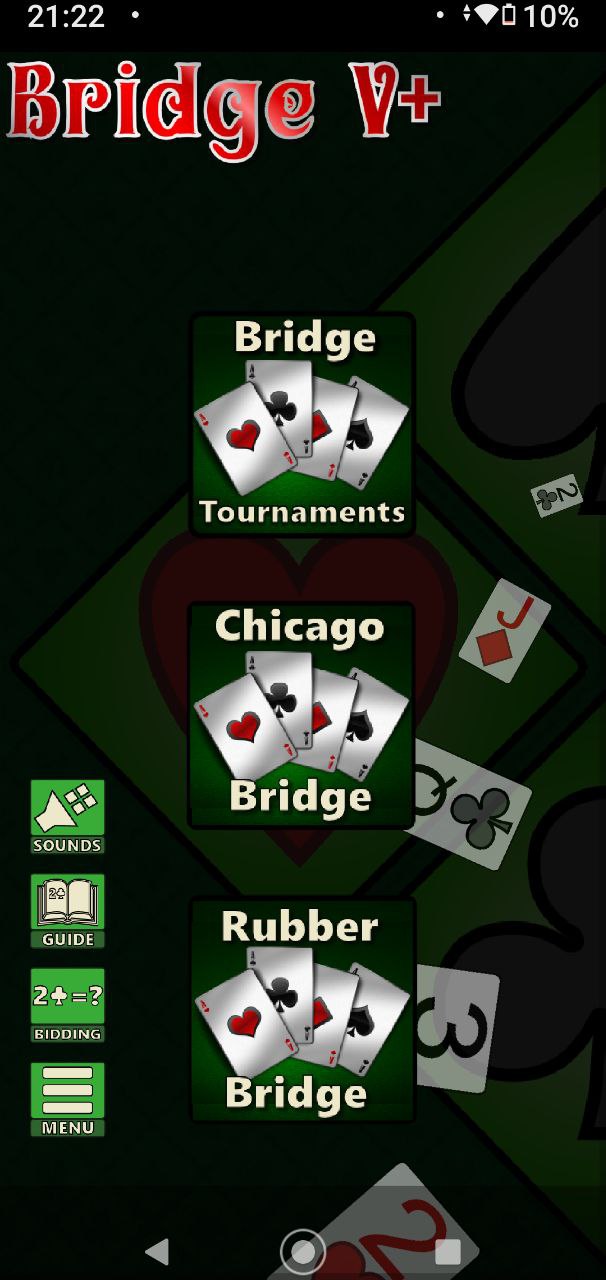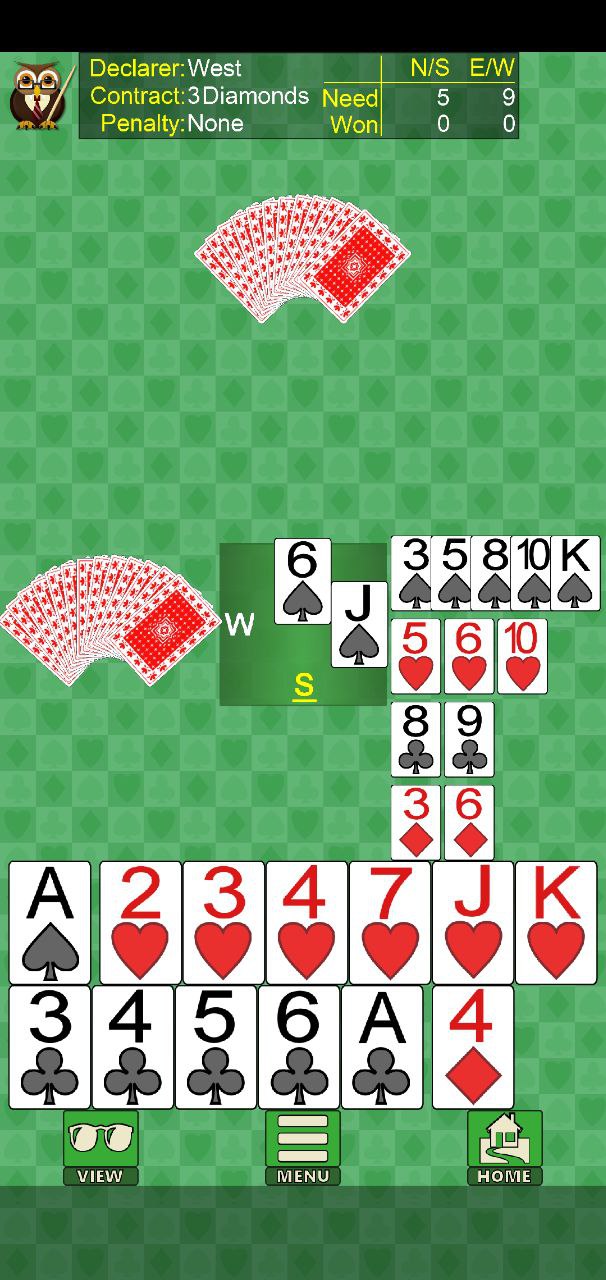 Bridge by NeuralPlay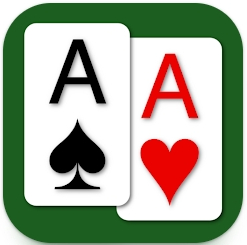 Wanna improve your bridge skills in an entertaining way? This app is right up your alley, then. The cool thing about this one is it's not only about playing. It actually comes with a bunch of learning features that can boost your skills right away.
First, there's a flexible hints system that will tell you what the would computer do in that situation. You'll also get to compare your bid and practice with the PC if needed. The bidding explanations are petty in-depth, too, so you can learn from them.
The app also lets you replay the hand to try a different line of play. You'll even get to review the entire play to spot all the potential mistakes and analyze the round. The app covers several undo moves that you'll get at the beginning.
And if you wanna practice smth specific, you'll get to customize the hands to deal with the desired distribution. Another tool that makes this one stand out is the fact that you can claim the remaining tricks and the app will verify it.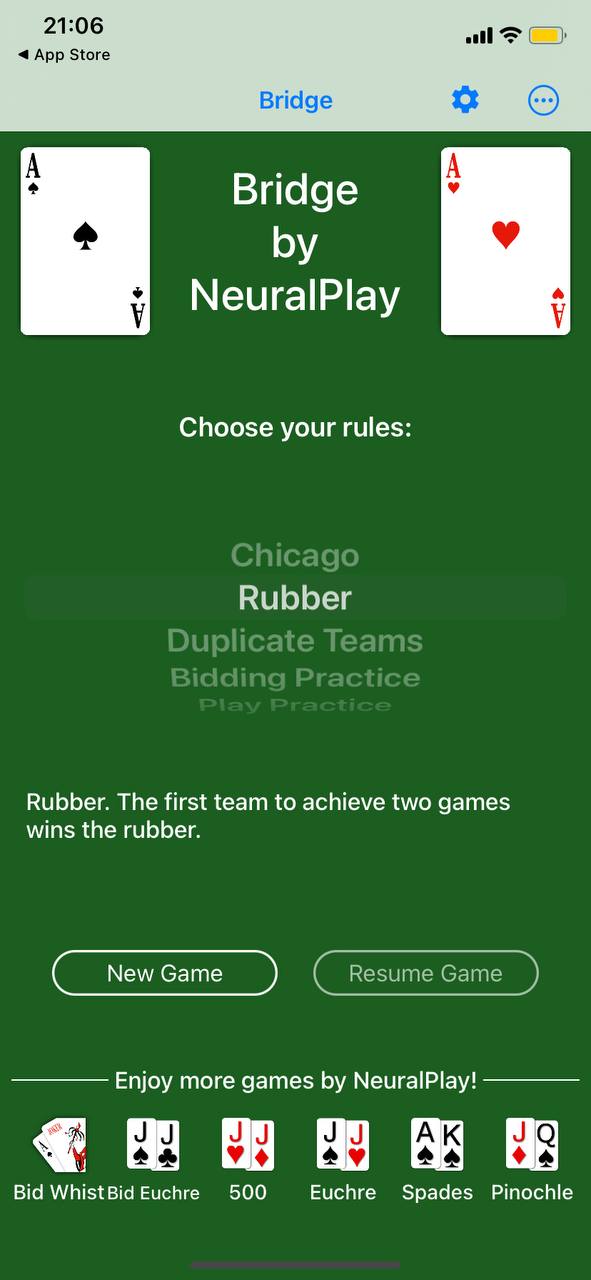 Bridge Card Game Classic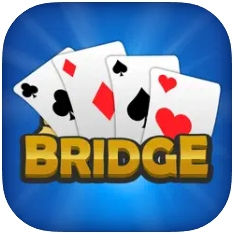 It's a free iOS bridge game that lets you contest with other worldwide users. Sooth to say, this game is not very versatile, but it doesn't necessarily make it bad. So if you wanna enjoy traditional bridge play, it will do the job.
As for the gameplay, each round is played by four users that form two partnerships. Those within a partnership are placed across the table from each other. The game is considered won when one f the partnerships reaches a 100 score (or more).
However, the game doesn't actually let you stand against other people. You'll only be able to play with a PC, but it's not bad either. You'll get to team up with PC and contests with clever AI opponents. There's a paid version included, but the free one is totally usable.
The UI is nice and simple to navigate, and there's a tutorial to freshen up your memory of the rules. The deck looks classic as well, and there's nothing for you to customize here.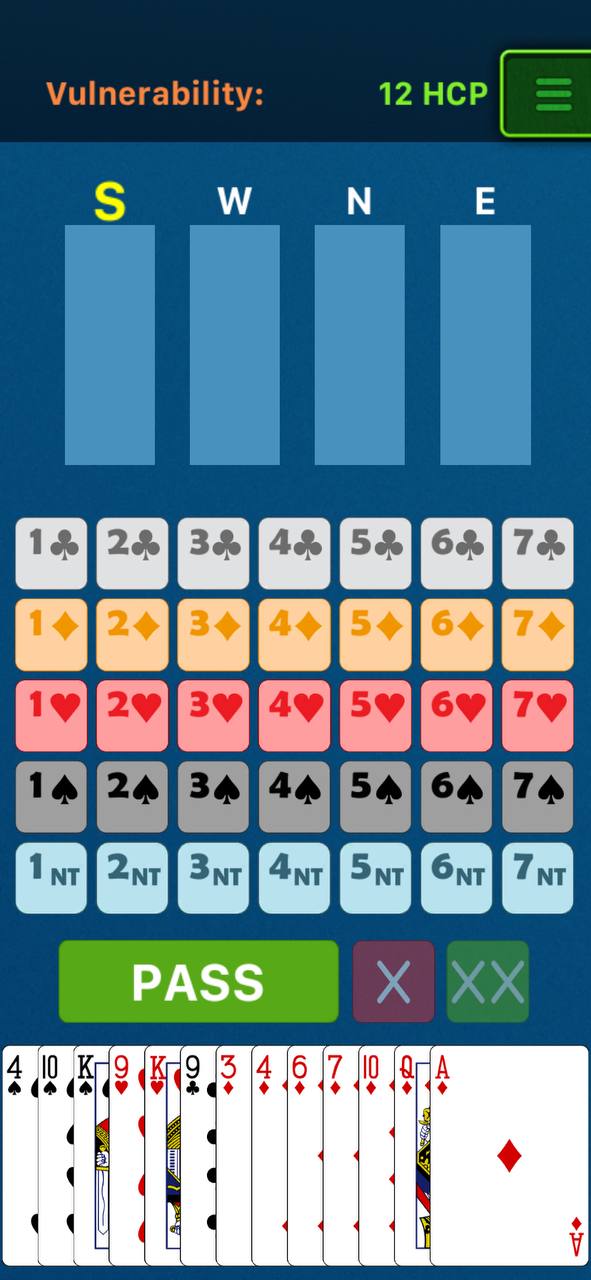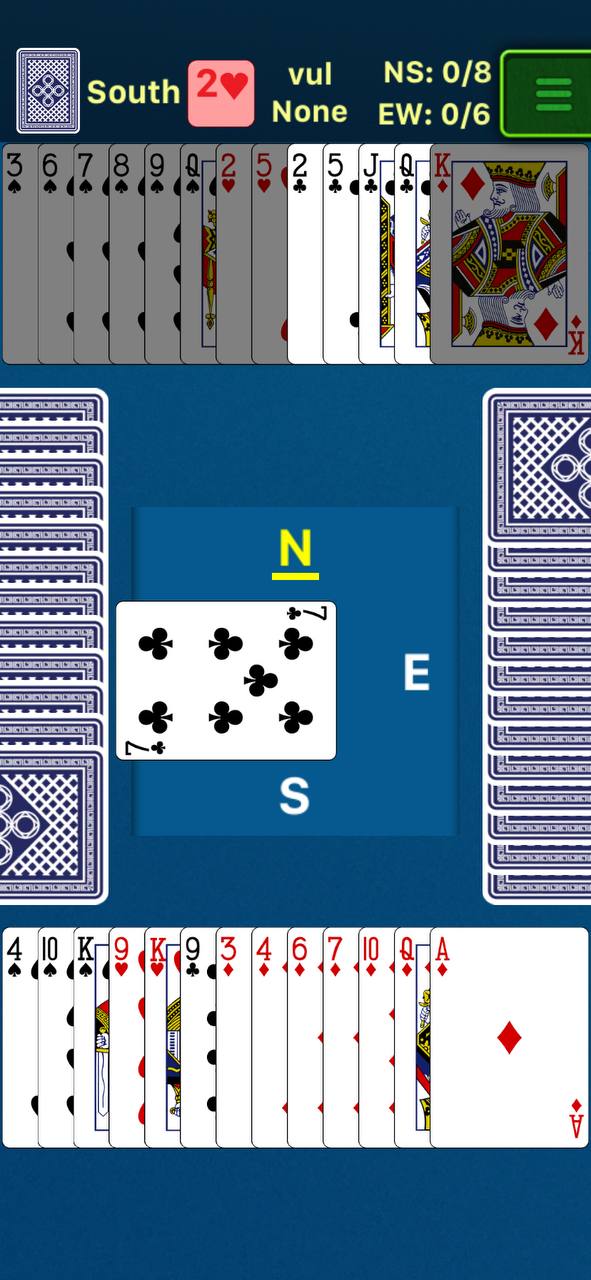 Bridge Card Game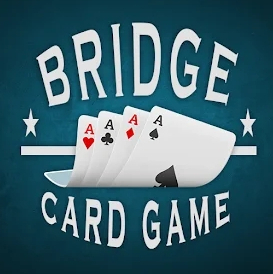 That's another mobile version of an age-old card game. The app keeps it classic when it comes to the rules and design in general. So if you're not a fan of so-called new takes, you'll surely like this one. As always, you'll get to play with the other three people, and the round gets won by getting 100 or more points.
The game starts with a pretty detailed tutorial, so even if you don't quite remember all the rules, you'll get to o a great job. There's not too much for you to adjust here, so the game is quite flexible at this point. The UI is simple and easy to navigate, so no worries here.
You'll get to monitor your bid history to see improvement, which is handy. The game doesn't have a multiplayer mode, so you're stuck with Ai opponents. Hereby, the AI is made to behave like a real person, so it won't necessarily feel like you're playing with a robot. The game is free, but you'll have to deal with quite a lot of ads.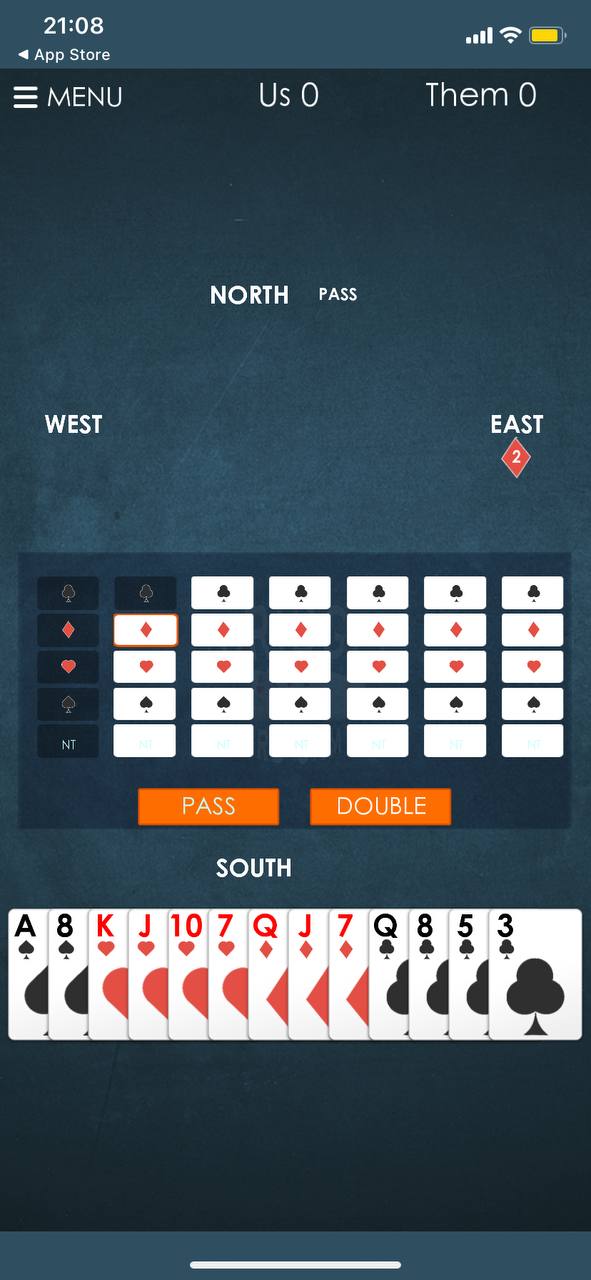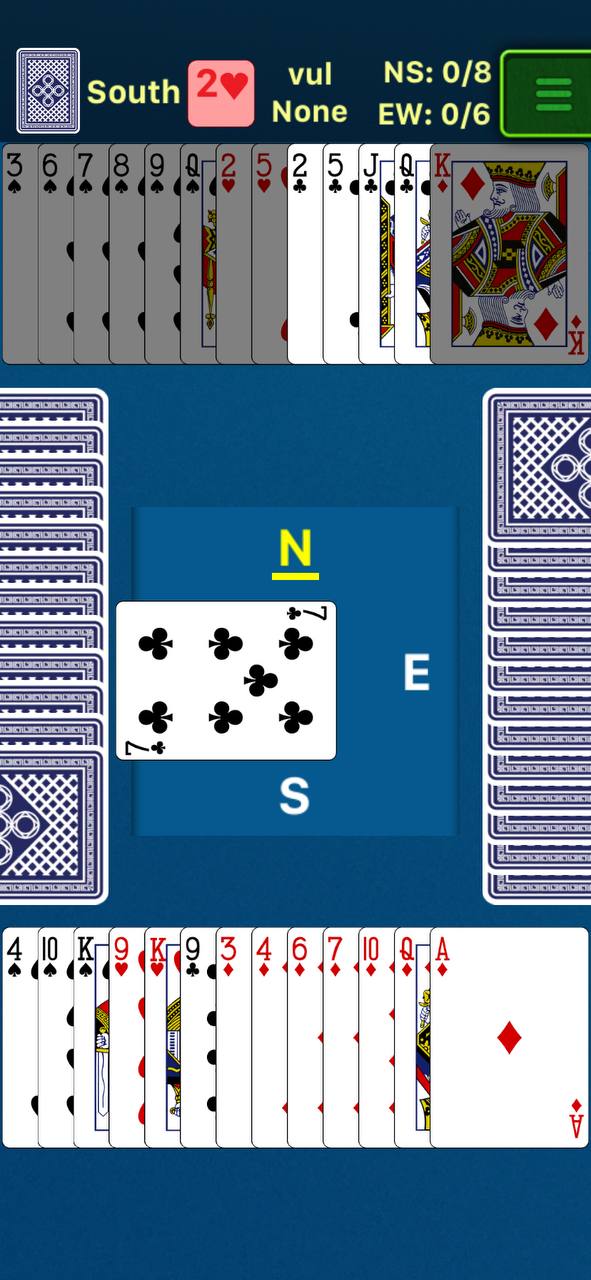 Check also: 5 Best President Card Game
Tricky Bridge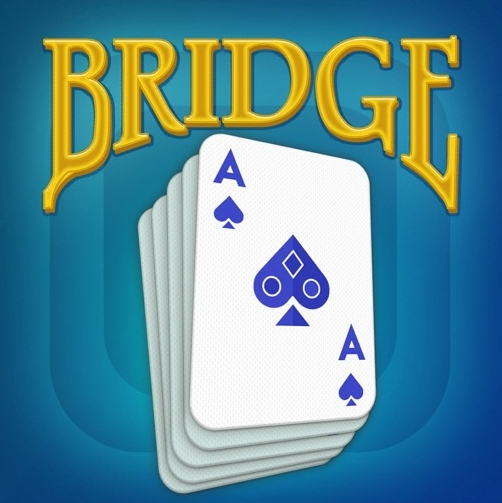 If your goal is to elevate your bridge skills, this app is a great choice. It's a traditional bridge version that is made to help you sharpen your skills. So if you're looking forward to getting more skilled in between real-life bridge sessions, make sure to give this one a try.
The game is pretty versatile when it comes to features. First off, there's a solo mode where you can stand against the AI and play at your pace. The game is built for all kinds of players, newbies, and pros, so there's really smth for everyone.
Once you'll feel you're skilled enough, feel free to join tournaments to level up even more. There are tons of quick tournaments for you to participate in, along with the daily ones. You can also play knockouts if needed.
Plus, the game guides you through all the bridges back at the beginning. There are actually over 50 lessons for you to go through to elevate your abilities and practice. The game is fully free, and the amount of ads is not too annoying.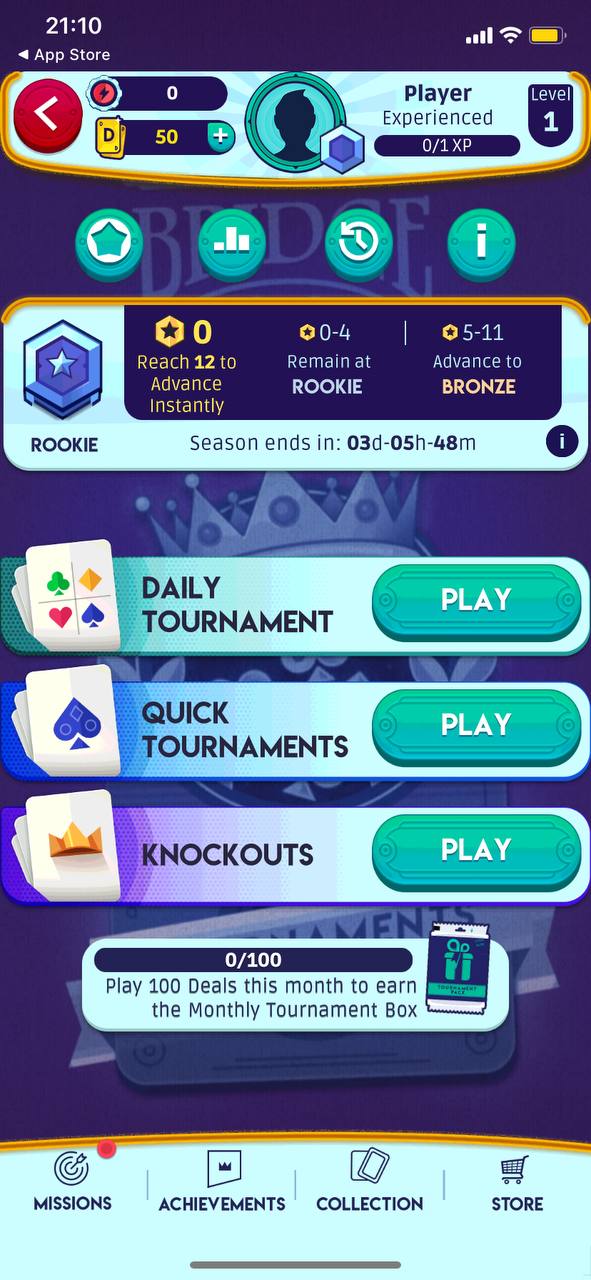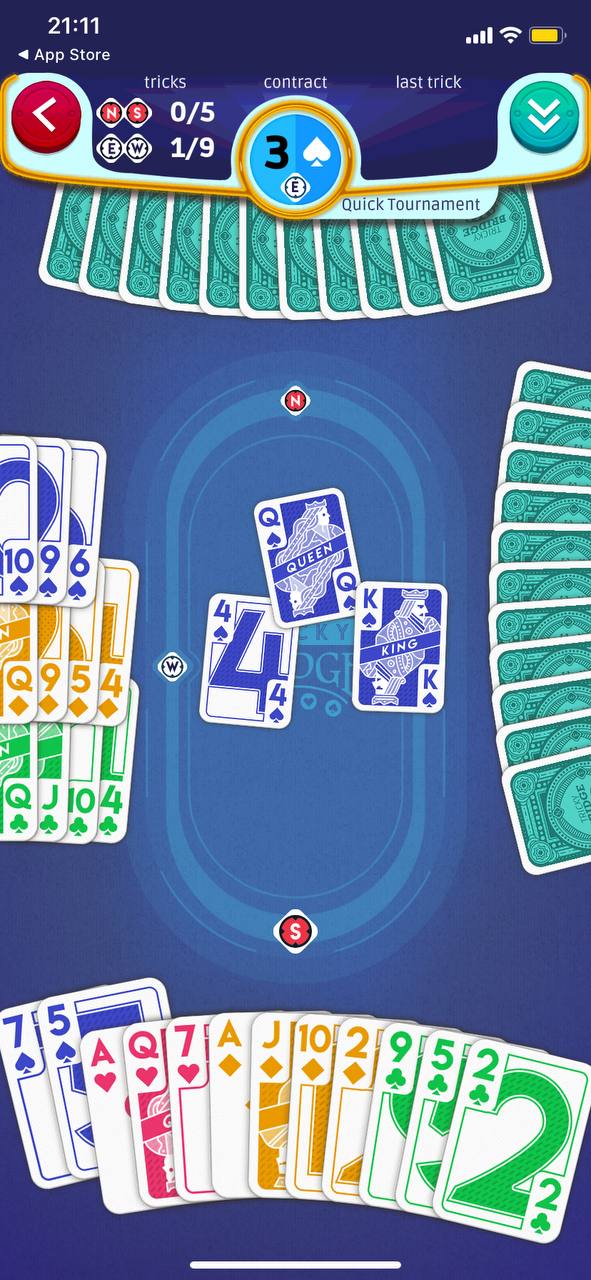 Classic Bridge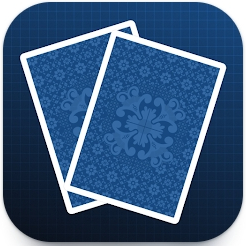 As its name suggests, it's a traditional bridge game for you to play on the go. It's an offline single-player game where you can sharpen your skills while standing against the AI. The app is compatible with both phones and tablets, so you're all the way covered here.
Plus, whether you're a seasoned player or a complete newbie, you'll be able to play the game and enjoy it. You'll get to adjust the difficulty level to cater to your skills, which is handy. The rules get explained in an in-depth tutorial, so you'll get to recall all regulations right away. You can also switch between normal and fast plays to add a little tension.
The app is especially great if you have a bridge tournament coming, and you want some practice. The app comes with a hint system, too. The hints will be provided during the bidding, but you can turn them off if needed. You'll also get to learn some new strategies and lines with will help you in real tournaments. Each hand can be replayed, and you'll get to review previous hands played in the round.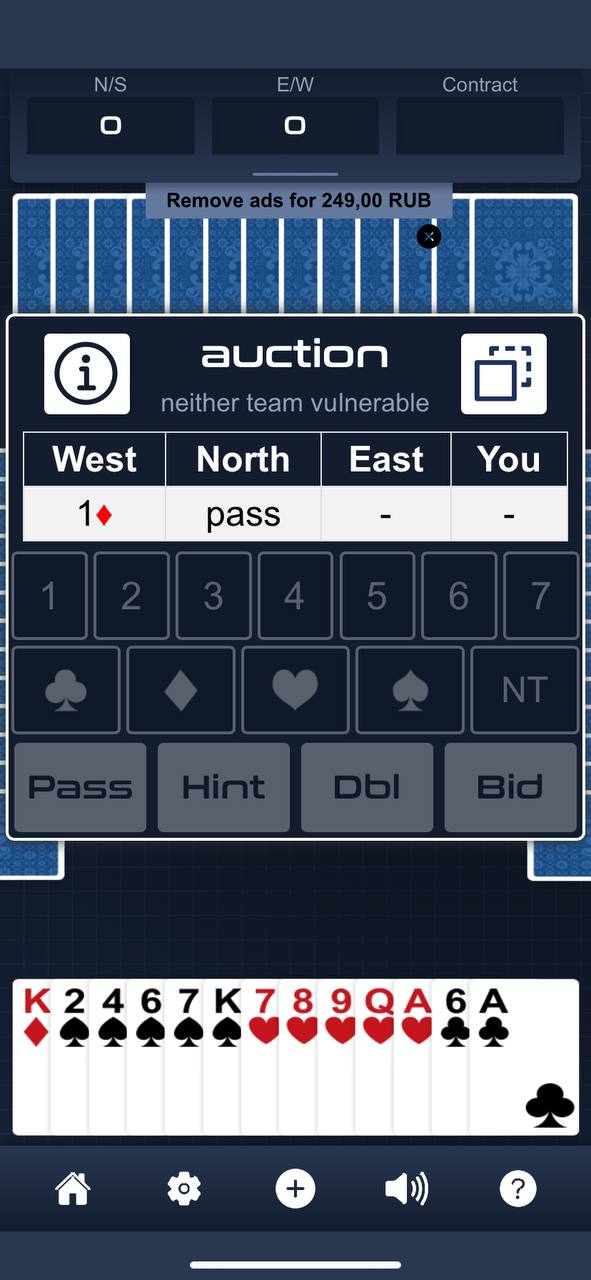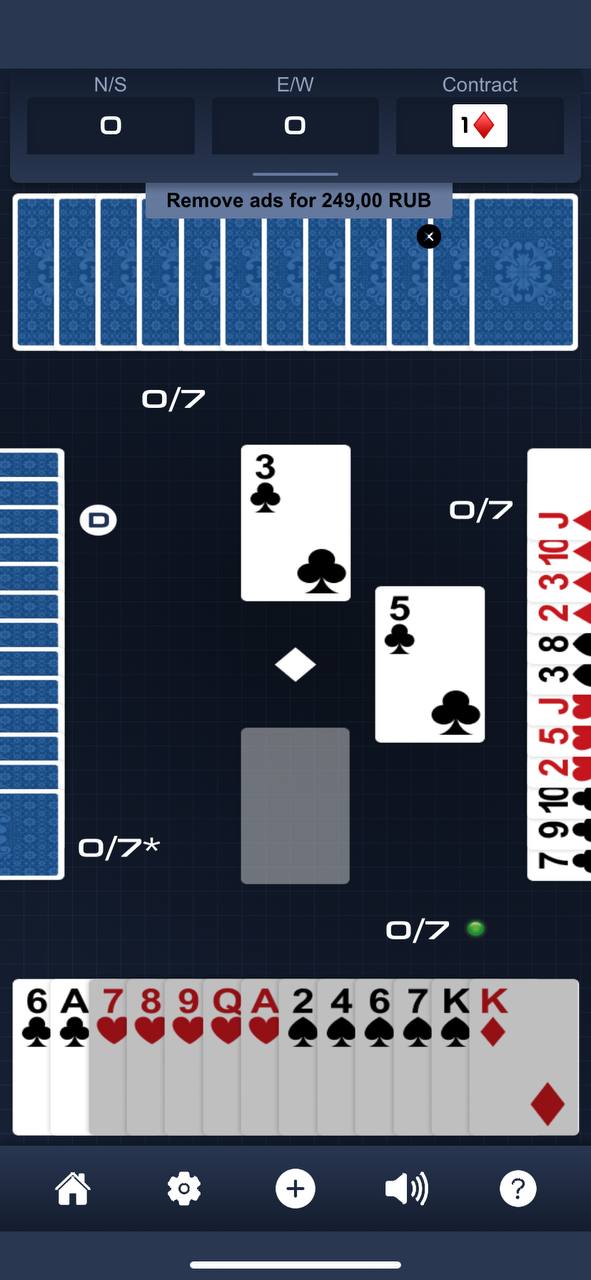 BBO
This app is more than just a game. It's a full-on bridge community (the largest online community, actually), and you can easily become a part of it. It doesn't matter if you're a seasoned player or just getting started, the app has everything to help you out.
There are lots of things for you to do here. First of all, you can play causal bridge with real people around the globe. You can set the app up to regulate the skills of your opponents and the difficulty level, so no worries. And if you're not ready yet, feel free to practice with bots that are trained to behave like real people.
You'll get to review all the previous plays and review past results, too. The app also features official online tournaments you can join if needed. You'll be able to follow star players and watch tournaments live for free.
The app lets you manage a list of friends to share news and tips. The paid subscription is included, and it gives you access to additional perks within the community. It doesn't affect the plays, though, so you can totally skip it.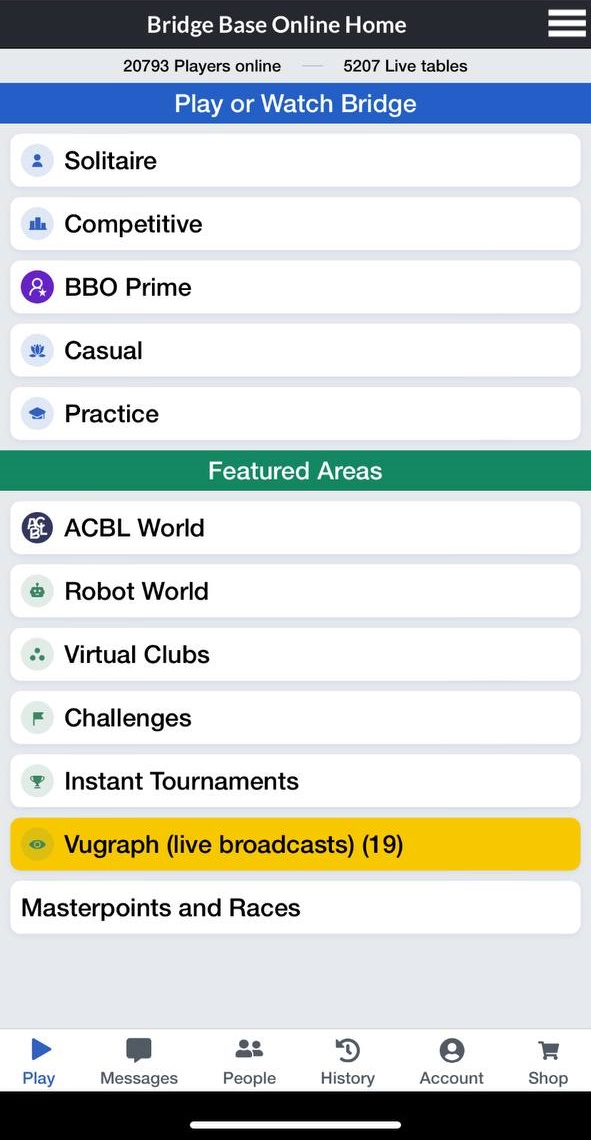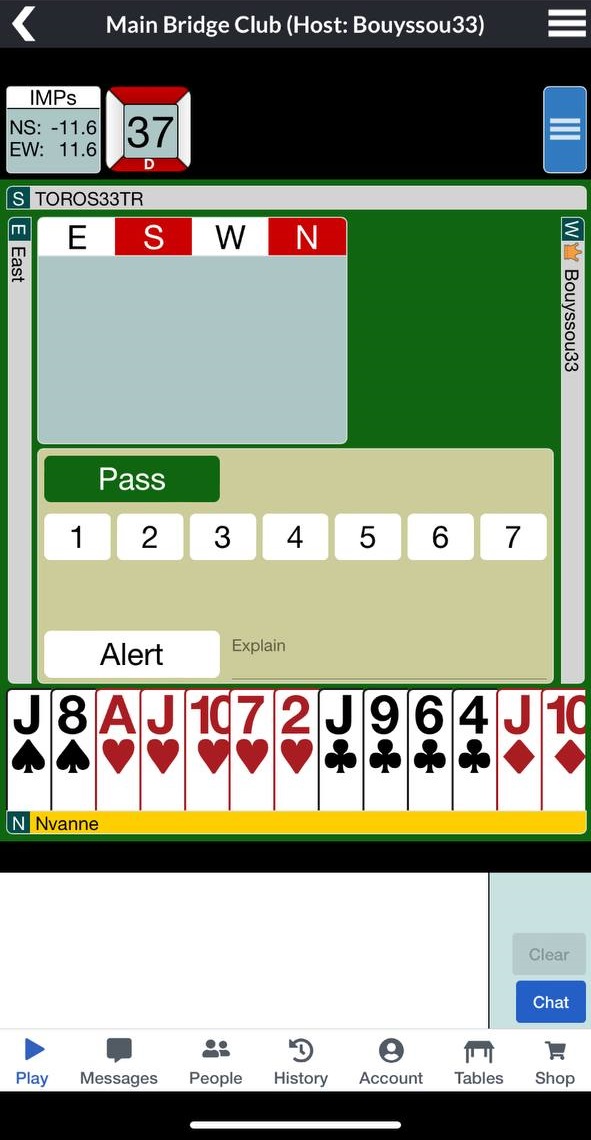 Bridge (Rubber Bridge)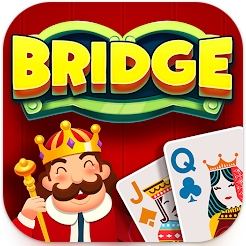 This is the kind of game to keep you entertained while keeping your mind challenged. It has a clean UI and colorful design to add up to the vibe. Well, the design is not necessarily classic, but it's not one to bother you too much.
As for the rules, the game sticks to the classics. It's played by a standard 52-card deck, and there are four players in each round. Each one gets 13 cards and the deal rotates clockwise. The players get split up into two partnerships and the one that gets 100 or more points wins the round.
The contract is picked by the auction where players bid for the number of tricks to be made. In case you're new to the game, there's an in-depth guide for you to read before diving into tournaments. You'll get to train with the AI for as long as needed, and the difficulty of the lvls will increase with time. You'll also get to make private rooms to pal with mates and fam.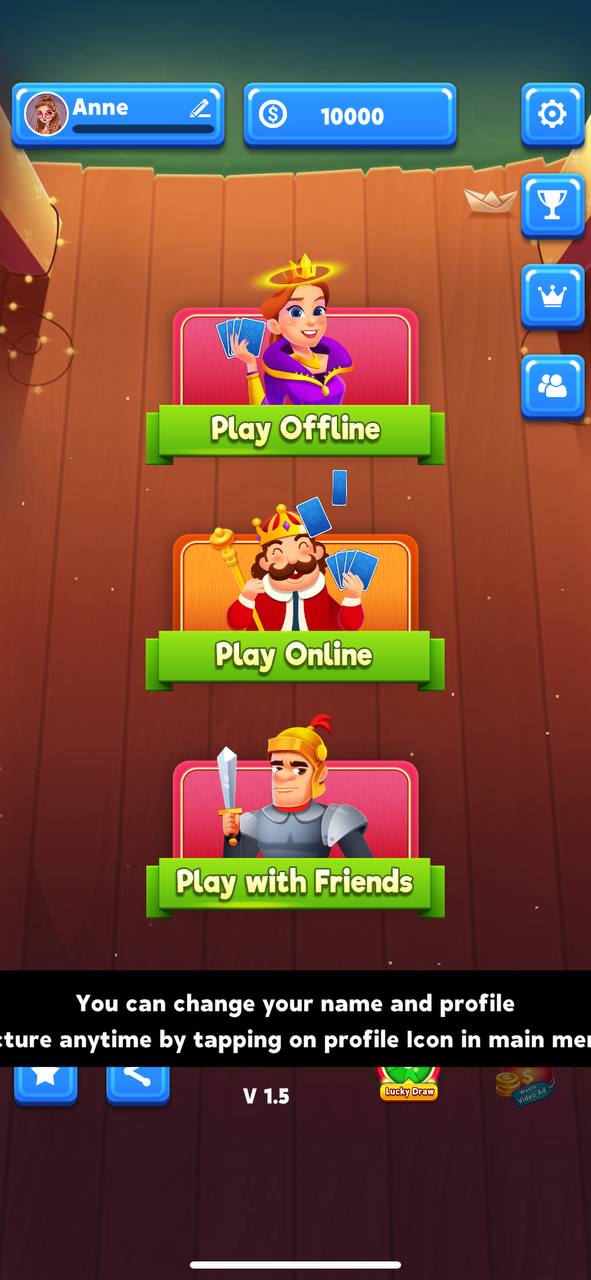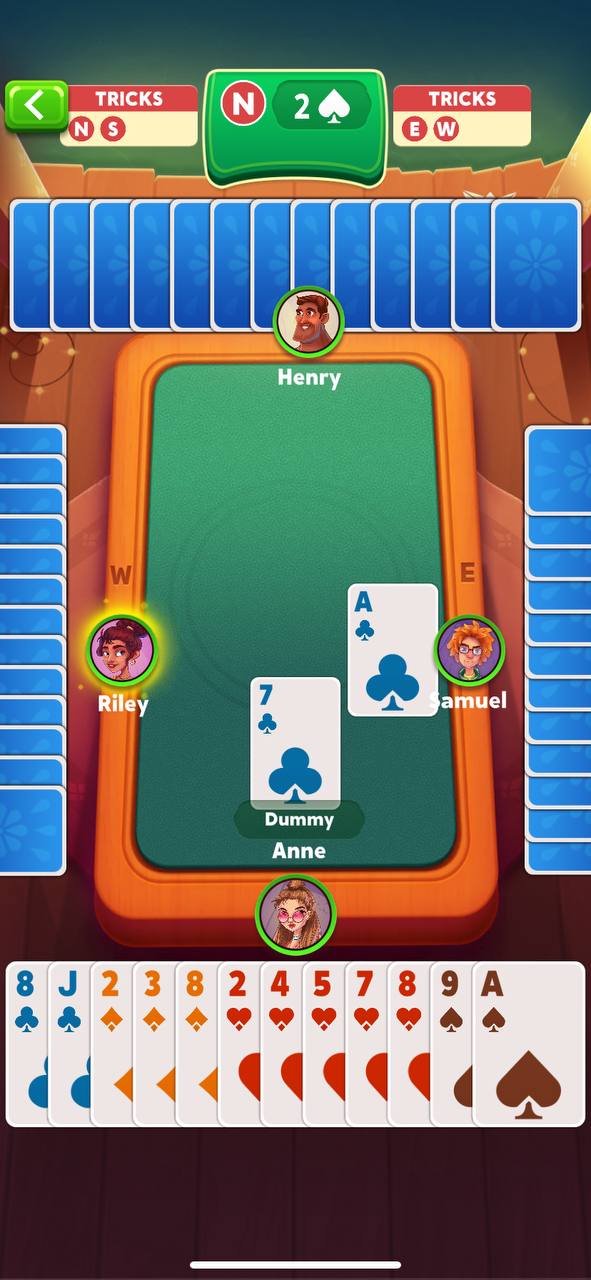 You may also check: 33 Free Mobile Games that Pay Real Money via PayPal
Call Bridge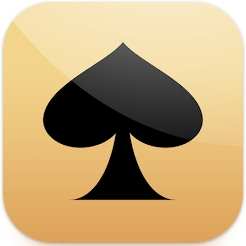 To wrap up, there's a handy game to play at any time needed. In case you want to sharpen your skills before a real-life tournament, there's an offline mode where you can stand against a smart AI opponent. You'll get to regulate the difficulty level, turn the hints on and off, and all that. It's a great way to learn some new strategies and lines, too.
Above that, the app lets you start private sessions and invite your pals and fam to join. That way, you get a full-on friendly tournament that can be placed wherever you are. You'll get to customize the plays, add some rules, and all that. You'll also get to customize the bets and bonuses the winner will get.
And if you want to test your skill switch someone you haven't played with, and you'll definitely enjoy the multiplayer mode. Each table gets formed out of the players with the same skill level, so everyone gets equal chances. There are no paid features to affect the way the game goes, too, so no worries. The ads are there, but they are not too annoying.