Nowadays cryptocurrency is more a necessity than an exotic hobby. With the shaky circumstances in the economic world, it might become the only source to pay-recieve money. However, it has some undermines as well – crypto stock exchanges and apps have their taxation system as well.
And if any sane person wants to reduce those tax burdens, we prepared the free crypto tax calculator apps & websites. More information about cryptocurrency, in particular, which rewards can various crypto apps bring to you, you'll discover in this article.
Koinly
Hereby we present to you one of the most popular and secure online tax calculators for cryptocurrencies. This software was developed for those who trade on various stock exchanges and have a hard time figuring out how to extract all the income without the excess tax burden.
Koinly is available in more than 20 countries, so you can safely use it while you travel. Moreover, unlike other services, it allows you to preview the reports for free.
This software will organize and analyze all the data and reports for you, presenting you only ending the most optimal result. It's always up to you whether you want to go for it.
Moreover, there are various types of reports for you to choose from. You just need to find the necessary window and then select whether you want the report to be End of the Year, Turbotax Online, etc.
Koinly stores all the data and it gives you the possibility to view various reports for previous years and compare them. All in all, this software imports data about the transactions from all your crypto wallets, puts them together into one report, and therefore calculates the optimal tax rate for you. And it's absolutely free!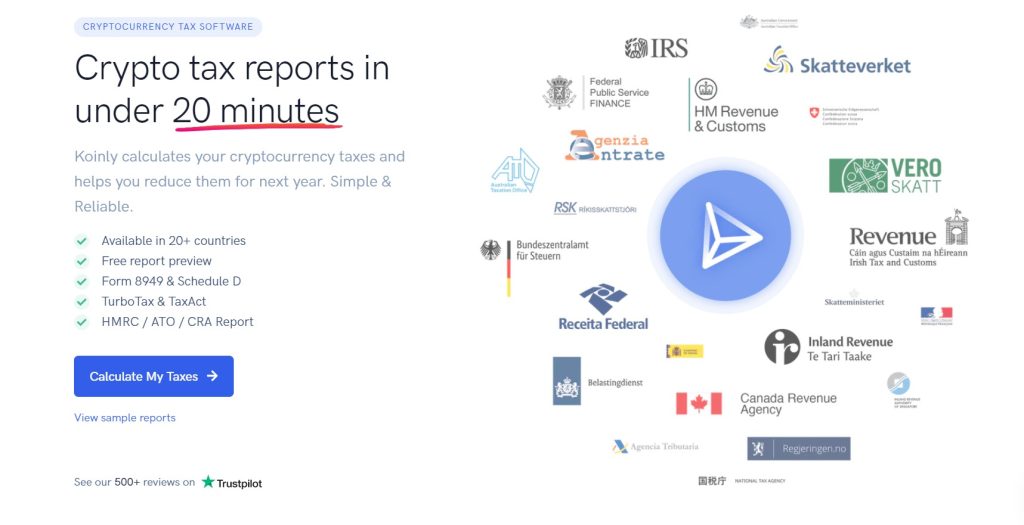 You may also like: 9 Best Trading Apps With Crypto Bots for Android & iOS
CryptoTax Calculator
Just like the previous software, CryptoTax Calculator will help you to calculate your taxes online. The program isn't completely free, but it has a 30-day trial period that you can enjoy for free.
First, you need to create your account on the platform and then you import data from different sources. All your wallets, and data from various stock exchanges, will be taken into the consideration.
In order to import data, you need first to form the report as the document on the platform that you are using and then simply drag it to the window to CryptoTax Calculator.
Then, the software will automatically categorize your expenses and incomes. After that, it will generate the ending report with the amount of tax that you will have to pay and you will also be able to download this report as a document.
And even if later you will get a desire to acquire the program, it's not very expensive indeed.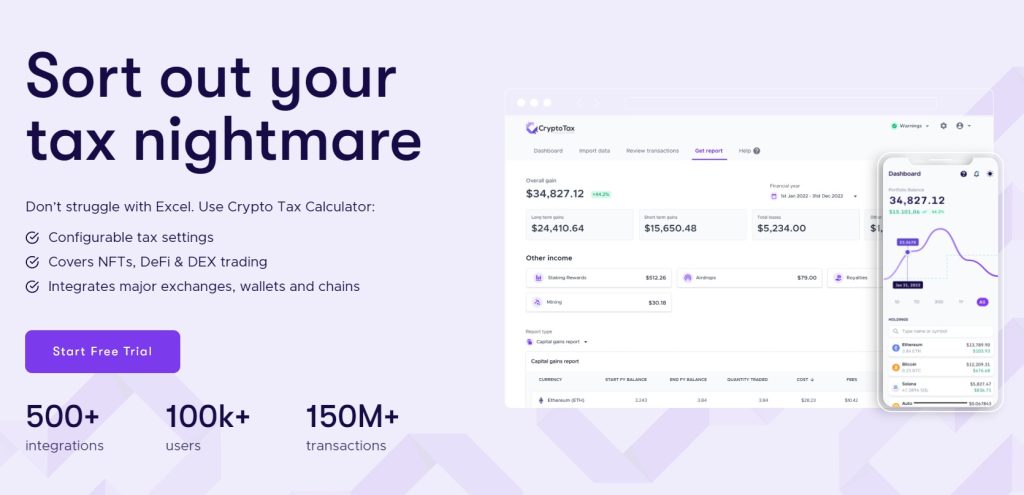 CoinTracker – Cryptocurrency Portfolio & Taxes
Unfortunately, CoinTracker is basically the only app in its format that allows you to calculate your crypto taxes. Moreover, before choosing it as one of your main crypto tax calculators, keep in mind that its possibilities in this field are quite modest in comparison to websites and software.
As usual, before calculating the tax, you need to integrate data from all the apps and stock exchanges that you are using, so that the app is able to track your progress. After that, it will compile the report.
However, an advantage of CoinTracker is that it's completely free and it also has an online version. It is able to read information about more than 300 stock exchanges and more than 8000 types of cryptocurrencies. Moreover, it allows you to calculate your capital gains as well.
All in all, CoinTracker is a nice platform to control your cryptocurrency expenses/incomes/taxes, but it's better to be done with the usage of their online platform.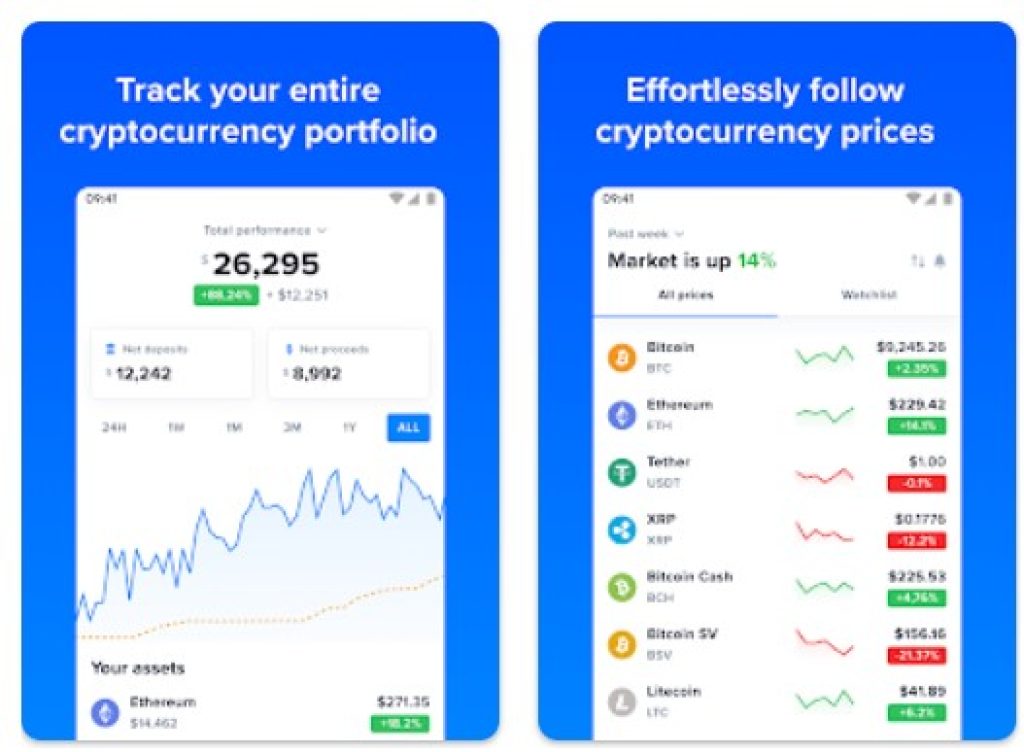 You may also like: 9 Best NFT Crypto Games (Android & iOS)
CoinTracking
This is another online platform that helps you to track all your crypto trading. It will tell you about your incomes and losses on your activities, provide you reports about the capital gains, will collect data from all the stock exchanges, and, what is most important, will calculate all the taxes based on your incomes.
Unlike other services on our list, CoinTracking is one of the most acknowledged software on the market and it has more than 1250 corporate clients – which means it definitely brings some kind of benefit to the people. Moreover, using CoinTracker you can share your data with crypto tax advisers.
What is more, CoinTracking is quite versatile – it takes into consideration the tax system of more than 100 countries. The whole program is not free, but it has a demo version that you can use for one month before making a decision about the purchase.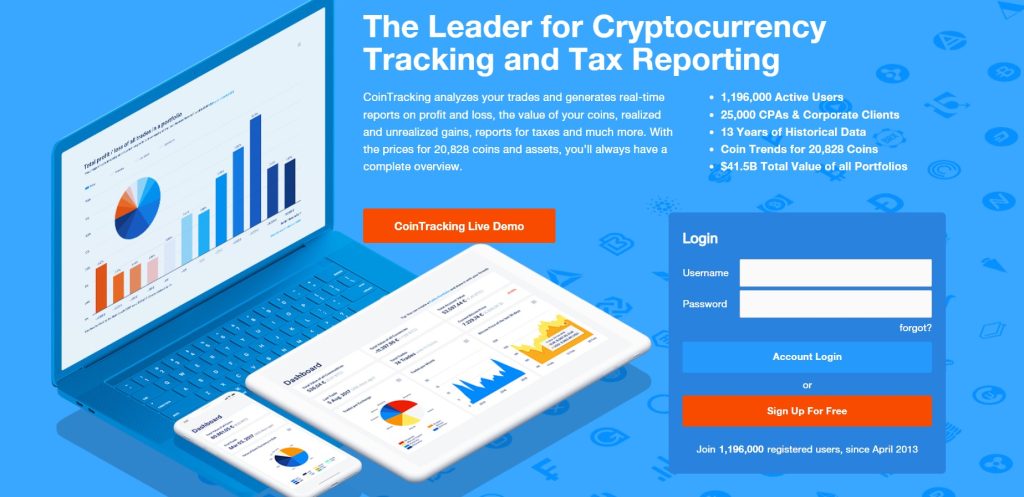 Cointelli
If all the previous options turned out to be unsuitable for you, you can actually explore this one. Cointelli is a decent crypto analysts service and it will help you to calculate your taxes.
The program comes with a free trial period.
One essential feature of Cointelli is that it allows calculating taxes from the NFT deals as well (most of the apps on this list don't work with NFTs). Cointelli calculates tax incidence on crypto buying and selling transactions, DeFi, margin trading, etc. Though the range of cryptocurrencies that it supports is less wide than in previous options.
Moreover, this software includes one curious feature called "Auto-fix" and this one allows it to review each transaction. But don't forget to synchronize all the wallets in advance! Moreover, the program doesn't require any additional payments for some elaborate tax calculations.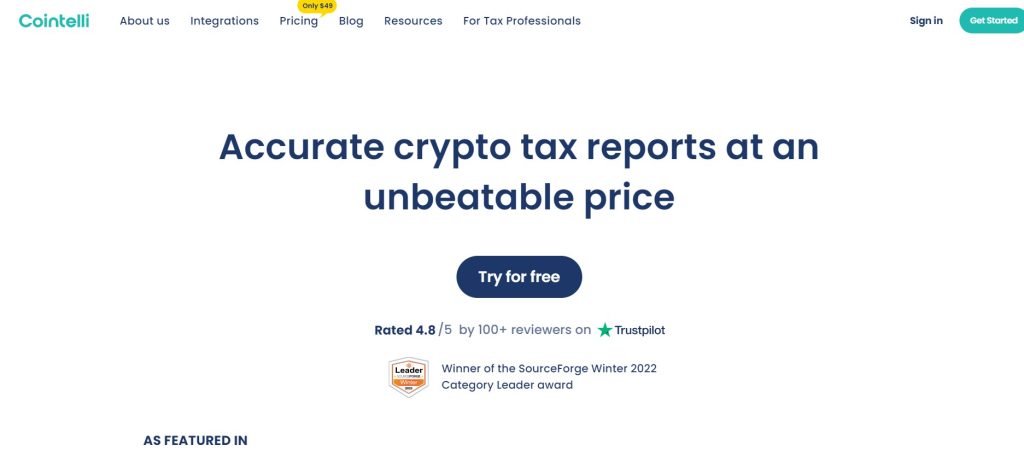 CoinLedger
Another popular platform for calculating crypto taxes. It comes only with a free trial period though. However, we must note that all these services have a lot in common and you can easily use the software for free for several months, just switching from one platform to another as each trial period expires:)
But not to diminish the functionality of CoinLedger, we have to mention that this is a decent app for calculating your crypto taxes. One distinctive feature of it is that it allows you to deal with cryptos that you have mined, airdropped, and so on.
In addition to that, CoinLedger provides full audit support. This platform will be especially useful for those who have only begun their journey to the crypto world since the software recommends tons of interesting materials to read on this topic.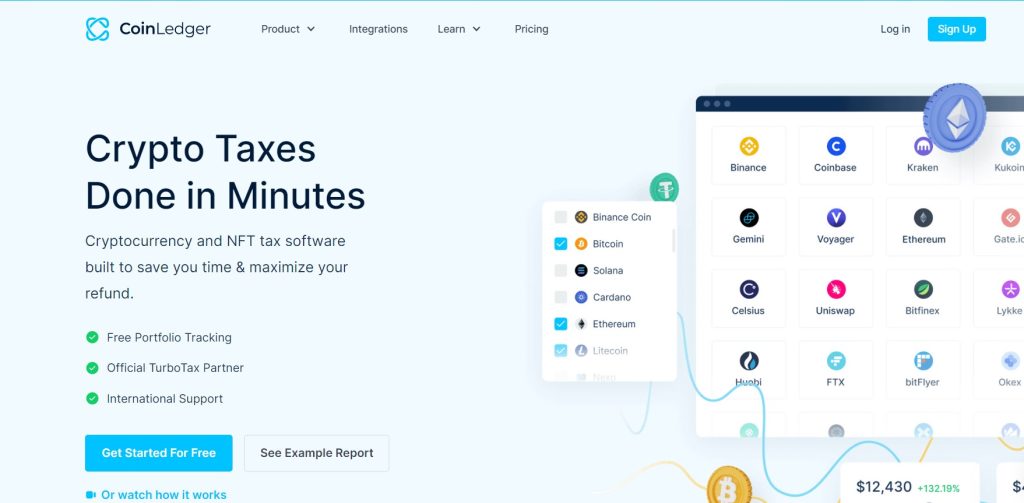 You may also like: 11 Best Cryptocurrency Apps for Android & iOS
Crypto.com
Less known platform for calculating your crypto taxes – it is still reliable though.
It works with more than 20 widely known crypto stock exchanges and wallets. The platform is completely free – you just need to create your account. Then you synchronize all the data so Crypto.com is able to provide the analysis and reports to you.
The only thing is that it doesn't work with many types of cryptocurrencies, including NFTs, mined coins and so on. So, this is the choice for those who stick to a very classic variant of crypto trading.