Getting a tattoo can be a very tough decision. Surveys show that one-third of people regret their decision to get a tattoo for various reasons.
The process of tattooing inserts indelible ink into the upper layer of the skin. The procedure isn't simple and the pigment is difficult to remove. With this in mind, you have to be certain about your decision to get a tattoo.
You may also like: 11 Best virtual tattoo photo apps for Android & iOS
Nowadays there are numerous apps for smartphones that can help with the decision. They can even help you to choose the right tattoo design. With the help of tattoo design apps, you can find an image you like and preview it on any part of the body. Below we collected 16 apps for Android and iOS to help you choose the best tattoo design.
Inkhunter
Inkhunter is one of the most popular apps with lots of positive reviews. The app is even used by some tattoo artists to help their clients get a clear idea of what they want.
The key feature of the Inkhunter is the ability to preview a chosen tattoo in real-time with augmented reality before getting inked for life. Choose a tattoo sketch or upload your own and try it on any part of your body.
First, point your cam toward the part of your body where you want a tattoo. Then apply a tattoo design. When move the tattoo will remain in place, so you can see it from different angles.
The application has a gallery with a wide selection of tattoos from different artists. You can find realistic pictures and abstract patterns in black and white or colorful designs. Create your own sketch by adding a text. The app offers a wide selection of fonts to apply to your design. With the help of this app, you will find yourself making a new tattoo in no time.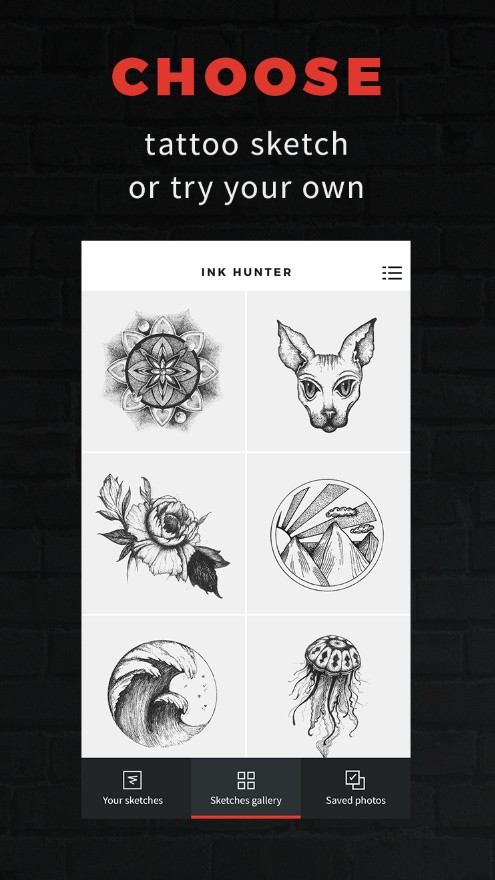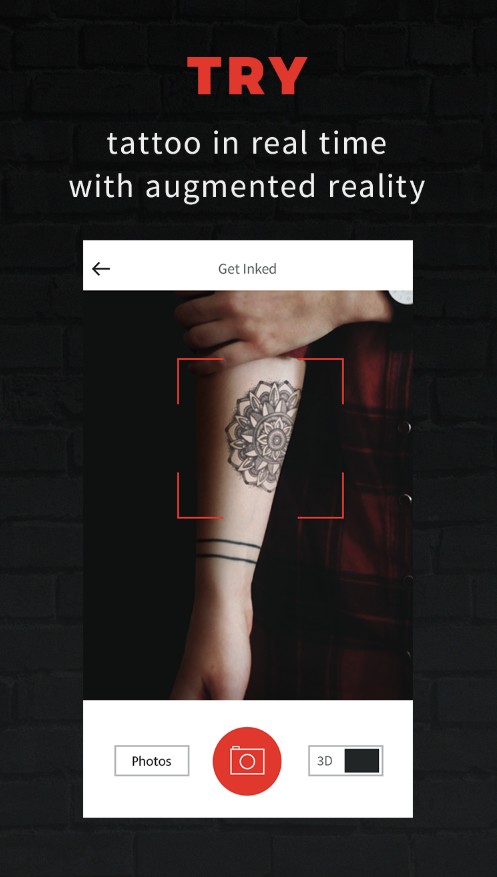 You may also like: 11 Best Music Sync Apps for Android & iOS
Tattoodo
Tattoodo offers an enormous gallery of tattoo designs and it's divided into categories and different styles. By sharing your location you can even get the address of the nearest tattoo parlor.
The app also gives access to the world's most famous tattoo artists and their stunning portfolios. You can subscribe and follow artists you like, as well as book your next tattoo directly with your desired artist. Get inspired by millions of designs from a huge tattoo community connected through the Tattoodo.
Some say that it looks similar to Instagram but specifically for tattoo admirers. If you want to be a tattoo artist, start to create your own portfolio. You can upload your designs adding hashtags with your preferred styles to show up in the app`s search system. The app requires registration either through social media or email.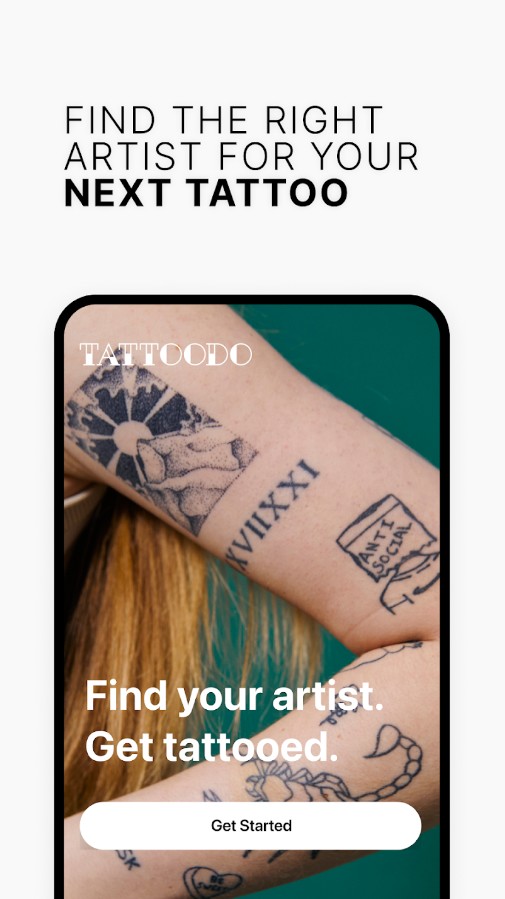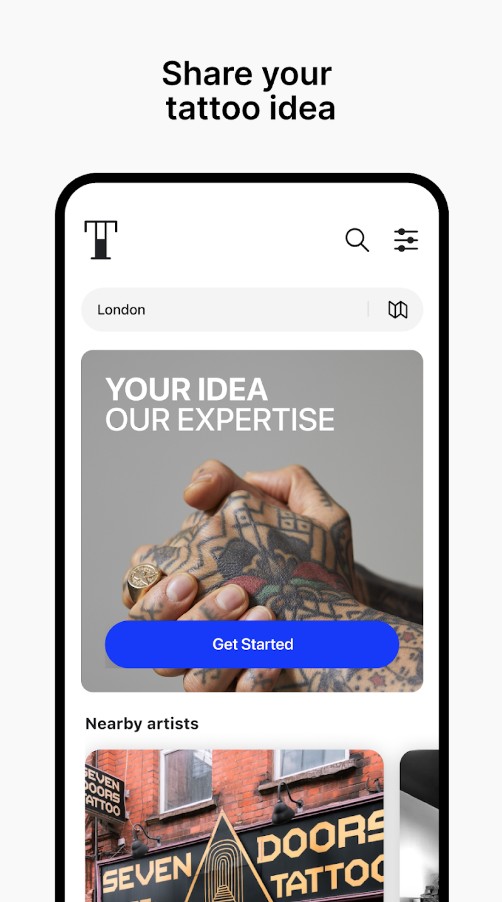 Skin Motion
This is the app that promotes the tattoos that look like sound waves and this is a sign of a famous brand. If for some reason you like this specific style of a tattoo – for example, you like music, or maybe you are familiar with this brand and you like the ideas that they try to deliver, then open this app and try on the tattoo sketch on yourself.
You can simply upload your picture and put the sketch to each part of your body. It is better to be a zoomed part of the body with bare skin, so the image would look as realistic as possible. If you like how this tattoo would look on you when you can open the map in the app to find the professional salons nearby where you can get this specific tattoo.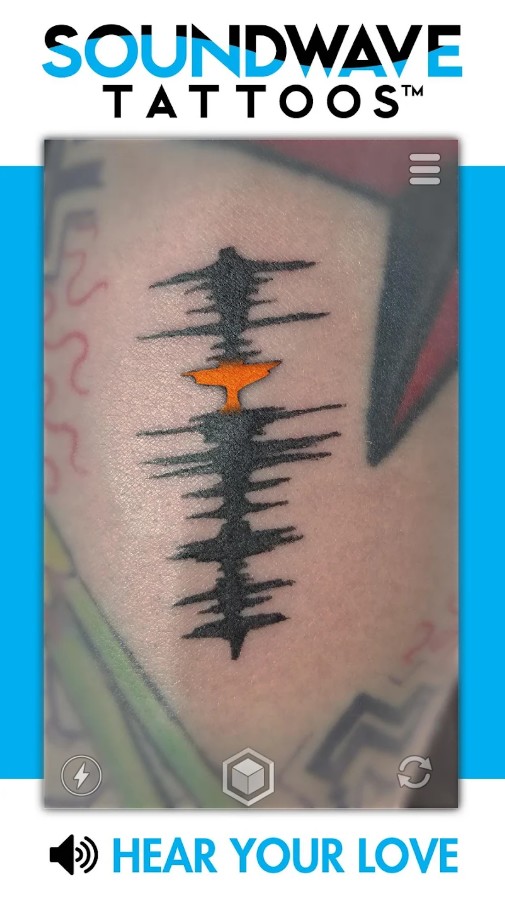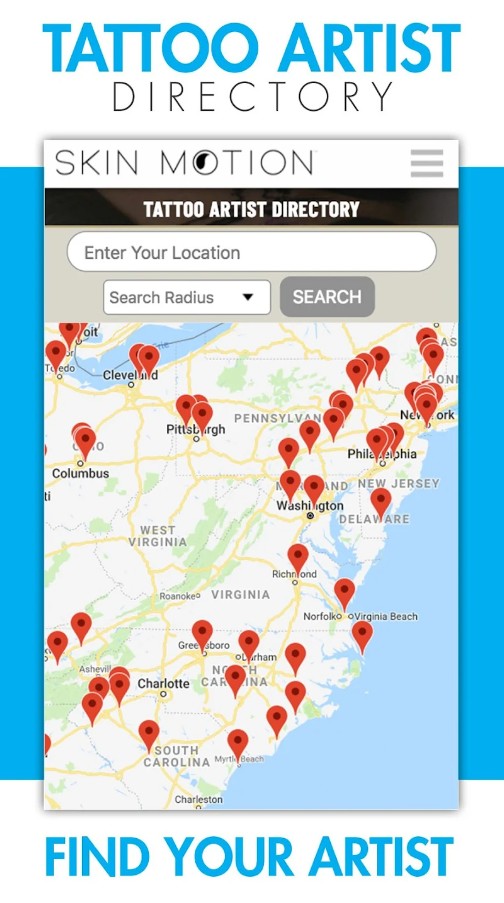 Tattoo Designs
Yet another free tattoo design apps with a good rating. Tattoo Designs has thousands of tattoo ideas to be inspired of. The application itself is very light with a simple interface.
You can choose a category with favorite themes. Choose a tattoo and ink yourself with fantastic creatures such as mermaids and demons or romantic sketches with flowers and angels. You can find tattoos suitable for both men and women.
Don't waste time surfing the internet or simply inking a first found tattoo. Get a tattoo you will never regret about. Share the chosen image with your friends through social media and get a review of it.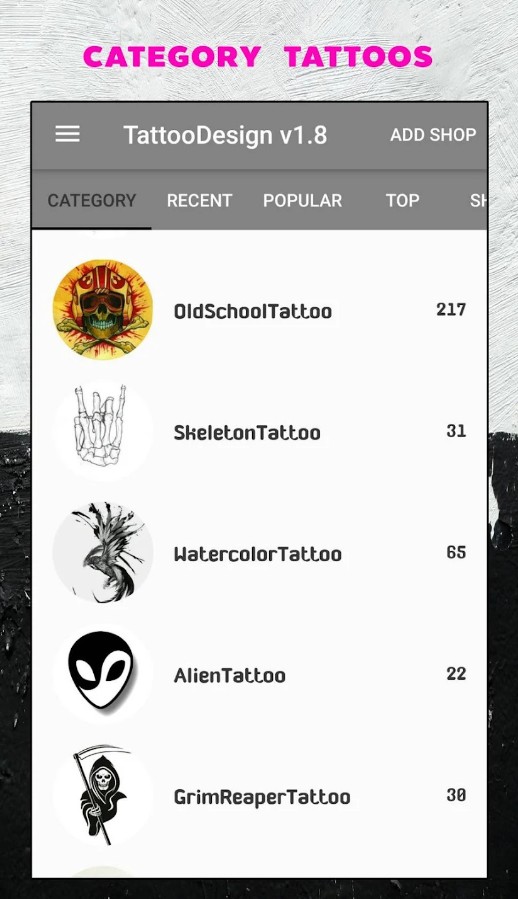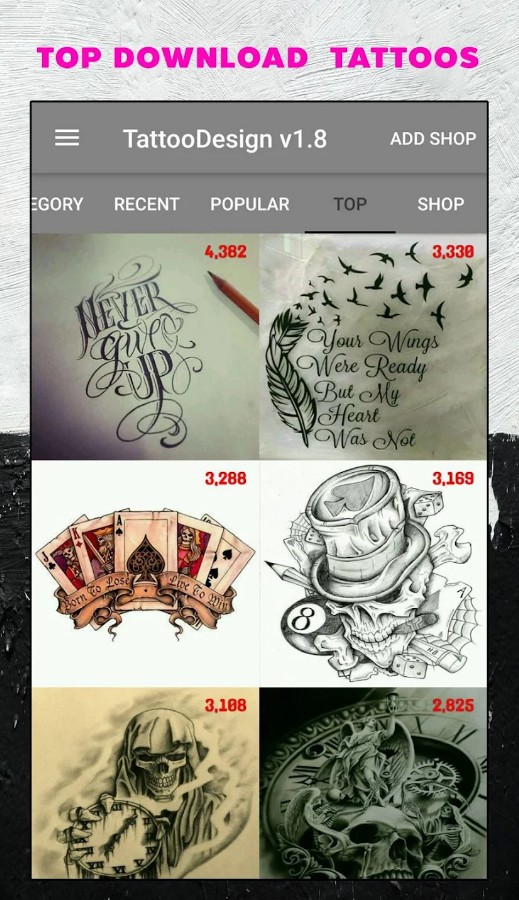 Tattoo Fonts
If you are going to do a written tattoo then the font and design are super important. Have you already chosen a quote/sentence but not sure about the font? This app will help you in case you feel a lack of ideas. All you need to do is to choose the font and write your sentence – see how it is going to look like if it's compatible or not.
Sometimes there are even too many variants to choose from. Well, in this case, you can choose several types of fonts, add them to your favorites and come back to them later, to filter out ones you like less. And then you repeat it until you're left with the only one. The only significant drawback of the app is that it has lots of ads.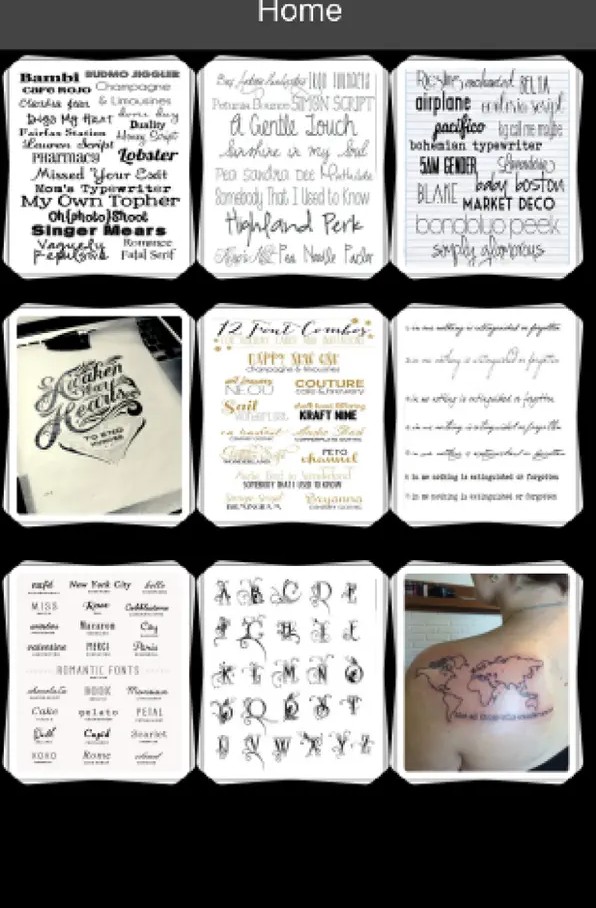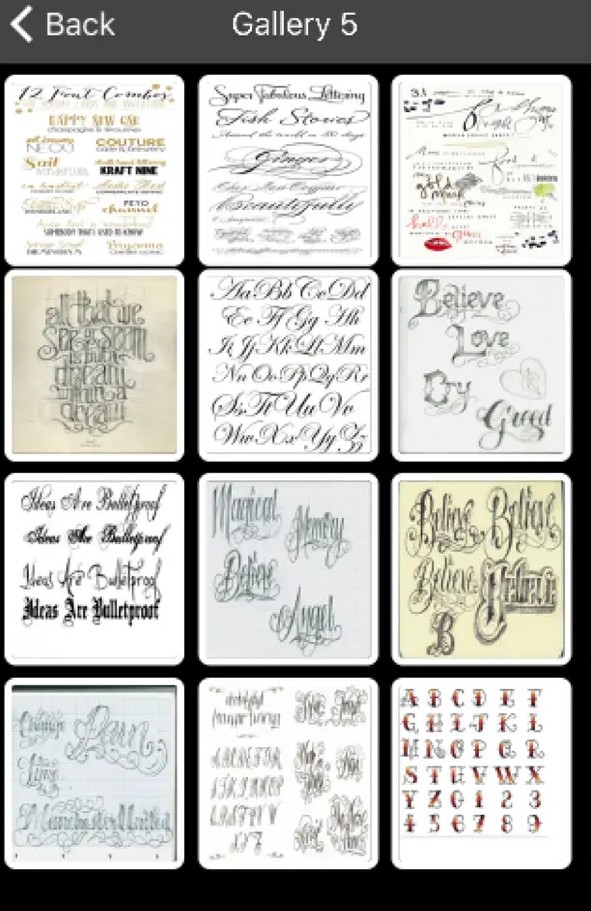 Tattoo My Photo
This easy-to-use application has a  simple interface that can let you create your own stunning tattoo design and share it on social media and through famous messengers. Upload your body part photo and preview a tattoo.
Change its color, size, or even transparency. With the help of the app, you can even edit a photo`s brightness and contrast.
There are many different tattoo designs for both boys and girls. You can even make a fake tattoo on your own hand and share it with your friends as a joke. The app is absolutely free but filled with many ads.
All in all, this is a decent app with the help of which you will find new amazing tattoos for you or for your clients.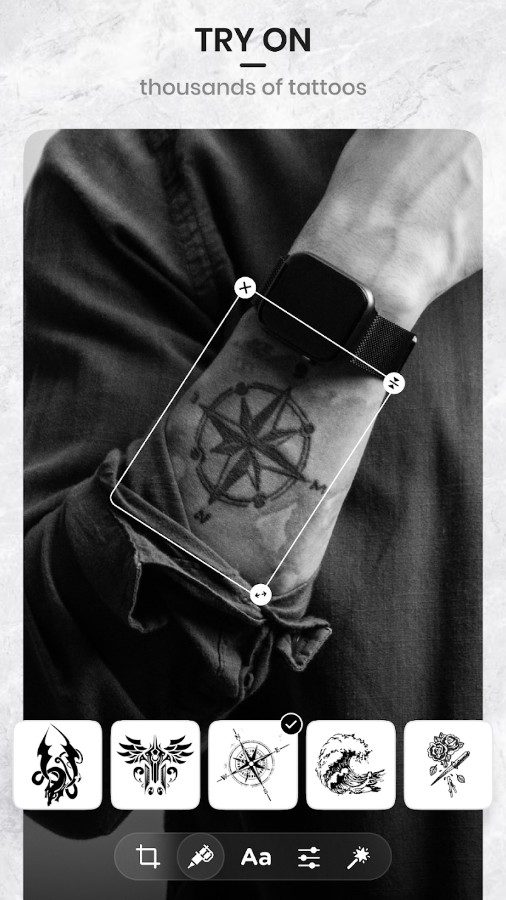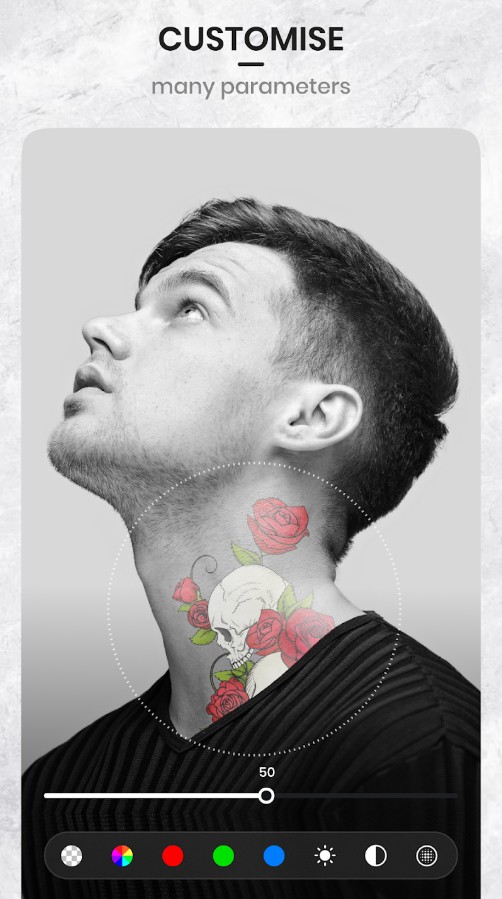 Adobe Illustrator Draw
For creating and trying out the best tattoo designs you don't always need an extra specific app for that. You can use one of the graphic editors, and if you are patient enough you can take a little time to learn how to work with them – and voix-la – you can create absolutely any tattoo design instead of browsing for it on the Internet.
Without any doubt, one of the best graphic design editors is Adobe Illustrator Draw. Here you will get the most various tools for creating sketches – starting from pencils ending with various shapes and patterns to layer on each other. You can draw figures using templates from the app or find them on the Internet and add to Adobe.
What is more, you can use the existing images, add them to this app, and draw on them to get a completely new image. In other words, it is only up to you here how detailed you want your tattoo design to look and how much time are you ready to dedicate to it.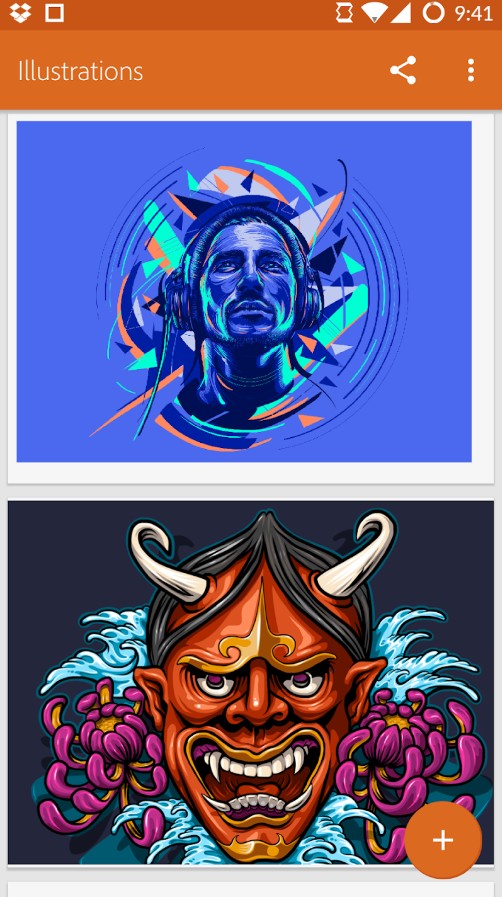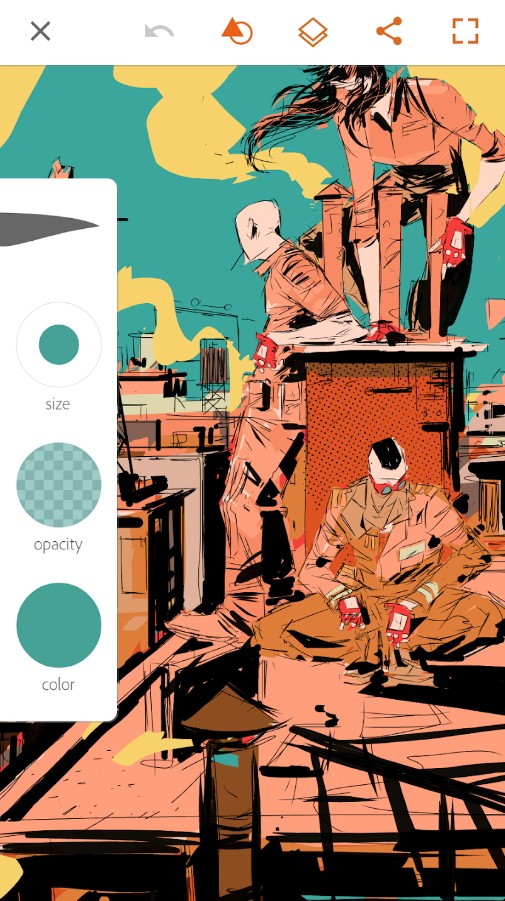 Inksquad
Tattoo My Photo 2.0 is a treasure trove of tattoo designs. With a vast collection of tattoos in various styles, you can experiment with different looks without the commitment of permanent ink. From tribal and floral to contemporary and minimalist designs, there's something to cater to your unique taste.
It allows you to craft your custom tattoo design, adding a personal touch to your body art. This feature is perfect for those who want a one-of-a-kind tattoo that reflects their individuality. It also provides a platform for exploring and visualizing tattoo ideas before making a real commitment. It can also serve as a tool for tattoo artists and enthusiasts to showcase their creativity and collaborate on unique designs.
In conclusion, Tattoo My Photo 2.0 is more than just a digital tattoo app; it's an opportunity to express yourself through art. Download Tattoo My Photo 2.0 today and embark on a creative journey that celebrates your unique style.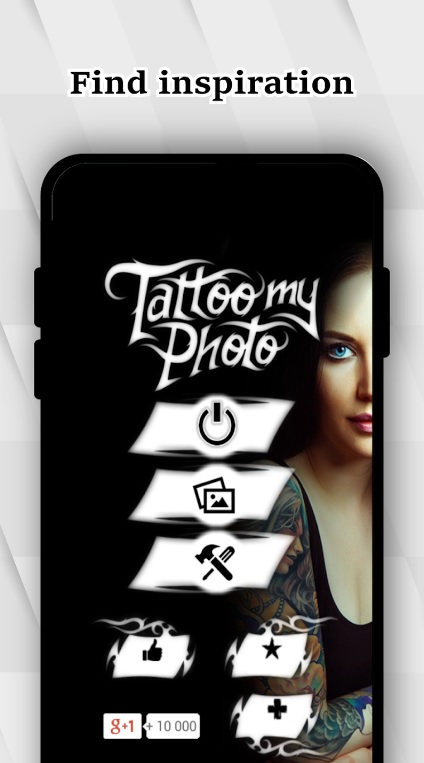 You may also like: 20 Free Android Apps for Designers
Tattoo Maker
Tattoo Maker is a great tattoo design app that will let you edit your design and add text. It's not only a simple gallery of different sketches. You can upload your own design and edit it changing the size and color it in different ways. Choose a part of the body from the gallery and apply the draft there.
You can also use a pre-existing picture from the app and modify it as well. Draw, color, play with a tattoo design. Search for a perfect option before getting inked.
The app is easy to use and has a light simple design. It doesn't require to register. Simply download it and start to use it. After choosing a picture the application will ask your permission to get access to your media files.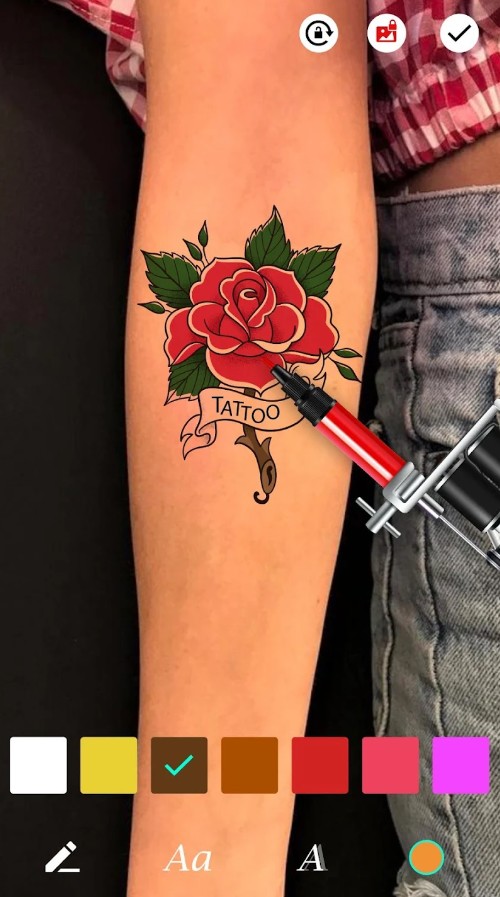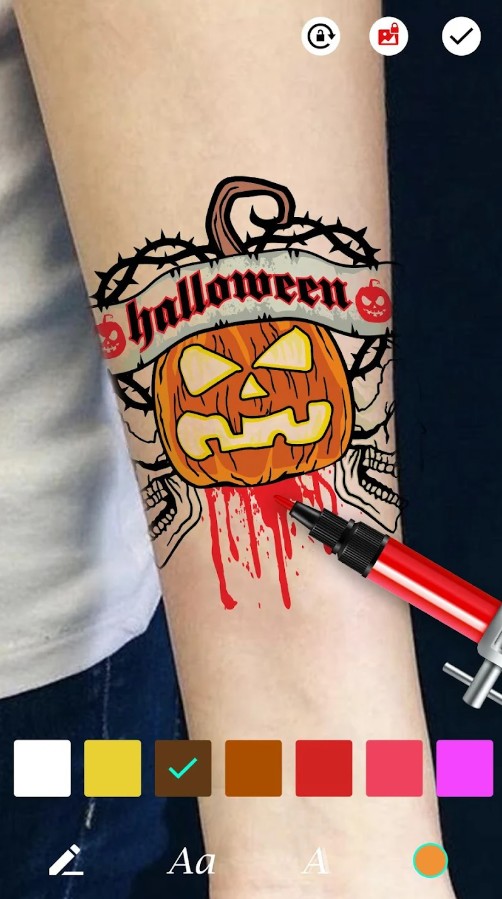 5000+ Tattoo Designs and Ideas
5000+ Tattoo Designs and Ideas is an app that will come up with an interesting design for any of your ideas. Do you want to get a tattoo but don't know which design to choose and how to design it? Then this program is definitely for you!
Here you can sketch your future tattoo area through your smartphone screen. You can decide for yourself whether you need it in one place or another. You can also get creative with the image of the tattoo.
The app has a huge number of drawings that are easy to try on the hands, feet, neck. Trying on a tattoo you can reduce or enlarge it, and also rotate. You can share the natal drawings with friends.
Moreover, there are also tattoos for teenagers with beautiful designs. Whether you're a girl or a guy, there are plenty of images and you'll be able to pick your own. Choose your most fiery tattoo with this app!
By the way, all the cool images you can save and then already view. The program can be used while on the move.
The app is high-rated by users by the fact that from the comfort of home you can choose the tattoo that really fits. It has good HD graphics. You will save your time with this program.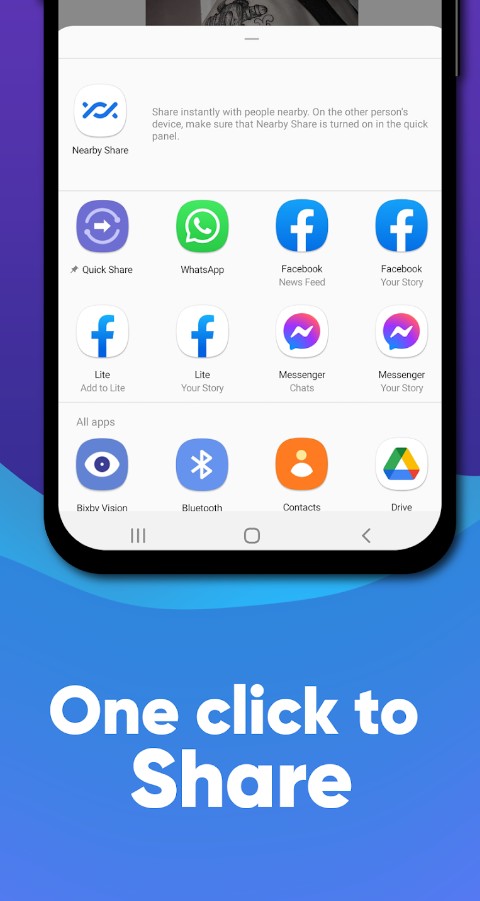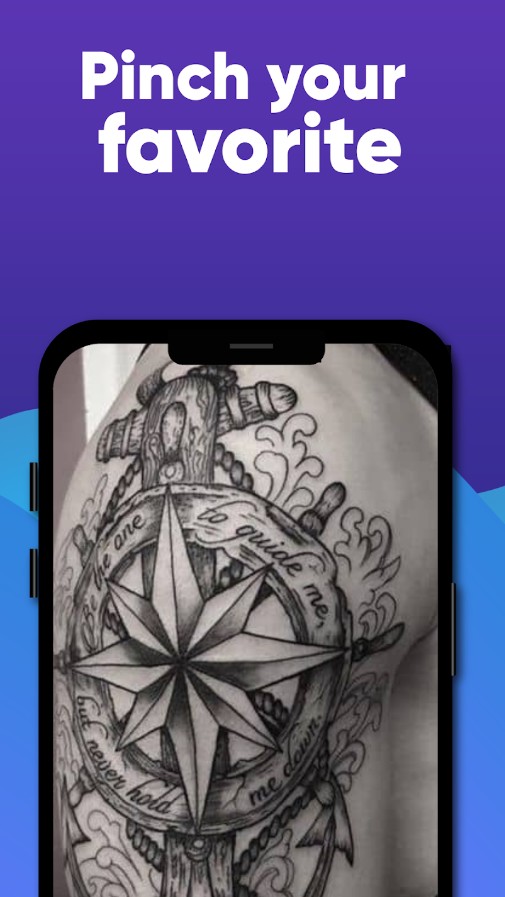 Tattoo For Photo
Tattoo For Photo is another application that will allow you to preview your tattoo. You must upload a photo with the part of the body you want to be tattooed. Of course, the app will ask for your permission to get access to your phone gallery.
Otherwise, you will not be able to use the app properly. Next, you can select a tattoo design from the app`s gallery – a cross, an anch, or even a mustache, if you want to be unique. Many of the pictures are locked, to unlock them you will be asked to watch an ad. Not too hard.
The selected image can then be rotated or zoomed on the selected body part, the wrist for example. It will take 5 minutes for you to get familiar with this app.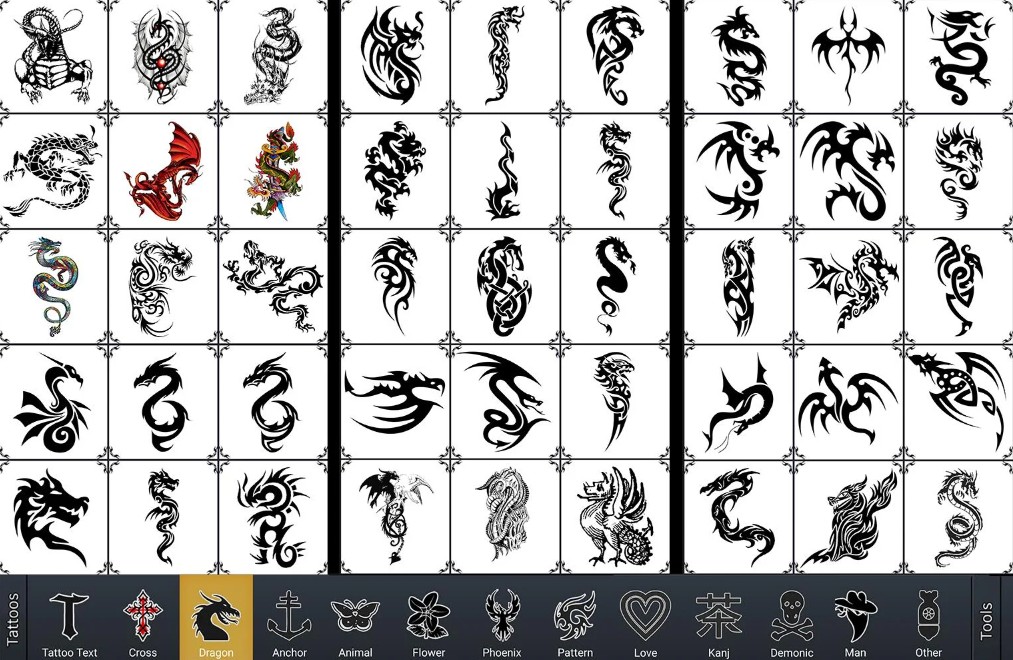 Tattoo Ideas For Men
Tattoos have been a powerful form of self-expression for centuries, and now, with the Tattoo Ideas for Men app, where men can explore a world of bold and creative body art designs. This app is your digital guide to finding the perfect tattoo that speaks to your style and personality.
One of the standout features of Tattoo Ideas for Men is its ability to help you create your own tattoo design. It offers tools and resources to customize and visualize your ink ideas, making it easier to communicate your vision with a tattoo artist.
Tattoo Ideas for Men offers a diverse range of tattoo categories to explore. From classic designs like tribal, biomechanical, and sleeve tattoos to modern trends such as geometric and minimalist ink, this app has something for every tattoo enthusiast.
In general, I cannot say that this is an ideal app for tattoo masters but it is a fantastic place for inspiration.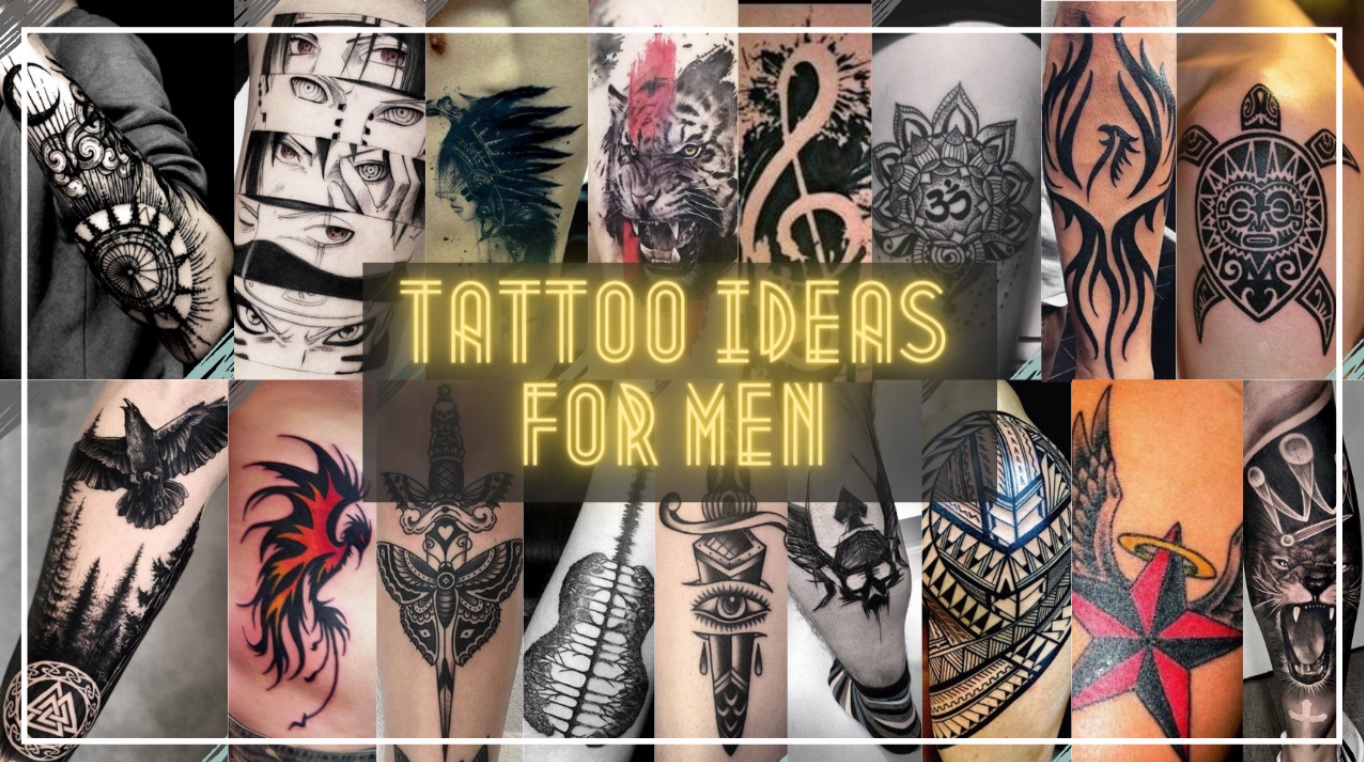 Traditional Tattoo Designs
It serves as a valuable educational resource, providing insights into the history and cultural significance of various tattoo traditions. Additionally, it encourages artistic exploration and helps you communicate your ideas effectively with tattoo artists.
Within the Traditional Tattoo Designs app, you can explore a rich tapestry of tattoo traditions from various cultures.
Whether you're interested in the bold and vibrant designs of American traditional tattoos, the intricate patterns of Japanese irezumi, or the tribal motifs from indigenous cultures, this app showcases a wide array of traditions that have shaped the art of tattooing.
The app offers a diverse range of tattoo categories, allowing you to explore styles that resonate with your personality and preferences. From classic black and gray tattoos to colorful and contemporary designs, you'll find a multitude of inspiration to fuel your creative tattoo journey.
In conclusion, I'd like to say that this app is a great platform with a huge library of tattoos to any taste.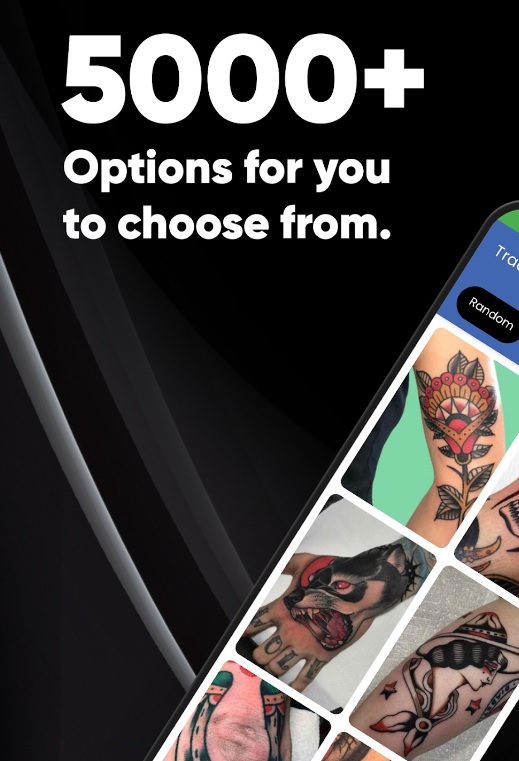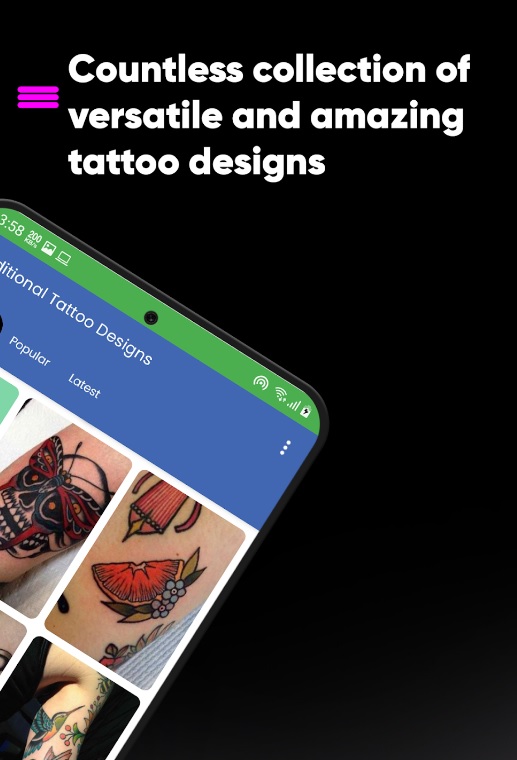 Tattoo Designs: ideas
Tattoo Designs: Ideas boasts a vast library of different tattoo designs, catering to a wide range of tastes and preferences. From intricate tribal patterns to delicate floral arrangements and everything in between, this app offers a wealth of artistic inspiration.
One of the notable features of this app is its ability to help you create your own tattoo design. It serves as a valuable resource for both tattoo enthusiasts and professionals, facilitating the design process and sparking creativity.
Overall, Tattoo Designs: Ideas is a perfect choice for those looking for new tattoo ideas.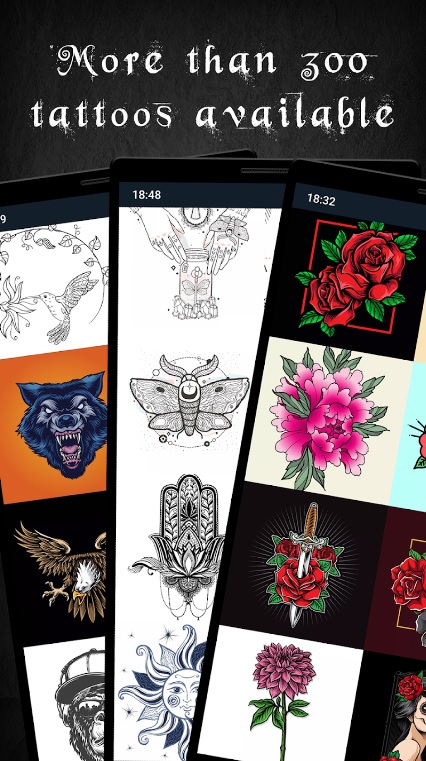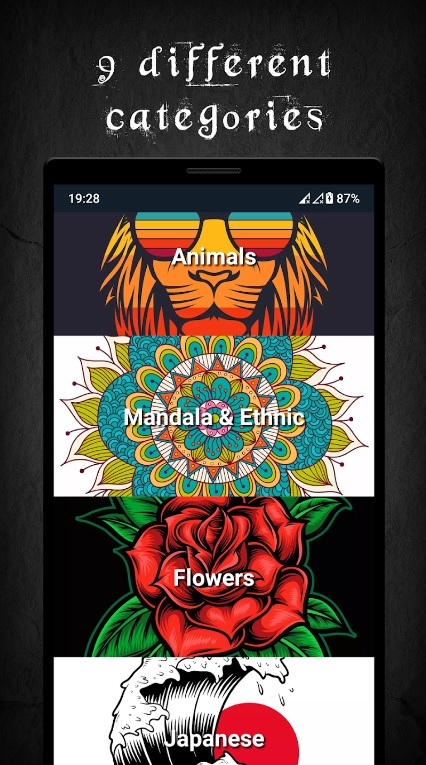 How to Draw Tattoos
Do you want to draw your tattoo from scratch step by step? How to Draw Tattoos app will teach you how to create your own tattoo. The app includes a collection of the most popular tattoo drawings classified by difficulty. So, you can learn step by step how to draw a butterfly, for example, or a rose.
After learning a tattoo drawing principle, you can work on your own idea and even become a tattoo artist. The app is really easy to use and can be called educational. It doesn't require login or registration and its absolutely free program.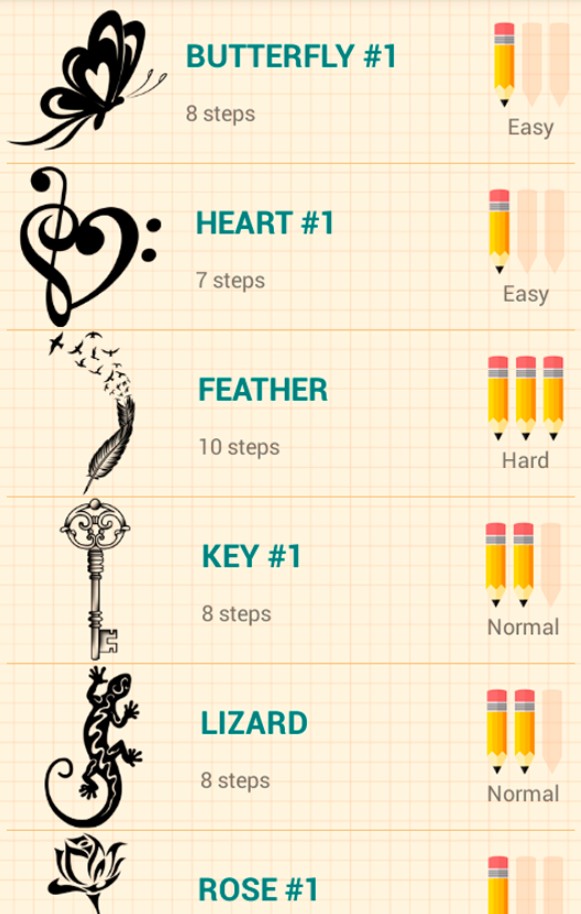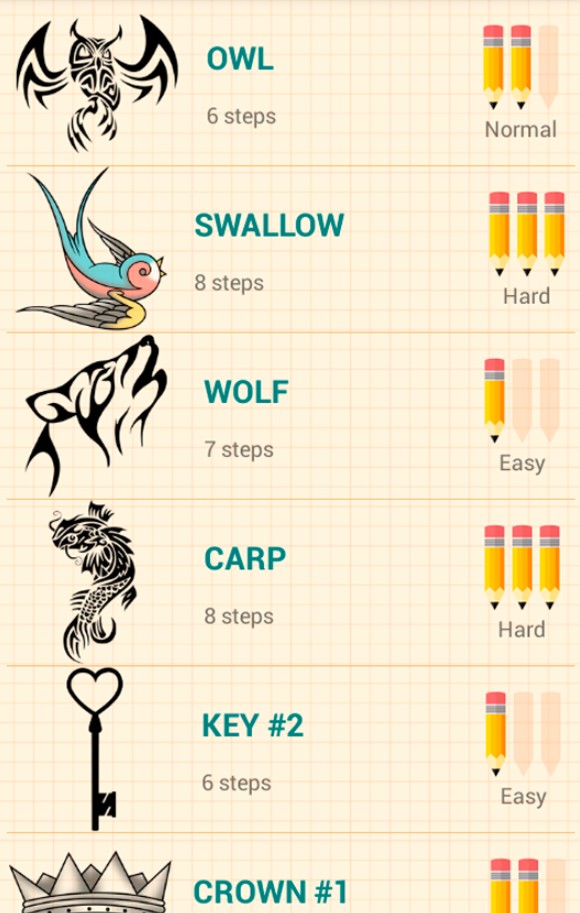 You may also like: 10 Best Calligraphy Apps for Android & iOS
Tattoo Font Designer
Tattoo Font Designer is an app that will come up with an interesting design for your future tattoo. Do you want to make a tattoo? Then the program is just for you.
Here you can choose any image design you like. Tattoos can also be with inscriptions. You will be able to create your own font, then save and try it on your body using your smartphone screen. If you're new to this, no worries, there are videos that clearly show the lettering.
Make the most of all the fonts. Your skills will grow, and in the future, you will be able to reach a professional level of calligraphy. You can save all the tattoo work you like on your device.
The app doesn't do anything to your skin, it just sketches it. With a cool tattoo design, you can go to the salon and apply the image there. Moreover, the creativity app is not only about tattoos, here you can create your own themes and drawings.
This app is liked by users with its interface, rich variety of images, and fonts. You don't have to waste time going to the salon to choose a tattoo, you do it all at home and in a shorter time. Enjoy the art!