Boys always strive for what their parents are doing. For this reason, many children want to become masters of fishing, seeing how their fathers go to the river every weekend to take a few fishing rods and a typical suitcase with all sorts of gear, baits, and hooks.
But sometimes parents cannot take the child with them on a fishing trip. Then mobile gadgets come to help, and with them – entertaining games about fishing …Let's look at the most interesting kids' games about fishing.
You may also like: 5 Best Fish Farm Games for Android & iOS
---
Kids Fishing for babies
If you are looking for a good development game for your child, then you have already found it. Graphics and colors are designed taking into account the age characteristics of the child. Also, depending on the age, the game has several game modes.
Thanks to this application, your baby can develop such qualities as mindfulness, perseverance, concentration. In addition to all this, the game is a good pastime for the whole family.
The rules are the easiest – to catch the fish, which is depicted in the upper circle.
Features of the game
Levels of difficulty depending on the age category.
Colorful fish, which are more than 50 pieces.
Quality sounds and good speed.
Try your hand at a bright and entertaining game, learn the world with your child.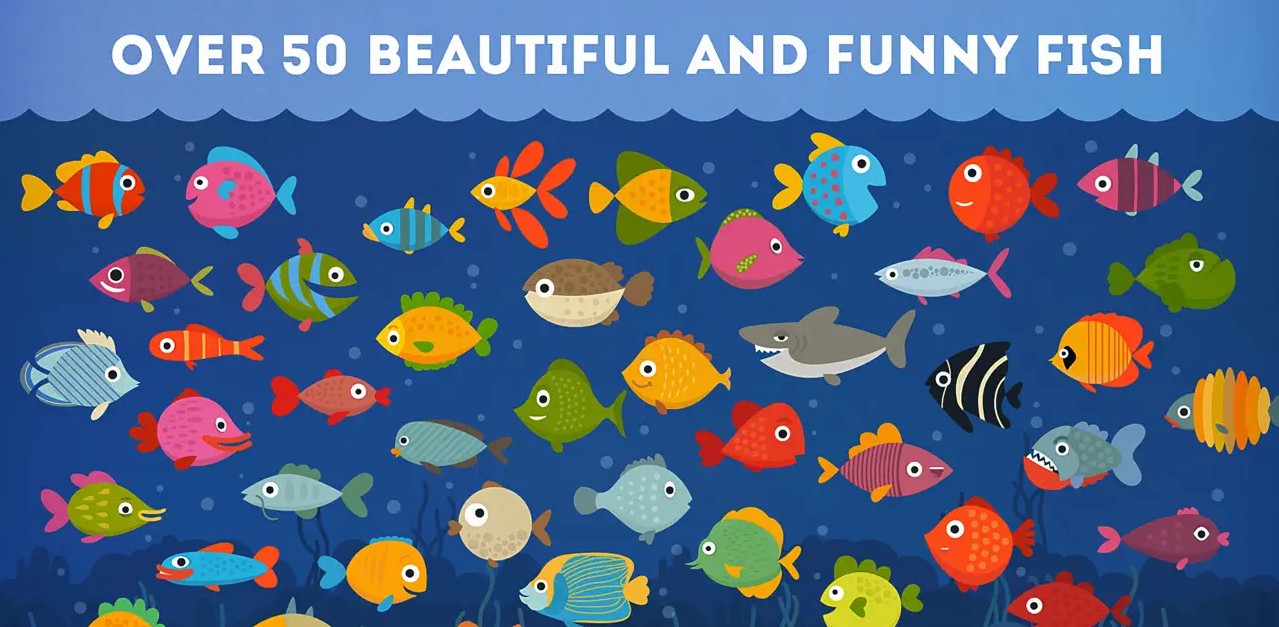 You may also like: 7 Best Saltwater Fishing Apps for Android & iOS
Go Fish!
This game is a good choice for those children who like fish and fishing.
Players should collect cards by exchanging them with their opponents. The main task is to collect a set of certain cards. It's pretty simple, and that's why this game is suitable for kids. They will not be bored, but at the same time, it will not be too easy.
The app includes multiple difficulty levels and allows players to choose between playing against the computer or with friends online.
One unique feature of the app is the ability to play with custom decks of cards. Users can create their deck of cards using photos or images from their camera roll. This allows for a more personalized and fun gameplay experience.
The card images are clear and easy to read, and the background music is pleasant. However, some users have complained about the lack of customization options for the background and card designs.
Go Fish app is a fun and enjoyable game for all ages. It has a simple yet engaging gameplay style and allows for personalization with custom decks.
Advantages:
Simple and engaging gameplay.
Multiple difficulty levels and customization options.
Ability to create custom decks with personal photos.
Drawbacks:
Occasional crashing and freezing during gameplay.
Limited customization options for background and card designs.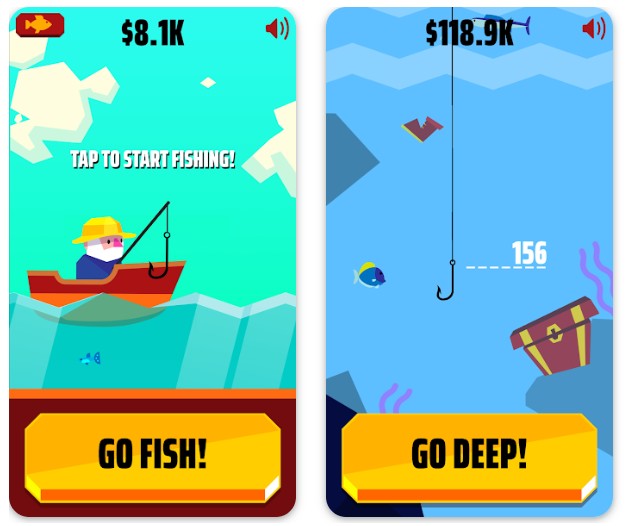 Baby Panda: Fishing
This is a development application for kids for Android, which allows the child in a playful form to learn the names of the inhabitants of the underwater world, as well as improve coordination of movements.
Together with the little panda Kiki, you go fishing to catch as many fish and other marine organisms as possible. You need to be careful and avoid whales and sharks, otherwise, your flimsy boat can turn over.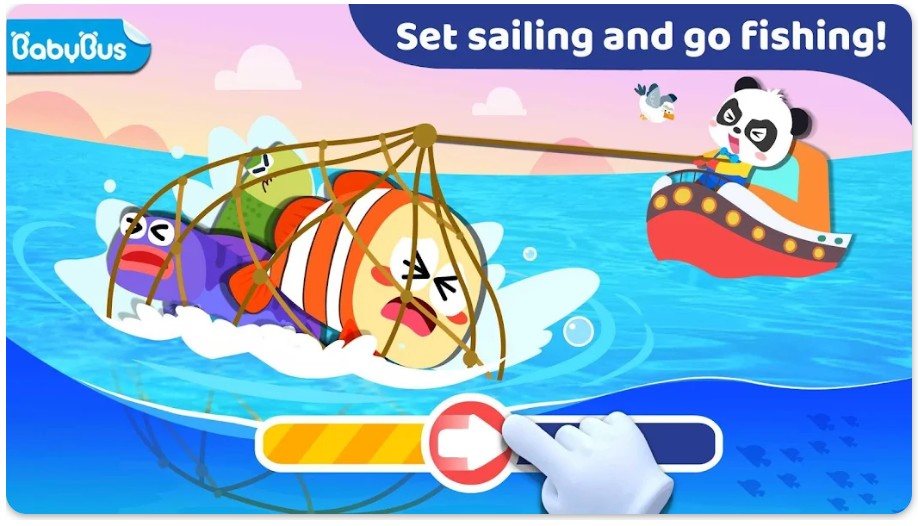 Fishing for kids
The child actively learns the world from an early age, for the first time comes into contact with what is happening around him. Educational applications are an excellent tool for teaching children and occupy an important place in the education of the younger generation.
We offer a fascinating children's game from YOVO Games "Fishing for kids", which will become a favorite activity for children. It's very easy to play, you need to catch as many fish as possible and collect so many points that will allow you to move to the next level.
But care is required so as not to get caught on a hook or a dangerous predator, this reduces the earned points. The game trains memory, improves concentration and fine motor skills. A keen fisher cat will cheer children throughout the fishing.
Colorful illustrations, bright pictures, pleasant music will give pleasure to all lovers of fishing. An uncomplicated learning game pleases the child with results and achievements, which help to acquire skills. It is very important to spend time with children with the benefit for their development.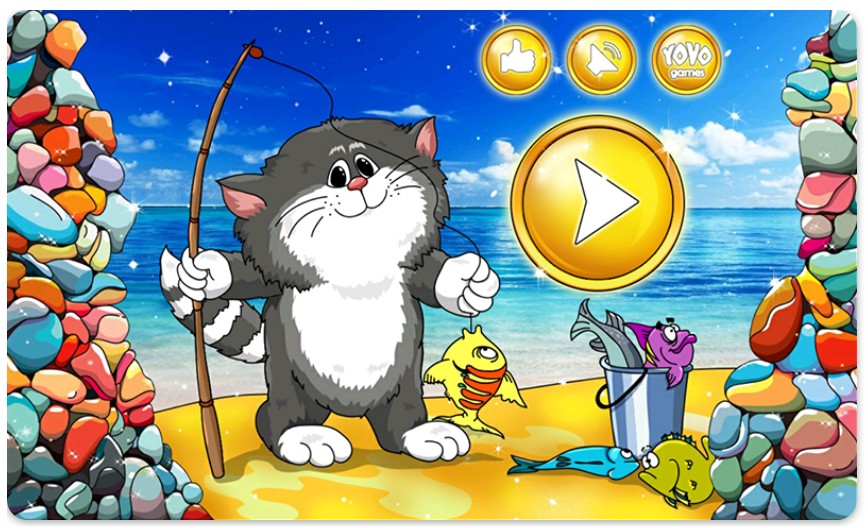 Happy Fish
Happy Fish – an exciting game in which not only the child but the adult will breed fish and care for them.
The plot and the gameplay
The project displays some of the features of acquiring, but more remains an arcade. In the process of passing the user must buy fish, feed them, and also perform various tasks in order to get more money. The main goal of the game is to collect the rarest and most expensive creatures.
Also, in the arcade, there is a joint mode, allowing you to visit aquariums of other users, mini-games. In total, the campaign has about eight dozen levels, but their number is constantly increasing due to updates.
Graphics and sound
The project is executed in a colorful drawing style. The picture is not realistic, but more cartoonish. Creatures are somewhat like Pokémon, and what's happening on the screen looks very funny and cute. The menu is convenient and intuitive. Fortunately, there is not much text here. The music is fun and chosen well. Sound effects also came out funny.
Happy Fish will not please with entertaining gameplay, but it will allow you to relax, watching how the fish reel in the virtual aquarium. The arcade is able to please the excellent design and lots of content.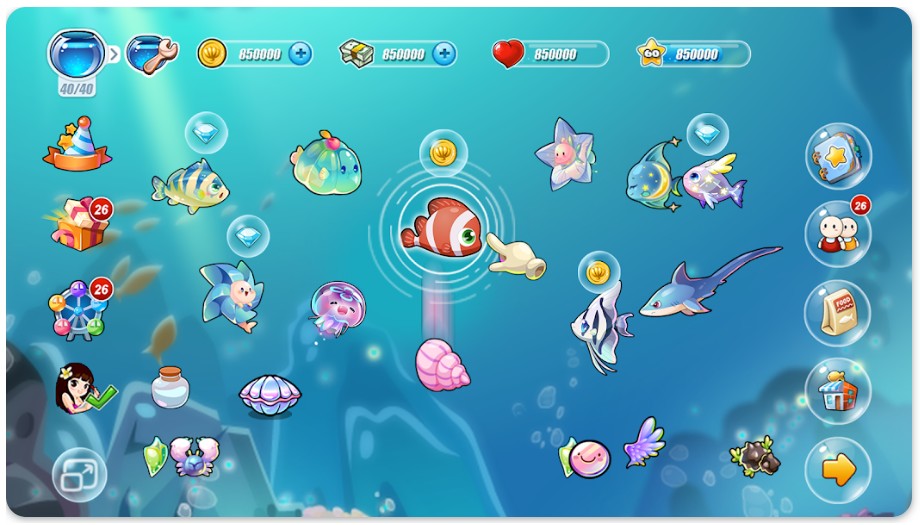 Hooked Inc: Fishing Games
Hooked Inc: Fishing Games is a game that allows kids to experience the thrill of fishing in the palm of their hand.
The gameplay in Hooked Inc: Fishing Games is simple and addictive. Players start with a basic fishing rod and must catch fish to collect some money. Also, users can upgrade their equipment.
As they progress through the game, players can unlock new fishing spots and hire crew members to help them reel in bigger catches.
One of the nuances of the gameplay is the use of "luck." Each time a player casts their line, they have a chance of catching a rare fish or even a treasure chest full of valuable items.
This adds an element of excitement and unpredictability to the game.
Also, the fish and underwater scenery are well-rendered, but some of the animations can be a bit clunky.
One of the biggest flaws with the game is the heavy use of microtransactions. While it is possible to progress through the game without spending real money, it can be a slow and frustrating process.
Advantages:
Simple and addictive gameplay.
Wide variety of fishing spots and equipment.
Exciting "luck" mechanic.
Drawbacks:
Heavy reliance on microtransactions.
Clunky animations and occasional lag.
Frustrating for players who don't want to spend real money.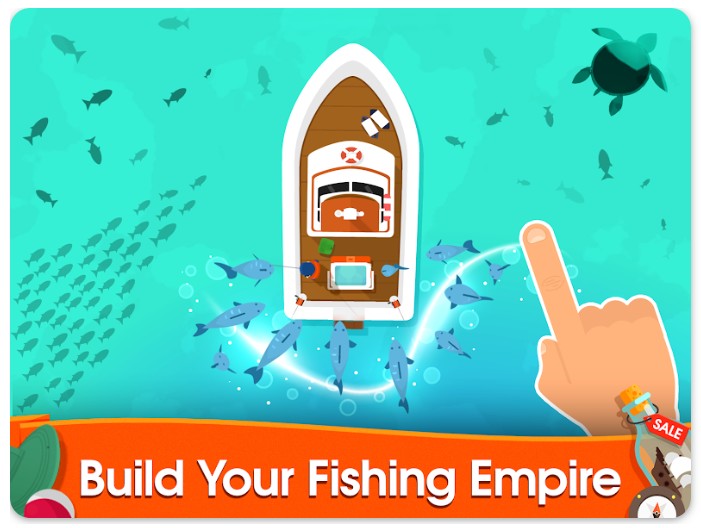 Fishing Diary
Fishing Diary – a fascinating arcade game for Android, developed by the studio DroidHen. An entertaining casual application in which we will be engaged in fishing. But not with a simple fishing rod as in simulators of this type, but with the help of a natural cannon firing fishing nets.
Our main task and the main goal is to catch as much fish as possible. Using ordinary spinning, this will take a lot of time because, at our disposal, there are several types of guns that release shells opening into the fishing tackle.
Each of them differs in the power and speed of the shot, and also the purpose of the net. After all, each fish needs its own fishnet with the required cell size.
There are a lot of species of fish. Starting from simple fry and ending with jellyfish, rays and even sharks. If you can manage small and medium fish with the help of nets, then you can not take large inhabitants of the sea depths.
For our help, we have three additional tools for fishing. The first two are a bomb and an electric shock. The explosion of a bomb stuns all the prey in its radius of action, and the discharge paralyzes it.
But the third tool is bread. Yes, simple bread. You throw it into the water, while a large accumulation of fish gathers around it and sprinkles the net.
In the game "Fishing Diary" there are even mermaids, they seldom swim and if they lasso, they will bring a lot of gold. It is recommended to spend bombs and charges on them because both one and the second is very rare. And you can make up for ammunition for a very long time playing or for real money.
For each fish caught you are awarded gold coins. But it is necessary to learn that every shot from a cannon is accompanied by their waste. Because your income must cover expenses.
Having accumulated a sufficient number of gold coins, invest it in the modernization of guns. From time to time a laser cannon appears in the game, from which you can shoot only once, so do not squander it, this time was very successful and profitable.
As for the graphic design, it is performed at the highest level. The picture is not worse than in the cartoon about Ariel. Beautiful graphics, a nice soundtrack, and addictive gameplay provide more than one hour of comfortable play.
One-touch control. There are no age restrictions, the game will appeal to both children and adults.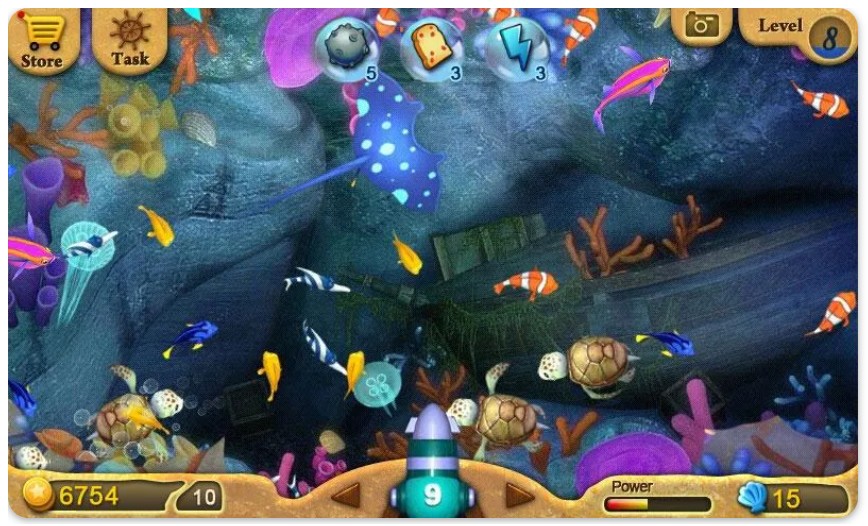 You may also like: 11 Best fishing games for Android & iOS
Fishing Break
The guys from the "Roofdog Games" company have released a new arcade in which you will be able to fish. Anyone can download Fishing Break on Android and iOS. There comes a time when the player can go fishing.
Take a boat with you, spinning and go fishing. The interest consists in the fact that there are several completely different locations. Each of the locations provides an opportunity to catch different kinds of fish.
Catch a rare type of fish, upgrade your own equipment, and try to build an incredibly cool collection.
Features of the game
The game has some features, due to which it cardinally differs from other projects and attracts the attention of millions of users of the Play Market and AppStore. Try to catch as many fish as possible, increase your place in the rating table and compete not only with friends but also with all the inhabitants of our vast world.
You can reach incredible heights, for which you will receive some rewards. There are 22 different places for fishing. All of them are located in different worlds, of which there are about 8 pieces.
Among the fish, you can find hundreds of species. I would like to draw your attention to the fact that among them, there are sharks. In the game, you can spend a lot of free time.
Rest during fishing, catch a fine fish, and prove to everyone that you are a real fisherman.
The game turned out to be worthwhile, the developers have done an excellent job of it, added some famous kinds of fish, and will also be able to acquaint us with other species that until recently were completely unknown to us. Yes, there are such kinds.
They are very beautiful and even tasty. Who would have thought, wouldn't it? If you are ready to immerse yourself in this incredible world, then we advise you to download the Fishing Break on your device right now.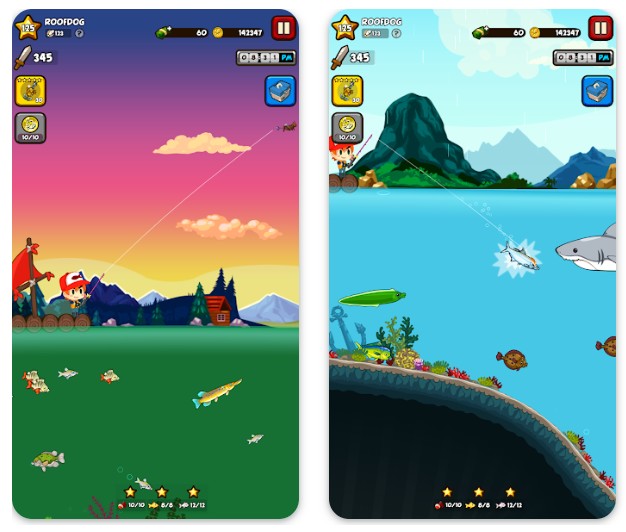 Toy Fishing Game
Playing this game can become a nice way for children to spend their time with pleasure.
The player's objective is to catch as many fish as possible within a given time limit by tapping on the screen to cast the fishing line and reel in the fish.
This game includes different levels, each with its own set of challenging levels and fish to catch, keeping the gameplay engaging and exciting.
What's more, the fish and underwater scenery are vibrant, but the design lacks detail and can seem a bit cartoonish. The app's sound effects are also adequate, but the background music could be better.
While Fishing Game is an exciting app, there are a few disadvantages such as occasional glitches or bugs, which can lead to frustration and interrupted gameplay.
In addition, the app's advertisements can be excessive, popping up frequently and sometimes even during gameplay.
Advantages:
Simple gameplay.
Different levels and challenges.
Colorful graphics.
Drawbacks:
Occasional glitches and bugs.
Excessive advertisements.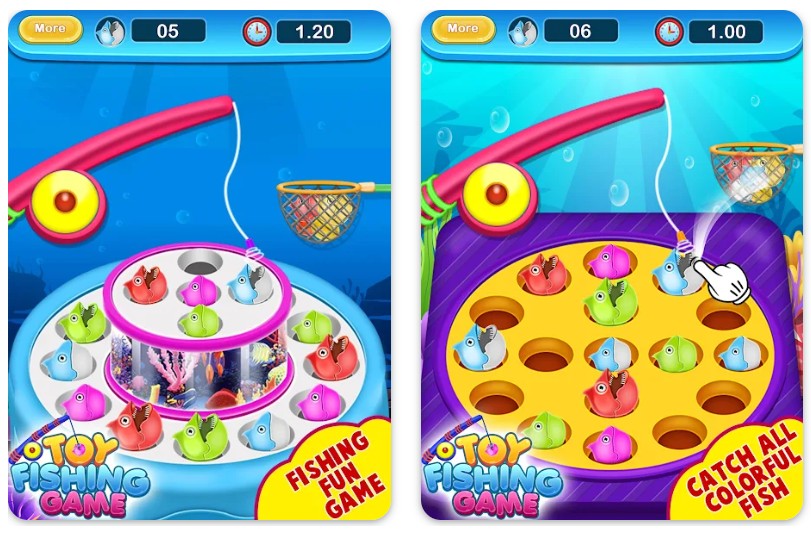 Funny Kids Fishing Games
This is an arcade-style game that can be both educational and funny for kids.
The gameplay revolves around a fishing adventure where the player is in control of a hippopotamus who tries to catch as many fish as possible. You have a simple one-touch control system where the player taps the screen to lower the fishing line and catch the fish.
Children have to be quick and strategic to avoid obstacles like bombs and jellyfish while collecting coins and power-ups to boost their performance.
The animations are smooth, and the game runs without any lags, providing a seamless gaming experience.
However, the game can become repetitive after playing for an extended period, as there are limited variations in the gameplay.
This game is easy to understand, making it ideal for kids and adults alike. The graphics and animations are decent, providing a good visual experience.
Advantages:
Simple one-touch controls.
Colorful graphics and smooth animations.
Drawbacks:
Frequent advertisements during gameplay.
Limited variations in gameplay.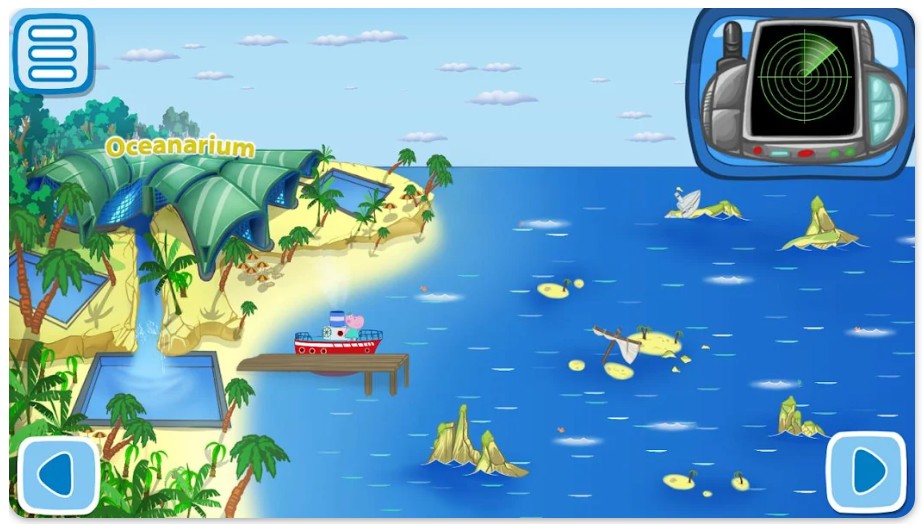 Hippo Fishing
If your kids are fond of fish, so you should let them play this game. It is entertaining and suitable, especially for children.
Kids assume the role of a hippo and are tasked with catching fish in a river. The hippo is controlled by swiping the screen in the direction they want it to move.
The game's objective is to catch as many fish as possible while avoiding obstacles such as rocks and other animals in the river. As kids progress, the game becomes increasingly challenging, with faster fish and more obstacles to avoid.
The graphics of Hippo Fishing are decent. The game features colorful, cartoon-like graphics, which add to the game's overall charm. The animation is smooth, and the sound effects are satisfactory.
Despite its simplicity, Hippo Fishing does have some gameplay nuances that make it interesting to play. For example, some fish require a specific technique to catch, such as tapping the screen at the right time or holding down the screen for a certain amount of time.
Advantages:
Simple and engaging gameplay.
Colorful and charming graphics.
Interesting gameplay nuances.
Drawbacks:
Repetitive gameplay.
Unresponsive controls at times.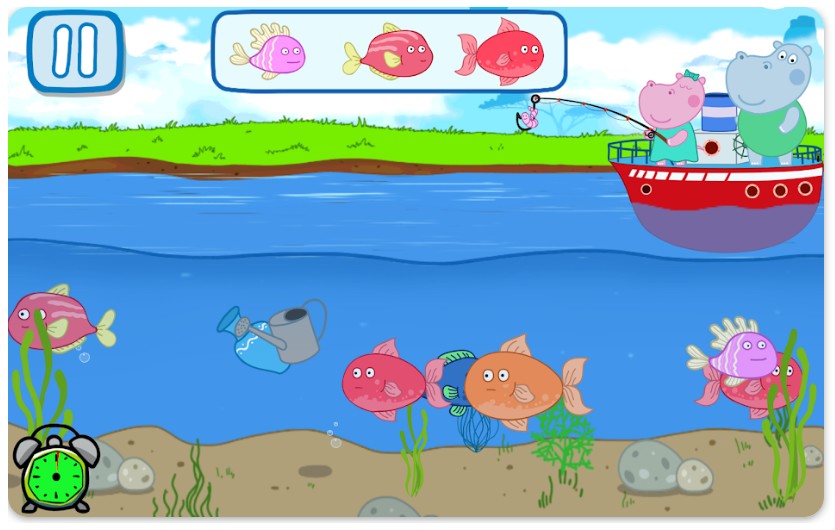 Fish School
Fish School is a fun and educational game designed for young children aged 2-5.
Children are tasked with identifying and matching shapes, colors, and numbers to help the fish swim through hoops. The game is designed to improve children's cognitive and problem-solving skills while also developing their hand-eye coordination.
The graphics in Fish School are excellent, featuring bright and colorful underwater scenery that children will find engaging. The app also features lively sound effects and music that will keep kids entertained.
While the app is mostly well-designed, some users have reported issues with occasional bugs and glitches.
There are a few comments from frustrated users who have experienced difficulty with certain levels, but overall, most users seem to enjoy the app and find it both entertaining and educational for young children.
Advantages:
Fun and educational gameplay.
Engaging graphics and sound effects.
Helps develop cognitive and problem-solving skills in young children.
Drawbacks:
Occasional bugs and glitches were reported by some users.
Some frustrated comments regarding the difficulty in certain levels.


Check also: 11 Free Mermaid Apps for Android & iOS
Ninja Fishing
Ninja Fishing is a game that takes players on a fishing adventure.
The game has a unique gameplay style, where players cast their lines deep into the ocean, hooking as many fish as possible, and then quickly swipe to slice them in half before they surface.
The goal is to catch the biggest fish and earn coins to upgrade the fishing equipment, including rods, lures, and boats.
Also, the graphics of Ninja Fishing are not the best in terms of quality, but they are not bad either. They are cartoonish and colorful, which gives the game a lighthearted and fun vibe.
The visuals are well-optimized for mobile screens, making it easy to play on most devices.
You should avoid obstacles, such as bombs and jellyfish, which can slow them down or explode their catch. This adds an extra layer of challenge to the game, making it more engaging and fun to play.
However, some drawbacks of the game include occasional glitches and bugs that can affect the gameplay experience.
There have also been a few frustrated comments about the app's heavy reliance on in-app purchases to progress through the game, which can make it seem like a money-grabbing scheme rather than a fun game.
Ninja Fishing is a fun and addictive game with unique gameplay mechanics and decent graphics.
Advantages:
Unique gameplay style.
Engaging and fun to play.
Decent graphics.
Drawbacks:
Occasional glitches and bugs.
Heavy reliance on in-app purchases.