Looking for a way to monitor horse riding sessions? Then keep reading this article!
Here's our list of the best free horse-tracking apps for Android & iOS to you could try. These are horse management apps that let you monitor your riding sessions and training progress. The apps will track the distance, duration, speed, and a couple of other parameters. Some of these apps also offer dressage tips and even video lessons. Have a look!
Equilab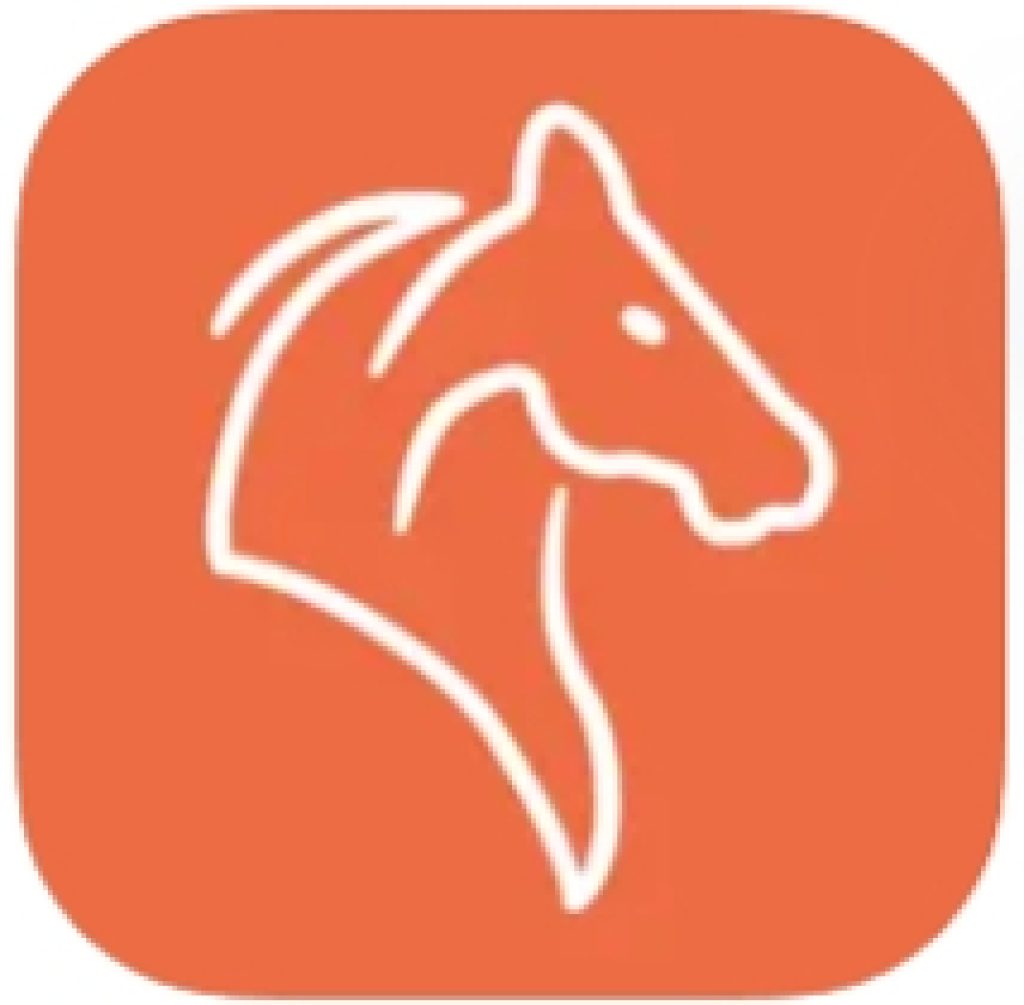 To start with, we have an app that lets you track rides and become a part of the equestrian community. It's suitable for equestrians of all levels: from those who ride on weekends as a hobby to actual Olympic riders. The main goal of this one is to help you grow and ease the progress tracking as much as possible.
As for the features, the most useful one is a tracker that lets you analyze the distance, time, and gait of your rides. All you need to do here is to start recording as the riding starts and stop it once you're done with it. The tracker syncs with a map and tracks your GPS data along the way. And if you'll buy a pro subscription, you'll be able to share your location with your friends and fam to stay safe.
You can also use the app to schedule your routes and coordinate with trainers and vets with little to no effort. You'll be able to make a personal calendar that can be shared with just one tap. Plus, you can keep your motivation going by participating in challenges and earning achievements.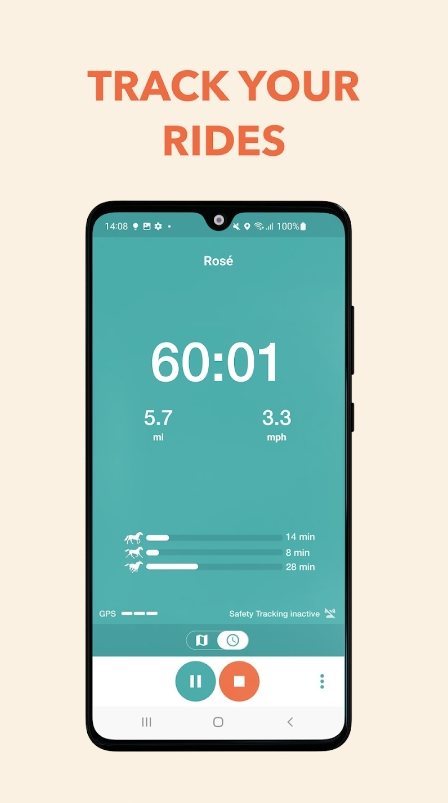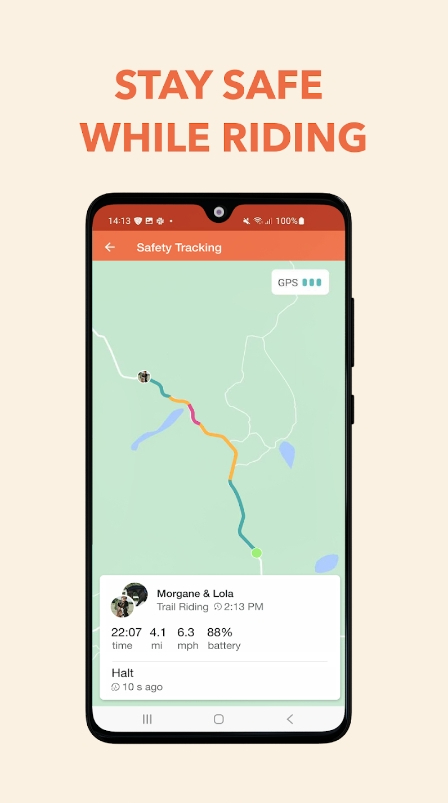 You may also like: 9 Free Apps to Watch Horse Racing
Horse Riding Tracker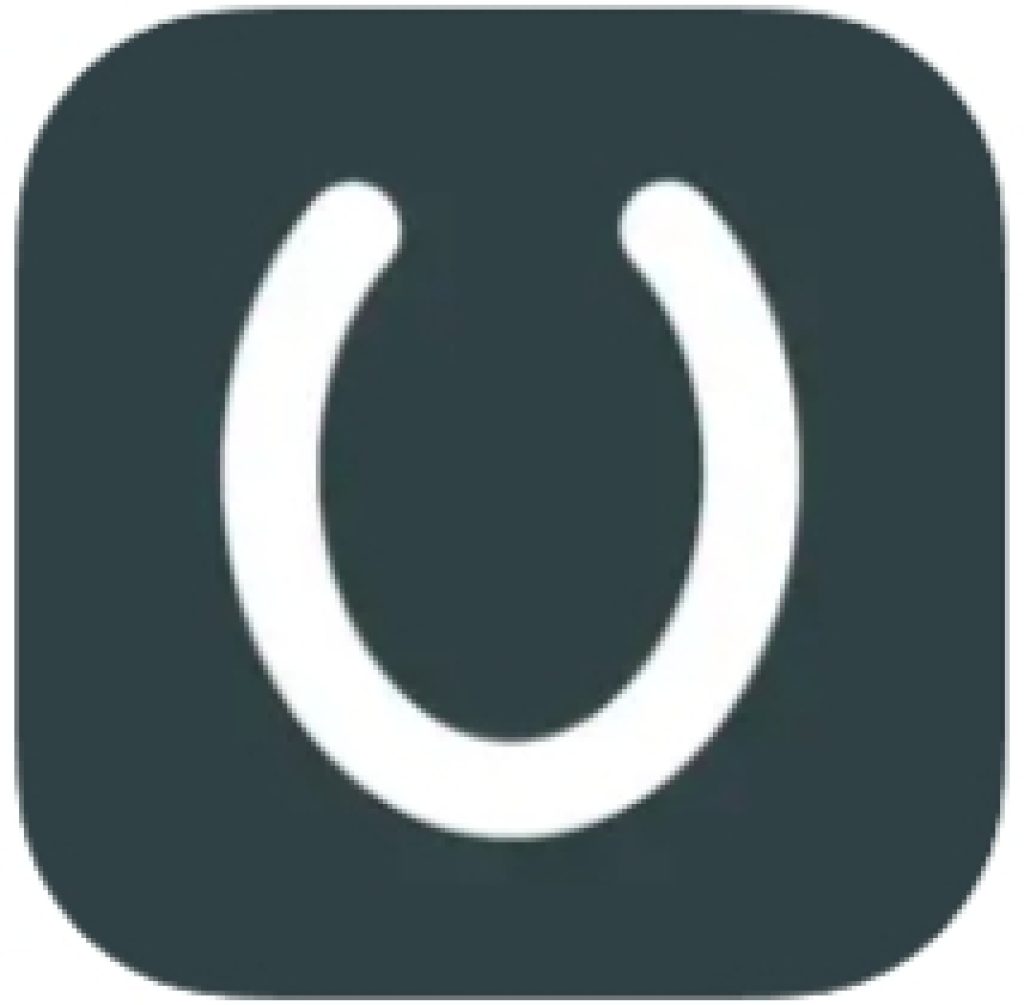 This app is a must-have for horseback riding. It's here to enhance the effectiveness of your training and let you track and analyze every ride. The concept is pretty classic for the genre: you tap recording when the ride starts and stop it once you're finished. As the ride goes on, the app will track your GPS data and provide an in-depth report later on.
The report includes the info on the distance you've passed, the duration of the ride, and the average speed as well. And if you'll need to get into details, the app also detects max speed, high speeds, and even splits You'll be able to open a map and view your entire route after every session. You'll even get to see how long you were doing one of the horse gaits (aka step, trot, and gallop).
More to that, you'll be able to attach horse info to every session. The app lets you add a horse name, breed, saddle, stale, and whatever else is needed. The app is easy to use, and it will be helpful for both casual riders and professional equestrians.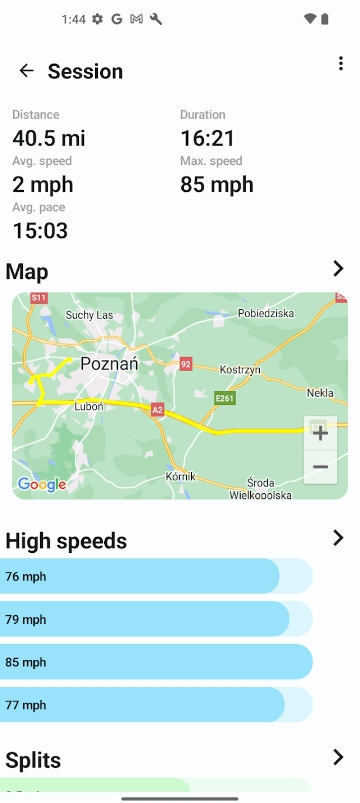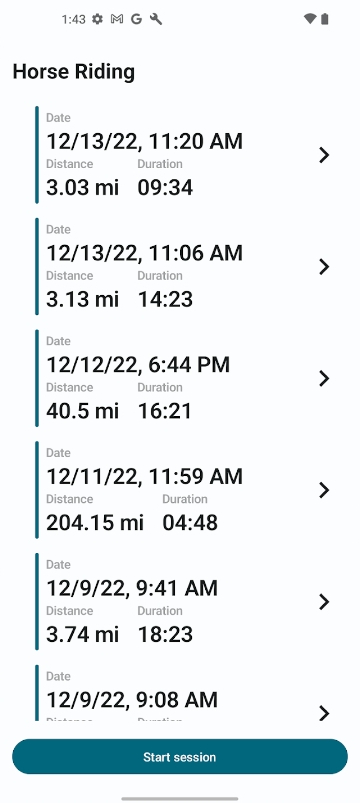 Rideable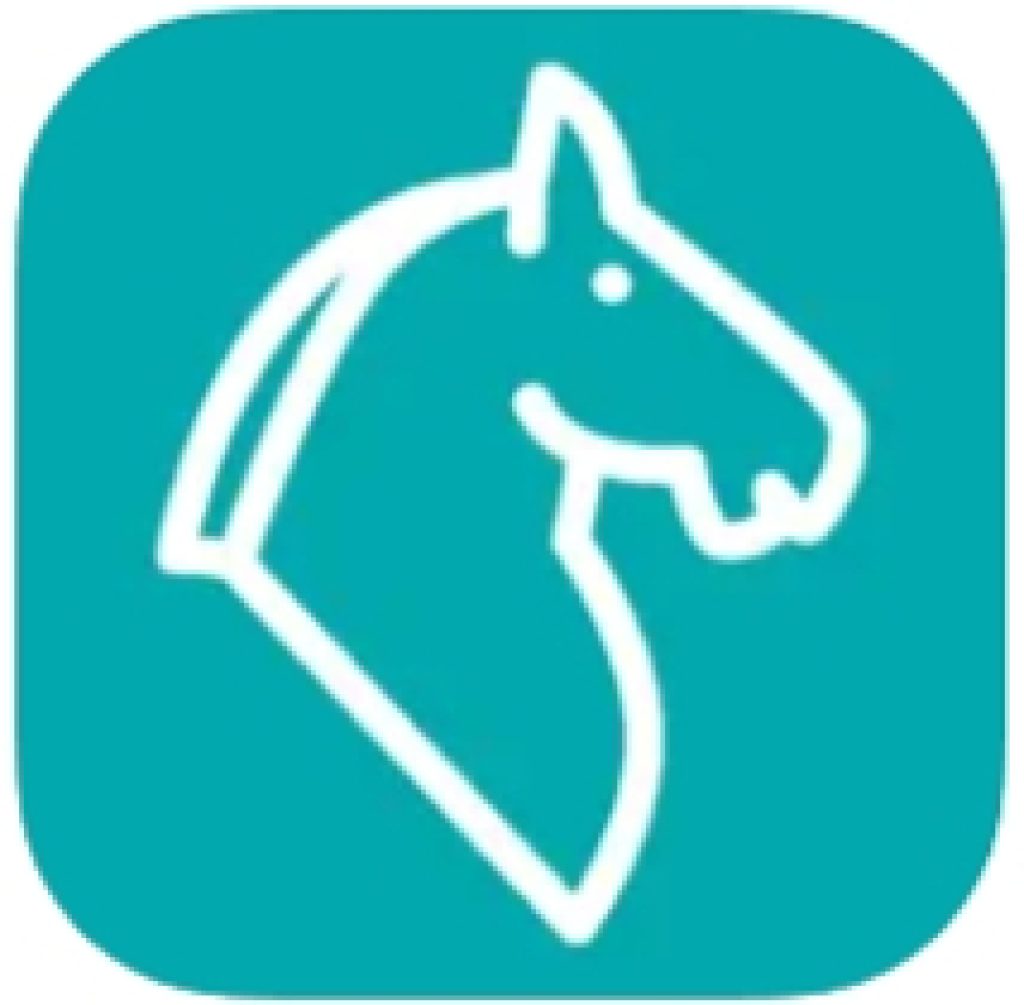 Here's an app to track your horse riding progress. It's a fully-featured tracker that lets you record your riding sessions and groundwork. Once the sessions are done, you'll get to add horse info, and the app lets you track up to 8 horses per day. The session report will include the info on the duration of the ride, the distance, the speed, and all that.
The app also lets you estimate how well each session went and log if the groundwork was done or not. It lets you add short notes as well. You'll get to attach the reports to the calendar and track the history back with just a few taps. The only thing the app doesn't provide is a session map.
As for the other features, the app covers a library of groundwork and riding ideas. There are over 100 ideas in general, and 12 free polework ones as well. You can also use the app as a diary for all kinds of notes and training info if needed. There are no ads here, which is pleasant.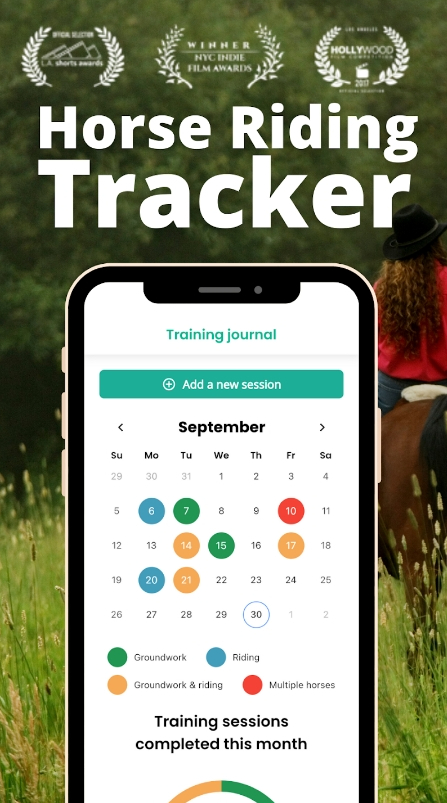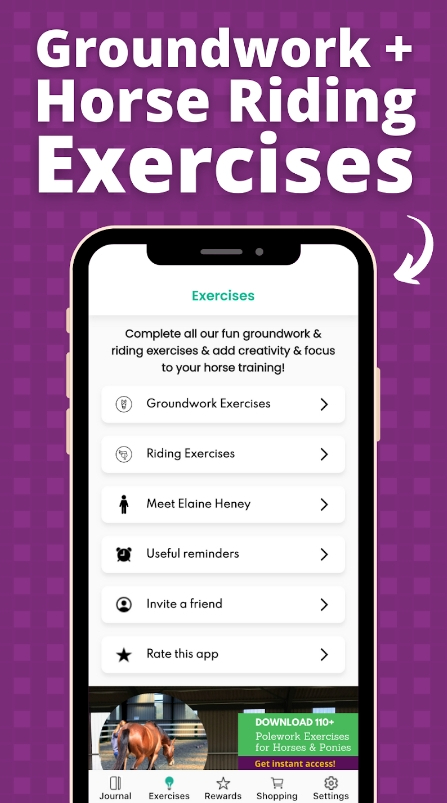 Equisense Inside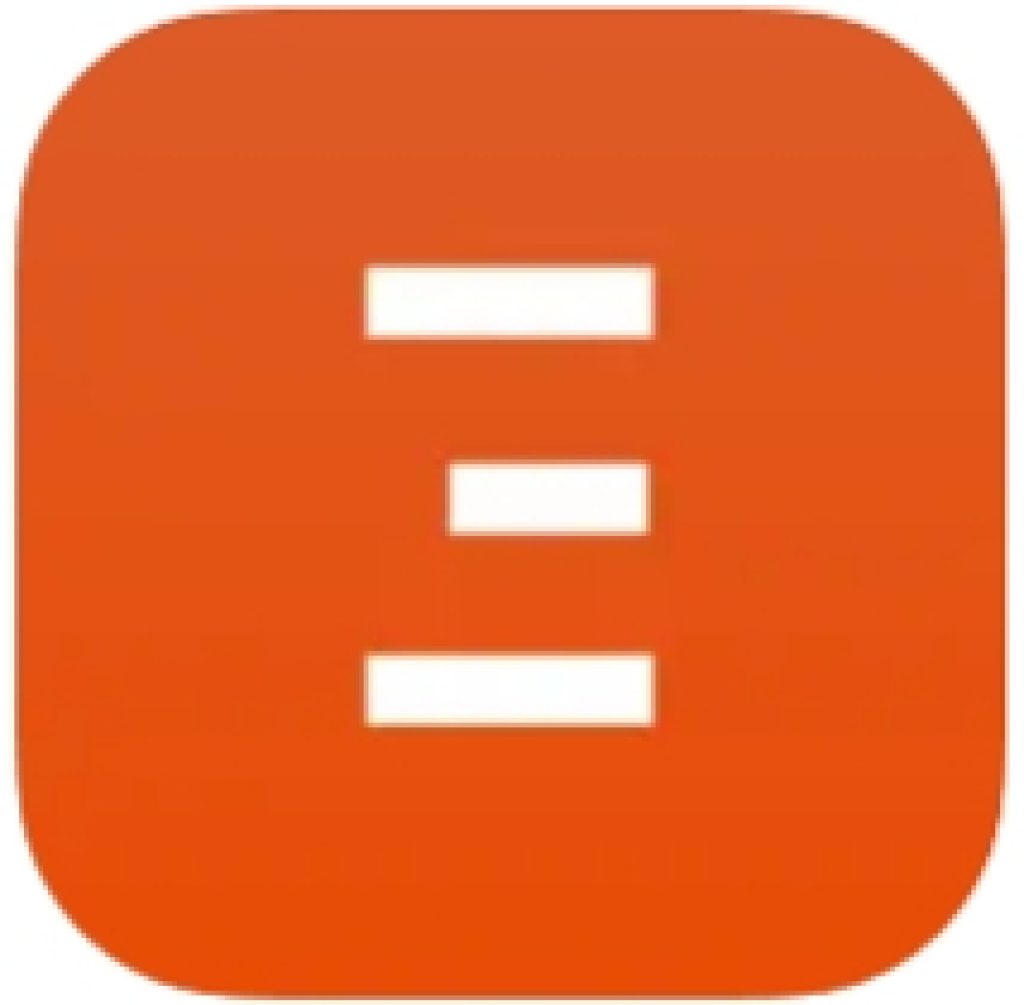 The main goal of this app is to improve your riding performance. More to that, it helps with detecting and preventing such things as lameness. But this tool only works if you get a special motion sensor that gets placed into the saddle. These indicators are helpful for finding lameness problems and tracking your performance in general.
However, you can use the tracking tool without any sensors by simply allowing the app to track your GPS data. It will record your entire session and provide a detailed report of it. You'll get to view the map of each session and save the route if needed. Plus, the app will show you speed info, and you' eleven get to view speed in real time.
You'll also get to view the total distance and durations of the sessions and add horse info to the report. The horse info includes the name, breed, and personal notes. The app offers over 3 exercises for you to practice and track as well.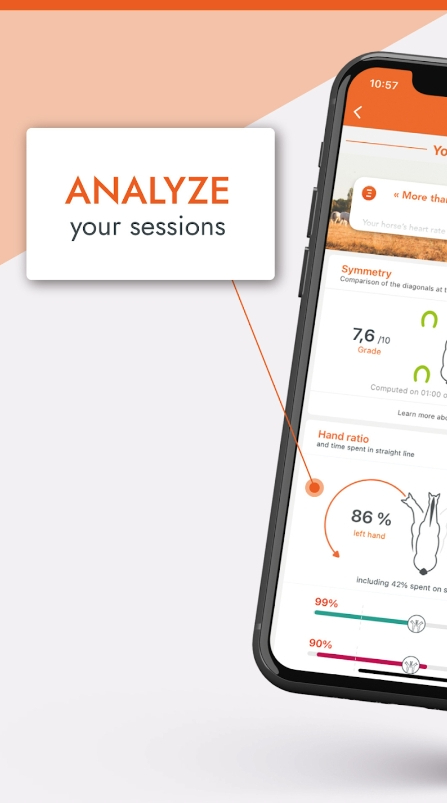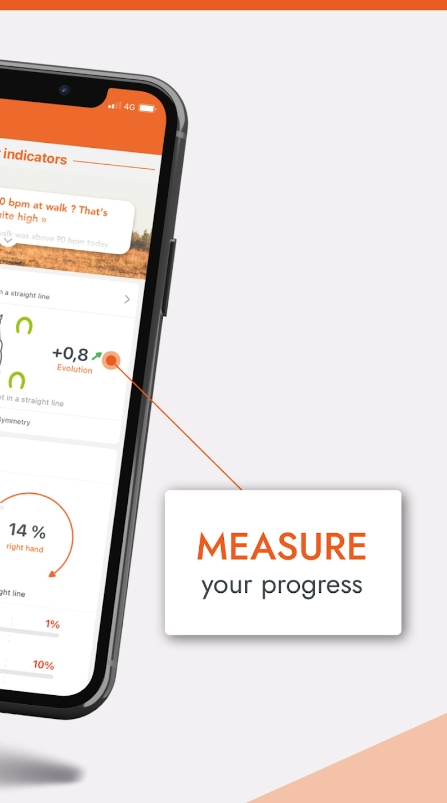 Check also: 11 Best Horse Racing Betting Apps
Strides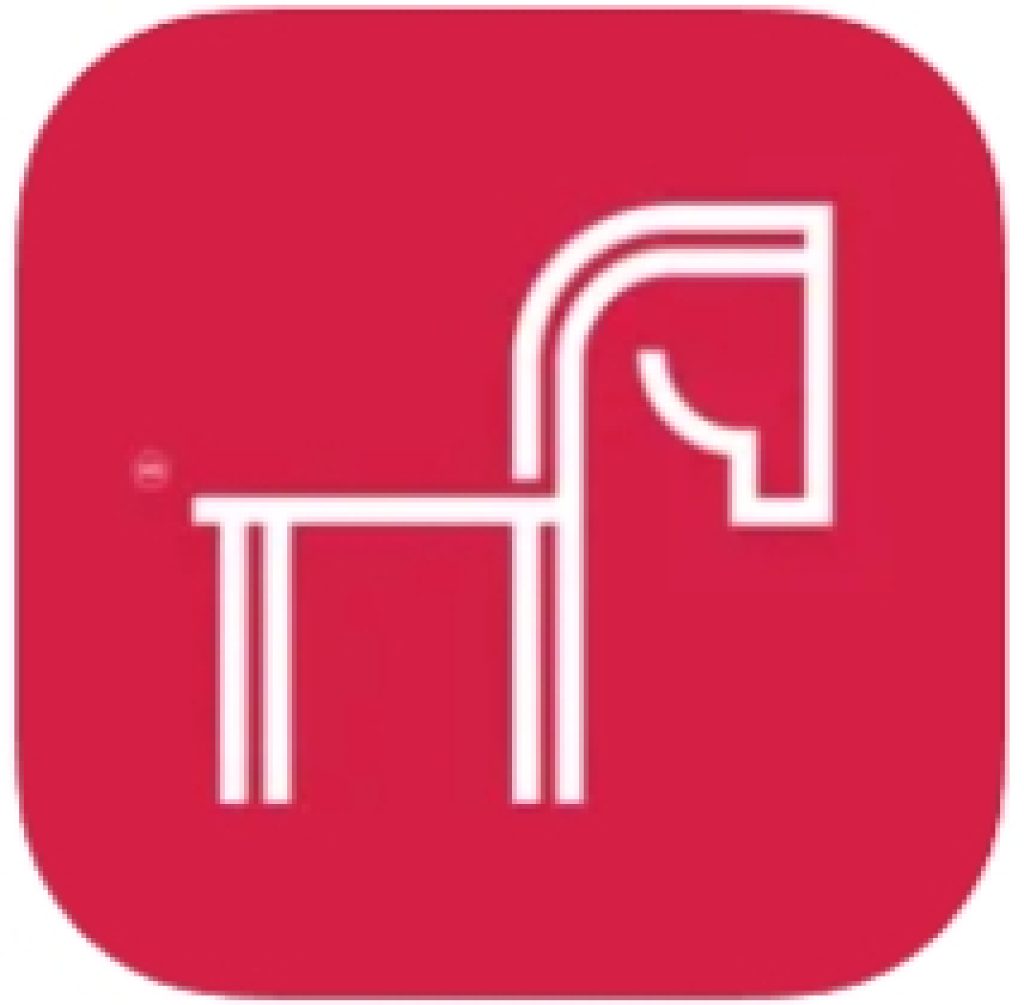 It's an iOS app to track progress with your horse. The app lets you document your riding sessions and groundwork with little to no effort. It will track your GPS along the way and provide a map with your route right away. It will display the speed in real-time and show you the average and max speed in a report.
You'll get to add horse info to every report and estimate the session according to productivity, effectiveness, and all that. There's even a special horse happiness tracker to document the mood and behavior of a horse. All the data gets saved and syncs to the calendar that you can review at any time needed.
Beyond that, the app features cool flatwork floor plans you can download and use for free. It also offers polework experiences and even audio lessons to do on the go. And if that's not enough, there is a full-on section of riding music and special meditation that help you calm down and prepare for the ride.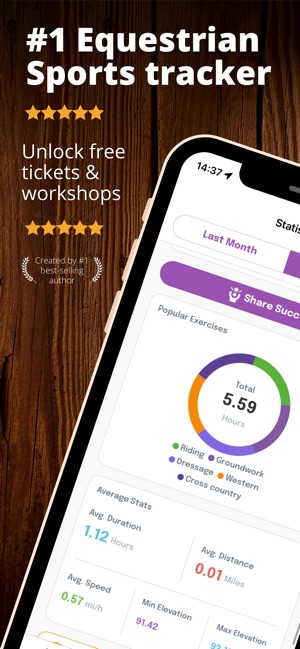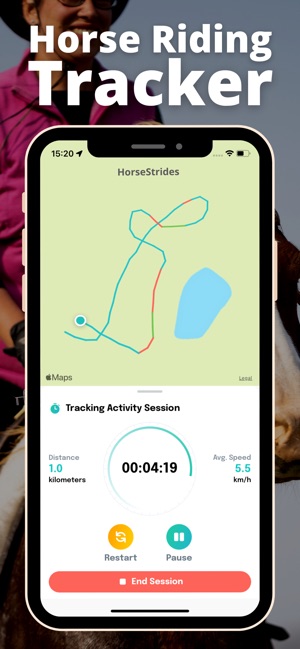 Dressage Hero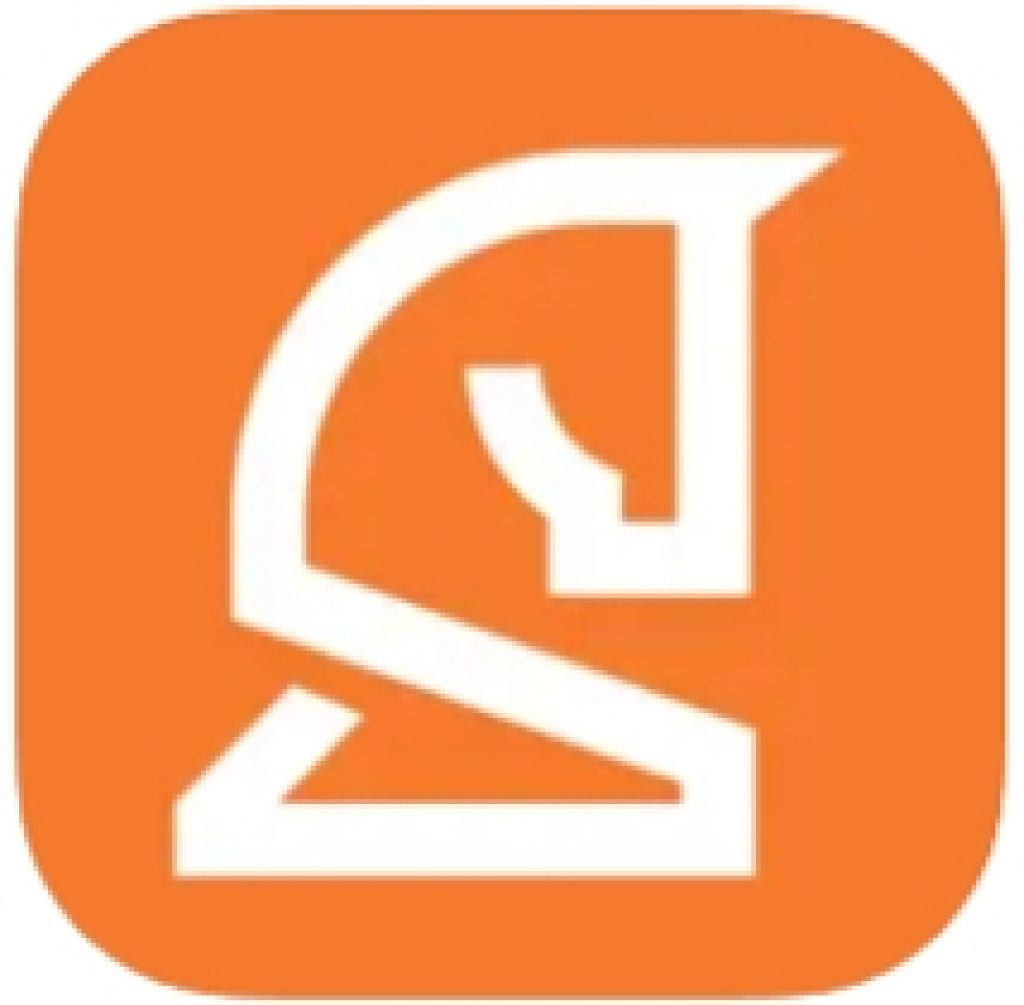 This app is here to help you boost your dressage skills and flatwork. It covers a full-on library of tests and horse riding games you can incorporate into your routine easily. It also offers competitions you can do in an arena along with fun lessons for skills improvement.
And if you're a beginner, there's a guide to lateral work you can get for free. As for the tracking tool, it's here to help you track monthly progress and improvements. It won't track your routes as the other apps do, but it's still helpful as it lets you track dressage techniques.
You'll get to monitor walking, trotting, and cantering individually, and the app will generate reports you can show to trainers (or just use as a source of motivation). The app will save your results and greet you with rewards. As for the tests, there are audio dressage tests with in-depth instructions that are easy to follow. The app also works as a community you can always reach to ask questions.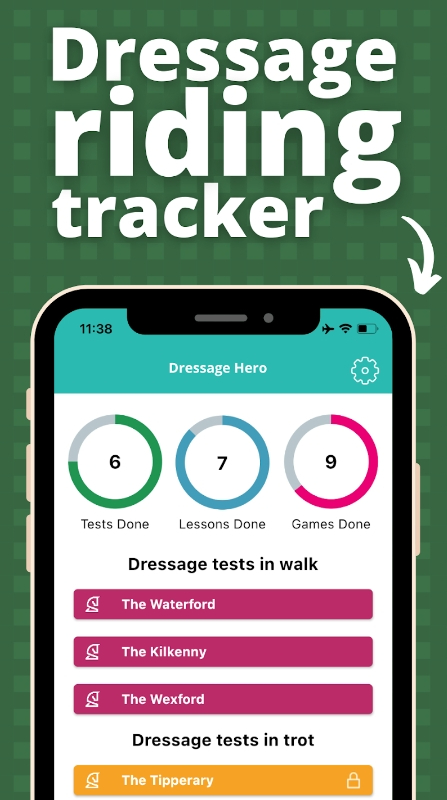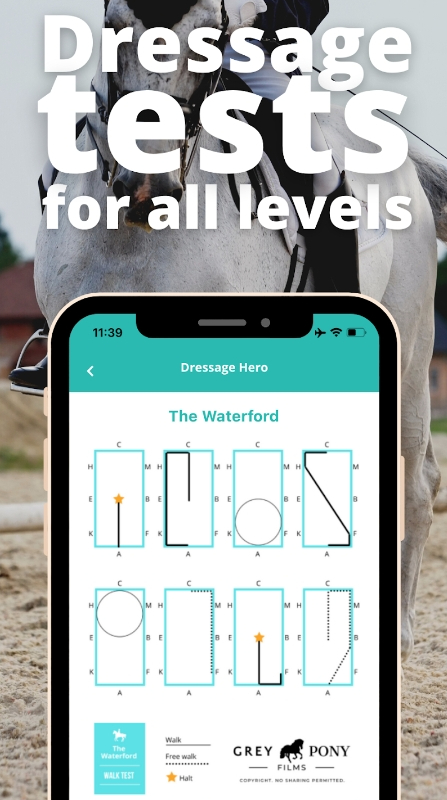 You may also check: 8 Best Farm Accounting Apps
Ridely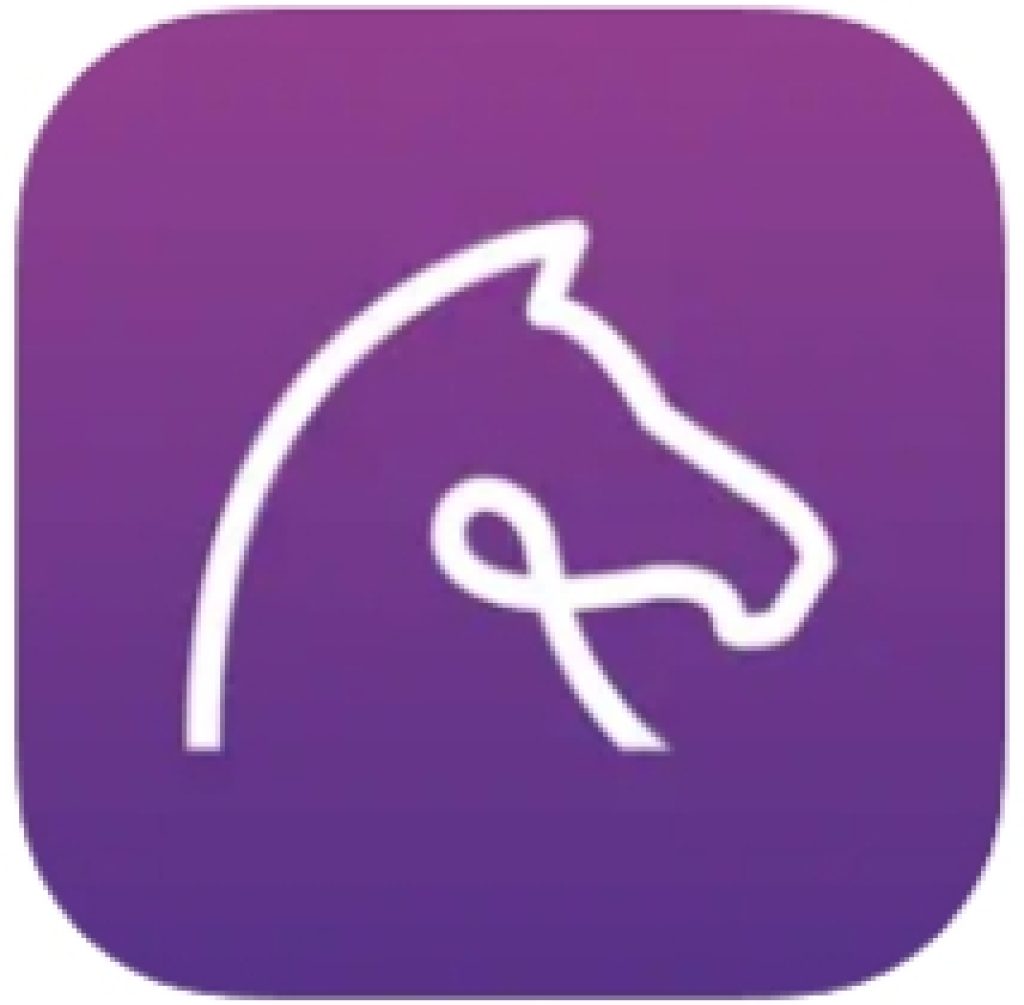 And lastly, there's an app that will become your personal training partner. It will answer all the questions you may have about horse riding and guide you into training in general. You can use the app to schedule your training and routes and track the progress along the way.
You can use a built-in calendar to log the type of activity, status, and even media files for the session. All the info gets saved within the app, and you'll get to view it at any time. Plus, the app covers a library of video lessons from top trainers you can follow. There are videos on different dressage techniques and training, and new ones get added regularly.
Herewith, the app runs as a friendly community of horse riders. There are tons of thematic groups you can join to connect with like-minded people. Some of the groups are curated by all kinds of experts that are ready to answer your questions as well. You'll even get to share videos of your training if needed.