We all live on land and do not suspect that there is another kingdom in the sea and the ocean, of which very few people know – this is the Sea Kingdom, in which there are many fish, dolphins, whales, as well as creatures such as mermaids. Little Mermaids are very similar to people, but their fate has developed so that instead of legs they have a big fishtail.
You may also like: 25 Best apps for teenage girls (Android & iOS)
Being a mermaid is not only dress up in the tail but also feel like a mermaid. If you're a real mermaid in the soul, you will like this selection of apps for Android and iOS!
Mermaid Secrets
Mermaid Secrets in this game, you take on the role of a mermaid who has to overcome the difficulties of living underwater.
The game has a variety of tasks and challenges, including puzzles, dress-up games and interactive storylines. You can customize the look of your mermaid character and explore different underwater environments.
The graphics of Mermaid Secrets are colorful this allows you to fully immerse yourself in the gameplay. The gameplay is suitable for all ages, with simple controls and a clear interface.
But some users are reporting crashes and technical issues with the app that can detract from the overall experience. In addition, the game has in-app purchases that may annoy some players.
Mermaid Secrets is a great pastime for those who love casual mobile games. With charming graphics and addictive gameplay, this game is worth a try for anyone who wants to escape to the underwater world for a while.
Just remember to watch out for those pesky sea monsters!
Game Features:
Colorful and addictive gameplay
Suitable for any age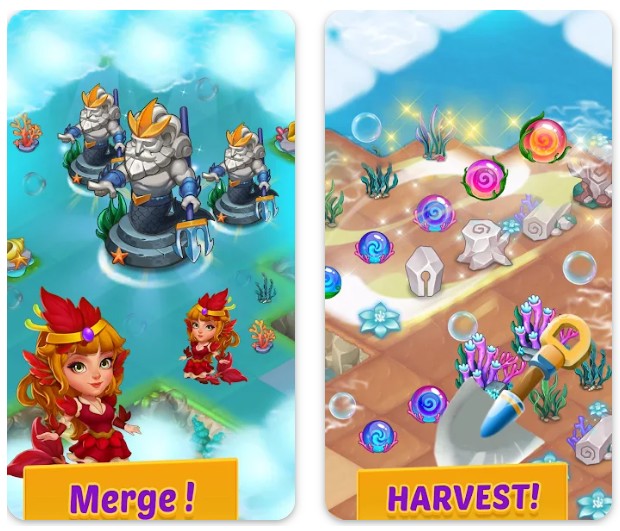 You may also like: 12 Free makeup apps for Android & iOS
Mermaid Secrets
Mermaid Secrets is a mobile game application developed by Lady Wizard that allows you to experience the life of a mermaid.
Through a variety of tasks and challenges, VC must help their mermaid character navigate underwater obstacles, explore the ocean, and interact with other sea creatures.
The game features colorful and detailed graphics, creating a vibrant underwater world for players to explore. The gameplay is intuitive and easy to understand, with simple controls and clear instructions for each task.
The app also includes fun mini games to keep you busy and entertained.
One of the potential downsides of the game is that it can become boring after playing for a while, with similar challenges appearing frequently.
Also, some users have reported random bugs or crashes in the game, although these seem to be rare.
Mermaid Secrets is a fun and addictive mobile game for those who love adventure and fantasy.
High quality graphics and intuitive gameplay make it a great choice for players of all ages. Whether you're a mermaid lover or you just want to have some fun, this app is sure to make a splash!
Game Features:
Cons of the game:
After the time of the game, the tasks become the same type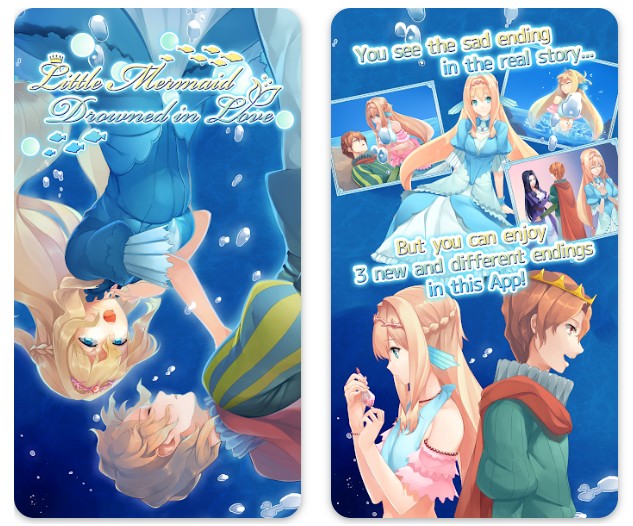 Bobo the Little Mermaid
Bobo the Little Mermaidis an exciting adventure game. This app will take you on an underwater journey where you can explore the endless depths of the ocean, collect treasures and help the little mermaid Bobo in her quest to save her friends from danger
The game has excellent graphics with bright and colorful animations that are sure to captivate players of all ages. The gameplay is also fluid and easy to navigate which makes it fun.
As you progress through the levels, you will encounter various obstacles and enemies that you must overcome in order to advance to the next level.
The game also has various power-ups that can help you on your journey.
While the app is well designed, some users have reported random crashes or crashes. Also, the game can feel a bit repetitive after a while.
Bobo the Little Mermaid is a fun and entertaining game with excellent graphics and addictive gameplay.
This may not suit you if you are looking for a more challenging game. If you want to dive into a fun and simple adventure, try this app!
Game Features:
Colorful and addictive gameplay
Suitable for any age


Mermaid Makeup Dressup
Mermaid Make up Dress up is a mobile application that allows you to feel like a mermaid stylist
With a wide selection of makeup, hairstyles, outfits and accessories, you can create a unique and personalized look for your mermaid.The graphics of the application are colorful, bright and of high quality.
The gameplay is smooth and easy to navigate, allowing you to easily switch between different options and customize the look of your mermaid with just a few clicks.
One of the downsides of the app is that some features are locked down and require users to make in-app purchases to access them.
In addition, sometimes the application may load slowly or be buggy, which can annoy users.
Mermaid MakeupDressup is a great option for those who want to unleash their creativity and create their own mermaid character.
Despite a few minor flaws, the high-quality graphics and smooth gameplay make the game enjoyable for users of all ages. So, dive into the world of mermaids and let your imagination run wild
Game Features:
Good quality graphics
Interesting gameplay that allows you to use your creative ideas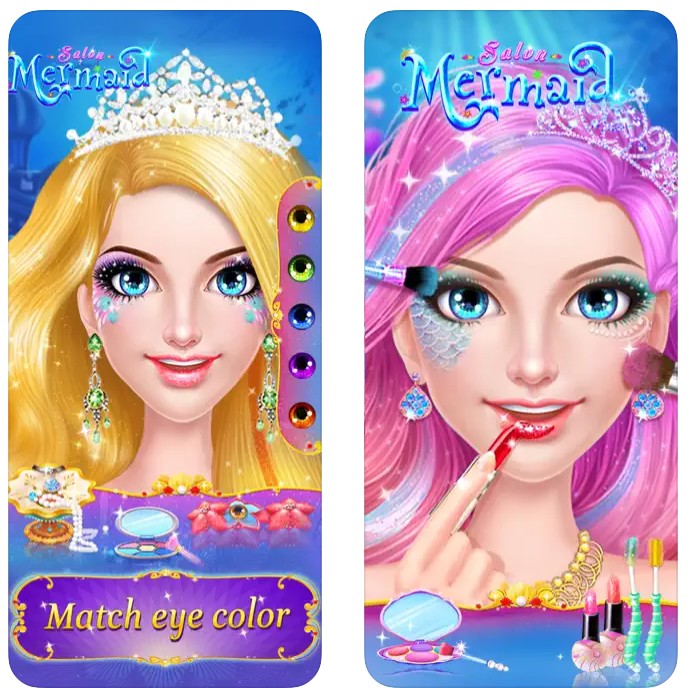 Secret Mermaid: Season 1
The plot of this game is really similar to the classic mermaid tale. Here the mermaid asks the underwater witch to turn herself into a human and let her out to the outer world. However, she must find her true love on Earth – and kiss him until she turns mermaid again – well, here is the main difference from the original.
By the way, this is the type of game that will probably be cool to play practically for all ages – may be excluding the most little ones. Secret Mermaid is made as a classical storytelling game where you have to pick up the answers in the characters' dialogues.
However, here you will find some modifications – as soon as the witch turns you into a human you go to a closet and pick the most pretty dress to go after your true love on Earth. The name of the main protagonist is Layla – she is the high-school-aged girl, so she goes to high school. She meets a gorgeous boy there named Max.
Then you will be watching the classical high school drama as you find out the Layla's best friend has an affair with Max. By the way, you need to stay away from any contacts with water – otherwise, the magic will disappear and you will turn into a mermaid soon (Hello, H2O series)!
And, as the plot of the game keeps evolving, you find out that the witch has her own evil plan. As it often happens in the games of this type, this is just the first season of this teenage mermaid drama – there are more games in this series and you can get them all if you want.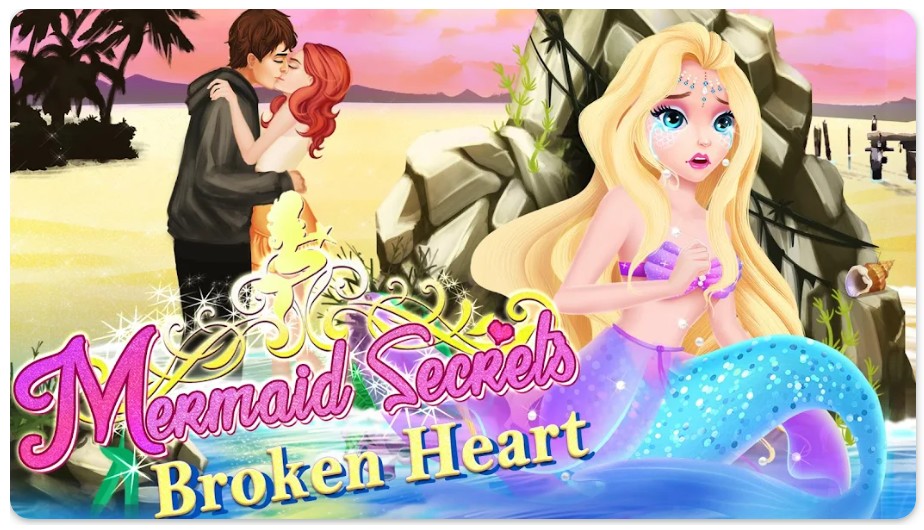 Mermaid Run
Mermaid Runis runner gamе where you have to travel on behalf of a mermaid. The game has a beautiful underwater world where you play as a mermaid who has to collect treasures and avoid obstacles.
The gameplay is simple. You control a mermaid by tapping the screen to make her swim and avoid obstacles like rocks, jellyfish and crabs.
The game also has power-ups like shields and speed boosts to help you along the way.
Stunning and colorful graphics create a realistic underwater world that will keep you on your toes for hours. The game also has a catchy soundtrack that adds to the overall experience.
The game has a flaw that can be repetitive after a while, but the developers regularly release updates with new challenges and features to keep it fresh.
Mermaid Run is a great choice for you if you want to dive into an endless journey through the underwater world.
So, grab your flippers and get in on the fun!
Game Features:
Cons of the game:
After the time of the game, the tasks become the same type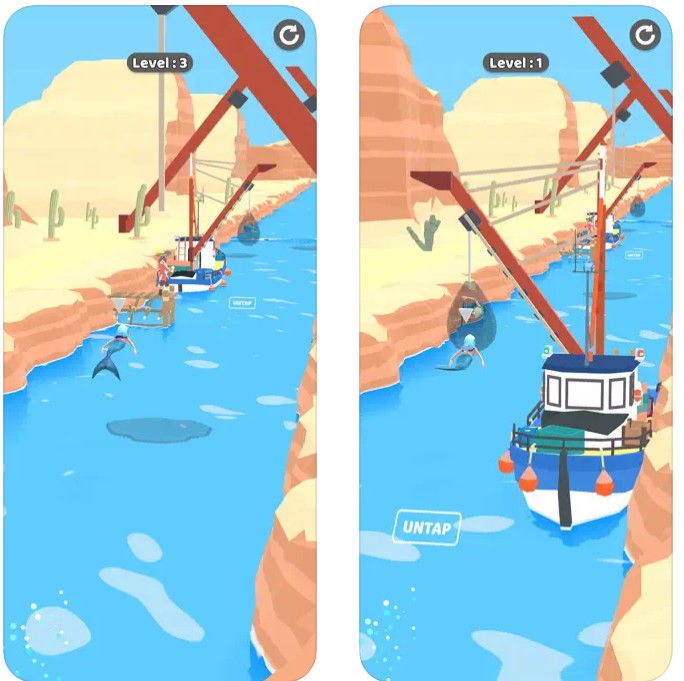 Mermaid Princess Beauty
This is basically an alternative to an app above but for iOS. The graphics here a little different – if in the previous app mermaids look more Barbie-chick-like, then here the characters have a softer, Disney-alike appearance. Moreover, here you will find some hints on 3D game mode.
At the same time, considering outfits and makeup, Mermaid Princess Beauty is less sophisticated. You will get as half as many outfits to choose compared to the previous mermaid game and the hair and makeup choices are quite basic and a little bit boring. On the other hand, here you can choose such a thing as a tail accessory!
An interesting feature here is that you can share later if the image of the mermaid that you created on social media.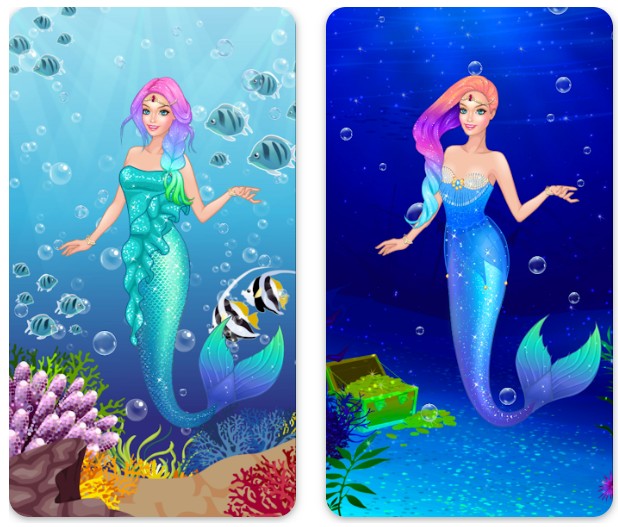 You may also like: 13 Free Fishing games for kids (Android & iOS)
Sweet Talking Mermaid Princess
This app is extremely simple, but, as you can see, it is quite popular. It's something like a classic Talking Tom app – you got a little talking mermaid in front of you to whom you can talk to or make her do various actions. The appearance of this mermaid is something between Disney's Rapunzel and Bloom from Winx – perfect for the primary school girls.
The mermaid talks in a sweet and nicest voice. There are dozens of actions that you can ask this mermaid to do, including inviting you to her underworld kingdom where she walks you through it, introducing to all of her mermaid friends. By the way, if you ask, they can even dance for you.
The graphics here are really cool and all the locations are made with close attention to details. For the older-aged users, this is a fun app to relieve the stress.

Wonderland: Little Mermaid
For all our little users there is the coolest game which is called "Little Mermaid". Unlike many people who might think, its plot and idea aren't based on a famous Disney cartoon – it is a unique authentic developing game for little kids. There are lots of activities to do in this game (even adults would find there's a lot) so kids will ever get bored.
First of all, there is the possibility to choose from 6 different mermaids for whom to play. All the characters are customizable which means you can choose dresses and accessories for them.
There are a lot of locations that you can go and explore finding various treasures on your way. You will face the breathtaking adventures and will dive into the colorful mermaid world. The developers say that the main goal of the game is to help kids to evolve their imaginations by adding creative elements to the Wonderland game.
There are 14 different locations to play at, including the mermaid house, mermaid restaurant, mermaid daycare, and the pirate's sunken ship. Apart from such activities as dressing up and makeup, there is also much activity as cooking.
One interesting element of this app is that here you have the multi-touch options – it means several people can play this game at the same time – for example, the whole family can play together. The graphics are 2D and cartoon-alike – perfect for children of the age of 4.
The only dubious thing that can be found in this app is there is a scene with a pirate ship with scary ghosts. Some parents claim those characters look creepy and completely inappropriate for the kids' perception. So if your kid is overly sensitive, keep that in mind.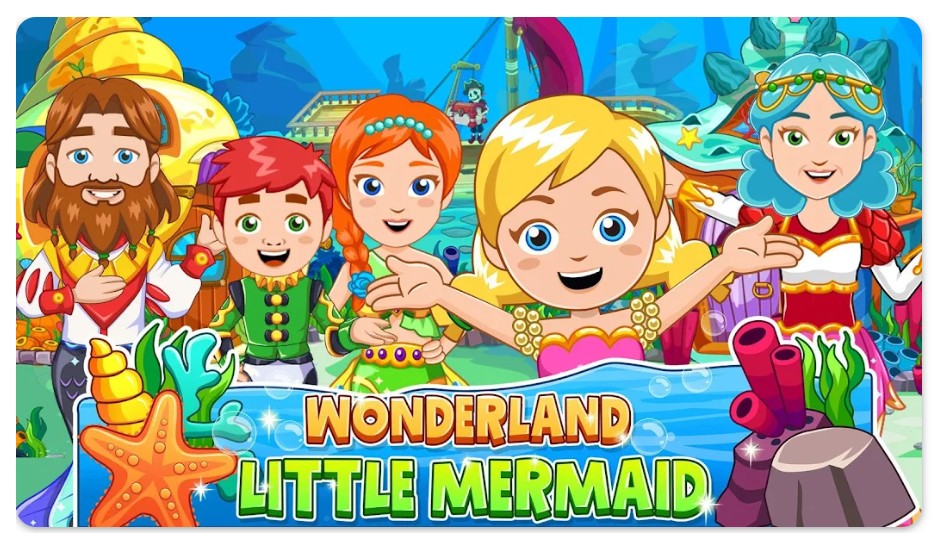 Magic Mermaid Salon
Another mermaid beauty salon game with nice graphics and exquisite characters. Express your creativity giving to all the characters the new makeover and new fresh looks. The idea of this game is to bring the atmosphere of the endless party to a salon and have fun in the process!
In this game, you can choose to be any one of the four most beautiful mermaids in the kingdom: Arial – the youngest mermaid princess of all, Pearl – the mermaid of healing magic, Coralia – the exotic mermaid of music, or Deema – the divine queen mermaid of the flower.
Choose the most chique outfits for them – there are more than 100 items to choose from! In addition to that, you can even customize the fish tale of characters (not all the mermaid salon games allow to do that). If you want, you can send your mermaid to a spa to improve her skin and for the overall improvement of her state.
Almost all the elements fo the makeup are made in the ocean theme and they are very beautiful. In addition, there is a great party dedicated to the birthday of the mermaid kind is coming so don't miss a chance to become a star that night! Create the best looks for your mermaid and go conquering the hearts of others!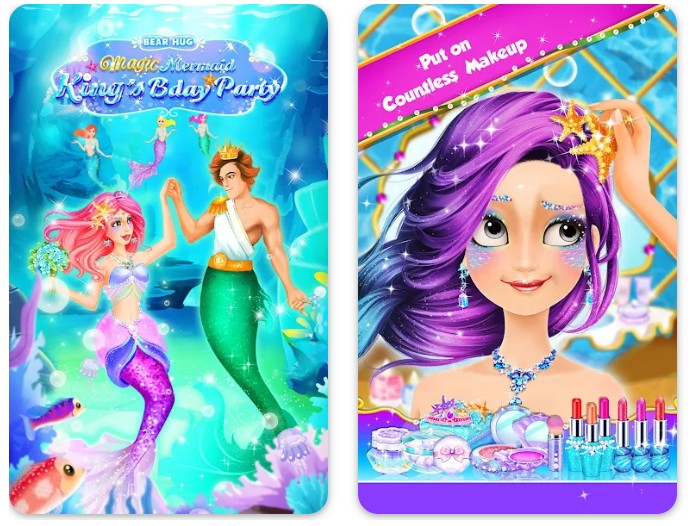 You may also like: 15 Best Disney Apps for Android & iOS
Secret Mermaid 5
As you see, there are more than 5 chapters in the "Secret mermaid" series, but this one got the highest ranking from the users of Google Play. And damn, these games are really captivating, since you're not only watching a plot but also take part in it.
In continuing of the previous story, mermaid Layla still fails to find her true love on Earth, and she has so little time! Moreover, she managed to fall into the lake in front of other people. Will her mermaid nature be revealed?! Play the game to find out (no spoilers!).
You will need to fix the situation with the lake and swim quickly to another bank of it before anyone reveals that you are a mermaid. In addition, your crush Max still hasn't decided if he wants to be with you or not. Along with that, some of the school kids start to suspect there is something wrong with you… Will they reveal your true identity?
However, not all the things are going that bad. It seems like you got a secret admirer but you have no idea who is it. But what to do with your own object of admiring? Is it true Max hates mermaids???
As always, along with all of these captivating events, you need to choose your outfits and makeup every day in order to stay the best looking girl around. You don't want to miss your time on Earth and go back to the sea, right? The time is running out!
It is not really clear why iOS contains only the 1st season of this game… Sorry iPhone users, but all the seasons can be found only on Google Play.