Why does everybody keep ignoring the office design? We always looking for a way to decorate our living rooms, kitchens, bathrooms, etc., while most of us tend to spend a significant part of our lives in the office!
Therefore, the design of this space is essential as well. In the article down below we found the best free office design apps. Besides the office space, a landscape of your backyard might be a creative space to design. For those purposes, we offer you to explore the free landscape design apps.
Planner 5D
Originally, this app wasn't developed to design offices, it was developed to design homes. However, taking into consideration the shortage of apps on the market for office design, we found some ways to use it for our original purpose as well.
First of all, we must give this app a shoutout for being so easy to use and having such a great interface! When you open the app, it asks you to choose the category of your project so it could offer a better template for you. Further, you can choose the "office" from the categories.
Moreover, Planner 5D contains educational and informative articles on the topic – but that's the side advantage. Just tap on the "office" window and start creating a new office project.
In the upper right corner, you can choose whether you want to view your project in a 2D or 3D model. Add rooms and objects to your plan, and add the furniture – in other words, everything, you need! You can move all the objects across the room and see where they fit best.
Not all the features are available in the free version though. But in all other aspects – Planner 5D is definitely our favorite one!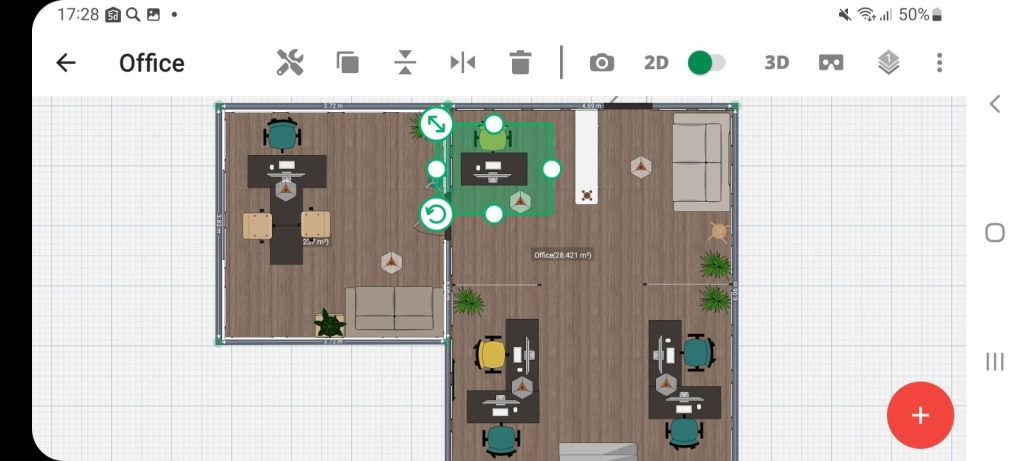 You may also like: 11 Best logo design apps for Android & iOS
magicplan
Another app for planning and project houses. One not really pleasant thing that we noticed as soon as we opened this app is that it asks you to create an account – for unknown reasons.
But let's not concentrate on that. This is a planner app and it's totally different from the previous one. Here you don't play with the looks – here you should enter calculations, measurements, costs, the price for materials, and all other essential aspects which are crucial for planning a room.
Therefore, you can always use this app as your personal project account and put all the data about it there. It's really convenient to use while constructing your office. And if you still want to have some visuals of what you want to achieve at the end – there is a section for photos and vids.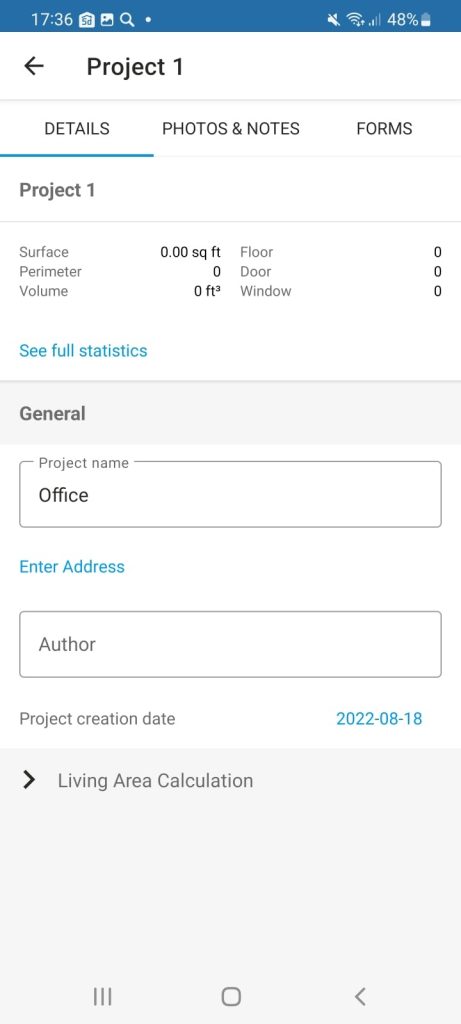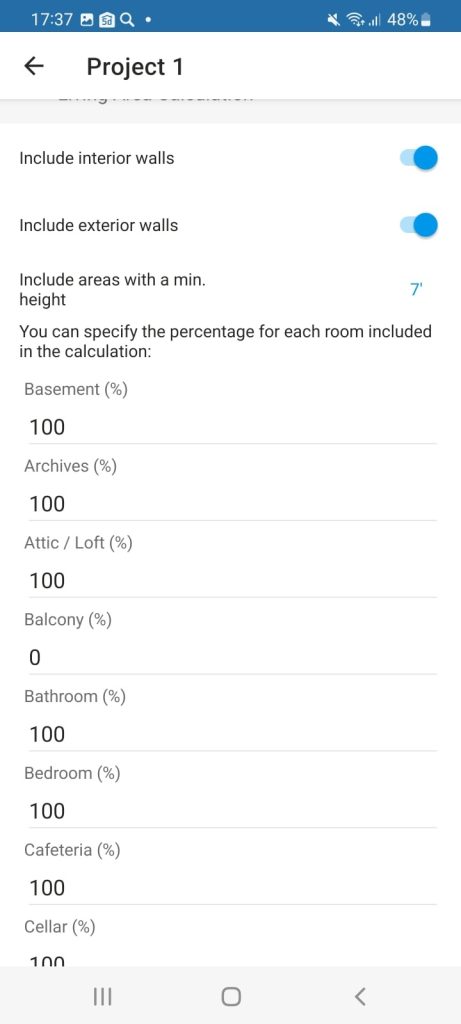 3D Office Room Design
This app is developed for those who don't have time to create detailed projects for their office design or just for those who don't want to do that. Instead, 3D Office Room Design offers dozens of office models, that look extremely realistically.
You can browse through those images, looking for some which fit your needs the most. Or, you can just browse this app for inspiration. In total, this app is extremely simple in comparison to others on this list, but it still provides cool office design ideas. Don't miss it!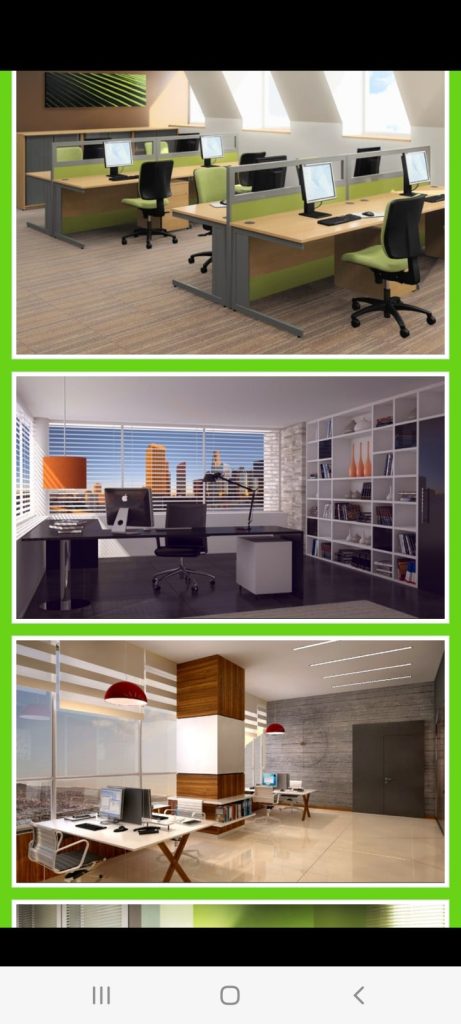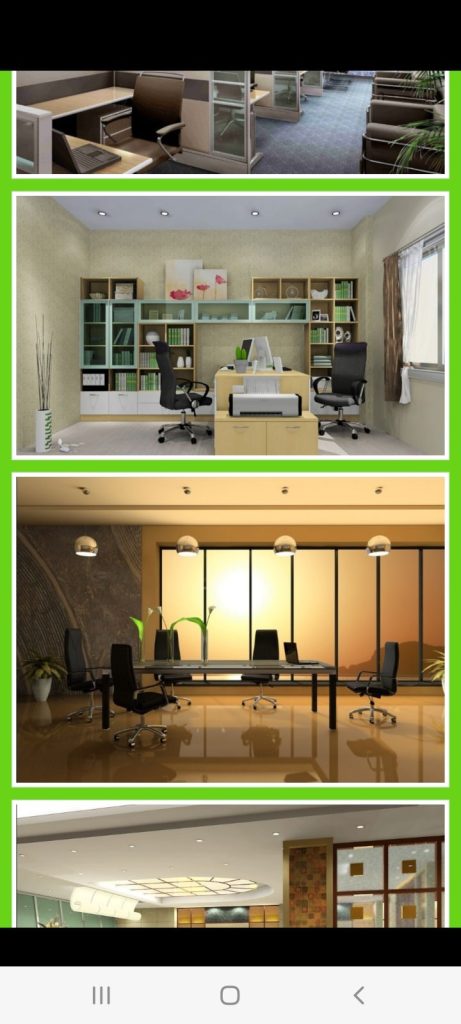 Room Planner: Home Interior 3D
As you can see from the name of this app, it wasn't developed exactly to plan the office – but who restrains you from that? Moreover, it is totally suitable to plan your own home office, and there is even a section for it.
Here you can, for example, start the planning of the room from scratch, and therefore create an office plan. Choose the form of the room. You can move the walls to change the size of them.
Then you start to add the furniture. Choose the necessary items from the menu. One cool thing about Room Planner is that every single object you place in the room – shows where you can find an exact copy of this item in the real life.
And that's it! It's basically a game where you have to build the perfect plan for your office! But one element that makes it different from the game is its precision in scaling and measurements.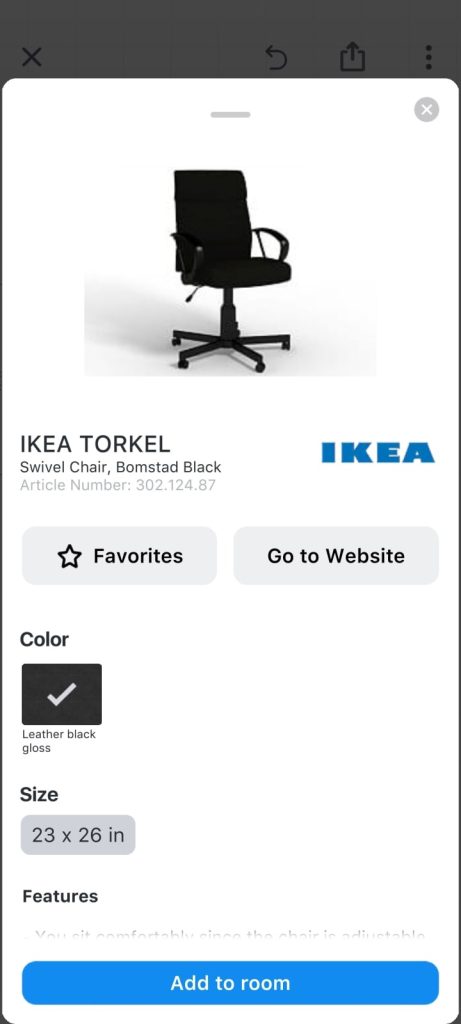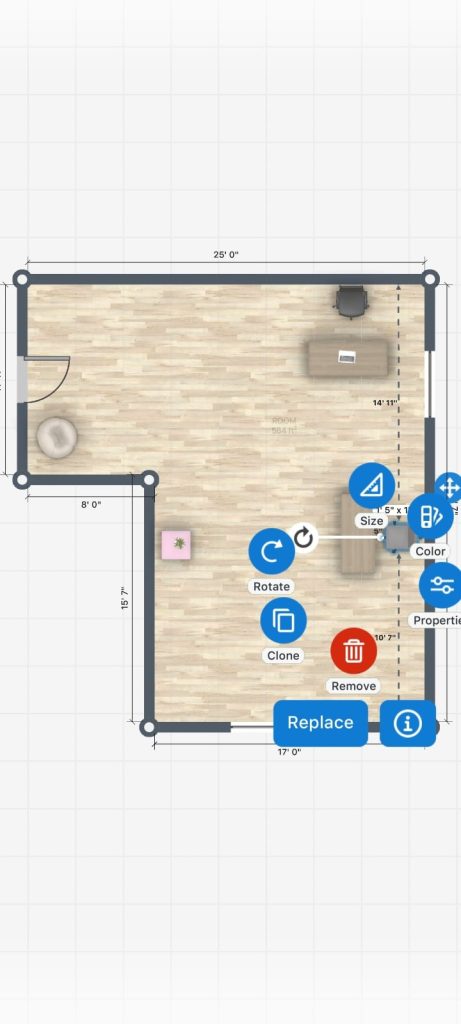 You may also like: 11 Best Home Inventory Apps For Insurance (Android & iOS)
Houzz
This is one more app that was developed to project the home design however if you put in some effort, you can make it into a project for the office. Just type in the word "office" into the search bar and see what this app has to offer.
However, mainly what you will find in this app will be pictures of the home office. it's not the disadvantage of the app, moreover, there are not just pictures, but almost every piece of furniture, and each item on it can be identified and found either in the app or on the web.
In addition, you can create your wishlists in Houzz. But keep in mind that the majority of office designs here belong to the luxury segment and can be quite pricy in real life.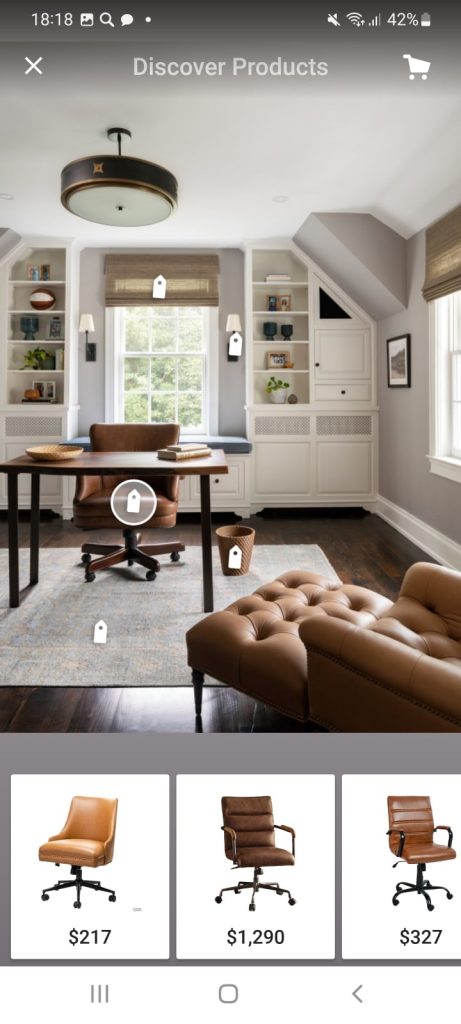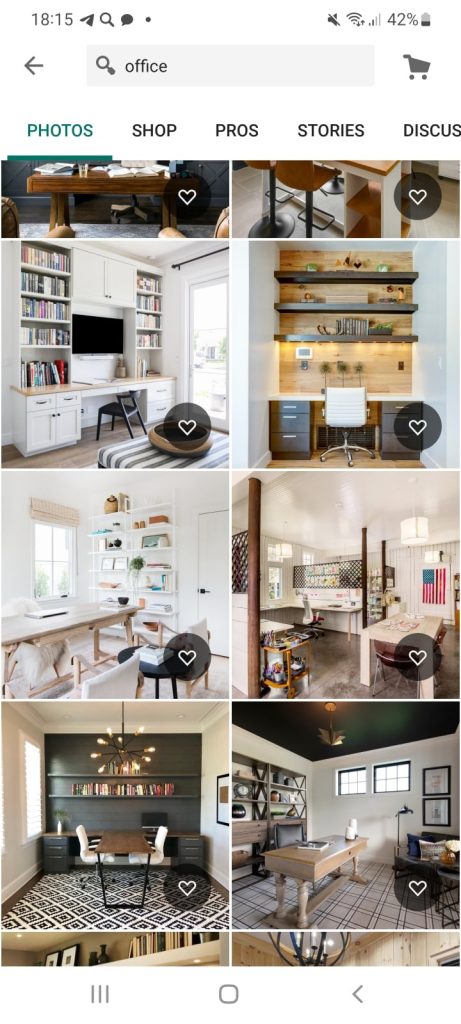 You may also like: 5 Best Home Value Estimator Apps for Android & iOS
Creative Office Layout Designs
Another simple app where you can just take a look at the pictures of offices and get inspired (sounds a little bit ironic). In general, this app is nothing but a collection of pictures, divided into categories. Thus, if you lack ideas and inspiration and you want to design a cool office of any type this is a nice option.
Moreover, in this app, you will find not only regular pictures – but also sketches and floor plans of offices. There is also a weird option "set a picture as a wallpaper" – well, maybe someone wants to set a design of an office as their home screen?:)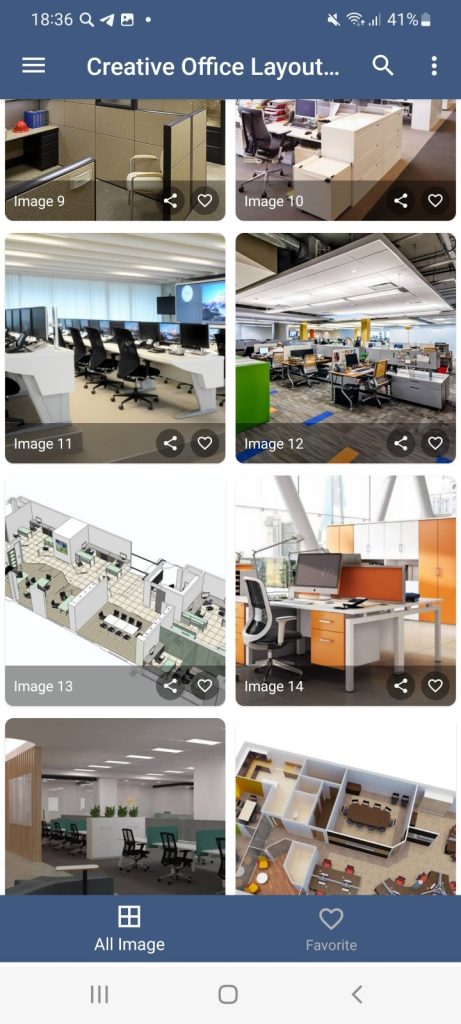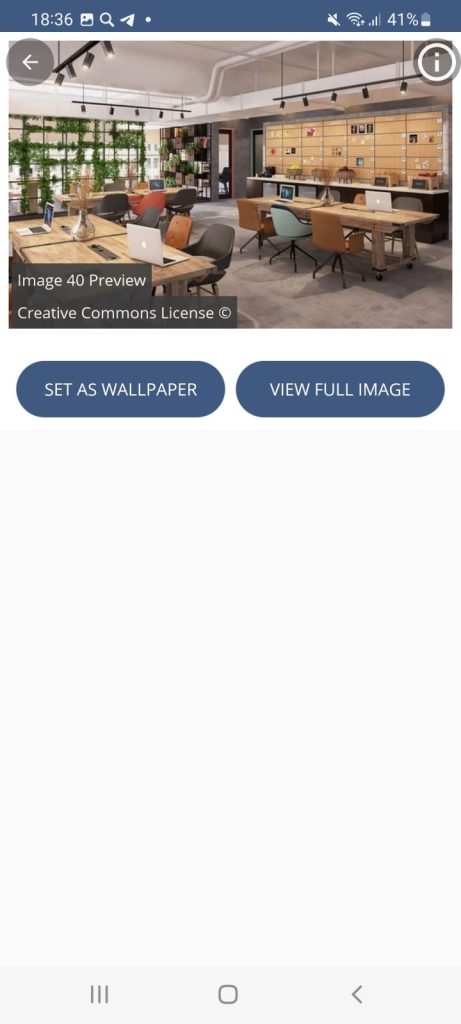 House and Office Interior Design Ideas
This is like a mini-Pinterest for your office projects. To be honest, this is just a small copycat of the latter app, but with the accent to office design.
In this app, you will be able to discover thousands of pictures for home and office design and get inspired. Therefore, the app will be useful for those who are only at the beginning phase of their project.
Among the perks of using this app we noticed, that when you first open it, you need to put effort even to find the "office" category because there are so many of them. When you open this category, all the images take a while to upload, which is quite weird for a lightweight app like this one.
In general – this will be more suitable for the home office design, not the public one.