Radiology apps can be useful for those who want to x-rays for various purposes, mainly for medical reasons. And for your convenience, we have gathered the free radiology apps in the following article.
Besides this collection, we also have an article about the best medical assistance apps that I recommend you to check – there you will discover the best possible medical services in the country.
e-Anatomy
This is one of the most popular anatomy apps ever. And you can guess that if it's featured on this list, it must be helpful in the field of radiography, but it is primarily made for use by medical professionals and students.
The app includes a large collection of anatomy modules covering topics including the musculoskeletal system, head and neck, thorax, abdomen, pelvis, and much more.
These programs can be helpful for radiologists because they can improve their comprehension of human anatomy.
The head and neck module, which comprises in-depth 3D representations of the skull, brain, and neck components, can be chosen by a user to utilize e-Anatomy for radiography.
After that, users can move around and rotate the models to observe them from various views and angles, which can aid in their understanding of the anatomy of a certain area.
What is more, there is quick access to various anatomical systems and structures. There are also cool and fun features that can help students to improve their understanding of human anatomy, like quizzes and labeling activities.
e-Anatomy also has the capacity to design unique anatomy modules, bookmark and save significant anatomical structures, and share anatomy modules with coworkers.
The app itself is free, but the majority of the features are only available for the paid subscription.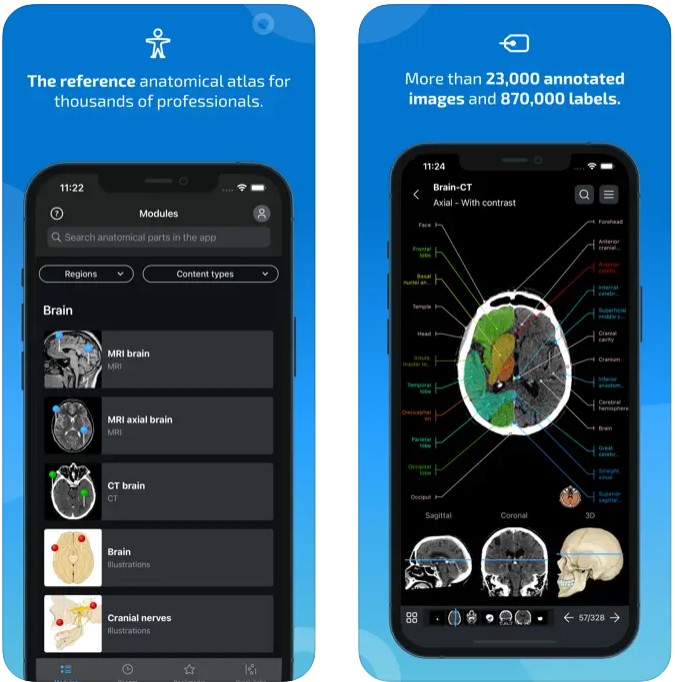 You may also like: 7 Best Medical Apps for patients (Android & iOS)
UBC Radiology
At the moment, this is one of the most popular apps in the category. Its primary goal is to provide a vast collection of radiology cases and materials. UBC is intended for usage by both medical professionals and students.
Main features:
A searchable database of radiology cases
Imaging techniques
Instructional videos
Filter results by case difficulty and imaging findings a
Access cases by specialty, modality
A comprehensive lexicon of radiology terms and a selection of clinical recommendations are also accessible to users through the app.
The app's user interface is well-made, but it will be only understandable for those who are working in the medical sphere. They can quickly access content in the app thanks to the categories and subcategories that the app's content is divided into.
The UBC Radiology app offers a number of extra capabilities in addition to its core features, such as the ability to bookmark cases for later reference, download cases for offline usage, or share cases with coworkers. And I was really surprised that the app almost doesn't have glitches.
To sum it up, the UBC Radiology app is a helpful tool for students and med professionals who want to learn more about radiography.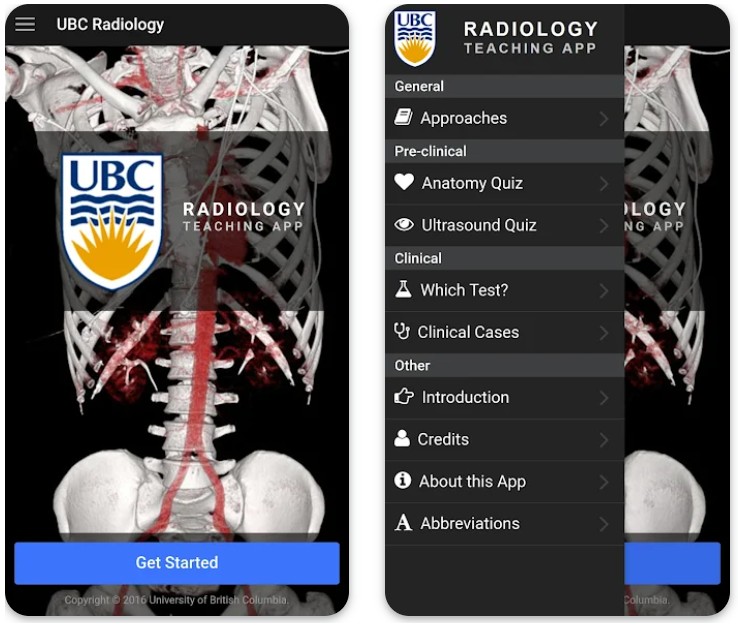 Radiology Assistant 2.0
Just like the previous app, Radiology Assistant is supposed to be used by radiologists, radiology residents, and medical students. It is a newer app on the market so it has a little bit more modern UI design.
Main features:
A searchable library of radiology cases
Imaging methods
Teaching materials
Access to cases by pathology
Access to a lexicon of radiology terms and a collection of reference materials
The app also has a number of interactive features that make studying more interesting and engaging, including interactive cases, tests, and radiological calculators.
Radiology Assistant 2.0 offers a number of extra capabilities in addition to its primary features, such as the ability to bookmark cases for later reference, download cases for offline use, and share cases with coworkers.
As you understood, this is basically an analog of the previous app. They are almost identical in functionality and don't have any serious flaws, so it's up to you to decide which one to use.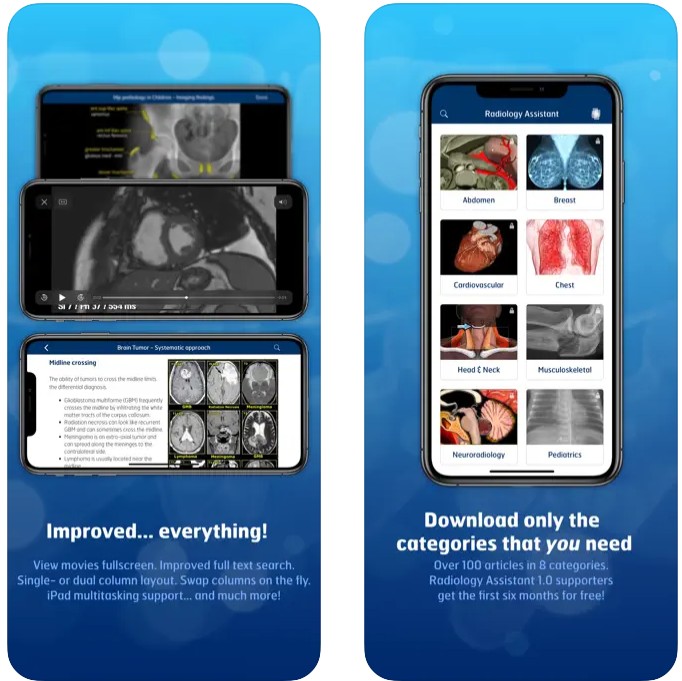 RX – Posiciones Radiológicas
This app called RX has a slightly different purpose than different ones – it is made to help users to recognize and carry out typical radiologic procedures.
A library of radiologic images and descriptions of the many postures that are needed for the various operations are among the key features of the app.
With the usage of those pics and descriptions, radiologists and students will be better able to position patients correctly.
Users of RX can choose a particular radiologic process from the library and therefore browse the position descriptions and photos for that procedure.
Moreover, the RX Posiciones Radiológicas app offers a number of extra capabilities in addition to its primary functionality. For example, there is an opportunity to make personalized lists of preferred positions and techniques. You can also save and share position descriptions and photos with coworkers.
In general, RX might have not the best functionality in the category, but it definitely has a solid functionality feature.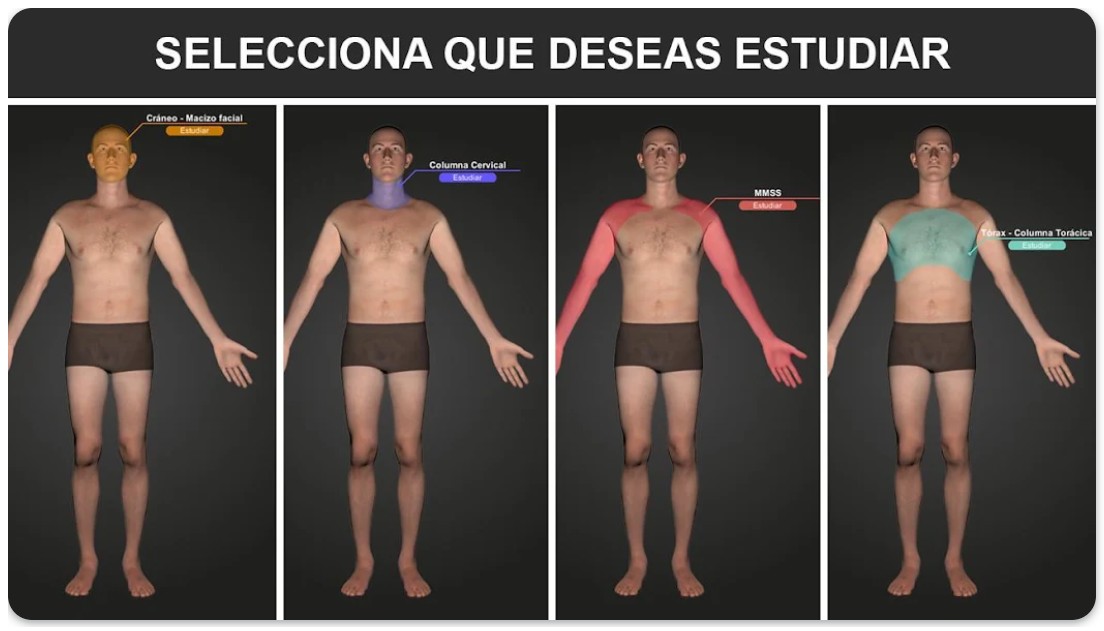 This is another useful app about radiology for students. It is more focused on the theoretical part than on the practical so if that's what you're looking for, check out Navi.
There are photos and full descriptions of the X-ray procedures. I also really liked the fact that you can also participate in interactive tests to gauge the understanding of various radiologic procedures.
The user interface of the app contains labeling and instructions that are easy to understand. You can see the images and information for various radiologic procedures.
But keep in mind that the app may not have all the radiologic operations a user would require because the image library is not as complete as in the previous apps.
As I already said, it's more theoretical. At the same time, it provides a valuable theoretical meaning that can help both students and pros in their craft. The Lite version is free to use.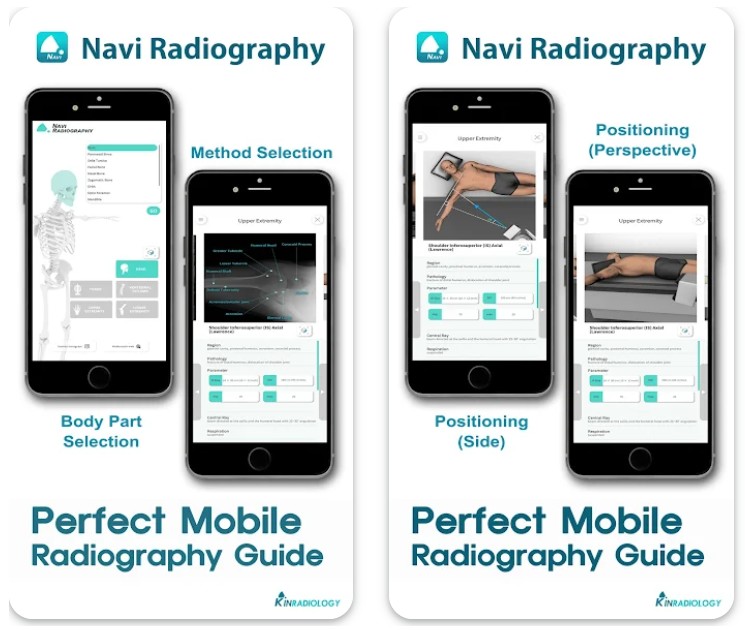 Medicos Radiology: Real Case
For radiologists and medical students, the Medicos Radiology app offers a thorough reference manual. A library of radiologic images, radiology news, and a quiz area are among the app's key features.
Users of the Medicos Radiology app can explore the image gallery or conduct keyword searches for particular radiologic procedures.
By the way, you can better grasp the approaches used by using the app's photos and full descriptions of the procedures. Participate in interactive tests to gauge the understanding of various radiologic procedures.
Also, you can register for an account in the app to record your progress and get tailored quiz recommendations based on your performance.
However please keep in mind that the app is suitable for the usage of only those who are related to the medical subject.
And one thing that I was really disappointed with is the presence of a significant amount of ads.
However, I cannot say anything bad about this job because it's obviously a good choice for all the medical students and even medical doctors and other professionals in the industry thanks to its beautiful design interface and the abundance of categories and well-structured information.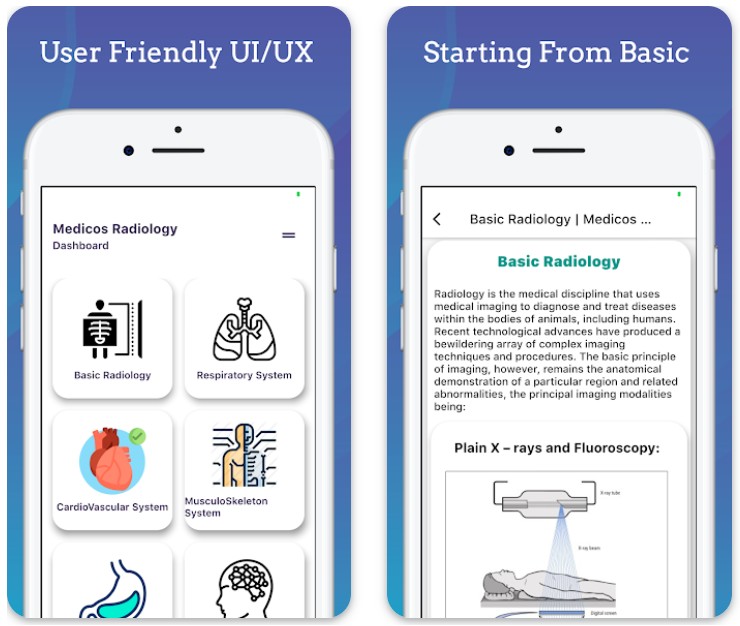 Radiology Measurements
With this app, I wouldn't recommend you to expect miracles with a user interface design because the app is quite obsolete but in terms of radiology science and check it's still one of the market leaders.
Users of the Radiology Measurements app can submit a radiologic image and also measure various features of the image with its analysis tools.
It also features an interactive measuring tool that enables users to mark specific locations on a pic in order to calculate angles or distances. Here you can also compile a report based on the measures gathered, which may then be shared with other medical specialists.
Although users do not need to establish accounts in order to use the app's functions, you can do so in order to store your progress and see your reports across numerous devices.
But keep in mind that the app may not function well with all types of radiologic images, and users may need to manually modify the brightness and contrast of the image to get precise measurements.
So in general as I mentioned in the beginning it is quite a functional tool for making radiological measurements. Yet the app can still compete with new players on the market which is the factor for trustworthiness.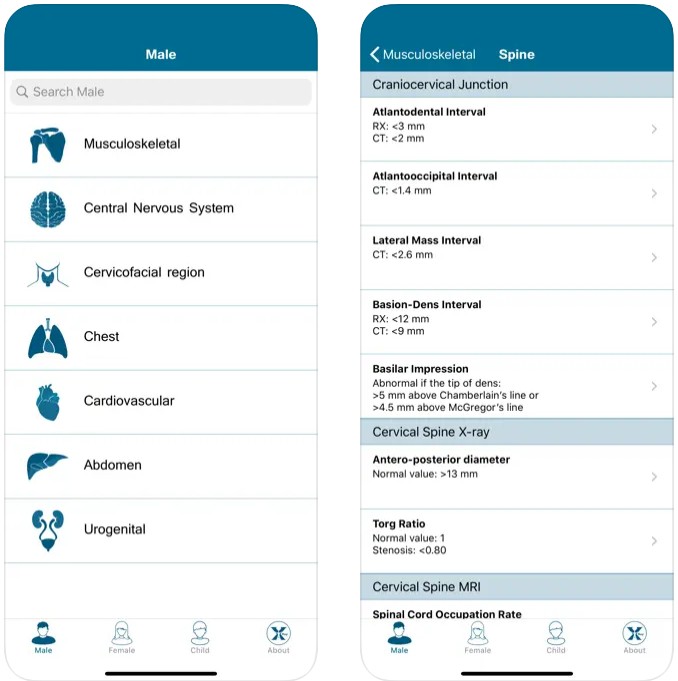 You may also like: 13 Free medical terminology apps for Android & iOS
Radiology Rounds -Radiologists
Another radiology app is more concentrated on the theoretical part.
Here you will discover pictures, case summaries, and diagnoses, in Radiology Rounds. The quiz tool can be used by users to test their radiological knowledge and get more sophisticated in the subject.
The creation of an account is recommended in order to participate in the forum and communicate with other medical professionals.
Radiology Rounds has also a news area where readers may read the most recent radiology-related news and updates in addition to its major features.
But keep in mind that some of the radiological cases and photos can be out-of-date or less applicable to contemporary medical procedures.
In general, it is really difficult to say anything in particular about this app. It seems like it's just another regular radiology app that helps students and other medical experts to test their knowledge and so on.
What is more, at the current moment it's quite obsolete so it has not the best user interface design which is not really Pleasant to use for a regular user.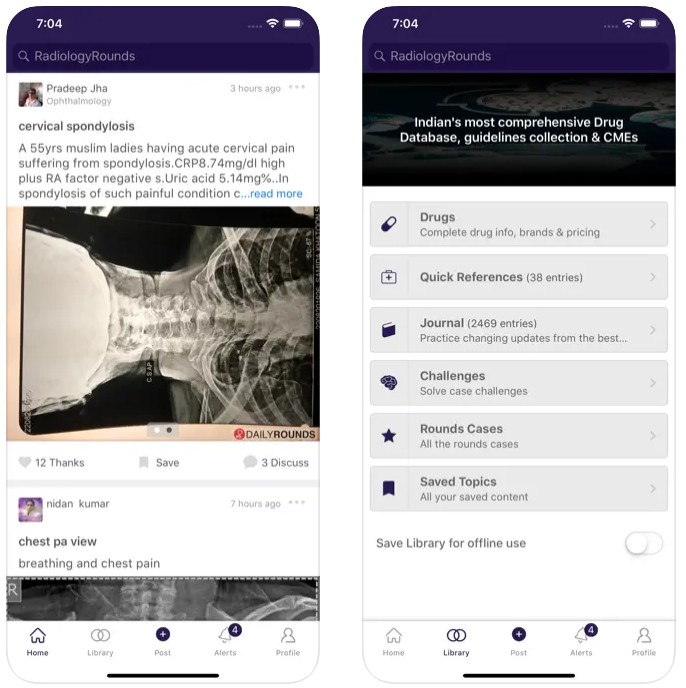 TC Computer Tomography
This time the app is a little bit different. Its primary focus is computed tomography (CT) scans, and by giving radiologists and other healthcare workers important knowledge about CT scans, it hopes to assist them in their everyday work.
A thorough CT anatomy guide that includes the head, neck, chest, abdomen, and pelvis is one of the app's key features.
This manual includes thorough illustrations and descriptions of the various anatomical structures visible in CT scans. Also, the app offers details about CT procedures and contrast materials.
There is also a reference section where users may access details on typical CT findings and alternative diagnoses. The various pathologies that could be visible on a CT scan can be recognized and diagnosed with the help of this section.
Users only need to choose the body part they wish to investigate and scroll through the photographs and descriptions to use the program. For me personally, it was one of the most convenient apps because there is no requirement to register for an account in order to use it, and all information is accessible offline.
I would say that the app doesn't contain any significant drawbacks except the fact that if you're not a professional its purpose will be a complete mess for you because it's designed for specific medical purposes only.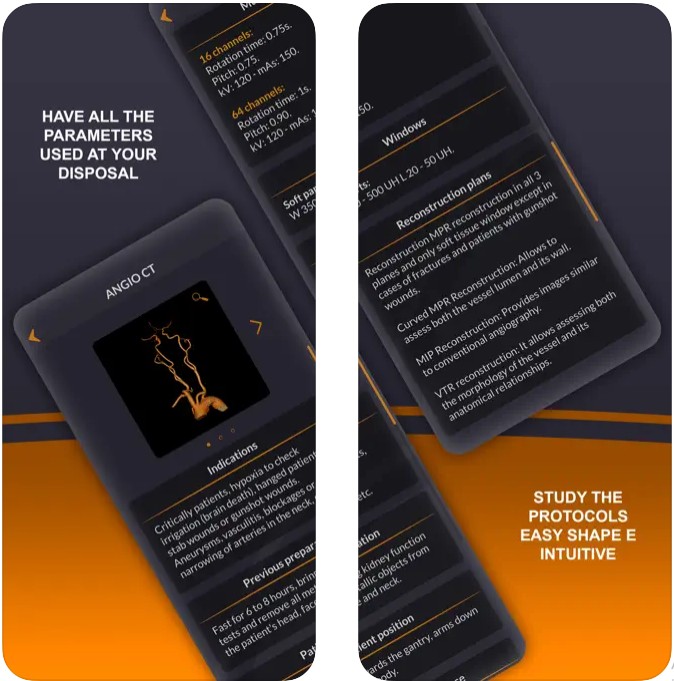 Basic Radiology – SecondLook
Basic Radiology was created for medical students to learn and review radiology concepts.
Users can choose a case to view a radiological image along with the patient's history and other relevant clinical data. Once the image has been evaluated, they can offer a diagnosis or differential diagnosis. The app also provides detailed explanations.
More than 200 instances from various categories, including chest, abdomen, skeletal, and neurological imaging, are included in the program.
Customizing the cases by masking the diagnostic and clinical data is one of the app's interesting features. Those who want to quiz themselves or test their knowledge may find this tool helpful.
It's also important to keep in mind that the software might not be appropriate for radiologists with advanced training or expertise. What is more a lot of users have complained about the slow working process of the app.
And as with many other previous apps that we observed this one is also more a theoretical thing about radiology.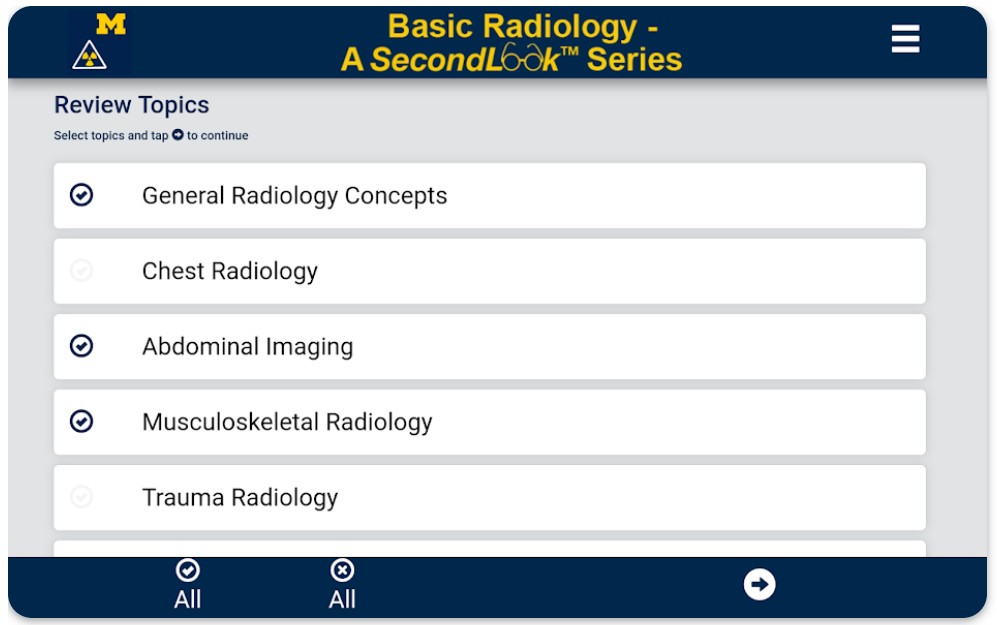 Basic Radiology for medical students
This app is basically an analog of the previous one, but for Android devices. Medical students, residents, and professionals can improve their understanding of radiology with the help of the Basic Radiology app.
The app has a huge library of multiple-choice questions covering a wide range of radiology topics. Through the app's quiz mode, you may test your knowledge and monitor your progress. This mode provides fast feedback and explanations for incorrect answers.
It's a remarkably useful resource for medical students who are just beginning their studies in radiography because the content is given in a clear and understandable way.
Additionally, the app offers a number of extra features, like a progress tracker to keep track of progress and a bookmarking system to store and study challenging questions later.
Overall the good interface design and the huge library of facts about Radiology make it a great app for students for exam preparations and so on.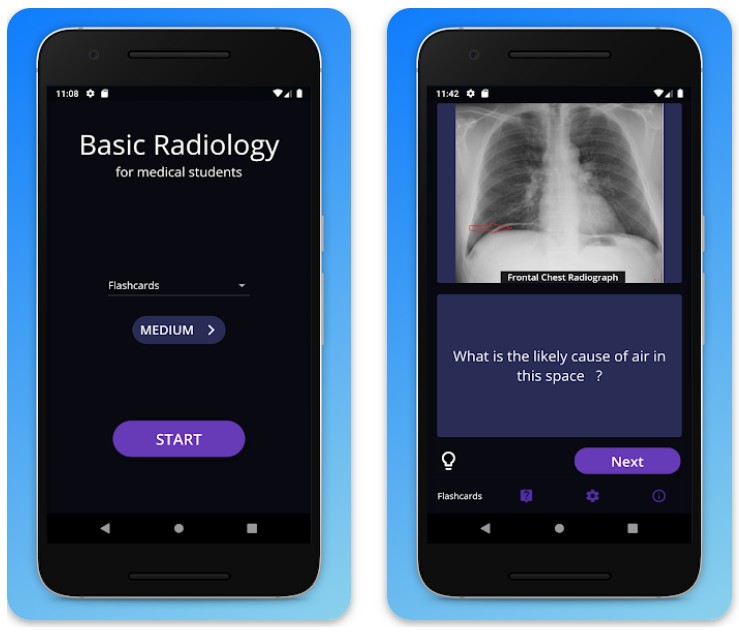 Focus Radiology
This is a different type of app because it's mainly focused on patients and doctors rather than on students.
The ability of patients to access and share their radiological reports and photographs with their healthcare providers, family, and friends is one of the app's biggest features here.
Patients can securely view their medical records, including X-rays, CT scans, MRIs, and other radiology tests, inside the app. Moreover, they can quickly search and filter their records using various criteria such as dates, types of exams, and others.
And unlike all the previous apps this one actually does have a convenient UI design because it's developed not only for pros but only for regular users – finally. Additionally, the app offers patients educational resources to help them to understand their radiological photos.
The app can still be useful for students though. It can assist them in comprehending the value of radiology in healthcare and the function that radiologists play in the diagnosis and management of numerous illnesses.
Other interesting elements of the app include appointment scheduling, push notifications, and a system for collecting patient feedback.
As you can see this Radiology is more full of features than all the previous restaurants because it's basically made for regular users. While all the previous apps are developed for medical professionals this one is easy to understand for all kinds of people and gets closer to radiology science.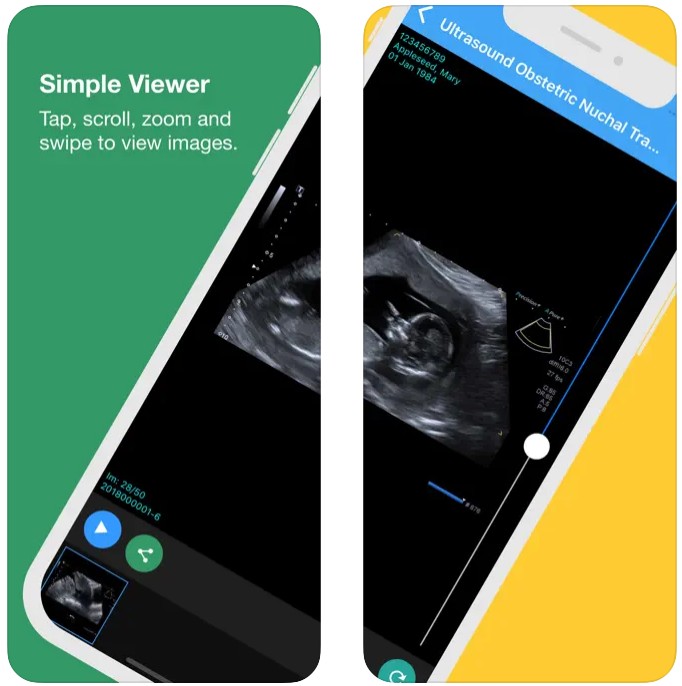 IDV – IMAIOS DICOM Viewer
This is quite a standard radiation app with quite standard if not to say plain user interface design for all types of users special medical students.
Besides the typical features, the app supports image import from a variety of sources, such as Dropbox and email attachments, and it allows users to save and share photographs with others.
You only need to load your DICOM images into the app to get started, then utilize the program's built-in features to view, edit, and annotate the images.
DICOM has options for zooming, panning, changing the size of the window, and adding annotations like arrows, text, and measurements. Moreover, users can examine patient information..
The app also has a 3D reconstruction tool that enables users to make 3D models from DICOM pictures, among other intriguing capabilities. Users of the app can view photographs in a virtual reality environment thanks to the support for VR headsets in the app.
However, DICOM requires a membership to access all of its functions. At the same time, it offers a free trial period.
All in all, ts user-friendly interface, annotation capabilities, and support for importing and other significant features make it a valuable tool and possible option for med students.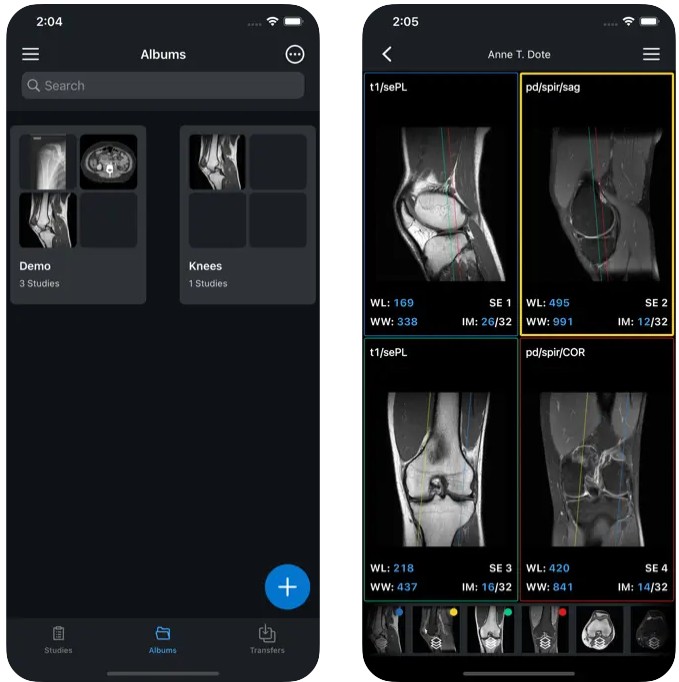 RadioAnatomy
This app is quite simple and plain, so you can use it as an addition to your main tools and other radiation apps.
Students and medical professionals can examine normal and abnormal findings in a variety of medical disorders and learn to recognize anatomical structures on radiographic pictures with this app.
It is a nice resource for exam preparation because it includes quizzes to assess knowledge and reinforce learning.
The user-friendly interface of Radio Anatomy, which makes it simple to browse the vast image bank, is one of its prominent features.
You can affect searches based on location, image kind, or medical condition. Also, the app has a zoom feature that enables users to zoom in and out of photographs for a more detailed look.
By allowing users to study the relevance between various anatomical parts and view the body in 3D, this feature provides a more immersive learning experience.
The app is only available in the online mode.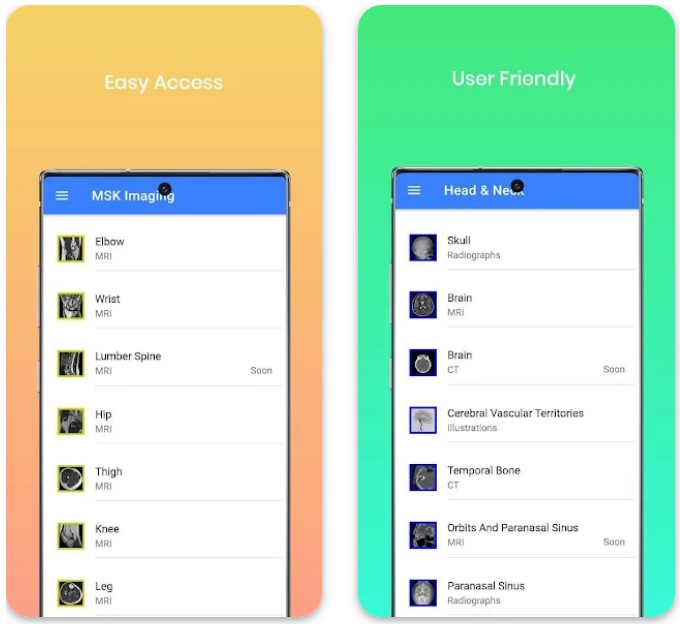 You may also like: 11 Best Medical Terminology Flashcards Apps
X-Ray & Imaging Patient Access
It's not actually a radiology app but its advantage is that it's developed for regular users to keep their medical records.
With the user-friendly and clear interface design patients can sign up to receive notifications from the app when new medical imaging records are made available. With the use of this tool, they can also stay updated about their medical imaging records and take timely action as needed.
The app's security is another important element. All patient data is kept private and safe thanks to the use of cutting-edge encryption technology in the ZedLink XRI Patient app.
Patients who have undergone radiological procedures and require access to their medical imaging records can use the app. And probably this is the only app on this list that it's not supposed to be used by students.
And the same time you should be aware of the fact that the app works not on all devices. And to be completely honest even from the regular users' point of view the app is quite basic and it's a little bit bulky in usage that can be hard to navigate.