A screen reader is an important piece of software for visually impaired or blind people, the screen reader converts text from your phone into audio form, thus allowing people with disabilities to fully use their smartphone. In this article, we will look at the best screen reader apps that will make your life easier.
And in case you got into a situation where you can't use the screen reader app, you can choose the alternative method and use the text-to-speech apps. They will convert the text into voice speech for you.
You may also like: 11 Best Text to Speech Apps for Android & iOS
Talkback (on newer Android Accessibility Suite devices)
TalkBack (Android Accessibility Suite) is a program developed by Google for Android devices. The app is pre-installed on devices, there is no need to specifically search and download it.
The program is convenient and easy to use, included in the smartphone settings. TalkBack has a number of advantages over other popular screen reader apps:
Easy to use
Learn by use
many features (not found in other free apps)
the app is completely free
This app is one of the most convenient among its competitors. TalkBack speaks text from your phone screen (books, websites, incoming and outgoing messages), speaks the name of the contact calling you, and there is a sound keystroke while typing.
Using the app is very simple, for example, in order to read the text, you just need to shake your phone, after which the program will read the text to you, it's funny, right?
The issue of connecting the program is also solved simply – through the settings you need to go to the "Accessibility" section and select TalkBack in the proposed list, or by simultaneously holding the volume buttons for three seconds on your device.
TalkBack will be a good assistant for you in using your smartphone, especially considering that the program is absolutely free!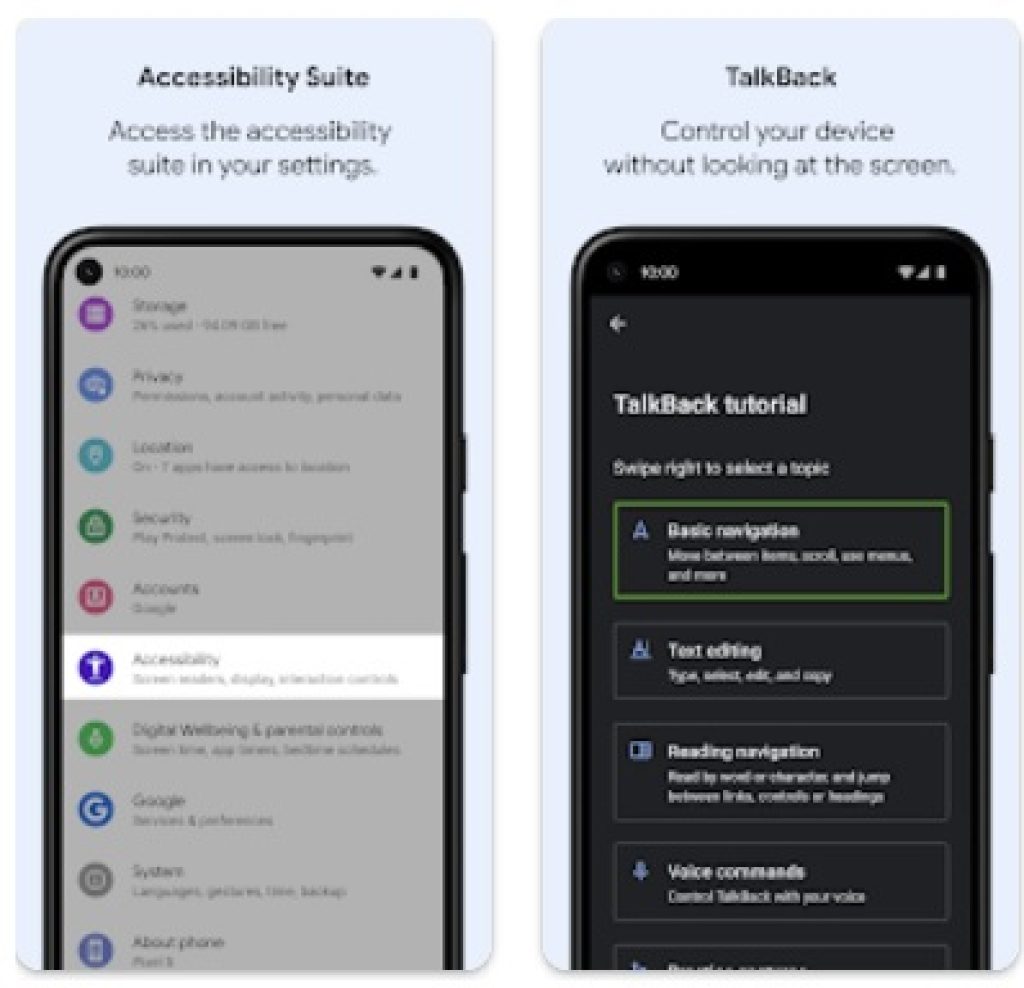 You may also like: 6 Free Audio Reader Apps for Android & iOS
Voice Aloud Reader
Voice Aloud Reader is an app for audio playback of e-books and browser pages, emails, and messages. The app only works on Android devices.
The app has both its pros and cons, but first things first. Among the advantages I would like to highlight the following:
The app is free
The program can recognize and voice files in TXT, PDF, HTML, PRC, and other formats
Can recognize text from images
voice messages and emails
it is possible to save any article from the Internet for listening to in the future.
automatic recognition of the language of the article and the corresponding voice acting
As for the cons, the picture is as follows:
since the app is free, it has built-in ads, which can undoubtedly interfere with and annoy. Ads can be disabled for a fee.
for the app to work, you will need to additionally install a speech synthesizer (any one of your choices from the Play Store)
the app requires full internet access to work, so if you want to read something offline you will have to download the necessary text (which is not convenient if you are downloading a large PDF file, for example)
If you compare all the minuses and pluses – it turns out not so bad.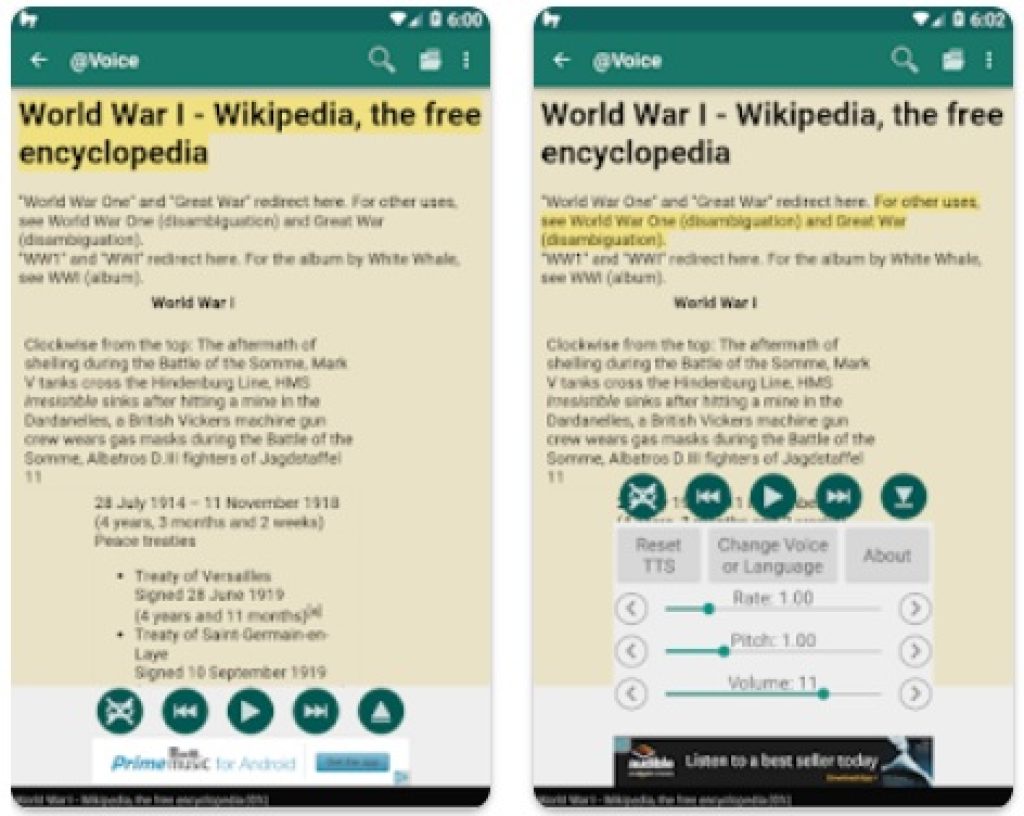 VoiceOver
VoiseOver is a program automatically built into the iOS operating system (similar to TalkBack). Also suitable for computer control. The feature was designed to help people with disabilities use their iOS devices.
The program voices absolutely everything that is displayed on your screen, whether it is the name of the caller, an incoming message, an article from the Internet, time, or device charge level.
In order to activate the feature, the easiest way is to contact Siri and ask her to turn on VoiseOver, or you need to press the "Home" button (if your iPhone has one), or you will have to open the settings menu.
VoiseOver is also convenient in that you can customize it for yourself – set up sleep mode, adjust the playback speed and volume, and set the app to control gestures (in this case, you do not have to touch the phone screen). It is also great that everything can work both online and offline.


Speechify
Speechify is a mobile app that synthesizes text into sound using computer-generated text-to-speech (just like other screen reader apps). In this app, you can listen to e-books and add them to your e-library. Key Features of Speechify:
you can scan any text and upload it to the app, so you can read not only articles that exist on the Internet, but also text printed on paper
you can create an audiobook from a PDF file
In addition to these basic functions, I would like to note a few more interesting features in the app:
It is possible to choose a voice (male or female, as well as choose a timbre). Voices are provided in high definition and in over fifty languages
You can choose the speed of text playback, thus saving your time.
The app is completely free, but if you want access to a larger selection of voiceovers, you can buy a subscription.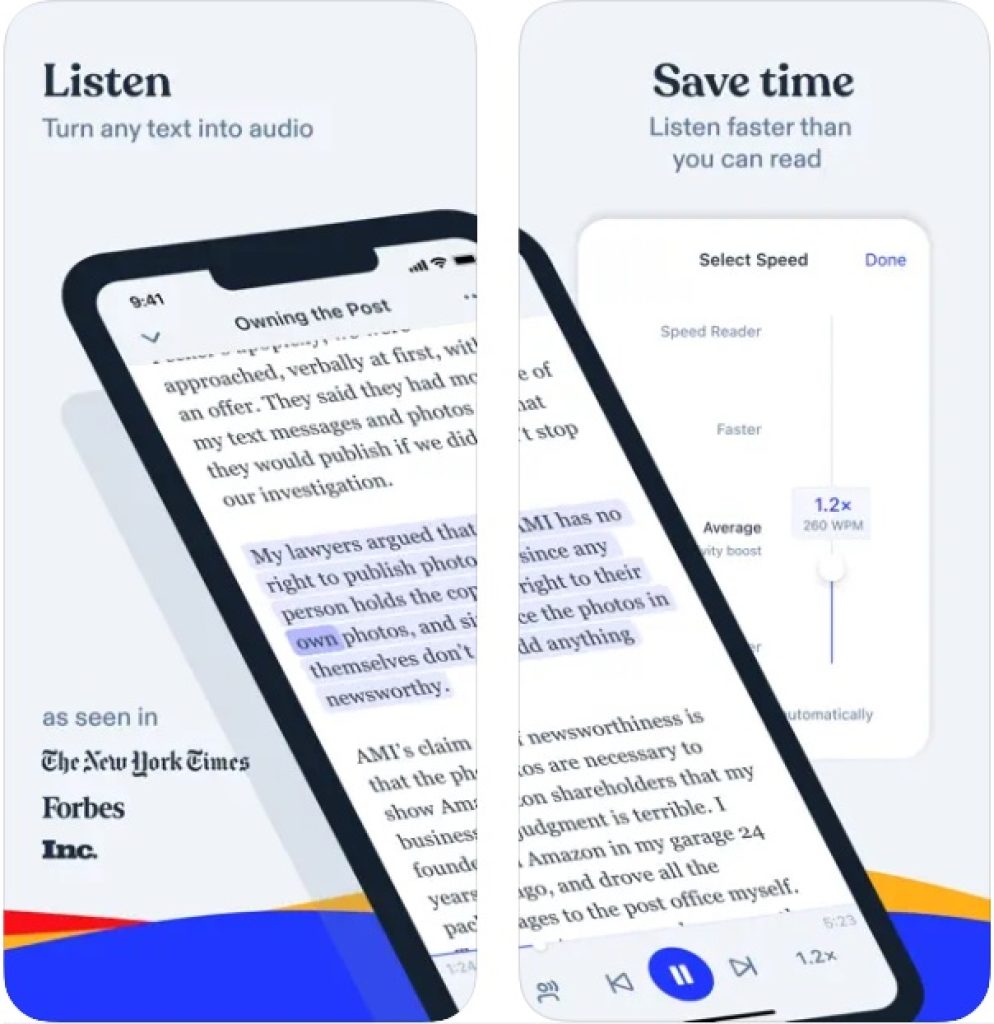 Dolphin EasyReader
Dolphin EasyRader is a free text reading app from your mobile phone screen. The app is designed for visually impaired people, blind and people suffering from dyslexia.
Each can configure text for itself and its features – you can change the font size, brightness, and color of the text, translate text to sound, or combine both (in this case, each pronounced word will be highlighted on the screen while reading).
There are special color schemes for disk slots. The app also knows how to reproduce the text of the braille.
The app is convenient to use, especially what you can configure it (choose the style and font size, change the color of the text or even choose a beautiful background, leave notes while reading.
Dolphin EasyReader reads any text format Files (plus text from the clipboard). Millions of books from book libraries worldwide and all this is free!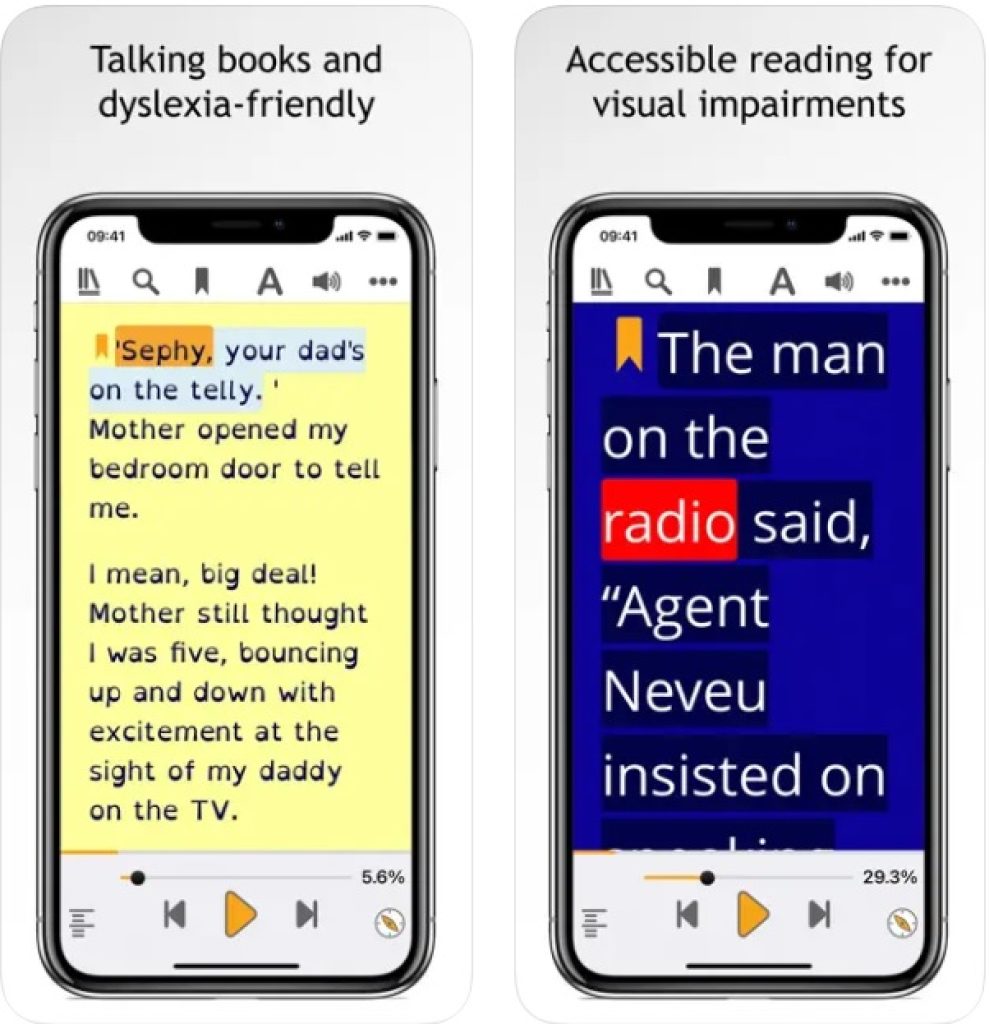 You may also like: 11 Best apps that read articles for you (Android & iOS)
NaturalReader
NaturalReader is an app that is suitable for simple lovers to read and people with disabilities that do not want to stop reading their favorite books. Suitable for devices with Android systems. It will become an indispensable assistant for people with problem vision and dyslexia.
The app can play the text of PDF formats, as well as from websites and e-books. In addition to people who have vision problems, the app will also suit students – you can download electronic tutorials in NaturalReader, and take notes while reading (or listening).
From useful functions, it is also worth noting the possibility of changing the size of the font and the color of the background. You can connect to your account in Dropbox, Onedrive, or Google Drive, to have access to your library from any of your devices.
However, it is worth noting that some functions are paid – for example, the choice of voice acting. It was also noticed that while listening to the synthesis of speech slightly sinks.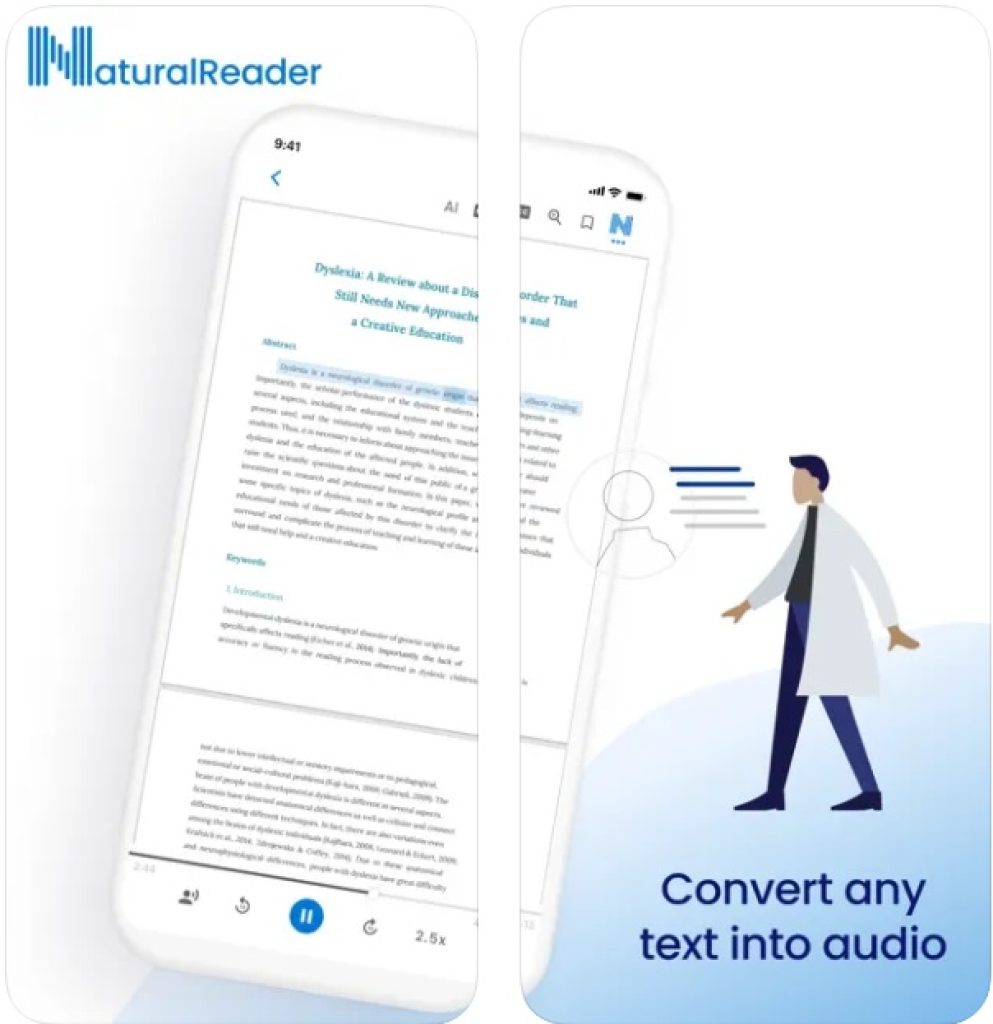 Speechlab
Speechlab- An app for reading from the screen of your smartphone. The program allows you to convert text to speech and vice versa (speech in text). Mobile add is suitable for people with disabilities, and just for those guys who are too busy to print text or messages.
By the way, this app can be perfectly suitable for creating subtitles (for example, for videos on YouTube), take a note. Speechlab has many useful options, namely:
You can create your own text file and convert it to audio (or vice versa), after which export it to an external drive or share it with friends on social networks
nice Minimalistic design
speech synthesis on a set of languages (which is still funny
there are sound effects that you can distort the voice)
it is possible to change the speed of playing the text
it is possible to choose between a bright and dark topic of the app.
It must be said that the app has a couple of minutes. The first is an advertisement (as in most free app) and the fact that if you say too slowly – the app stops writing and convert your voice to the text (but we think if you really take it, it will not cause problems).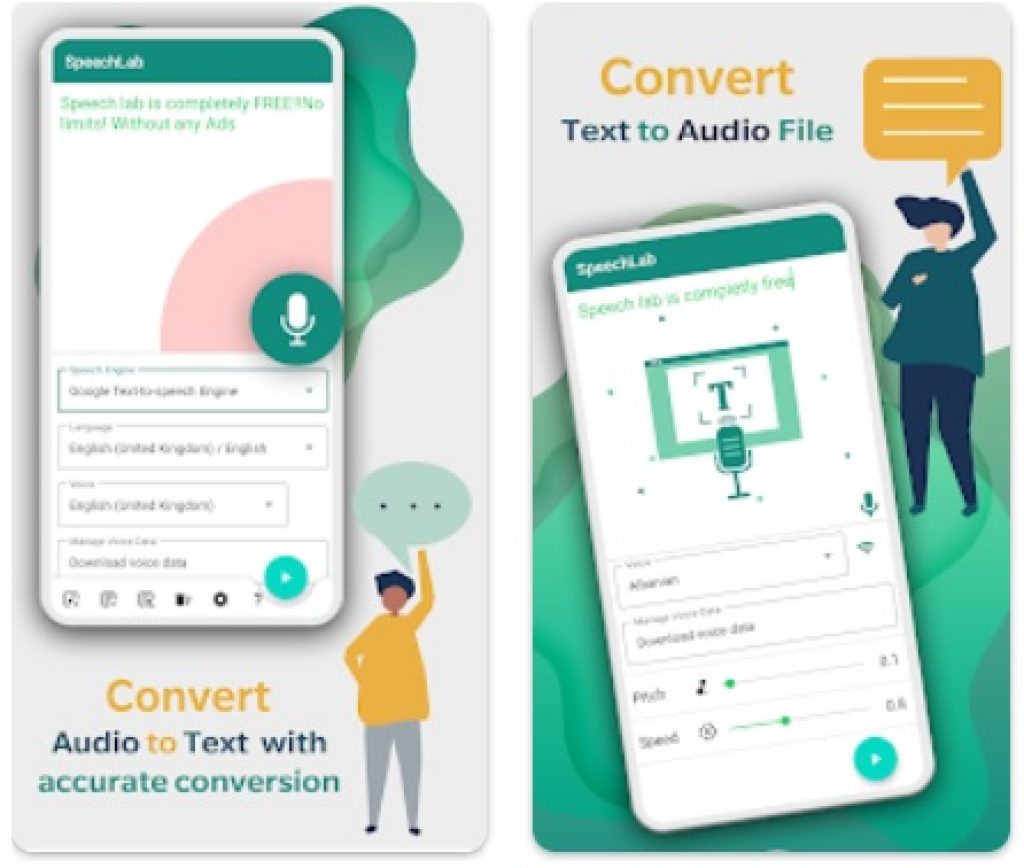 Saylt: Read with Ears
Saylt: Read with Ears- Convenient app for reading electronic books or articles from the Internet. The app will be a good assistant to a person with poor eyesight and great love of reading.
Saylt: Read With Ears We really liked the simplicity of your use, the app takes place your time and nerves while you enjoy your favorite books or are looking for information on the Internet. Let's tell you about the pros:
the program itself removes obsessive advertising while surfing the Internet, so it will no longer bother you and distract you.
Configured automatic language recognition.
You can read the text that is stored in your exchange buffer.
After easy registration, you can enter your account from any device – it is possible to adjust the speed of the playback text.
Supports reproduction of more than fifty languages. And besides all this, the Saylt: Read with Ears is absolutely free! You can easily make any additional internal purchases or buy subscriptions
the entire functionality is in the free access for you.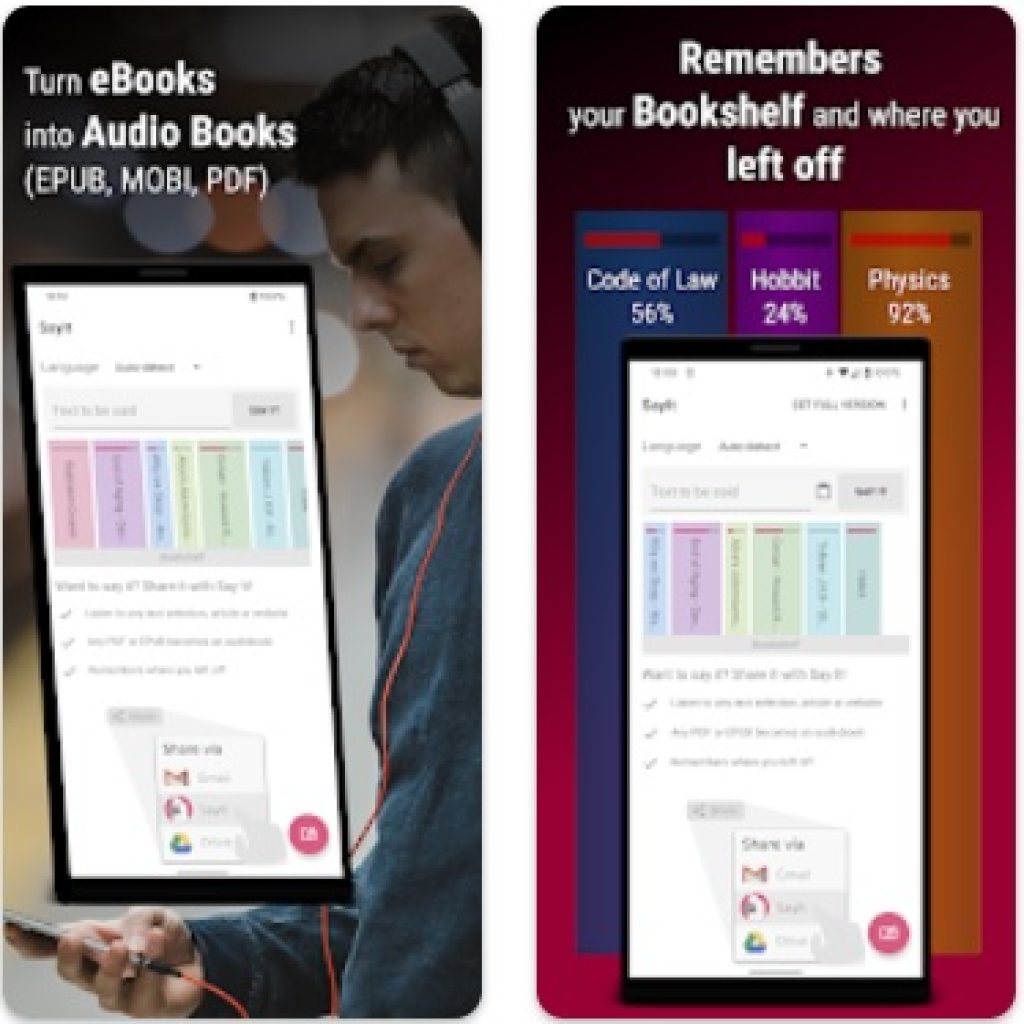 You may also like: 11 Best reading apps for kids (Android & iOS)
WebReader
WebReader is a convenient app for reading your smartphone screen, WebReader will greatly facilitate life to people with problem vision or just help make your surfing on the Internet more comfortable for you.
Many of us probably came across such a problem as a small font on the Internet, which is terribly inconvenient to read, right?
And when you want to increase text on the Internet, then you have to flip down to the left-right, which is also very uncomfortable, or this situation is that your selected site is simply not suitable for viewing from a mobile device.
WebReader will help you to solve these problems forever and will make reading on the Internet fast, convenient, and not painful for your eyes! The application has such useful functions as:
The app automatically adjusts any site reading from a mobile device (so you no longer have to increase this nasty small font in the browser) – you can send the necessary text through social networks or messenger.
There is also the possibility of sound playback of text. You can listen to your favorite books or useful information from the Internet, without breaking down from studying, home affairs or during sports, or in order to enable your eyes to break from the phone screen.
Also, the app remembers at what moment you stopped during the last reading (or listening) of the text.
You can reproduce your text in any of more than fifty languages.
And all this is absolutely free, great, right? No subscriptions and purchases, no advertising, nothing that could interfere with and distract you from enjoying reading.