Keeping your body fit and healthy is important, especially when you're pregnant. But we all know what doctors are saying—not all workouts are safe during pregnancy, and so on.
Luckily, there are plenty of pregnancy workout apps in 2023 (Android & iOS) that will help you stay strong, healthy, and have an easy recovery after birth. It was even proven that such workouts may positively affect your child! Some of these apps also provide you with nutritional tips, so you can be sure you're getting the best out of your precious time.
We've gathered together the 7 best apps in that category you may try. Have a look!
Down Dog Parental Yoga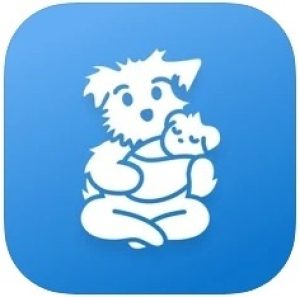 Let's start with a leading yoga app that will make your pregnancy a lot easier.
It's commonly known that yoga is one of the best practices during pregnancy. It doesn't require any intense physical activities, while helping to keep your body and mind healthy. This app is here to provide you with a full-on yoga class experience without leaving your home.
It will give you a new practice every time you bring a mat, so you won't get bored with doing the same thing over and over. The app covers plenty of exercises categorized by trimesters, so you can be sure it's safe for the baby as useful for you. It also covers special programs dedicated to back pain relief, which is essential during pregnancy.
Along with regular stretching, the app also covers special classes for the low back and side body. The practices are also sorted by difficulty and intensity, so you won't get some advanced positions on your first day. You'll also get to choose an instructor to follow, so no worries about that.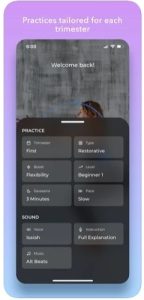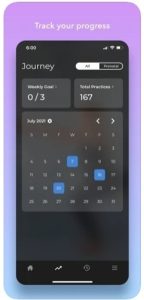 You may also like: 9 Best Contractions Timer Apps for Android & iOS
Baby2Body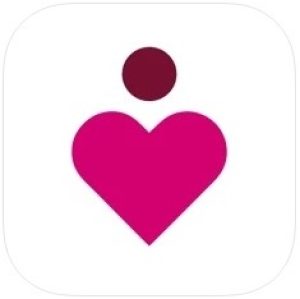 Next, we have pregnancy wellness with one of the best training programs you may find.
This app is not fully dedicated to fitness and activity—it also helps to optimize your nutritional and emotional wellbeing. You'll get access t the tastiest meal plans, meditations, and other stuff that will simplify your precious time and make it more fun. As for the sporty part, the app provides you with fully safe workout plans that will help you stay in shape.
All the programs are developed by pro coaches and verified, so you can be sure none of them may harm you or your baby. There's even a special program that doesn't require any extra equipment and can be done on the floor. Plus, the app covers plenty of useful tips and quick activities you can do to maintain your health.
There are also tons of insightful reading materials that you wouldn't like to miss. Besides, the app comes with a built-in tracker that allows watching over your water intake and, daily activities, weight, baby development, and so on. The app is originally free, but you may buy access to some premium features if needed.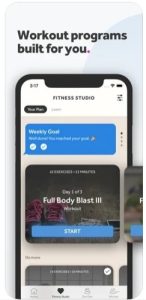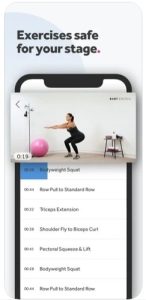 Juna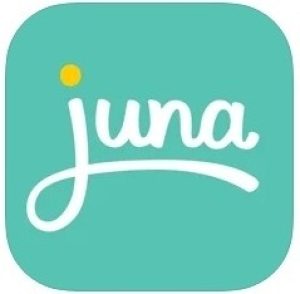 It's a training app that will help you to remain fit during pregnancy.
This app was created by moms for moms and soon-to-be moms and provides you with fitness classes for pregnancy and conception periods. The app works simple—you start by signing in and submitting your due date. Then, the app will give you tips on the nutrition you need, and the workouts you can do.
For now, the app includes over 200 programs, and more are being added from time to time. All the workouts are developed by pro coaches and verified by medical workers, so no worries about the safety. Along with that, the app includes labor prep exercises, breathing ones, and more.
You may even get a special program with no era equipment required. You'll also get a full nutrition plan and some daily tips on what are the best snacks, and all that. The same goes for pregnancy advice—there's a full section with reading materials you may find useful. There's a pro version with some additional features, but you can go without it.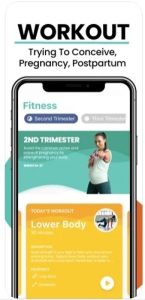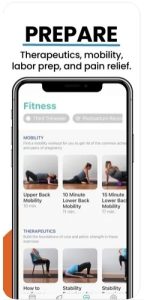 Check also: 9 Best Pregnancy Apps for Dads (Android & iOS)
Prenatal & Postnatal Workout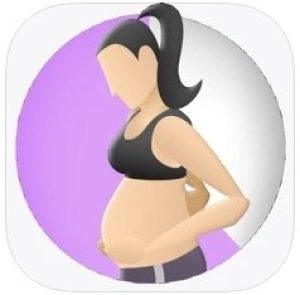 It's another pregnancy training app developed by pro yoga instructors.
The main goal of this app is to let you have a fully custom workout during your entire pregnancy. Thus, you can be sure all the workouts are fully safe for you and the baby and give the best possible results. It covers plenty of workouts with different difficulty lvls, so you can pick the one that is best for you.
All the exercises are categorized by phases, and you'll have to choose the new ones each trimester. Plus, you'll also get to track your current weight, symptoms, the size of the belly, and some other parameters. Your results will be compared with the ones other women have, and you'll get to know if smth is wrong.
Beyond that, all the workouts in this app last up to 20 mins, so even the busy moms could coupe with them. You'll get a new workout every day, so you won't get bored by doing the same exercise over and over. All the programs contain equipment-free options, so no worries about that.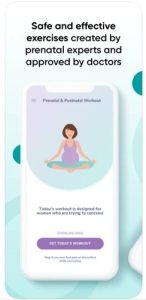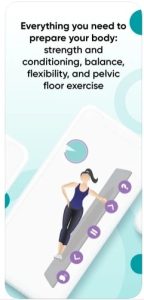 Move Your Bump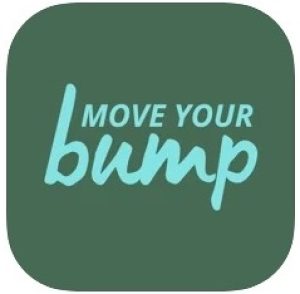 Here's a pregnancy workout app that will make sure you stay safe and healthy.
The app covers plenty of safe fitness classes, that won't harm you or your baby at any point. All the workouts are sorted by trimesters, so you can be sure you're getting the exact exercises you need. It needs to be said, it's one of a few apps that is really recommended by the doctors, so it is definitely worth trying.
For now, there are over 400 workouts ready, so no worries about the variety. Plus, the app covers programs for both pregnancy and conception, which is great. All the workouts are fully flexible, so you can adjust them to work perfectly. There are two options—30 min and a 1-hour training, so you could fit them into any day.
Along with that, the app also features nutritional plans that help to maintain a healthy diet during your entire pregnancy. It covers the recipes for full-on meals along with the tips on what snacks are the best. There's also a tracker to keep an eye on your health and parameters.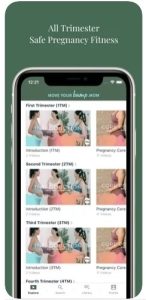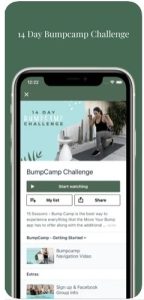 YogiBirth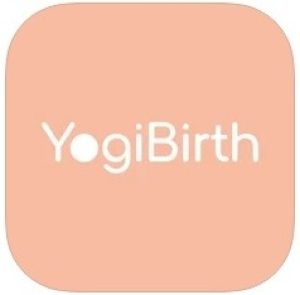 It's a yoga app that lets you stay healthy and flexible during pregnancy.
The app covers several aspects of pregnancy—yoga classes, meditation, and birth education materials as well. It will help you to be informed and confident about your pregnancy, which is important. The app is developed by a pro pregnancy yoga teacher, so you can be sure all the programs are safe to follow.
All the classes are tailored to your pregnancy stage, so you could get through all the programs needed. The programs will help you to stay calm during your precious time, minimize back pain and pain in birth, and also contribute to a shorter labor. There are special exercises to get rid of leg cramps, Kegel exercises, and more.
As for the mediation part, the app covers multiple affirmations that will help you to remain relaxed. It may help with sleep problems, breathing problems, and all that. The birth materials will introduce you to the best positions, and tell you about pregnancy hormones, massages, and more. The app is free with no ads, but you can buy extra features.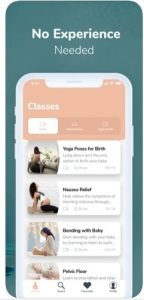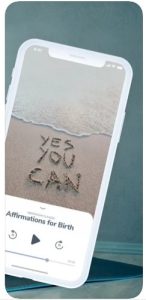 You may also check: 7 Best Pregnancy & Baby Birthday Announcement apps
Kegel Trainer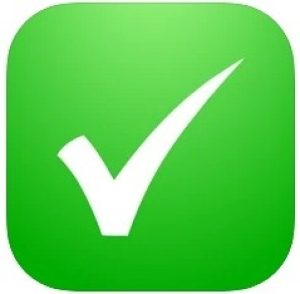 And lastly, we have an app that will get you through Kegel exercises.
If you're about to be a mom, then chances are you've heard of how important Kegels are. These exercises are fully dedicated to pelvic floor muscle stretching, which is extremely influential while giving birth. As a result, you'll get an easier delivery and will get to recover way faster.
However, the process of doing Kegels might seem confusing at first, and this app is here to make it easy. The app will get you through Kegel exercises step by step, so it's practically impossible to do smth wrong. The mechanics are simple—just add a session and pick the time you prefer. Once it's done, tap to start and follow the vibrating guidance from the app.
The vibrations will tell you when you need to squeeze and release, and you can pause the session at any time. The sessions usually take 1 or 32 mins, so they can fit into any schedule. When you'll be finished, save the session info to compare it to all your previous requests and track the progress.